Ecommerce and Social Media: Shopping In The Cloud
By 2018, retail ecommerce will reach nearly $2.5 trillion worldwide, according to eMarketer's forecasts. Currently, China tops the ecommerce markets, followed closely by the US, the UK taking a distant third. With over 60% of consumers researching products online before making purchase decisions it's no wonder online sales are climbing and unsurprising that ecommerce retailers are doing their best to make purchases happen online. In 2014, Social media sites with the highest influence include Facebook, Pinterest, and Twitter - with peak volumes of traffic in that order. Facebook dominated the realm last year sending 60% of all ecommerce referrals. Thanks to its broad accessibility and user-reliance, social media's influence on ecommerce continues to rocket, and Shopify's analysis of 37 million social media visits resulting in 529,000 orders further illuminates this power. In 2015 it's predicted that over 5% of online spend will be directed from social media sites. cloudtweaks.com

Next-Gen Cybersecurity Is All About Behavior Recognition
Rather than focusing on stopping cybercriminals with walls, new technologies are emerging that work to identify cybercriminals instead. Take the relatively new startup BioCatch. BioCatch's technology works to identify patterns of user behavior in certain applications, creating user profiles that can then be matched to subsequent visits. This new technology uses atypical variations in parameters, like typing speed, mouse movement, keyboard strokes, tapping force and swipe patterns instead of geographical location. Take this practical example: After a few logins, this system will learn that you tend to browse slowly, tap icons hard and type at an average speed. If someone gets ahold of your login information and browses quickly, with fast typing speed and weak "taps," the system will trigger a fraudulent use, and your hacker will be forced to provide further authenticating details (or, more likely, give up the effort). Similar technology, focused on positively identifying people based on behaviors and biometric signatures, is beginning to emerge from other companies, as well. There are some weaknesses, however, as human behavior isn't always consistent; these systems could trigger false positives and potentially lock people out of their own accounts. They also do nothing to ensure first-line security, such as protecting passwords from leaking in the first place. techcrunch.com

Many of J.C. Penney's web customers pick up orders in stores

Wal-Mart Credits In-House E-Commerce Platform With Contributing to Online Sales

Mobile ATM access on the rise


"Fraud is not a person - it is a dynamic grouping of statistics that deviate from the norm."
Stuart B. Levine, CFI, CFCI
CEO, The Zellman Group & Zelligent



Stockton, CA: Three arrested in Target REDcard fraud scheme; over 1000 victims Three Stockton residents were arrested Monday in connection to Target REDcard account fraud and identity theft between March 2014 and September 2014; six other defendants in the case are still at large. Thongchone Vongdeng, 35, and Jaffrey Brown, 31, were arrested in Stockton and Somaly Siv, 29, was arrested in Reno, Nev., for stealing personal information from at least 1,000 victims and creating unauthorized Target credit cards, U.S. Attorney Benjamin B. Wagner's Office said. According to the indictment, the suspects used the credit cards to buy electronics, prepaid gift cards and other goods at Target stores throughout the Sacramento area and other locations in Northern California. The suspects created more than 300 counterfeit credit card account numbers to use or sell, the indictment said. news10.net



Daytona Beach, FL: Serial Shoplifter has hit Target at least 5 times, now on Dayton Beach Police 'Most Wanted' Police are looking for a man suspected of shoplifting from a local Target on at least five separate occasions. The department recently added Troy Edward Mixon, a 25-year-old Ormond Beach man, to its most-wanted list and issued a "be on the lookout" alert for him. news-journalonline.com



Bend, OR: Woman accused of taking $7K in beauty supplies from Safeway in Bend and Redmond Prosecutors say a woman has been stealing thousands of dollars in health and beauty supplies from Safeway grocery stores in Deschutes County. Jessica Lynn Jensen is facing a 30 count grand jury indictment. Deschutes Co. District Attorney John Hummel says that investigators from Safeway Loss Prevention started looking into the case after discovering multiple thefts from stores in Bend and Redmond. Jensen was identified as the suspect. She was stealing primarily health and beauty supplies. According to the DA, she stole about $7,500 and was selling the items on eBay and Craigslist. koin.com

Chicago, IL: $2,252 in Maui Jim sunglasses stolen from Northbrook Court store
A Northbrook Court store representative reported Aug. 17 that a security camera shows a man stealing eight pairs of Maui Jim sunglasses, worth a total of $2,252. The store rep said that his description matched the description of the perpetrator of similar thefts at other stores in Gurnee and Vernon Hills. chicagotribune.com

Orlando, FL: 9 Bahamas Residents Arrested In Florida For Wal-Mart Theft
POLICE officers in the Orlando, Florida area arrested eight juveniles and one adult - who are from The Bahamas - last week after they were caught allegedly stealing clothing from a Wal-Mart. The group was "allegedly caught sneaking out of a Clermont Wal-Mart with duffel bags full of men's clothing, valued at $422. tribune242.com

San Angelo, TX: Kleptomaniac Sentenced on Eighth Theft Charge
Bobby Shirley had already been banned from HEB for stealing DVDs when he went into Walmart on Aug. 8, 2014, and stole an assortment of random items to include bananas, hair removal wax, Fritos and two pillows. On Monday, Aug. 17, the 66-year-old repeat offender went before judge and jury again in Tom Green County, this time on his eighth theft charge since 1976. sanangelolive.com

Do you have an ORC case to share? Publishing it educates the LP & retail community
which might fuel even more jobs and funding.
Share your ORC news and help the industry grow


Los Angeles, CA: Shots Fired During Armed Robbery of Century City Rolex Store; LAPD Searching for 2 Men Shots were fired inside a Rolex store at an outdoor mall in Century City during an armed robbery Monday, and police were searching for two men who got away, according to LAPD. Officers were called to a report of an armed robbery at the luxury watch store, where shots were reported fired, LAPD Officer Drake Madison said. A shot may have been fired to get attention in the store, according to Madison. No one appeared to be injured. abc7.com



Houston, TX: Pawn shop robbery leaves one suspect dead One suspect is dead, two are in custody and another is still on the run after a wild shootout between robbers and the owner of Diamond Pawn. At about 12:20pm Monday, Police say the owner of the store, who has a concealed handgun license, began firing at them as soon as they pulled their weapons and began firing at him. There were customers inside and outside the store. At least two of them were hit in the hail of gunfire. abc13.com



Aventura, FL: New Video Shows Shooting in Aventura Mall Parking Garage New video has been released of a police-involved shooting that happened in the parking garage of a busy South Florida mall on May 13. Dashcam video from an Aventura Police officer's patrol vehicle captured officers pursuing the suspect in a stolen sedan, when he crashed and the officers were forced to fire. That suspect, who was struck in the arm, is now awaiting trial. The scene looked like something out of a Hollywood movie but the danger was real with civilian shoppers in the Aventura Mall parking garage. nbcmiami.com

Las Vegas, NV: Roads reopen near Fashion Show Mall after Suspicious Package inside Neiman Marcus An investigation into a suspicious package prompted officials to shut down traffic near a popular Las Vegas Strip destination early Tuesday morning. According to Las Vegas Metro police, about 3:25 a.m. a loss-prevention officer reported an abandoned backpack inside a bathroom at the Neiman Marcus store in Fashion Show Mall, at the intersection of Las Vegas Boulevard and Spring Mountain Road. Officials closed nearby streets to traffic while they investigated. By 7 a.m., most emergency vehicles had left the scene and nearby roads were reopened to traffic. Police said an armored unit responded and determined the backpack was not a threat. fox5vegas.com


Richmond, VA: Grocery store tussle prompts Kroger investigation Kroger is launching an investigation after video surfaces of loss prevention officers attempting to detain an alleged shoplifter outside the Kroger on Lombardy Street. People on scene claim it was all over a bag of potato chips. Kroger released the following statement: "The male in contact with the alleged shoplifter and the female in the purple shirt are part of our loss prevention unit. The safety of our customers and associates is our highest priority. While the incident at our Lombardy Street location was an isolated situation, we take it very seriously and are investigating. This incident is not a reflection of our company's security procedures." nbc12.com

Colorado Springs, CO: 2 held in Armed Robbery at Macy's in the Chapel Hill Mall
Two people were detained Monday afternoon after a robbery at Macy's in northern Colorado Springs. At least one of the people told employees he had a gun during the robbery, which happened shortly before 3 p.m. at Macy's in the Chapel Hills Mall near Briargate and Academy boulevards, said Colorado Springs police Sgt. Rob Kelley. No one was injured in the robbery, and it was not immediately clear whether any money was taken. gazette.com

Tulsa, OK: Three cell phone store burglaries, Police investigating whether they are linked Right now the Tulsa Police Department is investigating a series of cell phone store burglaries that occurred in Tulsa overnight. One of those burglaries was at a T-Mobile Wireless store on 21st and Lewis. A witness told police they saw a person in a hoodie smash a window. The suspect was gone when police arrived. A second burglary was reported at a Sprint store on east 41st. As of right now, there is no information available on that break-in. However, several workers could be seen early this morning cleaning up the scene. The third break in was at a Cricket Wireless store on south Yale. Police found the front door glass shattered. The suspects were also gone when police arrived. Al burglaries happened within an hour of each other. kjrh.com




New Orleans, LA: Man caught on surveillance video stealing bedding from Anna's Linens The man is seen on the video a breaking the top of a window at 5:40am, and then climbing onto a garbage can to get into the store. He throws a ladder inside, and then is seen throwing out five comforter sets. nola.com



Nashville, TN: Couple Steals Credit Card; Spends $18,000 In Minutes
A Nashville woman was shopping at the Kroger in Green Hills when someone stole her wallet and within minutes, Metro police said a man and woman, captured by surveillance cameras, were doing some shopping of their own with her American Express card. Detectives said the young couple worked quickly and from Kroger, they immediately headed to 3 separate Nashville area Target stores charging $10,000 then $8,000 within an hour, the third attempt was declined by American Express. scrippsmedia.com

Waynesboro, VA: Police Warning About Credit Card Fraud Ring
Locally, Krogers, Rite Aid, Family Dollar have been targeted in Waynesboro and the Walmart in Staunton. These scams usually involve multiple offenders who are from out-of-state and connected with large organized-crime operations. The goal of these individual is to purchase as many gift cards as possible with bogus information. whsv.com

Madison, WI: UW official under fire for suggesting police not target Walmart shoplifters A former Dane County assistant district attorney who serves as the University of Wisconsin-Madison's director of community relations is facing criticism because he suggested that shoplifters at "big box" retailers with insurance should not be aggressively prosecuted. Everett Mitchell, who made the remarks during a "Best Policing Practices" panel on campus last Tuesday, said in a prepared statement that he believes in the law. "I also believe in equal justice for all, and in reforms to our criminal justice system that address disparities in policing for people of color," he said. MediaTrackers reported Friday that Mitchell "recommended that police stop responding to shoplifting and theft at Walmart and Target as a way to reduce what he refers to as 'over policing' of the community." jsonline.com



Atlanta, GA: Police urge Stores to upgrade surveillance systems Every time an armed robber points a gun at a convenience store clerk, it's almost always caught on tape. "It's almost a requirement nowadays. As the technology gets better and better, our ability to catch people gets a lot better," Lt. Mark Brown with the Peachtree City Police Department told Petersen. But police admit they've seen better pictures than from Monday's holdup of Flash Foods. wsbtv.com


Dothan, AL: Duo charged with 10 counts of credit card fraud

New York, NY: Police Seek Suspect In Pharmacy Robbery Spree In East Harlem, The Bronx

Sioux Falls, SD: Mac Pros Computers Hit for thousands in merchandise in Overnight Burglary

Little Rock, AR: Woman sticks meat in purse, threatens a Food Wise Loss Prevention Agent with a gun

Chippewa, WI: Walmart thieves leave $1,700 in stolen lot in the parking

Chicago, IL: Man stealing Drones while carrying a Puppy at Hobby Town USA

Jefferson Co, MS: Pair used skimming device to steal coins from Ice Machine

Zales Jewelers in the Mall at St Matthews in Louisville, KY was the victim of a Grab and Run yesterday at 4:40pm, merchandise valued at $4,000

Weisfield Jewelers in the Westfield Plaza Bonita in El Cajon, California was the victim of a Grab and Run, merchandise valued at $2,199

M. Lemp Jewelers in Syracuse, NY the victim of a Smash and Grab Monday afternoon

---

● AT&T - Batavia, IL - Robbery
● Burger King - Wilmington, NC - Armed Robbery
● Cricket - Tulsa, OK - Burglary
● CVS - Lancaster, PA - Robbery
● CVS - Las Vegas, NV - Robbery
● Dollar General - Salem, DE - Armed Robbery
● Dunkin Donuts - Lewiston, ME - Robbery
● Flores Spice - Houston, TX - Armed Robbery/ Assault
● Kroger - Elkhart, IN - Armed Robbery
● Pantry Quik - Wilkes-Barre, PA - Robbery
● Sprint - Tulsa, OK - Burglary
● Sprint - Palatine, IL - Burglary
● T-Mobile - Tulsa, OK - Burglary
● Verizon - Greenville, NC - Armed Robbery
● Walgreens - Council Bluffs, IA - Shooting





To apply to today's Featured Jobs, Click Here



Limited Time Only - Post Your Multi-Unit LP jobs for FREE - Learn More Here




Today's Daily Job Postings from the Net - Appearing Today Only

To apply to today's Internet Jobs, Click Here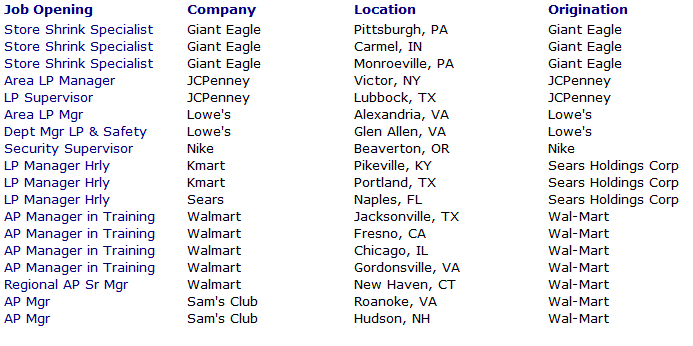 | | |
| --- | --- |
| | Tim Baker was named Regional Loss Prevention Business Partner at Total Wine & More. |
| | Merrissa Nacht was named Investigations Manager - Corporate and Retail for GUCCI/KERING luxury brands. |
| | Rodney Ross was named Corporate Investigator at Total Wine & More. |
| | Stan Berger II was named Regional Loss Prevention Manager for Rack Room Shoes. |
| | Grant Mohlke was promoted to District Operations Manager for JCPenney. |
| | Ryan Haysley was promoted to District Operations Manager for JCPenney. |
| | Vianey Martin was promoted to Territory Asset Protection & Profit Manager for Sears Home Services division. |
| | Michael Rubino was named Field Asset Protection Manager for Stop & Shop. |


Every journey has bumps in the road and no one is immune for they all present themselves at different times, in different places, and from people you'd never expect. The real test is how you deal with them and how you don't let them define you. Because bumps are growth opportunities merely masked in conflict.

Just a Thought,
Gus Downing




Post Your Tip or Advice! Click Here

Please make sure to add d-ddaily@downing-downing.com to your contact list, address book, trusted sender list,
and/or company white list to ensure you receive our newsletter.
FEEDBACK / www.downing-downing.com / ADVERTISE WITH THE DAILY