2014's GLPS's - Group LP Selfie's

Your Team - Your Pride - Our Industry
One Selfie at a Time




Burlington Stores LP Team from Territory 3 - Northeast

"Teamwork"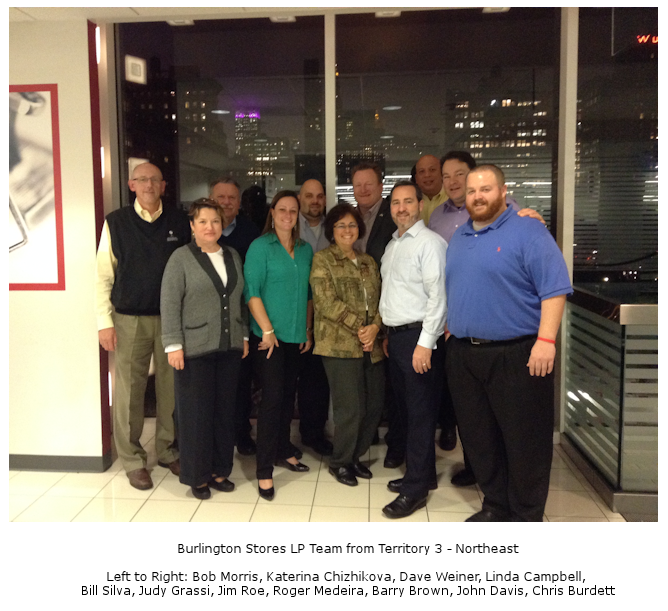 *Published on December 8, 2014
Show Your Industry Your Group LP Selfie
Building the LP/AP Industry One Selfie at a Time
---

View all the selfies here. Send us your Group LP Selfie!


Fraud-fighting tips for retailers entering the world's largest e-commerce market
E-commerce is booming in China. In fact, China has moved ahead of the United States to claim the top spot worldwide in online sales. Understandably, that's a market in which many U.S. internet retailers would like to participate. Until very recently, however, many U.S. retailers held back from engaging fully with the Chinese market, concerned that the cards were stacked against them. Unfamiliar payments processes, a governmental culture unfriendly to foreign business and the unknown but threatening variations in fraud trends were among just a few of the fears retailers faced. Yet now, in line with a wider economic policy of increased openness and the encouragement of competitive behavior, the Chinese government has announced that full foreign ownership of some e-commerce business is now possible, acceptable and welcomed. But this step forward does not come without risk. Merchants must make sure that they are prepared for the differences they will face within the Chinese market. In particular, they must ready their fraud prevention systems to support sales in this new market. Retailers who sell internationally have 2x the fraud risk compared to domestic-only merchants. The fraud prevention methods that work at home aren't always the best answer abroad, because both fraudsters and genuine customers act differently. But finding the right techniques are essential, because Chinese fraudsters like to target expensive items, which means items that represent a significant loss to the merchant. Effective fraud prevention requires an understanding of the market, to tailor fraud fighting techniques to the real people involved. A crucial distinction between Chinese e-commerce-and indeed Asian e-commerce more generally-and e-commerce in the U.S. is that Asia has far greater mobile penetration. internetretailer.com

PayPal Fights Fraud with Machine Learning and 'Human Detectives'
Stopping fraud is key to PayPal Holding Inc.'s financial health, according to Hui Wang, senior director of global risk sciences. "We have little wiggle room for error. Any one wrong decision will cost the company a lot of money," she said. The digital payment processor, which split from eBay Inc. in July, uses a combination of technology and human expertise to identify and stop potential fraud in real-time, during online transactions. Since 2009, PayPal has been building and modifying its fraud analytics systems, incorporating new open-source technologies as they have evolved. For example, the company uses Hadoop to store data, and related analytics tools, such as the Kraken. A data warehouse from Teradata Corp. stores structured data. The fraud analysis systems run on both grid and cloud computing infrastructures. Several kinds of algorithms analyze thousands of data points in real-time, such as IP address, buying history, recent activity at the merchant's site or at PayPal's site and information stored in cookies. Results are compared with external data from identity authentication providers. Each transaction is scored for likely fraud, with suspicious activity flagged for further automated and human scrutiny, Mr. Barrese said. For example, "a very bad sign" is when one account shows IP addresses from 10 parts of the world, Dr. Wang said, because it suggests the account might have been hacked. The system tags the account for review by human experts, she said. "They might discover that the IP addresses are at airports and this guy is a pilot," she said. Once verified, that intelligence is fed back into PayPal's systems. Humans don't make the system faster, but they make real-time decisions as a check against, and supplement to, the algorithms, she said. wsj.com

Stanford's New Bitcoin Course Aims to Combat Online Fraud
As its popularity continues to appeal to the masses in the commercial and financial sector, bitcoin is also attracting the academe as Stanford University is planning to offer a course on virtual currency. The new course called Cryptocurrencies: Bitcoin and Friends, will be offered on September 21 and will be available until December 9, this year. Based on a description available online, the Cyber Security Graduate Certificate course will provide a technical, professional, and policy-oriented perspective of the challenges emerging from the fast growth and advancement in information technology. By tackling such high-profile security issues during the bitcoin course, Stanford is hoping to educate and train students to deal with security threats in the information technology landscape. fxpips.com

Amazon Will Bring You Booze in One Hour, Starting in Seattle

Bon-Ton increases e-commerce support with new fulfillment center


"Fraud is not a person - it is a dynamic grouping of statistics that deviate from the norm."
Stuart B. Levine, CFI, CFCI
CEO, The Zellman Group & Zelligent




Pittsburgh, PA: Barnes & Noble lengthy investigation pays off with Arrest in $2 Million ORC case A seven-year investigation into chronic thefts at Barnes & Noble stores in Allegheny County led to the arrest Wednesday of a Wilkins record store owner accused of using drug addicts to steal a panoply of items from various retail stores so he could resell them online. Anthony J. Cicero, 50, of Wilkins was charged Wednesday by the state attorney general's office with illegally making more than $2 million since 2009. "This defendant not only cost retail stores millions in lost inventory, but he also enabled and fed the drug addictions of multiple individuals," Attorney General Kathleen Kane said. Investigators said Mr. Cicero, the owner of the Slipped Disc record store in Oakland, operated several illegitimate business accounts on Amazon and eBay to resell merchandise stolen from a variety of stores, including Barnes & Noble, CVS, Rite Aid, Giant Eagle, Staples and Wal-Mart. Mr. Cicero was charged following a lengthy investigation launched by a Barnes & Noble investigator, who in 2008 began probing the chronic theft of thousands of dollars of merchandise in Allegheny County. post-gazette.com


Memphis, TN: 13 indicted in Counterfeit Check Scheme; Kroger defrauded $300,000 Thirteen people were indicted for reportedly taking part in a counterfeit check cashing scheme. All 13 people live in Memphis. Police said the scheme stretched from February 2013 to August 2014. Investigators say the organizer of this scheme was Eureka Mathis, 36. She reportedly enlisted the help of a dozen other people to help cash stolen and fraudulent checks at Kroger stores across the country. According to Stanton, Mathis stole checks from mailboxes at Cordova businesses. Most of the stolen checks came from the United Food and Commercial Workers Union's local chapter. wmcactionnews5.com


Tunnel Hill, GA: Police Arrest 2 with $10,000 of stolen Polo Ralph Lauren Clothes from Nashville Just before exit 340 on i75 southbound this black Honda Accord gets pulled over Tuesday night. Scott Reneau, Tunnel Hill Police Dept, "I also got consent from the driver, during the search I located two large trash bags in the trunk that were loaded with Ralph Lauren Polo gear, still had price tag on it and some had anti-device systems on it" Reneau acting quickly examining and removing all the stolen clothing and arresting both men. "Transferred to Whitfield County charged with theft by receiving, theft by receiving from another state, bringing stolen property across state lines along with tools for commission of a crime". wrcbtv.com


Twin Falls, ID: Couple Collected Wal-Mart Receipts to Make Fraudulent Returns A couple who police say collected discarded receipts outside of Wal-Mart to make fraudulent returns were both arrested Tuesday. Michael Anthony Pulizzi, 30, and Tollie Monica Taylor, 27, was arraigned on burglary and conspiracy to commit burglary charges. Between July 27 and Aug. 13 Pulizzi, Taylor and Jeana Lynn Amero, 29, were caught several times on security cameras entering Wal-Mart. They would go around the store gathering items and take them to a cashier. The three would often produce a receipt despite having not paid for the items, court documents said. A return would be credited to a Wal-Mart credit card. Wal-Mart employees noticed the pattern and suspected the three were making false returns. magicvalley.com

Lake Havasu, AZ: Three arrested at Walmart on Organized Retail Theft charges Three people were arrested last week for stealing from Lake Havasu City's Wal-Mart by concealing the stolen items in Wal-Mart bags and personal bags The trio admitted to stealing more than $200 worth of merchandise from Wal-Mart. parkerpioneer.net

Bullhead City, AZ: Man charged in ORC theft at Safeway
Jeramie Richardson was arrested Tuesday after he reportedly was seen concealing DVDs in his pants at Safeway, . Police said he then left without paying. The stolen DVDs were valued at about $176. Richardson reportedly told police that he had planned was to return the stolen DVDs for a gift card so he could buy his family some food. mohavedailynews.com

Do you have an ORC case to share? Publishing it educates the LP & retail community
which might fuel even more jobs and funding.
Share your ORC news and help the industry grow


Medford, OR: Assault and Robbery at Walmart ends in Central Point Standoff; "It was $39 in bras, paint and some screws" A shoplifting and robbery at the north Medford Walmart Wednesday afternoon led police officers to a brief standoff at an apartment complex in Central Point. Medford police Lt. Mike Budreau said police took a report around 2 p.m. of a shoplift in progress at the store. Budreau said a man, identified as Allen Shane Ledbetter, 25, and a woman were caught shoplifting by store employees. Budreau said the pair resisted attempts to detain them and knocked one store employee unconscious. Budreau said Ledbetter apparently has a martial arts background and that the struggle ultimately injured two more people. Budreau said that although the case will end with Ledbetter and the woman facing felony assault and robbery charges, along with theft, the original items shoplifted totaled less than $40. "It was $39 in bras, paint and some screws," he said. Ledbetter ultimately came out of the apartment with his hands in the air and was quickly arrested. mailtribune.com


Sunset, LA: Police Officer killed, 2 others in critical condition; suspect barricaded inside c-store Sunset Police Officer Henry Nelson and Shameka Johnson, 40, died in the stabbing and shooting incident in Sunset today, Sheriff Bobby Guidroz said. Two other people -- Courtney Jolivette, the suspect's wife; and Surlay Johnson are at area hospitals listed in critical condition. The suspect has been identified as Harrison Lee Riley Jr. of Arnaudville. Sheriff Guidroz says Riley went to a home on Anna Street to confront his wife, which is where he stabbed her, as well as the sisters of the Grand Coteau Mayor, Shameka and Surlay Johnson. Police were called to the scene, and officer Henry Nelson of Sunset was the first to respond. The sheriff says Riley fought with Nelson and ended up shooting him with the officer's gun. Riley then allegedly fled the scene and crashed into a mini mart where he barricaded himself inside. Louisiana State Police negotiated with the suspect and other responding officers used tear gas in an attempt to remove him from the store. They successfully apprehended him around 6:30 p.m. katc.com

Fairfield, OH: Taskforce busts Multi-Million dollar food assistance fraud ring, meat company implicated Employees of two Greater Cincinnati meat delivery services are being charged with conspiracy to defraud the United States, wire fraud, illegal use of food stamp benefits, theft of public money, money laundering and possession with intent to distribute a controlled substance. U.S. Attorney Carter Stewart of the Southern District of Ohio announced the charges on Wednesday following the arrest of 14 suspects after federal, state and local officials executed 19 search warrants and four seizure warrants against Butcher Shop Food Distributors, US Beef of Cincinnati and their employees stemming from an 18-month investigation. According to court documents, since 2011, individuals associated with the Fairfield companies engaged in illegal and fraudulent food stamp transactions totaling $1.1 million. The owners, managers and other employees allegedly redeemed food stamp benefits for ineligible items including money, Oxycodone, heroin and marijuana. bizjournals.com

Louisville, KY: Two Chicago Men Indicted For Multi-State Cargo Thefts
Two Chicago men have been indicted by the United States District Court in Louisville following a 13-month joint investigation by the Kentucky State Police Vehicle Investigations Branch, the Georgia Bureau of Investigation, the Illinois State Police, CargoNet and the FBI. The indictments stem from multiple cargo thefts referred to as fictitious pick-ups. In these cases, the suspects used fraudulent documents and information to steal a wide variety of products in multiple states including four thefts in Kentucky. whas11.com

Alameda, CA: Two men caught burglarizing Target, electronics merchandise valued at over $35,000 Alameda police arrested two men after they were accused of burglarizing Target at Alameda Landing, where they attempted to steal $35,000 worth of electronics. The men, ages 20 and 19, were arrested about 12:20 a.m. Aug. 16 after police set up a perimeter at the shopping center while the men were allegedly still inside the closed business. Officers were dispatched after a woman who was monitoring the store's security cameras spotted them inside, breaking glass cases, police said. Both men attempted to run off, but were arrested with the help of a police dog and all of the stolen merchandise was recovered. Over $10,000 in damages was done inside the store. contracostatimes.com

Studio City, CA: Team of 5 Burglars steal $15,000 in Drones and Go-Pros in a Smash and Grab A crew of at least five burglars working together gathered more than $15,000 in cash and merchandise during a blitzkrieg burglary of a Studio City shop specializing in consumer and commercial drones and accessories. nbclosangeles.news




Bronx, NY: Robbers Steal More Than $40K From Armored Truck Armed robbers made off with more than $40,000 Monday in a brazen daytime heist of an armored truck in the Bronx, police said. Just before 11 a.m., two gunmen struck a truck guard in the head as he was making a weekly cash pickup from a BP gas station at Jerome and Cromwell avenues in the borough's Mount Eden section. cbslocal.com


Racine, WI: Small business fighting to survive; shoplifting team hits store
Police were on site Wednesday investigating a report of a shoplifting theft at RG Natural Babies which occurred that afternoon. After talking to police, employees said a man had reportedly tried to distract staff members while a woman removed more than a dozen items from the clearance rack outside of the store, which sells clothes, toys and other products for young children. Neighbors in a nearby building reportedly saw the couple take the clothes from across the street and alerted staff. "If somebody were to do that every day, we wouldn't survive; that's how much it affects a small business like this," said store employee Melissa Rodriguez. journaltimes.com

Santa Rosa Beach, FL: 5 Walmart employees arrested for thefts
Five Walmart employees have been charged with operating a shoplifting ring in the store where they worked. The five were all from Jamaica, according to a media release from Walton County Sheriff's Office. The thefts took place between Aug. 11 and 22. The five would go through each other's cashier lines, reports said. The cashier would either ring the item up at a lower price, void out the item on the receipt but bag it anyway or intentionally not ring up the item before bagging it. The five are each charged with misdemeanor petit theft and felony conspiracy to commit fraud. nwfdailynews.com

Alcoa, TN: Shoplifters afraid vehicle will be Burglarized following arrest, ask Police to lock car Two people who were arrested at the Alcoa Walmart on shoplifting charges were taken to jail Monday, but not before asking police to protect their vehicle against a break-in. Anthony Henson and Tracey Diane Henson, were arrested by Alcoa Police officers Monday morning on charges of theft by shoplifting less than $500. On the way to the jail, Anthony Henson informed officers he had left valuables inside his vehicle, which was left unlocked with the windows down. Officers decided to return to Walmart with the Hensons and secure the alleged shoplifters' vehicle. thedailytimes.com

Rockland, ME: Stealing Flowers for his Girlfriend ends with Felony Arrest

Bedford, IN: Dunham's Store Arsonist sentenced to 11 ½ years

Joplin, MO: Kohl's / JC Penney shoplifter heading to prison for 5 years

Houston, TX: Fire breaks out at beauty supply store

Chandler, AZ: man accused of nationwide Craigslist ticket scam arrested

JB Robinson Jewelers in the Southland Center, Taylor, MI was the victim of a Grab and Run, merchandise valued at over $23,000

---

● Big Lake Creamery - Prudenville, MI - Burglary
● BP - Bronx, NY - Armored truck robbery
● Cueramaro Supermarket - Elkhart, IN - Robbery
● CVS - Houston, TX - Robbery
● Dairy Queen - Prudenville, MI - Burglary
● Detroiters Helping - Detroit, MI - Burglary
● Drones Plus - Studio City, CA - Burglary
● Family Dollar - Hammond, MS - Robbery
● Get-n-Go - Sioux Falls, SD - Armed Robbery
● Kum & Go- Council Bluffs, IA - Armed Robbery
● Plaid Pantry - Portland, OR - Armed Robbery
● QFC - Capital Hill, WA - Robbery
● RG Natural Babies - Racine, WI - Theft
● Slusher's Farm - Sikeston, MO - Theft
● Stop n Shop - Huntsville, TN - Burglary/ roof top
● T-Mobile - Pinecrest, FL - Burglary
● T-Mobile - DeKalb, IL - Armed Robbery
● Walmart - Lockport, NY - Theft
● 7-Eleven - Nesconset, NY - Armed Robbery





To apply to today's Featured Jobs, Click Here


Limited Time Only - Post Your Multi-Unit LP jobs for FREE - Learn More Here




Today's Daily Job Postings from the Net - Appearing Today Only

To apply to today's Internet Jobs, Click Here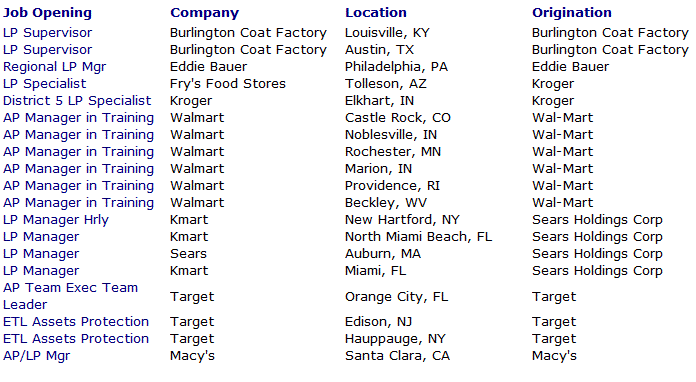 3 Ways to Nurture a Happily Productive Team Any organization's biggest asset is their team. When they understand the vision and bring it to life not only are they productive, but they are happy. It's a leader's job to nurture that cycle. Here are some steps you can take to help your team effectively utilize their time so they can stay productive. Expectations

6 Keys to Building a Rock Star Team
Finding top talent is hard enough, but keeping them from going elsewhere is another story. The key is to actively manage the relationship you have with your employees from the very beginning. Here are some tips on how to build and keep your A team. Personality fit

Change is the only constant. Embracing it and dealing with it, while absolutely necessary, can be a daunting task that is difficult for everyone. Psychologists believe that humans strive to eliminate fear by avoiding change when, in fact, change can be the best thing for us. Those that run to it usually are in front, and those that avoid it most of the time end up in the rear.

Just a Thought,
Gus Downing




Post Your Tip or Advice! Click Here

Please make sure to add d-ddaily@downing-downing.com to your contact list, address book, trusted sender list,
and/or company white list to ensure you receive our newsletter.
FEEDBACK / www.downing-downing.com / ADVERTISE WITH THE DAILY