Canadian cargo theft more common than people think, expert says - Columbia Sportswear hit hard The theft of truckloads of merchandise is much more common than the general public thinks, according to a trucking expert. "In this industry, we know it's not the opportunistic criminal that's identifying a whole truckload of merchandise and says: 'Hey, this looks like something fun to steal'," said Jennifer Fox, vice-president of trade and security with the Ontario Trucking Association. "What we have is a very organized criminal element in place." According to research of cargo thefts by the Ontario Trucking Association, food products are the number one commodity being stolen, as well as house hold products. The reason? They're easy to off-load and get rid of quickly. There is also a high demand for food and household items year-round, she said. Fox added that cargo theft is also often not reported, making it difficult for her organization to pinpoint how frequently they occur. "We have, for years, been trying to bring more attention to the issue," she said. "Initially, I think there was hesitation from the trucking industry to start talking about this issue and how often it's happening. There's a real fear about the negative image that can be conjured up by your customers and the public if you seem to be victimized by this." More trucking companies are, however, coming forward with information about thefts, Fox said. There's a level of frustration in the industry that it seems the criminals are getting more sophisticated in how they operate. "They have things such as GPS blockers now, so you put a GPS on your trailer and the criminal element can use these GPS blockers and essentially block that signal," she said. cbc.ca

Free Half-Day Fraud Seminar in Vancouver on Sept. 22 - Register Soon, Seating Limited On September 22, the Fraud 360 World Tour comes to downtown Vancouver to deliver a free half-day seminar on their trademark 360° view of fraud. A complimentary continental breakfast and lunch will also be provided. Register quickly because seating is limited. The seminar will be held at the Hyatt Regency Hotel, located at 655 Burrard Street. Bring your notepad and questions and learn from fraud experts about current data, global trends, changes in Payment Card Industry compliance and future forecasting affecting transactions. Click here to see the schedule and session list.

Best Buy sales soar in U.S., plunge 25.6% in Canada
Shares of U.S. electronics giant Best Buy Co. Inc. soared 12.57% August 25, thanks to unexpectedly strong sales and profit in the U.S. as well as a strong outlook. That made it the best performer in the S&P 500. The company's Canadian subsidiary, Burnaby-based Best Buy Canada, however, was a drag on the company's business. Best Buy does not specifically break out Canadian sales but it reports on its international division, which is now almost exclusively Canadian. Sales in that division fell 25.6% to US$650 million in the quarter, which ended August 1, compared with US$874 million in the same quarter a year ago. Canada is essentially the company's entire international division given that Best Buy completed the sale of its business in China in February. biv.com

As U.S. retailers eliminate on-call scheduling, Loblaw signs part-time workers deal with union up north A month after ratifying a six-deal with the union that represents 12,000 of its employees in Ontario-avoiding a strike in the process-Canada's biggest food retailer has inked another deal with the United Food and Commercial Workers that aims to make life easier for part-time workers. Under the terms of the new deal, according to the Toronto Star, Loblaws Great Foods and Superstores will introduce several pilot projects to make the schedules of part-time workers more predictable and guarantee them better hours. It provides part-timers with 10 days advance notice of scheduling, instead of the previous three-a longstanding source of irritation for part-time workers with families, studies and other jobs to juggle. canadiangrocer.com

Canadian Salary Growth to Slow
Canadian employers are expecting salaries to rise by an average of 2.5 per cent in 2016. This is down from the average 2.8 per cent salary increase expected for 2015, as reported in last year's Trends in Human Resources survey, an annual project from Morneau Shepell. The average salary increase figures include expected salary freezes. retaincanada.ca

Nine West sold to American owner of brand, new subsidiary to run business

British Fashion Brand REISS Plans Cross-Canada Store Expansion

Laura's Shoppe Inc to close 20 stores by Sept. 13, seek rent cuts on 26 others

Vacant Target Canada locations inspire Tumblr page

Three police officers win Canadian Banks' Law Enforcement Award for innovative investigative work

Labour Day Retail Hours: What Retailers Need to Know


Retail Fast Facts: August 2015

Highlights:
Total monthly retail sales changed by 3.7 per cent over the comparable month last year.
Total sales excluding food, automotive and gasoline changed by 4.5 per cent over the comparable month last year. Read more

Keynote Session:

Workplace Violence Red Flags, Prediction and Prevention


Sep. 16th - The International Centre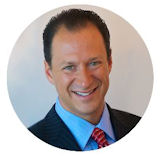 Every school shooting, workplace shooting and even the Navy Yard shooting could have been prevented if we crowdsourced our security. The fact is that when someone's about to "go postal," that person tells the world in many obvious ways. Organizations that do nothing and believe that it can't happen to them are next in line when it comes to being unprepared.

In this session, Robert Siciliano, Security Analyst, Author and Media Personality, will talk about the red flags that at-risk customers and employees exhibit and know how to best educate and inform front-line employees, managers and supervisors. When you recognize what methods to use, you will create an observant and security-conscious company culture.


Nearly 100 fentanyl patches stolen from downtown Toronto pharmacy this week The theft occurred between the closed store hours of 6 p.m. on Aug. 26 to 7:30 a.m. on Aug. 27 in the area of Church Street and Queen Street East. Police say 14 to 20 boxes of fentanyl were taken - each containing five patches. "It looks very similar to a nicotine patch," said Detective Sergeant Mike Richmond during a press conference on Friday. Earlier this month, investigators issued a warning to the public of the potentially deadly combination of fentanyl infused narcotics that are slowing making its way into the city's drug scene. globalnews.ca

Audiotronic's merchandise stolen from Dawson Creek turn up in the Okanagan According to Sgt. Ed Reinink with the Dawson Creek RCMP, a variety of goods stolen from the store Audiotronics last Sunday turned up in the Northern Okanagan region. 22 cell phones and a Nikon camera were found by RCMP in a stolen vehicle. Officials have launched a formal investigation to find out just how the electronics made it to the interior, and who is involved in breaking and entering the store. energeticcity.ca

Robbery suspects break into Woodbridge convenience store by cutting hole in roof The robbery occurred at a store which also serves as a Canada Post outlet in the area of Highway 7 and Kipling Avenue. Police say the suspects entered the shop by cutting a hole in the roof but were unable to get out of the building through the front door. cp24.com

Barrie, ON: Police seeking suspects in ice cream truck theft
Police in Barrie, Ont., are looking for suspects who made off with an ice cream truck Tuesday night. Investigators say the truck was recovered early Wednesday morning about 90 kilometres away by provincial police in the Bracebridge, ON area. Police described the vehicle as "very distinctive" as it was covered with decals of ice cream cones, sundaes, Popsicles and slushies. OPP say significant damage had been done to the truck before it was recovered. The fate of the ice cream that was in the truck isn't known. globalnews.ca



Corporate, Regional and District LP Teams

Your Team - Your Pride - Our Industry

One Team at a Time
Share Your Team's Selfie & Let's Build Industry Pride

And have some fun in the process & Maybe win a Pizza Party



As ecommerce and financial institutions evolve, so does fraud
With the growth of the online and mobile commerce, retailers are trying to build long-term relationships with their customers by storing customer account information and creating mobile applications to make access easier. Ecommerce transactions broken down consist of the following percentages and risks: 80% of transactions were account logins, with 3% high risk, 19% of transactions were payments, with 3% high risk and 1% of transactions were account creation, with nearly 7% high risk. Attacks detected during real-time analysis and interdiction of fraudulent online payments, logins and new account registrations show us that fraudsters are constantly developing sophisticated strategies to compromise digital identities. thepaypers.com

U.S. Card Security Is Finally Catching Up with the World
Many Americans who travel abroad have already experienced the changes that chip technology will bring when chip technology rolls out widely this year. This change means card information won't be passed to the merchant for payment. Instead, the embedded chip on the card communicates a single-use code to the card reader. Behind the scenes, the reader passes the one-time code through the wireless network to validate that the card is legitimate and to authorize the transaction. The single-use code can only be used for that transaction, and does not include the card number. So thieves can't reuse the information passed during a chip transaction to commit fraud. That means American consumers finally get the same payment card abilities, safety and security that consumers in Europe, Canada, Asia, Latin America, and even North Korea enjoy. Everywhere chip technology is used, counterfeit fraud from point of sale purchases has been significantly reduced. In the United Kingdom, retailers saw losses fall 67% since chip implementation in 2004. When Canada instituted chip cards in 2008, annual fraud losses fell from $142 million to just $38.5 million in one year. paymentssource.com

Ulta Beauty e-commerce sales skyrocket 43.4% in Q2

J.C.Penney Plays Catch-Up in E-Commerce

Revolutionary Amazon rival Jet.com will transform e-commerce

Visa gets more online retailers to add Checkout payment services

Report: Amazon planning a direct pickup option


"Fraud is not a person - it is a dynamic grouping of statistics that deviate from the norm."
Stuart B. Levine, CFI, CFCI
CEO, The Zellman Group & Zelligent




Pontiac, MI: Man sentenced for using addicts to steal over $600,000 in merchandise from The Home Depot Detroit man used drug addicts and homeless people to steal at least $600,000 in merchandise from Home Depot stores in southeastern Michigan over the past 18 months, authorities said. Adelbert Ackerman, also known as Aldelbert Lovett, was sentenced Wednesday in Oakland Circuit Court to four years and six months to 40 years in prison for conducting the criminal enterprise and 18 months each for two first-degree retail fraud offenses. As part of his sentence, Ackerman is also banned from Home Depot. Police first became aware of Ackerman, 46, when, during a November 2014 raid in Detroit, they found stacks of Home Depot merchandise, still carrying price tags, scattered around the address, along with Home Depot store value cards, wrapped in receipts. They first believed the property - stacked in piles totaling $200 - was being exchanged for drugs. detroitnews.com

Tacoma, WA: Nordstrom clerk pleads not guilty to $30,000 theft; blames ORC ring A Nordstrom sales clerk accused of stealing nearly $30,000 through false merchandise returns has pleaded not guilty to first-degree theft. The 21-year-old woman was released from custody without bail. The saleswoman began working at the Tacoma department store in June, and it wasn't long before loss prevention officers began monitoring her. In a two-month span, she returned nine items worth $29,333 to the same few credit cards, according to charging papers. Prosecutors allege none of the returns had receipts and some items did not come from Nordstrom. One designer blazer had a price tag of $3,300, and a Prada dress was valued at more than $1,900, prosecutors said. The sales clerk allegedly told police she was approached by a man who runs an Organized Retail Theft ring and asked to participate. She said she was paid $400 to $500 per return. thenewstribune.com


Ripon, CA Police break up large Shoplifting Ring Ripon police believe they broke up a large shoplifting ring Tuesday night when they arrested five people from the East Bay with thousands of dollars in stolen merchandise. Five people entered a CVS store on West Main Street about 9:30 p.m., split up into smaller groups and shoplifted items from the store, Lt. Steve Merchant of the Ripon Police Department said. Employees recognized what was happening and called police. Officers arrived within minutes and stopped the suspects' vehicle, Merchant said, conducted a search and found more than 200 stolen items, including alcohol, gift cards, clothing, perfume, toiletries, jewelry and makeup worth more than $3,000. recordnet.com

Carlsbad, CA: Theft ring hits Lulu Lemon for $10,000 in merchandise, prompts police pursuit Three women stole about $10,000 worth of workout clothes from Lulu Lemon on Thursday, then were stopped at Westfield UTC mall where one was arrested at gunpoint and two escaped, police said. The two who fled took off in a stolen car and led San Diego police on a pursuit south on Interstate 805. The trio is believed part of an organized theft ring out of Los Angeles, Carlsbad police Lt. Greg White said. He said the woman who was caught is from Los Angeles, and that there has been a recent increase in LA-area criminals targeting high-end shops in North County. sandiegouniontribune.com

Do you have an ORC case to share? Publishing it educates the LP & retail community
which might fuel even more jobs and funding.
Share your ORC news and help the industry grow


San Diego, CA: Suspect killed in Police involved shooting outside CVS
The shooting was reported outside a CVS store at Friars Mission Center was reported shortly after midnight, San Diego police Officer Ben Newton said. Witnesses said they heard police commanding someone to get on the ground just prior to the sound of gunshots. The victim died at the scene. His name was not disclosed. 10news.com

Olympia, WA: Officer-involved shooting of 2 Safeway suspected shoplifters, documents released Documents relating to an Olympia officer-involved shooting that injured two suspects have been released. Olympia Officer Ryan Donald shot and injured theft suspects Andre Thompson and Bryson Chaplin May 21. According to the documents, employees at a Safeway grocery store reported an attempted theft. Donald said he hadn't responded to the store but began looking for suspects in the area when he encountered two men matching the provided description. He claims he shot the men after they attacked him with a skateboard and one tried to take his gun. Thompson told a detective that neither he nor Chaplin had stopped at a store that evening and that they hadn't used their skateboards as weapons. Documents say Thompson was shot once, and Chaplin sustained multiple gunshot wounds. theolympian.com

Portsmouth, VA: Indictment to be sought in Portsmouth officer-involved fatal shooting of shoplifter The Commonwealth's Attorney's Office has announced they are seeking an indictment into the fatal officer-involved shooting of William Chapman in Portsmouth. In April, 18-year-old Chapman was suspected of having shoplifted from the Wal-Mart on Frederick Boulevard. Security then alerted police of an alleged shoplifter leaving the store. Chapman, who was walking across the store parking lot, was approached by a Portsmouth officer, said Virginia State Police. Multiple witnesses told police the man and the officer started to struggle. At some point during the altercation, VSP said the officer shot Chapman. The officer immediately called for medical rescue, but Chapman died at the scene. wavy.com


Moore, OK: Police searching for man who robbed at Two Aldi stores Twice now in the past month, a man has made off with a large amount of cash after robbing two metro grocery stores. Police say there's a good chance he will strike again. The man walked into an Aldi grocery store Wednesday night, appearing to be a typical shopper. He even walked to the back of the store to pick up a carton of eggs before making his move. "He waits until the customers leave so it appears he's the only person in there. There are two more employees in the back," said Sgt. Jeremy Lewis, Moore Police. Once at the cash register, he grabbed the female clerk and demanded cash from the register. The surveillance video caught the crook pulling out the bills, before leaving with the money and the eggs. Police in Norman say this crime is nearly identical to an August 3 robbery at another Aldi store. news9.com


Hamilton, Twp, NJ: $80,000 worth of jewelry stolen from Trent Jewelers A Mercer County jewelry store is reeling after two thieves broke in, smashing display cases, and making off with thousands of dollars worth of diamonds. It was 3:30 Wednesday morning when two thieves broke a window and entered Trent Jewelers near Five Points in Hamilton Township. The first suspect took a swing with a tire iron to smash a display case, while his partner in crime made a beeline to two more cases at the other end of the store. They filled their bags with $80,000 worth of diamond rings and other estate jewelry and were in and out of the store in 30 seconds. 6abc.com

St Louis, MO: Surveillance video of Flash Mob looting at King's Beauty Supply store released Surveillance video of a beauty supply store being looted during unrest after an officer-involved shooting in north St. Louis was released Thursday. Kings Beauty Supply, STL Custom Designs, and Nail Spa were looted on August 19 during unrest following the shooting of Mansur Ball-Bey. Police said 30-40 people broke the businesses and stole cosmetic items, hair products, jewelry and clothing. kmov.com

Fayette Co, PA: Man charged in at least 12 Armed Robberies in PA and WV
State police on Thursday filed additional charges against a Fayette County man accused of more than a dozen convenience-store holdups in several Western Pennsylvania counties and one in West Virginia to get money for heroin. William Steven Hall, 32, of Uniontown admitted to 13 robberies in Fayette, Somerset and Allegheny counties, and Fairmont, W.Va., when officers were questioning him about a robbery near Uniontown. triblive.com


Fort Worth, TX: Police Looking for Serial Burglary Suspects; hit Ulta for thousands prior to Grand Opening Fort Worth police are asking for the public's help tracking down a group of serial burglars. In the last few weeks at least two men have been targeting high-end stores in Dallas, Euless and Fort Worth. The Ulta Beauty store in Euless is in the midst of its grand opening celebrations. But on Sunday morning employees arrived at work to see the damage left behind from an overnight burglary. Two men broke in and stole thousands of dollars worth of men's cologne. Both men wore gloves, and one wore a surgical mask while the other appeared to have a T-shirt over his face. That's about 40 minutes after the same two men were suspected of breaking into a J.C. Penney store at Alliance Town Center, which is 19 miles away in Fort Worth. nbcdfw.com



San Clemente, CA: Thief Saws Tunnel Through Pet Store Into Bakery The thief was caught on surveillance video on Tuesday around 3 a.m. cutting through a wall from inside a pet store to gain entry into the bakery on the other side. Once the suspect removed the piece of wall, he could be seen walking to the cash register and prying it open with a crowbar to remove cash. nbclosangeles.com





UK: Police follow the scent after a Smash and Grab raid at Leeds's Harvey Nichols store Staff arrived at Harvey Nichols, on Briggate in the city centre, yesterday morning (August 27) to find the glass entrance doors to the designer department store shattered and the lobby littered with debris. A spokesman said: "A male then entered and stole a quantity of perfume and aftershave before driving away in the car." yorkshireeveningpost.co.uk


Des Moines, IA: Sprint employee beaten with a bat during $40,000 Robbery

Milford, CT: Victoria's Secret worker assaulted during theft

Burbank, CA: Ulta Beauty Loss Prevention agent struck by fleeing shoplifting suspect's car

Jackson, TN: Man accused of grabbing woman in store

Lansdale, PA: Man admits stealing pills at gunpoint from 4 area pharmacies

Tucson, AZ: Reward offered in Arson of "Novia's & Princess Forever" store; $300,000 in damages

McLean, VA: Helzberg Diamonds in Tyson's Corner the victim of a Grab and Run, merchandise valued at $3,500

Perry, MI: Two skimmers found at Mobil gas station

Conyers, GA: Armed Robbery suspect asked Police officer to help jump his car minutes before Hibbett Sports robbery

Wetumpka, AL: Naked man on meth caught on camera trashing gas station

---

● Bed Bath & Beyond - Rockville, MD - Burglary
● Cefco - Lauderdale, MS - Armed Robbery
● CVS - San Diego, CA - Shooting
● CVS - Dearborn, MI - Robbery
● CVS - Warwick, RI - Robbery
● Dollar General - Iberia, LA - Armed Robbery
● Kangaroo - Suffolk, VA - Armed Robbery
● Loaf & Jug - Pueblo, CO - Armed Robbery
● Mac's - Victoria, BC - Robbery
● Need's - Halifax, NS - Robbery
● Petro- Canada - Victoria, BC - Robbery
● Sensitive Sweets - San Clemente, CA - Burglary
● Sprint - Des Moines, IA - Armed Robbery/ Assault
● Stokes General - Wind Ridge, PA - Armed Robbery
● T-Mobile - Miami, FL - Burglary
● Turtle Island Gallery - Kelowna - Armed Robbery
● Walgreens - Abingdon, MD - Armed Robbery
● Walgreens - Sioux Falls, SD - Armed Robbery
● Walters Arms - Mt Sterling, KY - Burglary





To apply to today's Featured Jobs, Click Here


Limited Time Only - Post Your Multi-Unit LP jobs for FREE - Learn More Here




Today's Daily Job Postings from the Net - Appearing Today Only

To apply to today's Internet Jobs, Click Here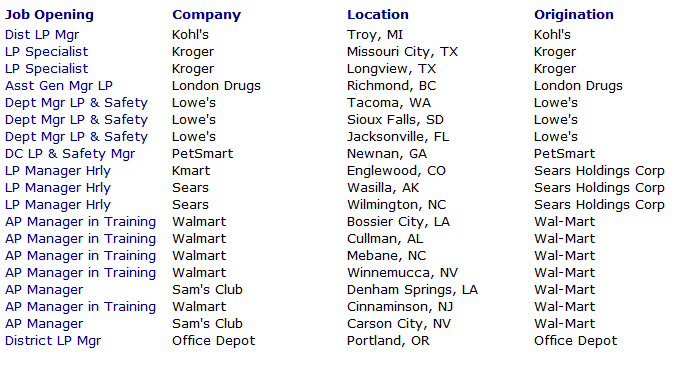 Jay Davila, CFI was named Regional Loss Prevention Manager for Wireless Advocates, LLC.





Dennis Bertino, CFI was named Senior Investigations Analyst for AT&T.


7 Traits of Great Mentors
There are tons of references for finding a mentor, but how do you really know whether that person is mentor material or just someone to look up to? There's no right or wrong answer, and nobody has the time to search through hundreds of potential mentors, but if you can find someone with these traits, chances are they have the make up for excellent mentorship. Different background

5 Essential Mentors You Need for a Killer Career Having a variety of mentors can help you continue learning and making smart decisions about the future of your career. They also give you a wide range of tips, helpful advice, and different perspectives, that having one mentor may not provide. Here are five types of mentors you should have to boost your career. Fresh-out-of-college mentor

Stagnation is the key to failing. Every CEO at failing retailers I've ever spoken to has told me that the number 1 reason for the company's problems was because the employee population had become stagnate and complacent in their jobs and performance. So many complain when new CEO's bring in their new teams and reorganize their companies, but in essence that's the key to reinventing the organization and rebirthing the company. All teams need to be reinvented from time to time merely to give them new energy, new focus, new opportunities. The human condition always forces us to take the easiest path when in reality that path will ultimately lead us to stagnation. Sometimes it's best to take a new path, one that appears to be the hardest, and maybe the most difficult. Because it's always the darkest path where we find the most rewards. Reinvent-Rebirth-Rethink. It begins every Monday!

Just a Thought,
Gus Downing




Post Your Tip or Advice! Click Here

Please make sure to add d-ddaily@downing-downing.com to your contact list, address book, trusted sender list,
and/or company white list to ensure you receive our newsletter.
FEEDBACK / www.downing-downing.com / ADVERTISE WITH THE DAILY