Corporate Meeting Coming Up?
Getting your team together?
Send us your new one!

Have some FUN and
take a Group LP Selfie

Top of the Daily!

Hang a plaque on your office wall
Win a pizza party!

Your LP Team Pride...
Let's Build our Industry
1 Group Selfie at a Time!

Win one of six pizza parties
chosen LIVE at our LPNN Shoots!

---



Interpol Battles Bitcoin Crime With Own Cryptocurrency
No matter how hard mainstream bitcoin enthusiasts work to give the digital currency a good name, there's always going to be another bitcoin criminal to slander its reputation. And with more transactions going online - bitcoin included - it's getting harder to keep up with the pace of cybercrime. That's why INTERPOL created an international anti-cybercrime center to develop its own digital currency to help battle crime that's committed using cryptocurrencies like bitcoin. Known as the INTERPOL Global Complex for Innovation (IGCI), which opened last month in Singapore, the facility marks the organization's first foray into an official center to research cybersecurity issues. INTERPOL also plans to use its own technology to develop a digital currency to be used for testing purposes. Because bitcoin, digital currency and cybercrime matters are getting increasingly more difficult to tackle for authorities, having help from the private sector might generate some real-world solution to tackle the security matters that impact both the private and public sectors. pymnts.com

Consumers using e-commerce to shop the world
UPS' most recent "Pulse of the Online Shopper" survey, conducted by comScore, says that the web continues to break down borders worldwide. Among respondents who said they make at two or more online purchases in a typical three-month period, 24% went to sites outside their home countries to shop-and half those sites were in the United States. In the U.S. 54% of shoppers have bought from a foreign site. UPS says that shipping across borders is set to explode in the next five years, growing to $330 billion by 2020 from $80 billion in 2014. retaildive.com

Fraudsters increasingly use credentials stolen from data breaches
Digital identities are being exploited on a routine basis by sophisticated cybercriminals, a new study shows. The report unveils that increasingly sophisticated attackers were increasingly targeting diverse data sets to effectively stitch together consumers' credentials. And new account creation continued to be at high risk as fraudsters use stolen credentials harvested from massive breaches. Further, fraudsters were either replaying stolen identities using proxies, device and location spoofing to cloak a true digital identity or piggy-backing on top of users' session with malware or man-in-the-middle attacks. thepaypers.com

Apple Pay, Samsung Pay and Android Pay Offer Speed and Security at Checkout


"Fraud is not a person - it is a dynamic grouping of statistics that deviate from the norm."
Stuart B. Levine, CFI, CFCI
CEO, The Zellman Group & Zelligent




Las Vegas, NV: Declined debit card at Toys R Us leads to ID theft ring Toys may be more than child's play, according to the U.S. Postal Service. A purchase at Toys R Us helped to bring down this ID theft ring. "He went to use a fraudulent credit card at a Toys R Us," said U.S. Postal Inspector Adam Fascio. "The purchase was declined; however, I guess he really liked what he was buying because he took out his personal debit card and bought the goods anyway." Postal inspectors were able to link the declined card and the personal debit card to track the ID thieves. Chase Bank recognized a pattern of fraudulent accounts being opened. "Someone was opening up credit cards and taking over people's existing credit card accounts," Fascio said. The credit cards linked to those accounts were being sent to the same New York address. "Turned out that it was a vacant apartment," Fascio said. "However, this particular building, to get in, you needed an electronic ID card." From surveillance tape, investigators were able to identify two of the three suspects in this case. Sixty victims had their accounts compromised, with more than $60,000 in damages. news3lv.com

Olympia, WA: Police nab $17,000 shoplifting suspect hitting 3 Home Depot stores Olympia Police arrested a 30-year-old Lakewood man last week after he allegedly attempted to steal more than $2,000 in merchandise from the Home Depot on Fones Road. Michael Charles Laughlin, who has since made an appearance at Thurston County Superior Court, faces charges of second-degree robbery and retail theft with extenuating circumstances. Laughlin and an accomplice also are accused of attempting to steal nearly $17,000 in merchandise from Home Depot stores in Tumwater, Gig Harbor and Federal Way, according to Olympia police. theolympian.com

Grandville, MI: Four busted in $8,000 Cabela's ORC Investigation
The leader of a group who stole from Cabela's and quickly returned the pilfered items for gift cards to support heroin habits was sentenced today to prison. Over the course of three weeks, they stole an estimated $8,000 in merchandise, which was then returned to Cabela's for in-store credit, court records show. More than 45 gift cards were then sold to area pawn shops or on the streets, netting the group about $3,900. Gift cards were sold for 50 cents on the dollar, court documents show. wzzm13.com


Braintree, MA: Three wanted for Theft/ Robbery/ and Assault at Nordstrom; $2,000 in merchandise stolen Police are looking for three suspects who are accused of stealing earrings from a store at the South Shore Plaza. On Saturday, the suspects entered Nordstrom and stole several pairs of earrings according to police. While being watched by loss prevention, the first suspect approached the loss prevention associate assaulted and threatened to shoot him. After the assault, the three suspects remained inside the store and continued to steal clothing valued over $2,000. patch.com

Athens, GA: 75 pairs of Sexy Cheeky panties stolen from Victoria's Secret in the Georgia Square Mall An employee of Victoria's Secret at the Georgia Square mall reported shoplifters on Saturday stole 75 pairs of Sexy Cheeky panties altogether valued at $1,087, Athens-Clarke County police said. The panties were stolen from a two-tiered display table, police said, the top level of which provided concealment for the thieves as they cleaned out the bottom tier. The same thieves are thought responsible for a similar theft that occurred at the store two weeks earlier. onlineathens.com


Foley, AL: Foley Police said that shoplifting arrests over the weekend have led to more charges from other recent theft cases They believe one suspect was involved in three separate thefts from Walmart stores totaling more than $5,000. They're asking for your help identifying some of his accomplices. Police said more than $2,500 worth of stolen merchandise was taken from the store and was recovered. About $800 worth of goods was recovered from the Gulf Shores store. As the investigation continued, police found reason to tie Lee to another shoplifting case on August 8, 2015 where more than $2,000 in merchandise was taken. myfoxal.com



Hudson, WI: Two men wanted for Burglary and Grab & Run thefts at Verizon stores Hudson Police were first called at 5:28 p.m. Saturday to Verizon Wireless for a report of a stolen tablet. Two hours later the same suspects showed up a different Verizon location, but did not enter the store. At 4:40am Police responded to a burglary alarm at that same Verizon store. The front door glass was smashed and wireless speakers from a display were stolen. hudsonstarobserver.com

Terrell, TX: Police observe 3 unloading a Walmart cart at Waffle House; recovered $800 in stolen merchandise "The officer observed two males, an adult and a youth, and a female behind the Waffle House unloading a Walmart cart full of merchandise", Capt. Sansom said. "The officer made contact and began a routine investigation into their suspicious conduct," he said. "The adult subjects both showed active warrants. After officers reviewed Walmart's surveillance system, Police determined that the juvenile played an active role in the theft. Both adult suspects were arrested for organized retail theft. terrelltribune.com

Davie, FL: Home Depot employee charged with Burglary of nearly $6,000 of merchandise Seven break-ins that happened in July and August were recorded on store surveillance videos and showed a man scaling a garden department fence or items being tossed over it while the store was closed. Davidson Sylne, 31, of Fort Lauderdale, a father of three young children, told Davie police he committed the thefts because he "needed the money," police said. Stolen merchandise included power washers, drills and other products valued at $5,997. On Sunday, officers and K-9 arrived at the store at 12:18 a.m. to investigate an alarm and found Sylne hiding in the garden department, where a bag of tools valued at $930 were in a garbage bag next to a fence, according to Leon. sun-sentinel.com

Do you have an ORC case to share? Publishing it educates the LP & retail community
which might fuel even more jobs and funding.
Share your ORC news and help the industry grow


Raleigh, NC: Fatal shooting at Check Cashing business could be linked to earlier shooting Police are searching for the suspect in a fatal shooting at Mr. Pawn Check Cashing in Raleigh. They said the case is likely related to another shooting earlier in the day. The suspect has been sighted in the Brentwood area. The victim was identified as the store owner, 64-year-old Thomas Melvin Durant. Police said the suspect was seen getting into a blue BMW. They said the car is similar to one used in a shooting earlier in the day on New Bern Avenue. wral.com

Johannesburg, SA: Two Armed Robbery suspects killed during raid on Armored Car at Clearwater Mall Two suspected robbers are believed to have been killed in a shootout with police officers during the failed robbery of a cash-in-transit vehicle at Clearwater Mall' west of Johannesburg' on Tuesday morning. timeslive.co.za

Jewelry Store Robberies - Dallas Task Force Helps Put Violent Criminals Behind Bars Two Texas men who committed violent jewelry store robberies in the Dallas/Fort Worth area were recently sentenced to lengthy prison terms thanks to an FBI-led task force that helped bring them to justice. The case is a classic example of local and federal law enforcement officers working together to make their communities safer. For a seven-month period between 2013 and 2014, Michael Demon Jackson and Mark D. Whitfield robbed numerous jewelry stores at gunpoint, in part to feed their heroin habits. Last May, after pleading guilty to the crimes, Jackson was sentenced to 594 months in federal prison, just shy of 50 years. In June, Whitfield received a 309-month prison term.

The pair targeted jewelry stores in shopping malls without good security and where female sales clerks worked alone. Whitfield would enter the store pretending to be a customer interested in making a purchase. When the clerk opened the display case, Jackson came in brandishing a gun. He would push the clerks to the ground, put the gun to the back of their heads, and threaten to kill them," said Noe Camacho, a Dallas Police Department detective on the task force. "It was very traumatic for the victims." fbi.gov

West Hempfield, PA: Three Kmart employees charged with felony theft
West Hempfield police made three arrests on Aug. 27 stemming from multiple thefts over the course of several months at a Lancaster Kmart. Police said Adiaris Diaz-Alvarado, 31, of Lancaster, Carman M. Kaylor, 39, of Columbia and a 16-year-old girl from Columbia, have been charged with various felonies as a result of the arrests. The suspects stole merchandise over a three-month period as well as under-ringing merchandise totaling more than $5,000 in loss to the store. pennlive.com

Bridgeport, CT: Man pleads guilty to the 2014 Smash & Grab Stamford Jewelry store Robbery; $250,000 in Rolex Watches Brian Moore, pleaded guilty before a U.S. District Judge in Bridgeport for his role in a smash-and-grab robbery of a Stamford jewelry store in November 2014. On Nov. 26, 2014, three of Moore's accomplices, armed with hammers, entered Sidney Thomas Jewelers, in the Stamford Town Center Mall, during regular business hours. The accomplices used the hammers to smash open a jewelry display case and removed more than $250,000 worth of Rolex watches. The three then fled, one of Moore's accomplices, Richard Mathew Bailey, was caught and apprehended inside the mall while fleeing. wtnh.com

12 Busted by Somerset County Prosecutor's Office in Alleged 'Gypsy Travelers' Scam Ring An affidavit from March alleges that the group, known as "Gypsy Travelers" who are frequently of Romanian or Eastern European descent, is a criminal racketeering enterprise that targeted the elderly and others for theft through deceptive conduct. Authorities allege that phony slip-and-falls were staged at a number of businesses throughout the Tri-State area. The total amount of the fraudulent claims exceeded $150,000.00 of which the defendants netted approximately $36,000.00 from the scheme, authorities said. While many of the claims were denied by weary insurance adjusters, other claims were negotiated and settled, authorities said. republishan.com

Greenville, NC: Two men arrested in fake bomb scare at Greenville, Mall
Officers say 19 year old Matthew Jonna-Lloyd Ross and 21 year old Scott Nelson Reynolds, told shoppers there was a bomb in the building and videotaped the encounter to get their reactions. Officers responded to a call at 3 Monday afternoon and were told that three men were approaching people in the mall. The third person was interviewed and released. Ross and Reynolds each face one felony charge of Making a False Bomb Threat one charge of Felony Conspiracy. They were booked into the Pitt County Detention Center Monday evening. wcti12.com

Durant, OK: Lowe's Arsonist sentenced to Probation
A man from Mead, OK who was accused of setting a fire at Lowe's in March while he had his 5-year-old child with him, has been sentenced. Korey Lee Marx has been sentenced to seven years probation, for first degree arson and endangering human life during arson. kxii.com

Baltimore, MD: Howard County Police strike against Tractor Trailer theft ring
With the conviction of a Brooklyn Park man on theft and burglary charges last week, prosecutors said that the Howard County Police Department has put a major dent in a tractor trailer theft ring that operated in Howard and surrounding counties. At the conclusion of a four-day trial last week, a jury convicted Adam Gensler, Sr., 32, on one count of theft over $100,000. In July, a Glen Burnie man was also convicted of similar charges. Police caught the two men "red-handed" in the waning hours of July 12, 2014. In the days leading to the theft of a tractor trailer loaded with potatoes from the parking lot of Capital Produce Company. Yaeger told the jury that Gopshes stole the tractor trailer in Jessup and drove it to a secluded industrial lot in South Baltimore, where Gensler and others could strip down the expensive rig, valued at over $100,000, for its tires, parts and scrap metal. baltimoresun.com


Nevada, MO: Burglar wearing a blue unitard and cowboy boots breaks into Subway A burglar wearing a blue full-body unitard and cowboy boots broke into a Missouri subway but left empty handed after failing to crack open a safe. Nevada police are still searching for the suspect who forced his way through a drive-thru window at the restaurant around 3.45am last Sunday. Surveillance video captured the would-be thief during the burglary as he came through the window and for several minutes desperately tried to open the safe. At one point, the suspect repeatedly kicks the handles on the safe before eventually leaving. dailymail.co.uk

Credit card skimming continues to run rampant in Tampa bay

Jackson, TN: Aloha Pools employee charged with $10,800 theft of property

Boardman, OH: PetSmart employee charged with felony theft, $4,200

Vineland, NJ: Walmart associate charged with theft of over $1,700

Stamford, CT: Woman jailed on robbery charge after grappling with Lord and Taylor security

Moscow, ID: Man found dead behind Tri County Outfitters store

Naples, FL: Man attempts to steal $500 worth of wine and a backpack from Walmart

Fairfield, CT: Police Arrest NY Man for 2012 Grab & Run Theft of a $30,000 Rolex Henry C Reid Jewelers

Sheboygan, WI: Man arrested in Grab & Run jewelry theft at Memorial Mall; Police recover several rings from unknown stores

Kay Jewelers in the Stoneridge Mall, Pleasanton, CA, on August 21, the store was the victim of an Armed Robbery

Fred Meyer Jewelers in Portland, OR was the victim of a Grab & Run on Saturday, merchandise valued at $11,695

Zales in Tulsa, OK was hit Sunday afternoon with a Grab & Run, merchandise valued at $2,669


---

● AM/PM - Vancouver, WA - Armed Robbery
● Boost Mobile - Loudoun Co, VA - Robbery
● BP - Detroit, MI - Armed Robbery/ 1 killed
● Castle Rental and Pawn - Harrison, AR - Burglary
● Circle K - Oklahoma City, OK - Robbery
● Cold Stone Creamery - Arlington, VA - Burglary
● Dollar & Extra - Arlington, VA - Burglary
● Dollar General - Wichita Falls, TX - Burglary
● Dollar General - Jones Co, MS - Armed Robbery
● Dollar Tree - Levittown, NY - Robbery
● Domino's - Platteville, WI - Robbery
● Get 2 Go - Fort Wayne, IN - Armed Robbery
● Giant Food - Lake Ridge, VA - Armed Robbery / PNC Bank
● Kwik Serve - Sparks, NV - Armed Robbery
● Moto Mart - Murphysboro, IL - Armed Robbery
● OB Cellular - Pembroke Pines, FL - Burglary
● Parker City Pharmacy - Seguin, TX - Burglary/ 3rd this year
● Pizza Hut - Corpus Christi, TX - Armed Robbery
● Raceway - Tremont Twp, PA - Armed Robbery
● Shell - Strongsville, OH - Armed Robbery
● Shopko - Spokane Valley, WA - Theft/ Robbery
● Subway - Grand Rapids, MI - Armed Robbery





To apply to today's Featured Jobs, Click Here



Limited Time Only - Post Your Multi-Unit LP jobs for FREE - Learn More Here




Today's Daily Job Postings from the Net - Appearing Today Only

To apply to today's Internet Jobs, Click Here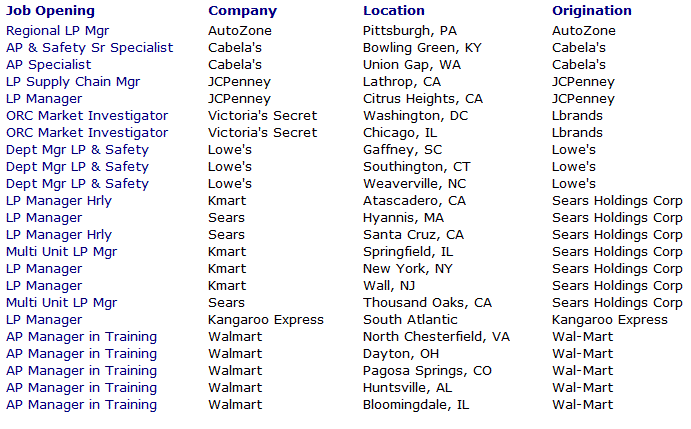 Steven Bova was named Director of Asset Protection for Taco Bell.

Kent Oda, Retired LAPD Detective III, was named Vice President, Business Development for Select Systems Technology.





Josh Hopeman was named Project Manager/Implementation Specialist for LP Software, Inc.




How to Lead Collaboratively
No leader rises above everyone else. The best leaders find success and achieve great things by standing right beside other people. Leaders don't lead alone. Through this collaboration, we find success and growth. Here's how you can lead alongside others. Achieve more

How Personal Values Make You a Better Leader In order to be a truly great leader you need to hold your team, and yourself, accountable to a set of personal values. These values affect the decisions we make, and how successful the organization and people become. Find out how this retail CEO uses his values and mission to make a difference. Shared goal


7 Steps to Go From an Ordinary to Extraordinary Leader There is always a desire to go from being good to becoming great. What can we do to step up our game? How can we make a bigger impact? How can we get to that next level? Here are some steps you can take to turn yourself into an extraordinary leader! Serve others

Five False Beliefs That Keep Managers from Becoming Leaders There are some ancient beliefs that managers have to be tough and in charge, but these are all not true. These beliefs will actually hinder your ability to become a great leader. Avoid following these five false beliefs so that you can be build a trusting team and boost their mojo levels. Build a human workplace

Looking at one's career should be viewed as a long-term investment tool that maximizes the individual's return on their efforts. Similar to any other investment strategy, a career is the building blocks for retirement. However, as most studies show, job satisfaction and recognition is as important and in some studies more important than monetary rewards. So how one reaches a balance is the key and making sure you challenge yourself about them periodically is wise.

Just a Thought,
Gus Downing




Post Your Tip or Advice! Click Here

Please make sure to add d-ddaily@downing-downing.com to your contact list, address book, trusted sender list,
and/or company white list to ensure you receive our newsletter.
FEEDBACK / www.downing-downing.com / ADVERTISE WITH THE DAILY