Previously broadcast
episodes

Click here to view episodes














Developing Future Leaders for Tomorrow's Challenges
Keith White, SVP LP Gap Inc., & Michael Nelson, Regional Dir. LP Kohl's

Leading the way with higher education – Northern Michigan University
Dan Faketty & Professor
Bob Hanson

Click here to view episodes

Sponsored By: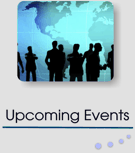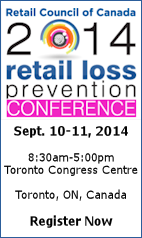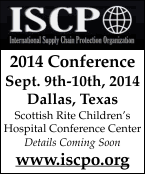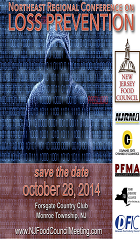 Know about an event we should feature here?
Let us know.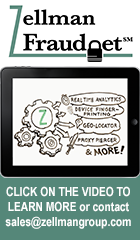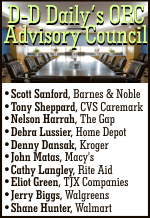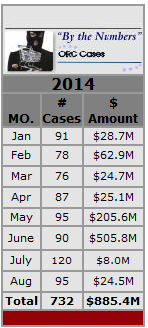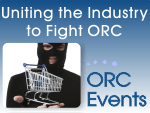 CCROC Task Force Training and Conference
September 4 and September 5, 2014

Oak Brook, Illinois Hamburger University

Admission is $80

More info and registration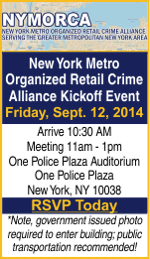 New England ORC Symposium & Trade Show
Sept. 18, 2014
DCU Center
Worcester, MA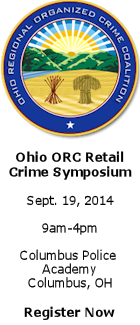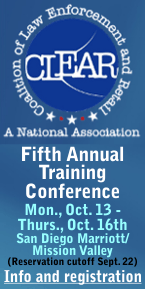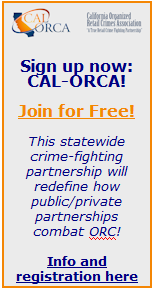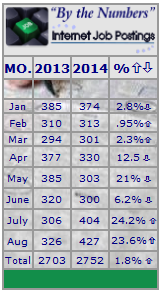 Here are the 11 Executives 'Moving Up' as reported in the Daily in August
Alere eScreen promoted Joe Metro AVP of Sales.
Dollar General Corporation named David George, CFE, CFI named Vice President of Asset Protection.
Follett Higher Education Group promoted Kirk Diegel to Vice President of Asset Protection – Field.
Follett Higher Education Group promoted Tom Provost to Director, Corporate Asset Protection.
Giant Tiger Stores Limited promoted John Bellefeuille to Director of Loss Prevention.
HEB promoted Clint Hedgpeth to Director of Internal Audit.
HEB promoted Louis Posada to Manager of Operations Review.
Levi Strauss & Co named Joy Baucom Global Manager of Security and Loss Prevention Operations.
Office Depot named Tom Mace Vice President, Retail Operations, Sales and Services.
Rent-A-Center promoted Jim Carr, CFI to Global Director of Loss Prevention.
Target promoted Sean O'Brien Manager, Corporate Security - Operational Intelligence.


'Data scientists replacing detectives in the hunt for fraudsters' - The Wave of the Future is Here "With the fingerprint of today's serious financial crimes being mostly digital, data scientists are rapidly replacing detectives in the hunt for fraudsters. Criminals are early adopters of new technology, using increasingly sophisticated techniques to move money across multiple accounts and markets making it difficult to track," said Porter. "Regulation continues to evolve but that is only one edge of the sword. To complete their arsenal, governments and fraud departments must use advanced analytics to uncover answers from a hugely complex pattern of transactions, behaviours and events to not only identify economic crime, but also understand the risk in order to put preventative measures in place." (Source retailfraud.com)

Goodwill's Data Breach Probe Finds It Came From a Vendor
Goodwill Industries International said an investigation of the data breach disclosed in July found that a malware attack on a third-party vendor provided access to credit-card data and no evidence of malware on Goodwill's internal systems. Goodwill, a nonprofit organization, said 20 members representing about 10% of all its stores that use the same vendor were affected. The vendor wasn't named. Goodwill said the affected systems contained names, card numbers and expiration dates, and there is no evidence that addresses or personal identification numbers were breached. (Source wsj.com)

Civil disobedience expected in fast-food pay fight tomorrow in 150 cities at McDonalds, Wendy's, & Others - Does is impact your stores? The National Restaurant Association said in a statement that the fast-food protests are attempts by unions "to boost their dwindling membership." The industry lobbying group said it hopes organizers will be respectful to customers and workers during the protests this week. Fells declined to say what exactly is in store for the protests in around 150 U.S. cities. But workers involved in the movement recently cited sit-ins as an example of strategies they could use to intensify their push for higher pay and unionization. Past protests have targeted a couple of restaurants in each city for a limited time, in many cases posing little disruption to operations. (Source yahoo.com)

Credit Suisse supports Staples-Office Depot merger - Will it happen?
A Credit Suisse analyst is reportedly recommending that Staples and Office Depot, itself recently merged with Office Max, merge. According to Investors Business Daily, Credit Suisse analyst Gary Balter made the suggestion in a note sent to clients on Tuesday, Sept. 2. The note said the proposed merger "makes significant financial and operational sense." Among the arguments Balter presented are that the wording of the FTC approval of the November 2013 Office Depot-Office Max merger indicates a merger with Staples would also meet approval, and that disappointing financial results in both companies' most recent quarterly reports support a merger. In addition, Balter's note said the operating profit of the resulting merged company could double by 2017. (Source chainstoreage.com)

Downsizing size & number of physical retail stores - a significant trend that won't stop - Complete 2014 store closing list According to the 2007 Economic Census, there were 1,122,703 retail establishments in the United States and a total of 14.2 billion square feet of retail space. That means that there is approximately 46.6 square feet of retail space per capita in the U.S., the largest in the world. With the explosive growth of Internet and mobile shopping, the oversaturation of physical retail locations operated by the largest U.S. retail chains becomes even more obvious. The era of if-you-build-it-they-will-come retailing seems to have ended for the U.S. retail industry. Here's the complete list of store closings for 2014. (Source about.com)


U.S. cargo theft down 4.9% in Q2 - Average value increases 5.6% 179 were full truckload cargo thefts while six were last-mile courier thefts. The highest number, 70, of these thefts occurred in April, 66 in May, and 49 in June. The average loss value per incident during the quarter was $174,415, up 5.6% from the same time in 2013. The average loss-value ceiling continues to rise as the persistence and increased sophistication of organized cargo criminals sustains," FreightWatch said in its report. "Although the overall volume of incidents has decreased, the count is well within the margin of incidents expected to be collected in the upcoming weeks." #1 - Pharmaceuticals = $2.8M per heist #2 - Electronics = $305,000 per heist. There was a significant change as Florida and Texas both surpassed California as cargo theft hot spots. Florida had 45 thefts, or 25.1% of the total, and Texas had 29 thefts or 16.2% of the total, respectively. California recorded the third highest theft rate with 28, or 15.6% of the total, a 53.3% decline from the first quarter of the year and a 52.5% drop from the second quarter of 2013. (Source truckinginfo.com)

Menard's home improvement store customer dies in freak accident Saturday - pallet falls 15 feet from upper storage & crushes him Richard V. Colletti, 38, of Clinton Township was crushed when a pallet holding about 600 pounds of ceramic tiles fell 15 feet from an upper storage rack at the Menards store in Chesterfield Township, MI. Colletti and his wife were shopping about 10:30 a.m. when the tiles fell. Chesterfield Police Lt. Bradley Kessler said employees had had placed a pallet of tiles on the shelf just moments before the accident that killed Colletti, but it's too soon to tell if the accident stemmed from negligence. The investigation is continuing. The accident may be a wake-up call to customers of large warehouse DIY home improvement stores to look up at what's stored on upper shelves and be on the lookout for signs of instability. (Source patch.com)

Home Depot Shares Drop 3.4% After Retailer Investigates Data Breach - Stock price impacted by data breach news within hours!

Abercrombie & Fitch to appoint chief ethics and compliance officer - beefing up corporate governance policies

Talbots selects Mi9 BI, Mi9 Merchant & Sales Audit with Loss Prevention software products for core merchandising & inventory management systems

Meijer Planning to Hire More Than 10,000 New Team Members Throughout Midwest

SEC's first whistleblower award goes to compliance staffer

'Exponential ROI,' retail revenue expected from big data analytics

Nevada proposes cell phone 'kill switch' law - following California's lead

ORC Numbers for August are Out!
The number of publically reported organized retail crime cases is still on the rise! The Daily reported 95 in the month of August, and has totaled over 730 so far this year. Also, the total dollar amount is reaching 1 billion fast, with Augusts dollar amount at $24.5 million, and year to date exceeding $885 million!

EMV Migration Forum And National Retail Federation To Co-Host Webinar Sept. 11 With 100 million EMV chip cards expected to be issued to U.S. consumers by year end, merchants need resources on when and how to enable acceptance of the new chip cards. To provide this essential education, the EMV Migration Forum is partnering with the National Retail Federation (NRF) on the webinar, "Merchant Considerations for U.S. Chip Migration." The webinar will be held on September 11, 2014 at 1 p.m. ET (10 a.m. PT). Webinar presenters include Tom Litchford, vice president of Retail Technology, NRF, Randy Vanderhoof, director, EMV Migration Forum, Robin Trickel, executive director of product compliance, Heartland Payment Systems, and John Drechny, senior director of payment services, Walmart. The webinar is intended to educate merchants on the global use of chip cards, the status of the U.S. migration, considerations for making the decision to accept chip payments, and tools to begin project planning for chip card acceptance implementation. (Source vendingmarketwatch.com)

Quarterly Same Store Sales Results
Alimentation Couchs-Tard Q1 up 2.8% in U.S., 1.2% in Europe, 3.3% in Canada with sales up 25.5%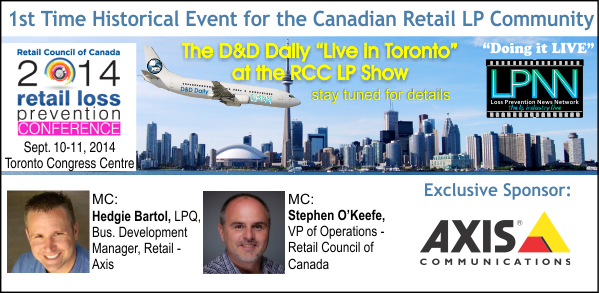 All the News - One Place - One Source - One Time
The D&D Daily respects your time & doesn't filter retail's reality







The NRF's LP Legislative Committee, a National Update

Jeff Fulmer & Jon Gold



Jeff Fulmer, VP of LP for Barnes & Noble and Chair of the NRF's Legislative Committee, and Jon Gold, VP, Supply Chain & Customs Policy at the NRF, provide a national update on the NRF's legislative efforts, including where federal ORC legislation stands and what retailers and LP professionals can do to aid the legislative effort. Jeff and Jon also talk about where the retail industry is going when it comes to cybersecurity and privacy, two hot-button issues also being looked at in Congress right now.

NEXT UP - Coming Sept. 9
Preparing - Training - Responding to the Active Shooter
Rich Mellor, Sr. Advisor Asset Protection, NRF

In this LPNN Quick Take, hear from Joe LaRocca, Greg DeTardo, President at NuTech National, and Kathy Grannis, Senior Director, Media Relations at the NRF. Kathy talks about some of the highlights from the NRF's ORC survey. While Greg discusses what's new with NuTech and where they are headed. They also discuss the opportunity as an industry for developing partnerships with retailers and law enforcement to combat ORC.

Solution Providers, have a video or commercial you want to publish? Contact us.


Online payment and cryptocurrency websites become phishing targets
Online payment services and cryptocurrency websites are being targeted by phishers, a recent report reveals. According to the Anti-Phishing Working Group research, for 2014 the number of phishing attacks remained high, and the Q2 of 2014 saw the second-highest number of phishing attacks ever recorded in a quarter since 2008, with 42,793 new phishing attacks per month. Findings indicate that attacks against retail/service websites also grew, from 11.5% to 16.5% of all phishing attacks. (Source thepaypers.com)

Identity theft rises as people fall victim to 'vishing'
Identity theft has grown to account for nearly 3 quarters of all credit card fraud in 2014, driven by an increase in criminals impersonating others over the phone to obtain their victims' account details, a recent study shows. According to a report conducted by fraud prevention service Cifas, identity fraud accounted for 74% of all card fraud in the first six months of 2014, up from 63% in the same period of 2013. The rise has been driven by "vishing", where fraudsters phone victims and pretend to be someone else to con them into giving security details. (Source thepaypers.com)

iPhone 6 will finally make NFC payments a big deal
"Fraud is not a person - it is a dynamic grouping of statistics that deviate from the norm."
Stuart B. Levine, CFI, CFCI
CEO, The Zellman Group & Zellman Fraudnet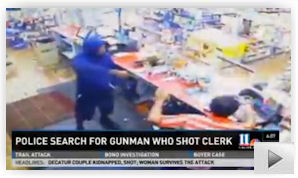 Police search for suspect who shot Texaco gas station clerk in the head in Georgia Police are still searching for a suspect they said shot a gas station clerk in the head during an armed robbery early Tuesday morning. The 28-year-old clerk, Rafi Makhani was very well-respected in the community. When one employee stepped out from behind the bulletproof partition to restock some shelves at about 2:45 a.m., an armed man stepped in and pointed a loaded gun at the clerk, demanding money. Authorities said the clerk did everything he should have done in the situation, but he was still shot once in the head. (Source 11alive.com)

Armed robber kills self after robbing drugstore in Tennessee
Johnson City Police Department officers have identified the man who shot himself after allegedly robbing a pharmacy, Val-U-Pharmacy Discount Drug Store, Tuesday morning. The man stole various narcotics before leaving the store followed by the pharmacy owner, Ahmed Atyia. Police said the robber and Atyia shot at each other. A man was stopped by police several minutes later in the same vehicle described by witnesses as being used in the robbery. When officers approached the vehicle, the man shot himself in the head. (Source wjhl.com)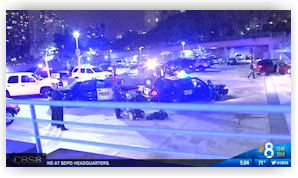 K-Mart armed robber takes San Diego police on car chase to SDPD headquarters A police pursuit came to an end at San Diego Police headquarters Tuesday night. The chase started at a Kmart parking lot in the 800 block of East H Street in Chula Vista. Officers responded to the call of an armed robbery around 9:30 p.m. Witnesses say the suspect was confronted in the parking lot for allegedly stealing from the store. During that confrontation, it's believed he pulled a gun before taking off in a maroon van with disabled license plates. Police tried to stop the van, but the suspect led them on a long chase through the city. Officers from the San Diego Police Department joined in the chase along with the SDPD helicopter. After spike strips were deployed in the path of the suspect's van, the chase finally came to an end in the parking lot of SDPD headquarters. (Source cbs8.com)

Two arrested in string of armed robberies in Volusia County, Fla. - 6 stores hit in 4 weeks Volusia County Sheriff's Office investigators hoped that a rash of armed robberies in the Deltona area were stopped with the arrest of a man and a female accomplice in mid-August. However, there have been two more stores targeted since then and investigators believe the suspect is tied to the two people already arrested. The robberies, five at convenience stores and one at a liquor store, were all within a few miles of each other and happened in the last four weeks. (Source wesh.com)



The Evolution Of ATM Skimmers
In a little over a decade, ATM skimmers have gone from urban myth to a wildly complex, ever-evolving suite of technologies that has the potential to be the worst nightmare of anyone with a bank account. Here's a look at how quickly skimmers have evolved — and why they're increasingly impossible to spot. (Source gizmodo.com.au)


"AK-47 Bandit" Suspected in bank robberies nationwide
Authorities say a man who used an assault rifle to rob a bank in Nebraska earlier this month matches the description of a prolific bank robber responsible for a slew of heists across the western U.S. The FBI says the Aug. 22 robbery of the First National Bank branch in southeast Nebraska may be the work of the so-called "AK-47 Bandit," who is suspected of shooting a Chino police officer during a heist in February 2012. The bandit went on to hit up banks in Northern California, Idaho and Washington. He was dubbed the "AK-47 Bandit" because of his penchant for carrying the assault rifle into his targeted banks. (Source privateofficer.org)

Zales in San Antonio victim of Smash-and-Grab; Over $12,500 in jewelry stolen
Two suspects committed a Burglary at a Zales Outlet in San Antonio, TX. 26 gemstone jewelry items, valued at $12,512.00, were taken. The subjects gained entry to the store by breaking the glass on the front window. Once inside the store, the broke the glass on a showcase containing gemstone merchandise. The subjects grabbed multiple items and ran from the store.

Grab-and-Run at Zales in Arlington, TX - $3,705 in jewelry stolen
The subject entered the store and asked to see diamond rings. While being shown a 2 CT. T.W. ring, the subject asked to hold it. When the Jewelry Consultant handed the ring to the subject, he ran from the store. The same subject visited the store two times approximately fifteen minutes prior to the theft. He browsed at several showcases on these previous visits and was also shown similar items.

Grab-and-Run at Zales in Del Rio, TX - $1,869 in jewelry stolen

Grab-and-Run at Zales in Fairfield, CA - $995 bracelet stolen

Rite Aid robbery suspect in PA arrested, admits to three other area robberies

Two Rite Aid pharmacies robbed within 15 minutes in Augusta, OR

Three Armed Robbery Suspects Arrested in Lafayette, LA

New Orleans man gets 77 years in prison for armed robbery, police chase

---
● Circle K - Yuma, AZ - Armed Robbery
● Dollar General - Lafayette, LA - Armed Robbery - 3 suspects arrested
● Family Dollar - Temple, TX - Armed Robbery
● Grocery Store - Baytown, TX - Armed Robbery
● Hari Food Mart - Austin, MN - Armed Robbery
● Lucky Way Food Store - Galveston, TX - Armed Robbery
● Rite Aid - Augusta, OR - Robbery
● Walgreens - Winston-Salem, NC - Armed Robbery
● Walmart - Woodhaven, MI - Robbery - suspect arrested
● 7-Eleven - Stow, OH - Armed Robbery