LPRC's 2015 Impact Conference Wraps Up in Florida

Research provides vital information on loss dynamics, protective outcomes, best practices, and hidden effects. Research also provides retailers an opportunity to assess the real and financial impact, if any, there has been on product loss. The Loss Prevention Research Council has put together an annual conference that helps retailers and their solutions partners better employ research tools to assess the real-world impact their LP efforts have on sales, crime, and loss levels. The 2015 Impact Conference featured two-plus days of informative and engaging presentations, multiple breakout working groups, an anonymized panel of active theft offenders, and much more. Held this week at the University of Florida in Gainesville, this educational event provided attendees with valuable insights and new research-based approaches to help reduce retail crime and increase sales.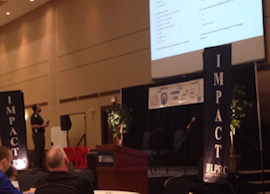 Attendees were presented research from the LPRC's 11 working groups and action teams, which include multiple retailers interacting with solution partners and scientists to deliver 2-4 go-to-market projects each year. The groups' individual areas of focus include: Product Protection, Supply Chain Protection, Video Solutions, Future of Loss Prevention, Organized Retail Crime, Data Analytics, Specialty Retail, Big Box Specialty, Food and Drug, Violent Crime, and Retail Fraud. Attendees were also given the opportunity to work in teams to apply the research approaches to current loss issues with the help of expert facilitators.

The event also provided a little taste of Vegas with the IMPACT Conference Casino Night, held at the Straughn Center and sponsored by Protection 1/Cam Connections. Those feeling lucky were treated to a fun night of cards, refreshments and casual networking. (See pictures below)

The conference wrapped up today with a presentation by Dr. Read Hayes and Mike Giblin of the LPRC covering the three main research areas that members voted for at the start of the year. These three areas include "Predicting employee deviance using offender insights", "ePVM effectiveness over time", and "Three theoretical advances in creating more effective product protection devices: Unpredictable AP. Associate Notification. Assumed Sophistication."
Congratulations to everyone at the LPRC and all sponsors and attendees
for another successful Impact Conference!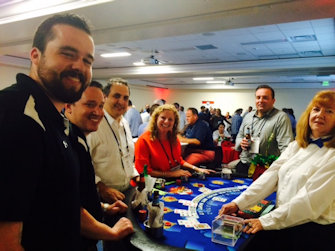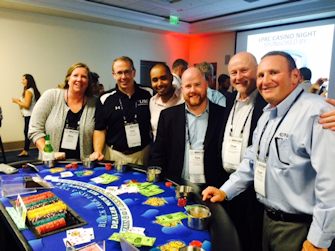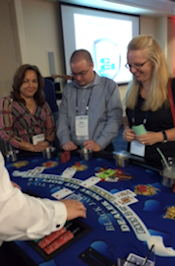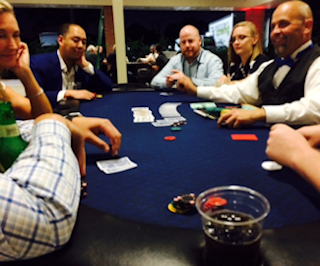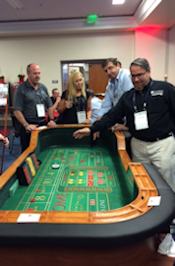 IMPACT Conference Casino Night sponsored by Protection 1/Cam Connections.

Save Mart Supermarkets post Director of Loss Prevention
position in Modesto, California
Save Mart Supermarkets is a privately held food chain headquartered in the heart of one of the greatest agricultural areas of our nation - the San Joaquin Valley.

Save Mart operates stores throughout the Central Valley, San Francisco Bay Area, and Northern Nevada under the names of Save Mart, S-Mart Foods, Lucky, and FoodMaxx. Save Mart also owns three distribution centers and SMART Refrigerated Transport, a trucking firm that transports dry groceries, frozen foods, ice and novelties to all of Save Mart's stores. In addition to transporting Save Mart's merchandise, we also operate throughout the state as a "for hire carrier," transporting product for other companies as well.

The Director of Loss Prevention will oversee the execution of Loss Prevention policies and procedures to protect the company assets to include cash, product, property, personnel, vendors and customers, and minimize the financial losses of the organization due to internal/external theft. This position is responsible for security oversight of the entire Save Mart Supermarkets enterprise, to include three banners, distribution centers, and corporate support facilities, which includes managing over 200 stores/sites/locations and up to 100 personnel, managers, and supervisors. Relies on extensive experience and judgment to plan and accomplish goals. Leads and directs work of the Loss Prevention team. This position reports directly to the Senior Director of Risk Management & Loss Prevention. savemart.csod.com

Amazon Sued Again For Not Disclosing Background Reports
A man denied a job at Amazon.com based on an allegedly inaccurate negative background report says the online retailer violated the Fair Credit Reporting Act by not warning him or allowing him to correct the record, according to a proposed class action complaint filed Tuesday in New Jersey federal court.

Theo Feldstein says Amazon withdrew its offer for a position as a fulfillment associate at its New Jersey facility based on a standardized background report conducted by a third-party company, but never warned him, provided him a copy of the report or allowed him to dispute the report's claims, thus violating the FCRA's mandatory pre-adverse action notification requirement, according to the complaint.

Feldstein says he applied for the Amazon job in April and sat down for an in-person interview not long after. Following the interview, he received a contingent offer of employment for the fulfillment associate position, which he accepted, according to the complaint.

In May, Amazon emailed him to say it was in the process of reviewing a background report. Feldstein says the report Amazon got back from Accurate Background Inc. listed criminal convictions that he was never convicted of, which caused Amazon to stop the application process. The only reason he found out was by logging into Amazon's online application portal, Feldstein alleges. The e-retailer finally emailed him back at the end of May confirming that his background report had come up negative, but did not include the report or a statement of his FCRA rights. law360.com

Compliance Officers Well Paid, New Survey Shows
A new salary survey from the Society of Corporate Compliance and Ethics shows chief compliance officers as a well-paid profession where professional qualifications and international responsibilities can boost earnings more.

The average salary for a chief compliance officer who works in a sector outside of health care and who manages at least 26% of their organization's legal and regulatory risk was $150,207, and their total compensation was $179,753.

"What's happening is corporate America is seeing that the position they once thought might be more of a mid-level is more of a higher level," This will be even more evident as companies digest the U.S. Department of Justice's Yates memo and its threat to hold corporate leadership criminally responsible for their company's compliance failures and violations, he said. As they realize the risks, companies are likely to consider the compliance officer more of an asset to help them stay out of trouble.

CCOs who are also certified public accountants have an average salary of $188,700, or $30,000 more than one who is a certified compliance and ethics professional, according to the survey, which was conducted in June. Chief compliance officers who managed a staff or 30 or more made an average of $202,346, while those who ran programs with a budget of $2 million or more made $223,375. For those who oversee compliance in 11 or more countries, the average salary was $227,710, compared with $156,600 for those with programs in two to 10 nations.

"We're going to see over the next 10 years leadership take compliance more seriously and hire more quality, experienced, educated, trained and certified individuals and being a CPA is an excellent background for this profession." wsj.com

Retail's Burning Question: Trouble for Specialty Retailers?
More Chapter 11's Coming!!!!
If you're in the apparel business this is a must read article
Although the individual paths to bankruptcy tell different stories, the recent Chapter 11 filings of American Apparel and Quisilver Inc. share one thing in common. Being a specialty retailer is a tricky business under current market conditions.

Millennials are aloof when it comes to brand loyalty. So what's hot now becomes too cold to sustain itself, say analysts and industry observers. "American retail, in general, is extremely difficult. The growth is almost non-existent outside of activewear and if you're looking at sportswear as a category then it's extremely price-sensitive and brand-sensitive. It's a problem across the board."

Michael McGrail, chief operating officer at Tiger Capital Group in New York, said that with mall traffic declining and showing no signs of coming back, "I expect a long, steady flow of retailer bankruptcies. Today's younger consumers were practically born learning to shop online many are simply not mall shoppers. Amid these pressures, lower-tier malls will continue to struggle to keep strong retailers interested in space, which will further dampen traffic in those properties."

"Generally speaking, certain tween retailers and others that cater to the younger crowd will continue to see sales shrink in the coming years and, thus, be candidates for bankruptcy. "The way people shop is increasingly less driven by brick-and-mortar stores and is moving increasingly online," she said adding that retailers who are overstored are more vulnerable.

As teens move away from logo-driven retailers - Abercrombie, etc. - we will see more store closures that will lead to Chapter 11 filings," Solanki said. "Consumers are spending more of their dollars towards restaurants rather than apparel - with the exception of athletic and casual wear. Also, the upper-middle class is slowing down in spending compared to the aspirational customers." wwd.com

Hurricane Joaquin's Double-Edged Sword - Drove retail sales in Northeast
In the Northeast, what was initially feared as a blow from Joaquin turned out to be a boost, as the storm veered out into the Atlantic Ocean and failed to hit major population centers. But the cold, rainy conditions it left in its wake pushed consumers to the mall, helping retailers recoup some of the losses they experienced in other markets.

The weather in the Northeast. "It should have been really good for business. It was actually an opportunity to sell fall product. It was a little bit of an anomaly in that a storm is usually a big net negative for softlines, but this was more of a positive."

Charleston was especially hard hit. On King Street, where retailers such as women's clothier Anne's, Brooks Brothers and Francesca's Collections are located, sidewalks were lined with sandbags to prevent damage from rising water.

A Wal-Mart spokesman said stores in Southern states were most affected by the storm. "All our facilities in the area of the hurricane are now open," he said. "We're working with state officials and the Red Cross and providing assistance. In South Carolina yesterday [Monday], there was a request from the state for water and we delivered four truckloads of water. We are still fully engaged to assist customers in the area."

The hurricane's economic impact was initially believed to be in the billions of dollars, including property damage, disruption in manufacturing and lost sales. "In the grand scheme, it had a positive impact because it drove consumers to stores in the Northeast." wwd.com

Saks Dodges Class Action Alleging Shortchanged Refunds
A California judge dismissed on Tuesday a putative class action alleging luxury retailer Saks Inc. violated consumer protection and unfair competition laws by excluding sales tax from refunds issued to customers who don't bring a receipt, ruling the complaint should have been lodged with a state tax agency.

Moshiri filed suit in June 2014, alleging she returned four items without an original receipt to Saks' outlets in Beverly Hills and Camarillo, only to be told that they can't include sales tax in the refund without a receipt. law360.com

UK's Tesco in 'secret talks' with fraud office over
accounting black hole over vendor rebates & payments
May choose to admit wrongdoing - pay a hefty fine to avoid criminal sanctions
In August, it was revealed that former Tesco chief executive Philip Clarke was to be quizzed by the SFO over the accounting scandal, which caused shares in the supermarket to slump and led to a string of profit warnings. The 55-year-old will be interviewed by prosecutors along with former commercial director Kevin Grace. Several of Tesco's suppliers could also be asked to give evidence on the matter. Tesco revealed in September last year that it had discovered a black hole in its profits, throwing the company into the biggest crisis in its history. The shortfall was linked to Tesco's commercial income, which is made up of payments and rebates from suppliers.

If a settlement is reached, Tesco would be required to pay a fine or compensation and co-operate in the prosecution of individuals related to the wrongdoing, it has been claimed. telgraph.co.uk

Iranian Hackers May Be Lurking on LinkedIn, Report Says
Cybersecurity researchers have uncovered a network of fake LinkedIn profiles, which they suspect were being used by hackers in Iran to build relationships with potential victims around the world, according to a new report to be published Wednesday by security firm Dell SecureWorks Inc. This tactic, known as "social engineering," is one where hackers trick people to get them to cough up personal or sensitive information. wsj.com

Southern Wine & Spirits posts Director of Security & Safety
position in Greenwood, IN
Southern Wine & Spirits is a family owned sales and distribution organization with a renowned history of consistently delivering impeccable service through our 14,000 employees, covering 35 states.

● Responsibilities includes but not limited to: Loss Prevention, Physical Security, Environmental Health and Safety, Worker's Compensation reduction, Transitional Work Programs, Business Continuity, Workplace Violence Prevention, Employee Education, OSHA/NFPA/DOT /Fleet Safety compliance, Office Management, and awareness as it relates to security and safety procedures and regulations for all SWS of Indiana facilities. southernwine.com

Sprint to Cut Jobs, Up to $2.5 Billion in Costs

Urban Outfitters to End On-Call Scheduling in New York

'Epic' S. Carolina flooding to easily exceed $1bn economic loss: Aon

Primark to price lower than U.S. fast-fashion competitors