Top Retail Security Programs
- According to Security Magazine's 2015 'Security 500' Rankings
Security Magazine has released its annual "Security 500" Rankings, which lists the top 500 security programs in the U.S. based on metrics provided by survey participants in a confidential benchmarking report. The 2015 "Security 500" Rankings are broken up into 18 different sectors, with their "Retail (Connected Commerce)" category listing 35 retailers numerically and 2 separate alphabetically. See which security programs are taking the lead, according to Security Magazine:

Rank
Company Name
Security 500 Member
Title
City
State

1.

eBay

George Booth

Senior Director of Global Security Operations

San Jose

CA

2.

Limited Brands

John Talamo

Vice President of Loss Prevention and Safety Services

Columbus

OH

3.

AMAZON

George Stathakopoulos

Vice President of Information Security

Seattle

WA

4.

Wal-Mart Stores, Inc.

Kenneth Senser

Senior Vice President

Bentonville

AR

5.

CVS Caremark Corporation*

Kenneth P. Mortensen, Esq., CIPP/US, CIPP/G, CIPM

Vice President; Assistant General Counsel; Chief Privacy Officer

Woonsocket

RI

6.

Starbucks Coffee Company

Jack Sullivan

Vice President of Global Safety and Security

Seattle

WA

7.

AutoZone, Inc.

Libby Rabun

Vice President of Loss Prevention

Memphis

TN

8.

Costco*

Larry Mongague

Director of Security

Issaquah

WA

9.

The Kroger Co.*

Karl Langhorst

Director of Loss Prevention

Cincinnati

OH

10.

Lowe's Companies, Inc.

Claude Verville

Vice President of Loss Prevention, Safety and Hazmat

Mooresville

NC

11.

Target Corporation*

Brad Maiorino

Chief Information Security Officer

Minneapolis

MN

12.

Safeway*

Kathleen Smith

Corporate Vice President of Loss Prevention

Pleasanton

CA

13.

Kohl's Corporation*

Randy Meadows

Senior Vice President of Loss Prevention

Menomonee Falls

WI

14.

Brinker International

Bill Heine

Vice President of Global Security

Dallas

TX

15.

Best Buy*

Erik Buttlar

Senior Director of Asset Protection

Richfield

MN

16.

ARAMARK*

Jay Hess

Global Security Director

Philadelphia

PA

17.

Dave & Buster's, Inc.

James Brussow

Director of Security

Dallas

TX

18.

Big Y Foods, Inc.

Mark Gaudette

Director of Loss Prevention

Springfield

MA

19.

Jack in the Box

Gene W. James, CPP

Director of Asset Protection

San Diego

CA

20.

Sports Authority*

John Clark

Director of Corporate Asset Protection

Englewood

CA

21.

Tween Brands - Justice and Brothers Stores

Robert LaCommare, CFI

Associate Vice President of Loss Prevention and Risk Management

New Albany

OH

22.

Art Van Furniture

Michael F. Case

Director of Loss Prevention

Warren

MI

23.

Cabela's

David O'Brian

Director of Corporate Asset Protection

Sidney

NE

24.

Express, Inc.

Joe Reisinger

Vice President of Brand Security

Columbus

OH

25.

Ann, Inc.*

Maurice Cloutier

Vice President of Corporate Loss Prevention

New York

NY

26.

Dressbarn

Brian Bazer

Assistant Vice President of Asset Protection and Risk Management

Mahwah

NJ

27.

Gap, Inc.

Marjorie Jackson

Director of Global Corporate Security

San Francisco

CA

28.

Abercrombie & Fitch

Shane P. Berry

Vice President of Asset Protection

New Albany

OH

29.

Ascena Retail Group, Inc.

Eric Pidgeon

Director of Loss Prevention - Global Supply Chain

Pataskala

OH

30.

Raley's*

Jack Leidecker

Director of IT Security

West Sacramento

CA

31.

Quiksilver*

Kevin Hatcher

Director of Security

Huntington Beach

CA

32.

Overwaitea Food Group

Keith Colonval

Director of Resource Protection

Vancouver

BC

33.

Wendy's*

Chris Manning

Director of Loss Prevention and Security

Dublin

OH

34.

Things Remembered

James Baumgart

Senior Manager of Loss Prevention

Highland Heights

OH

35.

Under Armour

Fred H. Bealefeld III

VP and Chief Security Officer

Baltimore

MD

Listed Alphabetically

Nutrisystem, Inc.

Bill Durso

Senior Director of Security, Facilities and Office Services

Fort Washington

PA

Ralph Lauren Corporation

Shawn Segers

Senior Director of Corporate Security

New York

NY


* = Estimated


Source: securitymagazine.com
Big Lots Accused Of Background Check Violations
Discount retail chain Big Lots Stores Inc. was hit with a proposed class action suit this week in Philadelphia alleging it routinely violated federal law in the way it executed background checks on employees.

The suit filed in the Philadelphia County Court of Common Pleas alleges the company "systematically" violated the Fair Credit Reporting Act's standalone disclosure requirement by making prospective employees sign a document used as a background check consent form that contained extraneous information.

"Defendant repeatedly and routinely uses the same unlawful document with all of its employees on whom it procured consumer reports or otherwise failed to provide them with the required stand-alone disclosure," the complaint reads.

The violation alleged in the complaint entitles each member of the class to statutory damages between $100 and $1,000 a piece as well as punitive damages, according to the complaint that does not specify the size of the proposed class. law360.com

FreightWatch: Cargo theft incidents, loss values fall in Q2 compared with 2014 - The mom & pop c-store impact
The 152 verified incidents of cargo theft in July, August, and September 2015 represent a 24 percent decrease in volume compared with the same time period last year, according to a new report published Thursday. The average loss value per incident of $199,467 is a 38 percent decrease in average loss values from the same time period in 2014. The report notes that compared to the second quarter of 2015, the numbers represent an 18 percent reduction in number of thefts, but a 7 percent increase in average loss value.

Food and drinks continue to be the most-stolen product type, accounting for 22 percent of total thefts in the U.S. during the quarter. Electronics and auto parts were the second- and third-most stolen cargo type, accounting for 12 percent and 11 percent of all reported thefts respectively. Editor's Note: It's our opinion that this is the c-store impact. The mom and pop convenience stores across America represent, in our opinion, the #1 fencing vehicle for ORC and cargo theft in the U.S. landlinemag.com

The Connection between Talent Management and Strategic Success -
Mentoring Future Leaders Is a Priority
Finding the Right Talent for Projects: A Gift that Keeps on Giving
The connection between talent management and strategic success isn't sufficiently understood. In a recent survey just 41% of respondents said their organization had a clear, accepted approach to strategic talent development. A mere fraction of those surveyed reported that their organizations provide enough in the way of financial resources, C-suite attention, or employee time to manage and develop the project management talent needed to implement strategy.

Looking at this from a different perspective, we also know that "high-performing" organizations are more than twice as likely to align talent management to organizational strategy as their "low-performing" counterparts (those in which 60% or fewer projects are on time, on budget, and meet original goals). The same study also showed that a minority of C-suite executives are actively involved in setting talent management priorities or in mentoring future corporate leaders.

More than two-thirds of respondents in our study said that talent management will become increasingly important to strategy implementation in the next three years, and 75% believed improving talent management processes will be one of their biggest challenges for improving strategic effectiveness.

Editors Note: So the question is not who your mentor is but rather who are you mentoring? cfo.com

Walgreens may have to shutter 3,000 doors after merger complete -
75,000 Jobs
Walgreens may have to shutter as many as 3,000 stores in its bid to buy Rite Aid, or 65% of Rite Aid's store base, according to one real estate analyst in a Fortune story published Thursday, including 1,000 locations Walgreens is willing to jettison as part of any FTC negotiation and another 2,000 locations after the merger is complete. "The post-merger Walgreens real estate imperative will be to minimize cannibalization," noted Garrick Brown, VP research at Cushman for the West Region, adding that there are countless Rite Aid and Walgreens locations opposite one another across the country. Editor's Note: With an average of approximately 25 store jobs per store and the district and regional support teams we could be looking at well over 75,000 jobs lost. chainstoreage.com

USPS Workers Union Blasts $6.3B Staples-Office Depot Merger
A union representing U.S. Postal Service workers on Thursday continued its assault on Staples Inc.'s planned $6.3 billion takeover of Office Depot Inc., issuing a report that says the deal would effectively eliminate competition in the office-supplies industry.

The American Postal Workers Union's report, "Bad for Business: Why the Staples/Office Depot Merger-to-Monopoly Should Be Blocked," claims the proposed deal would combine the nation's two biggest office-supply chains to create a monopoly. "If you put these two giants together, it would be like Bambi vs. Godzilla for anyone left in the market," APWU President Mark Dimondstein said. law360.com

Former CEO & Founder of American Apparel Now Broke -
Dropped by His Law Firm
Asks Court For Time to Raise Funds for Defense
It's the latest salvo in the legal firestorm kicked up in the wake of Charney's firing from American Apparel. The company removed its founder, who has faced several sexual harassment suits over the years, from the helm in summer 2014, making the ouster official a few months later. American Apparel has called its ongoing legal wrestling with Charney a "scorched earth campaign" by the ex-chief to take back the company, while the former CEO has likened his ouster to a "coup d'etat."

"All of my shareholder interests have now been wiped out and I have depleted my savings defending my life's work and legal rights," Charney wrote. "At this point I need to find new lawyers in Delaware who are willing to work with me. I will most likely need to raise some money, which may not prove possible."

Editor's Note: After following this story for two years one sees a story of how one man built a world wide successful manufacturer and retailer based on the principals of the great American Dream and then destroyed it because of ego, pride, and greed. The three things that are the root causes for all failures. It's a story we've all seen before but rarely have seen in the retail industry. At one time heralded as an American success story he's now costs hundreds of jobs and has single handedly put a retailer in bankruptcy. law360.com

Hot weather cools off store performance in October
According to the October 2015 Retail Store Performance Pulse report from brick-and-mortar analytics firm RetailNext nc., almost every metric tracked by the report declined more year-over-year than in the prior month. Sales declined 12.2%, compared to 8.7% in September. Traffic fell 10.7% after falling a less-than-expected 8.1%, and sales per shopper (SPS) declined 1.1%, compared to 0.5%. Returns inched upward to 0.2% from 0.1%.

RetailNext is maintaining its previously released prediction for a 2.8% decline in holiday sales compared to 2014. chainstoreage.com

Lowe's to pay the state $1 million for overcharging customers

Report: Bass Pro Shops exploring bid for Cabela's

Midwest Cargo Security Council (MWCSC) - General Meeting -
Glenn Master, Dir. LP & Safety, Newgistics - Speaking on Nov. 10th
General Meeting Nov 10th to feature Glenn Master, Director, Loss Prevention & Safety Newgistics, Inc., speaking on "THIRD PARTY CARRIERS, AN INSIDE LOOK." Council meeting will be held at AIT Worldwide Logistics, Inc. One Pierce Place, Suite 150 W. (Located on the lower level), Itasca, IL 60133. RSVP to SCovey@nicb.org; nick@transportsecurity.com

The Decriminalization Impact - Bad For Retailers -
Non-Violent Crimes On the Verge of Being Ignored
With ORC spiking, a heroin epidemic being talked about in a number of major cities, prison's being emptied of non-violent criminals, murder rates increasing, active shooters virtually weekly, and recent reports that some police departments aren't even responding to shoplifting calls, and what we may have is potentially a major problem brewing right before the holidays. It may even be a perfect storm for ORC and the retailers payrolls are tighter then they've ever been.

Couple this with the 'Ferguson Effect' and what we do have is the absolute need for every Loss Prevention executive and associate to be focused on well trained staffs and perfect execution. Never before have we faced such a challenge as what we may be facing this holiday season. Just a thought. Lets keep them all safe out there. Gus Downing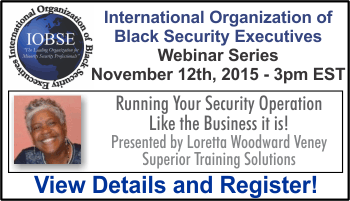 Coming Monday - The D&D Daily's 2016 Media Kit
After five years of publishing the LP and IT Security industry's leading news source and adding value to our readers we're humbled by the opportunity to continue our journey by partnering with our sponsors. The solution providers have played a critical role in helping to develop this industry and we've been honored to be part of the educational process and delivering their messages, their brand and product information, and their story's to the industry. We'd like to thank our current sponsors and the readers for allowing us to do just that.
LPRC Meets Retailers in Jacksonville, FL for 7-Eleven Anti-Robbery Project
This week, the Loss Prevention Research Council team traveled to Jacksonville, Florida to conduct anti-robbery and parking lot crime research. The LPRC met with representatives from a few member organizations, including 7-Eleven, T-Mobile, Walmart, Publix, Cap Index, and Kroger Mini Markets. The group organized to discuss effective measures that store-fronts must implement in order to prevent theft and store shrinkage. The team then reconvened at the local UF Health Center of Jacksonville, where they discussed the robbery crime event data gathered and looked at the mapping of the various locations they visited during the trip. The LPRC would like to thank the members who were able to make the trip to Jacksonville. "We gained valuable insight from each and every single one of you and we hope you were able to take away from this tangible information for future research!"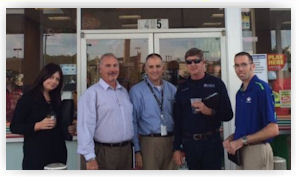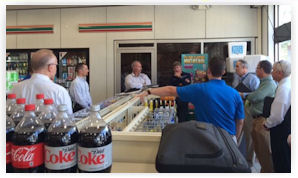 October Same Store Sales
L Brands up 5%

Quarterly Same Store Sales Results
L Brands Q3 comp's up 7% with net sales up 7%
Stein Mart Q3 comp's down 2.3%


National Retail Federation 2015 Return Fraud Survey

We invite you to participate in the 2015 NRF Return Fraud Survey. And as a thank you, those who participate by November 10th will be entered into a random drawing to receive one full registration pass to NRF Protect 2016. Your feedback is pertinent in developing best practices in all areas of retail asset protection and helping our leaders in Washington understand the gravity of some of our industry's issues.

So as to not duplicate answers from companies, we ask that only the most senior loss prevention officer or equivalent within your company complete the survey in order to limit responses to one per company. NRF will also make sure to send survey respondents a copy of the full report once it is released in December. Please contact Bob Moraca for a PDF copy of the survey or a direct link moracar@nrf.com