A CALL TO ACTION - Retailers Association of Massachusetts Responds to Shoplifting Sentencing Reform
In October, the Massachusetts Legislature's Judiciary Committee held a public hearing on two identical pieces of legislation which seek to reform sentencing guidelines for some drug offenses and certain non-violent property crimes. The Justice Reinvestment Act (S.64/H.1429), is particularly concerning for retailers as it would increase the merchandise value thresholds found in certain property crimes. For example, the threshold for misdemeanor shoplifting which currently stands at $250 would be increased to $1,300 with no corresponding increase to the punishment or fines. Similar increases would occur in the state's larceny, stolen credit card, receipt of stolen property and damage to personal property laws.

The Retailers Association of Massachusetts (RAM) will be submitting testimony in opposition to the proposals, however it is expected that the Judiciary Committee will refrain from taking action on the bills until a recently announced, 25-member, bipartisan working group completes its analysis of the state's criminal justice system. The group's recommendations are not scheduled to be submitted until January of 2017. The task force will be led by governor's chief legal counsel Lon Povich, a former RAM board member, as well as Sen. William Brownsberger and Rep. John Fernandes, chairs of the Judiciary Committee.

RAM staff will continue to monitor the situation and will keep LP committee members apprised of any new developments. For your convenience, here are links to a copy of the legislation, an editorial by the Boston Globe on the issue, and a piece by State House News regarding the Task Force Announcement. As always please feel free to contact RAM with any questions or concerns you may have. - Ryan Kearney, General Counsel, RAM. Thank you to Jeff Fulmer, VP of LP for Barnes & Noble and Chair of the NRF's Legislative Committee for this submission.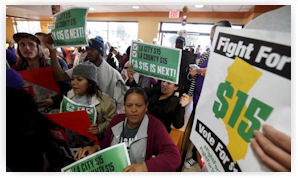 Fast-Food Strikes, Protests Hit 270 Cities - Largest 'Fight for $15' demonstration yet
U.S. fast-food workers kicked off a nationwide protest in New York on Tuesday backing higher wages and union rights in a campaign they hope will catch the attention of candidates in the 2016 elections. A couple hundred protesters marched in downtown Brooklyn, blocking traffic and carrying banners reading "A living wage = quality care" and "On strike for work that sustains families." The protesters stopped to rally outside a McDonald's restaurant. Spokespeople for the campaign say it plans to launch one-day worker strikes in 270 cities on Tuesday, its largest demonstration yet. In the past, many of these worker walkouts have been negligible -- single digits in small towns, made visible only with the help of community activists. But others, in cities such as New York and Chicago, have been significant enough to disrupt service or even temporarily shut down restaurants, forcing major chains to publicly address the issue of poverty wages. Organizers of the Fight for $15 campaign say the protests will be followed by rallies in 500 cities by low-wage workers in such sectors as fast food and home and child care. huffingtonpost.com reuters.com

Bath & Body Works Strikes $2M Deal To End Calif. OT Class Action
- Pays for off-the-clock security inspections
Bath & Body Works Inc. has agreed to pay $2.25 million to some 29,000 workers to end a putative class action in California federal court over unpaid overtime and off-the-clock security inspections, according to a motion filed Friday.

The proposed deal includes $675,000 in attorneys' fees and $20,000 in expenses, settlement administration costs of $125,000 and $13,000 in incentive awards to class representatives Adam Jones and Brooke Johnson. The company will also pay $7,500 from the settlement funds to the California Labor and Workforce Development Agency under the state's Private Attorney General Act.

Jones filed suit in Los Angeles Superior Court in June 2013, alleging the retailer underpaid him and other California sales associates for overtime worked, and required them to submit to off-the-clock security inspections, among other violations. law360.com

What the future of product safety looks like - Wal-Mart Product Safety - "Leveraging technology to keep customers safe"
Shoppers will take for granted that the products they buy are safe this holiday season, but behind scenes it requires a tremendous amount of effort to deliver on that expectation. Join Walmart, the Consumer Products Safety Commission and ICIX for a look at what's next in the world of product safety during an upcoming webinar on Nov. 13 at 1 p.m., EST.

Product safety is one area where consumers' expectations have always been high and there is no room for compromise. When a customer puts an item in their physical or digital cart they do so with a belief that usage of the product will not cause harm.

Delivering on that expectation is a complex challenge. It requires clear standards, effective communication, a culture of compliance and tight coordination and innovation among the ecosystem suppliers, retailers, government agencies, product testing labs and third party solutions providers. To learn what market leaders are doing now and how the world of product safety is evolving, be part of a webinar on Nov. 13 at 1 p.m., EST, to hear from:

Robert J. Howell, Jr., deputy executive director, safety operations, U.S. Consumer Products Safety Commission on the topic of, "An update on existing product safety efforts and new initiatives at the CPSC."

Ken Hinson, senior director, U.S Product Safety and Compliance, Wal-Mart Stores, Inc., on the topic of, "Product safety at Walmart: leveraging technology to keep customers safe."

Matt Smith, founder and chief strategy officer, ICIX, on the topic of, "A best practice approach to establishing a product safety program." To register for this event, click here.

"Shoppers fighting back against 'shopping while black' profiling with social media, lawsuits" - Bad press, allegations continue for retailers
If you don't know what shopping while black means, here's what it looked like last month when it happened to Milwaukee Bucks player John Henson. He wrote about it on Instagram. On Oct. 19, Henson, who is black, went to buy a Rolex at a high-end jewelry store in the mostly all-white community of Whitefish Bay, Wisconsin. He said that as he walked up to the store, employees locked the door even though it was regular business hours. He rang the doorbell twice and no one answered, he said. What he didn't know: An employee inside was calling 911 to report that Henson and three of his friends were outside the store and could be the suspicious people spotted in front of the store the week before. Henson said that when the police arrived they too watched him, then questioned him about the car he was driving, thinking it might be stolen. "This was one of the most degrading and racially prejudice(d) things I've ever experienced in life and wouldn't wish this on anyone," the NBA player wrote on Instagram.

In a 2007 Gallup survey, 47 percent of black people surveyed said they don't think they are not treated equally by retailers. More than one-quarter of those surveyed felt they were targeted because of their race while shopping in the last month.

The issue of shopping while black has gathered widespread attention in recent years as victims speak out - blogging about it, sharing experiences on social media - and, in a growing number of cases, filing lawsuits against retailers. The list of companies sued for racially profiling customers is long and growing, including Macy's, Barney's, Ross Dress for Less, Dillard, Walmart, Best Buy, Walgreens, Eddie Bauer and, most recently, CVS.

In early June, four former security guards at CVS stores in New York filed a federal lawsuit alleging that their supervisors regularly told them to tail black and Hispanic shoppers. According to the National Association for Shoplifting Prevention, there is no profile for a typical shoplifter. David Gottlieb, an attorney for the plaintiffs, told The New York Times that "this is the first time a group of employees has banded together to provide an inside account and expose the blatant racial profiling policy at one of the largest retailers in the world." CVS issued a statement saying that it was shocked by the allegations and would "defend against them vigorously." The company said it rigorously enforces its nondiscrimination policies. kansascity.com

U.S. Security Associates LP Experts Attend Goodwill Industries
Loss Prevention & Safety Conference
Professionals in the fields of loss prevention, safety, retail and IT are converging on Indianapolis this week for the 2015 Goodwill Industries Loss Prevention and Safety (GILPS) Conference. The event takes place from November 8 to 10 at the Indianapolis Hyatt Regency Hotel. Representatives from the Retail Loss Prevention division of U.S. Security Associates, an Atlanta-based national security company, are traveling to Indianapolis for the event. The GILPS Conference is the one time each year that U.S. Security Associates and other loss prevention vendors have the opportunity to showcase their products and services to Goodwill staff from different locations. Likewise, for Goodwill professionals, it's the one time set aside annually to learn from industry leaders exhibiting at the event and to explore newly available business tools and practices. The GILPS Conference is attended by Goodwill staff members at every level, from the organization's executive leaders to its retail store managers. prweb.com

Jamison RFID and CYBRA Announce CYBRA-Hawk LP Solution
for Retail Supply Chain
Jamison RFID (a division of Jamison Door Company) the leading manufacturer and integrator of rugged, purpose-built RFID portals and communications enclosures, and CYBRA Corporation, the developer of award- winning MarkMagic Bar Code Labels, RFID Tags, Electronic Forms, and Report Writing Software and EdgeMagic Integrated RFID Control Software, announced today the introduction of their new CYBRA-Hawk RFID-based EAS (Electronic Article Surveillance) loss prevention and inventory management solution custom designed for the special requirements of retailers. businesswire.com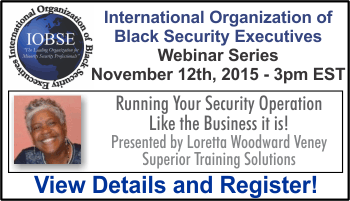 Spain's Mango to shut 450 U.S. sales outlets
Spanish fashion chain Mango will close 450 sales outlets in the United States early next year after ending a five-year deal to display its clothing lines at department store J.C. Penney, a spokesman said. The unlisted retail chain, which competes with Inditex brands such as Zara as well as Sweden's H&M, will not be renewing the expiring agreement and will close the outlets around February, the spokesman said. Mango will still have seven stores in the United States, including ones in New York and Miami, and it plans on expanding there again, focusing on key cities such as these. reuters.com

Department Stores Burned Over Warm Weather
The warmer weather might be good for heating oil bills, but it's not welcome for the department stores that are filled with cold weather outerwear. wwd.com

Pacific Sunwear reposts Director of Loss Prevention position based in Anaheim, CA., on LinkedIn today - Been open for 6 months?
They've been running this position for quite some time on LinkedIn and obviously are having a difficult time filling it. On LinkedIn alone they've had 238 applicants apply.

Pacific Sunwear of California, Inc. and its subsidiaries is a leading specialty retailer rooted in the action sports, fashion and music influences of the California lifestyle. The Company sells a combination of branded and proprietary casual apparel, accessories and footwear designed to appeal to teens and young adults. As of September 8, 2015 the Company operated 609 stores in all 50 states and Puerto Rico. PacSun's website address is www.pacsun.com. linkedin.com

Albertsons bidding for three dozen Haggen stores

Toys R Us open from 5 p.m. Thanksgiving to 11 p.m. Friday night

Ports See 'Dramatic Difference' From Last Year as Holiday Merchandise Arrives

Amazon Echo Coming to Thousands of Retail Locations Across the U.S.


October Same Store Sales Results
Gap - Gap Global down 4%, Banana Republic Global down 15%, Old Navy up 2%

Quarterly Same Store Sales Results
Jamba Juice Q3 system-wide comp's up 5.6% with total revenue up 39.1%
Gap Q3 Gap Global down 4%, Banana Republic Global down 12, Old Navy up 4%, with net sales down 3%


National Retail Federation 2015 Return Fraud Survey

We invite you to participate in the 2015 NRF Return Fraud Survey. And as a thank you, those who participate today, November 10th will be entered into a random drawing to receive one full registration pass to NRF Protect 2016. Your feedback is pertinent in developing best practices in all areas of retail asset protection and helping our leaders in Washington understand the gravity of some of our industry's issues.

So as to not duplicate answers from companies, we ask that only the most senior loss prevention officer or equivalent within your company complete the survey in order to limit responses to one per company. NRF will also make sure to send survey respondents a copy of the full report once it is released in December. Please contact Bob Moraca for a PDF copy of the survey or a direct link moracar@nrf.com