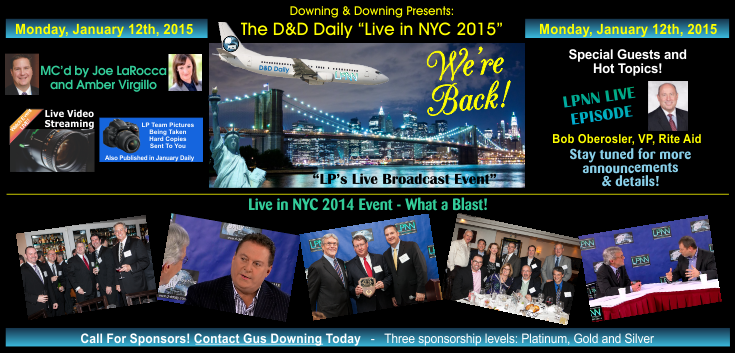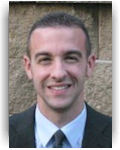 Thomas Hacker was promoted to Director Interconnected Operations Strategy for The Home Depot. Thomas was previously Home Depot's Director of Loss Prevention and had been in that position for over three years. He has been with the retailer for over six years as Senior Manager - Asset Protection Merchandising and Operations, Manager - AP Programs and Communications, Manager - Learning and Communications, District Asset Protection Manager and Loss Prevention Manager. Thomas was also a part of the Target Asset Protection Team as an Asset Protection Team Lead and Sr. Asset Protection Specialist. Congratulations Thomas!

Companies accuse Pilot Flying J CEO/Browns owner Jimmy Haslam of orchestrating Rebate-Fraud Scheme Two trucking companies are accusing Cleveland Browns owner Jimmy Haslam of directly orchestrating a scheme to cheat customers out of promised rebates and discounts, according to recent court filings. Haslam is the CEO of Pilot Flying J, the nation's largest diesel retailer, with annual revenues of around $30 billion. Tennessee Gov. Bill Haslam also holds an undisclosed ownership share in the company but has said he is not involved in Pilot's day-to-day operations. Since federal agents raided Pilot's Knoxville headquarters in April 2013, 10 former employees have pleaded guilty to the scheme to defraud customers. Jimmy Haslam has not been charged with any crime. The accusations against him came in a bill of particulars filed Friday in federal court by National Retail Transportation Inc. and Keystone Freight Corp. In July, Pilot agreed to pay $92 million in fines and accept responsibility for the criminal conduct of its employees while the government agreed not to prosecute the company. The agreement requires Pilot to comply with several conditions, including cooperation with the ongoing investigation of people who may have been involved in the fraud. It does not protect any individual at Pilot from prosecution. Civil suits against Pilot were mostly resolved by a class-action settlement in which Pilot agreed to pay out nearly $85 million to 5,500 customers last November. abcnews.com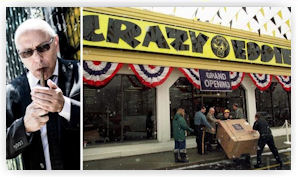 Crazy Eddie CFO: 'We are in the golden era of white-collar crime' The U.S. government is losing the war against white collar crime. That's the message from Sam E. Antar, one of the masterminds of the massive Crazy Eddie fraud of the 1980s. "We are in the golden era of white-collar crime. My biggest regret is I should've been a criminal today rather than 20 years ago," Antar told CNNMoney on the sidelines of a New Jersey securities fraud summit. Antar drew a big round of applause when he pointed out that no one from Wall Street went to prison because of crimes that led to the financial crisis. "We are devoting far less resources to combating crooks like myself today than back in my day," he said. Antar knows a thing or two about corporate fraud. He served as Chief Financial Officer of Crazy Eddie, the electronics retailer that became one of the symbols of white-collar crime in the 1980s. Known for its loud commercials promising "INSAAAANE" prices (see YouTube video of the ads here), Crazy Eddie got into trouble for understating income to avoid taxes and then committing securities fraud once it decided to go public. cnn.com

NRF Issues Guidelines on Effective Holiday Crowd Management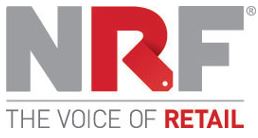 Effective crowd management is a year-round priority for retailers. But the special events and increased commerce that come with the winter holidays elevate the importance of crowd control. Last year, 141 million Americans shopped by the end of Thanksgiving weekend, with more than 92 million on Black Friday alone. The increase in store traffic is important for retailers across the country, meaning all employees must be that much more confident in their knowledge of the advanced planning and risk management protocols that protect customers, associates and stores. To help retailers manage the risk presented by an influx of shoppers, NRF has released its Effective Crowd Management Guidelines. (Download the free report here.) The purpose is to provide guidelines and considerations for both retailers and mall management officials when planning special events, including Black Friday, product launches, celebrity appearances and promotional sales. Additionally, these guidelines will address how to manage unexpected crowds and spontaneous occurrences. While NRF's guidelines take a more strategic approach to crowd management, here are a few general considerations to help plan and curtail any potential crowd control issues:

| | |
| --- | --- |
| ● | Remind and retrain all employees about your store's emergency protocols to address potential risks facing employees and customers. |
| ● | Dedicate knowledgeable employees to communicate and manage crowds, from arrival to departure, and resolve any potential conflicts that may arise. |
| ● | Strategically place sale items throughout the store to help disperse crowds and manage traffic flow. |
| ● | Request the assistance of local law enforcement if large crowds are expected and arrange for additional security services. |
| ● | Educate employees about relevant policies and procedures and advise them who to contact in the event of a situation. nrf.com |
Holiday shipping costs, online security top of mind for shoppers - Returns much more likely with brick-and-mortar purchases vs. those online A 2014 Kelly Scott Madison Holiday Shopping Study revealed that the top concerns for consumers this holiday season are shipping costs and online security, as 71% of respondents ranked both as top-of-mind. Other findings focused on timing and returns: More shoppers claim they are likely to return items purchased through brick-and-mortar locations (87%) as opposed to items bought online (63.5%). Also, the rate of respondents claiming they've never returned an item more than doubles when comparing in-store purchase and returns (13% "never") to online purchase and returns (37.5 % "never"). This fact is especially interesting when considering that 55% of respondents listed their top reasoning for shopping at brick-and-mortar stores as the ability to tangibly feel the product they're about to purchase. Apparently shoppers are now either purchasing more items online that they're confident they will keep, or the simple hassle of return shipping or finding a nearby store location for an online purchase is too much. chainstoreage.com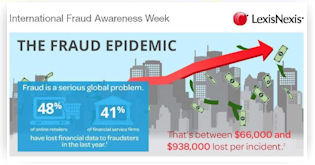 LexisNexis Risk Solutions launches Fraud Defense Network - First-of-its-kind fraud alliance shares information, resources across multiple industries Today LexisNexis Risk Solutions announced the launch of the LexisNexis Fraud Defense Network, the first-of-its-kind alliance that seeks to link organizations across all industries with resources, information and actionable intelligence to predict, detect and mitigate the risks that fraud presents. The announcement kicks off the company's participation in International Fraud Awareness Week, an awareness campaign spearheaded by the Association of Certified Fraud Examiners which estimates global fraud in the trillions. According to LexisNexis experts, perpetrators engaged in fraud, even after being convicted, are likely to strike again, often in a different industry. By creating an alliance that aids all industries to share information, organizations can better mitigate the risk that fraud presents daily. Fraud management and prevention is traditionally entity- or industry-specific because there has not been a structured effort to share insights and solutions across industries. The Fraud Defense Network provides companies and organizations from finance, retail, telecommunications, insurance, government, law enforcement and health care with a dedicated platform to share best practices and contribute to the body of knowledge of fraud. businesswire.com

Facebook under fire over ads selling counterfeit goods
The world's biggest social media business Facebook has been criticised for allowing adverts on its site that sells counterfeit goods. This is according to a new study called: 'Online Advertising Techniques for Counterfeit Goods and Illicit Sales' by several leading cyber security experts. The authors of the report looked at more than a thousand Facebook ads and found that almost a quarter of those promoting fashion and luxury goods are in fact for counterfeit items such as Ray Bay sunglasses, Louis Vuitton bags, and Ralph Lauren polo shirts. And these are luring users in, the researchers warn, as at first sight the ads look legitimate and lead to websites that look genuine. They say that this is potentially tricking the average Facebook user into believing they're buying real products without realising the danger. securingindustry.com

Half of U.K. Firms Would Hire Hackers, Ex-Convicts to Secure Their Networks
Increasingly worried about the state of their cyber security, and unable to hire or retain specialist staff, U.K. firms are looking to hire hackers and ex-convicts in a desperate bid to secure their networks. In a report released Monday, KPMG said that over the past two years it has become increasingly difficult to find and retain IT professionals with specific cyber-security - AKA hacking - skills. Any professionals that are in the field are targets of aggressive headhunting, KPMG said. The report said the skills gap is forcing many companies to consider turning to 'poachers turned game-keepers' to keep up to speed. The demand is being driven by an increase in threats and heightened awareness among senior management of the need to defend against attacks. 53% of respondents say they would consider using a hacker to bring "inside information" to their security teams. Just over half (52%) would also consider recruiting an expert even if they had a previous criminal record. wsj.com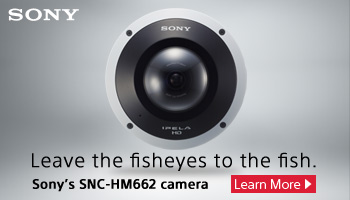 Anonymous targets Ku Klux Klan after Ferguson, Mo. protestors are threatened After the Ku Klux Klan (KKK) promised to use lethal force against protestors in Ferguson, Mo., supporters of Anonymous launched OpKKK. On Sunday, the faceless, loosely associative collective hijacked two KKK Twitter accounts, and used DDoS to disable several KKK-related websites. In addition to the Web-based assault, Anonymous supporters have also started leaking personal details on those associated with the KKK, including members of the "Traditionalist American Knights of the Ku Klux Klan" - the group that promised lethal force. csoonline.com

Ousted Rap Genius Cofounder Says He Loves To Steal From Whole Foods, Posts Essay Detailing How Rap Genius cofounder Mahbod Moghadam took to Thought Catalog on Friday to detail his love for stealing from Whole Foods, in an essay aptly titled "How To Steal From Whole Foods." "When I started working on genius.com, Whole Foods was our first 'angel investor' - without stealing all the food I stole from the Berkeley Whole Foods [1], I would never have been able to spend a year bootstrapping, working on the site full-time." Moghadam was reportedly ousted from Genius in May after he allegedly annotated the 141-page manifesto written by Elliot Roger, the man accused of going on a shooting spree in Santa Barbara, California. businessinsider.com

Michigan Lawmakers to Vote on Bill Requiring Added Security at C-Stores
The future of a bill designed to protect Michigan gas station and convenience store workers remains unclear following a committee hearing last week. Known as The Jessica Heeringa Act, named for a gas station employee who was abducted in 2013, the bill would require stores with 24-hour operations to install security cameras or have two employees working on all overnight shifts. Despite pressure from Heeringa's family, the Michigan House committee didn't vote on the bill this week. Originally introduced in late 2013, the bill cannot pass if it is not voted on before the end of this year. Three other states have recently adopted similar laws. nacsonline.com

23 arrested at California Walmart protest on pay

Macy's CEO lobbies White House, retail friends to stave off West Coast port strike

Armed Robbers Prey on Businesses and Their Patrons in Brooklyn Neighborhood

Retailers Looking to Cybersecurity Vendors for Operational Guidance


Last week's most popular news article --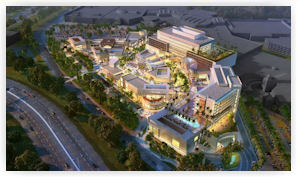 This is what Sears will look like in the future
A mixed-use retail development in South Florida may provide a glimpse at the future of Sears Holdings Corp. The department-store chain said today that it will convert its location in Aventura, Florida, into an open-air development that includes dining, other retailers and a scaled-down Sears store. The project, called Esplanade at Aventura, will repurpose the site's parking lot, auto center and department store into a more inviting property, containing a hotel and offices. The move fits with Sears's strategy of squeezing more value out of its extensive real estate holdings. bloomberg.com


All the News - One Place - One Source - One Time
The D&D Daily respects your time & doesn't filter retail's reality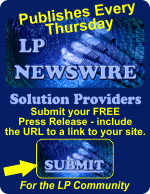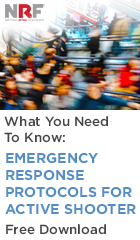 RV appliance theft ring suspect indicted by grand jury, following investigation by Law Enforcement with assistance from eBay's Global Asset Protection
A federal grand jury has indicted the second of three people allegedly involved in a scheme to steal recreational vehicle components from an Elkhart warehouse and sell them on the Internet. Cheryl Broskey, 45, of North Liberty, is charged with three counts of wire fraud and a count of conspiracy to commit wire fraud for allegedly assisting 27-year-old Anthony Colley in the theft ring. Anthony Colley last month pleaded guilty to interstate wire fraud and conspiracy to commit wire fraud. He admitted that while working in Elkhart at Midwest Distribution Center (MDC), also called S & S Companies, he stole Dometic brand refrigerators, generators and ice makers, then sold them on Amazon and eBay under the usernames "Wolverine Supply" and "MCERSUPPLIES," respectively. eBay records reflect that from April to July 2013, he sold 68 refrigerators, 28 ice makers and 104 generators. Amazon records indicate he sold 69 generators from August 2013 to February, according to court records. UPS records reveal he shipped 253 packages from May to July 2013 alone. Colley admitted he and another individual who has yet to be indicted used a bank account in Broskey's name to receive and withdraw payments from Amazon and eBay/PayPal that were proceeds from the sale of the stolen goods.

Read more here.

For further information on PROACT, email inquiries to PROACT@eBay.com.

eBay Direct - Click Here - (notify - info - questions)

Nicholas Khalil, CEO of Checkview, talks about what his company is doing to set itself apart from the competition. A retail LP systems integrator focused on managing all primary security and life safety technologies for both small and large scale operations, Checkview has reinvented itself as a solution provider focused on cutting costs for retailers and - above all else - providing great customer service.

Filmed at the D&D Daily's 2014 "Live in NYC" Broadcast Event.
Solution Providers, have a video or commercial you want to publish? Contact us.



Data breaches raise awareness on user authentication
According to a survey conducted by the Ponemon Institute, authenticating users to prevent intrusion by criminals tops the list of concerns when implementing new electronic payments systems. Findings reveal two thirds (66%) of the 634 IT professionals surveyed saying that authentication is the biggest problem when deploying new digital payments systems like e-wallets. Three quarters (75%) of the respondents said their organizations plan to support payments via a mobile device or phone number, and 43% said they would support payments with virtual currencies. The study also indicates that data privacy is not an urgent concern, compared to security for organizations adopting new payments technologies. Only 38% of the respondents said that would be wary of new payments technologies to protect the privacy of their data. thepaypers.com

Merchants and credit cards are getting safer
Retailers have raced to upgrade cyber security systems ahead of the holiday shopping season, but that's no guarantee against another large data breach this year, said Ellen Richey, Visa's vice chairwoman of risk and public policy. More retailers are adopting payment technology that accepts "smart" credit cards equipped with tiny computer chips, which are more secure than magnetic strips. They are investing in additional layers of electronic security and sharing information on potential threats. In addition, mobile payment systems, such as Apple Pay, are driving encryption technology forward to deter data thefts, Richey said. One example of the encryption technology is known as tokenization, which converts credit card data into a series of coded numbers when the consumer uses a card at the cash register. Smart cards, with microchips that generate unique codes for every transaction, and tokenization would make shopping safer, but neither technology is in widespread use. About 100 million chip cards will be issued by the end of this year, but that's a fraction of the 1.2 billion total credit and debit cards in the United States, according to industry data. By the end of next year, the number of chip cards should skyrocket to 575 million as banks and merchants accelerate the adoption of the technology to meet deadlines set by Visa and Mastercard. bostonglobe.com

Mobile retail sales up 43% in October

THE E-COMMERCE REPORT: Mobile Is Giving Traditional Retailers A Chance To Bounce Back These Holidays

Ikea To Boost Online Sales - new web platform to go live next year

Report: Alibaba open to working with PayPal
"Fraud is not a person - it is a dynamic grouping of statistics that deviate from the norm."
Stuart B. Levine, CFI, CFCI
CEO, The Zellman Group & Zellman Fraudnet


What The Military Can Teach Us About...Purpose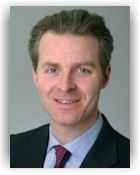 By David Shillingford
SVP, Supply Chain Solutions for Verisk Analytics

I had two quite different experiences this week at opposite ends of the country but both reminded me about the power of purpose.

I was honored to be included the Veterans assembly at our childrens' school and humbled to be in the presence of men and women who have done and seen things that few of us can imagine. As we talked about our experiences one theme was evident; the purpose of what they had been doing was clear to them - and still is, in some cases decades later. Without prompting they still talked about why they had served, sometimes with a tear in their eye.

Our discussions were about a 'big' purpose; our freedom or that of an ally. But there is much more to the importance of asking 'why' in military operations and in this there are powerful lessons for any organization.

Understanding 'why' and having a clear and strong purpose helps improve agility, alignment, accountability, motivation and resilience.

Agility

The military puts great emphasis on describing why an action is being taken. 'Why' is included in mission statements and is central to the concept of mission command; what allows commanders at every level to take initiative in a fluid environment when quick decisions are critical to success.

Do those last 13 words look like desired behavior in your organization?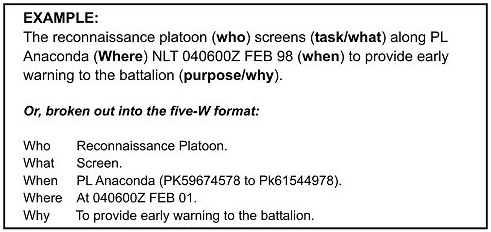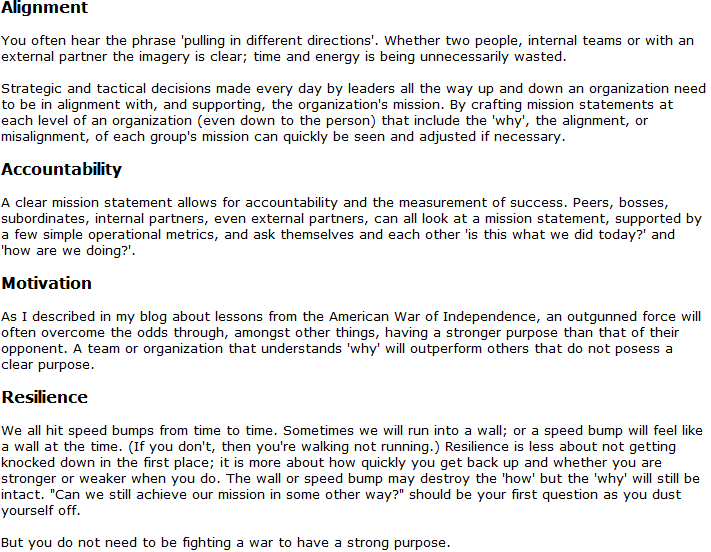 Read David's entire post here.



Range Logistics Joins CargoNet to Enhance
Supply Chain Security
Range Logistics has joined CargoNet to bolster its ability to mitigate cargo risk for their clients.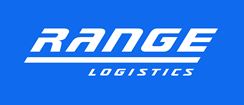 St. Louis, MO - Range Logistics has joined CargoNet to bolster its ability to mitigate cargo risk for their clients. CargoNet helps prevent cargo theft and improves recovery rates through secure and controlled information sharing among theft victims, their business partners, and law enforcement officials. CargoNet uses a national database and information sharing system managed by crime analysts and subject matter experts. CargoNet is a division of Verisk Crime Analytics, a Verisk Analytics company.

The FBI estimates the annual loss in cargo theft ranges between $15-30 billion. To help combat this growing issue, Range Logistics will leverage CargoNet's extensive network of law enforcement agencies and shared data to further strengthen their overall cargo security plan for each client.


"Range Logistics recognizes the importance of taking a proactive approach to the growing issue of cargo theft, and we're excited to support their commitment to the cause," said Anthony Canale, Vice President of Verisk Crime Analytics.

"Cargo thieves tend to be organized and don't seem to take a day off," said Nathan Chew, President of Supply Chain Solutions at Range Logistics. He added, "It's our responsibility and commitment to our clients to have that same approach, and be a constant advocate for the safety of their cargo. We're taking a big step today in joining CargoNet, and excited about the added value for our clients."


For more information, visit www.verisk.com/crimeanalytics.


Brothers accused of burglaries across NJ, Pennsauken break-in nets $203K
Two Pennsylvania brothers are accused of staging sophisticated burglaries at businesses across New Jersey, including a Pennsauken break-in that netted $203,000. Jose Medina, 38, of Lancaster and Eliezer Medina, 36, of Ronks allegedly traveled from Lancaster County to burglarize at least three stores in New Jersey between November 2013 and August 2014, federal authorities said Friday. Investigators alleged the brothers or accomplices would typically visit stores in advance of burglaries, taping over security cameras and putting magnets on door sensors to disable alarms. They said the burglars, wearing masks, gloves and hooded clothing, would strike after the business had closed. The intruders would cut emergency exit doors to enter the store, then used pry bars and drilling tools to crack the safe. After spending several hours in each store, the brothers would drive to Pennsylvania or New York, according to a criminal complaint. courierpostonline.com

Police Arrest 22 Gang Members In Hemet, San Jacinto, CA Sweep
Gang sweeps and additional patrols in Hemet and San Jacinto resulted in 22 arrests this week, according to a law enforcement task force. Local, Riverside County and state law enforcement officers took part in "high-visibility saturation patrols in areas frequented by gang members," according to a news release issued by the Hemet-San Jacinto Valley Gang Task Force. The officers also performed parole and probation compliance checks "targeting documented gang members." Officers arrested 15 men and seven women during the Thursday sweep. They range in age from 21 to 47 years old, and face charges including possession of controlled substances, theft and violating probation. Some of the arrests were on outstanding warrants, the news release indicates. Four of the people arrested are charged with violating the terms of their early release. cbslocal.com

Man, 49, tries return scam at Walmart in Austin, TX with 22-year-old's ID
A 49-year-old man on Saturday used the ID of a 22-year-old while trying to return an item he had picked off the shelf of a Walmart without purchasing, according to an arrest warrant. The suspect, Guy Washington, picked out a $151.42 Graco baby car seat from the Walmart at Interstate 35 and Slaughter Lane and returned it for a store gift card, the warrant said. The cashier recognized that Washington, who has two previous theft convictions, was not the 22-year-old pictured in the ID, and a police officer at the store was alerted. statesman.com

Ulster, NY Police arrest Kingston man stole nearly $1,600 in electronics, DVDs from Walmart A Kingston man faces five misdemeanor counts of petit larceny after Ulster town police said he stole nearly $1,600 worth of electronics from the Walmart on five separate occasions. Police said Charles R. Vantassell, 28, was arrested at 7:38 p.m. Saturday after he was observed by store security placing Xbox game console accessories, Nintendo DS games, a Nintendo Wii game controller and DVDs valued at more than $795 into his backpack and leaving the store without paying for the merchandise. dailyfreeman.com

Scotland Yard wages war on 200 cyber crime gangs in London
Scotland Yard is battling more than 200 organized crime groups engaged in cyber fraud in London, police revealed today. A new Met cyber taskforce is investigating plots ranging from online dating fraud to mortgage scams involving million pound properties. Police say they are facing an overwhelming caseload of around 54,000 reports of cyber fraud in the capital each year - but admit the crime is still hugely under-reported. Detective Chief Superintendent Jayne Snelgrove, the head of the Met's new cyber crime and fraud unit codenamed Falcon, said officers were in the early stages of around 18 investigations. These ranged from online retail and auction site frauds to courier scams and investment frauds. So far, the squad - which was launched in October - has made more than 100 arrests and detectives were targeting a number of organized crime groups engaged in cyber fraud. Police believe more than 200 gangs from around the world are targeting London using the Internet, though the figure changes constantly. DCS Snelgrove says many gangs are operating in different countries and a number of Falcon's inquiries span the United States, parts of Europe and Russia. standard.co.uk

Lansdale, PA Police Seek ID of Alleged Credit Card Thieves

Do you have an ORC case to share? Publishing it educates the LP & retail community,
which might fuel even more jobs and funding. Share your ORC news and help the industry grow!

Armed robbery at Fairbanks' Alaska Safeway liquor store turns into standoff; 3 finally surrender An armed robbery of the Safeway liquor store on University Avenue reportedly lead to a standoff between the Fairbanks Police Department and three suspects on Saturday afternoon. The details of the event were posted to the Fairbanks Police Department's Facebook page and reported the three surrendered peacefully around 5 p.m. The Fairbanks Police department responded to the report of the armed robbery about 1 p.m. Saturday, and officers reportedly tracked one of the suspects to the Sophie Mini Storage just south of the Safeway. Alaska State Troopers took part in the response, according to FPD's Facebook page, and included the use of an armored Bearcat vehicle. newsminer.com

Shot fired during northeast Calgary, CN jewelry store robbery
Paul Ng is still shaking a day after his jewelry store was shot up in a violent robbery. "It was very scary," Ng said Saturday, as police continued their investigation at Imperial Jewellers. Fortunately, no one was hurt. Investigators continue to search for two suspects. Det. Steve Adair said officers were called to the store at around 6:45 p.m. Friday after a man and woman, both masked, entered the store each armed with a long gun. Ng said he was working in the backroom when he heard a man ordering staff members down to the floor. The man then came in, put the gun on Ng and commanded him to do the same. Ng complied. He soon heard his display cases being smashed, followed by the sound of a gunshot. The man and woman then grabbed an undisclosed amount of jewelry before fleeing in a dark grey pickup truck. calgaryherald.com

$300,000 Rolex Robbery at St. Paul, MN Highland Park jewelry store
Robbers smashed display cases at a St. Paul jewelry store over the weekend, stealing about $300,000 in Rolex watches, police said Monday. The four males took about 30 watches from R.F. Moeller Jeweler in the Highland Park neighborhood when the store was open, said Sgt. Paul Paulos, a St. Paul police spokesman. No one was injured. Four males entered the store at 2065 Ford Parkway, and used two hammers to break display cases, Paulos said. Police were called to the robbery Saturday at 4:50 p.m., a police report showed. twincities.com

Fleeing suspect fires Taser at a Von's Loss Prevention agent in Santa Clarita Valley, CA Local sheriff's deputies are looking for a robbery suspect who fired a taser at a grocery store worker as he ran from the Newhall store with stolen food Sunday, said a sergeant with the Santa Clarita Valley Sheriff's Station. Shortly before 2:45 p.m. Sunday, a man entered the Vons store on Lyons Avenue at Wiley Canyon Road and stole some food items, said Sgt. Andrew Dahring. "A guy walked into the store, took some food items and tried to exit the store," he said. "Someone tried to confront him as he was leaving. "At that point, he pulled out a taser and attempted to strike the person with it," Dahring said, noting the weapon did not strike the store employee. signalscv.com


Contact Lenses Being Sold Illegally
Some contact lenses are used to correct vision and others are used for fun to change the color of an eye, but no matter what type of contact customers are buying, they need to make sure they are getting them from the right place. Dr. Reed Bro with the Eye Care Center of Colorado Springs has fitted hundreds of people for contact lenses. "You need the involvement of a qualified eye care professional," said Dr. Bro. That's something customers will not get if they pick up decorative contact lenses over the counter at beauty or clothing stores. "Contact lenses are not one size fits all ... the risks are mainly corneal problems, corneal infections, conjunctivitis, corneal ulcer and corneal scarring," said Dr. Bro. The Food and Drug Administration goes on to list decreased vision and blindness as symptoms they've recorded after the use of illegally obtained contact lenses. kktv.com


Charlotte, NC Police investigating Harris Teeter robbery Charlotte-Mecklenburg Police are investigating an overnight robbery inside a Harris Teeter store in southwest Charlotte. Officers said someone robbed the watch repair store inside the Harris Teeter in the Steelecroft Shopping Center at South Tryon Street and Steele Creek Road around 4 a.m. Police said the robber had a crowbar and a gun and broke some glass to steal jewelry from the store. Officers said there were one or two employees in the front of the store and were unsure if any customers were in the store at the time. wsoctv.com


Burglary caught on tape at Empire Furniture for Less in Corpus Christi, TX A local furniture store is adding up the damages after a couple of thieves manage to break in. The crime was all caught on camera and police are hoping you can help identify the suspects. It happened at Empire Furniture for Less located on SPID near Ayers. Security video shows two men in hoodies and masks smashing through the front door and entering the business. Employees arrived Sunday morning to find a hole in the front door as well as money missing from the office. It is unknown just how much was taken. The thieves were in the business for about two minutes before going back outside. Get this, they can be seen coming back to the business two hours later. kiiitv.com

Target Employee arrested in Santa Clarita, CA, allegedly photographed woman in dressing room A Target employee in Santa Clarita has been arrested for allegedly photographing a woman in the dressing room. According to sheriff's officials, Ricky Alexander Torres, 21, was arrested around 6:45 p.m. Friday at a Target store located on Golden Valley Road. The woman caught Torres taking the pictures and alerted store employees, authorities said. The woman placed Torres under citizens arrest before he was detained by store security. abc7.com


Layton, UT woman says she's addicted to shoplifting Shoplifting is typically viewed as a crime of desperation. One woman recently released from the Davis County Jail, however, describes her extensive history of theft as a compulsive addiction. Rebecca Lynn Smith, 56, of Layton, was released from jail in late October upon completing a 60-day sentence. She pleaded guilty to retail theft, a class B misdemeanor, in August. She admitted to taking more than $500 of merchandise from Macy's clothing store after a loss prevention specialist confronted her and recovered the items. Smith has been involved in six theft-related cases since 1997 - five in Davis county, and one in Ogden. Her latest conviction is her third since 2004, not including a conviction in 2006 that was later dismissed. Three theft-related convictions within 10 years enhances the current offense to a third-degree felony under Utah law; it isn't clear from court records why Smith was charged with a misdemeanor. Smith described her history of stealing in a 2012 court letter after pleading guilty to stealing hundreds of dollars' worth of food at Dick's Market in Layton. "I have battled with this shoplifting addiction for many years," Smith wrote. "I thought I had closed the door to this problem until I re-offended again." Smith explained in the letter that she took multiple classes that addressed her "impulse to steal." She described a specific plan to curb the temptation to act out. These included "throw(ing) away all sacks," not using a large purse, shopping with family members rather than alone and "not go(ing) to the grocery store" when presented with moods that put her at risk. standard.net

Husson University in Bangor, Maine Sponsors the 3rd Annual Interprofessional Pharmacy Robbery Prevention Seminar Husson University's School of Pharmacy and School of Legal Studies joined together to offer the 3rd Annual Interprofessional Pharmacy Robbery Prevention Seminar on November 17, 2014. The seminar provided future pharmacists with the knowledge they need to protect themselves, protect their businesses and aid law enforcement. prweb.com

Tampa, FL Police search for man who robbed Game Stop store on Dale Mabry Highway

Flint, MI man sentenced to one year in Livingston County Jail for Retail Fraud

Florida deputy resigns over theft of $10 DVD from crime scene

Surveillance video captures $10,000 robbery of Winnipeg, CN jewelry store

Gordon's Jewelers, Coral Springs, FL attempted diamond switch, no merchandise was stolen

Kay Jewelers in the Treasure Valley Shopping Center, Nampa, ID the victim of a Grab and Run, gold chain valued at $2,499

Jared the Galleria of Jewelry in the Oakland Mall, Madison Heights, MI; 5 of 7 suspects arrested after attempting to smash and grab $135,000 in diamonds and jewelry; Madison Hts Police stopped the get-a-way van

Helzberg Diamonds in Roosevelt Field, Garden City, NY hit by a 2 man team; Rolex watch valued at over $14,000 taken in a Grab and Run
---
• BP - Eau Claire, WI - Armed Robbery - suspect arrested
• Citi Trends - Macon, GA - Armed Robbery
• Dollar General - Nesquehoning, PA - Armed Robbery
• Dollar General - Hernando, FL - Armed Robbery
• Dollar General - Willingboro, NJ - Armed Robbery
• Family Dollar - New Orleans, LA - Armed Robbery
• Family Dollar - Schuylkill Co., PA - Burglary
• Jimenez Super Mercado - Racine, WI - Armed Robbery
• Kmart - Marietta, GA - Theft/ Assault - suspect in custody
• Lighthouse Party - Port Huron, MI - Armed Robbery
• Mac's - Thunder Bay, Canada - Armed Robbery
• O'Reilly Auto Parts - Jackson, MS - Armed Robbery
• Pearl Street Convenience store- Albany, NY - Armed Robbery
• Robyn's Dairy - Halifax, Canada - Robbery - 1 arrested
• Sunoco - West Reading, PA - Armed Robbery - 3 suspects
• Valero - Houston, TX - Armed Robbery
• Walgreens - Sapulpa, OK- Armed Robbery
• Wawa - New Castle, DE - Armed Robbery
• 7-Eleven - St Louis, MO - Shooting - 1 person killed
• 7-Eleven - McMinnville, OR - Stabbing - Police shot and killed suspect
• 7-Eleven - Annapolis, MD - Armed Robbery
• 7-Eleven - Colorado Springs, CO - Armed Robbery



| | | | |
| --- | --- | --- | --- |
| Job Opening | Company | Location | Origination |
| VP of Sales | Checkview | Chanhassen, MN | Checkview |
| Sr. Director, Field LP | Ross Stores | Dublin, CA | Ross Stores |
| Director of LP | Tourneau | New York, NY | LinkedIn |
| National Account Executive | Checkview | Northeast Region | Checkview |
| National Account Executive | Checkview | United States | Checkview |
| Corporate Investigator | Confidential | San Francisco Bay, CA | Confidential |
| National Account Manager | Vector Security, Inc | TBD | Vector Security, Inc |
| Supervisor LP DC | Ascena Retail Group | Greencastle, IN | Ascena Retail Group |
| AP Agent | Ralph Lauren | Sunrise, FL | Ralph Lauren |
| LP Agent | JONS Markets | Los Angeles, CA | JONS Markets |
| | Confidential | Northeast | Downing & Downing |
Limited Time Only - Post Your Multi-Unit LP jobs for FREE - Learn More Here




Today's Daily Job Postings from the Net - Appearing Today Only
View our Internet Jobs Archives here

| | | | |
| --- | --- | --- | --- |
| Job Opening | Company | Location | Origination |
| AP Manager | Cabela's | Berlin, MA | Cabela's |
| LP Supervisor | JC Penney | W Des Moines, IA | JC Penney |
| LP Manager | Fred Meyer Jewelers | Portland, OR | Kroger |
| Regional Director Ops | Home Depot | Charlotte, NC | Home Depot |
| Dept Mgr LP & Safety | Lowe's | Cary, NC | Lowe's |
| AP Manager | Sam's Club | Pooler, GA | Wal-Mart |
| AP Manager | Sam's Club | Ankeny, IA | Wal-Mart |
| AP Manager | Sam's Club | Papillion, NE | Wal-Mart |
| AP Manager in Training | Walmart | Gardnerville, NV | Wal-Mart |
| AP Manager in Training | Walmart | Elko, NV | Wal-Mart |
| AP Manager in Training | Walmart | Seward, NE | Wal-Mart |
| AP Manager in Training | Walmart | Holland, MI | Wal-Mart |
| AP Manager in Training | Walmart | Enid, OK | Wal-Mart |
| AP Manager in Training | Walmart | Guthrie, OK | Wal-Mart |
| AP Manager in Training | Walmart | Lawton, OK | Wal-Mart |
| AP Manager in Training | Walmart | Beeville, TX | Wal-Mart |
| AP Manager in Training | Walmart | Alice, TX | Wal-Mart |
| AP Manager in Training | Walmart | Winter Haven, FL | Wal-Mart |
| AP Manager in Training | Walmart | Ardmore, OK | Wal-Mart |
| AP Manager in Training | Walmart | Littleton, CO | Wal-Mart |
| AP Team Leader | Target | American Fork, UT | Target |
| ETL Assets Protection | Target | Dublin, CA | Target |
| Field LP Manager | Kirkland's | Brentwood, TN | LinkedIn |
| LP Director | CarMax | Tolleson, AZ | CarMax |
| LP Manager Hrly | Sears | Houma, LA | Sears Holdings Corp |
| LP Manager Hrly | Kmart | Marshall, MI | Sears Holdings Corp |
| LP Manager Hrly | Kmart | Algona, IA | Sears Holdings Corp |
| | | | |

Thomas Hacker was promoted to Director Interconnected Operations Strategy for The Home Depot.
Nathan Hamblin was named Loss Prevention and Safety Manager for PetSmart.
Ben Stoner was named Loss Prevention Manager for Sears Holdings Corporation.
Nathan Latsha, CFI was named District Loss Prevention Manager at Hastings Entertainment.




How to Be Productive - And Have Fun - In the Festive Season As we get closer to the holidays, productivity can take a hit. People wait to start new projects or make big decisions until the new year, even though there's still plenty of time to go until then. Here are some tips to keep on track and have fun at work this time of year. Keep it manageable

Being Happy at Work Matters
There is a simple fact to increasing productivity: happy people are better workers and engaged workers work harder. Those workers who aren't engaged can affect others with their attitudes and that can result in lowered performance. Feelings matter at work so here are some ways to keep everyone happy. What's their purpose


Last week's most popular articles--

5 Simple Things Beloved Bosses Do
Bosses spend a lot of time with their employees, and as a result, have a huge impact on their happiness. How can you help your employees stay happy? It's not all about the money, but more about recognizing the great and hard work they do! Check out this infographic for more tips on being the best boss! Team morale

13 Powerful Lessons for Becoming a Truly Great Leader Leaders need to lead with their hearts, they need to instill in their employees and team members the resources and education for them to be successful. In order to be a truly great leader, you need to stop focusing on the "I" and instead focus on "we." Here are thirteen lessons to try using in your own organization. Keep your promises

As we all rush thru our days, fighting to reach our objectives and dealing with a multitude of challenges each day, it's incredibly important that we remember that we're all a part of an industry, one team, one unified group dedicated and committed to helping our companies, our fellow employees, our customers, and our fellow colleagues. Easy to lose site of, bombarded with e-everything, and chained to our agendas each and every one of us is part of one industry and we all need to remember that from time to time. Take pride in what you do and how far we've come and remember we all have a long way to go and the only way we'll get there is if we do what's right for the industry each and every day. So the next time you're faced with that inevitable question of "What do I do" think about what's right for the industry, what's right for my company, for our customers, for our employees, and for our colleagues - and you just might find the answer you're looking for.

Just a Thought,
Gus



Post Your Tip or Advice! Click Here

Please make sure to add d-ddaily@downing-downing.com to your contact list, address book,
trusted sender list, and/or company white list to ensure you receive our newsletter.
/

www.downing-downing.com / ADVERTISE WITH THE DAILY