Law Enforcement Bears Down on Smartphone Crime Wave
- New fraud schemes feed international black-market demand
Amid a thriving and highly profitable black market overseas for smartphones, more criminals are turning to fraud and identity theft to obtain discounted devices in bulk, according to law-enforcement officials.

Authorities say the kill switch, which remotely deactivates stolen phones, has made street-level smartphone theft less lucrative. But joint investigations by state and federal authorities in Minnesota, Michigan and Georgia have uncovered vast networks of criminals who use stolen information, fake credit cards and dummy corporations, among other means, to obtain discounted phones in bulk from U.S. carriers.

The phones are often then resold for use on foreign networks, including in China and the Middle East, where U.S. carriers can't find them, officials said. Profit on the resale of new smartphone​ models​ abroad, where phones aren't subsidized by wireless carriers, can amount to $500 to $1,000 per phone or more, state and federal investigators say. wsj.com

2015 Mass Shootings: Security Experts Advise Companies To Re-Evaluate Safety Following A Series Of Deadly Attacks
Several mass shootings in America over the past year have occurred in workplace settings, prompting companies to take a second look at security systems to prevent employees from coming in harm's way. "'Honestly, I think it behooves anybody to take some sort of an action at this point, whether that is re-educating your people on your safety programs or implementing them for the first time,"' Edward Yost of the Society for Human Resource Management says. "'To simply do nothing and believe you're a low-risk environment, that's not a legitimate way to look at it at this point. In this world we're living in, nobody is a zero-risk environment."'

Nearly 2 million Americans are victims of workplace violence each year, which encapsulates physical attacks as well as threats, harassment and intimidation. In the two decades between 1992 and 2012, a reported 14,770 people died as a result of on-the-job violence.

Some of the most obvious protections that companies might consider following an attack such as the one in San Bernardino are physical -- security guards, surveillance systems, metal detectors and fences that line a facility's perimeter. But security experts consistently say two of the most important first steps that companies can take are procedural ones -- creating a workplace safety policy and completing a risk assessment. Creating a safety policy is important because it serves as grounds for terminating employees who violate it. Companies are bound by the Occupational Safety and Health Act of 1970 to provide a workplace that is "'free of known dangers."' Though OSHA does not have specific regulations on workplace violence or safety precautions, it offers prevention programs and training materials.

Since there's no formula for a safe workplace, a risk assessment identifies physical vulnerabilities such as easy building access or poor lighting and also illuminates past threats or potentially volatile situations that have simmered beneath the surface. "'One of the easy things you can look at is multiple points of access,"' Yost says. "'If your building or offices have multiple places where employees come and go, that certainly could be a risk."'

Once a company has a safety policy, risk assessment and reporting protocol in place, experts say it's important to keep these documents updated and remind employees of their contents through training or seminars. This framework can also inform a company's decisions to hire a security guard, invest in a surveillance system or upgrade building entry procedures. For example, if a company suddenly cuts a fourth of its workforce, Yost recommends hiring a temporary security guard. ibtimes.com

Bomb threats forced evacuations in malls across three states
- Everybody's Nervous
Thousands of shoppers were evacuated from malls in at least three states on Saturday as bomb threats or scares disrupted one of the busiest days of year for holiday shopping. The evacuations come at a time of heightened vigilance in public places across the country.

An empty suitcase caused the evacuation of some 500 people Saturday morning at a handful of stores at the Largo Mall, an outdoor outlet mall near Tampa, Florida, authorities said.

To the north, the Shops at Riverside, a two-story shopping mall in Hackensack, New Jersey, was evacuated after authorities learned of a bomb threat scrawled on the wall of a bathroom, according to the Bergen County Sheriff's Department.

In Farmington, New Mexico, the Animas Valley Mall was cleared out and closed while police searched the shopping center after a threat was found on a women's restroom wall, said Georgette Allen, public information officer for the Farmington Police Department.

Police in San Francisco cleared a suspicious package Saturday afternoon. The unattended backpack was left on the Embarcadero, a tourist-heavy attraction near the city's financial district.

All the stores were reopened after no bombs were found. But all lost valuable hours of shopping on the second Saturday before Christmas, considered among the busiest shopping days of the year. businessinsider.com

Dollar Tree To Pay $825K Fine For OSHA Violations & Institute Co. Wide Training Program with Newsletter
The Chesapeake, Virginia-based national discount retailer agreed to pay the fine and implement safeguards, such as removing obstructed access to emergency exists and removing electrical hazards, after OSHA found the various violations during 13 different inspections at several stores, according to OSHA, which is part of the U.S. Department of Labor.

OSHA brought the agency complaint earlier this year after issuing Dollar Tree several citations for violations between June 2014 and September 2015 in stores in Connecticut, Delaware, Illinois, Massachusetts, Montana, New York, Rhode Island and Texas. Among the hazards cited include blocked emergency exits and obstructed access to routes to those exits, materials and equipment blocking necessary access to certain electrical equipment, along with improper material storage, the agency said.

The agreement calls for Dollar Tree to implement a plan so managers can properly store materials and equipment so they are not obstructions and to clear 28-inch wide routes to emergency exits and electrical equipment.

The agreement also requires the company to develop and implement a comprehensive safety and health program in all 2,400 of its stores in the U.S. that complies with OSHA's guidelines. OSHA requires that managers and employees alike participate in the program, and the company has agreed to publish a newsletter covering health and safety issues, according to OSHA. law360.com

A crime where women predominate and 5 other facts
about shoplifting in Michigan
A total of 21,688 people were arrested for shoplifting or otherwise trying to defraud a Michigan retailer in 2014, according to statistics compiled by the Michigan State Police. That's 8.3 percent of all criminal arrests in Michigan. Below are some other facts about shoplifting arrests based on the state police numbers:

1. A majority - 53% of those arrested for shoplifting or retail fraud are women in 2015. White women had the highest numbers of arrests among the different demographic groups, accounting for 33 percent of the arrests. But when population size is taken into account, a black woman was three times more likely to be arrested compared to a white woman. Meanwhile, black males were 3.5 times more likely to be arrested for shoplifting as compared to white males.

2. Two-thirds of shoplifting or retail fraud arrests involved items with a value of less than $200. Michigan's law has three levels of criminal charges for retail theft and fraud: First degree for items with a total value of at least $1,000; second degree for items valued between $200 to $1,000, and third degree for stealing items valued at less than $200. First-degree offenses are a felony punishable by a prison sentence of up to five years and/or a fine of $2,000 or three times the amount of the stolen goods, which ever is greater. Second- and third-degree offenses are misdemeanors punishable by up to a year in jail and/or a fine of $10,000 or three times the amount of the stolen goods, which ever is greater.

3. Theft is far more common than fraud among retail customers. Almost 91 percent of the 2014 arrests were for "retail theft." Of the remainder, almost 5 percent of the cases involved a fraudulent exchange or return and 4 percent were for "misrepresentation" - i.e., switching a price tag or otherwise trying to defraud a store by deliberately misrepresenting the price. There also were a handful of arrests - 0.3 percent of the total - for other offenses, such as organizing a shoplifting ring or fencing goods stolen from a retail store.

4. Those arrested in 2014 ranged in age from 9 to 92. The complete breakdown of arrests by age groups: 10 percent were age 9 to 16; 17 percent, age 17 to 20; 33 percent, age 20 to 29; 18 percent, age 30 to 39; 12 percent, age 40 to 49; 8 percent, age 50 to 59, and 2 percent, age 60 to 69. There also were 92 people age 70 to 79 who were charged and 23 people age 80 to 89. The age group most likely to be arrest for retail theft/fraud were 20-somethings - people between the ages of 20 and 29 accounted for 6,970, or 33 percent, of all 21,688 arrests.

5. The Cadillac area had the highest rate of retail theft/fraud arrests in 2014. Wexford County - the county just south of Grand Traverse County - had 49 arrests per 10,000 residents. mlive.com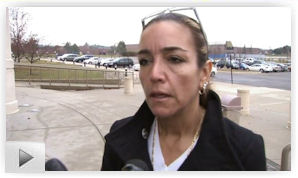 Woman who shot at shoplifters says she 'will never help anybody again'
The woman who opened fire on shoplifters running out of a Home Depot in Auburn Hills, Michigan, was sentenced Wednesday to serve probation for 18 months, according to local reports. Tatiana Duva-Rodriguez, 46, pleaded no contest shortly after the incident in October. "'I tried to help, and I learned my lesson that I will never help anybody again,"' she told the media afterwards. During the Oct. 6 incident, she witnessed the store's loss prevention officer chasing a suspect carrying stolen merchandise. Duva-Rodriguez, who had a license to carry a concealed handgun, shot at the tires of the getaway car. Local prosecutors called the act a "'misguided attempt to disable the vehicle to stop two reported shoplifters"' in October, after Duva-Rodriguez was charged. In addition to probation, she cannot apply for a gun permit until 2023. As for the shoplifter and his driver, they were arrested and charged. guns.com

Rack Room Shoes Selects Diebold Security For 500 Locations Nationwide
A newly formed partnership with leading national footwear company Rack Room Shoes makes Diebold, Incorporated the exclusive provider of electronic security and monitoring services for the family footwear retailer throughout the United States. Founded in 1920, Rack Room Shoes operates over 500 stores in 34 states under the store brands Rack Room Shoes and Off Broadway Shoe Warehouse, with over 6,500 employees nationwide. Diebold's electronic security business will deliver comprehensive security solutions including intrusion, fire, video and monitoring services as well as its industry-leading online customer portal, SecureStat, for all Rack Room Shoes and Off Broadway Shoe Warehouse locations. prnewswire.com

Tory Burch lays off 100 as focus shifts to Tory Sport, digital efforts
Tory Burch employees got an unpleasant pre-holiday surprise last week when the company laid off 100 employees at its New York City headquarters in the Flatiron District and some of its 160 stores as part of a reorganization. The company confirmed the layoffs to the New York Post, which reported the story late Friday night citing unnamed sources, but declined to provide further details. It has 3,000 employees altogether, and the cuts represent about 3 percent of the workforce. A source said the cost savings will be used to invest in technology and the new Tory Sport athleisure line, as well as to hire senior executives. bizjournals.com

U.S. Retail Sales Rose 0.2%, Holding Out Hope for Holiday Sales

Report: Pep Boys accepts higher offer from Bridgestone

Modell's, Swagway Hit With Suit Over 'Hoverboard' Explosion at Customer's Home While Battery Charging

FTC Asks Walgreens, Rite Aid For Info On $17.2B Merger

UK - PHSC buys retail security company SG Systems


Last week's most popular news article --

Los Angeles County Sheriff's Department
Releases 'Surviving An Active Shooter' video - Contains graphic content
Detailing a mall and warehouse shooting incident - Inspired by true events
Most realistic we've ever seen - Released on ABC news

The sheriff's department renewed their focus on the video following the terrorist attack in San Bernardino on Wednesday that killed 14 people and injured 21 others. Sgt. Harry Drucker with the sheriff's department produced the video and said the scenarios are based on or inspired by true events.

Active shooter events are increasing with one killing more than 4 people occurring every 2.9 months. On average twenty mass shootings take place every year in the U.S. Editor's Note: Since the San Bernardino shootings five locals have planned active shooter training exercises. abc7.com


Send in Your 2015 Group LP Selfie Today
One Retail LP Team Member to Win a Trip
to NRF Protect Philadelphia
Live Drawing Jan. 18th 3 p.m. at the Daily's
'Live in NYC at the NRF Big Show' Event

Three teams will be selected on Monday Jan. 18th at the Daily's 'Live in NYC at the NRF Big Show' event at 3 pm. to win pizza parties sponsored by NuTech National. One retail LP team member from all of the submissions will be selected to win an all expense paid trip to attend the NRF Protect Conference in Philadelphia this coming June. GLPS submissions must be made by Jan 12th, 2016. You've got a month to get them in and maybe this NRF learning experience may be the one time you meet that one executive who makes a difference in your career! The winner must have corporate approval in writing to attend the event.

Any Group LP Team Selfie taken this year can be submitted
One GLPS per team - Limited to publishing one per day until Jan 12th - Published in order of submission - Not Publishing Dec 25th through Jan 3rd.