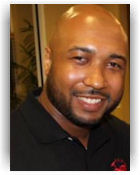 Brian Broadus was named Senior Director, Safety, Food Safety, Compliance and Sears Home for Sears Holdings Corporation. Brian was previously the Corporate Director of Loss Prevention Operations & Global eCommerce Fraud for Bed Bath & Beyond. He had been with the retailer for over two years before taking on this new position at Sears. He has been in the loss prevention industry for over eight years and has worked at Wal-Mart as a Regional Asset Protection Director and Market Asset Protection Manager, Ross Stores as a Loss Prevention District Manager, JC Penney as a Loss Prevention Manager and Gap Inc as a Field Loss Prevention Manager. He also worked at Nordstrom as an Internal Investigator. Congratulations Brian!

The Ongoing Saga of Dov Charney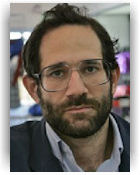 American Apparel founder/CEO is out for good - Fired 2nd time 'for cause' - This time it might stick In a long-awaited decision handed down late Monday, Dov Charney, the controversial founder of American Apparel, has been fired "for cause" as CEO. He was suspended as president and CEO of the hipster apparel chain in June for alleged misconduct and violations of company policy, American Apparel said in a press release. The decision was made by the board's "suitability committee," which was formed in the wake of Charney's suspension to oversee an internal investigation. "Based on this investigation, the special committee determined that it would not be appropriate for Mr. Charney to be reinstated as CEO or an officer or employee of the company," said American Apparel in a statement. "While under suspension as CEO, Mr. Charney had been serving as a consultant to the company. This relationship has now been terminated." The retailer has tapped Paula Schneider, a former Warnaco executive, to succeed Charney, effective January 5. Charney has been dogged by lawsuits and rumors and allegations of misconduct for years, mostly over his personal conduct with women and poor judgment. chainstoreage.com businessinsider.com

More than 30 American Apparel Executives Call for Charney's Return
Paula Schneider, American Apparel's incoming chief executive officer, hasn't even started work yet and she's already facing a group of disgruntled managers. More than 30 executives asked the board to reconsider their decision to fire former CEO and company founder Dov Charney, according to a letter obtained by Bloomberg News. Charney should be a part of the retailer's future by helping the next CEO improve the chain because he is what "makes this thing tick," the managers said. Charney's loyalists bring an additional headache to a new CEO already coping with red ink and sluggish sales. The chain has racked up more than $300 million in net losses since 2010, forcing it to raise capital to make ends meet -- most recently in July. Schneider also has to contend with image problems at a company that's been criticized for its racy advertising and sexually charged culture. bloomberg.com

Dov Charney's autobiography from 2009 - Insight into his life in his own words


14 Security Officers Face Murder Charges
Like the headlines of recent months that have highlighted the police excessive force and murder incidents, whether true or not, security officers also are facing the same legal and media attention and while defending themselves for the deaths and injuries of people that they have been hired to protect. Just in the past few weeks, Troy Bixby and Darren Gray both charged with second degree murder in separate shooting deaths, argued Stand Your Ground doctrines and used self-defense strategies to plead their cases. Two Dayton security officers who shot and killed a man playing loud music in his vehicle and refusing to exit his car when order to so, were also sentenced to prison this year. While many of the charges stem from situational danger and perceived threats, some are more cut and dry and leave little room for a defense. Such are the cases of security officers in Florida, Texas, Massachusetts and New York. In March of this year, a Spring Hill Florida security guard at an assisted living facility was charged with trying to murder two elderly residents. An apartment security guard charged with the murder of his supervisor after he was suspended for bringing his girlfriend to work argued that he was provoked. And in Massachusetts, Lloyd Worster, a custodian for the Albion Building at 765 Main St in Worcester was shot and killed by the building security officer during a disagreement. Dontan Jenkins, a Mount Vernon security guard supervisor, faces life without parole after the murder of one of his employees, a security officer who was on duty and working with Jenkins at an apartment complex. Trey Watkins, a security officer working at a Texas nightclub, shot and killed a man in the parking lot of a nightclub because he felt that the man had disrespected. Watkins is facing life in prison. Security officers who are frequently undertrained (to no fault of their own) and often lack experience assessing danger or de-escalating volatile situations, often resort to deadly force based on their perception of imminent harm. Numerous incidents that we reviewed this week suggested that security officers could have just walked away but instead escalated the level of force against the alleged offender. Security officers are involved in hundreds if not thousands of armed incidents every year involving serious crimes and dangerous people. Most of the time these officers respond bravely and correctly often saving lives, apprehending violent felons and preventing mayhem while police are being summoned. Training and supervision is paramount in the evolution of the security industry as the private sector continues to take on new roles, with more authority and is propelled into dangerous territories where life and death decisions happen more often than not. privateofficer.org

Protection 1 Forms New Field Services Organization - Supports rapidly growing commercial and national accounts business Protection 1, the largest full-service business and home security company in the U.S., today announced that it has created a New Field Services organization dedicated to providing the tools and information that will allow Protection 1 to continually enhance its customer experience and satisfaction. Leading the new organization is Paul Straten who will fill the role of Vice President, Field Services, reporting to Don Young, Chief Information and Operating Officer. In his new role, Straten will be responsible for managing a dedicated team of professionals whose primary mission is to provide actionable data through the use of technical tools to help the field organization continue to improve upon their delivery capabilities. p1newsroom.com

More Air Jordan: Crowd Pepper Sprayed by Police at Air Jordan launch in the Cross Creek Mall in Fayetteville The Fayetteville Police Department is investigating an incident where an off-duty officer used pepper spray to control a crowd of people waiting in line for a popular basketball shoe outside Cross Creek Mall in Fayetteville. At around 4:15 a.m. Wednesday, a crowd gathered at the mall entrance between Sear's and JC Penney in anticipation for the new Jordan basketball shoe at Finish Line. Some of those waiting in line got into an altercation. An officer with the Fayetteville Police Department, who was working in and off-duty capacity at the mall, got pepper spray from the trunk of his vehicle and used it on the crowd. Additional officers responded to the incident and the altercation was brought under control. The Fayetteville Police Department will conduct an internal investigation of the use of force to ensure that all departmental policies and procedures were followed during the incident. wncn.com

Former U.K. criminal mastermind to test EAS tagging system
Swiss manufacturers Agon Systems have announced a deal with Tony Sales, the man the British media famously dubbed "Britain's Greatest Fraudster" to test their new Concept Tag "...beyond anything ever sanctioned by any tag manufacturer anywhere in the world." CEO of Agon, Sean Welch, continued "Conventional EAS tagging systems have become less and less effective. As criminals have found ways to defeat EAS, retailers have looked to the manufacturers for support. But unfortunately we have now got to a situation where tags will only really deter the opportunist thief. The professional criminals and organized gangs have been operating with impunity... that is until now." retailfraud.com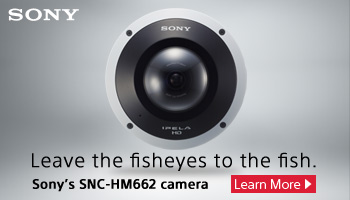 Travelers Beware - Park-n-Fly hit with credit card breach Multiple financial institutions say they are seeing a pattern of fraud that indicates an online credit card breach has hit Park-n-Fly, an Atlanta-based offsite airport parking service that allows customers to reserve spots in advance of travel via an Internet-based reservation system. The security incident, if confirmed, would be the latest in a string of card breaches involving compromised payment systems at parking services nationwide. Two different banks have seen fraud on a significant number of customer cards that previously - and quite recently - had been used online to make reservations at a number of more than 50 Park-n-Fly locations nationwide. Unlike card data stolen from main street retailers, which can be encoded onto new plastic and used to buy stolen goods in physical retail stores - cards stolen from online transactions can only be used by thieves for fraudulent online purchases. krebsonsecurity.com

Discover Investing $35 Million in New, Chip-Enabled Credit Cards
Discover Financial Services Chief Executive David Nelms announced last week that the company will spend more than $35 million next year for new credit cards that contain a computer chip to better combat fraud. That amount includes the cost of issuing new cards to customer, as well as efforts needed to prepare Discover's card-processing network for the card. Discover is just one of many U.S. card companies racing to issue the new chip cards, which are more difficult to counterfeit than traditional magnetic stripe cards. nacsonline.com

3/4 of consumers unhappy with retailers' credit and personal info security
Three out of four (76%) online buyers are dissatisfied with the strength of credit card and personal information security among retailers. According to a new survey of 6,200 online consumers across all generations and both genders from Bizrate Insights, a shopper's own bank is trusted the most with credit card data and personally identifiable information (72%). chainstoreage.com

First Data and Verifone partner to fight consumer payment data theft
Payment technology company First Data and Verifone have announced a partnership to help U.S. merchants reduce exposure to large-scale consumer payment data breaches and expedite merchant acceptance of EMV-enabled credit and debit cards. To address this burden, First Data said it will now offer Verifone's Secure Commerce Architecture (SCA) solution to its U.S. merchant clients who use Verifone equipment within an integrated point of sale (IPOS) system. According to the companies, SCA helps to solve the difficulties of EMV compliance by eliminating the flow of consumer payment data into the IPOS. Payment data will also now flow through First Data's TransArmor data protection solution, enabling encrypted delivery directly to First Data from the Verifone payment terminal. retailcustomerexperience.com

Brand-New Category - 'Re-Commerce' = Managing & Selling Returned Merchandise & Excess Inventory - Reverse Logistics Optoro has built its business on helping retailers get the most out of those returns. Most consumers never see what happens after they return clothes that don't fit, electronics that don't work or gifts they can't use. Items that can't go back on shelves are sent to distribution centers. Retailers are always looking for ways to improve the way they manage returns, especially because the area can be ripe for fraud. In 2013, returns made up 8.6 percent of total sales, or $267.3 billion, with $9.1 billion of that estimated to be fraudulent. Today, some of the nation's biggest retailers use Optoro's cloud-based system for handling returns, either at Optoro's center or at the retailers' own distribution centers throughout the U.S. Optoro is creating a brand-new category, 'Re Commerce,' and transforming what was once an incredibly antiquated solution to one of the retail industry's biggest and most costly challenges - what to do with the roughly 15 percent of goods that are returned or become excess inventory - into a significant revenue-generating opportunity." Optoro system can increase the value of returned merchandise up to 10 times. The cloud-based technology they use today, one that automates much of the process of assigning condition, price and an eventual market for returned and excess goods. Items ready for immediate resale are posted continuously on its Blinq site, with some bargains selling in moments. But most items go through a few more steps. Once merchandise is scanned into Optoro's system, it's assigned conditions such as "open like new," "new," "lightly used" or "heavily used," and designated for sale, parts harvesting or repair. Items that might be obsolete before they can make it back on the shelves - such as some electronics - would be sold for parts, while lower-price items might be sold in bulk. baltimoresun.com

Sears' 'Mygofer' Experiment Shows Retailer's Struggle to Reinvent Stores - More returns than sales When Sears Holdings Corp. opened a test store in 2009 called Mygofer in this working class city 45 miles southwest of Chicago, it billed it as a revolutionary combination, one that would meld the convenience of the Internet with the instant gratification of a bricks-and-mortar store. The company gutted an 80,000-square-foot Kmart - but enticing rows of clothes and electronics wasn't part of the plan. The idea of Mygofer was to have shoppers place their orders at computers at the front of the store, then pick up their goods at a delivery bay out back. Sears chief executive Edward Lampert, who was chairman at the time, hoped to roll out hundreds of the stores if the experiment succeeded. But in the four years it was open, Mygofer notched an unusual distinction: On some days, more people returned goods than bought them. Shoppers were thrown by the format. Shuttered in 2013, Mygofer might be written off as just another failed retail experiment. But its demise helps illustrate the strategic misdirection that continues to dog the combined Sears/Kmart operations. The ill-fated project, meanwhile, has only fueled Mr. Lampert's desire to ramp up new technologies - even as he curtails some of the mundane investments needed to keep a giant retailer rolling. wsj.com

Nordstrom fires worker over police killings post on Facebook
Aaron Hodges, 37, of Portland, suggested killing a white officer for every black man killed by police. His comment quickly circulated online, prompting complaints both online and directly to his employer. Nordstrom spokeswoman Tara Darrow said the department store chain does not tolerate violence, violent conversation or "threats of any kind." Hodges, who is African-American, said Tuesday he's troubled by the police killings of Michael Brown in Missouri, Eric Garner in New York and Tamir Rice in Ohio, and he made the Facebook comment in an exchange with a friend from high school. Hodges said he sometimes says outrageous things to "bring things into scope" and didn't literally mean that white officers should be killed. "I'm a black Mormon, so there's no way I could be racist," he said. "I'm just passionate about black issues because nobody else seems to be." Hodges said a manager from the downtown Portland store called him Friday to say people were calling nonstop and he must remove references to his Nordstrom employment from his Facebook page. The next day, Hodges said, a manager told him to stay away until Wednesday, because there had been a death threat. "And then the store manager called me on Sunday and was like: 'We can't support you anymore Aaron. We got to let you go.'" komonews.com

Former Toys 'R' Us chief named CEO of Hudson's Bay

Retail sector to add 30,000 jobs by end of December, study says

Kansas City grocery store modernizes the honor system
Apple closes Russian online store due to ruble fluctuations

Pantry C-Store Chain - Owner of Kangaroo Express - Auctioning Itself Off
All the News - One Place - One Source - One Time
The D&D Daily respects your time & doesn't filter retail's reality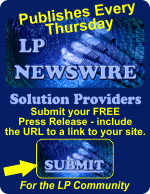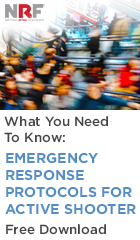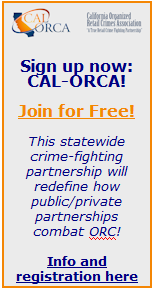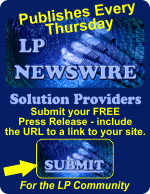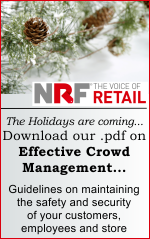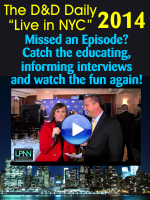 The D&D Daily
"Live in Ft. Lauderdale" at the NRF Show

Leadership & Development Series


Dan Doyle, CHRO, Beall's
Sponsored By:




LPNN Quick Take -9



See all episodes here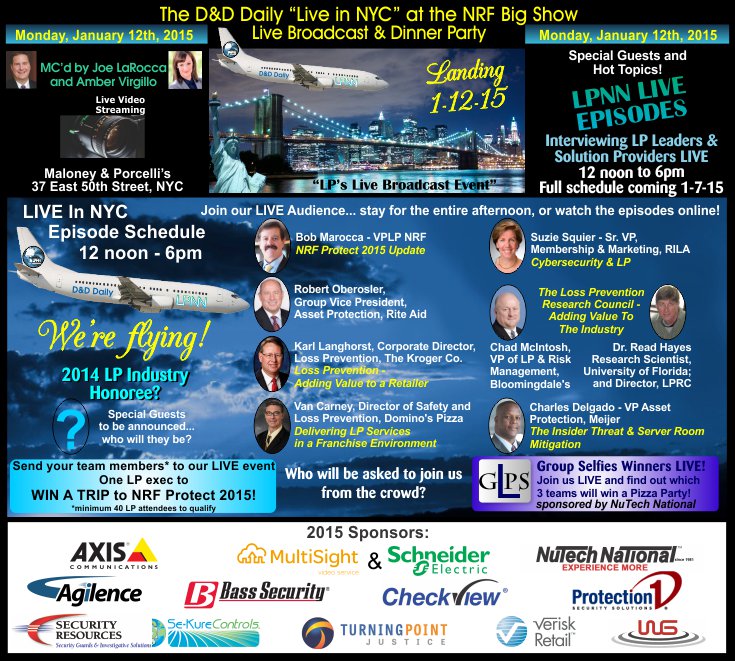 Preparing - Training - Responding to the Active Shooter
Rich Mellor



Rich Mellor, Senior Advisor, Asset Protection at the NRF and former VP of LP for the NRF, sits down with LPNN to discuss the most dangerous situation in retail -- active shooter events. Studies have shown business locales, such as retail stores, are the most frequently attacked locations in active shooter events. Rich talks about what the LP industry can do to better prepare and help prevent such incidents, including partnerships with law enforcement and other emergency responders.

---

In this LPNN Quick Take, hear from Joe LaRocca, Greg DeTardo, President at NuTech National and Jon Gold, VP, Supply Chain & Customs Policy at the NRF as they discuss the biggest issue facing retail at this time - the supply chain labor contract for the west coast port. And how this affects the Loss Prevention executives and retailers. They also talk about the growing ORC problem and Cargo theft.

Solution Providers, have a video or commercial you want to publish? Contact us.

Stay Tuned for our New 2015 Get LP Social Column!

---

2014 LP Team Group Selfie Review

Showcasing each team in order!
Be on the lookout for our new Get LP Social 2015.

Your Team - Your Pride

Rent-A-Center's LP US Operations Team

"To maximize company profits through the innovative use of physical security, training, data analysis and investigations while remaining true to RAC Core Values"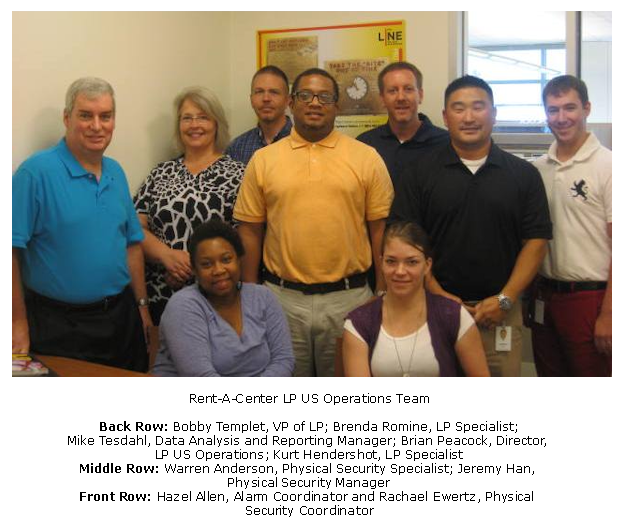 *Published on July 23, 2014
View all the selfies here!

Three 2014 Group Selfie LP Teams to win Pizza Parties!
Drawing at our Live in NYC at the NRF Big Show, January 12th.
Make sure you're watching!




Protection 1 Forms New Field Services Organization
New Organization will focus on the Service Delivery Platform to Support its Rapidly Growing Commercial and National Accounts Business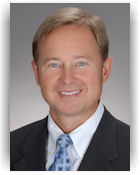 Chicago, IL - December 16, 2014 - Protection 1, the largest full-service business and home security company in the U.S., today announced that it has created a New Field Services organization dedicated to providing the tools and information that will allow Protection 1 to continually enhance its customer experience and satisfaction. Leading the new organization is Paul Straten who will fill the role of Vice President, Field Services, reporting to Don Young, Chief Information and Operating Officer. In his new role, Straten will be responsible for managing a dedicated team of professionals whose primary mission is to provide actionable data through the use of technical tools to help the field organization continue to improve upon their delivery capabilities.

Straten, who has been with Protection 1 for 14 years, started his career in the security industry nearly 40 years ago. During that time, he has held positions ranging from installer and service technician to senior vice president of Field Operations. His experience also includes roles as Regional Controller, Operations Manager, General Manager and National Operations Analyst among others. Straten also operated his own security and home automation business for three years.

"Paul has the aptitude and the experience working with field personnel on what matters most to the successful outcome of a service or installation job," stated Young. "His ability to quickly perceive, analyze and develop solutions to the most difficult challenges will lead the way to our goal of providing the most sophisticated service delivery platform in the industry." Reporting to Straten will be Marcel Van Someren who has been promoted to the position of Director, Field Technology and Helton De Oliveira who has accepted the position of Director, Field Services.

Read more here.



The Roadmap For Keeping U.S. Payments Secure
The U.S. Payments Security Task Force (PST) - a group of leading U.S. issuers, acquirers, merchants, payment networks and other electronic payment participants - has dared to go where no task force has ever gone before: to create a roadmap for protecting cardholder data at the merchant's physical or virtual point of sale. It was a pretty daunting assignment. Established in 2014, shortly after the Target breach changed the importance of the conversation about payments security, the PST team pooled their collective knowledge on the topic in an effort to streamline the direction and evolution of U.S. payments security. That collaboration resulted in a brand new white paper that outlines a direction and provides a roadmap for securing the payments ecosystem in the U.S. It's a pretty thorough piece of work that provides a pragmatic roadmap for what the payments ecosystem in the U.S. must do in order to keep the cardholder data secure and the fraudsters at bay. The report itself is long on thoughtful recommendations but short, by design, on silver bullets. The complexity of the payments ecosystem and the ways in which payments are evolving, the task force acknowledges, requires an equally sophisticated and "layered" approach to preserving the integrity of payments data. There's simply no single strategy or tactic that can fix payments security and the PST acknowledges that point right up front. Here is an early look at the work coming out of this group and PYMNTS has summarized it here for you. pymnts.com

Kaspersky: Mobile & Bitcoin Attacks Increase, Online Threats Down
Fraudsters have focused heavily on online banking as a target for malware attacks over the last several years, but as more online activities move to mobile, industry experts have suspected that fraudsters would follow that traffic and aim more attacks at mobile. Kaspersky Lab's "IT Threat Evolution" report for last quarter indicates that fraudsters are starting to focus more on mobile. The cyber security solutions provider detected 7,010 mobile banking Trojans in the third quarter of this year -- a record number, and more than three times as many mobile Trojans as detected the previous quarter. Meanwhile online banking malware threats fell considerably, as Kaspersky Lab blocked 696,977 of those threats, a 24% decrease from the previous quarter. banktech.com

Dozens More Companies Sign Up for Apple Pay

Samsung working on Apple Pay alternative

"Fraud is not a person - it is a dynamic grouping of statistics that deviate from the norm."
Stuart B. Levine, CFI, CFCI
CEO, The Zellman Group & Zellman Fraudnet

Riverside, CA Police make 18 arrests in holiday theft crackdown
Riverside police have made 18 arrests during a crackdown on holiday thefts, officials said. They made four felony arrests and 14 misdemeanor arrests, stopped a robbery in progress and recovered more than $3,900 worth of stolen merchandise, officials wrote in a news release. The crackdown happened at various locations and included crime suppression and high-visibility patrols. Officers also passed out fliers to customers educating them on how to avoid becoming a victim. pe.com

St Petersburg, FL Police conduct holiday shoplifting operation, 19 arrests
Yesterday plain clothed detectives with the Department's Economic Crimes and C.O.T.A. Units conducted a one day operation with loss prevention officers at the Wal-Mart Store located at 201 34th Street North. The purpose of the operation was to address the problem of shoplifting that increases during the holiday season. A total of 19 individuals were arrested, mostly on charges of retail theft although several had outstanding warrants and one juvenile was in violation of court ordered home detention for a previous burglary charge. Of those arrested, 9 were adults and 10 were juveniles. In one instance three juvenile were arrested when they attempted to steal a bicycle parked in front of the store while plain clothed detectives stood about 5 feet away. Operations of this type are being planned in the future at other retail establishment in the hopes of deterring shoplifting and other forms of theft at stores city wide. wtsp.com


Poulsbo, WA Police tip leads to arrest, recovery of hundreds of stolen items The Poulsbo Police Department said they recovered 92 stolen or fraudulent credit, debit and gifts cards as well as other stolen items after quick-thinking merchants came forward with tips. Eidsmou said he showed the supposed customer the wedding ring. After he didn't even ask about ring size or quality, "my first thought was tell somebody as fast as I can." Owner of Dahlquist's Fine Jewelry, Richard Koven added, "We didn't know at the time what they were up to, we just knew there was something odd about them." komonews.com

High-end thieves target Holt Renfrew in Calgary
Calgary police are investigating the theft of a number of designer handbags. Early Wednesday morning, police say two men smashed the north-facing glass window of Holt Renfrew, located at 510 9 Avenue S.W. Once inside the store, the men stole several Gucci and Louis Vuitton handbags. Damage to the store is estimated at $10,000. globalnews.ca


Two Charged in 'Team' Shoplifting Attempt at Best Buy in Wichita Falls, TX Two people are charged with theft in what appears to be a team shoplifting attempt. Austin Bounds, 29, and 28-year-old Trisha Breitbarth are charged with theft with previous convictions. Police say they responded to a report of two men and a woman stealing a camera at Best Buy. A witness told officers the three left in a car and pulled into the parking lot at Target. Officers say one man ran and had to be tased and the other man and the woman were found trying to hide in the store. Police charged Bounds and Breitbarth after viewing surveillance video at Best Buy. In the video, police say one of the men walked off by himself. Then Bounds can be seen taking a camera and cutting the security sensor off and kneeling down, while Breitbarth sets a large purse down next to the camera. They say Bounds then put the camera in the purse and they then left the store together. Officers say they found other items inside the car they believed to be stolen. everythinglubbock.com

Former Walmart employee charged with six counts of conspiracy in Massena, NY
Village police have charged Victoria L. Davis, 33, of 220 Dullea Road, Brasher Falls, with one count of fifth-degree conspiracy and five counts of sixth-degree conspiracy stemming from an alleged shoplifting ring at the Massena Walmart. Ms. Davis was employed as a Walmart associate and allegedly conspired with two males and a female to allow them to pass through her checkout aisle without paying for items in their carts on several occasions in July and early August. She was terminated from her employment at Walmart on Aug. 8 after store officials discovered the theft of several items, according to police. She is the fourth person charged in an investigation into several alleged shoplifting incidents at the Massena Walmart store. watertowndailytimes.com

$1,800 worth of merchandise stolen from Target in Bismarck, ND
$1,800 of merchandise is stolen from Target. Tuesday afternoon at 1:40 pm, Target says a black man and a black woman walked out of the store with a Sony PS4 worth $400. A $400 Xbox One, and two Dyson stick vacuums worth $1,000 were also taken. Bismarck Police believe it may be linked to the theft at Best Buy last Friday, December 12th. 18 pairs of Beats by Dre headphones were stolen from the store in duffle bags. kfyrtv.com

Two arrested in Johnson City, TN JC Penney for allegedly stealing $600 of cosmetics

Do you have an ORC case to share? Publishing it educates the LP & retail community,
which might fuel even more jobs and funding. Share your ORC news and help the industry grow!

Office Depot employee faces prison term for a Second Felony theft
A woman who pleaded guilty to felony theft earlier this year but was allowed to participate in a community corrections program in lieu of incarceration could face a lengthy prison term soon. Karen L. Iuele, 41, is accused of violating conditions of the five-year sentence she received in May to Garfield County Community Corrections, a program in Rifle intended to give the courts alternative-sentencing options for nonviolent offenders. Community-based sentences are designed to allow offenders to hold regular jobs while providing them with the tools and oversight they need to become responsible members of society. Iuele's guilty plea in February related to her arrest in October 2012 that was based on accusations she stole money from a customer of the Aspen insurance company where she worked. But Iuele was arrested on Dec. 11 in Glenwood Springs, accused of stealing from her new employer, Office Depot. Based on the new arrest, the state probation office and the Rifle community corrections facility have kicked Iuele out of the special program. aspentimes.com


Radio Shack Employees tied up during Indianapolis robbery Two RadioShack employees were tied up during a robbery on the west side of Indianapolis Tuesday morning. According to IMPD, the store in the 5400 block of West 38th Street was robbed by three men who got away with cash and electronics. No one was physically injured in the robbery. Detectives watched surveillance video of the three suspects storm the store with their faces and arms covered. In the video, the intruders threaten the two employees and then use zip ties to the tie the two victims up. According to police, the employees were able to untie themselves after the suspects left because the zip ties were not tied properly. wishtv.com


Trapped burglary suspects caught at Northeast Philadelphia Target store Police have captured two burglary suspects who became trapped at a Target store in Northeast Philadelphia. It happened at the Target in the 11000 block of Roosevelt Boulevard. Action News was there just after 5:00 a.m. Wednesday as the two suspects were led out of the store and into a waiting police van, surrounded by a dozen law enforcement officials. It was a dramatic end to a search that begin nearly four hours earlier. Police were called by Target security at 1:15 a.m. Wednesday after a silent alarm went off, and security personnel found a back door sawed open and insulation pulled from the door. Police say the suspects were seen in the area of the electronics department. Both had backpacks. Responding officers spotted at least one of the suspects on the roof. That suspect then disappeared from sight. Police believed the suspect went back into the store. As additional police units arrived on the scene, all the exits to the store were blocked, a fire department ladder truck arrived on the scene, and investigators sent a K-9 unit into the store. Finally at about 5:00 a.m. came word that the suspects had been collared. 6abc.com

North Carolina Authorities arrest 1 in counterfeit "Purse Party"; $111,000 of counterfeit merchandise seized A Virginia Woman is facing a felony counterfeit trademark charge following an enforcement action at an event known as a "purse party" in Surry County, according to the local sheriff's office and the N.C. Secretary of State's office. Patricia Wilson Bowman, 58, of Tazewell County, Virginia, was charged Saturday with felony criminal use of a counterfeit trademark after she was discovered to have allegedly counterfeit handbags and apparel with an estimated retail value of $111,540. According to Sheriff Graham Atkinson, Bowman's arrest was the result of a joint investigation by Secretary of State Trademark Enforcement Agents, which enforces counterfeit laws in the state, and the Surry County Sheriff's Office. mtairynews.com

ID Theft Sends Hospital Lab Tech to Prison
Kamarian Millender, a laboratory technician formerly employed at Flowers Hospital in Dothan, Ala., has been fined and sentenced to two years in prison for his role in an identity theft ring. According to the U.S. Department of Justice, Millender aided in the filing of more than 100 false federal tax returns using identifying information stolen from patient records. More than 70 patients were victimized and the ring attempted to get $536, 028 in IRS refunds, netting a total of about $18, 915. healthdatamangement.com

1000 pills stolen from pharmacy, cash taken from another store in pair of Port Townsend, WA burglaries Police are investigating two downtown burglaries: one at the Green Eyeshade and another at Don's Pharmacy, which lost more than 1,000 pills and medications, some of them heavy narcotics. Police are investigating if the two are connected, said Sgt. Troy Surber of the Port Townsend Police Department. Graham Thomas Welch, 25, of Port Townsend was in custody Tuesday at the Jefferson County jail on investigation of second-degree burglary, third-degree theft, third-degree malicious mischief and possession of burglary tools after the Monday night break-in at the Green Eyeshade. peninsuladailynews.com

Burglars in Seattle target same Jewelry store twice in 9 days
A jewelry store in Westwood Village Shopping Center has been burglarized twice in nine days. The first incident at Wyatt's Jewelers took place on Dec. 7th and seemed to be the work of a professional, according to the store's owner. He said the burglar did minimal damage to his cases and went right for the most expensive items. In less than a minute, he grabbed "tens of thousands" of dollars in jewelry. The second burglary on Dec. 15th by two burglars seemed less professional, the store's owner said. Surveillance video shows they randomly smashed many of the cases in the store and ended up only grabbing about $85 in jewelry. kirotv.com

100 Valuable watches stolen in Limassol, Cyprus raid; guard violently assaulted Around 100 luxury wrist watches and two gold rings were stolen from a jewelry shop in Limassol on Wednesday afternoon, during what appears to be a smash and grab raid by five men who injured a security guard in the process. While the value of the items was yet to be estimated, police said the least expensive watch retailed for $11,000 and the most expensive was priced at $50,000. The store, located on Makarios Avenue in Limassol, was guarded by a security guard working for a private security firm. The man was attacked and is currently hospitalized at the Limassol general hospital, after having four of his teeth broken. A woman store employee was also present but was not harmed. According to police, a man wearing a blue shirt entered the store at 3.15pm pretending to be interested in a watch, apparently to distract the security guard. While the guard was talking to the man, four other men wearing hoods burst into the store, beat up the guard, and smashed the glass cases containing the valuables. cyprus-mail.com

Kay Jewelers in the Sumter Mall, Sumter, SC the victim of a Grab and Run; a gold chain valued at $3,149

Three women charged with robbery after Burkes Outlet employee was attacked in Magnolia, AR

Man arrested for shoplifting iPhone, punching Palisades Mall security in West Nyack, NY

Three men plead guilty in Fairfield Jewelry store robbery/kidnapping

Fresno PD: Man dressed as woman sought in cellphone store robbery
---
● AutoZone - Galveston, TX - Armed Robbery
● Chevron - Chico, CA - Armed Robbery - clerk assaulted
● Corner Store - San Antonio, TX - Robbery - 4x in one night
● Cricket Wireless - Galveston, TX - Armed Robbery
● CVS - Galveston, TX - Armed Robbery
● DJ's Variety - Haverhill, MA - Burglary
● Dollar General - Ocoee, FL - Armed Robbery
● Dollar General - Conway, SC - Armed Robbery
● Family Dollar - Springfield, MA - Armed Robbery
● Family Dollar - Ocoee, FL - Armed Robbery
● L&M Fleet Supply - St Louis Co, MN - Burglary
● Metro PCS - Jacksonville, FL - Armed Robbery
● Radio Shack - New Hartford, NY - Burglary - suspect arrested
● State Line - Warren, OH - Robbery/ Vandalism
● Tobacco World - Athens Twp, PA - Burglary
● Uncle Bud's Mini Mart - Limestone Co, AL - Robbery/Arson
● Wallace Food - Bridgeport, IL - Armed Robbery





Limited Time Only - Post Your Multi-Unit LP jobs for FREE - Learn More Here




Today's Daily Job Postings from the Net - Appearing Today Only
View our Internet Jobs Archives here

| | | | |
| --- | --- | --- | --- |
| Job Opening | Company | Location | Origination |
| Store AP Manager | Home Depot | Chicago, IL | Home Depot |
| AP Manager | Home Depot | Fort Collins, CO | Home Depot |
| AP Manager | Home Depot | Phoenix, AZ | Home Depot |
| District 3 LP Specialist | Kroger | Fishers, IN | Kroger |
| Senior Store LP Investigator | Victoria's Secret | New York, NY | L Brands |
| Dept Mgr LP & Safety | Lowe's | Alpharetta, GA | Lowe's |
| Dept Mgr LP & Safety | Lowe's | Fredericksburg, VA | Lowe's |
| AP Manager in Training | Walmart | Boone, IA | Wal-Mart |
| AP Manager in Training | Walmart | Hartsville, SC | Wal-Mart |
| AP Manager in Training | Walmart | La Plata, MD | Wal-Mart |
| AP Manager in Training | Walmart | Del Rio, TX | Wal-Mart |
| AP Manager in Training | Walmart | Lockhart, TX | Wal-Mart |
| AP Manager in Training | Walmart | Grinnell, IA | Wal-Mart |
| AP Manager | Sam's Club | Mobile, AL | Wal-Mart |
| AP Manager | Sam's Club | Santa Fe, NM | Wal-Mart |
| AP Manager | Sam's Club | Manchester, CT | Wal-Mart |
| LP Manager Hrly | Kmart | Altoona, PA | Sears Holdings Corp |
| LP Manager | Sears | Carolina, PR | Sears Holdings Corp |
| LP Manager Hrly | Kmart | Hyattsville, MD | Sears Holdings Corp |
| LP Manager | Kmart | Miami, FL | Sears Holdings Corp |
| Multi Unit LP Mgr | Sears | Dayton, OH | Sears Holdings Corp |
| | | | |

Brian Broadus was named Senior Director, Safety, Food Safety, Compliance and Sears Home for Sears Holdings Corporation.


How to Handle Your First Meeting With a New Boss Meeting with a brand new boss, or someone who's been promoted, can feel like a make it or break it encounter. This initial meeting should be filled with questions and listening to the answers. Find out who the new boss is, get to know him or her and let the boss see who you are. Here are some tips to help. Make a connection

How to Navigate Friendships at Work
As kids, making friends was extremely easy. As an adult, however, it can be way more difficult with our busy lives. It's only natural, then, to want to make friends at work. Here are some pieces of advice when trying to make friends in your workplace and how to keep it professional. Just be yourself

Every team, every effort, every program and finally every executive should have a mission with clear goals and objectives and as the new year is approaching thought should be given to new ones. Our world is changing faster than ever and so should we.

Just a Thought,
Gus



Post Your Tip or Advice! Click Here

Please make sure to add d-ddaily@downing-downing.com to your contact list, address book,
trusted sender list, and/or company white list to ensure you receive our newsletter.
/

www.downing-downing.com / ADVERTISE WITH THE DAILY