LP Leader Publishes Harvard Business Study
"Loss Prevention at Mac's Convenience Stores"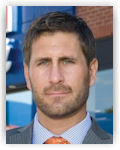 By Sean Sportun, Manager, Security & Loss Prevention for Circle K Stores

I've always tried to remain humble, but some things are a "big deal". It's okay to be excited, proud and feel a sense of honour for things you accomplish - and knowing it was accomplished with many others over the years as a team makes it even more special.

A few years ago, I was approached by Katy DeCelles, an Associate Professor from Harvard University who was interested in conducting a Harvard Business Study on the approach we had taken at Mac's Convenience Stores (Circle K) in combating crime associated with armed robberies and youth related issues. Well, after 2yrs of hard work the initial documents are out!!

Prof. Katy DeCelles - thank you to you and your team at Harvard for all the work you put into this and thank you for having a genuine interest in what we were doing and trusting it enough to showcase this different approach to crime prevention for others to see.

Because of copyright permissions, I can't post the material - but if you're interested in the two Harvard Business Study reviews please visit the Harvard Business Review product-detail website, here.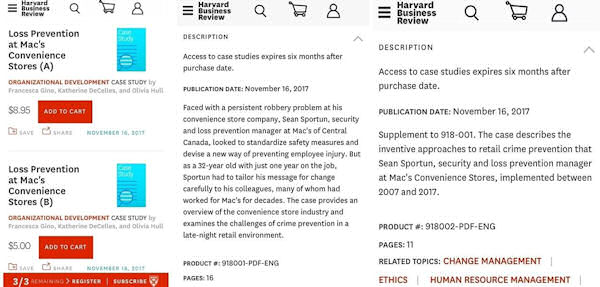 Faced with a persistent robbery problem at his convenience store company, Sean Sportun, security and loss prevention manager at Mac's of Central Canada, looked to standardize safety measures and devise a new way of preventing employee injury. But as a 32-year old with just one year on the job, Sportun had to tailor his message for change carefully to his colleagues, many of whom had worked for Mac's for decades. The case provides an overview of the convenience store industry and examines the challenges of crime prevention in a late-night retail environment. (Full reports can be published on Harvard Business Review - Case Study A and Case Study B) linkedin.com hbs.edu
---
Wal-Mart Suspends Shoplifting Punishment That Court Called 'Extortion'
Retailer stops programs that offer shoplifters protection from prosecution for a fee after complaints and a court ruling
Until recently, a first-time shoplifter caught in any of about 2,000 Wal-Mart stores got a choice: pay hundreds of dollars, complete an education program and all will be forgiven - or don't and potentially face prosecution.

Corrective Education Co. and Turning Point Justice, Utah-based companies that provide the programs, emerged in recent years as alternatives to the often-overtaxed criminal justice system. They spare law-enforcement resources and hold offenders accountable without leaving the scar of a criminal conviction, their supporters say.

But Wal-Mart Stores Inc., one of the biggest clients of Turning Point and Corrective Education, suspended the programs earlier this month as more local officials questioned the legality of asking people for money under threat of criminal sanctions, though it said it found the programs effective at reducing shoplifting and calls to police.

The move followed a ruling from a California court in August finding that Corrective Education's program violates state extortion laws.

Although the programs have reduced Wal-Mart's calls to police and likely curbed the number of repeat offenders, "it's not welcome everywhere and I want to understand that better," said Joe Schrauder, the retailer's new vice president of asset protection and safety. "We want to make sure we are partnering with local government."

Police departments in communities where Turning Point and NASP offer their program report 41% fewer calls from participating retailers and 70 police hours saved a month, according to the company. The police department in Arlington, Texas, attributed a 50% reduction in retailer calls - the equivalent of more than 12,000 police hours - in part to the adoption of Corrective Education programs by Wal-Mart.

Wal-Mart did a small test of the education programs in stores in 2013, then rolled it out to a wider group in 2015, eventually hosting the programs in about 2,000 of its 4,700 U.S. stores, said Mr. Schrauder. He attributed a 30% decline in shoplifting incidents in 2016 and a 15% decline this year mostly to more-visible theft deterrents, such as additional employees posted at store entrances, but said the programs had a positive impact.

As local objections to the programs mounted, Mr. Schrauder said he decided to remove the option from stores as he reviewed all of Wal-Mart's theft-reduction programs. For now, Wal-Mart has reverted to calling police for thefts over $25 in most stores. "That is where prevention comes in and that will continue to reduce calls to law enforcement," said a spokesman. wsj.com
RESPONSE #1: Headlines Often Fail To Tell The Story


From the perspective of the organizations behind the Crime Accountability Partnership (C.A. Partnership) Program, one size does not fit all nor does a headline tell the entire story. Just as one retailer may not be comfortable with another's policies and procedures regarding the apprehension and handling of retail theft incidents, we recognize that criminal justice agencies in the United States have the duty to exercise independent discretion in the resolution of these matters. Similarly, individual liberties, including the right of parties to choose how to resolve disputes, are fundamental concepts that must be jealously guarded in the United States.
Although the C.A. Partnership Program operates in the same space as other providers, its program is unique in that it safeguards both its clients and those individuals who are apprehended for shoplifting. Those safeguards are carefully crafted through an in-depth community outreach process that involves both the retailer and local jurisdictions. Moreover, the C.A. Partnership Program remains dynamic and malleable in its approach as it can be customized to meet the needs of both the retailer and local jurisdictions in order to deliver an effective process to individuals apprehended for shoplifting. At the same time, the C.A.
Partnership Program has in place numerous safeguards to protect the individual's right to freely choose to participate.
In addition, the C.A. Partnership Program eliminates the chance of individual bias through the use of Turning Point Justice's (TPJ) software and delivers nationally recognized offense-specific education through the National Association for Shoplifting Prevention (NASP); a function that NASP has been providing through local courts for over 25 years. By capitalizing on the best practices of both TPJ and NASP, the C.A. Partnership Program affords jurisdictions and individuals an effective and economical way of collaborating to resolving disputes.
Because of these core beliefs, the C.A. Partnership Program encourages all retailers to ask questions and to invest in learning more about the C.A. Partnership Program; a Program that remains true to its values and committed to resolving incidents through the creation of partnerships with local communities. The C.A. Partnership looks forward to continuing its work with both retailers and local communities to provide them with the ability to fashion collaborative solutions that meet the unique needs of all stakeholders.
RESPONSE #2: WSJ Article Provides a Rallying Cry for the Retail Industry



Since 1989, the National Association for Shoplifting Prevention (NASP) has been working to raise public awareness about the shoplifting problem and engage retailers, criminal justice and communities in constructive solutions to reduce the number of people who become involved in shoplifting. As such, we are disappointed in the incomplete story told in the Wall Street Journal's article entitled "Walmart Suspends a Controversial Shoplifting Punishment." Unfortunately, the article highlighted the opinions of the few vocal criminal justice opponents to this program rather than highlighting both sides of the issue, the need for such innovation and the depth of the shoplifting problem retailers face.
The WSJ mentioned neither the shortcomings of the criminal justice system that created the need for this type of program nor the fact that police departments and communities continue to villainize and even fine retailers for seeking support from criminal justice instead of recognizing that they are the victims of crime. All of which NASP carefully highlighted in lengthy conversations with the author. We believe that selective editing of the complete story led to a misrepresentation of the shoplifting issue and the work of the pioneering retailers seeking to offer educational alternatives to people stopped for shoplifting.
Another dilemma that the article failed to address is that it is neither possible nor reasonable to apprehend and arrest our way out of this problem nor is it wise or responsible to decriminalize shoplifting — either outright or de facto. Therefore, the important story is not about whether "privatizing criminal justice" is okay or not. It is about the much larger issue of finding a way to both effectively and holistically address ongoing retail crime inflation and the gaps left by static or even shrinking criminal justice resources in communities.
University of Chicago Law professor John Rappaport, in his recent working paper — entitled Criminal Justice, Inc. — reviewed the California ruling against one company and the current state of what he termed "retail justice." After arguing both sides of the issue, Mr. Rappaport concluded, "Rather than cancel the private justice experiment, therefore, as one court is poised to do, the state should aim to foster optimal conditions for its success."
It is NASP's belief that this observation should serve as the retail industry's rallying cry for the creation of universal standards for this type of game-changing partnership. So much so that NASP is organizing the effort to set these standards and gathering the retail, academic and legal experts needed to begin this conversation and steer it down the right path; to ensure that all such programs comport with the law and are a benefit to offenders, communities, criminal justice and retailers alike.

---
Lululemon worker's $3 million lawsuit says she was raped by her boss
After the company 'created the perfect environment for a sexual predator'
A $3 million lawsuit against Lululemon claims that the company "created the perfect environment for a sexual predator" by ignoring complaints about a supervisor who was sexually harassing his subordinates, BuzzFeed News reports.

The lawsuit was filed on behalf of Shayla Famouri, who worked at a Lululemon store in Santa Monica from 2014 to 2016.

The suit claims that former Lululemon employee Philip Silva repeatedly harassed Famouri, who was his subordinate, and pressured her to spend time alone with him.

It also claims that Silva raped Famouri at his home in April 2016 and that when she reported the rape to Lululemon's human resources department, she was encouraged to resign.

According to the suit, Lululemon was aware of complaints about Silva's behavior toward female employees prior to the alleged assault, but it moved him to a new store - Famouri's store - instead of investigating the claims.

"Lululemon created the perfect environment for a sexual predator like Silva to operate," the lawsuit reads. "Doing nothing to abate his inappropriate conduct while continuing to promote and foster an environment and situations where it was considered 'okay' for 34-year-old Silva to use his position of power to lure young female subordinates into compromising situations."

Lululemon denies that it ignored complaints about Silva.

"In 2016, Shayla Famouri raised serious allegations regarding the behavior of another employee," the company said in a statement to BuzzFeed News. "Upon learning of these allegations, the company initiated a comprehensive and in-depth investigation. The accused employee was immediately suspended; and then resigned. Nevertheless, the company saw the investigation through to completion, ultimately finding that the accused employee did engage in behavior that was not in line with our standards of conduct." businessinsider.com

Sexual Harassment Claims Against Urban Outfitters Headed to Trial
Former employee's lawsuit stems from two disturbing customer encounters
Urban Outfitters could face a jury trial on claims by a former sales associate that the company did little to cure or prevent known harassment by customers and subsequently employees at a store in New York.

Tatiana Swiderski filed her suit in 2014, claiming the year prior she caught a man in the store looking and taking photos on his cell phone up her skirt as she walked up an open flight of stairs, something unidentified customers were apparently known to have done on several previous occasions. The second incident happened later in 2013, when Swiderski was showing a man to the men's department of the store, and he allegedly grabbed her face and forced his thumbs in her mouth, saying he wanted to "see her teeth" before licking her face. He also allegedly grabbed the front of her dress and tried to grab her chest as Swiderski pulled away.

In both instances, Urban said the offending patrons were apprehended and removed from the store, and in the case of the upskirt photos, the images were deleted from the man's phone, but the police were not called and apparently no preventative measures were enacted. Eventually, Swiderski filed a police report against the upskirt photographer, but she said she had to complain and repeatedly ask Urban's loss prevention agent at the store, for the man's information before doing so. A report over the second incident was never filed.

After this incident, the loss prevention agent, allegedly urged Swiderski to drop her complaint about the first incident, because he had been warned by Urban over his handling of it. He allegedly approached her one time "more aggressively," forcing her back up against a cash register and "whispering through his teeth" for her to "drop things."

Swiderski subsequently complained of this treatment, but it seems nothing came of it and she was allegedly subjected to more invasive security pat downs, that involved expressly prohibited touching of her sides, hips and waist.

Urban also disputed this claim, saying Swiderski's encounters with the loss prevention agent were "isolated incidents of little to no consequence," but the judge disagreed and said they likely contributed to a hostile environment. wwd.com

Retail Lawsuits - Worker Harassment, Discrimination, Negligence
There has been a string of worker lawsuits against some of the biggest and well-known retailers and brands this year, and none look to be headed for resolution anytime soon. Forever 21 is being accused of allowing a hidden camera to be installed inside an employee bathroom, which was discovered only because footage of one former saleswoman ended up online. A former Gucci saleswoman claims she was regularly subjected to sexual taunts and alarming encounters with her store manager with no recourse. Sterling Jewelers hired its first female CEO in the wake of years-long arbitration turning up dozens of accounts of harassment by male executives and managers. And Wal-Mart Stores Inc. is again being accused of systematically paying and promoting women in its stores less than men.

What It Could Mean: Retail, which employs some 4.6 million people in the U.S., where a majority of sales associates are women, could also be due for something of a reckoning. Lawsuits are often the first signal to lawmakers, and sometimes companies, that issues are systemic and require broader action. If any of the above lawsuits resulted in a win for a plaintiff, retailers would at least be on notice that ensuring the safety and rights of their workers should be very high on any list of business priorities.

Sexual-Harassment Training Gets a Revamp
The wave of scandals has prompted some companies to revise their sexual-harassment training programs now that it has become clear that they're falling short. Some are extending mandatory training beyond management to employees at all levels, and increasing the frequency. Others are urging employees in internal communiqués and blog posts to speak up if they witness bad behavior. And many are broadening the focus of their training programs, beyond following the letter of the law to promoting more respectful behavior in general. wsj.com
---

ADT Adds Video Alarm Verification Services to its Award-Winning ADT Pulse® Platform
ADT, the leader in security and automation solutions for homes and businesses in North America, today announced the availability of video alarm verification services specifically designed for small and medium-sized businesses through its ADT Pulse solution.

A multi-step verification process, which includes video alarm verification, has the potential to vastly cut down on false alarms and increase police response. Video enhanced alarm systems can provide police with valuable information during the dispatch process. Visually confirming a human presence in a facility is significant and desirable information for police when responding to an alarm. Read more here.

Tax Reform to Benefit Retailers
More competitive tax code to give retailers the ability to modernize stores, invest in workforce.

"Retailers have traditionally paid one of the highest effective corporate tax rates. A fairer and more competitive tax code will give retailers the ability to modernize stores, invest in their workforce and continue to transform the shopping experience for consumers. The fierce competition of today's retail environment means the ultimate winner in tax reform will be our customers," said The Retail Industry Leaders Association (RILA) President Sandy Kennedy.

"Passage of tax reform is a major victory for retailers who currently pay the highest tax rate of any business sector, and for the millions of consumers they serve every single day," said National Retail Federation president and CEO Matthew Shay following House and Senate passage of the tax reform bill. "Our priorities were clear: reform must jumpstart the economy, encourage companies to invest here in the United States, increase wages and expand opportunities for employees, and protect our small business community, of which the vast majority are retailers. That's exactly what this legislation will achieve. Most importantly, this historic tax reform will put more money in the pockets of consumers - the best Christmas gift middle-class Americans could ask for this holiday season."

NRF has led the retail industry's fight for tax reform for years, calling on Congress to eliminate tax breaks that benefit only some industries and to use the revenue saved to lower rates for all companies, including small businesses. cstoredecisions.com

Consumer Tech Group Heightens Security Measures Ahead of Conference -
Jan. 9 to 12 in Las Vegas
The Consumer Technology Association unveils new security measures in advance of CES 2018, its January conference and tradeshow.

Ensuring the safety of more than 170,000 attendees from 150 countries is no easy task. That's why the Consumer Technology Association is continually scrutinizing and increasing its security measures in advance of CES 2018.

"Every year, security is a top priority for CES," said Allie Fried, CTA's director of global event communication. "We work to make safety a priority across all areas of our event. We are constantly measuring global events and are ready to adjust security plans as needed. It is important to note, though, that there are no known credible threats against CES 2018 at this time."

CTA has listed all of these new security measures on the CES website, so that attendees can familiarize themselves with the changes in advance of the event. associationsnow.com

Security Experts Predict Industry Challenges for 2018

2017: Retail Upheaval, Data Breaches and Tech Innovations

2017 wasn't a "retail apocalypse", but it shook up what retail is

The retail winners and losers of 2017

Big retailers are testing out subscription services

FL man gets $15K after turning in Winn-Dixie for not charging tax on ice cream

Crying babies, long lists and 'hope': A day in the life of a mall Santa
---
D&D Daily's Top Clicked News Articles in 2017
Happy Holidays & Thanks For Reading!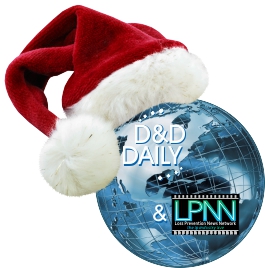 We at the D&D Daily would like to thank you for reading and continuing to support our digital news publication. It's our honor - every day - providing the critical news and information the industry needs to help keep our stores, employees and customers safe - while also helping you navigate your career, your team, your company, and your industry.

As LP's #1 Digital News Source, we will continue our mission of informing, educating and instilling a sense of community for the Retail LP, AP & IT Security Executives into 2018 and beyond. And we'd like to thank our sponsors for supporting that mission and helping to make it all possible.

If there is ever anything we can do to help, or if you have any comments or suggestions, feel free to contact us.

We will resume publishing on Tuesday, Jan. 2, 2018.

Happy Holidays and Let's Keep 'em All Safe Out There

Sincerely,
The D&D Daily Team

---
WATCH: The D&D Daily team getting in the holiday spirit!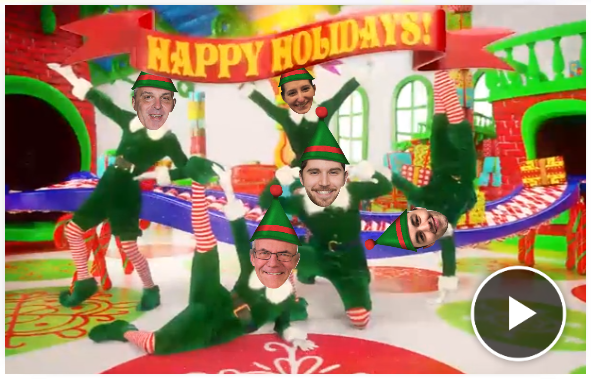 An Industry's Evolution:

The Blurring Lines Between Cybersecurity And Traditional LP
As both LP and IT security are fighting the same criminal, the escalating interconnectedness will require both skillsets to converge.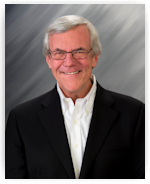 By Gus Downing, Publisher-Editor of d-ddaily.net and Executive and Newscaster on LPNN.net, the Loss Prevention News Network

Cybercrime is the number one risk of every business. Quite frankly, cybercrime is the only thing that can significantly negatively impact sales and stock prices in real time. Security issues of yesteryear, excluding active shooters, workplace violence, civil unrest, and high-shrink stores, have become nuisances that most senior executives don't even want to hear about.

IT security executives are front and center in this new and rapidly growing cyberwar, and make no mistake, this is an economic cybercrime war. Initial indications state that the Equifax breach - a leak we may hear nothing more about - was state-sponsored, and that the vast majority of hackers were Russian, Iranian, North Korean, and Chinese. These criminals are state-supported, state-sponsored, and state-motivated. Even if they keep the spoils of war to themselves, their governments certainly aren't stopping or extraditing them.

Interestingly enough, while the security, loss prevention, and asset protection communities are struggling to answer the call to become more multidimensional and make a bigger impact, especially when it comes to how cybercrime is impacting their business, the IT security community has its own concerns and complaints. Similar to LP's frustrations, many IT security executives question reporting to the CIO and feel relegated to second or third fiddle due to the massive technology demands put on today's CIOs. losspreventioninsights.com
---
You're Only as Secure as Your Weakest Link
Take printer security as seriously as any other retail security component
U.S. retailers continually deal with the impact of shoplifting, employee theft, and vendor fraud, along with administrative and paperwork errors. Combined, these added up to $48.9 billion of "inventory shrinkage" in 2016, according to the National Retail Federation's 2017 National Retail Security Survey.

A large retailer could be spending millions of dollars on cyber security and in-store surveillance systems and still leave gaping holes for insiders and outsiders to exploit, such as unattended printers. Across all industries, printers and imaging devices are often security blind spots that are open to exploitation. That could entail copying coupons for misuse, printing false price labels, or stealing customer data. It might also open the doors to cyber thieves.

Many companies overlook the risk of printer misuse. A 2016 survey from research firm Quocirca reveals that just 22% place a high priority on securing their print infrastructure, with retailers lagging behind financial and professional services companies. Meanwhile, the NRF survey also reports that loss prevention budgets are flat or declining for 64% of those surveyed - on the technology front, 76% are using point-of-sale (POS) data mining, down 6% from the previous year, although use of remote IP CCTV monitoring increased by 12% to 73%. csoonline.com

Former NSA Chief Pushes 'Manhattan Project' for Cyber

Police Bust Five Ransomware Suspects in Romania