Black Lives Matter demonstration at Mall of America moves forward as planned, despite judge's ruling barring three lead activists
- Judge reinforces mall's right to remove protestors from private property
- Organizers expect hundreds at protest
A judge's ruling Tuesday won't prohibit a Black Lives Matter demonstration at the Mall of America on Wednesday, or satisfy the shopping complex's desire to make the group take down social-media messages about the protest. The 29-page order from Hennepin County Judge Karen Janisch did reinforce the mall's right to remove from its private property protesters who may show up at Wednesday's event. But Janisch declined to bar BLM, because the mall couldn't prove that the group was a legal entity.

Janisch agreed to the mall's request to prohibit BLM activists Miski Noor, Michael McDowell and Kandace Montgomery from demonstrating on mall property. Before the ruling, Noor and others had said they wouldn't cancel the protest seeking justice for Jamar Clark, who was killed Nov. 15 by Minneapolis police in a scuffle. Activists claim he was handcuffed when he was shot, an assertion denied by police officials.

The call for a 1:30 p.m. protest at the mall's east rotunda remains in place on the Black Lives Matter Minneapolis site, which indicated 654 were "going" as of Tuesday evening. Kandace Montgomery, one of three organizers barred by the judge's order, said the group isn't deterred by the ban. She declined to say if she or her fellow organizers still planned to go to the mall, but she said she expects at least 700 people to show up. "We are a leader-full organization. Just barring three of us does not mean that you've stopped our work," she said. startribune.com thonline.com

Mall Of America BLM Protest Could Spark Arrests And Early Store Closures
Mall of America could be thwarted from conducting business today as Black Lives Matter protesters continue with plans to converge on the massive shopping complex. The Bloomington, Minnesota police may have beefed up security efforts in advance of the Mall of America Black Lives Matter protest, but department officials are not sharing details of any such efforts with the media. Although some agree that the court does not have the authority to issue a restraining order to prevent possible illegal action by unknown individuals or groups, few have expressed doubt that the highly publicized Black Lives Matter rally will keep shoppers away from the Mall of America on one of the busiest shopping days of the year. If stores close early due to the protest and lack of customers, it is not likely that the employees at the mall shops, eateries, and amusements will garner a full paycheck this week. During a similarly planned protest on December 23 last year, stores did close early and dozens of protesters were arrested. inquisitr.com

Bomb Scare in London -
Christmas Shoppers on Regent Street Evacuated Due to Suspicious Vehicle
London was once again victim of a bomb scare on Regent Street, early Tuesday afternoon. Following reports of a suspicious vehicle, the police cordoned off a section of the busy shopping thoroughfare around 1 p.m., the peak lunchtime shopping hour. Shops including Hamleys toy store, Furla, COS and Anthropologie were affected by the incident, as Christmas shoppers were evacuated from the street or asked to stay inside shops. The vehicle in question was a black cab that did not have a license on display and had tinted windows, which is not permitted for working taxis. Bomb squad officers crashed one of the windows while examining the vehicle and declared it non-suspicious one hour later. wwd.com

Shoppers World Deploys Retail 20/20 from Agilence, Replacing XBR
Agilence, Inc., the leading provider of cloud-based data analytics solutions for retail operations and loss prevention, today announced that Shoppers World will be replacing their legacy XBR software with the Retail 20/20 reporting solution from Agilence. The department store chain selected 20/20 for its reporting and alerting capabilities, both of which allow users to focus on the anomalies impacting their bottom line, enabling them to improve operations and reduce fraud more efficiently. Headquartered in New York, NY, Shoppers World operates 35 stores in New York, New Jersey, Connecticut, Indiana, Maryland, Georgia, Michigan, Ohio, and Illinois. agilenceinc.com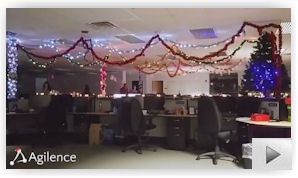 Agilence Gets in the Holiday Spirit - Watch this awesome music-themed light show from inside their office!
'Tis the holiday season, and boy are we getting in the spirit! To add to our office festivities we decided to have the first annual Agilence Holiday Decoration Contest, and as you can see in this video one of our developer team set the bar pretty high. The rest of our team came through as well with themes like Santa's workshop, a winter wonderland, presents under the tree, an elementary school Christmas, and the journey to Christmas. To see all of the pictures check out our Facebook page. agilenceinc.com

LPRC to Host Cyber Security Summit in Early Spring 2016
The University of Florida and the Loss Prevention Research Council are teaming up once again, this time to bring you a cyber security summit set to kick off in early spring 2016! The summit will analyze major issues and common security hot topics affecting retailers in our technological world today. If you are interested in learning more about this, please follow this link to learn more: http://fics-institute.org/. If you are interested in attending the summit, please contact Brittany at brittany@lpresearch.org. Stay tuned!

Tyco minds the store with latest acquisition
Security technology specialist Tyco International plc is continuing to expand its focus on providing store analytics to retailers. Tyco has reached a definitive agreement to acquire ShopperTrak, a global provider of retail consumer behavioral data and location-based analytics, for approximately $175 million in cash. Based in Chicago, ShopperTrak provides customer traffic and related intelligence to more than 1,200 retailers in 97 countries. ShopperTrak's offerings include solutions for perimeter traffic counting, in-store consumer behavior analytics and industry benchmarking. The addition of ShopperTrak to Tyco's recent acquisition of FootFall, a global provider of retail traffic analytics based in the U.K., will capture data from 35 billion shopper visits annually. chainstoreage.com

Higher food prices increase theft fears in supermarkets -
Increased use of credit cards and reusable bags also factor into increased theft
People who shoplift from grocery stores usually start by stealing small quantities of cheese or charcuterie, says Florent Gravel. But as their appetites and larcenies grow, so does the threat they pose to the bottom lines of grocers. "Grocers have to always be on the lookout at the front, back and inside their stores," said Gravel, president and general manager of the Association des détaillants en alimentation du Québec, which represents some 8,000 owners of food stores of all stripes and size. "But these days they have to be even more alert."

According to Gravel, the low Canadian dollar, a fragile economy, and the spike in prices for some foods in 2015 - notably beef and imported fruits, nuts and vegetables - has been accompanied by increased shoplifting. He pegged the cost of shoplifting at 1% of all grocery sales, or roughly the same amount as grocers make in profits. About 65% of stolen groceries are estimated to go out the front door, with employees and/or receivers (delivery people) accounting for 35% exiting through the back.

According to Gravel, two recent consumer trends have also increased the threat of grocery store shoplifting. One is the widespread use of reusable bags. "We never used to let people bring bags into stores, now everybody does," said Gravel. The other trend is debit card use. "People don't carry money around anymore, so the pickpockets have turned to stealing groceries," said Gravel.

He said they tend to work in teams that fill up grocery bags with expensive items like meats and cheeses and razors, and leave them next to cash registers. One or two then create a distraction, and the others pick up the bags and exit the store. They then sell the stolen goods to unscrupulous people or businesses like restaurants and even other food or convenience stores. canadiangrocer.com

Amazon's Relationship with UPS Shifting from Partner
to Potentially Disruptive Shipping Competitor
As the clock counts down to Christmas, workers at United Parcel Service Inc. are busy hustling packages along loading docks and conveyor belts at its Louisville, Ky., hub-part of a costly, intricate system built in part to cater to Amazon.com Inc., its biggest customer. But the symbiotic relationship between the two giants has come under increasing strain, according to interviews with more than a dozen current and former UPS and Amazon executives. Rising package volumes and costs have Amazon seeking alternative delivery routes - shifting the online retailer's role from key ally to a potentially disruptive competitor. Amazon has held talks with air-cargo companies to lease airplanes and build its own freight operation. The company is already using its own trucks, drivers and a fleet of couriers for the final and most-expensive leg of an order's trip. It has been making its own deliveries in certain high-density regions and relying more heavily on the U.S. Postal Service. Eventually, it hopes to get drones to drop packages into backyards. wsj.com

Rag & Bone Sued Over Wheelchair-Unfriendly NY Store
Rag & Bone and a subsidiary of property manager Aimco were hit with a discrimination suit Tuesday in New York federal court, alleging the luxury apparel chain's Upper West Side store in Manhattan is inaccessible to people using wheelchairs. Rag & Bone Holdings LLC and landlord Aimco 182-188 Columbus Avenue LLC violated Title III of the Americans with Disabilities Act, the New York State Civil Rights Law and the city's Administrative Code by failing to provide an obstacle-free entrance for individuals with disabilities who use wheelchairs to get around, the complaint says. law360.com

Restoration Hardware Gets OK For $1.5M Wage Settlement
A California judge on Tuesday gave preliminary approval to Restoration Hardware's $1.5 million settlement of a wage-and-hour class action filed on behalf of 2,200 of the home furnishings store's Golden State employees alleging it failed to provide required overtime and breaks. law360.com

Britain's largest sportswear retailer, Sports Direct, to review workers' conditions
Sports Direct responded to critics of its employment practices on Friday with the launch of a review of conditions for its thousands of agency warehouse workers, to be overseen by its billionaire founder and majority shareholder, Mike Ashley. A report by the Guardian newspaper last week said that protracted security checks of workers at its main warehouse in Shirebrook, central England, meant that some were effectively paid less than the legal minimum, an allegation denied by the company. reuters.com

Weekly Retail Sales Index Jumps 3.6% as Markdowns Heat Up

Chain store growth slows in NYC; Dunkin' Donuts tops list

Kroger unveiling new concept in Seattle

RILA 2015 Accomplishments


Happy Holidays & Thank You For Reading!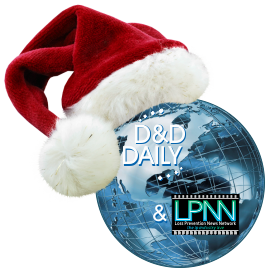 We at the Daily would like to thank all of you for reading and supporting the D&D Daily. It's been our honor to provide you with the information and news that makes this industry so critical in today's world. As the retail Loss Prevention industry's #1 daily and fastest growing digital e-newsletter, we will continue our mission of informing, educating and instilling a sense of community for the Retail LP & IT Security Executives. Our passion is your individual development. And if it wasn't for our sponsors, none of this would be possible. So we'd like to thank them as well.

As 2016 approaches, we vow to continue to improve this industry tool that we've built. If there is ever anything we can do to help you, or if you have any suggestions on how we can improve the Daily, please do not hesitate to contact us. We will resume publishing on Monday, Jan. 4, 2016.

We'd like to wish all of you a safe and happy holiday season!

Sincerely,
The D&D Daily Team

"2015 - A Year in Review" Coming in January!
Stay tuned for a brand new column from the D&D Daily recapping some of the top highlights of 2015
Featuring:
| | |
| --- | --- |
| ● Top ORC Stories by state | ● Job Promotions and announcements |
| ● Biggest cases by dollar amount | ● Most clicked-on articles |
| ● Number of Robberies & Burglaries | |
| | |