Retail Industry Leaders Association's 2017 RTech Asset Protection Innovation Awards Announced

Retailers' Choice Award

Digital Safety Chosen for Top RTech Award
Profitect 2nd Place - Walmart Stores, Inc. 3rd Place
Congratulations to all!
Eight Companies Ranked Among the Best for Technology Advancements in Asset Protection
​The Retail Industry Leaders Association (RILA), the trade association for the world's largest and most innovative retail companies, announced eight finalists for the 2017 (R)Tech Asset Protection: Innovation Awards. The Awards serve as a showcase for emerging, game-changing technologies that mitigate total retail loss, as defined in a groundbreaking research report published by RILA last year.

RILA received applications across AP business functions, including Business Intelligence and Analytics, Workplace Safety, Crimes Against Business, and more. Finalists showcased their cutting-edge technology to a panel of top executives at RILA's 2017 Retail Asset Protection Conference this week in New Orleans. Conference attendees had the chance to meet the eight finalists, experience their technology, and cast their vote for Retailers' Choice Award.

"Each year, we ask companies to bring us their game-changing technologies and each year, they deliver and exceed expectations. This year in New Orleans was no different," said Lisa LaBruno, RILA's senior vice president of retail operations. "Recognizing innovations across the industry and learning more about how we can implement them to improve the field of asset protection are what the Awards are all about. Thank you to all of the participants and judges, and we look forward to seeing more cutting-edge technology in the future."

Award finalists are identified by an esteemed group of AP technology experts ahead of RILA's annual Retail AP Conference. Winners were selected by conference attendees and announced from the general session stage at the conference yesterday afternoon.

2017 (R)Tech Asset Protection: Innovation Awards finalists were:

•Checkpoint Systems, Inc.
•ClickIt Inc.
•Digital Safety USA
•Lassu, Inc.
•Lillii RNB Inc.
•LISNR
•Profitect
•Wal-Mart Stores, Inc.

The Awards come on the heels of RILA's public announcement of the (R)Tech Center for Innovation. (R)Tech is a new term coined by RILA to describe the confluence of retail and technology. An (R)Tech company embodies the core values of both those industries - global and local, nimble, and entrepreneurial - to win the loyalty of today's empowered consumers. The Center's mission is to is to help retailers navigate the industry transformation, and to spur the adoption of the "(R)Tech" term within the retail innovation ecosystem. To learn more visit www.rtech.org.



| | | |
| --- | --- | --- |
| | | |
| Digital Safety | Profitect | Walmart Stores, Inc. |
For more information, visit the
awards homepage
.

---
RILA Day 2 Recap:

"Disruption on Bourbon Street: RILA Attendees Hit the Big Easy"
By: Amber Bradley, Contributing Writer to the D&D Daily & Owner of Calibration Group

The sun came up a bit too early for some RILA Asset Protection conference attendees this morning after taking in the libations that Bourbon Street had to offer. Despite the temptation to stay snoozing RILA opened to another well-attended general session to hear how local homeland security/emergency management and private sector leaders share how they prepare for emerging and evolving threats and hazards.



Panelists included Bob Vranek, Vice President, Loss Prevention for Belk, Don Knox, Director, Enterprise Security, Crisis Management, and Business Continuity for Sears Holdings Corporation, Aaron Miller, Director of the New Orleans office of Homeland Security and Emergency Preparedness and JoAnne Moreau, Director of Baton Rouge Mayor's Office of Homeland Security and Emergency Preparedness. The session was moderated by Rob Glenn, Director of Private Sector Division, FEMA Private Sector Division.

Immediately following day two's opening session was a stacked list of breakouts including topics on building a learning and development team, mitigating losses from social engineering, risks and rewards of loyalty programs and more. To see the schedule of break-outs covered, click here.

Being the general session right before lunch can be challenging but Hannah Ubl from Bridgeworks knew how to liven up the crowd to discuss how to communicate across generations. Learning how to tackle all generations of personalities that make up our workforce is challenging and this session shed light on these fascinating trends while providing actionable tips to recruit, retain, and engage every generation in the workforce. Subscribe to Hannah's blog or check out her video for more information.

Always a conference favorite is Cynthia Hetherington discussing making the most out of Internet and social media investigations. With more than 20 years of experience in research, investigations, and corporate intelligence, Hetherington provided insight on the top online sources for investigators to leverage and described the best practices for conducting open source searches without being detected.

One of the most respected online investigators, Cynthia combines her Master of Library Science, Master of Science in Management, experience as a Certified Fraud Examiner, and over 20 years of computer expertise, to establish her company in the online and Internet investigative industry. For more information, visit her website here or take a look at a recent presentation via slideshare here.

The afternoon wrapped up with the announcement of the (R) Tech Asset Protection Innovation Awards. The (R)Tech Asset Protection: Innovation Awards showcase game-changing technology that mitigates total retail loss and recognizes visionary companies that are developing these solutions. Second and third place winners were Walmart and Profitect and the first-place honors went to Digital Safety! Congratulations to all!

The educational segment of the day ended with Lorie Fridell's session on the "Impact of Hidden Biases" teaching the audience to understand the science about our hidden biases and how those biases can show up in our daily routine. Fridell is an associate professor of criminology at the University of South Florida.
Conference goers - solution providers and retailers alike - hit Bourbon Street after the close of the exhibit floor and they definitely had their choice of activities. One option that was quite popular was the party at the Bourbon Cowboy hosted by NEDAP Retail, CONTROLTEK, Protos, Instakey, and CAP Index. Check out the scene from the disruption on Bourbon Street...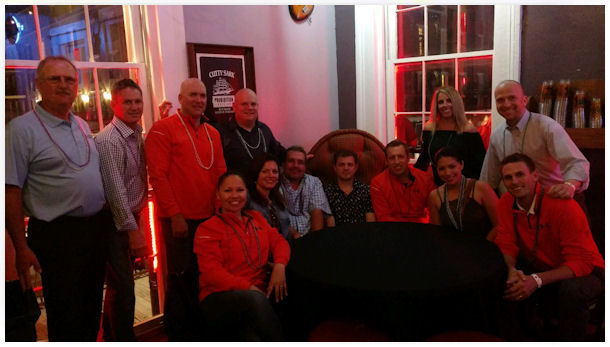 | | |
| --- | --- |
| | |