State of Emergency in Baltimore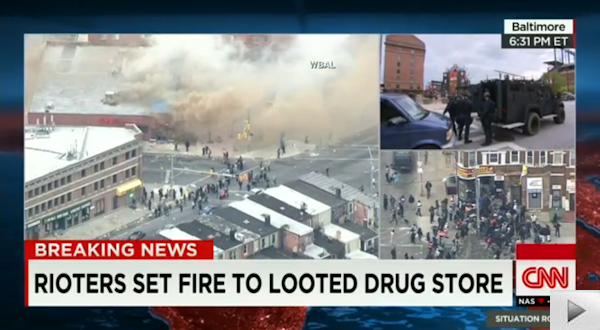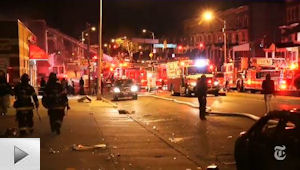 Morning Brings Wail of Fire Engines in Wake of Baltimore Riots Hundreds of rifle-toting National Guard members began deploying here on Tuesday morning, lining one of the city's main thoroughfares and taking up posts around a police station in western Baltimore that had been the scene of earlier protests. The guardsmen were expected to be joined over the course of the day by thousands of police officers from outside the city as Baltimore struggles to recover from rioting, arson and looting that left 15 police officers injured - six seriously - and damaged or destroyed dozens of businesses, homes and cars. It is not known how many rioters have been injured. Gov. Larry Hogan, who visited injured officers and damaged neighborhoods, said that while the city was under control, officials were concerned about what tonight might bring. "It's not going to happen again," Mr. Hogan said of the violence. At the mall early Tuesday, a few police cars sat in the parking lot, but the rioters seemed long gone. Governor Hogan walked through the mall, which is closed, to see the damage. The police said that a flier circulated on social media had called for a period of violence on Monday afternoon to begin at the mall and to move downtown toward City Hall. nytimes.com

Map of Incidents - Mapping the Clashes Between Baltimore Police and Protesters

Baltimore Burns as National Guard is deployed - Weeklong Curfew - 10:00 p.m. to 5 a.m. - 5,000 National Guard & 5,000 Law Enforcement National Guard troops fanned out through the city, shield-bearing police officers blocked the streets and firefighters doused still-simmering blazes early Tuesday as a growing area of Baltimore shuddered from riots following the funeral of a black man who died in police custody. It was one of the most volatile outbreaks of violence prompted by a police-involved death since the days of protests that followed the death of Michael Brown, an unarmed black man who was shot and killed during a confrontation with a white police officer in Ferguson, Missouri, last summer. At least 15 officers were hurt, including six who remained hospitalized late Monday, police said. Two dozen people were arrested. A weeklong, daily curfew was imposed beginning Tuesday from 10 p.m. to 5 a.m., the mayor said, and Baltimore public schools announced they would be closed Tuesday. Maj. Gen. Linda Singh, adjutant general of the Maryland National Guard, said up to 5,000 troops would be available for Baltimore's streets. Col. William Pallozzi, the superintendent of the state police, said a request for up to 500 additional law enforcement personnel in Maryland had been sent. Pallozzi added that the state is putting out a request for up to 5,000 more law enforcement personnel from around the mid-Atlantic region. Police certainly had their work cut out for them: The rioters set police cars and buildings on fire in several neighborhoods, looted a mall and liquor stores and threw rocks at police with riot gear who responded occasionally with pepper spray. ap.org

14 and under 9 p.m. curfew for one week - Emergency Operations center set up

VIDEO - Rioters set fire to CVS drug store
CVS closing stores in Baltimore after one store is set on fire. cnn.com

Baltimore rioters target stores, beat photographer
Gangs of looters, some armed with crowbars, roamed an increasingly lawless city Monday, smashing windows, stealing sneakers and beating a photographer who dared to take their photos. Looters operated with impunity, sometimes within half a block of dozens of police in riot gear. In downtown near the Lexington Market, a popular shopping destination, dozens of police appeared on the scene after gangs ravaged the market and other local stores.

On Lexington Street, looters smashed windows of the Your City, My City shoe store, grabbing boxes of sneakers and athletic gear and leaving a trail of broken mannequins on the sidewalk.

In the Upton area, looters wiped a CVS store clean of goods, even taking the shelving, before setting the store on fire.

The Mondawmin Mall, where city redevelopment authorities had worked for years to bring Target, Ross Dress for Less, Payless Shoes and other chains, closed early to prepare for the anticipated riots. Still, looters broke into the shops. At Deals, a variety story, looters had broken two windows and made off with merchandise before 30 police with armored cars and riot gear arrived. A police helicopter hovered overhead. By 8 p.m., police has established a presence and chased away the looters. usatoday.com


Outside the CVS pharmacy that was burned during rioting
after the funeral of Freddie Gray.

Baltimore firefighters inspect the interior of the destroyed
CVS pharmacy.
Police: Rioters looting at Baltimore mall
Baltimore Sun's Justin Fenton about how fliers and social media encouraged looting and rioting. cnn.com

Status of Baltimore Malls:
Mondawmin Mall (closed)
Harborplace & The Gallery (according to Mall Management, Stores have the Option to be Closed)
Arundel Mills (open)
White Marsh Mall (open)
Towson Town Center (open)
Annapolis Towne Centre (open)
Village Of Cross Keys (open)
Owings Mills Mall (open)
Lexington Market (open)
Columbia Town Center (open)
Inside the Mondawmin Mall
According to sources at the scene, looters were teenagers and adults - not just kids. They threw rocks and bricks at police. The mall was closed around 1 p.m. yesterday and is still closed. Police were in riot gear and at least 3 helicopters were circling the area. The Subway Station at the Mondawmin Mall was also closed, so looters had no way home. The station is still closed.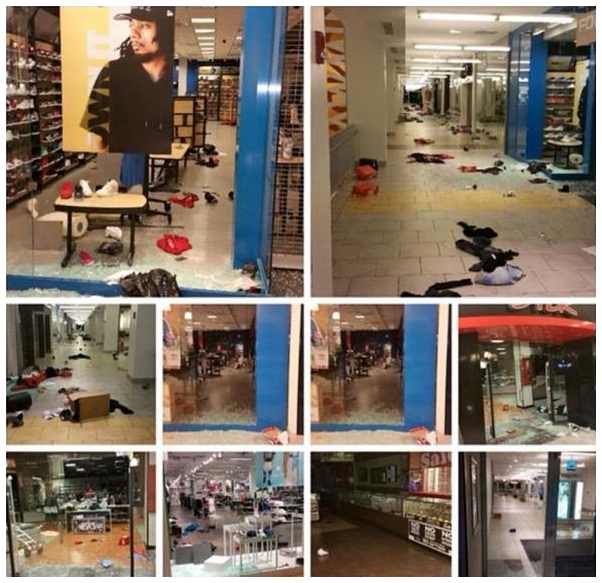 Looted Shoe Store: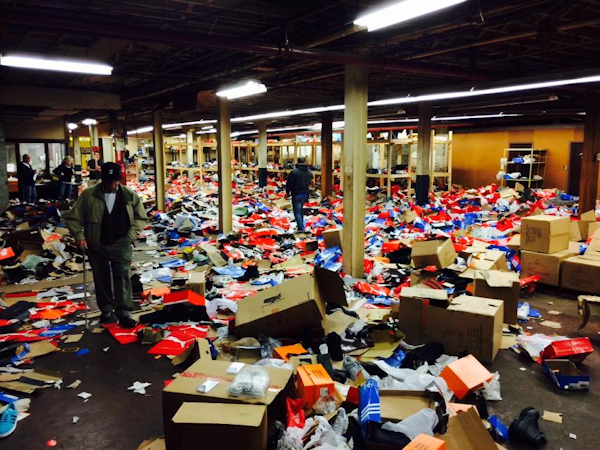 Currently people are taking the liberty of cleaning up outside the mall: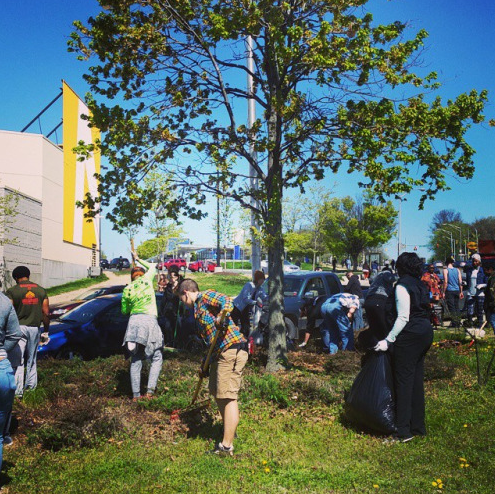 People are not scared of the police right now

What do we do tonight? How many stores close? - How much security do you deploy?

How does this impact other cities tonight? Do we see other incidents in other cities tonight? This is a time to stay alert and keep stores aware of anything that may be even slightly aggressive. Do we as an industry pull back and not apprehend individuals today nationwide? This is a time for our industry to practice restraint and possibly even consider no apprehensions. Just a thought.

Separate Incident - Six Are Shot, Two Fatally, 15 shots fired - Outside a Brooklyn Church After a Funeral Six people were shot, two fatally, as gunfire erupted outside a Brooklyn church after a crowded funeral on Monday night, the authorities said. The shootings began about 8:30 p.m. outside the Emmanuel Church of God, a Pentecostal church in the 1300 block of Flatbush Avenue, near East 26th Street, the authorities said. It was not immediately clear how many people fired shots. As of 10 p.m., no one was in custody. Investigators believe that all six victims had attended the funeral of a 38-year-old man who died of a heart attack. All six had just left the church and were on the street when the shooting began. Police Department officials said that 15 rounds were fired, and that several cars quickly left the scene after the shootings. nytimes.com

Maryland Governor moves office to Baltimore

Police Chief blames High School students
"Diamond Mall secure, this is not protesting, these are criminal acts." cnn.com

Riots happening across the city of Baltimore

Letter from Maryland Emergency Management Agency to Baltimore Businesses
Below is the latest information from the Private Sector Liaison, External Outreach Maryland Emergency Management Agency and the National Business Emergency Operations Center Manager - Federal Emergency Management Agency regarding the retail business operating climate in Baltimore MD after yesterday's disruptive activity. This is the latest information in case you operate stores in the effected region: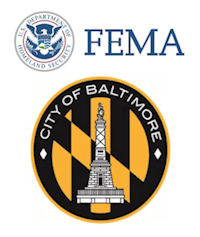 Dear Business Leader,

Yesterday, Baltimore City experienced unacceptable acts of violence. Mayor Stephanie Rawlings-Blake took immediate steps to regain control of the city and ensure that order is maintained in the coming days.

Among actions taken yesterday:

The Mayor requested additional support from the National Guard. Members of the Guard will be present in Baltimore City in the coming hours and will support Baltimore City Police, many of whom have been working nearly around the clock for the past several days managing protests.

The Mayor continued to recruit additional police support from surrounding jurisdictions and was in contact with President Obama, Governor Hogan and various other officials from around the region discussing response efforts to stop the violence.

The Mayor instituted a city-wide curfew in effect each night from 10pm to 5am. This curfew will remain in effect for the next 7-days at which point the Mayor will determine if additional days are needed.

The Mayor activated a 24 hour emergency operation center to coordinate an Administration wide response to the violence in city streets.

Mayor Stephanie Rawlings-Blake spoke out forcefully and condemned the actions of a small group of agitators who went against the wishes of Freddie Gray's family.

Today the Mayor will be focused on surveying the damage inflicted by these shameful actions, and ensuring that overall government operations continue as normal.

At this time,
| | |
| --- | --- |
| ● | City Hall will be open |
| ● | MTA will be operating on regular schedule |
| ● | Major roadways will be clear |
| ● | Amtrak is unaffected |
| ● | Trash collection and street sweeping will continue |
| ● | City agencies will support impacted businesses with clean-up efforts |
| ● | Baltimore City Schools will be closed |
Mayor Stephanie Rawlings-Blake remains committed to a thorough and transparent investigation to determine the facts surrounding the death of Freddie Gray. The Baltimore City Police Department remains on schedule to deliver the results of their internal investigation to date to the Office of the States' Attorney on Friday, May 1st. The States Attorney Office is conducting its own investigation and will determine what charges should be brought. Additionally, the Department of Justice is conducting its own independent investigation.

We will continue to work around the clock to ensure the unrest is settled, the perpetrators of that unrest are apprehended, and that justice is brought to the family of Freddie Gray. As a City, we will clean, we will rebuild, and we will heal.

Sincerely,
Colin Tarbert
Mayor's Office of Economic & Neighborhood Development
Deputy Mayor

Thank you to Bob Moraca and the NRF for providing this update.
Downtown Baltimore Retail and Residential Development is Thriving
According to 'Downtown Partnership of Baltimore', Baltimore is thriving with new development projects. Businesses are adding employees and apartment developers are adding nearly 5,000 new units to meet the high residential demand for Downtown living. Retailers are taking notice – high-end brands like Michael Kors, Anthropologie, and The Four Seasons, supermarkets like Whole Foods and Harris Teeter, and one-of-a-kind boutiques are part of Downtown's growing retail mix. And with 40,971 residents, 122,222 employees, and 12,362 students, not to mention 23.3 million visitors each year. The Baltimore Development Corporation, Main Street Program is an approach to neighborhood revitalization that has been implemented in 9 Baltimore business districts since 2000. The program provides customized support and public resources to each district in order to attract new businesses and new jobs to the neighborhood. Each district's Main Street program has a different strategy for spurring economic activity, but support may include marketing and event planning, financial assistance for design and promotions, architectural services for facade renovations, streetscape improvements, technical support, access to grants, and more. godowntownbaltimore.com

Baltimore Demographics: The City by the Numbers
As Baltimore disintegrates due to violence, it is worth looking at how different the city is from its home state of Maryland. The differences are in many cases tremendous, and they point to the extremely low income, high unemployment, low home ownership and high percentage of blacks and African Americans compared to the state. Although the city of 622,793, based on Census data, is similar to Maryland in age and sex composition, most of the similarities end there. Maryland is among the most wealthy states in the nation, based on a household income figure of $73,783 derived from a Census analysis that runs from 2009 to 2014. A great deal of this high figure is due to rich suburban counties near Washington, D.C. However, Baltimore households have an average income of $41,385, or 56% of the state total. The poverty rate in Baltimore is an extremely high 23.8%, based on persons living below the poverty level from the Census measurement from 2009 to 2013 period. Maryland's level is 9.8%, well below the national rate of just above 15%. 247wallst.com

Stay tuned to the D&D Daily for our ongoing coverage as this story develops.

Today's Special Report is sponsored by NuTech National.