Watch Protection 1's 'Live in NYC 2016' LPNN Interview:
Whether you operate a single retail location or a national chain of stores, Protection 1 will provide outstanding security, differentiated by careful attention to detail - from installation to ongoing services like data monitoring and accurate billing. In this video, Jim Shepherd, National Accounts Manager, tells us how Protection 1's dedication to customer service helps set them apart.

Walmart Strengthens Efforts to Reduce Loss & Criminal Activity

Offering Customers More at the Door
By Mark Ibbotson
EVP - Central Operations, Walmart U.S.
May 4, 2016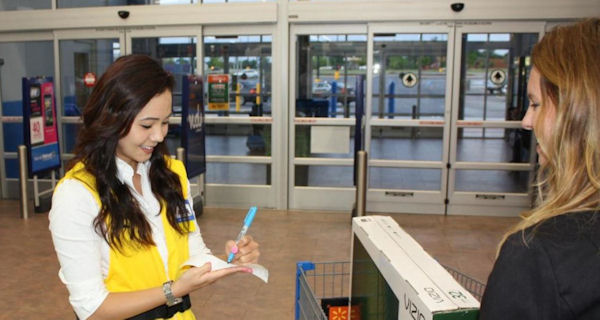 Of all the aspects that make up a great shopping experience, there's one that sets the tone right away: The first few steps inside the door.

We've been working to welcome customers to an improved Walmart for some time now, and of the countless details we've taken a look at, a key piece has been better utilizing an important role - our greeters. Last year, we launched a pilot program that in many stores, moved our greeters from action alley back to the front door, and in others, introduced a brand-new position: customer host, an associate who greets customers, but also checks receipts where appropriate, assists with returns and helps keep entrances clean and safe.

The reaction was positive. In stores with the new customer host role, customers said they liked easily spotting someone to go to for help and advice. Part of this is because our customer host stands out by wearing a yellow vest.

This pilot program was successful so we'll begin rolling out these changes to all of our U.S. stores by mid-summer.

We know a one-size-fits-all-approach to our door coverage won't work for our more than 5,000 stores. To help ensure each store has the coverage it needs, we're using data on safety, security and shrink risks to guide us on how best to staff our entrances. Where our data tells us the risk is higher, we'll add the new customer host. We expect to fill about 9,000 of these new hourly positions that are specially trained to both welcome customers as soon as they walk in and also help deter would-be shoplifters.



Greeters are a big part of our company and culture, and that's why in the majority of our U.S. stores we will continue to rely on them to be the helpful first face customers see. In stores where we alternatively have customer hosts, we're giving our current greeters the ability to apply for these new roles, other positions at their store or Walmart locations nearby. During the pilot phase, more than 80% of the affected associates were able to find new positions - including many promotions. For those who didn't choose to stay, we offered severance pay, which we continue to offer as we move this program nationwide.

Providing customers with an excellent first impression is part of Walmart's broader strategy to ensure simpler, more convenient shopping. Focusing more on our greeters is one of a whole host of details we're looking at - it just happens to be a very visible one.

While the number of stores in the pilot phase of this program was too small for us to glean exhaustive data, we're confident that taking it to a larger group of stores will continue to support the progress we're making in customer experience.

And knowing that our customers are truly feeling the difference? That's the kind of first impression we're working hard to turn into a lasting one. walmart.com

---

Back to their roots - Sam Walton's Greeters Are Back
Walmart Adds 9,000 Asset Protection Jobs - The 'Customer Host'
By Gus Downing, Publisher & Editor, The D&D Daily
Touring stores in 1980, Sam Walton stumbled on one employee's idea that became one of the most recognizable hallmarks of the company for decades: the greeter.

Conceived in a high-shrink store by one employee and her spouse, a police officer by the way, the greeter was really inspired to add to their already well-established, great reputation for customer service, taking good care of their customers, being a friendly store, and making all of their customers feel even more welcome. "At the same time, this people greeter would be a deterrent to shoplifting."

"Sam thought it was the greatest idea he had ever heard of", and greeters were rolled to all the stores.

Four years ago, Walmart shifted its greeters to "action alley's" and providing customer-assistance tasks like helping with returns.

But now, with Walmart focused on improving the customer experience, providing the highest level of customer service possible and improving their shrink results, Walmart's getting back to their basics and bringing the greeters back nationwide. Along with taking it one step further in one third of their stores and upgrading the position, with 9,000 new Asset Protection jobs - the 'Customer Host.'

Strategically deployed, specifically trained, and highly visible in their yellow vest, these customer hosts represent a commitment to the good customers, a deterrent to thieves, and a response to the communities. As they focus on actually hosting customers, offering assistance and validating receipts, they're also helping to provide a safe shopping experience and deter theft - something both the customers and various law enforcement agencies should benefit from.

Representing one of the largest Asset Protection rollouts in retail history, this effort reflects Walmart's ongoing commitment to investing in its stores, its people, and the communities it serves. Their founding core value of taking care of their people certainly rings true with this effort.


* Excerpts above from: Sam Walton: Made in America / The Wal-Mart Way