Hunt for Terror Cell in UK - Bomb Expert At Large?
Impacting Tourism & Retail
HUNT FOR TERROR CELL - Bomb expert at large?
Manchester manhunt - 3 arrested just streets from terrorist Salman Abedi home Witnesses reveal 'only bomber's legs were left'
Theresa May raised the UK threat level to "critical" for the first time in 10 years with up to 3,800 soldiers on the streets because another terror attack could be "imminent" following the atrocity by the Brit-born suicide bomber.

Police have arrested another three men in connection with Monday's terrorism attack in Manchester amid fears there may be an explosives expert still at large in Britain who supplied the nail bomb that left 22 people dead. British intelligence services fear the expert could have more devices - and suicide bombers - in preparation.

The killer is suspected of receiving terror training in Syria, where he may have visited secretly while seeing family in Libya, The Sun can reveal. "All of a sudden he travelled to Libya and then most likely to Syria, became radicalised and decided to commit this attack."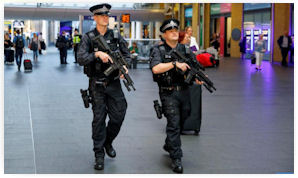 The military will be providing armed guards for key locations across London including Buckingham Palace, Downing Street, the Palace of Westminster and embassies, Scotland Yard said.
The Met has said they have "increased police numbers and operations across the capital with immediate affect".

"The public will see more armed officers, working alongside their neighbourhood and specialist colleagues on proactive operations and targeted patrols, both on foot and in vehicles."

Parliament will close to the public with immediate effect due to the increased security threat. Public galleries at the Old Bailey have also been shut.

The Changing The Guard ceremony at Buckingham Palace has been cancelled on Wednesday to redeploy police officers in the wake of the attack

Chelsea have cancelled their title parade, scheduled for this Sunday, due to security concerns. thesun.co.uk theage.com.au
Britain on high alert: Soldiers and armed police on guard across the UK as terror threat rises to 'critical'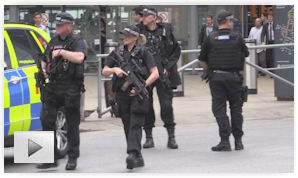 Britain is on high alert as soldiers and armed police have been sent out to guard city centres and tourist hot spots after the Manchester terror attack. Prime Minister Theresa May announced late on Tuesday the threat had been raised to its highest possible level, meaning an attack may be imminent. The military will be providing armed guards for key locations across London including Buckingham Palace, Downing Street, the Palace of Westminster and embassies, Scotland Yard said. Sporting venues and concert arenas will also get heightened security.

The UK's interior minister said up to 3,800 soldiers will be deployed across the country in the coming days, following the suicide bombing in Manchester which killed 22 people on Monday night. Met Police also said this morning it had increased its numbers and operations across the country with "immediate affect". The force said specialist police officers trained to spot "tell tale signs" of hostile plots will be "highly visible" to the public. mirror.co.uk
UK terror threat raised to critical: here's what it means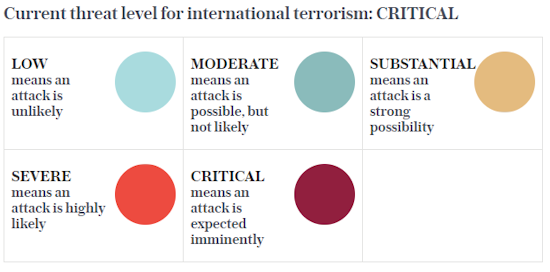 Brought in by security chiefs in August 2006, the warning system was part of Britain's new counter-terrorism strategy. It came a year after the July 7 bombings, in which 52 people were killed and more than 700 injured in coordinated bomb blasts on the Tube and a bus in London. When they were first published on August 1 2006 the threat stood at severe - the second highest level. telegraph.co.uk

Operation "Temperer" in the UK
This means some armed police officers guarding events will be replaced by soldiers in an operation codenamed Temperer. It is the first time that the operation, which was first revealed in 2015, has been put into effect. The plan is believed to allow up to 3,800 troops to be deployed in support of the police, replacing armed officers at many sites to free them up for patrols in key areas.

An Isis-related website claimed the attacker was "a caliphate soldier" who had killed "crusaders", although it remains unclear what links if any Abedi had to the terror group. Media reports on Wednesday sad he had just returned from the north African country, Libya. theguardian.com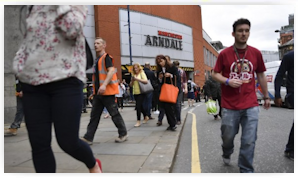 Manchester's Arndale Center Mall evacuated amid Bomb fears; man arrested after suspicious package found hours after deadly concert bombing
PPolice ordered the emergency evacuation of a huge shopping mall in Manchester, England, on Tuesday, hours after a deadly suicide bombing killed 22 people at a pop concert in the city the night before. Video filmed on cellphones and posted to social media showed panicked shoppers fleeing the Arndale shopping mall. Armed police and sniffer dogs were seen entering the site at around midday. Media reported that a man was arrested and a suspicious package was found in the food court of the complex. timesofisrael.com


Impact on UK's Retail Sector
With an "imminent attack" expected and 5,000 troops sent to Britain's streets the retail industry will be severely impacted for the next week. With some probably not even opening today in Manchester. No reports available so far as to any store or mall closures.

New terror attack hits Europe. Will tourists keep coming?
Europe has been hit by another deadly terrorist attack that could prompt tourists to rethink plans to visit the region.

"This kind of incident has a big emotional impact on people, making [them] feel that the world is more dangerous and not as welcoming," said Patrick Surry, chief data scientist at travel firm Hopper.

Would-be tourists may be "seeing this as part of a pattern of bad stuff in Europe and thinking 'we shouldn't go to Europe'," he said.

The Manchester bombing followed a high profile attack in London in March when four people died after a man rammed a car onto a busy sidewalk near the houses of parliament.

Attacks in cities such as Berlin, Brussels, Paris and Nice within the last two years have already made some people wary about traveling in Europe.

Experts say the Manchester attack won't prevent tourism in the U.K. from continuing to grow this year, but it may slow the rate of expansion.

In the wake of Monday's bombing, Euromonitor downgraded its forecast for growth in visitor numbers to 4.9% from 5.1%. That means it expects roughly 100,000 fewer people to visit the U.K. this year than might otherwise have done so.

The U.S. State Department issued a travel alert for Americans visiting Europe earlier this month, citing the continued threat of attacks, particularly in tourist hot spots.

Even so, this second attack on U.K. soil in three months will raise anxiety among some travelers.

"Even if there's a small shift in behavior over the long term, it will really add up to a significant financial impact," warned Surry. cnn.com

Manchester attack: Psychologists warn bombing could have 'catastrophic impact' on young people
Clinical psychologist Rob Gordon said, it's important for adults to help children "accept the reality that the world is not as safe as it used to be".

We've got to really also put it in context - the most dangerous thing that children do is get in the car and go to school," he said.

Dr Gordon said his advice for parents and teachers was to be on the lookout for signs of distress in young people who have encountered trauma.

Behaviors such withdrawing from friends and activities, feeling sick or lashing out.

However, he said the most important thing adults could do was to just talk to children - and start by asking them what they were thinking.

"Give them a chance to talk, give their opinions to discuss it," he said.

""You don't have to come up with answers, you don't have to change the world - but if they know that you're talking with them, they won't feel alone."

Editor's Note: This applies to children in North America as well, as they learn about it at school, TV, or on the internet. These incidents are making an impact on children across the world. abc.net.au

Blondie, More Musicians Cancel U.K. Concerts After Manchester Attack

How America is Preparing For a Soft Target Terror Attack
See Something, Say Something!!

U.S. Law Enforcement Officers on heighten alert