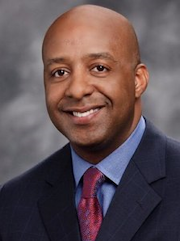 Marvin Ellison
Former Target Asset Protection executive Named Chief Executive at J.C. Penney - Marvin Ellison former EVP Stores for Home Depot J.C. Penney said on Monday that it was bringing in a Home Depot executive, Marvin Ellison, as president and as its next chief executive. Mr. Ellison, currently executive vice president for stores at Home Depot, will join Penney's on Nov. 1 and will also be a board member. He will succeed Myron E. Ullman III as chief executive on Aug. 1, 2015, when Mr. Ullman will become executive chairman for one year, the company said. Before his 12-year tenure at Home Depot, Mr. Ellison served for 15 years in various positions at Target. Penney's went through a disastrous spell under its previous chief executive, Ron Johnson, who introduced designer boutiques and stable prices instead of coupons. The effort to make the stores slicker flopped, and Mr. Johnson was let go in April 2013, 17 months after he joined the company from Apple. (Source nytimes.com)


J.C. Penney Names Home Depot's Marvin Ellison As CEO
Mr. Ellison, a 49-year-old retail industry veteran, will become Penney's president Nov. 1. He will add the role of CEO next August when Mr. Ullman is slated to begin a one-year term as executive chairman of the retailer's board. Mr. Ellison spent the past 12 years at Home Depot, where he has served as the executive vice president of U.S. stores since 2008. He was thought to be a possible CEO candidate at Home Depot but was passed over for the top spot earlier this year when the home-improvement chain named another company veteran, Craig Menear, to the post. Analysts at Sterne Agee called the CEO hire a "bright spot for the company" and pointed to Mr. Ellison's in-store experience. Investors also pushed Penney shares higher following the appointment.

Penney had a difficult time finding a new CEO. The enormity of the challenges confronting the department-store retailer as it tries to claw back market share put off several experienced candidates, including other current retail CEOs who were been approached for the job, The Wall Street Journal previously reported. Mr. Ellison's appointment comes days after Penney cut its sales forecast for the current quarter. The rate at which the retailer converted browsers into buyers declined, Mr. Ullman said, with a particularly weak September showing pushing the company to reduce its guidance for the period. Penney said it is confident that Mr. Ellison's experience with store operations and supply chain management will help it return to profit growth. (Source wsj.com)

Marvin Ellison - The Asset Protection Executive Who Took It All the Way
Starting in 1987 at Target as a Store Security Officer Marvin was promoted seven times during his 17 year tenure there. Finally reaching the Director of Assets Protection - East Division position in 1999 where he had over 450 stores in 24 states. With being promoted virtually every twenty-nine months he quickly showed early in his career that he was able to master each position and successfully build a strong and well respected reputation at Target and throughout the industry. In 2002 he joined Home Depot as their Vice President of Asset Protection and once again was promoted virtually every two or three years to his most recent position as executive Vice President of Stores. With a Bachelor of Business Administration degree from the University of Memphis in Business Marketing, Marvin has become the #1 most successful Asset Protection executive in the industry. With only one other Loss Prevention executive even getting close to his accomplishment, Tom Coughlin, the former Vice Chairman of Wal-Mart which ended disappointingly. Marvin Ellison now makes history for the LP industry and for each executive in this community. One that shows that even LP executives can reach the absolute top spot.

Marvin Ellison speaks at the NRF LP Conference in June 2010 and shares his expectations of a Loss Prevention Executive In June of 2010 Marvin participated in a "C" level panel discussion at the NRF's Loss Prevention conference that was moderated by Kelly Gorman, the Vice President of Loss Prevention for PetCo, and shared with the attendees his thoughts about the profile of a successful Loss Prevention executive. And later that year we presented his comments at the Retail Council of Canada's Loss Prevention Conference and have included the slide for your review: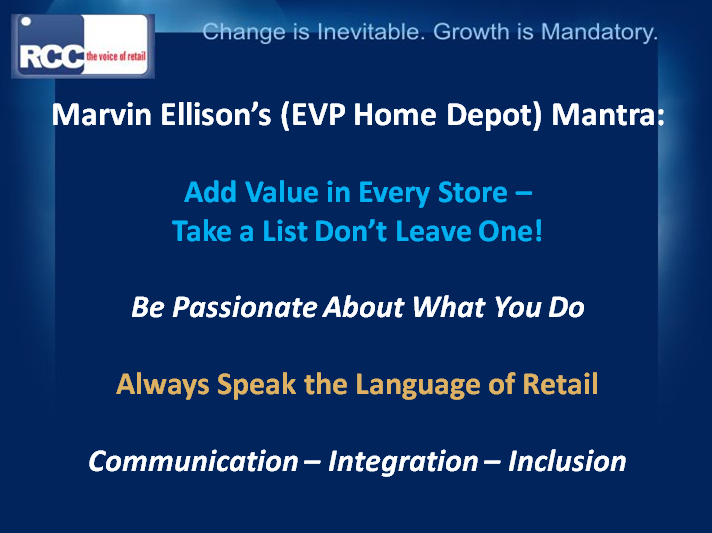 Marvin was very clear about how proud he was of the Asset Protection efforts at Home Depot and how they had distinguished themselves during hurricane Katrina in 2005. This being a watershed event for the team where AP had truly added value and took a leadership role in helping Home Depot take the lead in the recovery efforts. He went on to talk about his "Mantra" of how an Asset Protection executive should really be focused on adding value in every store they visit and how their approach should not be to leave a punch list that someone else follows up on. But to take a list back with them that they themselves will be following up on and helping that store reach it's goals and be successful. He went on to talk about how important it is to be passionate about what you do and how that impacts everyone around you and motivates and inspires long after you leave. His critical point focused on how an Asset Protection executive always has to speak the language of retail and assimilate to the operators and merchants and become a retail executive first that happens to specialize in Asset Protection. Adding one personal example, where Marvin, as the Vice President of Asset Protection at Home Depot, actually staffed a financial position that translated every expense and project into how those investments impacted the price per share. Clearly showing how he was able to communicate the value of Asset Protection to the "C" level executives.

He went on that day to emphasize how important it is to communicate and integrate throughout the organization to the point that you're included and viewed as a critical member of the management team in virtually every aspect of the business.

This was probably one of the most rewarding sessions at the NRF that year and it certainly made a mark on this writer.

Loss Prevention Magazine - From Store-Level LP Associate to EVP of Stores - March 1, 2009 In this article Marvin gives his advice for anyone who is looking to redefine his or her career or looking for a place to get started again is to go to a company that is committed to your function, whether that function is loss prevention, risk management, or safety. It is important that the company is committed to your craft and understands the value of what you do. It is also important that you sharpen your skill set so that you have a broader range of skills. It is important not to be one dimensional. (Source lpportal.com)

It Won't Be Easy At JCP
With Apple's former senior executive Ron Johnson failing when he tried to reinvent J.C. Penney the challenge is great for any executive and now we have a former Asset Protection executive who's ultimately responsible for re-birthing one of America's Icon's. Yes, the last few quarters have been better for them. With the second quarter actually showing a comparable store increase of 6% as reported on August 14th. With some even coining the phrase "Back from the Dead" to explain their current status. However in that same article it was pointed out that "one reason that Penney's results look so good is that the comparisons are so easy. Same-store sales plunged for two years and didn't make it back into the black until October of last year. Margins were just as bad and really had nowhere to go but up." But their second term CEO Mike Ullman was able to slow if not completely stop the bleeding and that's good news for any new CEO. But the issue is can the new CEO actually complete the turnaround and bring them back to prominence. That's going to be a feat for anyone given the current state of the malls in America. With traffic down and everyone fighting Amazon how does a big box retailer predominately located in malls start growing again? They've already squeezed every expense line they can and Macy's Omni-Channeling efforts are well on their way. This is going to be an exciting thing to watch especially given that the leader, the one ultimately responsible came from our ranks.

It Can Be Done
If there's one lesson here for everyone in the Loss Prevention industry it is that anything is possible if you set your mind to it and go after it. You've just got to have the confidence, the courage, and be willing to invest yourself entirely.
We at the Daily wish Marvin all the best and would like to thank him
for leading the way for the entire industry.