New revelations come forth in case of Toys R Us
Regional LP Manager charged with murder
Suspect was hard to find as police sought DNA in murder case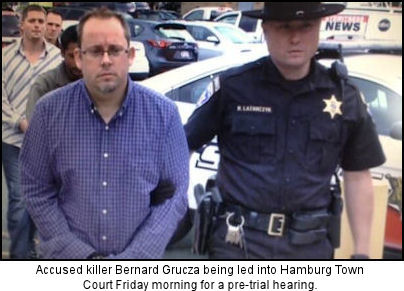 Yesterday the Daily reported the shocking news that the man responsible for the June 29 murder of Laurence Wells, assistant store manager of the Toys R Us in Hamburg, NY, was in fact his co-worker -- Regional Loss Prevention Manager Bernard "Bernie" Grucza. Today, we learn that Grucza was elusive in the days, weeks and months following the murder - despite the fact that he was present at the store in the immediate hours after Wells was stabbed to death, consoling other employees and talking with police. Employees found Wells mortally wounded in a chair in the manager's office, with multiple stab wounds.

Other co-workers of the victim came forward to give DNA samples, but it took months for police to find Grucza, 38. He took a leave of absence from his job as Regional LP Manager for the toy store chain. "It was the proverbial haystack of information, and we were looking for that needle," Hamburg Detective Capt. Kevin A. Trask said Thursday. "He was on the radar, but we were following up on so many leads and he was kind of put on the back burner." When it came time to obtain a DNA sample from Grucza, he was nowhere to be found. He had moved out of his $450,000 home in an upscale section of Elma because of an ongoing divorce dispute and an order of protection placed against him by his wife, Heather, in the weeks prior to the June 29 homicide at the Hamburg store.

He was keeping a low profile. Detectives were able to locate a relative of Grucza's in North Tonawanda, who provided information that helped them locate him. Trask declined to elaborate on how his detectives obtained a DNA sample from Grucza, but authorities said the sample matched a DNA specimen obtained from a University of Florida Gators cap that the killer had left behind when fleeing the store after the predawn stabbing of Wells, 35. The DNA obtained from the cap did not come from a hair, but apparently from a body secretion found on the cap, which had helped hide the killer's face in the grainy footage recorded by the store surveillance cameras, the police official said.

On Wednesday, Grucza pleaded not guilty to second degree murder charges. This morning, the man was back in Hamburg Town Court for a pre-trial hearing. He was transported back to the Erie County Holding Center, where he is currently being held without bail.

Grucza also faces sentencing on his guilty plea to a reduced charge of fourth-degree attempted criminal possession of a weapon in Elma Town Court in late November. That charge stems from his arrest in early June in a domestic incident.

Toys R Us release a statement Thursday night about the arrest, thanking Hamburg Police and saying they will cooperate in the investigation to bring justice to Larry. (Source buffalonews.com) (Source buffalonews.com) (Source wkbw.com)


Here's what we know about Bernie Grucza, according to industry sources:
| | |
| --- | --- |
| • | He graduated from Canisius College, a Jesuit Catholic University in Buffalo, in 1997 with a degree in Criminalistics and Criminal Science. |
| • | Bernie was a Toys R Us store manager in Florida before he was promoted to Regional Asset Protection Manager in Buffalo approximately 3 years ago. |
| • | He was previously a store manager for Gap Inc. |
| • | According to those who worked with him, Bernie got along well with others and would often joke around at meetings. No one suspected him, and when they heard he was arrested earlier this week in connection with the murder they were shocked. |
Grucza has history of Run-ins with the law
While Bernard Grucza's homicide arrest this week was a shock to many, the Regional Loss Prevention Manager does have a criminal past. In addition to his second degree murder charge, the Erie County Sheriff's Department tells us Grucza was arrested June 8 at his Kettle Run home in Elma just three weeks before Wells' murder. They also say Grucza was charged in that domestic incident with harassment and illegal possession of a 9 mm handgun. They also confirm there had been a series of domestic calls at that address in the past. The Sheriff's Department says Grucza's wife took out an order of protection against him following that June arrest. "He was always on the radar, but it was a matter really of having too much information to pour through until it finally got it focused on him," says Trask. (Source wgrz.com)

Investigators looking into recent Toys R Us robberies in the Pennsylvania and Buffalo area - Grucza may be connected to those too Investigators and industry sources say Bernard Grucza is a suspect in a string of other burglaries that occurred at Toys R Us stores in western New York and northern Pennsylvania in the past couple years. Regional Asset Protection Managers for Toys R Us have master keys that can access all the stores in their region. On the morning of June 29, Grucza allegedly entered the Hamburg Toys R Us, dismantled the store's video-surveillance system, then attempted to break into the store's safe - before he was caught in the act by Laurence Wells. (Source buffalonews.com)


The Daily has been on top of this story from the beginning.
Below is a timeline of our investigative reporting:

July 1 —

Police search for a suspect in Toys "R" Us homicide in Hamburg, New York; surveillance pictures released. Hamburg Police were called to the Toys R Us on McKinley Street just before 6 a.m. Saturday morning. Officials say that a male employee of the store was assaulted inside and taken to Mercy Hospital. The victim, Laurence Wells, 35, of Blasdell was in grave condition at the hospital where he was later pronounced dead. He was the Assistant Store Manager at Toys R Us. Hamburg Detective Thomas Best says that the doors to the store were locked while three employees were inside prior to the store opening at 9 a.m. stocking shelves. Police say it's hard to determine if the attack happened while employees were still inside or if the incident happened before they arrived. The victim was inside his office at the time of the incident where the intruder found him. The body of Wells was found by an employee who was looking for him. (Source wkbw.com)


July 15 —
Toys R Us offers $25,000 reward in June 29 killing - investigators search for motive Toys R Us has put up a $25,000 reward for information leading to the arrest and conviction of the person behind Wells' homicide. CrimeStoppers also added its maximum amount of $1,000 to the reward. Detectives still are trying to determine whether the killing was a robbery or targeted attack. "We have equal evidence for both sides of that argument," Capt. Kevin A. Trask said. "We don't have a clear-cut motive." Investigators also haven't ruled out the possibility that the attack was carried out by a disgruntled employee or ex-employee. Police have said Wells, 35, was stabbed two or three times by a man who had entered his tiny office when it was empty, shut the door behind him and then dismantled the video-surveillance system about seven minutes later. Wells was attacked when he entered the office. (Source buffalonews.com)


October 17 —
Retail Murder Mystery Solved
Toys R Us Regional Loss Prevention Manager kills a Buffalo store manager who caught him breaking into safe Bernard Grucza, a Regional Loss Prevention Manager with Toys R Us has been arrested in the stabbing death of an assistant store manager in the store's office in suburban Buffalo. Investigators believe the Grucza was attempting to steal money from the store when the manager walked in on him in the early morning hours. Hamburg police Wednesday announced the arrest of Bernard Grucza, 38, of Elma on a charge of second-degree murder. Grucza is accused of killing Laurence Wells, 35, before the store opened June 29. Grucza, pleaded not guilty and is being held without bail. Investigators said they believe Grucza was robbing the safe at the store when he was caught by Wells. News video following the slaying showed Grucza at the scene consoling fellow employees. Investigators also said Grucza was also a suspect in break-ins at Toys R Us stores in southern Pennsylvania. (Source wivb.com) (Source buffalonews.com)

As your #1 trusted LP information source, the Daily will continue
monitoring this story. Stay tuned for further developments.