U.S. on High Alert Following Paris Terrorist Attacks

Retail Industry Should Follow Suit


Paris Gets Back to Work Amid Mourning - With Tight Security at Retailers
- Opening Bags and Unbuttoning Coats
Parisians resumed their daily routines on Monday, falling quiet for one minute at noon to commemorate the victims of Friday's wave of terror in the French capital. Stores, most of them shuttered since Saturday amid security concerns, resumed trading. Museums and cultural institutions were set to open at 1 p.m. CET after the Ministry of Culture had ordered them shut over the weekend.

L'Oréal confirmed that Quentin Boulenger, a digital project manager for L'Oréal Paris, lost his life in the Bataclan, where gunmen opened fire as California rock band Eagles of Death Metal performed.

France remains under a state of emergency and the army has sent 1,000 additional troops to patrol the city in the coming days, as reported.

Amid a tense and morose atmosphere, a plethora of fashion-related events are falling by the wayside. Victoria Beckham postponed a personal appearance at Galeries Lafayette scheduled for Wednesday. Gap, La Prairie and Calvin Klein canceled press days; Loewe a cocktail party planned for Monday night in tandem with Candy magazine; Maison Francis Kurkdjian a Wednesday event for its Marais boutique; Isetan its Nov. 24 event the Plaza Athénée to announce a Paris boutique project, and Tag Heuer a Nov. 30 party to celebrate its new smartwatch.

For security reasons, the lighting of Christmas decorations on tony Avenue Montaigne, scheduled for Friday evening, has been canceled. Jean Paul Gaultier was originally to push the button in front of the Théâtre des Champs-Élysées.

The lighting of Christmas decorations on Rue du Faubourg Saint-Honoré, scheduled for Tuesday evening, has been canceled too. Baccarat was to light up the ritzy street with 12 chandeliers from the Avenue Matignon to the Rue Cambon. The crystal maker had already set up the chandeliers, but they are to remain off for the time being.

The city's main department stores, including Galeries Lafayette, Printemps and Le Bon Marché reopened on Monday. "The general mood is not good, as you can imagine," said a spokeswoman for the Galeries Lafayette Group, which also runs BHV Marais, though she noted that no major changes in traffic and day-to-day business could be observed.

Security was tight. Private security forces had closed off some of the main exits to get a tighter grip on the foot traffic. Customers were asked to open their bags and in some instances to also unbutton their coats.

"Yes, we are increasing security significantly, but we are not implementing these measures in reaction to the attacks. Security is our top priority and our top concern every single day of the year. It was already very strong," the Galeries Lafayette spokeswoman added.

The tragedy is bound to cast a pall over the holiday season, and crimp tourism and spending at "what was already a difficult market for luxury goods. Paris is the second most important city in the world for personal luxury sales after New York. wwd.com

Could Paris Happen Here?
It's a mistake to assume that America's security from terrorism at home is comparable to Europe's. For many reasons, the United States is a significantly safer place. While vigilance remains essential, no one should panic.

Pretty much anyone coming to the United States from Middle Eastern war zones or the radical underground of Europe would need to come by plane, and, since 9/11, we have made it tough for such people to fly to the United States. And it helps that America's two immediate neighbors, Mexico and Canada, have extremely cooperative security authorities, which prevents would-be terrorists from slipping across our land borders.

Then there's the domestic challenge. It appears the Paris attacks involved both Middle Eastern operatives and Muslims from France and Belgium. But some high-profile exceptions aside, American Muslims are much less attracted to the Islamic State and its ideology than European Muslims seem to be. Americans have traveled to ISIS-controlled territories at a rate of roughly a third that of their European Union coreligionists.

Yes, some of the worst attacks of recent years here at home have been by deeply alienated Muslims, including Nidal Hasan, the Fort Hood shooter, and the Tsarnaev brothers, perpetrators of the Boston Marathon bombing. But the incidence of such malcontents is lower than in Europe, whose larger Muslim communities, social science data shows, are markedly less integrated.

The United States has another advantage: an intelligence, law enforcement and border-control apparatus that has been vastly improved since the cataclysm of 9/11. Post-9/11 visa requirements and no-fly lists weed out most bad actors, and both the Bush and Obama administrations demanded that countries in our visa waiver program provide data on extremists through information-sharing pacts called HSPD-6 agreements. Improvements continue, like an advance passenger information/passenger name recognition agreement with the European Union of 2012.

In fact, America has spent more than $650 billion since 9/11 on homeland security, or around $47 billion a year. In contrast, after the Charlie Hebdo killings, France announced a multiyear $786 million effort to combat terrorism. The annual budget for Germany's entire intelligence service is $660 million.

None of this should lead American authorities, or the American people, to settle into a false sense of security. The foremost task for the years ahead is to double down on our intelligence collection and press our European partners to dramatically expand theirs. nytimes.com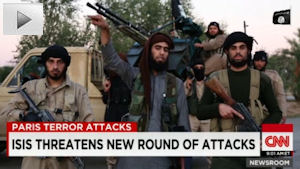 ISIS vows to attack Washington next in chilling new video and vows EVERY nation involved in Syrian airstrikes will 'suffer France's fate' - As CIA director warns 'this is not a one-off'
ISIS has issued a chilling new video warning that countries taking part in air strikes against Syria would suffer the same fate as Paris and threatened to attack Washington D.C. next.

The video emerged as CIA Director Brennan told the Center for Strategic and International Studies' annual Global Security Forum that he hoped the attacks were a wake-up call for security services and warned that ISIS will attempt more terror atrocities. 'This is not the only operation that ISIS has in the pipeline.'

In the film an armed fighter addresses the camera to say in Arabic: 'We say to the states that take part in the crusader campaign that, by God, you will have a day God willing, like France's and by God, as we struck France in the centre of its abode in Paris, then we swear that we will strike America at its centre in Washington. dailymail.co.uk reuters.com cnn.com

FBI: 900 Active ISIS Probes Currently in US
There are currently 900 "active investigations" pending against "ISIS-inspired operatives and other home-grown violent extremists" across the United States, according to U.S. FBI Director James Comey. The intelligence director said during the broadcast of a Fox News Sunday special report on the Paris massacre by ISIS last Friday that he has ordered field offices nationwide to intensify surveillance on ISIS suspects. The investigations into ISIS (Da'esh) suspects are being carried out in all 50 states in the U.S., Comey noted. jewishpress.com

New York And Other U.S. Cities Tighten Security After Paris Attacks
New York, Boston and other cities in America bolstered security on Friday night after deadly gun and bomb attacks on civilians in Paris, but law enforcement officials said the beefed-up police presence was precautionary rather than a response to any particular threats. Outside of New York, law enforcement and transportation agencies said they were on high alert. dailytimesgazette.com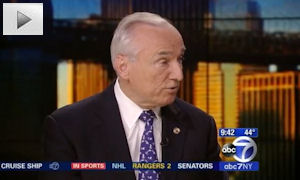 Bratton: NYPD training for event like Paris attacks
The city's top cop called the terrorist attacks in Paris a "game changer" Sunday morning and said the NYPD is training to deal with a similar event. The idea that every one of these people were apparently equipped with a suicide vest reinforces the idea that if they take hostages you have to go in because they're going to kill them," NYPD Commissioner Bill Bratton said on ABC's Eyewitness News. ‎He said ISIS "turned a very significant" page with the attacks Friday that left 129 dead and more than 300 wounded because the terror group had turned its attention to the west.

"At this point and time, their vunerabilities are minimal. They have access to money in amounts that Al Qaeda never had. They have taken social media and perfected how they utilize that," Bratton said. "They're doing something like 90,000 social media hits every day and it's growing."

He said the NYPD would be training to respond to an attack similar to the one in France while gathering intelligence to stay ahead of the threat. "For the last year or so we've been ramping up our abilities here to respond to multiple events at the same time," he said. Bratton also lashed out against attacks on the NYPD for spying and pointed out that cops and the FBI have thwarted a number of attempts on the city since 9/11.

We're spying - if you will in terms of our intelligence gathering - on people who are attempting to break the law and attempting to break the law in a way which is extraordinarily damaging. They want to murder people. So we're going to be very aggressive in gathering intelligence on those people and getting them before they kill innocents." nypost.com

White House: ISIS has ambition for U.S. attack, but likely lacks capability
President Barack Obama's national security team is sending a message Sunday that might lend at least a glimmer of reassurance to Americans traumatized by the terror attacks in Paris. Saying that while the ISIS ambition is certainly there to launch similar attacks on U.S. shores, the capability is not great. Deputy National Security Adviser Ben Rhodes told reporters that one big difference between the situation in Europe and that in the U.S. is that "thousands" of fighters have traveled to Syria and then returned to Europe. That number being tracked in America is far smaller-- around 40, according to the Director of National Intelligence James Clapper earlier this year. Rhodes emphasized Sunday there is currently "no specific, credible threat" of an attack being planned in the U.S., but vigilance among law enforcement is high. cnn.com

Homeland Security (Issued Friday)
Statement by Secretary Jeh C. Johnson on the Situation in Paris
As the President noted this evening, the attacks tonight in Paris are not just attacks on the people of France, but attacks on all of humanity and the universal values we share.

The Department of Homeland Security and the Federal Bureau of Investigation are closely monitoring events in Paris and we are in contact with our counterparts in the region. At this time, we know of no specific or credible threats of an attack on the U.S. homeland of the type that occurred in Paris tonight.

As we do regularly, and out of an abundance of caution, DHS and the FBI are consulting with state and local law enforcement. We are also in communication with relevant private sector organizations to advise them of what we know, and to hear from them about security precautions they may take.

Americans should mourn the loss of all those killed in Paris tonight, and we stand together with the French people in the fight against terrorism and extremism. dhs.gov

Anti-Terrorism Raids Launched Across France in Wake of Paris Attacks - 150+ raids conducted - 23 arrested - 'War Arsenal' of weapons discovered
French police launched scores of raids across the country on Sunday night in pursuit of suspected terrorists following Friday's attacks in Paris that claimed 129 lives and wounded hundreds. In Lyon, French news station BFM TV, cited by the Guardian, reported police as saying that they had found a "war arsenal" of weapons including a rocket launcher, pistols and a Kalashnikov assault rifle. Local media sources reported raids in and around the southern cities of Grenoble and Toulouse; in Jeumont, along the France-Belgian border; in Calais, home to a major ferry port; and in Bobigny, a suburb around 6 miles northeast of central Paris. The nation's prime minister Manuel Valls said there had been 150 raids in all, according to Associated Press. bbc.com time.com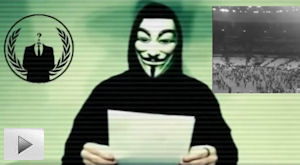 'Anonymous' Hackers Declare War on ISIS in Video Message
The hacker group Anonymous has apparently responded to the attacks on Paris by posting a video declaration of war against ISIS. In the as-yet-unverified video, posted on YouTube, a spokesperson wearing the group's signature Guy Fawkes mask said the group of hackers would use its expertise to wage "war" on the militant group. "Expect massive cyber attacks. War is declared. Get prepared," the announcer says in French. "Anonymous from all over the world will hunt you down. You should know that we will find you and we will not let you go. We will launch the biggest operation ever against you," the spokesperson continued, according to translated transcripts of the video. nbcnews.com



Economic Impact of Current Events

Fox Business: China reporting 50% drop in vacation reservations for Europe over the holidays this weekend - Does the trend include U.S.? Time will tell
This will impact tourism shopping in Europe. A problem the States have been experiencing of late as well, as reported by Terry Lundgren, CEO Macy's, in his last quarterly results call. NYC and a number of other markets depend on tourism shopping in the higher end of retail across the country - a factor that will have an impact on holiday sales that has not been factored into the recent forecasts. How much of an impact is unknown at this point obviously.

Paris Attacks Likely to Send Chinese Shoppers Elsewhere In Eurozone
- "Tourist inflows to Europe were already seen sharply down in December"
The majority of stores in Paris may have reopened Monday in the aftermath of the shocking terrorist attacks but Chinese shoppers are likely to give the city a wide berth in the coming months, heading for other destinations in the Eurozone.

While Paris has always been a leading shopping destination for Mainland Chinese tourists, the latest attacks, killing 129 including at least one Chinese national, have made shoppers jittery. It's the second terrorist attack in Paris this year, following the Charlie Hebdo shooting which took the lives of 12 people in January. However, it's not likely that those customers would return to Hong Kong or opt for trips elsewhere in Asia. wwd.com

How does it impact U.S. tourism over the holidays?
Certainly something we'll all be watching and hoping doesn't happen. However if something does happen it will have a decimating impact.

U.S. Stocks Slide Following Paris Attacks, Volatile Trading Expected
In pre-market trading, U.S. stocks were uneven as analysts expected a day of volatile trading following the terrorist attacks in Paris. By the opening bell, major indices dropped slightly while retail stocks took steeper declines as investors dropped out of the sector following weak earnings reports last week of some key companies, including Nordstrom Inc. and Macy's Inc. wwd.com

Consumer confidence shaken worldwide, as countries across Europe and elsewhere wonder 'if they could be next'
The economic impact from the "truly awful events" in Paris "should be limited and temporary," an analyst from a unit of Colorado-based IHS Inc. said Monday. Howard Archer, chief European and UK economist with IHS Global Insight, said Friday's deadly attacks in the center of Paris "will obviously negatively impact on the Parisian economy in the near term, and there are also likely to be some knock-on effects elsewhere in France. This risk is magnified by the strong concern that further attacks are a very serious risk."

As for the impact on tourism and retail, "the most obvious impact on Paris will be the fact that many shops and public amenities will be closed in the near term," IHS' Archer said. "In addition, there are likely to be markedly fewer people coming into the French capital. But some of the shopping/business that would have been done in Paris, will be done locally instead or online."

The attacks "could certainly have a significant negative impact on consumer confidence in France in the near term at least," he added. "Consumer confidence could also be hurt elsewhere in Europe as people in many other countries will be wondering if they could be the next to suffer such an atrocity. The UK, Spain and Belgium being obvious examples, given their past history of terrorist attacks and in the case of Belgium, the fact that there are clearly terrorist cells in the country that have been involved in the French attacks this year." bizjournals.com



Refugees In America - 10,000+ over 12-24 months

1,500 refugees in the U.S. since 2011 - Obama Administration announced in September that 10,000 Syrians will be allowed entry next year
- Some governors halt, question plan to accept Syrian refugees
The governors of Alabama, Arkansas, Michigan and Texas say they don't want to accept Syrian refugees into their states. Alabama Gov. Robert Bentley rejected the possibility of allowing Syrian refugees into his state, and connected refugees with potential terror threats. "After full consideration of this weekend's attacks of terror on innocent citizens in Paris, I will oppose any attempt to relocate Syrian refugees to Alabama through the U.S. Refugee Admissions Program," Bentley said Sunday in a statement.

Michigan Gov. Rick Snyder was more conciliatory in his language, but still resisted receiving Syrian refugees. He said the state would "put on hold our efforts to accept new refugees."

Even before Sunday's revelation, Louisiana Gov. Bobby Jindal complained bitterly in an open letter to President Barack Obama. On Saturday, he said the federal government had not informed his government about refugees being relocated to his state last week. cnn.com

Canada sticks to plan of accepting 25,000 refugees by Jan. 1st
Canada's new Prime Minister Justin Trudeau said that the country will still take in 25,000 Syrian refugees before Jan. 1 but he is facing increasing pressure to tighten screening procedures and slow down the process to make sure that Islamic State infiltrators aren't among them. In the wake of the series of attacks in Paris on Friday, a number of politicians in Europe and North America have been warning that countries are taking a big risk by allowing in many thousands of refugees without rigorously determining whether any could be dangerous radicals. News that at least one of the Paris assailants may have been among refugees who passed through Greece has heightened those concerns. yahoo.com

Vetting Refugees
A number of journalists, politicians, and a few military officials that have been discussing the vetting processes for the refugees all admit one fact: How do you vet an individual when the Syrian government has virtually fallen apart and there's no apparatus available to provide information. While a few have commented that it's a "robust" process no one has gone into any details obviously. However, at the end of the day that will be any potential employer's risk.

Refugee Employment - They'll be looking for jobs - What's your company policy?
With the retail industry being one of the largest employers in the country, how does the nation's retailers react to any Syrian refugee applications for employment? How are they screened and trained? And if indeed they're not offered employment, how does the legal community respond?

Jeb Bush: 'It takes almost a year for a refugee to be processed
in the United States'
Obama's deputy national security adviser Ben Rhodes noted on Nov. 15's Fox News Sunday that there are "very robust vetting procedures for those refugees" and said the administration will still continue to take them. But that's "untrue" and, in fact, "there's virtually no vetting," according to Rep. Peter King, R-N.Y., who chairs the House Subcommittee on Terrorism.

Elsewhere on the airwaves, Republican presidential hopeful Jeb Bush suggested that the vetting process was at least enough to distinguish between Christians - whom the United States should focus on, according to Bush - and everyone else fleeing Syria. politifact.com

U.S. Refugee Admissions Program
When UNHCR - or, occasionally, a U.S. Embassy or a specially trained nongovernmental organization - refers a refugee applicant to the United States for resettlement, the case is first received and processed by a Resettlement Support Center (RSC). The U.S. Department of State's Bureau of Population, Refugees and Migration (PRM) funds and manages nine RSCs around the world, operated by international and nongovernmental organizations and one U.S. interests section. Under PRM's guidance, the RSCs prepare eligible refugee applications for U.S. resettlement consideration. In detail at state.gov.

Jeb Bush Calls for Profiling
In interviews yesterday and today Presidential candidate Jeb Bush condoned and approved of profiling Syrian refugees. Especially males between the ages of 16 and 40, military fighting age.

Soft Targets - Restaurants Across America
With a number of the attacks at restaurants, not just in these Paris attacks but many others, are they the U.S.'s soft targets?


Today's Special Report is sponsored by Vector Security.