2017 Internet Job Postings Down 2%
2017 LP/AP Job Postings Down 2%
2017 Total: 4,838 jobs
2016 Total: 4,944 jobs
2017 Featured Job Postings Up 95%
2017 LP/AP Featured Job Postings Up 95%
2017 Total: 156 jobs
2016 Total: 80 jobs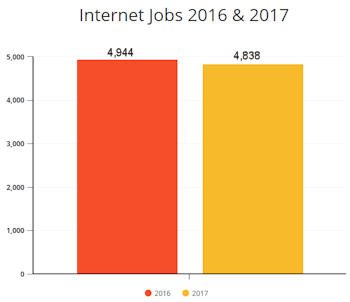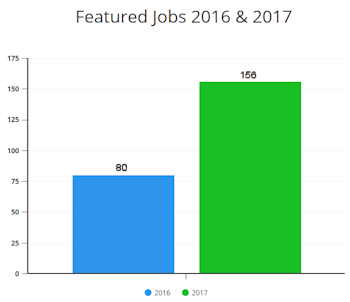 ---
Q4 LP/AP Job Postings Up 13%

2017 Q4: 1055 jobs
2016 Q4: 931 jobs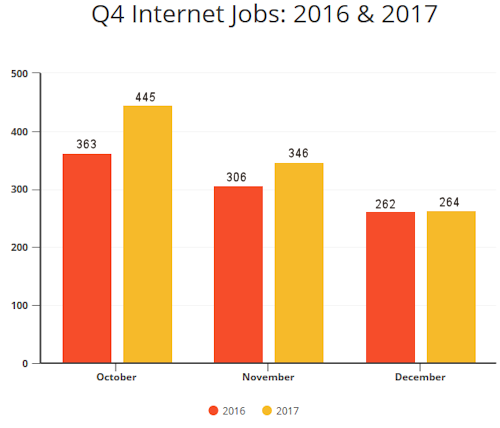 | | | | |
| --- | --- | --- | --- |
| Internet Jobs | Q4 '16 | Q4 '17 | % Change |
| October | 363 | 445 | 22% up |
| November | 306 | 346 | 13% up |
| December | 262 | 264 | .8% up |
| Totals | 931 | 1055 | 13% up |
---
Q4 LP/AP Featured Job Postings Up 23%

2017 Q4: 48 jobs
2016 Q4: 39 jobs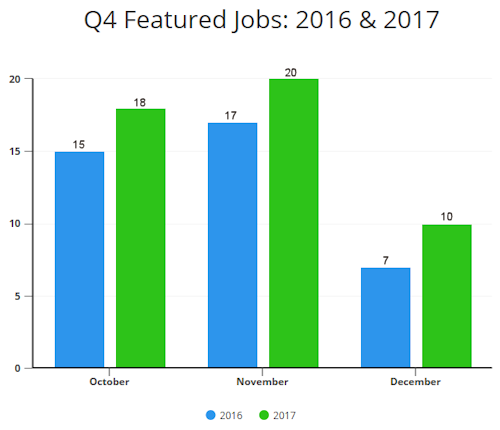 | | | | |
| --- | --- | --- | --- |
| Featured Jobs | Q4 '16 | Q4 '17 | % Change |
| October | 15 | 18 | 20% up |
| November | 17 | 20 | 17% up |
| December | 7 | 10 | 43% up |
| Totals | 39 | 48 | 23% up |
---
In the Featured Jobs column in Q4 2017 we posted 48 featured jobs:

● 3 VP, AVP or SVP positions
● 19 Director positions
● 4 Senior Director level positions
● 3 Regional, Market or Field Director positions
● 8 Senior Manager or Corporate Manager positions

In Quarter 4 of 2016, the Daily posted 39 featured jobs:

● 2 VP positions
● 18 Director positions
● 1 Senior Director level position
● 6 Senior Manager/Corporate Manager positions

Throughout 2017, the Daily posted various job titles including Safety and Security, Operations, Investigations, Program Manager, Cyber Security and Information Security.

While the Daily increased in the number of featured and internet jobs posted in Quarter 4, throughout the whole year, the Daily posted less internet jobs this year (4,838) than in 2016 (4,944).

Due to the number of store closures seen in 2017, as many as 6,800 according to Patch, job cuts, and especially loss prevention/asset protection, ORC and store detective position cuts and reorganizations at stores like CVS and Walgreens, Ascena, Regis Salons, Office Depot, Forever 21 and BLD Brands/Serazen, Sears, and Petco, the amount of jobs posted on retail websites for LP/AP/Security positions decreased.

While the beginning of 2018 has seen more job cuts already, it will be interesting to see how the retail industry, and consequently LP/AP job postings, plays out with ecommerce becoming a bigger influence on brick and mortar stores and their employees.


Share on Facebook

Share on Twitter

Share on LinkedIn

Click here to read all of the Daily's exclusive 2017 Internet Job Reports

Copyright: We reserve the rights to this industry exclusive report and do not authorize its republication or reproduction without written consent which may include a fee. By re-publishing or reproducing this report or any parts of it without authorization the party agrees to pay a fee determined by the D&D Daily.