D&D Daily Crime Analysis: Deadliest Weekend Since 4th of July
Shooting Deaths Hits Highest Number Since July 4th Weekend
146 shootings, 49 killed in 20 Major U.S. Cities from Oct. 16-18

The D&D Daily continued to

analyze violent crime in 20 major cities

, including those in

the DOJ's 'Operation Legend,'

where they've made over 1,057+ arrests since its onset in July.

The study showed

146

shootings and 49 killings from Friday through Sunday, with an average of

48.7 shootings and 16.3 killings per day

-

the highest shooting deaths recorded since the July 4 Holiday Weekend.

As the data shows, July Fourth weekend remains a high point for deadly violence this summer, with 233 shootings and 70 killings in over 30 cities (big and small throughout the U.S.) over just two days during that holiday weekend, averaging 116.5 shootings per day and 35 killings per day.

Below is a weekly breakdown of violence in big cities throughout the summer.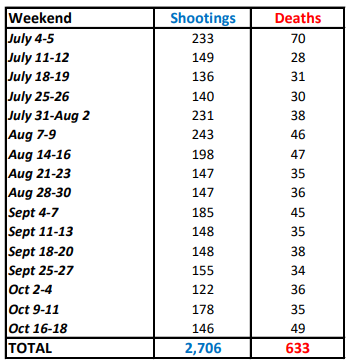 Click here to view the complete breakdown of violence in 20 American cities over the past 9 weekends, and 36 major cities from July to August.

Does this momentum continue up to the election?

The Fed's Are Focused on Chicago
U.S. Attorney's Office Provides Update on Federal Prosecutions and Strategies to Combat Violent Crime in Chicago
The sustained focus on federal prosecution of firearm offenses in the Northern District of Illinois was enhanced by Operation Legend, which launched in Chicago in July. Under Operation Legend, approximately 176 defendants have been charged with federal offenses impacting violent crime in Chicago, including 130 charged with firearms-related offenses, 40 charged with narcotics-related offenses, and 6 charged with other violent crimes. Approximately 1,057 defendants have been charged throughout the country under Operation Legend, including 568 with firearms-related offenses, 411 with narcotics-related offenses, and 78 with other violent crimes.

"The number of violent crimes in Chicago remains stubbornly high, including homicides, shootings, and carjackings, and we have seen troubling increases in these areas in 2020," said U.S. Attorney Lausch. "Our goal as federal prosecutors is not simply to bring more cases against more defendants, but rather to reduce violent crime, and one way to do that is by continuing to bring quality, impactful cases. justice.gov

---

Protests

Election Day Violence & Protests Expected

From NYC to LA People, Officials & PD's Expect Protests
Fearful New Yorkers plan to flee city on Election Day: 'People will go nuts'

"No matter who wins, someone is going to get upset."
Some people want to get out the vote. Others just want to get out.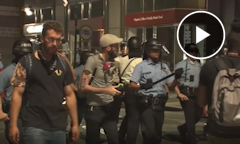 New Yorkers are on edge after a leaked NYPD memo, obtained by The Post, revealed this week that police are preparing for protests to begin as early as Oct. 25 and grow in intensity through next year. The department decreed officers should "be prepared for deployment," adding: "This November 3rd will be one of the most highly contested presidential elections in the modern era. There is also a strong likelihood that the winner of the presidential election may not be decided for several weeks."

And it's not just New Yorkers in flight-or-fight mode. Kacie, a Los Angeles-based graphic designer who declined to give her last name, has rented a cabin in Big Bear, Calif., during the week of the election. "I don't want to be anywhere near West Hollywood, where I live," the Biden voter, 37, said. "I think everyone's lost their damn minds." nypost.com

'Cities Across the nation are Preparing for Election Day Protests'
Philadelphia officials prepare for possible protests ahead of presidential election
City officials in Philadelphia say the city is prepared to deal with any disturbances or intimidation aimed at voters on election day and before.

The Washington Post reports, FBI headquarters is planning its response for potential election day violence or mass protests in the days, following similar to the civil unrest the city saw this summer. 6abc.com

Survey Coming This Week
Election Day in America. How does it impact retail?
Any predictions or comments about what's going to happen?
Share them with the your community. Send them into gus@d-ddaily.net

What's Your Store Plan for Election Day?
Closing early?
Close all day?
Planning extra coverage?
Planning extra guard or off-duty police coverage?
Any special plans at all?
Paying your employees to vote?
If so, explain.
Quick - Anonymous - Educational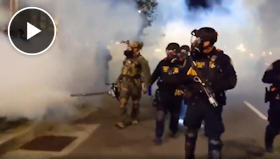 Portland, OR: DHS officers deploy crowd control agents at protesters outside an ICE building
Federal agents in Portland used tear gas to break up a demonstration honoring those who have died in custody of federal immigration officials. The group of protesters gathered at Willamette Park in the early evening Saturday before around 9 p.m. marching to the Immigration and Customs Enforcement (ICE) building and the area around Moody Street. Department of Homeland Security officers issued warnings to stay off the property and out of the street. Video from the scene captured the moments where DHS officers used crowd control munitions on protesters gathered at the entrance of the building. katu.com

El Dorado Hills, CA: Spy plane was sent to monitor protest in affluent suburb, home to head of California National Guard
In early June, four National Guard spy planes took to the skies over several cities to monitor street protests following the killing of George Floyd, triggering concerns that the military was improperly gathering intelligence on U.S. citizens. Three of the reconnaissance planes kept watch on demonstrations in Minneapolis, Phoenix and Washington, D.C., that drew hundreds or thousands of protesters and were marred by violence. But the target of the fourth plane was far more surprising: the affluent Sacramento suburb of El Dorado Hills, the scene of much smaller and entirely peaceful protests. It turns out El Dorado Hills happens to be the home of the head of the California National Guard, Maj. Gen. David S. Baldwin. latimes.com

Anaheim, CA: Disneyland fans, cast members protest park closure:
'Tell the guards to open up the gates'
A few dozen Disneyland enthusiasts and cast members gathered outside the park Saturday to protest its closure, which has meant the loss of more than 28,000 jobs across both of Disney's U.S. theme parks. Disneyland has been closed since March because of the coronavirus pandemic. Walt Disney World in Florida reopened with reduced capacity in July. usatoday.com

Phoenix, AZ: Police arrest 18 people after unlawful assembly declared at protest

Seattle, WA: 5 arrested during protest march after reported property damage

San Francisco, CA: Counterprotesters Attack Conservative Demonstrators at Free Speech Rally; 3 SFPD Officers Injured

Boston, MA: At least 2 arrests made during dueling protests in Boston's Copley Square

Some Portland cops earn over $200G, largely driven by overtime amid protests

---

COVID Update
US: Over 8.3M Cases - 224K Dead - 5.4M Recovered
Worldwide: Over 40.5M Cases - 1.1M Dead - 30.2M Recovered

Private Industry Security Guard Deaths: 203 Law Enforcement Officer Deaths: 124
*Red indicates change in total deaths

CVS to Hire 15,000 to Prepare for Flu and Covid-19 Spike & Vaccine
CVS Health announced on Monday that it planned to hire 15,000 workers to prepare for expected increases in coronavirus and flu cases in the United States during the fall and winter months.

More than 10,000 of the new roles will be full-time and part-time licensed pharmacy technicians at CVS Pharmacy locations to help administer Covid-19 tests, process prescriptions and dispense medications. The additional hires may also help the company distribute a Covid-19 vaccine when it becomes available. nytimes.com

Target to Pay 4th COVID Bonus - $200 to 350,000 Workers - $70 Million
Target said on Monday that it would pay a fourth bonus to its employees who work in stores, distribution centers and staff and employee contact centers, as the pandemic continues and the retailer's sales have soared this year. nytimes.com

The third wave of COVID-19 is here, and it's getting worse
Numbers of cases across the country are rising, particularly in the midwest and rural regions. Two of the most populous counties in North Dakota, where there is no mandate to wear a mask, have become hotspots.

North Dakota, South Dakota, Montana, and Wisconsin have all reached troubling new case rates: over 300 cases per 100,000 people. But the general upward trend extends beyond those states. In total, 45 states are seeing increased cases numbers.

"Although we record two to three times more cases per day compared to the April peak, we still observe five times fewer deaths," said, Dr. Hans Henri P. Kluge, WHO Regional Director for Europe.

A much larger number of people could die in this upcoming season of COVID-19 than did in April, Kluge said.

Americans face scattershot policies on containing the virus, with some states embracing strict new rules around gatherings and mask wearing and other states forgoing these measures all together. Only 34 states require citizens to wear a mask in public. fastcompany.com

WHO: Half of the world's population is experiencing "pandemic fatigue"
As the Coronavirus Surges, a New Culprit Emerges: Pandemic Fatigue
Exhaustion and impatience are creating new risks as cases soar in parts of the world. "They have had enough," one U.S. mayor said of her residents. And in sharp contrast to the spring, the rituals of hope and unity that helped people endure the first surge of the virus have given way to exhaustion and frustration.

In parts of the world where the virus is resurging, the outbreaks and a rising sense of apathy are colliding, making for a dangerous combination. Health officials say the growing impatience is a new challenge as they try to slow the latest outbreaks, and it threatens to exacerbate what they fear is turning into a devastating autumn.

Hot spots are emerging in the South and the Mid-Atlantic region of the United States, and expanding rapidly in the Midwest and the Mountain West. Illinois this past week recorded its highest daily number of confirmed cases since the pandemic began, and the most deaths in a single day since June.

"Citizens have made huge sacrifices," said Dr. Hans Kluge, the W.H.O.'s regional director for Europe. "It has come at an extraordinary cost, which has exhausted all of us, regardless of where we live, or what we do." nytimes.com

Fauci: COVID-19 numbers would have to "get really, really bad" before advocating national lockdown
On a 60 Minutes episode Sunday Fauci said. "First of all, the country is fatigued with restrictions. So we want to use public health measures, not to get in the way of opening the economy, but to being a safe gateway to opening the economy. So instead of having an opposition: open up the economy [to] get jobs back, or shut down. No. Put 'shut down,' away and say, 'We're going to use public health measures to help us safely get to where we want to go." cbsnews.com

FMI Releases Resources on COVID-19 Pandemic Impact on Food Prices
Web experience shows how changes in the supply chain influence food prices in the aisles
FMI-The Food Industry Association today releases a web experience that explains how the COVID-19 pandemic has affected grocery prices more than nearly any other category of consumer spending. In April, the Consumer Price Index for food at-home posted its largest monthly increase since February 1974 and grocery prices are up 5.6% for the period June 2019 to June 2020. businesswire.com

Walgreens Blames COVID For Bonus Cuts
Walgreens employees will, again, not get full bonuses this year. Walgreens didn't pay bonuses last year, and significantly cut the bonus amounts received by store managers and others in 2018.

A year ago, Walgreens leaders said they planned to cut $1.8 billion in costs by 2022 and laid off more than 100 employees in its Deerfield office and was recently updated to $2 billion. Walgreens also plans to close about 250 U.S. stores overall. chicagotribune.com

What the CFO's read:
Zoom Fatigue Setting In
Is Remote Work Working?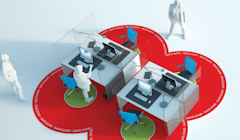 CFOs are using months of experience with remote work and the uncertainty of COVID-19's path to plan for a post-pandemic workplace.

At Ping Identity, CFO Raj Dani has noticed a distinct lack of "on-the-spot learning" opportunities since the coronavirus pandemic forced the cybersecurity firm to shift employees to remote working. "A lot of that comes through spontaneous conversations in hallways or at the water cooler. Those sessions don't happen when you have to schedule a Zoom call and wait three days," he laments.

Then there's all those video conferences that have replaced in-person meetings. "I've sat through a full day of them on Zoom, and it's just incredible the amount of fatigue you feel," Dani says.

After five months of testing the remote-working waters, CFOs interviewed for this story expect that their post-pandemic workforce will include a larger number of permanent work-from-home positions than before.

Playing It Safe

Going forward, companies don't seem to be in a hurry to have employees return to their offices, particularly with no definite end to the COVID-19 crisis in sight. "Risk tolerance is pretty low with regards to allowing people back in while the virus is running rampant without a vaccine," Bant says. cfo.com

OSHA COVID-19 Response Summary in Detail
OSHA Inspectors have removed 634,515 workers from COVID-19 hazards during the panademic.
OSHA anounces $1,222,156 in Coronavirus Violations
COVID-19 related training resources for all workers and employers are available.
Read about OSHA enforcement cases

Zooming Santa's or Socially Distant Plexi-Santa's at PREIT Malls in New Jersey

Gov. Cuomo says changes to NY COVID-19 restrictions may come this week


---

Biggest Retailer Internal Sales Team Rebate Fraud Case of Decade

Back in the News After 7 Years
Pilot Flying J $56.5M Sales Team Rebate Fraud - 17 Execs, Total Cost $233.5M
Convictions of former Pilot Flying J President Hazelwood, staffers overturned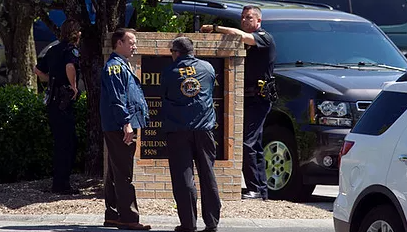 Controversial 'Secret Recording' Ruling Comes Back to Haunt Verdict

A federal appellate court overturned the convictions of former Pilot Flying J President Mark Hazelwood and two members of his direct sales team on Wednesday, ruling a lower court judge shouldn't have allowed jurors to hear a recording that included "deeply offensive racist and misogynistic language."

In its two-to-one panel ruling, the U.S. Court of Appeals for the 6th Circuit, struck down the convictions of Hazelwood and two former sales team executives, Scott Wombold and Heather Jones, over allowing prosecutors to play a secret recording of Hazelwood spewing "profanities about African Americans and women," according to court documents.

"Even if somehow otherwise admissible, the recordings are a textbook violation of (federal rules) because of the risk of unfair prejudice eviscerates any purported probative value."

Hazelwood was convicted after a four-month trial of conspiracy to commit wire fraud, wire fraud and witness tampering and sentenced to 150 months and fined $750,000.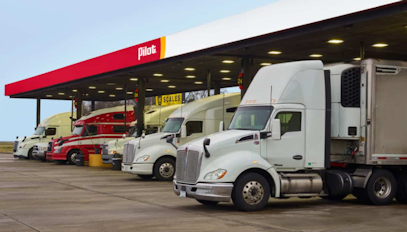 He was the highest-ranking member of Pilot Flying J who was convicted in the plot. Two subordinates were convicted of varying crimes alongside him, and 14 others pleaded guilty. Two were granted immunity. Pilot Flying J's board also admitted criminal responsibility.

The fraud plot - in which trucking firms were cheated $56.5 million in the five-year scheme - cost Pilot Flying J's board $92 million in criminal penalties and $85 million in lawsuit settlements.

Read case continued & editorial opinion here

Deciphering over two dozen articles and court documents over seven years gives us a unique vantage point to see investigative points and critical data not published before in any news outlet. And quite frankly shows Haslam's fear of being prosecuted by the actions he takes. And as they say if you have nothing to fear why fear at all.

Read the complete case history and put the clues together yourself. You'll see it.

---

Compensation Tied to DEI Goals
Starbucks to link executive compensation to DEI goals
In efforts to advance racial and social equity, Starbucks will link executive compensation to diversity, equity and inclusion (DEI) goals beginning in the 2021 fiscal year (FY21), the company said Oct. 14. The Seattle-based company will also launch an Inclusion and Diversity Executive Council in the first quarter of FY21. Starbucks said it's sharing workforce diversity data "in more detail than we have previously shared," as well as making its filings with the Equal Employment Opportunity Commission public. Other initiatives announced include a partnership with employee resource groups and the launch of a leadership mentoring program.

Starbucks has set a goal of Black, Indigenous, and People of Color (BIPOC) representation of "at least 30% at all corporate levels and at least 40% at all retail and manufacturing roles by 2025," according to the DEI report. Starbucks has reached 100% pay equity, according to the report. hrdive.com

BOPIS Use Up 78% & Walmart's #1
Walmart, H-E-B come out on top in grocery pickup, delivery service

Ipsos study also gives high marks to Sam's, Target, Kroger, Whole Foods and Aldi

Walmart, Sam's Club and H-E-B were named the top-performing U.S. grocery retailers for in-store pickup, curbside pickup and home delivery, respectively, in a new study by global research firm Ipsos.

Ipsos said its inaugural E-Commerce Experience Report gauges buy-online-pickup-in-store (BOPIS), curbside and delivery services of major retail brands. The two-pronged study first surveyed 2,000 U.S. consumers about their usage, attitudes and perceptions of retailer pickup and delivery offerings, and then researchers conducted thousands of mystery shopping trips (150 per brand) that evaluated the pickup and delivery services of national and regional retailers.

In grocery retail, Walmart performed the strongest across all measured attributes for BOPIS service. Ipsos' E-Commerce Experience Report said Walmart excelled, in particular, at posting visible signage that steered consumers to the grocery pickup area, which was found in 86% of the stores visited. Rival Target also performed "exceptionally well" in BOPIS, with the retailer having grocery orders ready when promised at 98% of visited locations.

Walmart subsidiary Sam's Club came in at No. 1 in curbside pickup grocery service. Ipsos said the warehouse club chain exhibited a "near perfect performance," especially in allocating dedicated curbside parking spaces at 100% of stores audited. Supermarket giant Kroger was a close second in curbside service, performing well in categories that customers noted caring about most and having orders ready when promised at 97% of locations.

"Use of BOPIS and curbside pickup has increased for 78% of shoppers since COVID-19 began, and 69% expect to continue using it at the same or higher levels after the pandemic subsides." supermarketnews.com

NRF: Retail sales growth speeds up as September marks fourth month of gains
A strong rebound in apparel led a continuing V-shaped recovery from the pandemic as retail sales accelerated their rate of growth in September and marked the fourth straight month of year-over-year gains, the National Retail Federation said today.

NRF's calculation of retail sales - which excludes automobile dealers, gasoline stations and restaurants in order to focus on core retail - showed September was up 1.3 percent seasonally adjusted from August and up 12 percent unadjusted year-over-year. The year-over-year gain was more than double the 5.7 percent year-over-year increase in August, which was unchanged from July. NRF's numbers were up 9.2 percent unadjusted year-over-year on a three-month moving average. Compared with March - the month the pandemic set in - September sales were up 5.6 percent.

- Clothing and clothing accessory stores were up 11%
- Sporting goods stores were up 5.7%
- General merchandise stores were up 1.8%
- Health and personal care stores were up 1.7%
- Building materials and garden supply stores were up 0.6% nrf.com

Long-delayed New York plastic-bag ban to kick off on Monday

Last week's #1 article --
The Economic Devastation of COVID Mapped
America's $2 Trillion Economic Drop, by State and Sector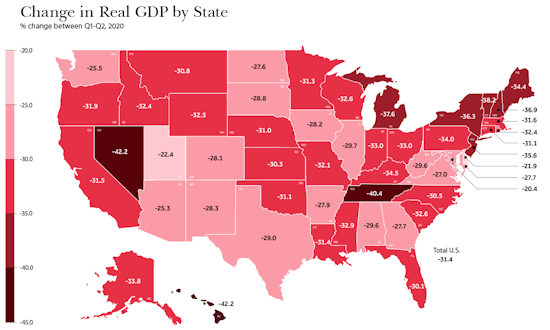 From Russia With Love
Russian Gang Will Be U.S. Fed. Prison Guests For Some Time

Ten Individuals Charged in $50 Million Stolen Electronics
- Russian Smuggling Scheme


An indictment and a complaint were unsealed today in federal court in Brooklyn variously charging 10 defendants with transportation of stolen property, failure to file export information, illegal exportation of electronic devices and conspiracy to commit these offenses. The defendants allegedly participated in the illegal smuggling of electronic devices, particularly Apple products, from the United States to Russia using couriers, many of whom were current and former employees of Aeroflot Airlines.

Akmal Asadov, Sayuz Daibagya, Anton Perevoznikov, Shohruh Saidov, Marat Shadkhin, Kirill Sokhonchuk and Zokir Iskanderov were arrested today and will be arraigned this afternoon via teleconference before United States Magistrate Judge Vera M. Scanlon. Azamat Bobomurodov was arrested in the Northern District of Illinois and will be arraigned in that district later today. Eight arrested today. Two additional defendants are fugitives.

"Those charged today are alleged to have taken full advantage of their position with the airline to smuggle more than $50 million in stolen electronics to Russia," stated HSI Special Agent-in-Charge Fitzhugh.

As set forth in the government's court filings, the defendants allegedly engaged in a scheme to export over $50 million worth of electronic devices, including Apple iPhones, iPads and Apple Watches, from the United States to Russia. The defendants allegedly carried out this scheme by smuggling cash and merchandise via airline passengers, including current and former Aeroflot Airlines employees. Upon receiving instructions from defendant Daibagya, a resident of Russia, Aeroflot Airlines crew members and others travelled to the United States to pick up the electronic devices. Defendants Asadov, Sokhonchuk, Perevoznikov and Shadkhin, together with others in the United States, had obtained the devices, many of which had been stolen, to be sent to Russia without the required export authorizations.

For example, between August 2019 and December 2019, Daibagya took four trips from the United States transporting over 1,000 Apple products valued at over $1 million, and on October 5, 2019, Saidov carried nine suitcases containing 235 Apple products with an estimated value of about $250,000.

As a result of the investigation, the Department of State has revoked approximately 113 visas of Aeroflot employees for their participation in their scheme.

The government's case is being handled by the Office's Organized Crime and Gangs Section. justice.gov

Update: Dallas, TX: Woman who stole goods for 19 years and sold them on eBay has been sentenced to prison and ordered to pay $3.8M
A Texas woman has been sentenced to 54 months in federal prison for stealing millions of dollars in merchandise and selling it on eBay. Kim Richardson, 63, agreed to pay $3.8 million in restitution following an investigation by the Federal Bureau of Investigation and Secret Service, US Attorney Ryan K. Patrick announced in a news release on Thursday. The Dallas resident shoplifted during her travels across the US and then sold the merchandise on eBay and via direct Internet sales before mailing the items by US mail, Federal Express and United Parcel Service.

Buyers who purchased the stolen goods sent about $3.8 million into four PayPal accounts linked to Richardson. During her sentencing, the court said it would be "virtually impossible" to identify everyone who was a victim of Richardson's scheme, according to the release. Richardson pleaded guilty in December 2019. She was allowed to remain on bond, the release said, and voluntarily surrender to a US Bureau of Prisons facility which will be determined "in the near future." albanyherald.com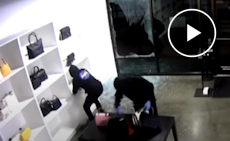 Clarksburg, MD: Surveillance camera captures smash and grab robbery at Gucci store; stole $35,000 worth of merchandise in under 2 minutes
Three masked burglars wearing gloves and dressed in all black broke into the Gucci Outlet Store at the Clarksburg Premium Outlets in Clarksburg and stole merchandise worth more than $35,000, according to police in Montgomery County, Maryland.

The robbery took place just after 3 a.m. on Monday, October 12th. Police just released details of the robbery and surveillance video on Friday. wusa9.com

St Johnsbury, VT: State & local Police arrest Burglar stealing $2,150 of clothing
St. Johnsbury Police and Vermont State Police responded to a report of a burglary in progress at CCR Sports around 9:30 p.m. When police arrived, the suspect, Dominic Bassett, 26, of St. Johnsbury, wasn't there. Officers found him 20 minutes later and recovered the $2,150 worth of stolen merchandise at a home nearby. Bassett will appear in Caledonia County Court this week. wcax.com

Wilmington, DE: 3 Delaware Women Arrested After Dick's Robbery, Pursuit went from Delaware to PA and back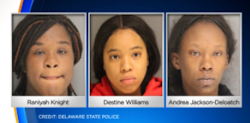 Delaware State Police said Saturday they had arrested three women on multiple charges in connection with a robbery at a sporting goods store during which two employees were pepper-sprayed. Police said in a news release that they responded Friday evening to the Dick's Sporting Goods in Wilmington after a report of a robbery. When troopers arrived, they saw a vehicle fleeing the parking lot and began a pursuit. The suspects traveled into Pennsylvania before returning to Delaware, where troopers used stop sticks to disable their vehicle, the news release said. According to police, the women fled the store with unpaid merchandise after one of them pepper-sprayed a 53-year-old male employee and a 30-year-old female employee when confronted. The male employee was taken by ambulance to a hospital for treatment. philadelphia.cbslocal.com

Lower Paxton Township, PA: Four arrested following Robbery at Tanger Outlet; suspect may be tied to earlier Robbery
Four people have been charged in connection with several robberies and a police chase through Dauphin and Cumberland counties Saturday afternoon.According to Lower Paxton Township police, officers got word around 4:42 p.m. Saturday that a robbery had occurred at the Tanger Outlets in Derry Township in which three or four suspects had used pepper spray and fled in a white Chevrolet SUV with a temporary Delaware registration plate. After the arrests, police say they received additional information about a similar robbery earlier that day at the outlets in Lancaster. pennlive.com

Shootings & Deaths
Atlanta, GA: Video shows man open fire in the middle of Neiman Marcus to stop robbers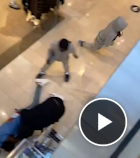 Atlanta police say a victim opened fire on the people attempting to rob him in the middle of a department store at Lenox Square. Police said they were called out to Neiman Marcus inside the mall around 4:45 p.m. Friday after an off-duty officer was flagged by someone who said a person was being robbed inside the store. When the officer got to the victim, he told the officer that four men attacked him as he was checking out at the store and attempted to steal his bag. Lenox Square robbery victim arrested by Atlanta police. During a failed robbery attempt inside the Neiman Marcus at Lenox Square on Friday afternoon, Treonta Deon Williams, 30, was at the cash register when he was shot at by intruders. The victim helped identify two of the four robbers, who were subsequently arrested and charged. Williams was also arrested and taken into police custody. Atlanta police say the victim had warrants out for his arrest. wsbtv.com

---

Robberies, Incidents & Thefts
Fort Worth, TX: Feds say they've busted meth ring run by owner of Fort Worth clothing store
In a small shopping center across the street from a Fort Worth high school and a few blocks from Texas Christian University, one could buy clothing, shoes and hats out of a store called Funky Town Swag, and also methamphetamine, according to federal officials. The Drug Enforcement Administration has busted the alleged meth ring, and 30 people have been charged as part of Operation Ice Tank, officials said. Johnny Ray Rodriguez Jr., the owner of the now-shuttered Funky Town Swag, was the ringleader, authorities said. His attorney could not be reached Friday for comment. dallasnews.com

Harrisonburg, VA: Five hurt after store explosion near James Madison University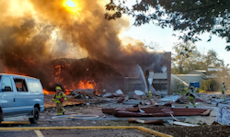 Five people were hurt after a likely gas explosion at a strip mall in Harrisonburg, Va., just blocks from the campus of James Madison University, according to reports. The early Saturday blast could be felt for miles around and sparked a fire that eventually caused so much damage, several shops were razed. Among the victims were three James Madison University students who suffered minor injuries. The trio had been standing outside the store when the explosion occurred, part of an Army ROTC running group which had been involved in a 10-mile race, the finish line of which was just yards from the explosion site. nypost.com

New Orleans, LA: 'Stolen Hedge Clipper' Case Takes a Turn; Fair Wayne Bryant leaves prison after 23 years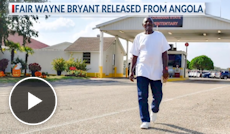 A Louisiana man is no longer serving life for trying to steal hedge clippers. State officials granted Fair Wayne Bryant parole Thursday in a 3-0 vote after his case drew widespread attention-and a scathing rebuke from a Louisiana high court justice, the New York Times reports. "Mr. Bryant was given a second chance today," said Bryant's lawyer at his parole hearing. "His life sentence, a result of an oppressive habitual sentencing scheme, came after a series of minor pecuniary crimes to fuel an untreated drug addiction. He was sentenced to a life in prison instead of given the help he needed." Parole board members acknowledged that Bryant's past felony convictions-only one of which was violent-resulted from his problems with drug addiction, per the Advocate. newser.com

Birmingham, AL: Law firm challenges Life sentence of man for stealing nail gun
The Foundation for Moral Law, the legal organization led by former Alabama Supreme Court Chief Justice Roy Moore, today filed a federal court petition challenging the life sentence of a man for stealing a nail gun from Lowe's in Foley in 2012. The petition, filed in U.S. District Court in the Southern Division of Alabama, says Willie Lee Conner was guilty of shoplifting the $250 gun, a misdemeanor, but not first-degree robbery, a Class A felony, as a jury found. Conner was not armed when he was caught stealing the nail gun, the petition says. After store security caught him outside the store, Conner reached into his pants to retrieve the stolen nail gun and said, "I have a gun," the petition says. The Lowe's employees wrestled Conner to the ground. A search found he had a small pocket knife and the nail gun. He was escorted to the store office where he signed a statement admitting to the theft, the petition says. The jury convicted him of first-degree robbery when the charge should have been a misdemeanor level of theft of property, the petition says. Conner had three prior felony convictions, all for theft. After the robbery conviction, the judge sentenced him in 2013 to life with the possibility of parole under the state's Habitual Offender Act. The petition says that under the Habitual Offender Act, the judge's only options for sentencing were life or life without parole. al.com

Rampant shoplifting leads to another Walgreens closing in S.F.
After months of seeing its shelves repeatedly cleaned out by brazen shoplifters, the Walgreens at Van Ness and Eddy in San Francisco is getting ready to close. sfchronicle.com

Fernley, NV: A man was found living in the rafters of a supermarket after his foot fell through the ceiling
The night shift employees at a Nevada supermarket were in for a surprise when a foot fell through the ceiling of the grocery store. When the workers of Raley's in Fernley, Nevada, called the police on September 30, they learned that the foot belonged to Matthew Hammer, a man the Reno Gazette Journal reported was reportedly living in the store's ceiling for a week, according to local police. insider.com