The D&D Daily Mobile Edition
LP, AP & IT Security's #1 News Source

---
Group LP Selfies
S
ee all the selfies here

2018 GLPS - Group LP Selfies
Your Team - Your Pride - Our Industry
Building Industry Pride - One Team Selfie at a Time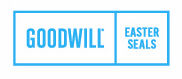 Goodwill-Easter Seals Minnesota Risk Management and AP Team Holiday Outing
"Together, we prepare people for work"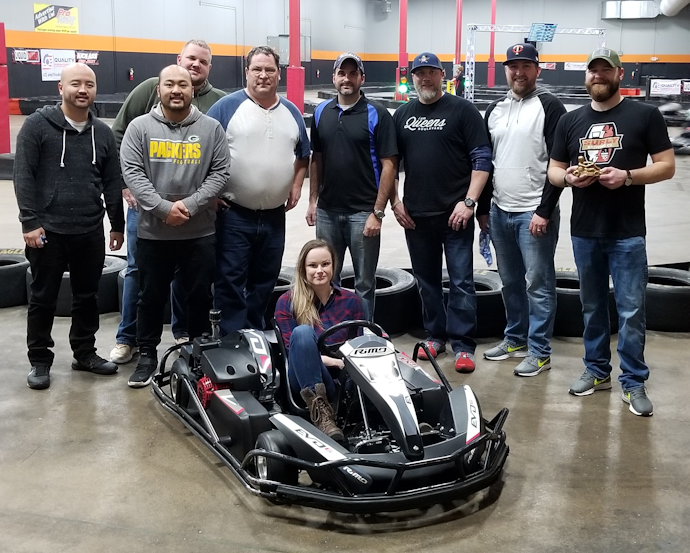 Featured in Picture, left to right: APA Tony Vang, DABP Chai Vang, DABP Dillon Gherna, Security Specialist Wayne Ruppert, Director Damon Burger, Risk Manager Jamie Schlenvogt, DABP Erik Hansen, Coordinator Bandon O'Hearn

Pictured in Front: DABP Jen Kunde

Not pictured: Security Specialist Felicia Harris
---
Got a picture of your team on your cell phone?

Send it to us!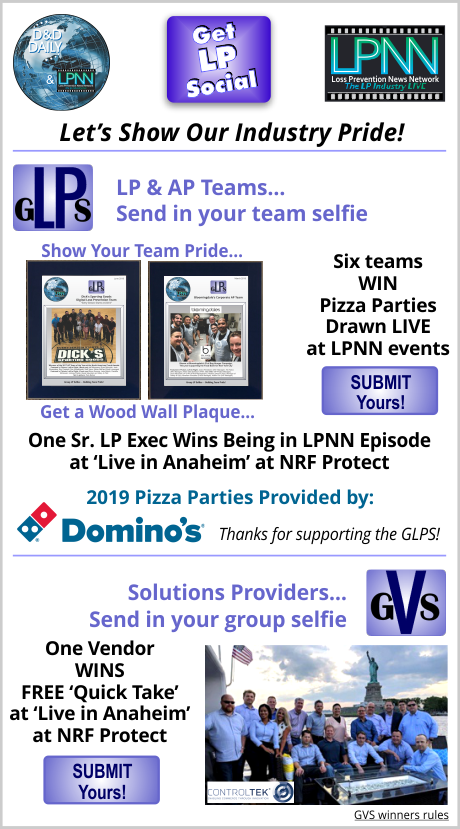 ---
Top Industry News
Indiana: Organized Retail Theft: State Bill 0254 Introduced today by State Senator John Ruckelshaus (R)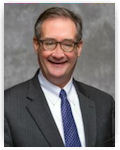 IN SB2054, Organized retail theft. Makes theft a Level 6 felony if a person: (1) knowingly or intentionally exerts unauthorized control over property and the person uses the Internet to sell, deliver, or distribute the property; or (2) knowingly or intentionally exerts unauthorized control over retail property having a value of less than $750 and certain other conditions apply. Makes theft a Level 5 felony if: (1) the value of the retail property is at least $750 and less than $2,500 and certain other conditions apply. (2) the retail property is a firearm; (3) the retail property is exchanged for cash, a gift card, a merchandise card, or other item of value; or (4) the person has a prior unrelated conviction for theft or criminal conversion. Makes theft a Level 4 felony if the value of the retail property is at least $2,500 and certain other conditions apply. Provides that, in determining the value of the property, acts of theft committed in a single episode of criminal conduct maybe charged in a single count. Provides that theft of retail property that occurs in more than one county over a six month period may be tried in any county where the theft occurred. Indiana State Senator John Ruckelshaus (R) can be contacted at 800-382-9467 or email Senator.Ruckelshaus@iga.in.gov in.gov

Retail's Future is Still Bright
A Happy Uncertain Risky Promising Disruptive Prosperous 2019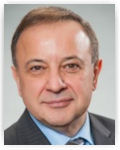 By Tony D'Onofrio, Global Retail Influencer

Standing out in the just completed year 2018 was the global progress of the retail industry. China flexed its consumer muscle with Singles Day and Alibaba grossing $30.8 billion ecommerce sales in just 24 hours. We stopped fixating on Amazon taking over the retail world and we closed the year with the healthiest USA holiday shopping season in six years.

In 2019, world retail sales growth will hold steady at 3%. India and China will lead the expansion of retail in developing countries. Malaysia and Philippines will gain prominence as sales in Asia and Australasia rise by 5% by 2019, twice as fast as North America. Western Europe markets will stagnate. Retail sales in Russia and its neighbors will grow 4% in 2019 after expanding 6% in 2018. Latin America will recover slightly. Global e-commerce sales will grow 21%.

New markets will continue to open for the global retail industry. Tourism, which remains a major opportunity for destination shopping for department stores, will continue to grow.

In 2019, the "industry killing" USA Millennials will assert their generational leadership. Swelling to 73 million, millennials are expected to overtake Boomers as they decline to 72 million. Generation X (ages 36 to 51 in 2016) is projected to pass the Boomers in population by 2028. These new generations will technologically disrupt retail. tonydonofrio.com

Retail Workforce Leads Nation in Drug Test Positives
Workforce Drug Positivity Rises by Double-Digits in Almost One-Third of U.S. Industry Sectors Examined
The data from the Quest Diagnostics Drug Testing Index industry analysis show that the Retail Trade (5.3%), Health Care and Social Assistance (4.7%), and Real Estate Rental and Leasing (4.6%) sectors had the highest overall positivity rates in 2017, while the Utilities (2.8%) and Finance and Insurance (2.6%) sectors had the lowest rates.

Five sectors experienced year-over-year increases with a double-digit increase in their positivity rates between 2015 and 2017: Transportation and Warehousing (21.4%); Other Services (Except Public Administration) (15.4%); Finance and Insurance (13%); Retail Trade (12.8%); and Wholesale Trade (11.8%).

Our analysis suggests that employers can't assume that workforce drug use isn't an issue in their industry. In fact, drug test positivity in the majority of industry sectors analyzed is growing," said Barry Sample, PhD, senior director, science and technology, Quest Diagnostics Employer Solutions. "The highest rates were in consumer-facing industries, including jobs in Retail and Health Care and Social Assistance."

Marijuana tops the list as the most detected substance

The Retail Trade sector, with the highest 2017 positivity rate among the sixteen sectors reported, observed increases in overall positivity in each year between 2015 and 2017 (positivity rate of 4.7% in 2015, 5.1% in 2016, 5.3% in 2017). In addition to a nearly 43 percent growth in cocaine positivity between 2015 and 2017 -- overall twice the increase of the general U.S. workforce -- marijuana positivity increased more than 18 percent in the sector.

Workforce Drug Positivity Rises by Double-Digits in Almost One-Third of U.S. Industry Sectors Examined | 2018-12-31 | Security Magazine
● Cocaine positivity is higher in most sectors in 2017 as compared to 2015. The following sectors experienced the greatest year-over-year increases in cocaine positivity between 2015 and 2017:
- Retail Trade (42.9%) - #1 securitymagazine.com
HR Professionals Worry Most About Active Shooters; Marijuana Policies in 2019
Another perplexing and challenging issue this year? Dealing with increasing marijuana use. Medical marijuana is legal in approximately 30 states and recreational marijuana use is now legal in more than 10 states including the District of Columbia. Notwithstanding this, marijuana remains classified as a Schedule I controlled substance and illegal under federal law.

Despite the fact that more and more states are legalizing marijuana for medical and recreational purposes, it is still critical to maintain a drug-free workplace. An employer can do this by:

Making sure it has the proper policies in place including, but not limited to, drug testing policies, disciplinary policies and safe driving policies.

Providing training on the potential dangers of drugs to the workforce and why they are such a cause for concern. Employers, supervisors and employees must recognize the costs to the workforce including increased inattention, increased absenteeism and tardiness, lost productivity, increased potential for accidents and injuries leading to increased insurance costs and premiums, increased workers' compensation claims and reduced profits.

Conducting legally compliant drug testing. securitymagazine.com

Home Depot whistleblower sues for defamation and retaliation
James Girsch, 65, a former employee of the Home Depot in Escondido, whose Georgia parent company in March 2018 was assessed a $27.8 million fine for illegal hazardous waste dumping, is suing the company, claiming he was punished for being a whistleblower on Home Depot's longtime alleged illegal activities. Activities he claims Home Depot continues, despite it being put on a five year consent decree by the courts not to do it again. times-advocate.com

Apple's latest Transparency Report
Government data requests rise, as does Apple's compliance
"Government request circumstances can vary from instances where law enforcement agencies are working on behalf of customers who have requested assistance regarding lost or stolen devices, to instances where law enforcement are working on behalf of customers who suspect their credit card has been used fraudulently to purchase Apple products or services, to instances where an account is suspected to have been used unlawfully," Apple wrote. "Our legal team reviews requests received to ensure that the requests have a valid legal basis. If they do, we comply with the requests and provide data responsive to the request. If we determine a request does not have a valid legal basis, or if we consider it to be unclear, inappropriate and/or over-broad, we challenge or reject."

U.S. government data requests in this category far outpaced any other country with 2,397 requests. Apple attributed the high number of U.S. requests to "extortion, fraud, and suspected unauthorized account access/phishing investigations."

Apple's compliance with these requests has also been on the rise with data provided in 54% of cases in 2013 and 81% in 2017. techtarget.com

Video surveillance trends push global market into the billions
BIS recently released a new market intelligence report, "Global Video Surveillance Market – Analysis and Forecast, 2018-2023," indicating the global video surveillance market is estimated to grow over $77.21 billion by 2023. This increase is driven by the rising demand for IP cameras, video content analytics (VCA) and Video Surveillance as a Service (VSaas) to help mitigate rising security concerns as well as the need for the security industry to provide highly efficient, time-saving surveillance systems at an affordable price.

BIS also noted the camera market seems to be acquiring major market share within the video surveillance industry as seen by a proliferation of IP camera-based surveillance systems in response to increased consumer demand for more physical security. securitysystemsnews.com

Americans Expect Corporations to 'Do the Right Thing'
Seventy-eight percent of Americans expect businesses to address "social justice issues" such as creating local jobs and addressing racial equality and women's rights, according to a 2017 study released by Cone Communications.

Eighty-seven percent of people indicated they would buy a product from a company because that company supported a cause they care about. Meanwhile, 76 percent said they would refuse to buy goods or services from a company if they found out it supported causes that run counter to their beliefs, according to Cone's research.

Many businesses are taking note of the value consumers — and potential employees — put in good corporate citizenship and are embracing social responsibility programs earlier and more actively than businesses did a generation ago, observers say. denverpost.com

Clicks-to-Bricks Gaining Momentum - But It's A Slow Go
Online Retailers to Open 850 Stores Over Next Five Years
Retailers that initially made most, if not all, of their sales online plan to open 850 stores over the next five years, with the average clicks-to-bricks store measuring about 2,800 square feet, according to a report from real estate firm Jones Lang LaSalle.

Some will undoubtedly end up in Chicago. The city ranked a distant fourth among locations where so-called clicks-to-bricks brands open a first permanent store, behind New York, Los Angeles and San Francisco, JLL said.

But don't count on the newer online brands to fill all that empty space in malls and shopping centers. Most are picky when it comes to where they want to put their stores, and many have their sights set on the same affluent neighborhoods and high-end malls.

Clicks-to-bricks brands tend to cluster in the same malls or neighborhoods that are already known as shopping destinations.

"The retail apocalypse people talk about is more about the huge big-box retailers." chicagotribune.com

Toys R Us & Sears Contributes to Almost Half of Retail Industry's 2018 Total Job Loss
For the year, the retail industry has reported plans to cut 98,563 jobs, the most of any industry and well ahead of the second-place telecom industry which has announced 59,568 cuts.

The retail industry accounted for more than 18% of 2018's job losses. Retailers closed 3,886 stores in 2018, far fewer than the 9,801 closures in 2017. But massive job losses for the shutdown of Toys "R" Us and Sears/Kmart combined to add about 40,000 lost jobs in 2018. 247wallst.com

The Clock is Ticking Quite Quickly for JCPenney
2019 Will Be The Year JCPenney Flips -- One Way Or Another
If 2018 was the year Sears finally succumbed to the inevitable, and the year before marked the beginning of the end for Toys "R" Us, then this new year will be all about JCPenney.

Not that the retailer is going out of business, though that could be its ultimate fate. More likely, whatever happens to the beleaguered company over these next 12 months there will still be a JCPenney in the marketplace.

But 2019 will clearly be the year when the attention of creditors, financial institutions and, perhaps most importantly, the company's vendors will be most focused on what the retailer does to survive. And JCPenney will need to address all of their concerns—one way or another. forbes.com

SDM 2019 Security Industry Forecast: Channeling Momentum Into Opportunities
Results of SDM's 2019 Industry Forecast Study show that security integrators grew their total annual revenue by an average of 15 percent last year; they expect that momentum to bring them face-to-face with prosperous opportunities in 2019, as long as the economy stays strong.

Last year saw double-digit growth in both total annual revenue and recurring monthly revenue (RMR) for integrators and dealers who participated in the study. Their total revenue increased by an average of 15 percent, while RMR grew by an average of 21 percent. sdmmag.com

Card shimming could be the new card skimming
Officials are warning the public to look out for 'shimming.' It's very similar to skimming, but this technique targets the card's chip. The crooks put a 'shim' which is a paper thin device into the credit card slot and that device copies your credit card information. wxxv25.com

Sr. Jobs Removed From Postings
Metro One VP - Security Operations job no longer posted on Indeed
Dollar General - Divisional LP Director based in Florida job no longer listed
Nike - Director of LP for APLA job has been removed from website

Lampert's Plan B For Sears - Only Buy 250 Stores & Certain Assets

8 Retailers That Went Out Of Business Or Closed Stores In 2018

OSHA Now Using Drones to Inspect Employer Facilities

Amazon to recruit vets to fill HQ2 jobs in Virginia

Walmart goes all out to hire truck drivers
---

---
---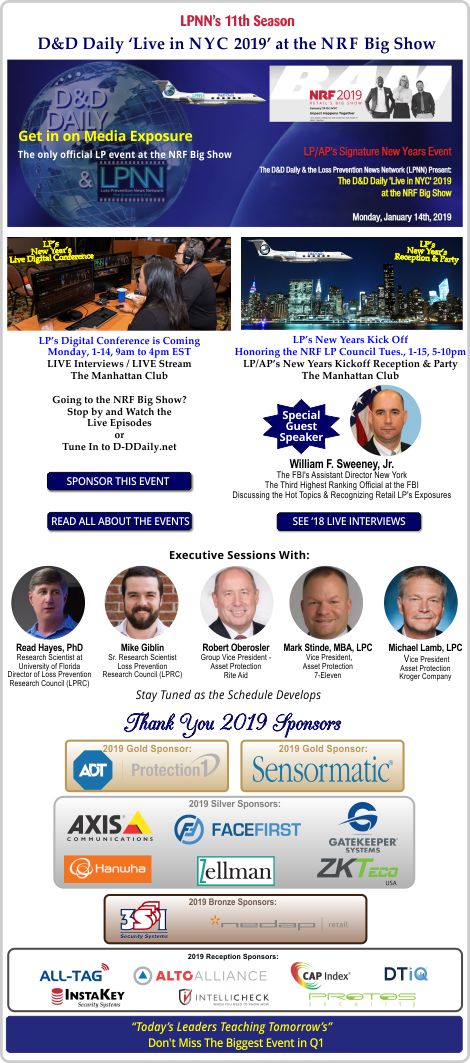 ---
Solutions Spotlight

How 7 Business Leaders Rate Privacy, Security and Convenience
By Jesse Davis West, Director of Content Marketing, FaceFirst Face Recognition Software

Many consumers today desire privacy, security and convenience at the same time. But these factors can often seem in direct opposition to each other. While it's possible to provide customers with all three, different businesses are going to prioritize these factors in different ways.

In his new book, The New Rules of Consumer Privacy, FaceFirst CEO Peter Trepp asked some business leaders how to prioritize these three vital factors. Here's what they had to say along with some of Peter's own thoughts on the subject.
---
"One of the biggest challenges businesses find themselves in is balancing consumer privacy, security, and convenience. More convenience often leads to lower levels of security and thus privacy. A good illustration of this would be two-factor authentication versus a weak password. Obviously two-factor authentication is a more time-intensive user experience but it provides much more security and privacy over the opposite, a weak password.

Privacy, security, and convenience each need to be prioritized. However, at the end of the day, one reigns supreme... Security. We can learn a lesson from the massive data breaches that have occurred (and continue to occur) each year. Whether it's credit card information or social security numbers, when security isn't a top priority, privacy and convenience mean nothing." - Dan Scalco, Owner, Digitalux
---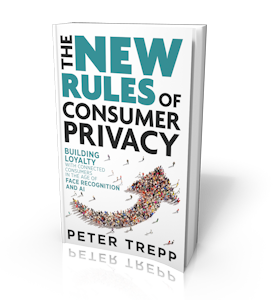 "I think it goes back to value exchange. Consumers have a range of things they are willing to give up or give away, but only so long as they feel like they are getting something out of it. Case in point: if, as consumers walked into a retail store, an employee with a tablet stopped them and said, "Hey, give me your email address so we can send you some ads", the opt-in rate there would be very low. But if the employee was at the register, and the value proposition was "Give me your email address so I can email you the receipt", then the opt-in rate is usually higher. Consumers have been shown to be much more willing to give up personal information in exchange for knowing where their orders are, or to make it easier to make a return later, etc., and less willing to give up personal information just so a retailer can sell to them harder. So, my recommendation to business leaders is, think hard about what you're offering vs. what you're asking for. If you're asking for a lot, you better be delivering a lot of perceived value on the part of the consumer. That can come from saving time (convenience) or from saving money." - Nikki Baird, VP of Retail Innovation, Aptos


Click here to read more expert opinions.
---

---

Convergence of Physical Security & Cyber Security Gaining Momentum
Airports Struggle to Build Comprehensive Cyber Defenses
Airports are targets for hackers trying to interrupt flight plans to disrupt trade and passenger travel, as well as those looking for sensitive business information, according to security experts. But airports face especially tough obstacles to coordinate infrastructure and technology management among airlines and other vendors that do business in terminals.

Many airports don't employ chief information security officers, leaving various executives to oversee cybersecurity measures.

Tampa International Airport plans to start building a security operations center next year to allow cybersecurity and physical security experts monitor threats side-by-side, according to Michael Stephens, the airport's general counsel and executive vice president for information technology. The airport will also train security staff to better detect cyber threats around the clock, he said.

Housing physical security and cybersecurity in the same building will let Tampa International's security experts respond faster to suspicious activity and speed up communication between cybersecurity analysts, airport operations teams and authorities such as the Transportation and Security Administration, he said.

In most cases these people are located in different spaces or sometimes completely different buildings. Sometimes when something happens, you don't necessarily know until it's gotten out of control," Mr. Stephens said. WSJ Pro Cybersecurity

AI in Security Carries as Many Questions as Answers
While companies are definitely employing machine intelligence in security, the perception of its value is not universally positive. According to the report, 60% of organizations employing AI think that AI makes investigations of alerts faster. The same proportion report that AI improves the efficiency of their security staff.

The more an organization employs machine intelligence, the more positive its perception of the technique's effectiveness. In companies that have deployed machine intelligence in 10% or less of their security applications, 49% see it speeding their research of alerts. In those companies employing machine intelligence in more than 10% of their security, that number rises to 69%.

Still, machine intelligence isn't perceived as perfect. Some 60% of responding organizations say that it doesn't deal with zero-day or advanced threats, and roughly half complain that it generates too many false positives. These issues are due at least partially, say some experts, to the difficulty in properly training machine learning engines.

She points out that machine learning professionals are rarely experienced in cybersecurity, while cybersecurity experts tend to have no real data science experience. The disconnect slows improvement and wide, effective deployment. "You still need somebody who can understand the data going in and the data going out. It hasn't yet been automated to a point where you can remove the professional to actually get meaning from the data."

Peypoch looks at data in the report and sees future progress that is almost inevitable. "AI is one tool for driving efficiencies. It can make your limited staff more effective, but it's not going to replace human staff anytime soon. darkreading.com

Setting Up Strong Ethical Processes & Committee Reviews
Time to instill trust and confidence in artificial intelligence
While artificial intelligence-based initiatives are delivering positive results, executives are still taking a cautious approach to the technology. One area of concern is the ethics and potential business value of AI -- seven in 10 even have special ethics training for IT professionals working with the technology.

Ethics, confidence and business value in AI were front and center in a recent survey of 305 enterprises, conducted by Forbes Insights in partnership with SAS, Accenture and Intel. When looking at only those who have reported having deployed AI, 51 percent say the impact of deployment of AI-based technologies on their operations has been "successful" or "highly successful

The survey report defines AI as "the science of training systems to emulate human tasks through learning and automation." AI adopters indicated relatively strong ethical processes in place today, with 63 percent affirming that they "have an ethics committee that reviews the use of AI," and 70 percent indicating they "conduct ethics training for their technologists." zdnet.com

Wising Up to the Insider Threat Risk
Trusted Insiders Skipping the Rules - Undermining Corporate Security
The Data Exposure Report, showed that malicious users are not the only insider threat to enterprises. Business and technology leaders are also seriously undermining corporate security with data usage practices and attitudes that they often know are risky but persist with anyway.

For instance, 41 percent of the business leaders in Code42's survey admitted to downloading unapproved software on their devices despite knowing their IT organisation would consider that a security risk. Their reasons for doing so included convenience; use of the software in their personal lives; and improved productivity.

Organizational leaders are putting sensitive data at risk in numerous ways. More than 79 percent of business leaders keep a copy of their work on a laptop or other personal device not directly under the control of the IT department, though many are aware of the risks involved.

A high percentage of those indulging in this sort of behaviour are aware of the value of the business data they are putting at risk. More than 7-in-10 (74 percent) business leaders in Code42's survey agreed that data was their organisation's most precious asset. Troublingly enough though, 65 percent of business leaders held the view that the data they create belongs to them personally. Nearly half (49 percent) of business leaders —and a sobering 72 percent of chief executives —admitted to taking IP with them to their next employer. technative.io

McKinsey & Company: Insider threat: The human element of cyberrisk
Insider threat via a company's own employees (and contractors and vendors) is one of the largest unsolved issues in cybersecurity. It's present in 50 percent of breaches reported in a recent study. Companies are certainly aware of the problem, but they rarely dedicate the resources or executive attention required to solve it. Most prevention programs fall short either by focusing exclusively on monitoring behavior or by failing to consider cultural and privacy norms.

Some leading companies are now testing a microsegmentation approach that can target potential problems more precisely. Others are adopting in-depth cultural change and predictive analytics. These new approaches can yield more accurate results than traditional monitoring and can also help companies navigate the tricky business of safeguarding assets while also respecting employees' rights. mckinsey.com

Ransomware suspected in cyberattack that crippled major US newspapers
Source inside Tribune Publishing says printing outage caused by Ryuk ransomware infection.

The Ryuk ransomware strain is the primary suspect in a cyberattack that caused printing and delivery disruptions for several major US newspapers over the weekend.

This type of ransomware was first described in a Check Point report published over the summer. The ransomware is primarily deployed in targeted attacks on high-value targets with the hopes of netting cyber-criminals profits from companies that can't afford a major downtime. Previous Ryuk ransomware victims include major Canadian restaurant chain Recipe Unlimited. zdnet.com

Google IL biometric privacy suit dismissed for lack of injury

Five Charts: The State of Retail Tech

#1 Topic - 58% of US Retail Marketing Leaders Actively Discussing Data Privacy & Security
---

Top 5 LPNN Videos of 2018
#4 Most Watched
GOLD SPONSOR

Cloud-Based, Data-Driven
Retail Solutions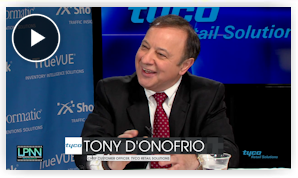 Tyco Retail Solutions, part of Johnson Controls, is a leading provider of analytics-based Loss Prevention, Inventory Intelligence and Traffic Insights for the retail industry. Their retail portfolio features the premier Sensormatic, ShopperTrak and TrueVUE brands, as well as a full suite of building technology solutions. Tony D'Onofrio, Chief Customer Officer for Tyco Retail Solutions, talks about Tyco's latest innovations, the trends shaping retail, and the new technologies that excite him the most.

See our 'Live in Dallas' Top 5 and 'Live in NYC' Top 5 videos here.
---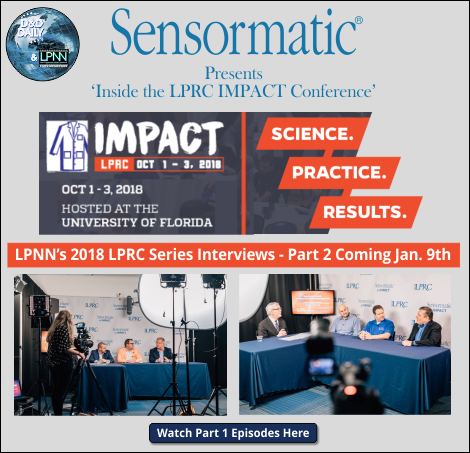 ---

---

---

---
e-commerce

Sponsored by The Zellman Group

8% Of Holiday Packages Were Delayed, But Communication Mitigates The Pain
The holiday rush doesn't just clog queues at brick-and-mortar stores — it also causes backups for package carriers. An estimated 8% of packages handled by UPS and FedEx had delayed deliveries during the 2018 holiday season, according to a study by lateshipment.com. That may seem like an acceptably low percentage during a busy shopping period —until you consider that UPS handled a total of 800 million deliveries this year, with another 425 million delivered by FedEx. That translates to approximately 98 million late gift deliveries.

While retailers can't control the efficiency of third-party shippers or factors such as severe winter weather, they can manage the relationship with their customers. Retailers have a number of options for dealing with delays, from providing pre-purchase advisories to addressing customer dissatisfaction after a package arrives late. Key strategies include:

● Placing a warning on the site home page
● Adjust delivery windows
● Call the affected shopper
● Compensation after the fact

Not all retailers will face the same rate of delays: apparel in particular saw a 5% increase in delays during the 2017 holiday season compared to the rest of the year. This industry, along with wine, subscription boxes and others, saw a 120% jump in deliveries during the holiday season, which resulted in a significant share of shipments arriving late:

● Electronics: 15% delay rate for UPS, 6.4% for FedEx;
● Wine: 16.3% delay rate for UPS, 9.73% for FedEx;
● Apparel: 12% delay rate for UPS, 20.36% for FedEx;
● Jewelry: 14% delay rate for UPS, 18.36% for FedEx; and
● Subscription Boxes: 11% delay rate for UPS, 9% for FedEx. retailtouchpoints.com

Law regulating online shopping activities enforced in China
China on Tuesday officially enforced a new law to regulate its vast e-commerce sector, with an aim to regulate the flourishing online shopping market that has been littered with counterfeit and copycat products.

The legislation, which passed in August and officially came into effect on January 1, 2019, aims to fight against unethical sales practices on the internet by demanding all e-commerce operators to protect consumer rights, interests, and personal information, as well as safeguard intellectual property rights and cyberspace security.

Aside from major e-commerce websites and mobile apps like Alibaba's Taobao and Tmall, JD.com, and Pinduoduo, merchants doing business on these e-commerce platforms and those who operate online business through their own websites are also subject to the regulation of the new law, a Chinese news report said. zdnet.com

India tightens online marketplace rules, marking a possible blow against Amazon and Walmart

Chinese e-commerce giant, JD.com shakes up divisions

"Fraud is not a person - it is a dynamic grouping of statistics that deviate from the norm."

Stuart B. Levine, CFI, CFCI
CEO, The Zellman Group & Zelligent
---

---
ORC News
Sponsored by Auror

Fairfax County, VA: 4 Arrested in $10,000 Credit Card/ Identity Fraud
Members of the Christmas Anti-Theft Team were working a shoplifting case when they were notified by a Loss Prevention Officer of a possible credit card fraud situation. The Loss Prevention Officer indicated he saw a woman in this store who was recently seen using fraudulent credit cards in a Maryland store. Officers began watching her while other officers made contact with the victim who lives in California. While watching the woman, other suspects were developed. Two men and two women were arrested at their car. Over $10,000 in fraudulently purchased merchandise was discovered inside. fairfaxnews.com

Hutchins, TX: FedEx employees charged after allegedly stealing nearly $50k worth of packages
Several FedEx employees are facing theft charges after police say they stole nearly $50,000 worth of items from packages that were being shipped. Police say the packages, taken from the FedEx hub in Hutchins, contained a total of 94 cellphones and an Apple Watch. According to an arrest warrant, Wade Hal, 58, and Larry Poole, 47, paid a manager and security guard to look the other way as they took items from packages and stuffed them into backpacks. Hal and Poole have been charged with theft of property, a third-degree felony. The two plus the manager and security guard have all been charged with engaging in organized criminal activity. fox4news.com

Minot, ND: Victoria's Secret employee sentenced to jail for stealing $35,000 of merchandise from store
Authorities say 19-year-old Pru Bray took the items out of the store in bags or wore them under her clothing, then sold them at rummage sales or gave them as gifts. The Minot Daily News reports that if Bray stays out of trouble for three years, a felony theft charge against her will be dismissed. A decision on restitution will be made later. Bray has already returned items valued at more than $15,000. thenewstribune.com

Bethlehem Township, PA: 3 Men arrested using Counterfeit Money to purchase high value items from Best Buy, Target and The Home Depot
Three Hispanic men using Counterfeit $100 bills to purchase high valued items at Best Buy. The men were found in possession of high dollar headphones and power tools with receipts from Target and Home Depot in New Jersey. The men were in possession of $1,400 in real currency and $6,300 in counterfeit $100 bills. The men are all from New York City. Information supplied by METRORCA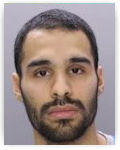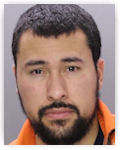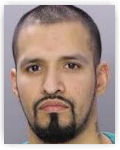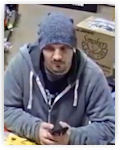 Stapleton, CO: Man wanted for walking out out of family-owned store with $7,000 worth of stolen tools
Employees of a family-owned AIS Industrial & Construction Supply were left stunned on New Year's Eve when a man who seemed to need help purchasing tools walked out of the store with more than $7,000 worth of stolen items. The suspect took a Milwaukee propress valued at $5,324.50 and a Ridgid kit propress valued at $2,239.70. 9news.com

Two arrested in Saks handbag thefts on Greenwich Ave
Two suspects have been arrested in connection with a theft of handbags from Saks in July of 2018. Greenwich police issued warrants for the arrests of the suspects accused of taking part in the theft of $7,000 in merchandise from the Greenwich Avenue store on July 31. Authorities were notified that two of the suspects were being held in custody in Pennsylvania. lmtonline.com

Janesville, WI: Over $2000 worth of razor blades taken in Walgreens heists
Two Janesville Walgreens stores lost more than $2,000 worth of razor blades in a coordinated criminal operation last July and a third Walgreens lost hundreds of dollars worth of other merchandise, according to a criminal complaint filed in Rock County Court on Wednesday. The complaint charges Christopher M. Griese, 36, with two counts of felony retail theft and one count of misdemeanor retail theft. gazettextra.com

Homer, AK: Save-U-More employee Arrested for Christmas Eve/ Day Burglary
Homer Police arrested a former Save-U-More employee for allegedly robbing the store late last month. On Christmas Eve and Christmas Day, police say Earl Watson stole items such as a 50-inch screen TV, some chainsaws and other appliances. Save-U-More was closed on Christmas Day. Employees realized items were stolen a few days later and reported the incident to police on Dec. 27. Officer Larry Baxter arrested Watson that day. Baxter said he returned the stolen items found in Watson's cabin to the store. kbbi.org

Tallahassee, FL: CVS employee accused of stealing Xanax
A CVS pharmacy technician is facing drug theft charges after he was found stealing Xanax while on the job. Daniel Hall, 23, was arrested on charges of grand theft of a controlled substance on Wednesday. He worked as a CVS pharmacy technician for about five years. Officers interviewed Hall who said he became stressed out because of school and began self-medicating. He estimated that over the past year and a half, he'd stolen 160 pills. Hall told officers he was a Tallahassee Community College student and was preparing to start Florida State University in the spring. tallahassee.com

Laredo, TX: 3 accused of Organized Retail Theft at Walmart
An investigation revealed that Aliya Diaz and the juveniles had concealed five watches, several pairs of female underwear, two pairs of jeans, several cosmetics and fragrances into two handbags that were also taken from the store. lmtonline.com

Orlando, FL: Scammer repeatedly sneaked into Universal Parks to commit gift card scheme

Casper, WY: Man with 2 children attempts to steal assorted items and video game valued at $1,400

---
Retail Crime News

Sponsored by Security Resources
Robberies, Incidents & Thefts
Loomis, CA: Armed Good Samaritan Stops Raley's Shoplifters
Who Threatened Loss Prevention Guard
The Placer County Sheriff's Office is calling a man with a gun a Good Samaritan after he stopped two shoplifters at a Raley's in Loomis. It happened in the parking lot outside of the store around 8:30 p.m. Sunday. A loss prevention security guard spotted Brandon Smith and Elizabeth Almand shoplifting inside the store. Dressed in plain clothing, the guard confronted the couple outside. Lt. Andrew Scott with Placer County Sheriff's Office says Smith had a knife and began to struggle with the guard. "And as they fell to the ground, the male suspect told the female suspect to pick up the knife and to stab the store employee," Scott said. Raley's spokesperson said the guard was a trained Officer with Camden Security, the company used by Raley's for Loss Prevention.
cbslocal.com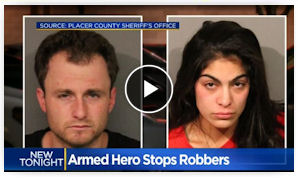 Miramar, FL: Money courier shot, robbed outside Restaurant co-founded by DJ Khaled

The shooting occurred in the parking lot of The Licking on Miramar Parkway. Miramar police spokeswoman Tania Rues said the victim was walking back to his car after collecting cash from the business when someone in another car got out, approached him and demanded the money. Rues said the victim handed over the cash but was shot multiple times anyway. He was airlifted to an area hospital. local10.com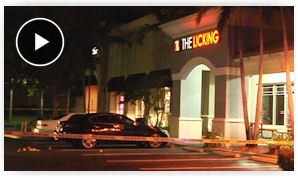 Roseville, MN: Police recover Gun from 13-year-old DSW Shoplifting suspect in Stolen Car

Around 6:39 p.m., a witness reported to police that they saw six teens steal shoes from DSW and run to a car in the parking lot. The witness then followed the teens to Marshall's where the group committed another shoplifting. Police arrived at the scene while the teens were inside. The group, which included three boys and three girls, had been riding in a vehicle stolen out of St. Paul. Inside the car, police found ammo, a pellet gun and mace. fox9.com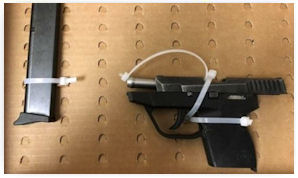 Macon, GA: 3 indicted in Federal Court for Bass Pro Shops Burglary
Three men have been indicted in federal court for the April 2018 Macon Bass Pro Shops burglary, all charged with theft of a firearm from a federal firearms licensee. Bibb County Sheriff's Office said, on April 3, deputies responded to the Bass Pro Blvd. store around 7:30 a.m. and discovered an open window and a glass plane along with a rifle on the ground. They also found blood on the widow panel as well as hand prints on the window. wgxa.tv

Anoka, MN: Suspects lead police on 3 different pursuits after reports of shoplifting in Monticello; ends in crash
The incident began just after 1:50 p.m. when Wright County Sheriff's Deputies responded to Mills Fleet Farm in Monticello on a report of shoplifting. According to the Wright County Sheriff's Department, three adult males and an adult female were in the vehicle when the pursuits occurred. fox9.com

Aspen, CO: Three Chilean suspects identified in Aspen jewelry robbery
Police have identified three Chilean men as suspects in the theft of hundreds of thousands of dollar's worth of jewelry from the lobby of The Little Nell hotel last month. aspentimes.com

St. Petersburg, FL: Man attacks McDonald's employee over new plastic straw law
A city ordinance went into effect on January 1 that requires customers to ask for straws. "She told him we're not allowed to have (straws) in the lobby but he can get one upon request. He said there was no such law. He started exchanging words laced with profanity, which I won't repeat," Biandudi said. He leaned over the counter and quickly grabbed Yasmine James, who was working the register, by the shirt collar. He pulled her close to his face. Seconds later, James started whaling on the man, punch after punch. It took employees almost 15 seconds to separate them. Before leaving the restaurant, St. Petersburg Police said, the man kicked another employee in the stomach as she stood near the exit. cnn.com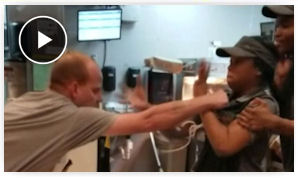 Dothan, AL: Police nab man suspected in $4 robbery and shooting
James Avery Jewelers in the Westlake Marketplace, Houston, TX reported an Attempted Burglary on 12/27, no merchandise was lost.

Kay Jewelers in the Southdale Center, Edina, MN reported a Grab & Run on 1/1, merchandise valued at $2,399 (recovered)

Zales Outlet in Southlake, TX reported an Armed Robbery on 1/1, no dollars reported, no injuries
Cargo Theft
Operation Equinox: Kearny Police Detective John Fabula leads 18-month investigation to take down cargo theft network
On November 30, 2018, the Kearny Police Department arrested seven individuals in connection with a cargo theft network following a lengthy investigation into thefts from multiple Kearny trucking yards. An eighth individual was arrested on December 6, 2018.

The investigation was initiated by the Kearny Police Department and the New Jersey State Police 18-months ago. Since that time, there have been approximately 15 thefts of tractor trailer containers from Kearny trucking yards.

The stolen merchandise included food items, cosmetics, chemicals, tires, linen, clothing and liquor with an approximate total retail value of more than $4,000,000. The stolen merchandise was housed in warehouses in Linden, North Bergen and Clifton subsequent to the thefts. kearnypolice.org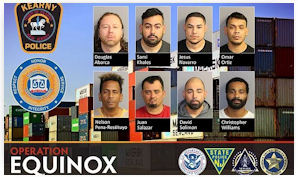 Robberies and Burglaries
Sponsored by Scarsdale Security Systems
• Adult Store – Yucca, Ca – Armed Robbery
• Book Store – New Haven, CT – Burglary
• C-Store – Colorado Springs, CO – Armed Robbery
• C-Store – Balch Springs, TX – Armed Robbery
• C-Store – Willimantic, CT – Armed Robbery
• C-Store – Arlington Heights, IL – Armed Robbery
• C-Store – Kountze, TX – Armed Robbery
• C-Store – Fremont, NE – Burglary
• Circle K – Phoenix, AZ – Armed Robbery
• Clothing – Denton, TX – Armed Robbery
• Dollar General – Mount Pleasant, TX – Armed Robbery
• Jewelry – Tempe, AZ – Burglary
• Jewelry – Southlake, TX – Armed Robbery
• Liquor Store – Attleboro, MA – Armed Robbery
• Restaurant – Lansing, MI – Armed Robbery (Hungry Howies)
• Restaurant – West Hartford, CT – Burglary
• Restaurant – Miami, FL – Armed Robbery
• Save-U- More – Homer, AK – Burglary
• T-Mobile – Miami, FL – Burglary
• Tobacco – Columbia, SC – Burglary

Daily Totals:
• 13 robberies
• 7 burglaries
• 0 shootings
• 0 killings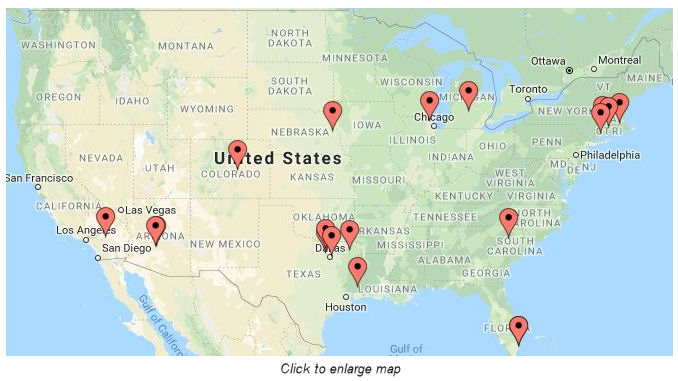 ---

---

---

---
Home of the Industry's Original
On the Move



Adina Palinsky named Regional Loss Prevention Director for Sherwin-Williams


Aaron Pisors named Regional Loss Prevention Manager for AutoZone

Brett Adams named National Investigations Partner for Woolworths Supermarkets


Nira Lee promoted to Training Coordinator, Global Security and Loss Prevention for Amazon
Submit Your New Hires/Promotions
or New Position
See all the Industry Movement
---

---

---

---
Featured Job Listings
Sponsored by NuTech National
Feature Your Job Here For 30 Days -
70% Aren't On the Boards
Post your job listing

Featured Job Spotlights
---

Asset Protection Director, Analytics & Fraud Management
Pataskala, OH
The Asset Protection Director, Analytics & Fraud Management will be responsible for leading teams focused on delivering insights and managing fraud risk for the enterprise through the use of advanced technology and statistical analysis. The Analytics & Fraud Management teams will serve multiple internal customers at the Ascena level and within the brands...

District Loss Prevention Manager
Eastern PA/NJ
The District Loss Prevention Manager ensures shrinkage control and improves safety in the stores through proper investigation and training. This position is responsible to provide feedback, guidance and protection for our Team Leaders and Associates. This role has oversight and responsibility for approximately 15-20 store locations...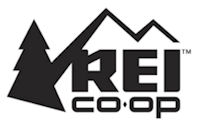 Retail Security and Safety Specialist
Multiple Locations
This job contributes to REI's success by ensuring the security and safety of your store team and members by providing a presence on REI property and events. Activities include but are not limited to: fostering partnerships with and training store management and staff and taking action to address shrink and security. Models and acts in accordance with REI's guiding values and mission. Apply now for positions in: Soho, NY Washington D.C. San Francisco, CA Portland, OR Bellevue, WA...

Regional Safety and LP Specialist
Miami, FL
The Safety and Loss Prevention Specialist is a subject matter expert responsible for partnering with both our corporate stores and franchise store operations to improve the safety and training processes. This includes reducing motor vehicle accidents, reducing work-related injuries, and ensuring OSHA / DOT compliance through the implementation of corporate or franchisee plans in accordance with local, state, and federal rules and regulations.

Featured Jobs
---
• Family Dollar - Loss Prevention Director - Southeast, Florida
• Ross Stores - Director, Ross Investigations & Safety Center, Dublin, CA
• Dollar Tree - Director Distribution Asset Protection, Chesapeake, VA
• Aurora Cannabis - Senior Director, Corporate Security, Edmonton International Airport, AB, Canada
• JC Penney - Vice President - Asset Protection, Dallas, TX
• Staples Canada - Director, Loss Prevention and Safety, Richmond Hill, ON, Canada
• Goodwill of Central and Southern Indiana - Director, Loss Prevention and Corporate Security, Indianapolis, IN
• Bloomingdale's - Director Asset Protection Investigations, New York, NY
• iHerb - Director, Safety and Security, Perris, CA
• iHerb - Director, Safety and Security, Irvine, CA
• Pay-O-Matic - Director of Security, Springfield Gardens, NY
• BJ's Wholesale Club - Vice President Asset Protection, Westborough, MA
• Associated Grocers - Director of Risk Management, Baton Rouge, LA
• Conn's Home Plus - Director of LP, Inventory Control & Fraud, Spring, TX
• Netflix - Director of Data Privacy and Security, Legal - Los Angeles, CA
• Food Lion - Director of Asset Protection, Salisbury, NC
• Ahold Delhaize USA - Manager | Corporate Investigations - Retail Business Service, Salisbury, NC
• T-Mobile Express Stores - LP Operations Manager, East Brunswick, NJ
• Living Spaces - Director of Safety, California
• Kings - LP Investigator - Northern New Jersey


---

---

---

---
Daily Jobs
Appearing One Day Only
View our Internet Jobs Archives here
| | | |
| --- | --- | --- |
| JOB TITLE | COMPANY | CITY/STATE |
| | | |
| Retail LP Manager | Apple | Columbus, OH |
| Asset Control Manager | BJ's Wholesale Club | Oaks, PA |
| LP Supervisor | Burlington Stores | Elizabeth, NJ |
| Corporate Security Supervisor | Home Depot | Jacksonville, FL |
| LP Supervisor | Kohl's | Palm Coast, FL |
| LP Supervisor | Kohl's | Greer, SC |
| LP Supervisor | Kohl's | Temple, TX |
| LP Supervisor | Kohl's | Waco, TX |
| LP Supervisor | Kohl's | Decatur, AL |
| Manager, Operations & AP | Macy's | Birmingham, AL |
| Manager, Operations & AP | Macy's | Tukwila, WA |
| Assistant Manager AP/LP | Macy's | Concord, CA |
| LP Manager | NAPA Auto Parts | New Kingstown, PA |
| Regional LP Manager - Southeast | PacSun | Anaheim, CA |
| AP Manager | Sears | Carlsbad, CA |
| Physical Security Supervisor | TD Bank | Mount Laurel, NJ |
| ORC Investigator | TJX Companies | Irvine, CA |
| AP ASM | Walmart | Elkhart, IN |
| AP ASM | Walmart | Bloomington, IL |
Sponsor this section of the Daily
---

---

---

---
Your Career

2018 in Review:

The Daily's Top-Read Your Career Stories of 2018
#3 - Published March 7, 2018
6 Highly Productive Morning Routines That Don't Require Getting Up Insanely Early
Early mornings have often been described as a key to success, but how many of us have trouble getting out of bed when the alarm goes off, without hitting snooze? Even if you're not an early riser, here are some great morning routines to help anyone have a productive day. Take it slow
#4 - Published January 17, 2018
Surprising Harvard Research Says Giving Negative Feedback to Peers Won't Work (Unless You Do 1 Simple Thing)
Harvard researchers say that we've got it all wrong on how we're giving negative feedback to others. The study showed that peer-to-peer negative feedback rarely lead to improvement, unless this simple thing happened first. Power of value
#5 - Published October 2, 2018
Do You Want Your Best Employees to Leave? If Not, Stop Doing These 10 Things
Attracting the top talent is only the first part to building a high-performing team. You have to work just as hard to keep your people around, and it starts with making sure you avoid these 10 behaviors that make people want to leave. Be a coach, not a boss
#6 - Published November 19, 2018
Really want that job? Don't make these six mistakes
Hiring managers avoid overeager suitors: those job applicants who make a constant attempt to persuade hiring managers that they are the one. Desperation is a sure-fire way to be looked over for that job, so avoid making these six mistakes when applying to a position. Don't talk too much
---

---

---
Tip of the Day
Sponsor
ed by Vector Security Networks

In preparing for any interview or meeting, I would suggest that, not only do you educate yourself about the potential employer, but that you study their competitor as well, because not only do these executives know their business, the good ones will know their competitors business even better. And if you show them you've taken the time to really learn their business and the number one thing that impacts them beyond the customer which is their competitor, then they'll be impressed that you went to that effort. And at the end of the day you'll learn an entire channel of trade.

(content subject to approval)
---
---
Upcoming Events
---
Recruiting?
Get your job e-mailed to everyone... everyday
Post on our Featured Jobs Board!
---
Reach your target audience in 2018 every day!
Request our 2018 Media Kit
---
Not getting the Daily?
Is it ending up in your spam folder?
Please make sure to add d-ddaily@downing-downing.com to your contact list, address book, trusted sender list, and/or company whitelist to ensure you receive our newsletter.
Want to know how? Read Here


36615 Vine Street, Suite 103
Willoughby, OH 44094
440.942.0671
copyright 2009-2019
all rights reserved globally