The D&D Daily Mobile Edition
January 7,

2015



The LP Industry's #1 News Source - Informing, Educating and Instilling a sense of community


News Brief
Sponsored by WG Security Products, Inc.
At Least 12 Dead in Shooting Attack on Paris Satirical Newspaper At least 12 people were killed in the heart of Paris on Wednesday, when gunmen in black ski masks stormed the offices of the satirical newspaper Charlie Hebdo and opened fire with a hail of bullets before hijacking a car and fleeing the scene - leaving all of France deeply shaken and on high alert after the country's most brutal terror attack in memory. A manhunt was underway for three suspected assailants as police put into effect an anti-terrorism plan which stationed officers outside all of the city's schools, newspapers, train stations and religious sites. time.com theguardian.com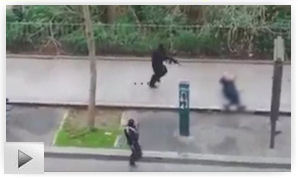 Run, Hide, Fight - Experts urge regular training for active shooter scenarios There are about 11 active shooter incidents each year in this country, according to the FBI, with an average of two people killed or wounded in each one. Perpetrators come in many varieties, from anti-social teens and deranged loners to jilted lovers and disgruntled ex-employees. The victims, however, generally have one thing in common: They are innocent bystanders in an unfortunate place at an inopportune time. This is of particular note to retailers after recent court rulings that have allowed negligence suits by shooting victims to proceed against employers for failing to provide defensive training to their employees. Shooting incidents can occur anywhere, though 70 percent take place in commerce/business or educational environments. Of particular note: Two-thirds of such incidents end before the police arrive, the FBI says, usually because the shooter commits suicide, but sometimes because a civilian intervenes or the shooter flees. "I think everybody in the store should be trained," says Edmund Hartnett, president of Brosnan Risk Consultants, who has provided guidance at NRF loss prevention seminars. "Everybody should know what to do," he says. "Most active shooter events are over in a matter of minutes once the shooting starts. That's why it's better that every employee is telling customers to get less visible, and not just the lone security person on that floor or in that section of the store." Brosnan follows the model developed by the Houston, Texas, police department: run, hide, fight. "Run first, and get the customers to run with you. Then hide or hide first if that is your only option, but get out of sight and get the customers out of sight. Only if confronted directly should you fight," he says. "Fighting is the last resort." nrf.com

Detex Door Security Hardware Selected as Featured Product Line Quality Door & Hardware, Inc. announced today that it has chosen Detex Door Alarms, Exit Control Locks and Alarmed Panic Devices as its specially featured line-up of quality products for January 2015. Detex's high quality line of door alarms such as the Detex EAX-500 model offer a cost effect and secure solution for applications that require an alarmed exit device on secured doors. The EAX-500 door alarms are assembled with superbly engineered components and constructed with high grade materials for long lasting reliability. It features a 100 decibel Piezo horn which can only be tuned off with the use of a control key, a door or wall surface mounting option, and a tapered cover allowing for installation on narrow stile. The EAX-500, with its redesigned shape and smaller size make it a choice product for quick and easy installations on emergency exit and restricted doors. prweb.com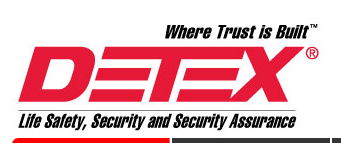 Wet Seal closes 338 stores, cuts 3,695 jobs
The Wet Seal, Inc., a leading specialty retailer to young women, today announced that it was closing 338 retail stores effective on or about January 7, 2015. The Company decided to proceed with the store closures after assessing its overall financial condition and the Company's inability to successfully negotiate meaningful concessions from its landlords. The store closures unfortunately resulted in the termination of approximately 3,695 full and part-time employees. The Company estimates that the 338 retail stores which were closed represented approximately 48 percent of its net sales for the nine months ending on November 1, 2014. Following the store closures, the Company expects to operate approximately 173 retail stores and its Internet business. businesswire.com

C. Wonder closing their remaining stores
The specialty apparel and home goods chain C. Wonder is shuttering its remaining stores, according to Buzzfeed. The company, founded in 2011 by Christopher Burch, ex-husband of Tory Burch, quietly closed a number of its 32 stores in November. It is now closing its remaining locations, 11 in total, the report said. chainstoreage.com

Get Ready - January Usually Means Bankruptcy in Retail There have been several bankruptcy filings this past December. Delia filed for bankruptcy protection, as did teen retailers Deb Shops, and Mexx. This was surprising. Usually, financially weak companies that do not have the liquidity to go forward without court protection will file for bankruptcy protection just before payments are due on January 10 (this year January 12). These shaky retailers did not wait for December business to unfold; instead they felt bankruptcy protection gave them the flexibility necessary to plan their future. In most cases, bankruptcy means companies can close unprofitable stores, cut back on their workforce, and pay vendors at least a portion of their outstanding invoices. Every year there are retailers, struggling with inadequate cash flow and strained liquidity due to poor sales, and poorer profits, hope that by some stroke of luck they will pull themselves out of their financial morass as a result of strong Christmas sales. forbes.com

U.S. retail mall vacancies rise in fourth quarter
U.S. retail mall vacancies rose in the fourth quarter from the third, mainly due to the closure of some Sears Holdings Corp stores, according to real estate research firm Reis Inc. Retail mall vacancies rose to 8 percent in the fourth quarter from 7.9 percent in the third quarter, marking the first quarterly increase since the third quarter of 2011, the company said. Retailer Sears said in December it planned to close 235 stores in 2014, nearly double the projection of 130 made in August, in an attempt to return to profitability. reuters.com

American Apparel Inc strengthens workplace harassment rules after firing the controversial founder Dov Charney American Apparel Inc., which fired controversial founder Dov Charney as chief executive officer last month for alleged misconduct, strengthened rules to prevent sexual harassment among its employees. Managers and subordinates are now prohibited from having romantic relationships, including dating casually, according to the new ethics code on the Los Angeles-based company's website. At about 6,200 words, the new code is more than four times as long as its predecessor. In removing Charney, the directors said he violated the chain's sexual-harassment policies and improperly bought travel for family members with company funds. Even before the board moved to oust him, Charney had been sued multiple times for sexual harassment. The cases were either dismissed or sent to private arbitration with the results unknown. The new ethics code also includes an entire section titled "Fair Treatment of Employees" that says the company won't tolerate discriminatory slurs based on race, gender or sexual orientation. financialpost.com

Canada's Shoppers Drug Mart not filling vacated VP of LP & Internal Audit position from outside Sources indicate that they will be leveraging existing talent from the combined companies given that Loblaw acquired them in 2013.

J.C. Penney same-store holiday sales up 3.7%
J.C. Penney is reflecting in a post-holiday glow and feeling bullish about its business going forward after reporting a 3.7% increase in same-store sales during the holidays (the nine week period from November through December). The retailer also said that it expects its fourth-quarter comparable sales will be at the top end of its forecast range of a 2% to 4% gain. chainstoreage.com

APT: Holiday in-store sales rise 0.7%
The holidays were at least moderately happy for in-store retailers. According to the Applied Predictive Technologies (APT) Index, in-store sales for the 2014 holiday shopping season were up 0.7% although sales decreased on Black Friday and Super Saturday weekends. The number of transactions: actually declined 0.4%, but this was more than offset by a 1.1% increase in average purchase amount. Black Friday weekend retail sales were down -3.5%, while Super Saturday weekend retail sales were down -1.7%. chainstoreage.com

99 Cents Only Stores to pay $2.36M for dumping retail waste Discount retailer 99 Cents Only Stores became the latest company to agree to pay millions of dollars to counties and cities across the state to settle claims that its California locations illegally dumped toxic retail waste. The $2.36-million San Joaquin Superior Court judgment was announced Tuesday. It came a day after authorities said supermarket giant Safeway agreed to pay nearly $10 million to settle claims its California stores illegally dumped household chemicals and medicines, including cleaners, hair dyes and nail polish. Click here to see a list of Illegal Dumping settlements by retailers with California operations since 2010. sacbee.com

Five things to look for next week at NRF Big Show

Ace Hardware expands distribution network in western U.S.

Intelligence director calls Sony attack most serious against U.S.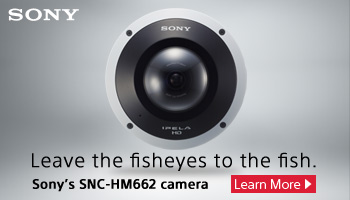 All the news - One place - One Source - One Time
The D&D Daily respects your time
& doesn't filter retail's reality
Report Your News!
(content subject to approval)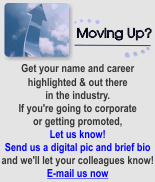 Loss Prevention News Network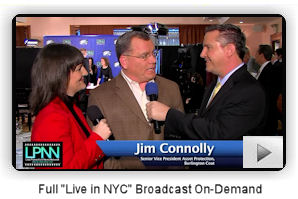 The Loss Prevention industry's first-ever live broadcast. With over 2,000 viewers and great Guests, Cast and Crew, the D&D Daily's "Live in NYC" event covered timely subjects and delivered valuable information for the LP viewers. MC'ed by two dynamic and absolutely energized industry executives, the event was a huge success and showed how the Daily continues to lead the way in "Educating, Informing & Instilling a Sense of Community" for the LP industry.

Visiting with LP Leaders of various Solution Providers, Retailers, Academia, and Trade Associations, the sessions covered a wide array of timely and critical subjects that can have an impact on your career and add value to your performance.



Joan Manson

Sponsored By:


Bass Security





Sponsored By:



Keith White & Michael Nelson

Sponsored By:


Dan Faketty and Professor Bob Hanson

Sponsored By:


The NRF's LP Legislative Committee, a National Update





Jeff Fulmer & Jon Gold


Sponsored By:


Preparing - Training - Responding to the Active Shooter





Rich Mellor


Sponsored By:

Cyber Security's Increasing Impact on Retail & the Role of Loss Prevention

Tom Litchford
Sponsored By:

Stan Welch, VP of LP, JCPenney



Sponsored By:



In case you missed it ...
Click here to view all the episodes from
"Live in Ft. Lauderdale at the NRF LP Show."

Solution Providers, have a video or commercial you want to publish? Contact us.


Stay Tuned for our New 2015 Get LP Social Column!

---

2014 LP Team Group Selfie Review

Showcasing each team in order!
Be on the lookout for our new Get LP Social 2015.

Your Team - Your Pride


Sears Holdings Corporation's Supply Chain LP Team at Corporate HQ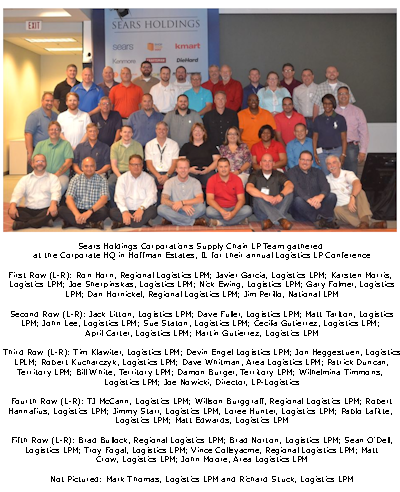 *Originally published on August 4, 2014
View all 2014 selfies here!

Three 2014 Group Selfie LP Teams to win Pizza Parties!
Drawing at our Live in NYC at the NRF Big Show, January 12th.
Make sure you're watching!

e-commerce

Sponsored by The Zellman Group
Millennial Boost For Mobile Payments?
Millennials are far more interested in starting their own businesses than climbing the corporate ladder, and that may drive new payments technologies over the next few decades, Mobile Commerce Daily reported. Those born after 1980 will make up 75 percent of the American workforce by 2025, but only 13 percent have a career goal of becoming a CEO or company president, according to a study released in November by Bentley University. However, 66 percent want to start and run their own businesses. Millennial-launched retail businesses are likely to go straight to mobile point-of-sale and payments, both because they don't have legacy systems and because millennials have grown up with mobile technology. pymnts.com

Why Mobile Payments Adoption Has Been Slow – And Why That's About to Change Why are consumers still reluctant to adopt mobile payments? Security concerns are the number one roadblock. The ongoing litany of high-profile retailers whose customer data has been stolen strikes fear into the hearts of consumers, who are then unlikely to wholeheartedly place their trust in mobile payment technology. Yet trust is exactly what's needed in order for the technology to experience widespread adoption. The EMV (EuroPay, Mastercard, Visa) card has been developed with a secure microchip for transmitting data, but it is a physical asset. The trick is to create a parallel level of security in the virtual world. The industry needle has moved in terms of securing customer payment credentials with the advent of host card emulation (HCE). Before HCE, only two possibilities existed. One was storing credentials in a specialist security chip, called Secure Element (SE), in the phone. This creates a mobile wallet in which the Secure Element securely transmitting sensitive data like an EMV card does. The other possibility was to use Card On File credentials in the cloud – essentially just storing basic payment information online. wired.com

Mobile Shopping Nearly Tripled In 2014

"Fraud is not a person - it is a dynamic grouping of statistics that deviate from the norm."
Stuart B. Levine, CFI, CFCI
CEO, The Zellman Group & Zellman Fraudnet


ORC News
Sponsored by Security Resources
Dover, DE Police: shaming shoplifters is reducing theft from shelves Dover Police say shoplifting complaints are down 19-percent in the past five months, since beginning a weekly shoplifter notification program. Dover Police post weekly updates and mug shots of people charged with shoplifting on its website and sends them to the media. Police say in previous years officers were responding to an average of three shoplifting complaints per day. Investigators say the majority of such crimes involve repeat offenders. Dover Police say the shaming tactic has also helped lead to arrests in other unsolved crimes. delaware1059.com
O'Reilly Auto Parts stores hit for a 7th Burglary in Eastern Tennessee Burglars disabled the alarm, cracked a safe, and got away with two days worth of cash deposits during a "professional" heist discovered Sunday morning at the Mount Carmel O'Reilly's Auto Parts store. Mount Carmel Police Department Assistant Chief George Copas said these burglars knew the layout of the store and knew how to disable the alarm system without being detected. "These weren't your average, everyday burglars," Copas said. "These guys were pros." Copas noted that this was the seventh identical O'Reilly's Auto Parts burglary over the past 10 weeks in East Tennessee. If the seven burglaries are connected, this was the farthest east they've hit, with previous O'Reilly's burglaries having taken place in Maryville, Knoxville, Lenoir City, Sevierville, Seymour and Morristown. timesnews.net

Suspects Tied to Dollar General Robberies in Detroit Metro Area Collaborating with the FBI Violent Crimes Task Force and Detroit Police Department, Dearborn police zeroed in on suspects. Three suspects have been arrested in connection with a rash of robberies at Dollar General stores in the Detroit metro area, including one in Dearborn about 7:50 p.m. on Dec. 29 at a store in the 7600 block of Wyoming. In the Dearborn robbery, suspects selected several pieces of store merchandise and approached the checkout counter to pay for the items, police said in a news release. One suspect paid for the merchandise and when the register was opened the second suspect brandished a handgun demanding the money in the register. A third suspect stood near the exit door acting as a lookout. All three suspects exited the store and fled the scene. The Detroit Police Department and the FBI Violent Crimes Task Force previously had identified Dontae Guines and Lamarc Peacock as the perpetrators in numerous Dollar General robberies. Dearborn police used that intelligence to positively identify the two and obtain a federal warrant for their arrest, Dearborn Police Chief Ronald Haddad said. patch.com


Arizona man in San Tan Valley a suspect in multiple shoplifting incidents Hugo Rivera, 32, of San Tan Valley was arrested Dec. 9 in connection with three shoplifting incidents that occurred at the Wal-Mart store in San Tan Valley, according to a press release issued by the Pinal County Sheriff's Office. Suspect Rivera is a corrections officer for the Arizona Department of Corrections in Florence. He was taken to PCSO's San Tan Valley substation for questioning and later booked into the Pinal County Jail on three felony counts each of theft, burglary and organized retail theft. newszap.com

Texas Man steals more than $1,500 from Home Depot in ticket switching scam A man is wanted after stealing more than $1,500 from a Home Depot over several months, according to a Travis County arrest affidavit Tuesday. According to the arrest affidavit, on July 11, 2014, a Home Depot loss prevention employee noticed a "known" theft ticket switching subject at her store. Jeremy Erdman, 41, was trying to checkout in the self checkout line when the employee noticed the electrical wire price on the self-checkout screen showed the price of electrical tape, a $150 price difference. kvue.com

Police in PA look for two suspects in over $2,000 Target credit card fraud Police are looking for two suspects in the use of stolen credit cards in Carlisle and Silver Spring Township. Silver Spring Police said the two made purchases totaling more than $2,000, and several other attempts were denied. They then attempted to use the card at Target in Carlisle. cumberlink.com
Do you have an ORC case to share?
Share your ORC news and help the industry grow

Retail Crime News

Sponsored by NuTech National
3 men in custody in shooting of NYPD officers
Three men are in custody in connection with the shootings of two New York police officers - including the suspected gunman, a law enforcement official said Tuesday. The alleged shooter has been identified, but his name has not been made public, the official added. The wounded officers spent Tuesday morning in the Bronx's St. Barnabas Hospital. One of them, 30-year-old Andrew Dossi, is in critical condition following surgery after being shot in the arm and lower back, according to police. The other, 38-year-old Aliro Pellerano, is in stable condition with gunshot wounds to the chest and arm. "This is another indicator of the dangers our officers face in the line of duty," said New York City Mayor Bill de Blasio, who has found himself at odds with some in his police force in recent weeks. "Thank God, these officers will recover." wtkr.com

PA Liquor Control manager wins workers' compensation fight over robbery State liquor store manager Gregory Kochanowicz never considered coming face-to-face with a masked, gun-wielding robber to be all in a day's work. Nor did he think that being duct-taped to a chair and threatened if he tried to escape was part of his "normal working conditions." But that's what the state Liquor Control Board contended when arguing that Kochanowicz, 60, should not be granted workers' compensation benefits to deal with the emotional fallout from an April 2008 robbery just before closing time in his store in Morrisville, Bucks County. LCB attorneys said they didn't dispute Kochanowicz's claim that he suffered from post-traumatic stress disorder but said his claim should be denied because the robbery was not abnormal and should be expected by employees, citing nearly 100 robberies of liquor stores between 2002 and 2008 in the Philadelphia area. But last week, a Commonwealth Court judge disagreed, ruling that Kochanowicz - who says he's haunted by images of the robbery that have disrupted his sleep, caused anxiety and affected his family relationships - should be awarded the benefits. triblive.com

Suspect in Christmas Day Walgreens kidnapping arrested in Orlando, FL Daniel M. Palomares, 23, has been charged with kidnapping with intent to commit a felony, three counts of robbery with a firearm and one count of retail theft. The 22-year-old victim said she was getting into her car at the Walgreens at Kirkman and Conroy roads at 3 p.m. when a man got into the passenger seat of her car, according to police. He allegedly told the woman he had a gun, but would not hurt her if she did what he said. The woman said she was forced to drive to several ATMs and several locations to buy drugs, police said. She said she was able to escape in her car when the man got out to use an ATM. When she mentioned her kidnapper touched a Christmas card she had in her truck, investigators said they pulled a latent print from it belonging to the convicted felon, who was already on probation until 2019. wesh.com
Police chase leads to arrest in a Rolex Grab and Run at Nord Jeweler's in Kalamzoo, MI A man accused of stealing a Rolex watch from a Kalamazoo jewelry store was arrested Monday after an employee gave chase and a detective followed the suspect until he was pulled over. The theft happened just before 2 p.m. Monday at the Nord Jeweler's. An employee told Police that the thief pretended to be a customer and asked to see an expensive Rolex watch, which he then grabbed and ran away. The employee chased him, but he told that person he had a gun. The employee stopped chasing the suspect, but was able to get the license plate number of the getaway car and describe it to police. woodtv.com

Kids left in car for 7 hours after adults arrested for shoplifting at Walmart Three young children spent seven hours alone in a car in a Wal-Mart parking lot after their parents were arrested and accused of shoplifting at the store. According to the Broward Sheriff's Office, Tosheba Hope, 30, and Gerald Moultrie, 24, were arrested about 7 p.m. Monday at the Wal-Mart and accused of grand theft. The children were discovered about 2 a.m. Tuesday by a store employee who then searched for their parents inside the store. The children were upset and crying, but not physically hurt. sun-sentinel.com

St Louis Cell Phone clerk fires on suspects who drove car into store for smash-and-grab An attempted robbery of a St. Louis cell phone store Friday morning didn't work out as planned after the armed owner opened fire on the suspects. Authorities said three suspects entered the parking lot in two separate vehicles, a Mitsubishi and a blue Jeep, but instead of parking, the driver of the car drove through the front door to gain entry to the store. The three suspects then jumped out of the cars and began grabbing cell phones, but the armed owner grabbed his gun and opened fire. "They were so fast. [It] wasn't five seconds," the store owner told KMOV. "They were here, broke all the show cases and started putting phones in their bags and their clothes." But once the owner, whose name has not been made public, started shooting, the suspects dropped the bags full of phones and started running. guns.com


Children jump out of shoplifting grandmother's vehicle during Lincoln Park, MI Police chase A woman Lincoln Park woman is facing a multitude of charges after reportedly shoplifting and then fleeing police with her two 8-year-old grandchildren in the car. Police say 49-year-old Sandra Hasselbach, a habitual offender, stole $177 worth of merchandise from Meijer on New Year's Eve and fled from multiple police officers. Two officers were injured during the incident, including one who Hasselbach allegedly struck with her vehicle. The loss prevention officer approached the suspect outside and escorted her to his office without incident, though Hasselbach reportedly fled the store again when she asked to use the bathroom. When Lincoln Park police arrived at the store, the suspect reportedly ignored several police commands to park her 2000 blue Jeep and exit the vehicle. She attempted to exit the store parking lot, but got caught between cars. An officer approached the driver's window and eventually used a baton to break out the driver's-side window of the suspect's vehicle when she failed to obey his orders to exit the car. The woman then fled in the Jeep, hitting the police officer and running over his foot. As she neared St. Johns Boulevard, she slowed down and pulled to the left curb. Officers reported seeing the rear passenger door open and a young male roll out of the car and take off running. Soon after, a second young male jumped out of the vehicle, too. The police chase continued until the suspect reportedly hit a dead-end, where a short foot pursuit followed. thenewsherald.com

Sherman, TX Walmart waits 2 weeks to report arson fire that injured Veteran On Christmas Eve, Robert Barajas, a disabled veteran, says he saw a fire inside the Sherman Walmart and instinctively jumped into action. When asked if he would do it again, he responded, "I don't know, it's spur of the moment. Fight or flight." In that instant, Barajas chose to fight. He suffered second degree burns on his hand while putting out the fire. When News 12 first reported the story, Walmart officials confirmed someone set that fire on purpose, and said they'd turned over surveillance footage to local law enforcement. But Sherman Police say that report was not filed until Monday, when they contacted Walmart. Two weeks later, his hand is healing, but Barajas was shocked to learn the crime was not reported to Sherman Police or the Sherman Fire Department. kxii.com

UK: Stores make theft too easy for shoplifters, claims Derbyshire Chief Constable Mick Creedon Chief Constable has criticized supermarkets and stores which, he says, "remain unwilling to engage" in helping the police reduce shoplifting. Mick Creedon said he believed that many supermarkets leave items of value on display close to entrances, making them attractive to thieves. And he said some stores "write off" the loss of stock through shoplifting in their profit and loss figures. But two leading supermarket giants, in response, say they "work closely with local police" and have "robust security measures" place to tackle shop theft. Mr Creedon made the remarks at the latest public meeting with Alan Charles, the county's police and crime commissioner. He said: "Overall crime is mainly down but shoplifting remains an increase area. "This is the case across the entire country and the money we are talking about is quite low in terms of cost. "They leave items close to the entrance and exits that are of value to a shoplifter and write off the losses they incur in their profit and loss figures." Figures revealed at the meeting of Mr Charles' Strategic Government Board show that overall crime in Derbyshire has reduced by 0.6% - or 197 fewer offences - in recent months, compared to the same period last year. derbytelegraph.co.uk

Four arraigned in BB gun shooting inside Museum Place Mall in Salem, MA

Suspect admits Oxycodone addiction fueled Walgreens pharmacy robbery

'Blue Dog' painting valued at $250000 stolen from New Orleans gallery

Robber of three Tops stores sentenced to 54 months in NY

Kay Jewelers Outlet in the Milpitas Premium Outlet, Milpitas, CA Smash and Grab of Rolex, Baume Mercier and Gucci watches total value of over $75.000.00


Robberies and Burglaries
● Blue Water Hunter - Kona, HI - Burglary
● Citgo - Macon, GA - Armed Robbery
● CVS- Canton, GA - Armed Robbery
● CVS - Pinson, AL - Armed Robbery
● Dan Horn Pharmacy - Olean, NY - Armed Robbery
● Dollar General - Longs, SC - Armed Robbery
● Dollar General - Lima, OH - Burglary
● Eagle - Tallapoosa Co, AL - Armed Robbery
● Holland's Drug - Lawrenceburg, TN - Burglary
● Mac's - Vernon, BC, CN - Robbery / Assault
● Midway Conv Mart - Marion, SC - Shooting
● Papi's - Germantown, PA - Armed Robbery
● Rite Aid - Sandy Twp, OH - Robbery
● Save-A-Lot - Cleveland Hts., OH - Counterfeit
● Shell - Rusk Co, TX - Burglary
● Walmart - Queensbury, NY - Burglary/ Shoplifting


Vendor Spotlight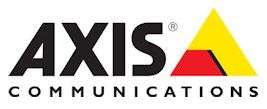 Axis Announces Its Most Light Sensitive Network Camera for Superior Performance Both Day and Night
AXIS Q1635 Network Camera offers exceptional image quality with less noise and motion blur due to large 1/2 inch sensor, seamless transition between WDR - Forensic Capture and Lightfinder technologies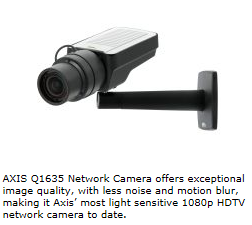 CHELMSFORD, Mass. - Axis Communications, the global leader in network video surveillance, introduces a new fixed network camera with a 1/2 inch sensor, designed for city surveillance applications. Thanks to its large sensor and the supplied lens, AXIS Q1635 is Axis' most light sensitive 1080p HDTV network camera to date. Featuring improved near infrared (IR) sensitivity, in a range where the human eye cannot see, the camera delivers extremely high-quality black and white images in situations with very little or diminishing visible light - delivering video with less motion blur and low bandwidth consumption.

The camera's advanced features for optimizing image quality also include Wide Dynamic Range - Forensic Capture, Axis Lightfinder technology, electronic image stabilization, shock detection and defogging, as well as 60 frames per second in HDTV 1080p resolution.

"Many surveillance applications require high quality images that enable the identification of people and objects even in highly variable and challenging lighting conditions," said Scott Dunn, director of business development, Axis Communications, Inc. "AXIS Q1635 maintains extremely high image quality by seamlessly transitioning in complex light scenarios from WDR to Lightfinder, making it ideal for monitoring critical infrastructure sites, banks and public places such as squares, parks, streets and alleys."

Read more here.


Featured Job Listings
Sponsored by NuTech National
Feature Your Job Here For 30 Days -
70% Aren't On the Boards
Director of Corp. LP
Bed Bath & Beyond
Union, NJ
Bed Bath & Beyond
Director LP
Sephora
San Francisco, CA
LinkedIn
VP of Sales
Checkview
Chanhassen, MN
Checkview
Sr. Director, Field LP
Ross Stores
Dublin, CA
Ross Stores
Director Market LP
Walgreens
Phoenix, AZ
Walgreens
Market AP Specialist
REI
Portland, OR
REI
National Account Executive
Checkview
Northeast Region
Checkview
National Account Executive
Checkview
United States
Checkview
Corporate Investigator
Confidential
San Francisco Bay, CA
Confidential
National Account Manager
Vector Security, Inc
TBD
Vector Security, Inc
National Account Mgr
Confidential
Northeast
Downing & Downing

Limited Time Only - Post Your Multi-Unit LP jobs for FREE - Learn More Here

Daily Job Alerts


Appearing One Day Only
View our Internet Jobs Archives here
LP Manager
Carson's
Mount Prospect, IL
The Bon Ton Stores
LP Manager
Carson's
Livonia, MI
The Bon Ton Stores
LP & Safety Manager
Bon-Ton Stores Inc
West Jefferson, OH
The Bon Ton Stores
District LP Manager
Dick's Sporting Goods
Louisville, KY
Dick's Sporting Goods
Regional LP Manager
Family Dollar
Albuquerque, NM
Family Dollar
Regional LP Manager
Family Dollar
St. Louis, MO
Family Dollar
AP Manager
Home Depot
San Fernando, CA
Home Depot
Dept Mgr LP & Safety
Lowe's
Palm Springs, CA
Lowe's
AP Manager in Training
Walmart
Piscataway, NJ
Wal-Mart
AP Manager in Training
Walmart
Vancouver, WA
Wal-Mart
AP Manager in Training
Walmart
Santa Fe, NM
Wal-Mart
AP Manager in Training
Walmart
Gainesville, FL
Wal-Mart
AP Manager in Training
Walmart
Laurel, MS
Wal-Mart
AP Manager in Training
Walmart
Payson, AZ
Wal-Mart
LP Manager
Sears
Hayward, CA
Sears Holdings Corp
LP Manager Hrly
Kmart
Rome, GA
Sears Holdings Corp
LP Manager
Sears
Tukwila, WA
Sears Holdings Corp
LP Manager
Kmart
St Clair Shores, MI
Sears Holdings Corp
LP Manager
Kmart
Goleta, CA
Sears Holdings Corp
LP Manager Hrly
Kmart
Los Angeles, CA
Sears Holdings Corp
LP Manager Hrly
Kmart
New Hartford, NY
Sears Holdings Corp


Home of the Industry's Original
On the Move

Alan Thompson CFI was promoted to Region Manager, Loss Prevention and EHS for the Central Region for FleetPride Inc.
Catherine Stasiowski was promoted to Sr. Manager Audit and Investigations at Total Wine & More.
Post Your New Job or Promotion!
See all the Industry Movement


Your Career
Sponsor this section of the Daily
7 Ways to Stay Motivated and Accomplish Anything Motivation comes and goes. Even if you are so energized in working on something, eventually that energy and motivation ebbs. Here are some simple tips to tap into your motivation and help you achieve your 2015 goals! What's your reason?

How We Make Decisions (And How to Make Them Better) Maybe your goal this new year is to make wiser decisions, but with so many decisions to make every day, oftentimes we try to take the easy way out, making decisions based on avoiding negative outcomes rather than resulting in positive ones. Here are some ways to help shift your focus. Look at each part, not just the whole

What Resilience Means, and Why It Matters Everyone will encounter setbacks and certainly stress in life and what they're trying to accomplish. The key, though, is how fast you can recover from these challenges and adapt to change so you can keep pushing towards your goals! Here are some tips on being resilient. Keep your head up

This Four-Letter Word Can Change Your Perspective and Lead You To Win Everyone has times where the harder you try to succeed, or come up with innovative ideas the more you may lose focus or keep failing. The key is to change your focus, not on winning, but in replacing that word with "helping." Focusing on helping your employees, clients, whoever, will eventually result in the outcomes you want to see. Do good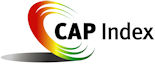 Tip of the Day
Sponsored by Vector Security
Four simple steps for requesting references from former employers: 1) Get references before you need them. Managers make job changes too and time can erase the memory of even the most outstanding employee. 2) Offer to write the reference letter for your former employer to review and sign. This saves them valuable time and it allows you to highlight the accomplishments you consider most valuable to future employers. 3) Contact former employers and other references before offering their names to potential employers. Beyond simple courtesy, this gives you the chance to supply them with important information such as who might be calling, the type of job you're applying for and which of your skills/accomplishments you would like your reference to emphasize. 4) Acknowledge a reference with a thank you note, even if you didn't get the job. If you did, offer a celebratory lunch or at least give them a call and thank them.

Just a Thought,
Gus







Upcoming Events
---
Recruiting?
Get your job e-mailed to everyone... everyday
Post on our Featured Jobs Board!
Reach your target audience in 2015 every day!
Request our 2015 Media Kit
update account / change e-mail
unsubscribe FEEDBACK
www.downing-downing.com

Advertise With The D&D Daily




36615 Vine Street, Suite 103
Willoughby, OH 44094
440.942.0671
copyright 2009-2019
all rights reserved globally