The D&D Daily Mobile Edition
January 9,

2015



The LP Industry's #1 News Source - Informing, Educating and Instilling a sense of community


News Brief
Sponsored by WG Security Products, Inc.
MasterCard Claims Nike Plotted to Steal Cyber Talent - IT Security high-in-demand for retailers Nike Inc. was accused by a MasterCard Inc. unit of conspiring to steal scarce technology talent by encouraging two top cyber-security managers to break their contracts with the credit card company as worries of hacking and breaches of customer privacy deepen. MasterCard International Inc., a unit of the payment card company, alleges in a complaint filed yesterday in federal court in White Plains, New York, that Nike "conspired" with ex-Chief Information Security Officer William Dennings and a former senior engineering manager when it urged them to quit their jobs and join the sports apparel company. Nike was accused of interfering in MasterCard's contract with the workers, who were sued for breach-of-contract. "Talent in this rapidly growing area is limited, in demand and not well-known," Purchase, New York-based MasterCard International said in a complaint seeking $5 million and a ruling barring Nike from soliciting its employees. Companies are confronting a talent shortage as they try to boost information security in wake of data breaches at retailers including Target Corp. and Home Depot Inc., MasterCard International said in its complaint. Job postings in the area have grown 74 percent from 2007 to 2013, according to a March 2014 report from Burning Glass Technologies. bloomberg.com

NSA's Rogers Calls for More Forceful Response to Cyberattacks The director of the National Security Agency said Thursday that the government should more forcefully respond to foreign countries that engage in cyberattacks, arguing that some hackers have come to believe that there is "little price to pay" for stealing U.S. government or corporate data. Navy Adm. Mike Rogers, who heads the NSA and the U.S. military's Cyber Command, said at a cybersecurity conference at Fordham University in New York that the growing number of cyberattacks represents "one of the biggest transfers of intellectual knowledge that we have ever seen." wsj.com

Hacking toolkits getting cheaper, more prevalent We'll be seeing more severe vulnerabilities like Shellshock and Heartbleed in 2015, predicts Akamai Technologies Inc., the leading content delivery network. The use of cheap online hacking toolkits will continue to proliferate, as will politically motivated attacks such as those during last year's World Cup. Akamai just released its "State of the Internet" report for the third quarter of 2014, which was dominated by the Shellshock vulnerabilities and the World Cup. Shellshock and Heartbleed are inspiring more researchers to look at old technologies for potential security flaws, said Bill Brenner, a senior program manager at Akamai. csoonline.com

U.S. Unemployment Falls - Department Stores Boost Jobs Specialty stores cut payrolls in December, while department stores and discounters added jobs as the economy posted gains and the overall unemployment rate fell, according to the U.S. Department of Labor's monthly employment report released Friday. Apparel and accessories stores cut 8,900 seasonally adjusted jobs to employ 1.39 million in December. General merchandise stores added 7,600 jobs to employ 3.1 million last month, while department stores added 600 jobs to employ 1.33 million. "Today's job report, again, was very strong and shows the labor market is maturing and the economy performing soundly," said Jack Kleinhenz, chief economist at the National Retail Federation. In the overall economy, employers added 252,000 jobs as the unemployment rate fell to 5.6 percent from 5.8 percent in November. wwd.com

Macy's restructuring: 14 store closures, thousands of layoffs, perhaps an off-price focus In response to changes in "where the customer is headed," Macy's chief announced on Thursday a sweeping reorganization plan that will close 14 under-performing stores, lay off thousands of workers and, most far-reaching, ready the retailer to respond to an omnichannel shopping environment. According to a statement by Terry Lundgren, Macy's chairman and CEO, the department store retailer will close 14 stores, while opening two new locations, and generate an annual savings of $140 million - which will then be reinvested into the business. In tandem with the closures, Macy's and sister company Bloomingdale's will restructure their currently separate merchandising and marketing into one unified organization, and lay off thousands of workers - although its workforce of 175,000 reportedly will remain stable as additional staffers are added in other areas. About 2,200 jobs will be lost when Macy's and Bloomingdale's contract both store and field operations personnel. However, key growth initiatives for 2015 include creating a team to explore opportunities for a Macy's off-price business; growing its digital business, namely, macys.com and bloomingdales.com; and expanding its San Francisco-based digital technology organization by hiring more than 150 people. Read Macy's press release here. chainstoreage.com

Deb Shops begin going-out-of-business sales at all stores - closing 287 locations Deb Shops stores in Park City Center and Rockvale Outlets began going-out-of-business sales Friday as part of the Philadelphia-based women clothing retailer's plan to close its 287 stores. Merchandise was initially being sold at discounts of 30 to 50 percent. The store locations will remain open until all the merchandise is sold and gift cards will be honored through March 8. Deb Shops filed for bankruptcy protection on Dec. 4 and a deal with liquidators was approved Wednesday in federal bankruptcy court. lancasteronline.com

Inditex - world's largest clothing retailer - to open more than a dozen Zara stores in U.S. this year Spain's Inditex will open more than a dozen Zara clothes stores in the United States this year, including a flagship store in the SoHo area of New York, it said on Thursday. Zara's "fast fashion" business model has helped to make it one of the world's biggest clothing brands, with owner Inditex's strategy in the U.S. a focus on large, flagship stores and its online operation. The group currently has 52 Zara stores in the United States. Inditex, the world's largest clothing retailer, acquired the 4,400 square meter SoHo site for 280 million dollars, though the group said it still had a preference for lease deals. The company also plans to open a 2,800 square meter Zara in the World Trade Center in the heart of New York's financial district this year and is expanding another Manhattan shop. By the end of 2015, it expects to have a total of eight stores in Manhattan. reuters.com

Holiday Sales Growth Was Best Since '05 - Up 4.6% YoY, ShopperTrak Says U.S. holiday sales grew at their fastest pace in almost a decade, lifted by a strengthening economy and consumers spreading out their purchases over a longer season, according to ShopperTrak. Holiday spending over November and December jumped 4.6 percent versus the same period of last year, beating ShopperTrak's prediction of 3.8 percent, the research firm said today in a report. That was the best performance since 2005, before the last recession, when sales gained 5.2 percent. A separate research firm, First Data, said retail sales rose 3.2 percent from Nov. 1 to Jan. 4., compared with a 0.5 percent gain in sales during the same period a year earlier. Sales gained 5.3 percent from Thanksgiving through Cyber Monday, the Atlanta-based firm said. bloomberg.com

Retailers Added 2,000 Jobs in December, Bringing Total to 176,000 in 2014 Retail industry employment increased by 2,000 jobs in December as healthy hiring gains in general merchandise and sporting goods stores were offset by declines in clothing and furniture stores, the National Retail Federation said today. Retail employment for 2014 climbed by 176,000 jobs over the year before, according to NRF's calculations, which do not include automobile dealerships, gasoline stations or restaurants. nrf.com

December in-store sales up 0.6% YoY - Dec. 26 was biggest shopping day In-store sales mostly showed small improvements in December 2014 compared to the prior year. According to the latest U.S. Retail Benchmarks report from in-store analytics provider Euclid, there was 0.6% year-over-year growth in general merchandise, apparel, furniture and other retail sales and a 1.2% increase in clothing and apparel sales, but a 1.5% decline in general merchandise sales. chainstoreage.com

Price rises hit Apple's App Store in Europe, Canada, and Russia Apple is raising prices across Europe as it shifts to VAT based on the customer's country of residence. For Russia, the price hike could be linked to the fall in its currency. zdnet.com

Omnichannel helps Signet holiday sales grow 3.6%; new stores planned

Barnes & Nobles comp. store sales up 1.7% during holiday period

Macy's same-store sales up 2.1% for Christmas Season


Quarterly Same Store Sales Results

Boot Barn Q3 up 7.2%
Bed Bath & Beyond Q3 up 1.7%
PriceSmart Q1 up 1.5%
Container Store Q3 down 3.5%

December Same Store Sales Results

PacSun up 9%
Gap up 1%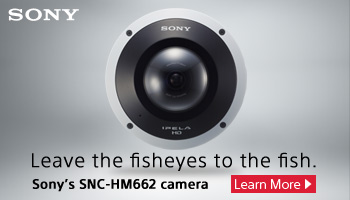 All the news - One place - One Source - One Time
The D&D Daily respects your time
& doesn't filter retail's reality
Report Your News!
(content subject to approval)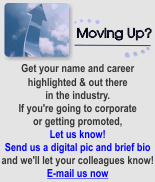 eBay News

eBay's Global Asset Protection team assist Law Enforcement on a Convicted Madison art dealer re-arrested after allegedly selling fakes on eBay
An art dealer convicted of mail fraud for selling fraudulent artwork was re-arrested Wednesday and charged with violating the conditions of his release for allegedly continuing to sell misrepresented art — this time on eBay. Following his latest arrest, David Crespo, 59, of Guilford, appeared before U.S. District Court Chief Judge Janet C. Hall Wednesday. Hall remanded Crespo into custody pending his sentencing, now scheduled for Jan. 16. Hall told Crespo he is accused of engaging in mail and wire fraud within the last few days, by offering art for sale on eBay that is not what it is said to be in the listing descriptions. Crespo, who formerly owned Brandon Gallery in Madison, has used the identity "Metartpro" when making art deals over the Internet, according to court documents. He has continued to sell art on eBay, even after his conviction.

Read more here.

For further information on PROACT, email inquiries to PROACT@eBay.com.
eBay Direct - Click Here
(notify - info - questions)

Loss Prevention News Network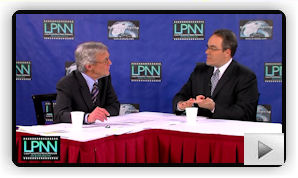 The Loss Prevention industry's first-ever live broadcast. With over 2,000 viewers and great Guests, Cast and Crew, the D&D Daily's "Live in NYC" event covered timely subjects and delivered valuable information for the LP viewers. MC'ed by two dynamic and absolutely energized industry executives, the event was a huge success and showed how the Daily continues to lead the way in "Educating, Informing & Instilling a Sense of Community" for the LP industry.

Visiting with LP Leaders of various Solution Providers, Retailers, Academia, and Trade Associations, the sessions covered a wide array of timely and critical subjects that can have an impact on your career and add value to your performance.



Joan Manson

Sponsored By:


Bass Security





Sponsored By:



Keith White & Michael Nelson

Sponsored By:


Dan Faketty and Professor Bob Hanson

Sponsored By:


The NRF's LP Legislative Committee, a National Update





Jeff Fulmer & Jon Gold


Sponsored By:


Preparing - Training - Responding to the Active Shooter





Rich Mellor


Sponsored By:

Cyber Security's Increasing Impact on Retail & the Role of Loss Prevention

Tom Litchford
Sponsored By:

Stan Welch, VP of LP, JCPenney



Sponsored By:



In case you missed it ...
Click here to view all the episodes from
"Live in Ft. Lauderdale at the NRF LP Show."

Solution Providers, have a video or commercial you want to publish? Contact us.


Stay Tuned for our New 2015 Get LP Social Column!

---

2014 LP Team Group Selfie Review

Showcasing each team in order!
Be on the lookout for our new Get LP Social 2015.

Your Team - Your Pride

Bob Evans Farms Loss Prevention Team
"To integrate the Security & Loss Prevention Department policies and procedures into the consciousness and culture of Bob Evans Farms while protecting our valued customers, employees, assets and reputation"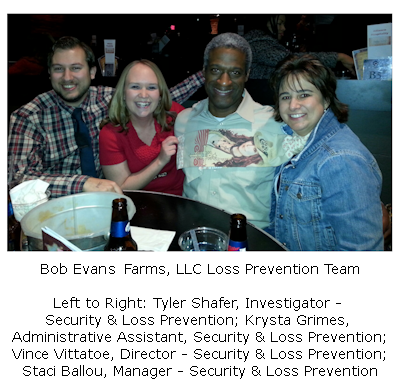 *Originally published on August 11, 2014
View all 2014 selfies here!

Three 2014 Group Selfie LP Teams to win Pizza Parties!
Drawing at our Live in NYC at the NRF Big Show, January 12th.
Make sure you're watching!

Canadian Push
Sponsored by Vector Security
Target's New CEO Is About to Make a Big Decision on the Retailer's Future - Losing $2.5B since entering Canada New Target Chairman and CEO Brian Cornell is poised to make one of the biggest decisions of his professional career: whether to pull his new employer completely out of Canada, where it currently has 133 stores. The former Wal-Mart and PepsiCo exec foreshadowed that Target would communicate its vision for its future "early next year" following a thorough review of both the Canadian and U.S. businesses. That would suggest the fate of Target Canada will be shared at the very latest on the company's fourth-quarter earnings call on Feb. 25. thestreet.com

Lululemon appoints former J. Crew executive as CFO Canadian yoga wear maker Lululemon Athletica Inc on Wednesday named Stuart Haselden as its new chief financial officer, replacing long-time executive John Currie, who announced in June his plan to retire by the end of the fiscal year. Haselden, a former U.S. army officer and avid runner, will step into his new role Feb. 2. He was most recently CFO of J. Crew Group and had previously worked at Department store retailer, Saks Inc. yahoo.com

Jean Coutu profit drops 10% on increased costs Quebec-based pharmacy company Jean Coutu Group says its third-quarter profit fell 10 per cent from a year earlier as increased stock-based and operating expenses offset sales growth. The company's net income was $56 million, down from $62.5 million, while net profit per share was flat at 30 cents. On a same-store basis comparing locations open for more than a year, the network's retail sales were up 3.1 per cent overall with pharmacy sales up 3.8 per cent and front-end sales up 2.0 per cent. cbc.ca

Canada's Luxury market is about to grow - Big Time and that means LP Jobs!

In New Brunswick, return fraud cost retail between $28-$40 million in 2013 & in Nova Scotia $33-$48 million was lost in 2013

Tractor trailer loaded with Chevron oil products stolen in Puslinch, Ontario on boxing day

New Westminster video store cleaned out in robbery

Suspected robber shot by security guard at Toronto jewelry store A man with a gun was believed to be preparing to rob a jewelry store in Toronto when he was confronted by a security guard and shot on Thursday afternoon, police say. The incident unfolded at a plaza in the Eglinton Avenue East and Warden Avenue area, which is close to a courthouse. According to Toronto police, a male with a firearm walked into the Jewellery Exchange at 1921 Eglinton Ave. E., at about 2 p.m. Det. Dave Liska said the security guard spotted the man attempting to rob one of the jewellers inside the premises. "He was confronted by an armed security guard who was already on the site and he was ultimately shot," Liska told reporters on Thursday evening. The security guard fired shots both fired inside and outside the store. Initial reports suggested that the security guard and the wounded man had exchanged fire, but that did not appear as certain hours later. "I am not sure if the suspect fired any shots, however, a weapon was recovered," Liska said. cbc.ca
Robbery suspect shot by police inside Rexall in Toronto A 34-year-old man was taken to hospital Wednesday with life-threatening injuries after being shot inside a Bloor Street pharmacy by Toronto police who were responding to a nearby armed robbery. Police initially received a call that Handy Convenience, at 591 Sherbourne Street, was being held-up by an armed man Wednesday morning. The suspect fled north to Bloor and police confronted him inside the Rexall PharmaPlus at 345 Bloor St. East shortly after 8:30 a.m. "An altercation, or an interaction occurred where a police firearm was discharged. An individual was hit, and subsequently taken to hospital," Inspector Rob Johnson of 51 Division said. nationalpost.com

e-commerce

Sponsored by The Zellman Group
Not-So-Happy Returns: Retail Federation Highlights "Wardrobing" Costs The holidays are over, but stores big and small will be dealing with more than the memories. That's according to the National Retail Federation (NRF), which reported late last month that during the holiday season alone, retailers could face as much as $3.8 billion in lost revenue from fraudulent returns, an increase from $3.4 billion in 2013 and a big chunk of the estimated $10.9 billion in return fraud in 2014 as a whole. The organization's 2014 Return Fraud Survey [PDF], which gathered responses from loss-prevention executives at 60 retailers, shows that retailers suspect that 5.5 percent of holiday returns are fraudulent. And while technology has helped curb illegitimate returns, NRF said, there's only so much companies can do about retail fraud, which is often suspected to be the work of crime rings. "Today's sophisticated technology does well keeping criminals at arm's length but often isn't enough to completely stop the unethical practices of organized and individual retail fraud occurrences," Bob Moraca, NRF's vice president of loss prevention, said in a news release. The problem is a near-universal one, with 92.7 percent of respondents saying they experienced the fraudulent act of having stolen merchandise returned in 2014. The survey also cited a rise in "wardrobing," where a customer uses a piece of merchandise and then returns it shortly thereafter. Nearly three quarters of retailers (72.7 percent) had instances of wardrobing in 2014, a significant increase from 62.1 percent in 2013. associationsnow.com

Chargebacks and 'friendly fraud' trouble retailers after holiday season According to a research conducted by Global Risk Technologies, after UK consumers spent GBP 13 billion online in the run up to Christmas, retailers are currently in a period of refunds and returns as unwanted Christmas presents and too-hastily purchased sales items are returned, often at a big cost to retail businesses. Findings reveal that in 2014, 98% of US consumers who had filed for chargebacks from January to March did not attempt to resolve their issue with the merchant first, according to a study conducted by eConsumer Services. Visa has reported that an alarming 86% of chargebacks are filed without the merchant participating as a first recourse. About GBP 7.5 billion can be attributed to annual losses to friendly fraud in the UK, higher than losses through identity theft. thepaypers.com

"Fraud is not a person - it is a dynamic grouping of statistics that deviate from the norm."
Stuart B. Levine, CFI, CFCI
CEO, The Zellman Group & Zellman Fraudnet


ORC News
Sponsored by Security Resources
Michigan State Police needs help identifying ORC ring in Bay and Saginaw counties Michigan State Police is asking for the public's help in identifying between four and six suspects accused of fraud. "Tens of thousands of dollars." That's how much money Michigan State Police Lt. David Kaiser said a ring of thieves scammed from local stores. "They're buying Visa gift cards and loading the cards to the maximum amount and they're doing so in a fraudulent manner," Lt. Kaiser said. While Lt. Kaiser said he cannot tell TV5 exactly how the thieves are defrauding stores until a security mechanism is put in place statewide, he did tell us the scam artists are targeting larger retail stores in Bay County and the Saginaw area. As for the suspects, MSP is on the hunt for three or four females and one or two male accomplices. MSP said the theft ring is using two getaway vehicles when committing the frauds. Lt. Kaiser hopes Mid-Michigan will lead MSP to the suspects and, therefore, put an end to the scam. wnem.com
Suspect in Wal-Mart $1,700 Nicorette thefts jailed in Armstrong Co, PA A Fayette County man was taken to the Armstrong County Jail on Wednesday after being charged with stealing $1,700 worth of nicotine replacement products from Wal-Mart in East Franklin twice in November. Jonathan Allen Casteel, 27, of Uniontown, is accused of removing security tags from packages of Nicorette brand patches and gum from Wal-Mart at Hilltop Plaza on Nov. 23. Police put the value of thefts at valued at about $1,200. Store surveillance recorded Casteel's actions, according to a criminal complaint filed by East Franklin police officer Robert Gahagan. In an earlier case, Casteel is accused of taking 14 packages of Nicorette gum, valued at $500, on Nov. 11, police said. triblive.com

Group of thieves use distraction to commit theft at Walmart in Lindale, TX Police say a group of thieves using diversionary tactics, such as sitting down in a checkout line, allowed their cohorts to run from the Lindale Walmart with totes full of tobacco products. Video images show two of the group of men running out the business' front doors with full bags just after 4:30 a.m. on Tuesday. Lindale Police Sgt. Chad McElyea said the stolen cigarettes total more than $1,500, and that makes the crime a felony. tylerpaper.com

Group of Dillard's shoplifters nabbed in Salina, KS Salina Police have yet to request charges against five people involved in shoplifting Tuesday evening. Captain Mike Sweeney said three men and two women went into Dillard's at the Central Mall about 8:45pm and began grabbing up large amounts of adult and children's clothing. Store employees got in front of the shoplifters, and did not allow them to leave. They dropped the merchandise and left the store. A short time later, two men and a woman from the shoplifting group came back into the store, took the clothing and left. Employees got a description and license plate number of the car, which was stopped in Harvey County about 10:45pm. salinapost.com

Shoplifting Suspect rescued from Quinebaug River in Lisbon, CT A shoplifting suspect fleeing from police fell in the Quinebaug River on Tuesday in Lisbon, and troopers pulled her to safety, police said. State police said they received a call at 11:35 a.m. of someone shoplifting at Wal-Mart at Lisbon Landing. Melissa Latronica, 30, of Cromwell, had fled the store carrying numerous items by the time troopers arrived, police said. Using a police dog, troopers tracked her behind Wal-Mart to a heavily wooded area along the river, police said, where they saw her running along the top of a steep embankment in an attempt to escape. Latronica fell down the embankment into the water, police said, and she was submerged when troopers pulled her out. norwichbulletin.com

Trumbull, CT Woman Charged With Stealing Nearly $1K In Goods From Whole Foods
Do you have an ORC case to share?
Share your ORC news and help the industry grow


Retail Crime News

Sponsored by NuTech National
Man shot in Walmart parking lot in NE Philadelphia Police are looking for the gunman who shot and wounded a man in a Walmart parking lot in Northeast Philadelphia. The investigation began after the victim's brother drove the victim to Holy Redeemer Hospital after the incident. Officers were called to the hospital after the wounded man arrived shortly after 1 a.m., according to police radio reports. The man, who was shot in his chest, arm and leg, told investigators that the shooting happened outside the Walmart at the Philadelphia Mills Mall, which was known until September as Franklin Mills. The man was sitting in a vehicle when the door somehow opened and a gunman opened fire. philly.com

Wal-Mart employee fatally shot outside the store in Bedford Park, IL A Wal-Mart employee was fatally shot outside the store's branch in the southwest suburbs Thursday evening. The shooting happened about 4 p.m. in the store's parking lot at 7050 S. Cicero Ave. in Bedford Park, a statement from Bedford Park police said. Stephen Sims, 20, with multiple gunshot wounds in the front seat of a vehicle, police and the Cook County medical examiner's office said. Sims, of the 5400 block of South Damen, was pronounced dead at Advocate Christ Medical Center in Oak Lawn at 5:06 p.m., according to the medical examiner's office. The person who called 911 told police they heard several gunshots and saw a male dressed in black fleeing from the scene, police said. A Wal-Mart spokeswoman confirmed Sims worked at the store. suntimes.com

Man shot in head outside Thornton, CO Home Depot store during 'road rage' confrontation Police are investigating a shooting outside a Home Depot location in Thornton, in which a victim was hit in the head. Two cars involved in a suspected "road rage" confrontation pulled into the parking lot around 2:34 p.m., said Thornton Police Department spokesman Matt Barnes. One of the two men in a black Toyota pickup got out and shot the driver of the other vehicle in the head. That victim, a 33-year-old man from Northglenn, is still alive, police said. Officers said the shooting was entirely random, and that the men did not know each other. thedenverchannel.com

Houston, TX Jury convicts guard who deployed Taser at Walmart A tense confrontation on video between a Walmart security guard and two young men that went viral a couple years ago has resulted in the guard's conviction. The three and a half minute video posted on YouTube documented the heated exchange outside the Walmart. The young men claimed to just be recording shopping carts in the parking lot. The officer didn't like it and definitely didn't like the camera turned on him. On the recording you can hear the guard ask for identification. When the men question him, he verbally pushes back and at one point aims his Taser at them. We've learned the guard is William Marks of Cleveland, Texas. At the time he worked for a security company contracted by the Walmart. Marks called Houston police for backup. The Harris County District Attorney's Office declined charges against the guys behind the camera, but then pursued Marks. According to the D-A's Office, Marks didn't have the credentials to represent himself this way. At the time he was only a reserve officer for the now-defunct Kenefick Police Department. He was charged with a private security act violation, essentially working as a security officer without holding a security officer commission and Wednesday a jury found him guilty. That means no more work in law enforcement, according to the DA's Office. When commissioned as a security officer, Androphy says proper licensing is important. abc13.com
AutoZone Manager charged with illegally using store rewards card A retail manager in LaPorte created a rewards card for himself then used the purchases from other customers to rack up enough points to buy things from his own store at no cost. He also took items from his store like Cheetos and other snacks without paying. That's what police are alleging against a 20-year-old South Bend man who, when questioned Tuesday by investigators, admitted to the unlawful acts, authorities said. Police became involved when contacted by a loss prevention officer at Auto Zone at 310 E. Lincolnway. According to store security, the man was one of the managers and went against company policy in obtaining a rewards card to buy store items at a discount. To avoid being caught, police said the man acquired the card by using another person's name. He also built up points by putting the purchases from other Auto Zone customers on the card. Eventually, he racked up enough points to obtain at no cost $200 worth of store items, acquiring things like a car battery priced at $137 and a bottle of foaming glass cleaner, police said. Police said he also stole from the store three bags of Cheetos, three packs of Reese's Peanut Butter Cups, three bottles of drinking water, two wiper blades and a pen. nwitimes.com

Pier One Imports assistant manager arrested after admitting to $11,000 store theft An assistant manager at Pier One Imports in College Station was arrested Wednesday after investigators said he stole more than $11,600 from the store in a six-month period. Richard Blake Epting, a 23-year-old College Station man, was charged with state jail felony theft in connection with 62 fraudulent return transaction made at the furniture and home decor store from March to September 2014. The store's loss prevention manager reported the theft to College Station police in November after noticing disparities while conducting a store inventory and found that the assistant manager had placed money from fraudulent returns onto a store gift card or his debit card, police said in the report. When confronted, Epting admitted to the allegations of theft in writing and to police. theeagle.com

Peoria, IL man sentenced for string of robberies Maurice Jones, 48, of 511 E. Republic St. pleaded guilty in November to four counts of robbery and two count of burglary. Normally those charges have a seven-year maximum but Jones' criminal history meant he faced a stiffer sentence. The 2013 robberies occurred Nov. 11 at the Marathon and the Discount Smoke Shop; Nov. 5 robbery at Dollar Genera; Nov. 26 robbery of Super Saver Liquors; Sept. 20 robbery of Family Dollar; and a Sept. 5 robbery of Twinz Fast Stop. pjstar.com

Thief sought for robbing 2 Kevin Jewelers in Northridge, Riverside, CA A search is underway for an armed robbery suspect who targeted jewelry stores in malls in the San Fernando Valley and Riverside County. The suspect's most recent heist occurred Jan. 6 at around 6:30 p.m. at the Northridge Fashion Center Mall. The man walked into a Kevin Jewelers store very nonchalantly, started a conversation with the clerk at the counter and asked her to see some merchandise. When she pulled out the jewelry from the display case, the man pulled out a gun from his back pocket. The gun is very small and is hard to see in the surveillance video, but the clerk clearly saw the weapon and jumped back. She handed over the jewelry and the suspect made his getaway. abc7.com

Wilmington, NC Police arrest suspect in 6 Pharmacy Robberies The Wilmington Police Department believes it has found the man responsible for six local pharmacy robberies during the past nine months. Jason Christopher Stash, 35, was arrested at his home on Long Leaf Hills Drive about noon Thursday, less than an hour after a man robbed the Rite Aid at 4502 Shipyard Blvd. of prescription drugs. Stash is also charged in five other robberies, Police said, including April 20 at Walgreens, 4521 Oleander Drive; May 7 at King's Pharmacy, 2231 South College Road; Aug. 23 at the same Walgreens; Sept. 21 at CVS, 4600 Oleander Drive; and Dec. 11 at the Rite Aid on Shipyard. starnewsonline.com

49ers OL Jonathan Martin says he stopped a Versace store robbery in progress A Versace store somewhere in America is safer today thanks to the vigilant actions of 49ers offensive lineman Jonathan Martin. Martin was at the Beverly Center in Los Angeles when he noticed two perpetrators stealing purses from the Versace store. Martin then chased one of the suspects down and tackled him. The 49ers lineman told Yahoo's Shutdown Corner blog that he punched the guy "five to eight times." The other shoplifter got away. "I didn't even think," Martin said on Thursday night. "I just reacted. It wasn't till later when [my friend] said, 'He could have had a gun.' I didn't even think about it. I just wanted to help." cbssports.com
Man arrested in connection with Las Vegas Payless Shoe Armed Robbery A man police believe robbed an east valley shoe store at gunpoint Thursday morning is in custody. The Payless Shoe Source at 581 N. Eastern Ave., near the intersection at Bonanza Road, was robbed at 10:14 a.m., police said. The man then fled through the parking lot and was last seen walking north on Bonanza toward Eastern, Metro spokeswoman Laura Meltzer said. No one was hurt, Meltzer said, but witnesses told police the man fired a shot inside the store before he left. reviewjournal.com

Federal agents in Washington arrest six in synthetic drug case Six people were arrested after federal and local officials raided several smoke shops in Yakima, Wenatchee and Kennewick as part of an investigation into synthetic drugs, authorities said Thursday. The investigation stretches across Eastern Washington, but is heavily concentrated in the Yakima Valley, said Andrew Munoz, spokesman for Homeland Security Investigation in Seattle. Little information about the case is being released because the search and arrest warrants and investigation remained sealed by a federal judge, Munoz said. yakimaherald.com
Edward Arthur Jewelers robbed at the Mall in Columbia, MD Security footage shows three suspects robbing the Edward Arthur Jewelers at the Mall in Columbia on Monday, Jan. 5. The three use hammers to smash jewelry cases before taking watches out and leaving. baltimoresun.com

Law Enforcement Appreciation Day
On January 9th, we call our nation's citizens to action in support of law enforcement. Those citizens who appreciate law enforcement and are discouraged about the negative attention being given to law enforcement are encouraged take time on Friday, January 9th to show their support.

Cash grab at Mall of America may have been part of a robbery spree

Cellphone store robberies rise in Orange County, FL

Chainsaws thrown at Alabama police pursuing robbery suspects


Robberies and Burglaries
● AT&T Wireless - Willingboro, NJ - Armed Robbery/ suspect arrested
● Burnsville Pharmacy - Burnsville, WV - Armed Robbery
● Casey's General - Fargo, ND - Armed Robbery
● Dollar General - Horry Co, SC - Armed Robbery/ $10,000 reward offered
● Dollar General - Detroit, MI - Armed Robbery
● Hideout Harley Davidson - Joplin, MO - Burglary / suspect identified
● Lamar Grocery - Memphis, TN - Burglary
● Newson's Pharmacy - Monroe, AR - Armed Robbery/ Suspect killed
● Nilu Corp - Olanta, SC- Armed Robbery
● Petro Mart - New Bedford, MA - Armed Robbery/ brutal assault on clerk
● Oregon Tool & Supply - Roseburg, OR - Burglary
● Radio Shack - Roseville, MI - Armed Robbery
● Teloloapan - Houston, TX - Armed Robbery/ Police shooting
● Walgreens - Colorado Springs, CO - Armed Robbery



Featured Job Listings
Sponsored by NuTech National
Feature Your Job Here For 30 Days -
70% Aren't On the Boards
Director of Corp. LP
Bed Bath & Beyond
Union, NJ
Bed Bath & Beyond
Director LP
Sephora
San Francisco, CA
LinkedIn
VP of Sales
Checkview
Chanhassen, MN
Checkview
Sr. Director, Field LP
Ross Stores
Dublin, CA
Ross Stores
Director Market LP
Walgreens
Phoenix, AZ
Walgreens
Market AP Specialist
REI
Portland, OR
REI
National Account Executive
Checkview
Northeast Region
Checkview
National Account Executive
Checkview
United States
Checkview
Corporate Investigator
Confidential
San Francisco Bay, CA
Confidential
National Account Manager
Vector Security, Inc
TBD
Vector Security, Inc
National Account Mgr
Confidential
Northeast
Downing & Downing

Limited Time Only - Post Your Multi-Unit LP jobs for FREE - Learn More Here

Daily Job Alerts


Appearing One Day Only
View our Internet Jobs Archives here
AP Specialist
Cabela's
Tulalip, WA
Cabela's
Regional LP Manager
Dollar General
Sacramento, CA
Dollar General
Senior Mgr, EHS
HD Supply
Norcross, GA
HD Supply
AP Manager
Home Depot
Des Moines, IA
Home Depot
LP Specialist
Kroger
Snellville, GA
Kroger
LP Specialist
Kroger
Decatur, GA
Kroger
LP Specialist
Smith's Food and Drug
Santa Fe, NM
Kroger
Dept Mgr LP & Safety
Lowe's
Kent, WA
Lowe's
Dept Mgr LP & Safety
Lowe's
Wilmington, NC
Lowe's
Dept Mgr LP & Safety
Lowe's
Hickory, NC
Lowe's
Director Regional LP
Lowe's
Sewickley, PA
Lowe's
LP Shrinkage Specialist
Nordstrom
Newport Beach, CA
Nordstrom
AP Manager
Sam's Club
Cincinnati, OH
Wal-Mart
AP Manager in Training
Walmart
Amherst, NH
Wal-Mart
AP Manager in Training
Walmart
Heath, OH
Wal-Mart
AP Manager in Training
Walmart
Framingham, MA
Wal-Mart
AP Manager in Training
Walmart
Madison Heights, VA
Wal-Mart
AP Manager in Training
Walmart
Greenville, SC
Wal-Mart
AP District Manager
Rite Aid
Virginia
Rite Aid
AP Manager
Safeway
Lanham, MD
Safeway
Regional Mgr LP
Lucky
Modesto, CA
Save Mart Supermarkets
Sr Mgr of Divisional LP
Lucky
Modesto, CA
Save Mart Supermarkets
LP Manager Hrly
Sears
Prescott, AZ
Sears Holdings Corp
LP Manager
Kmart
White Plains, NY
Sears Holdings Corp
LP Manager Hrly
Sears
Key West, FL
Sears Holdings Corp
LP Manager Hrly
Sears
Richardson, TX
Sears Holdings Corp
LP Manager Hrly
Kmart
Chico, CA
Sears Holdings Corp
LP Manager Hrly
Kmart
Williamsburg, VA
Sears Holdings Corp
LP Manager Hrly
Kmart
Portland, TX
Sears Holdings Corp
AP Team Leader
Target
Valdosta, GA
Target
LP Manager
Macy's
Jersey City, NJ
Macy's
LP Manager
Macy's
Pasadena, TX
Macy's
LP Manager Investigations
Macy's
Kansas City, MO
Macy's


Home of the Industry's Original
On the Move

None to report.
Post Your New Job or Promotion!
See all the Industry Movement


Your Career
Sponsor this section of the Daily
9 Power Promises for Happiness and Success
If you really want to be successful and happy this year, it's time to start making some promises to yourself. Not just today, or this month, but every day. Here are some promises you should keep! Proud but not prideful

Learn the 7 Secrets for Building Unstoppable Confidence Building confidence in yourself is not an overnight process. It takes time and a lot of patience to stop the behaviors that cause us to lack faith in ourselves, but here are some secrets you can use to uncover your confidence from within. No masks

How One Word Can Change Your New Year Don't make the same resolutions this year, rather try this tactic: pick one word and stick with it for the whole year. By choosing one word, it helps you become more focused on that goal and makes it feel doable. Who do you want to be?

The Seven C's to Guide You in 2015
Maybe New Year's Resolutions aren't your thing, so instead of a goal, try these seven c-lettered words to help you turn this year into a prosperous and fulfilling one. Transform yourself so that you can embrace this year with no regrets and no fear. Center yourself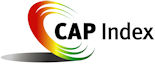 Tip of the Day
Sponsored by Vector Security
Having a strategy or a plan about everything you do is important if you expect to win long term. Daily victories are nothing without a long-term plan. They fade quickly and leave the audience expecting more, which only a plan and strategy will satisfy. So after your next victory, ask yourself what am I going to do next?

Just a Thought,
Gus







Upcoming Events
---
Recruiting?
Get your job e-mailed to everyone... everyday
Post on our Featured Jobs Board!
Reach your target audience in 2015 every day!
Request our 2015 Media Kit
update account / change e-mail
unsubscribe FEEDBACK
www.downing-downing.com

Advertise With The D&D Daily




36615 Vine Street, Suite 103
Willoughby, OH 44094
440.942.0671
copyright 2009-2019
all rights reserved globally