The D&D Daily Mobile Edition
January 21,

2015



The LP Industry's #1 News Source - Informing, Educating and Instilling a sense of community


News Brief
Sponsored by WG Security Products, Inc.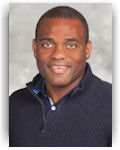 Chidebelu Ufodike was named Director of Pharmacy Asset Protection for Rite Aid. Chibedelu was previously the Pharmacy District Manager in South Georgia. He has been with Rite Aid since 2006. He also has worked at Eckerd as a Pharmacist, Clover Leaf Drugs as a Sales Development Manager, SKG Pharma as a Medical Representative, Infectious Disease Hospital as a Clinical Pharmacist and National Orthopaedic Hospital as a Clinical Pharmacist. He is a graduate of both the University of Nigeria, where he earned a B.S. degree in Pharmacy and also Howard University in Washington DC where he earned his Pharm.D. Congratulations Chidebelu!

President Calls on Congress to Pass Cybersecurity legislation President Obama urged Congress in his State of the Union address to pass legislation to better meet the evolving cyberthreat, but spent very little of the speech explaining its dangers or detailing his cybersecurity legislative agenda. Indeed, of the 6,766 words in the Jan. 20 address, only 113 dealt with cybersecurity: "No foreign nation, no hacker, should be able to shut down our networks, steal our trade secrets or invade the privacy of American families, especially our kids. So we're making sure our government integrates intelligence to combat cyberthreats, just as we have done to combat terrorism. And tonight, I urge this Congress to finally pass the legislation we need to better meet the evolving threat of cyber-attacks, combat identity theft and protect our children's information. That should be a bipartisan effort. If we don't act, we'll leave our nation and our economy vulnerable. If we do, we can continue to protect the technologies that have unleashed untold opportunities for people around the globe." During the address, when he proposed action on his cybersecurity legislative package, members of Congress from both sides of the aisle gave Obama a standing ovation. Obama spent a good part of the previous week promoting his cybersecurity agenda, which includes encouraging businesses to share cyberthreat information with the government and other businesses and nationalizing data breach notification. govinfosecurity.com

Security priorities shifting to preventing breaches, improving internal controls For the first time, companies are worried more about preventing a breach than on passing a compliance audit -- and are spending the money to prove it, according to a new global survey of IT and business managers. In fact, compliance was in fifth place as a driver of security spending, after preventing a breach, protecting intellectual property, protecting finances and other assets, and meeting customer requirements. csoonline.com

Starboard pushing Staples to merge with Office Depot Activist investor Starboard Value LP called for office-supply chains Staples Inc and Office Depot Inc to merge, saying a combined company would lead to greater savings. A merger will result in synergies of at least $2 billion, more than doubling operating profits, Starboard's founder and Chief Executive Jeffrey Smith wrote in a letter to Staples' Chief Executive Ronald Sargent on Tuesday. However, Staples would reject Starboard's proposition due to antitrust concerns, the Financial Times reported, citing people familiar with the matter. The FTC would either outright clear or block such a deal, and would not ask for store divestitures, Keeley said. yahoo.com

Why the Staples-Office Depot Merger Could Get the Blessing of Regulators

Target's exit from Canada will be 'rapid' - Before the end of April Shoppers will begin to see deep discounts on apparel, household essentials and home décor items among thousands of other products at Target Canada in about a couple of weeks' time, a spokesperson confirmed Tuesday. "We do expect that to begin in about 2-3 weeks," spokesperson Eric Hausman said in an email message. Liquidation sales will be followed on fast by store closures, experts suggest. Analysts at Desjardins Securities said Tuesday all 133 Target locations across Canada will likely be closed by the early spring, or just two years after the U.S. retailer launched in Canada. The Canadian chain said it will pay employees for up to 16 weeks of work, or to May 7, as it winds down operations. globalnews.ca

TechBytes: Five Hot Tech Trends from NRF 2015 Inventory Gets Smart - RFID Enters the Wonder Years - Security - Duh! - Do Something with all that Data - Mobile - Yawn! chainstoreage.com

More than 50 Percent of Retailers Not Fully Prepared as EMV Deadlines Approach With only nine months until the EMV migration deadline, retail and technology professionals are still unprepared, according to a recent survey by ACI Worldwide. The survey of 200 retail industry professionals was conducted in January 2015 at the National Retail Federation's 104th Annual Convention and Expo, "The Big Show," in New York. businesswire.com

Goodlife Fitness first to stake out Target Canada locations

Lowe's to hire 30K workers for spring

Home Depot has until July to respond to data breach law suits

RadioShack Said Talking to Sprint for Bankruptcy Store Sales

$5M class-action lawsuit proceeds in Cleveland targeting Walmart's return policy

CVS praised at State of the Union speech last night


Keynote Session:

Preparing for the Unknown
Leadership is key to the long-term success of any team. Strong leaders anticipate, prepare and plan for the future. Stronger leaders seek to understand what is unknown - by gathering information, identifying shifting landscapes and testing capabilities - so their team is well-positioned to respond to emerging situations.

The 2015 NRF Protect LP Conference & Expo takes place June 23-25, 2015 in Long Beach, CA.

To learn more about this session and others, click here.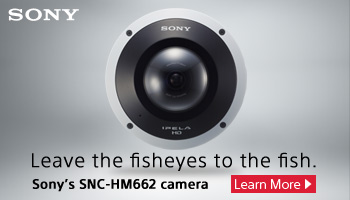 All the news - One place - One Source - One Time
The D&D Daily respects your time
& doesn't filter retail's reality
Report Your News!
(content subject to approval)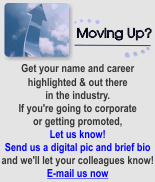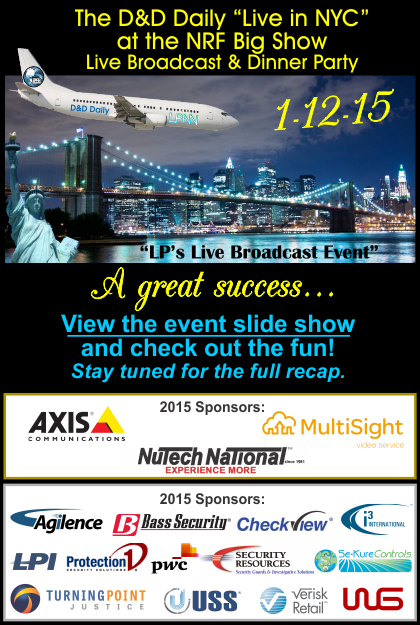 eBay News

Collaborative partnering between Law enforcement, retail loss prevention, and eBay's Asset Protection team leads to prison time for truck driver and his associate
A Florida man and a Kannapolis, N.C., woman have been sentenced to federal prison after pleading guilty to an interstate theft conspiracy involving a designer brand and eBay. Federal authorities say Gewan Ramtahal, 35, of Broward County, Fla., and Debbie Caricola, 59, of Peace Haven Road, Kannapolis, conspired together to steal more than $400,000 worth of Tory Burch merchandise and sell it on eBay, according to court documents. Ramtahal was sentenced Friday to 18 months in prison, and Caricola was sentenced Thursday to year and one day in prison. Ramtahal, who worked for a trucking company, drove Tory Burch items -- including designer handbags, shoes, dresses, eyeglasses and other apparel -- from New York to Florida for distribution. From November 2012 to November 2013, prosecutors say, Ramtahal stole about 1,508 Tory Burch items out of his shipments and mailed them to Caricola, who sold them at a discount to the highest bidder on eBay. She then transferred a percentage of the profit to Ramtahal. The estimated retail value of the stolen items was $447,820. Authorities recovered more than $200,000 in U.S. currency and more than 120 unsold Tory Burch items from Caricola's home at the time of her arrest.
Read more here.
For further information on PROACT, email inquiries to PROACT@eBay.com.
eBay Direct - Click Here
(notify - info - questions)

Loss Prevention News Network

Cyber Security & LP's
Role in the Effort
The NRF's Threat Alert System &
RILA's Development of R-CISC
How LP Fits In
Both NRF and RILA have been tirelessly working together and separately over the past year to establish efforts to help fight the cybercrime crime wave impacting retailers nationwide. Leaders from both industry groups sit down together with LPNN for an in-depth look at the NRF's Threat Alert System and RILA's Retail Cyber Intelligence Sharing Center. Tom Litchford, VP, Retail Technologies for the NRF, and Suzie Squier, Sr. VP, Member Services for RILA, discuss the latest in cybersecurity, what the two leading retail associations are doing about it, and what role LP executives can play in the fight against this unprecedented threat.



Joan Manson

Sponsored By:


Bass Security





Sponsored By:



Keith White & Michael Nelson

Sponsored By:


Dan Faketty and Professor Bob Hanson

Sponsored By:


The NRF's LP Legislative Committee, a National Update





Jeff Fulmer & Jon Gold


Sponsored By:


Preparing - Training - Responding to the Active Shooter





Rich Mellor


Sponsored By:

Cyber Security's Increasing Impact on Retail & the Role of Loss Prevention

Tom Litchford
Sponsored By:

Stan Welch, VP of LP, JCPenney



Sponsored By:



In case you missed it ...
Click here to view all the episodes from
"Live in Ft. Lauderdale at the NRF LP Show."

Solution Providers, have a video or commercial you want to publish? Contact us.


Stay Tuned for our New 2015 Get LP Social Column!

---

2014 LP Team Group Selfie Review

Showcasing each team in order!
Be on the lookout for our new Get LP Social 2015.

Your Team - Your Pride
CVS Caremark's Area 18 Loss Prevention Team in front of the first CVS Pharmacy store in Washington State!
"Partnering Together, Results Driven"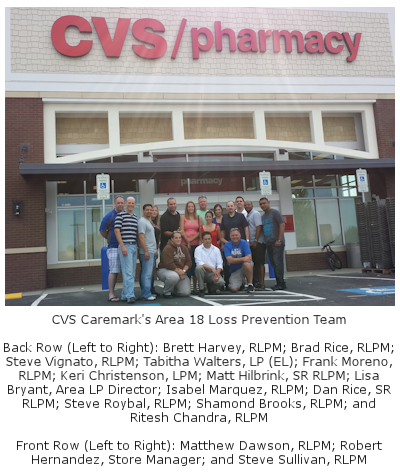 *Originally published on August 27, 2014
View all the selfies here!

Press Releases




CARRIER SECURITY AUDIT COMMITTEE
The Carrier Security Audit Committee is a newly formed group of Loss Prevention/Security executives representing diverse industries such as pharmaceutical, big box, specialty, grocery, shippers and others with a common interest in securing their Supply Chains by adding increased focus on the "final-mile" delivery.

Under the authority of the International Supply Chain Protection Organization (ISCPO), the committee's objective is to achieve a unified voice in carrier security standards and create an industry carrier audit that can be incorporated into our own respective compliance programs.

The ISCPO's carrier audit will differ from other industry recognized assessments already in circulation as it will focus on internal controls that directly impact day-to-day loss or performance issues experienced such as POD and scan integrity. In turn, the ISCPO is interested in endorsing those carriers who embrace and comply with the audit standards set forth.

If you are interested in representing your organization in this project, please contact our Recruitment Officer - Christopher Coffey, CFI Christopher.Coffey@sephora.com or Committee Chairman - Wes Bank, LPC Wes.Bank@DHL.com

Visit us at www.ISCPO.org

e-commerce

Sponsored by The Zellman Group
Avoiding Ecommerce Fraud and Its Implications in 2015 Online retail is stronger than ever, with the holiday spending spree in November and December up 15% over 2013, according to comScore. Yet with the ever-increasing opportunities of ecommerce comes the ever-present threat of fraud. Fraudsters are also staying up to date with developments in online retail. As hard as merchants work to improve their conversion rates and develop their business, fraudsters work just as hard to steal some of those profits away. What can merchants do to protect themselves and their business from fraud?

Stay Up To Date: It's no good fighting fraud with the methods that worked five or ten years ago. Fraudsters are fast and creative, and know all those techniques probably better than you do, and how to get around them.
Big Data Is a Big Help: Big data, with its fascinating trends and patterns, can help prevent fraudsters from slipping through your checkout process if it's used in the right way. It can also help to avoid false positives because it makes it easier to take each customer on their own merits.
Don't Let Fraud Fighting Turn Away Customers: The sorts of stringent rule-based systems which turn away genuine customers because they share certain characteristics with fraudsters – which may be more common than you think – also affect your conversion rates.
Fraud Prevention Must Be Flexible: Include fraud prevention as part of your 2015 ecommerce plan. multichannelmerchant.com
This tool makes it easier for thieves to empty bank accounts Web browsers relay a variety of data to websites, including a computer's OS, its time zone, language preference and version numbers for software plugins. When those parameters change, along with others such as an IP address, it may mean an account is being fraudulently accessed. To prevent being locked out of an account, fraudsters can use a variety of methods to appear legitimate when browsing by using virtual machines and special browser plugins. But an enterprising developer has developed a software package that makes spoofing a browser fingerprint much easier. Called FraudFox VM, the software is a special version of Windows with a heavily modified version of the Firefox browser that runs on VMware's Workstation for Windows or VMware Fusion on OSX. What FraudFox aims to do is make it faster and easier to change a browser's fingerprint to one that matches that of the victim whose account they're going to exploit, or simply mix up their own digital crumbs when browsing. pcworld.com

Could Target return to Canada through ecommerce?

"Fraud is not a person - it is a dynamic grouping of statistics that deviate from the norm."
Stuart B. Levine, CFI, CFCI
CEO, The Zellman Group & Zellman Fraudnet

ORC News
Sponsored by Security Resources
Credit card fraud suspect shot in Safeway parking lot by Scottsdale police dies
They say Carr had a long criminal history in Arizona and Illinois, including armed robbery, aggravated assault and drug charges. Police also say Carr served prison sentences for armed robbery and other crimes. Carr was shot in the chest by police last week when officers say he tried to run them over while busting an alleged credit card fraud ring. Police say Carr and three other suspects were at a Safeway store and allegedly using stolen credit card numbers when they were busted. They say the other suspects are facing charges related to identity theft and credit card fraud. fox10pheonix.com

$25 Million dollar ID theft ring busted in Jacksonville, FL All it took was one phone call to unravel a multi-million dollar scam. The case began when a company called authorities to report that an $85,000 check it was expecting in the mail, never arrived. "That $85,000 check ballooned into a $25 million ID theft investigation," said U.S. Postal Inspector Darnell Edwards. Postal inspectors say one of the suspects was stealing checks, usually for large sums, right out of the mail. "They would slightly alter the name on the check to throw off the scent if you will," explained Edwards. For example, if the company was called ABCD, they would make it ABCD Incorporated. "They would go to the bank and indicate they were the owner or president of the company. They would open the business account, several days later they would deposit the fairly large check, they would draw down the account as quickly as they could," Edwards explained. In addition to opening up checking accounts, the suspects were also getting fraudulent credit cards in the names of the bogus businesses. One suspect agreed to allow postal inspectors to search his home. Investigators found plenty of evidence including 300 credit cards. "They were all sectioned off into sevens," said Edwards. "One for each day of the week. So Sunday, they would swipe x amount of credit cards for x amount of dollars, Monday, Tuesday." news4jax.com
WCSO Arrests Four Individuals Involved in Organized Retail Theft Ring that hit Saks Fifth Ave. On Jan. 19, Walton County Sheriff's Office responded to a 911 call reporting a shoplifting incident at Silver Sands Premium Outlets in Sandestin. A pair of jeans valued at $317 could be seen inside the vehicle. Deputies searched the vehicle and found more than $2,500 worth of stolen merchandise, including a large amount of alcohol. During the investigation, deputies were advised by the Okaloosa County Sheriff's Office of a theft of a large amount of alcohol from Destin and Fort Walton Beach earlier that same day. All suspects were identified by eyewitness statements and store security video. During the theft in Walton County, it was determined the four individuals worked as a team to distract the employees of Saks Fifth Avenue and collectively steal merchandise. waltonsun.com
Boston ORC Female duo busted in multi-state operation Two Boston women were arrested at the Square One Mall in Saugus on Friday after they were allegedly found to be in possession of more than $6,000 worth of stolen goods from Maine and Massachusetts, Saugus Police said in a statement. Saugus Police arrested Ana Oliveira, 44, and Melissa Lopes, 32, charging them both with larceny over $250 and receiving stolen property over $250. Police said in a statement that additional charges may be pending. Police recovered 435 different items of clothing and household goods from 15 different stores in Saugus and Kittery. The total theft was valued at over $6,000. boston.com
Oneida, N.Y. ORC Female duo being sought - hitting Walmart store for $3,475 in four days The women went to the Walmart at 2024 Genesee St. three times over four days and stole hundreds of dollars in goods each time, police said. Police have released surveillance footage of the women at the store. On Jan. 8 around 7:06 p.m., the women took merchandise worth $1,459.88 police said. Then at 7:48 p.m., they took $830.70 in goods, officials said. Surveillance photos show that during this incident the women were accompanied by a man. Then on Jan. 11 around 7:21 p.m. the women were seen at the store again, this time to steal $1,185.08 in merchandise, police said. A loss prevention officer attempted to stop the women during this incident, but they ran to a white sport utility vehicle and drove off toward Lenox Avenue. syracuse.com
Mom pleads guilty to stealing tens of thousands of dollars worth of baby formula from two Norton Shores Meijer stores She and her daughter Lisa Surian are accused of stealing more than $1,500 worth of baby formula from the Meijer stores on Holton Road and Norton Avenue in September and October 2014. Court documents show they pleaded guilty to a similar larcency from a Greenville store only days before the first of the Norton Shores thefts. Susan Surian pleaded guilty Friday to one count of first-degree retail fraud. Lisa Surian has not yet entered a plea. Sentencing scheduled for Feb 23. woodtv.com
Serial Shoplifter busted hitting Macy's at Columbia Center Mall Jessica M. Reddick, 31, tried to leave the store Monday night with $2,000 worth of clothes, police said. She is banned from all Macy's stores after several incidents where she allegedly stole items from various Tri-City stores. Reddick also reportedly had four felony warrants out for her arrest - all related to theft or shoplifting. tri-cityherald.com

Clay County, FL Deputies arrest 2 people accused of gift card scam A man and a woman were caught using fraudulent credit cards at the BJ's off Blanding Boulevard in Orange Park, according to the Clay County Sheriff's Office. Deputies said the man and woman purchased cigarettes using a stack of gift cards. "From the best we can gather right now, they were provided a stack of gift cards in order to purchase cigarettes -- what we assume to sell on the black market," said CSCO Lt. Shawn Gordon. The manager called deputies because he said the pair was acting "suspicious." Once deputies arrived they said the male suspect showed them a fake ID before running off. They caught him shortly after in a nearby wooded area. Deputies said they believe the two were not from Clay County, or even the Jacksonville area. They believe the two traveled to the area to pull off the scam. "There's so many scams going on involving gift cards," Gordon said. "People are selling their gift cards, from my understanding. You just have to be mindful when you have your gift cards, if you're just laying them around, so people don't pick them up and steal them." news4jax.com
Man Dubbed 'Braveheart Bandit' Accused Of Multiple Store Thefts in Columbus, OH Retail thefts are costing stores more than ever before. According to the city attorney's office, theft charges were slightly down in 2014. But, the average value of each theft increased from about $128 to $137. Authorities also say there's a trend with repeat offenders. In 2014, 81 percent of the theft cases were committed by people with prior criminal charges. One suspect that the office singled out was 21-year-old Christopher Peters. Peters has been dubbed the "Braveheart Bandit" because of a blue tattoo across his face. According to the city attorney's office, Peters was caught stealing eight times in 2014. He is currently wanted on three outstanding warrants. A news release states that Peters stole more than $322 worth of merchandise from Home Depot in March, a $380 vacuum cleaner from Anderson's in April, and additional Dysons valued at $849 from Target. In April, he stole $220 worth of clothes from Old Navy. 10tv.com

Man accused of stealing from nine Traverse City, MI stores A downtown employee's uneasiness about a store browser lead to the arrest of a Cadillac man who's accused of stealing from nine businesses. The suspect, 27, brought his four-year-old to Traverse City, where they shopped, but neglected to stop at cash registers. Police apprehended the man on Jan. 18 after they received a complaint from a store owner, said Traverse City police Capt. Mike Ayling. Ayling said the man is suspected of stealing about $750 worth of merchandise from eight downtown businesses and GameStop in Garfield Township. recordeagle.com
Do you have an ORC case to share?
Share your ORC news and help the industry grow

Retail Crime News

Sponsored by NuTech National
Titusville, FL Officer shoots wanted man outside Cumberland Farms store A wanted man was shot by Titusville Police early Wednesday when he began ramming police cruisers in an attempt to get away. Marques R. Albert, 22, of Titusville, was shot around 1 a.m. in the parking lot of the Cumberland Farms. According to Titusville police, Albert was wanted in a January 8 shooting that left another man injured. Police said a task force spotted Albert at the convenience store and attempted to take him into custody. Albert then began "violently ramming police vehicles with his vehicle," police said. A Titusville police officer opened fire, striking Albert at least once. A woman in Albert's car was taken to a hospital with minor injuries from the impact of the ramming, police said. clickorlando.com
Philadelphia Police hunt on for suspected serial robber hitting Rite Aid Philadelphia police are looking for a man suspected of having committed at least a dozen robberies throughout the city. Cartel Wright, also known as Kevin Jones, from the 5900 block of Upland St. is wanted for the armed robbery of the Rite Aid located on the 5000 block of City Ave. on March 25, 2014. He is also the prime suspect in at least a dozen armed robberies in and around Southwest and West Philadelphia. On March 25, 2014, at 2:55 a.m., Wright allegedly committed a robbery at the Rite Aid located at 5000 City Line Ave., where he threatened to shoot a store employee. Through investigation, Wright was identified and a warrant was issued for his arrest. Since this incident, police say he is suspected in a series of commercial robberies in Southwest and West Philadelphia. He is suspected of having committed the following additional robberies: Sept. 30, 2014, at 5:18 a.m., Rite Aid located at 5000 City Ave. Dec. 18, 2014, at 2:00 a.m., the Rite Aid located at 5000 City Ave. On the same date at 7:20 pm, he allegedly hit the Rite Aid located at 5200 Baltimore Ave. On Dec. 27, 2014, at 5:25 a.m., he allegedly robbed the Rite Aid located at 5000 City Ave. again. phillytrib.com

Three Omaha Robberies May be linked; Walgreens and Casey's General Omaha police are investigating whether three separate armed robberies over the past month are related. The most recent crime happened Saturday night. A surveillance camera was rolling when a man held up the Walgreens store at 24th & L Street. We have attached video of the robbery to this story. Police are investigating whether the same man held up the Casey's store at 13th & Pierce at 8:17 p.m. on the night of Saturday, December 20. About an hour later, the Walgreens at Saddle Creek & Dodge was robbed. wowt.com

Walgreens Pharmacy Robbed Twice in 1 Week in Tulsa, OK A Walgreens in Tulsa was robbed on January 12, 2015, and again on January 19, 2015. The news station's report stated that police are currently investigating the latter armed robbery that took place around 4 a.m. on January 19, 2015. The suspect walked into the 24-hour store wearing a bandana and carrying a shotgun. He then demanded that the manager grab money from the pharmacy's safe in the back office. The suspect left after getting his hands on the cash. No injuries reported. One week prior to that robbery, a man entered the same Walgreens store, threw the contents of a bottle of rubbing alcohol in a clerk's face, and implied that he had a weapon. He then left the pharmacy with an undisclosed amount of money. pharmacytimes.com

Robbery Suspect, 11 years old , threatened to 'kill everyone' in CVS in Indianapolis Police say an 11-year-old boy robbed a west side CVS store Monday. The store, located at 5502 West 38th Street, has been robbed several times in the past few months according to an employee. The boy allegedly demanded pills using a handwritten note. The note also detailed that "this is a robbery" and outlined specific drugs to be handed over. The note also implied that the young man would "kill everyone" if the alarm button was pushed. CVS employees filled a brown paper sack with narcotics. The bag was given to the suspect and he ran off. fox59.com
Witnesses at GameStop in Colorado Springs held two Robbery suspects for Police The Colorado Springs Police Department says two robbery suspects at a Game Stop store were held by witnesses and victims until authorities arrived. Police responded to a report of a robbery at the Game Stop on East Platte Avenue on Tuesday afternoon. Police say two male suspects entered the store. One of men went behind the counter, while they were trying to distract employees. The suspect started stealing games. The manager then locked the suspects in the store. One suspect attempted to grab the keys out of the manager's hands. Two customers began to fight the suspect, while the second suspect tried to intervene. The first suspect tried to escape by kicking the glass door, while the other suspect held the manager and witnesses back. When the suspect escaped, the two witnesses caught up to him and held the man for police. Officials took both suspects into custody. koaa.com

'Dumbbell' burglar gets 6 to 9 years in jewelry store thefts A career criminal who was described by police as a "one-man crime wave" after his arrest will spent 61/2 to 9 years in state prison after admitting Tuesday to a series of "smash and grab" burglaries. James Jay Radler, 52, was identified as the culprit behind two break-ins at Desjardins Jewelers in Beverly and another break-in at Long's Jewelers in Peabody, in late 2012 and early 2013. In all three burglaries, Radler used a dumbbell from a set of weights to smash his way into the stores, then smashed glass cases. But in one of those burglaries, Radler managed to cut himself, leaving blood and DNA behind. Prosecutor Christina Ronan said during Tuesday's change of plea hearing in Salem Superior Court, he also pawned items taken from the breaks at pawn shops in Connecticut and New Hampshire, using his own name. salemnews.com

Man accused of attacking gun toting Walmart customer in Brandon, FL A man is accused of attacking another man who had a handgun in a holster as he shopped in a Tampa area Walmart store. The Hillsborough County Sheriff's Office says 43-year-old Michael Foster faces battery charges for attacking Clarence Daniels on Tuesday. The Tampa Tribune reports Foster saw Daniels in the parking lot and noticed he had a gun in a holster. He followed Daniels into the store. An arrest report indicated Foster grabbed Daniels from behind in a choke hold. They fell to the ground and Foster yelled that Daniels had a gun. Daniels shouted that he had a concealed weapons permit. Officials say Foster never called 911 or alerted store security about his concerns. Foster remains in jail. wftv.com

California woman accused of Aspen retail thefts pleads guilty A California woman who was arrested in September on suspicion of stealing more than $3,000 worth of items from four downtown Aspen retail shops pleaded guilty Tuesday in Pitkin County District Court to one count of felony theft. Kimberly Ann Gardner, 27, of Stanton, California, also pleaded guilty to third-degree trespassing, a petty offense. aspentimes.com

Over 300 merchandise containers stolen from Willingboro, NJ Rite Aid A total of 320 merchandise containers were stolen from outside the Rite Aid drug store on Sunset Road, police said Wednesday. Investigators said the blue dual flip containers are stored outside for daily pickup. They were stolen between 10 p.m. Monday and 7:30 a.m. Tuesday. Police did not release an estimated value of the containers, which are stamped with the Rite Aid logo. burlingtoncountytimes.com

4 men try to buy $2,000 in gift cards from ShopRite in Hoboken

Two Romanian skimmers sentenced for federal bank ATM skimming and deported

Loomis Armored truck security guard steals $80,000 from truck in Baton Rouge, LA

Series of Pasco, Co, FL armed robberies may be connected

Man Accused Of Robbing Glendale, CA market with Blowtorch Remains At Large

Virginia Proposed Amendment would raise Grand Larceny amount

2 Dallas ATM Heist Attempts Within 30 Minutes

Kay Jewelers in Brandon, Florida reported a Grab and Run of a gold bracelet and chain, valued at over $1,200


Robberies and Burglaries
● CVS - Bartlesville, OK - Armed Robbery - suspect arrested
● CVS - Gaston Co, NC - Armed Robbery - suspects arrested
● DC Guns - Medina, OH - Burglary
● Dollar General - Clearwater, FL - Armed Robbery - suspect identified
● Dollar General - Rock Hill, SC - Armed Robbery
● Dollar General - New Orleans, LA - Armed Robbery
● Dollar General - Santa Fe, NM - Armed Robbery
● Rebel - Las Vegas, NV - Armed Robbery
● Subway - New Orleans, LA - Armed Robbery
● Subway - Wilson, NC - Armed Robbery
● Stripes - Edinburg, TX - Armed Robbery
● 7-Eleven - Silver Springs, MD - Armed Robbery


Vendor Spotlight


Checkpoint Systems Expands Counterpoint iD Point-of-Sale Deactivation Solutions
Process RFID, Dual RF/RFID Labels at POS;
Enhance Merchandise Availability, Customer Experience
NEW YORK - Jan. 12, 2015 - Checkpoint Systems, Inc., a leading global supplier of merchandise availability solutions for the retail industry, today announced here at NRF's Annual Convention & EXPO the latest additions to its Counterpoint iD (CPiD) point-of-sale (POS) deactivation solutions which address the needs of specialty apparel and department stores for Merchandise Visibility and loss prevention.

In addition to the current Counterpoint iD-RF electronic article surveillance solution already widely used and well-known by leading retailers globally, Checkpoint is introducing Counterpoint-RFID (CPiD-RFID) and Counterpoint iD Dual (CPiD-Dual) for RFID and dual RF/RFID POS deactivation needs, respectively.

Given retailers' increasing reliance on RFID for inventory accuracy and loss prevention, the new CPiD solutions address a critical challenge retailers face in integrating these key business processes with POS transactions. With its compelling benefits including 99%+ item level inventory accuracy in store operations as well as for use as a loss prevention solution, retailers have sought a way to leverage RFID at the POS and enhance the consumer's shopping experience. Their objectives include streamlining customer transactions at the POS, maintaining inventory accuracy and deactivating RFID labels on purchased merchandise to ensure alarm integrity. With multiple configuration and deactivation options, Checkpoint's CPiD family is designed to meet retailers' needs at POS regardless of their RFID adoption strategy and label formats.

The CPiD family of Solutions

CPiD-RFID enables retailers to process RFID tags at POS for better merchandise visibility by triggering reorders/restocking when needed. It also enables RFID-based EAS functionality by altering label data or by "virtual deactivation," a process by which the item is uniquely identified as sold in the inventory system so that the alarm at the exit door does not sound, although the label itself does not need to be altered. A patented antenna at POS is designed to prevent nearby labels from being read, written, or killed, to significantly reduce stray reads and improve POS accuracy.

Read more here.


Featured Job Listings
Sponsored by NuTech National
Feature Your Job Here For 30 Days -
70% Aren't On the Boards
VP Supply Chain, LP & Safety
Ross Stores
Ft. Mill, SC
Ross Stores
Business Unit AP Sr. Dir.
Walmart
Atlanta, GA
Wal-Mart
Director of Corp. LP
Bed Bath & Beyond
Union, NJ
Bed Bath & Beyond
Director LP
Sephora
San Francisco, CA
LinkedIn
VP of Sales
Checkview
Chanhassen, MN
Checkview
Sr. Director, Field LP
Ross Stores
Dublin, CA
Ross Stores
Director Market LP
Walgreens
Phoenix, AZ
Walgreens
Regional LP Mgr
Dollar General
Multiple Locations Nationwide
Dollar General
LP Manager
Bowlmor AMF
Chicago, IL
Bowlmor AMF
LP Manager
Bowlmor AMF
Denver, CO
Bowlmor AMF
AP Specialist
Wegmans
Woodbridge, NJ
Wegmans
AP Specialist
Wegmans
Hunt Valley, MD
Wegmans
Market AP Specialist
REI
Portland, OR
REI
National Account Executive
Checkview
Northeast Region
Checkview
National Account Executive
Checkview
United States
Checkview
Corporate Investigator
Confidential
San Francisco Bay, CA
Confidential
National Account Manager
Vector Security, Inc
TBD
Vector Security, Inc
National Account Mgr
Confidential
Northeast
Downing & Downing

Limited Time Only - Post Your Multi-Unit LP jobs for FREE - Learn More Here

Daily Job Alerts


Appearing One Day Only
View our Internet Jobs Archives here
AP Specialist
Cabela's
Hamburg, PA
Cabela's
AP Asst Mgr
Cabela's
Tulalip, WA
Cabela's
Regional LP Manager
CVS Caremark
Lakeland, FL
CVS Caremark
Regional LP Manager
CVS Caremark
St. Petersburg, FL
CVS Caremark
Regional LP Manager
CVS Caremark
Los Angeles, CA
CVS Caremark
District LP Specialist
Kroger
Fishers, IN
Kroger
LP Specialist
King Soopers
Loveland, CO
Kroger
Dept Mgr LP & Safety
Lowe's
Bee Cave, TX
Lowe's
Sr Mgr AP
Ralph Lauren
Greensboro, NC
Ralph Lauren
AP Team Leader
Target
Wichita Falls, TX
Target
AP Manager in Training
Walmart
Jacksonville, FL
Wal-Mart
AP Manager in Training
Walmart
Holland, MI
Wal-Mart
AP Manager in Training
Walmart
Plainwell, MI
Wal-Mart
AP Manager in Training
Walmart
Vancouver, WA
Wal-Mart
AP Manager
Sam's Club
La Habra, CA
Wal-Mart
AP Manager
Sam's Club
Albuquerque, NM
Wal-Mart
LP Manager
Macy's
Citrus Heights, CA
Macy's


Home of the Industry's Original
On the Move

Chidebelu Ufodike was named Director of Pharmacy Asset Protection for Rite Aid.
Post Your New Job or Promotion!
See all the Industry Movement


Your Career
Sponsor this section of the Daily
3 Ways Successful Leaders Deliver Value Successful leaders know one important thing: their business depends on their employees. A leader who wants to add value understands that their team will face challenges and encourages and uplifts the team members to accomplish their goals. Here are some ways you can add value to your team and company. The three R's

The 5 C's that Every Great Leader Needs to Succeed What separates great leaders from those who are just getting along is how much impact they have on those around them and how they use that impact to make the workplace positive, productive and an awesome place to work. All great leaders share these 5 traits of successful leadership. Be convincing

Robin Hood's 3 Leadership Lessons
Everyone knows the story of Robin Hood and his band of Merry Men. They fight oppression and take from the rich to give to the poor. While we may not all have kings to overthrow, there are some leadership lessons we can learn from this adventurous story. Here are three of them to apply to today's workplace. Straight shooter

25 Ways to Lead, Inspire and Motivate Your Team to Greatness Being a great leader is more than just delegating tasks, it's also about how you set the bar for your employees, and motivate them to become successful. Sitting back and focusing on your personal goals won't benefit them. Here are some ways to lead them to greatness. Show emotion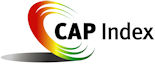 Tip of the Day
Sponsored by Vector Security
Resumes should never go beyond two pages but they do not have to be one page either. Once you've got over 5 to 10 years experience it's short cutting yourself if you do try to fit your career on one page. Just remember you've only got 10 seconds for the first review and 30 seconds for the second review.

Just a Thought,
Gus







Upcoming Events
---
Recruiting?
Get your job e-mailed to everyone... everyday
Post on our Featured Jobs Board!
Reach your target audience in 2015 every day!
Request our 2015 Media Kit
update account / change e-mail
unsubscribe FEEDBACK
www.downing-downing.com

Advertise With The D&D Daily




36615 Vine Street, Suite 103
Willoughby, OH 44094
440.942.0671
copyright 2009-2019
all rights reserved globally