The D&D Daily Mobile Edition
January 29,

2015



The LP Industry's #1 News Source - Informing, Educating and Instilling a sense of community


News Brief
Sponsored by WG Security Products, Inc.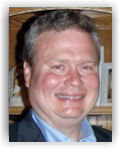 Mike Vogel was named Director of National Accounts for Verisk Retail. He brings over 20 years of retail experience in sales and operations to his role. Mike has spent his life within retail and gets his energy from people and the business. The majority of those 20+ years was within Best Buy. Mike and his family moved from NY to Minnesota when Best Buy purchased Musicland in 2002. After the sale of Musicland Mike was a leader for Best Buy within with the Digital Imaging, Music and Movies and Appliances businesses. His last role was the National Senior Sales and Operations Manager for Appliances before moving on in 2012. Following Best Buy Mike joined Creative Channel Services, a marketing / technology company that provides online training (Cyberscholar) for retail sales associates in the Electronics and Home Appliance arenas. Mike found success in working with retailers and suppliers in partnership for growth and left Creative Channel Services as their Director of Retail Partnerships to join the Verisk Retail family. Congratulations Mike!
Data Breach Loss Capped at $500K for Retailer - Judge rules in favor of Schnuck Markets in 2012 data breach case - Banks ordered to foot bigger bill A U.S. District Court judge has ruled in favor of St. Louis-based retail chain Schnuck Markets in the case of a data breach it suffered between December 2012 and March 2013. The federal court ruling says Schnucks is only liable to pay a maximum of $500,000 in damages. The bank and payments processor, Citicorp and First Data Merchant Services Corp, respectively, will be responsible for footing the remainder of the bill stemming from the 2012 data breach at the company. The ruling could set a precedent for future victims of cybercrimes, putting a limit on the liability of retailers. According to the judge in the Schnuck Markets case, an agreement was in place between the retailer and its payment processors that the store would only be liable if it failed to meet "an industry-imposed network security framework." In his ruling, U.S. District Judge John Ross declined the payment processors' claims that some of the wording in the agreements, relating to "third parties," would place more liability on the grocery store. The ruling states the defendants must return to Schnucks any funds held in excess of $500,000, plus the Visa fine and MasterCard case management fee. The amount involved is not specified in the ruling. nacsonline.com businessinsurance.com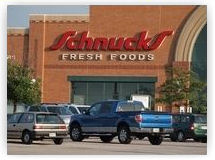 IT Security may not know it but they're screaming for help - And the LP industry can and should hear the call - You've got the Law Enforcement connections and resources The one thing that became clear in our recent LPNN episode with RILA and the NRF on cyber security is the need for the IT security industry to start building relationships with the law enforcement community in order to be able to more quickly react to cybercrime and data breaches. And when asked what's the role the LP community can play, their response was obvious. The LP community already has well developed and deep relationships with the law enforcement community and the LP leaders need to proactively engage the IT Security executives and bridge the gap and help them develop relationships with these agencies as well. Obviously LP's subject matter expertise from an investigative standpoint will always add value to the process and will remain a critical element in helping to combat this growing problem because it's not going away and it's only grow even more so as the Internet of Things continues to expose more data. Which brings us to second action point: The need to learn as much as we can about the various crimes, the bad actors, the laws, the impact on our retailers, the response protocols, and how to be able to add the maximum value to our retailers and internal customers - the IT Security executives. Because at the end of the day this digital world is merging the security functions and online crime is taking over, just like online sales are impacting the brick and mortars. Online crime is the elephant in the room and the LP industry needs to master it. Gus Downing

Pay for Mid-Level Cybersecurity Talent Is Soaring Today's security talent crunch has its own trickle-down effect with salaries increasing for 'mid-tier' hires. The demand is making it harder for chief information security officers to attract and retain seasoned engineers who can detect and neutralize threats. CISOs capped by salary constraints must offer the opportunity to cross-train employees using cutting-edge security technologies, experts say. The scramble for mid-tier talent comes as their bosses, CISOs, have emerged as one of the most sought-after talents in the C-Suite, with rising compensation packages reflecting their new status. Landmark breaches at Target Corp., Home Deport Inc., and Sony Pictures, in which credit card information or sensitive emails were stolen, have accelerated the hunt for cyber talent. Companies are seeking engineers who can secure applications and computer networks and, in the event intruders wreak havoc, plug the holes and remediate attacks. wsj.com

Sears cuts 115 corporate jobs
In its latest effort to retool its business and return to profitability, Sears Holdings has laid off 115 corporate workers, including 100 employees at its headquarters in Hoffman Estates, Illinois, effective immediately. A spokesman for the retailer, Howard Riefs, said the job cuts represent a "mix of positions in various departments across the organization." The company employs about 5,500 at its Hoffman Estates offices. Sears has been pulling a number of levers as it works to reverse a string of negative sales and earnings reports. In the third quarter, the retailer posted an adjusted net loss of $296 million, and said that it would accelerate the pace of store closings for the year from 130 to 235. cnbc.com

Walmart cuts 50 corporate jobs - much less than last year's huge downsizing It's time to start the new year at Wal-Mart Stores and that typically signals the end of road for some corporate employees. The retail giant eliminated about 50 positions at its corporate headquarters in Bentonville on Wednesday, according to a corporate spokesman. Wal-Mart has an estimated 12,000 employees at its corporate headquarters. The pink slips issued this week pale in comparison to the 2,300 issued by Sam's Club last year as it streamlined it management teams and the 300 corporate layoffs Wal-Mart reported in 2011. thecitywire.com

Gatekeeper Systems releases GNet - online dashboard to monitor Gatekeepers CartControl shopping cart containment and LP solutions GNet online dashboard paired with Gatekeeper's high-tech locking SmartWheel 2.0QS wheel solution further enhances the capabilities offered from Gatekeeper Systems' cart containment and loss prevention solutions. GNet's easy to use dashboard format offers a revolutionary way to monitor a retailer's cart fleet. It allows users to check their fleet status efficiently from various platforms which include desktop computers, tablets, and smartphones. Retailers can also create customized alerts and reporting capabilities to make viewing and managing their cart fleet's status and health easier, and more innovative than ever before. freshplaza.com

Group of North Carolina mothers protest Harris Teeter's gun policies Charlotte-area members of Moms Demand Action for Gun Sense in America visited a Harris Teeter store Saturday. They cut up their VIC loyalty cards at the Myers Park Harris Teeter and said that they will do their Super Bowl Sunday shopping at stores with gun-sense policies. Harris Teeter currently allows the open carry of firearms in its stores. Moms Demand Action said the company is putting the safety and security of its customers and employees at risk. North Carolina law allows people to openly carry loaded rifles and shotguns in public. wsoctv.com

Jones New York to close retail locations in 2015

Kate Spade Saturday & Jack Spade free standing stores to close

Tractor Supply Co. to open 110-115 new stores in 2015

Rite Aid to build $600M distribution center in S.C. - first in 15 years

Apple has more profitable quarter than any company ever - sold nearly 75M iPhones

Study: Four-in-10 retailers will use Apple Pay, analytics in 2015

Rite Aid January total sales up 4.3%

Homeland Security College? College of Emergency Preparedness, Homeland Security and Cybersecurity in Oriskany, NY


Quarterly Same Store Sales Results

Bed Bath & Beyond Q3 flat with revenues up 2.7%
Canada's Metro Grocery stores Q1 up 3.9% with sales up 5.2%
Coach Q2 sales down 14.1%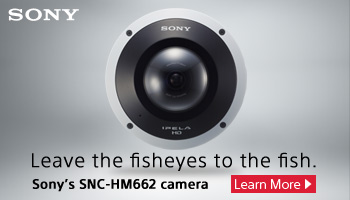 All the news - One place - One Source - One Time
The D&D Daily respects your time
& doesn't filter retail's reality
Report Your News!
(content subject to approval)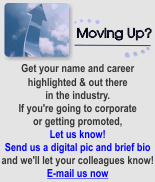 Loss Prevention News Network

Kenya's West Gate Mall Massacre - Could it happen here?
In September 2013, armed gunmen attacked the Westgate shopping mall in Nairobi, Kenya, resulting in 61 civilian deaths, six dead security officers and over 175 injured. Special Agent In-Charge Richard Frankel of the FBI deployed to Kenya with a Rapid Deployment Team and assisted the Kenyans in the forensic and intelligence investigation related to the terrorist attack. In this LPNN interview, Mr. Frankel talks about this high-profile investigation, the odds of a similar attack occurring in the U.S., and the importance of active-shooter programs for retailers. With the ultimate responsibility of protecting your employees and customers, learn what LP executives can do to prepare for and prevent such a catastrophic event.



Joan Manson

Sponsored By:


Bass Security





Sponsored By:



Keith White & Michael Nelson

Sponsored By:


Dan Faketty and Professor Bob Hanson

Sponsored By:


The NRF's LP Legislative Committee, a National Update





Jeff Fulmer & Jon Gold


Sponsored By:


Preparing - Training - Responding to the Active Shooter





Rich Mellor


Sponsored By:

Cyber Security's Increasing Impact on Retail & the Role of Loss Prevention

Tom Litchford
Sponsored By:

Stan Welch, VP of LP, JCPenney



Sponsored By:



In case you missed it ...
Click here to view all the episodes from
"Live in Ft. Lauderdale at the NRF LP Show."

Solution Providers, have a video or commercial you want to publish? Contact us.

Press Releases

LPF Strengthening LPC-CEU Audit Process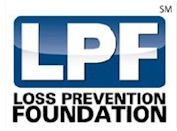 Matthews, NC (January 29, 2015) – The Loss Prevention Foundation (LPF) is continuing to strengthen its commitment to Continuing Education by bolstering the LPCertified (LPC) CEU audit process. As is required with other industry credentialing programs, recertification audits are necessary in order to validate and uphold the professional value of the LPC credential.

As a result, we are pleased to announce that Wayne McBrian, LPCR has agreed to coordinate the audit process with LPF by assuming the role of Recertification Audit Chair.
Wayne brings a wealth of knowledge and experience to the position, providing more than 40 years of loss prevention leadership during his service to the retail loss prevention industry. He most recently retired after 20 years as OVP of Loss Prevention with Brookstone Stores, and has also held LP Director positions with Barnes & Noble, Consumer's Distributing and Toys R Us.

"As our Recertification Audit Chair, Wayne will monitor and coordinate the principle audits that are conducted in January, May, and September of each year. He will work closely with the LPF President, the Continuing Education Committee, the Recertification Support team, and our LPC credential holders to insure a process that is both fair and credible," said Hebe Lesa, Security+, (ISC)2 Associate to CISSP, LPF Recertification Support Team.

"Wayne will set the direction and the tone of the audit, and will further present those findings to the LPF Board of Directors. We expect that he will not only establish and implement additional improvement opportunities for both the LPF staff and the randomly selected LPC credential holders, but he will also find opportunities to enhance the overall value of the LPC certification credential," stated Gene Smith, LPC, and President of LPF.

Within the next two weeks a new round of recertification audits will be launched. Those who are selected for the CEU audit will be notified via e-mail to determine which of their CEU credit submissions will require additional validation.

We would like to thank Wayne for taking on this new and challenging position. By strengthening the respect and merit that the LPC brings to our profession, the global retail community, and beyond, the more value we provide to LPC certified professionals and the hard work that has gone into earning and maintaining their credential.

For additional information on the CEU recertification audit and its evidence requirements, go to:

http://www.losspreventionfoundation.org/recertification-ceu-audit-retail-loss-prevention.html

http://www.losspreventionfoundation.org/recertification-ceu-proof-retail-loss-prevention.html


e-commerce

Sponsored by The Zellman Group
Paper, Plastic or Compromised Security? The Point-of-Sale Risk in the Internet of Things Many national retail chains have made headlines after having their payment systems breached, exposing information pertaining to millions of customers. As reported in the Cisco Midyear Security Report, the Ponemon Institute found that in 2014, the average total cost of an organizational data breach was $5.4 billion, up from $4.5 billion just last year. And it's not just significant financial costs that are of concern; as many as 508,000 jobs are lost in the US because of malicious online activity. So, why are POS attacks growing increasingly popular? One prevailing reason is that criminals are often operating under the belief that using malware to steal sensitive payment card data from POS systems is more effective than stealing it directly from e-commerce merchants. In general, retailers have not been as diligent in applying similar security measures to their own POS systems and networks as the networks of third party vendors who have access to their systems. By understanding the three trends that lead to this belief, retailers and third-party vendor partners can implement strategies that keep them ahead of the malicious actors and protect their customers' information. cio.com

Amazon Isn't Killing Big Box Retailers
Despite Amazon's mammoth growth over the last decade, conventional retailers are now stealing e-commerce market share from the leader. In the first quarter of last year, Home Depot saw online sales jump 54%. Costco's increased 48%, and Macy's and Wal-Mart saw a 31% and 30% increase in the category, respectively. Meanwhile, Amazon's retail sales grew just 20%. Amazon's dominance of the space owes more to the relatively small size of e-commerce rather than traditional retailers' ineptitude. Despite its growth, e-commerce only makes up 6.6% of all retail sales, and volume sales are still growing four times slower than in physical stores. In the most recent quarter for which data's available, e-commerce sales totaled $78 billion, while total retail sales in the U.S. were $1.18 trillion. businessinsider.com

Latest winter storm costs online retailers an estimated $35 million

"Fraud is not a person - it is a dynamic grouping of statistics that deviate from the norm."
Stuart B. Levine, CFI, CFCI
CEO, The Zellman Group & Zelligent

ORC News
Sponsored by Security Resources
'Team shoplifting' thefts occurring at Outlet Shoppes of the Bluegrass in KY Junior and Wanda Janes delayed their first trip to the Outlet Shoppes of the Bluegrass until the Christmas rush had passed. But Wednesday's haul seemed to more than justify the journey from Bardstown. "At the first store I stopped at, absolutely purchased way more than I intended to purchase," Wanda Janes laughed. "But that's okay." What isn't, Simpsonville police say, is the number of "team shoplifting" heists they've seen since the Shoppes opened last summer. "They're imported problems, they're not local folks," Chief Chip Minnis said. "They're going in for the high-dollar items that somebody might want to buy." Items like Armani suits from Saks off Fifth Avenue and sneakers from Nike. Investigators believe the thieves likely resell their heists on the street or online via sites such as eBay and Craigslist. Police and the Commonwealth Attorneys plan to prosecute future such cases as "organized crime." Statutes permit it, provided law enforcement offers proof that two or more suspects worked together to steal merchandise. Such a conspiracy raises the crime to a C-felony, which can carry a 5 to 10 year prison term. wave3.com

NYC man sentenced in Va. for multi-state fraud, ID theft A New York City man has been sentenced in Virginia to more than 14 years in prison for conspiracy to commit bank fraud and aggravated identity theft. The government says 36-year Jeffrey Washington was also ordered Wednesday to pay restitution of $255,000. He was sentenced in U.S. District Court in Newport News. Washington pleaded guilty last August to his involvement in a ring that burglarized Wells Fargo mortgage offices throughout New York, New Jersey, Connecticut and Maryland in 2012 and 2013. The ring stole more than 1,800 mortgage files that were then used in a variety of bank customer impersonation and retail credit fraud schemes, targeting banks and retailers. Three defendants have pleaded guilty. A fourth still faces trial. washingtontimes.com

Halifax convenience stores searched, 12 charged with illegal wholesale of cigarettes RCMP have charged 12 people following a contraband tobacco bust that involved Halifax-area convenience stores. Officers searched five retail stores earlier this month and seized 74 cartons, as well as the wrappers of 93 other cartons. RCMP say their investigation began in September 2014 and led them to Bridgeview Grocery on Bedford Highway. "The individual that was selling the tobacco to the retailers - he had larger discounts from wholesalers where he was acquiring the tobacco and he was sharing the profits with those retailers," said Bernie Meagher, director of audit and enforcement with Service Nova Scotia. "This undermines the whole regulatory regime so it's unfair to the other retailers who play by the rules, who are properly licensed and only deal with licensed wholesalers." globalnews.ca
Millington, TN Walmart managers charged with taking thousands from cash registers Two managers at Walmart in Millington, Tennessee were arrested Saturday on the job and fired after investigators say they were caught stealing thousands of dollars from cash registers. Store manager Shalanza Hawkins, 39, and assistant manager Dianne Thomas, 42, are charged with theft of property over $500. Both are currently out of jail on bond. A Walmart asset protection manager conducted an internal investigation. She says she watched Hawkins, for nearly two months, pretend to return merchandise at registers around the store and pocket more than $10,000 in cash. "They had to definitely be bold to do it and think that they were going to be slick and not get caught," said Walmart customer Mary Parker. The asset protection manager said she confronted Hawkins who admitted to the thefts and named Thomas as her accomplice. wmcactionnews5.com
Alert Victoria's Secret employee helps nab shoplifting ring in Wellington, FL Five women from Miami-Dade County were arrested last week in Wellington after an alert store employee recognized them as part of an alleged shoplifting ring, according to an arrest report. The employee of Victoria's Secret at the Mall of Wellington Green saw the women in a Cadillac SUV and called authorities. The arrest report does not say why the employee was able to recognize the women. A Palm Beach County Sheriff's deputy who pulled up behind the vehicle saw plastic bags inside containing clothing and jewelry with price tags still attached. One woman inside the car dumped items out of her purse into the back of the SUV, as deputies watched. After searching the SUV, deputies found allegedly stolen items from three businesses - The Loft, Victoria's Secret and The Charming Charlie Store - totaling more than $2,000. Yosleidy Romero, 28, Laura Gonzalez-Suarez, 23, Yanaika Martinez, 37, Yenisey Castro, 40, and Yandris Delgado-Ordaz, 30, are each facing two counts of grand theft between $300 and $5,000, petit theft and possession of an anti-shoplifting control device. palmbeachpost.com

Shelbyville, KY couple arrested for shoplifting at Bardstown Walmart A shoplifting investigation by Bardstown police led to the arrest of a Shelbyville couple. Police said Wesley and Nichole Mathis stole two TVs from the Bardstown Walmart Sunday. The pair was arrested Wednesday at a home where they were staying. Along with TVs, detectives found a home theater system, computer, other electronics and tools that are also believed to be stolen. Additionally officials found items used to make methamphetamine. They are both charged with receiving stolen property, manufacturing meth and possession of drug paraphernalia. wlky.com
Menalto Cleaners owner pleads not guilty to defrauding customers out of $350,000 in Menlo Park, CA

Wyoming Woman accused of trying to steal $3,590 worth of items
Do you have an ORC case to share?
Share your ORC news and help the industry grow

Retail Crime News

Sponsored by NuTech National
Shooting at Bedford Centre in South Africa - Seven people wounded There's been a shooting at the Bedford Centre in Bedfordview, east of Johannesburg. Frightened eyewitnesses described scenes of panic and chaos as gunmen stormed into the Bedford Centre and fired several shots shortly before midday. According to witnesses at least three men armed with Ak47s tried to rob the Standard Bank on the upper floor of the mall. Police have confirmed that seven people, including two suspects, have been wounded. Bedford Centre management confirms the incident involved a shoot-out between security company SBV and robbers. "An official statement will be released as soon as we have info from police," the centre said in a statement. The crime scene has been cordoned off and police are combing the area for evidence. ewn.co.za


Man killed in Tuesday's police shooting suspected in 6 armed robberies The man killed in Tuesday's Phoenix officer-involved shooting was the last suspect wanted in a recent string of Phoenix armed robberies, with crime scenes ranging from a taxicab to a shoe store, court records say. Nicolas Leland Tewa, 26, was fatally shot Tuesday night after Tewa repeatedly rammed a stolen vehicle into a police SUV, a department spokesman said. Police say they had probable cause to arrest Tewa in the robberies, that Tewa was known to carry guns and that he had an "extensive record for violent offenses," the statement says. Two other suspects, Ruben Lee Tewa, 22, and Sonia Diane Tallabas, 20, had been arrested days earlier after police say they carjacked a victim at gunpoint at a central Phoenix carwash. Most of the other incidents stemmed from a single day - Saturday - when police say some or all of the suspects robbed multiple Phoenix and Tempe vendors at gunpoint. In one of the instances, at a shoe store in central Phoenix, one of the suspects walked in, "bought a pair a socks, points the handgun at the clerk and starts counting down," said Sgt. Jon Howard, a Phoenix police spokesman. azcentral.com

Man sentenced in Eastland Mall OH shooting
A 19-year-old East Side man has been sentenced to two years in prison for his involvement in a shooting last summer that wounded two people at Eastland Mall. Homer L. Hill II pleaded guilty yesterday to one count of attempted felonious assault and one count of carrying a concealed weapon. Assistant Prosecutor Michael McLean said Hill was at the mall with friends on July 25 when he spotted someone that he thought had shot him a week earlier. Hill pulled out a gun but told investigators that it jammed when he tried to fire. One of his companions, 16-year-old Isaiah King, pulled a gun and fired multiple shots, McLean said. He missed the intended target but wounded two people who were treated for injuries that weren't life-threatening. dispatch.com

Robbery suspect charged with attacking Caro guard Rite Aid and Ziels Wine Shop robbery suspect Devin Harris is being charged with attacking a corrections officer at the Tuscola County Jail. A surveillance camera allegedly shows Devin Harris attacking a corrections officer while being booked early Saturday morning. Authorities said he punched her three times. "He ran out of the booking room and attempted to get out several exit doors. He was subdued by the female deputy and others who arrived on scene," said Skrent. "The deputy later sought treatment at a local hospital." It was the second time in 10 days that Harris was arrested for allegedly robbing a Caro business. He also was arrested in connection with the Jan. 13 armed robbery of Ziels Wine Shop at 895 S. State Street at knife point. michigansthumb.com

Three arrested after armed robbery, police chase on Business 40 in Winston-Salem, NC Police arrested three people in connection to the armed robbery of a Winston-Salem Walgreens that shut down part of Business 40 Thursday morning. Two male suspects entered the store and went to the pharmacy area, according to police. One of the suspects jumped the counter armed with a handgun, taking pharmaceuticals and cash. The other suspect stood at the front of the pharmacy counter and ordered the store manager to get on the floor. Police said the suspects fled the scene in an awaiting black pick-up truck. Later police saw two men and a woman in a black pick-up truck at Miller Street and Hawthorne Road. When the driver wouldn't pull the vehicle over, a police chase ensued. The chase ended at US-421, near the Salem Lake Bridge when all three suspects jumped from the truck and ran. myfox8.com
Mac's fires store clerk who stopped drunk robber
Abugalib - who had worked for various Mac's stores in Hamilton for a decade - was doing the 10 p.m. to 7 a.m. shift when a man with a ski mask walked into the store at 1460 King St. E. Tuesday at 4:40 a.m. The man smelled of alcohol and demanded cash claiming to have a gun in his coat pocket - although no weapon was seen and Abugalib didn't believe him. Abugalib handed over the night's receipts, less than $50 in bills and a bunch of toonies and loonies. The guy grabbed some gum, energy drinks and chips and put it all in a grocery bag. But as he was leaving the store, the robber fell on the ground in the doorway. Abugalib activated an emergency alarm button, rushed over to the door, and then held the assailant down until police arrived. Police soon arrived at the store near Ottawa Street. They arrested the man and charged him with robbery. Abugalib returned to work Tuesday evening, and as he was completing his shift at 7 a.m. he got a call from his boss, Bhupendra Batel, telling him to pack his things. The company's head office had looked over the circumstances of the robbery and decided Abugalib had violated company policy by confronting the robber. insidebrockville.com

Center City Lululemon Burglarized Days After Roof Collapse Burglars tore through a a Center City yoga and athletic apparel store early Thursday morning-- less than two days after bricks smashed through the retailer's roof, injuring three women. Officers found the door of the Lululemon Athletica store busted in and clothes scattered throughout the store early Saturday morning, police said. Lululemon had been closed since Tuesday evening, when the facade of a neighboring building crashed through the roof, causing a portion of the ceiling to collapse onto three 27-year-old friends, who were inside shopping at the time. nbcphiladelphia.com

Prank security video of robbery lands store in hot water Video of a staged robbery attempt almost had the owners of a Tennessee store in trouble with the law. Tennessee Sounds, a music store in Kingsport, posted video of what appeared to be a robbery attempt. In the video, the would-be robber pulled a knife on a store clerk. The store clerk then drew a gun on the would-be robber! The masked suspect fainted at the sight of the weapon and fled the store after the store clerk picked up the phone. The video was posted online by the store - but it turns out it was just what they call a 'social experiment' prank. Here is what they posted along with the video online: Don't bring a knife to a gun fight or this could happen to you...So here is the video that about got us in a lot of trouble. We done a little social experiment involving a staged robbery, but evidently that's a class C Felony. Thankfully the detectives and officers are all very cool and nice people. They could have taken us to jail! No robbery was committed in the making of this video. This was a social experiment with actors. myfoxdc.com

Agents seize boxes of illegal sports apparel from Rancho Cordova home Tax Recovery and Criminal Enforcement (TRaCE) Task Force Agents seized dozens of boxes containing illegal sports apparel from a home on Debina Way on Monday, after arresting a man who they believe was profiting from the gear. Khachatur Avdalyan, 40, was booked in the Sacramento County Jail. Agents told KCRA 3 he sold all kinds of merchandise from different sports teams, including beanies, T-shirts and sweatshirts, at the Galt flea market. They also took a large amount of cash from his home. Hours after seizing the boxes at the home, agents served another warrant at a self-storage location a couple of miles away. kcra.com
UK: Sneaky thieves steal DVDs by mailing them home from Post Office Inside Asda store Staff cracked the scam after noticing an inordinate amount of padded envelopes and postage boxes going missing from the in-store Post Office. An ASDA store has been forced to relocate its stock of envelopes - after crafty thieves used them to mail stolen merchandise from INSIDE the shop. They believe that shoplifters were using the envelopes to package up new release DVDs and CDs and send them home from the Post Office counter. The envelopes have now been moved and are kept at the entertainment counter on the other side of the store. dailyrecord.co

Penticton Shoplifters and Thieves - Exposed! Facebook page removed The well-used Facebook page Penticton Shoplifters and Thieves - Exposed! is currently not available, according to the page's creator. Leigh Follestad said the page is down, and he has sent an email to the people at Facebook Canada. Since then, he has received a response that they are looking into it. "I'm waiting to find out for sure what happened," he said. Meanwhile, a transitional page has been created available at: https://www.facebook.com/groups/saferpenticton/ Follestad, the owner of Smart Shopper in Penticton, created the page last year to thwart thieves. The page has been so well-received that Follestad has set up similar pages for other cities across Canada. Legal concerns about "outing" suspects who may not yet have been charged with anything are a likely reason the page has been taken down. castanet.net

Robber Accidentally Shoots Himself in the Leg During Heist

MI Robbery Suspect Leaves His Wallet Behind

Thieves target drugstore courier in Boynton Beach

Robbery suspects driving stolen car get busted at CO drive-thru after cops block them in

Michigan man attacks female deputy after being arrested for robbery

Police Seek Roseville Liquor Store Robber

Shoplifter pulls a Houdini and slips out of handcuffs on Murfreesboro, TN Police

UK: Woman in wheelchair stands up to shoplift

One arrested, one sought in Rolex watch theft

Sandwich Shop Manager Who Foiled Armed Robbery Attempt Receives EG Award


Robberies and Burglaries
● ABC Fine Wine & Spirits - Ocoee, CA - Armed Robbery - suspect arrested
● Arby's - Myrtle Beach, SC - Armed Robbery
● AutoZone - Macon, GA - Armed Robbery
● Dollar General - Shreveport, LA - Armed Robbery
● Family Dollar - Ashley, PA - Armed Robbery
● Family Dollar - Bellmead, TX - Robbery
● Flash Foods - Albany, GA - Armed Robbery
● Git-N-Go - Des Moines, IA - Armed Robbery - teen arrested
● Fry's store - Palo Alto, CA - Armed Robbery
● KFC - Myrtle Beach, SC - Armed Robbery
● Kum & Go - Benton, AR - Robbery
● Schnuck's - Edwardsville, IL - robbery - suspect robbed US Bank inside store
● Standard Pharmacy - North Belle Vernon, PA - Armed Robbery - suspect arrested
● Wendy's - Myrtle Beach, SC - Armed Robbery
● Valero - San Antonio, TX - Armed Robbery
● Verizon - Yorba Linda, CA - Armed Robbery - 3 suspects arrested


Vendor Spotlight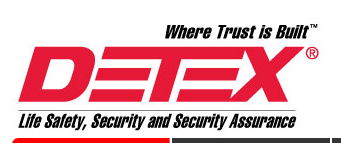 Detex offers the broadest line of life safety and security door hardware designed to meet the durability and performance requirements of the retail industry - without compromise. We offer solutions for every life safety and security door, with more options for specific applications. Whether your business is a group of big box stores or a single fashion outlet, life safety and security door hardware is a necessity. Not just for back doors, Detex door hardware is engineered precisely for certain retail situations, but also provides choices for a wide range of functions and costs. Our retail customers are often surprised to learn that we can supply most of their hardware needs.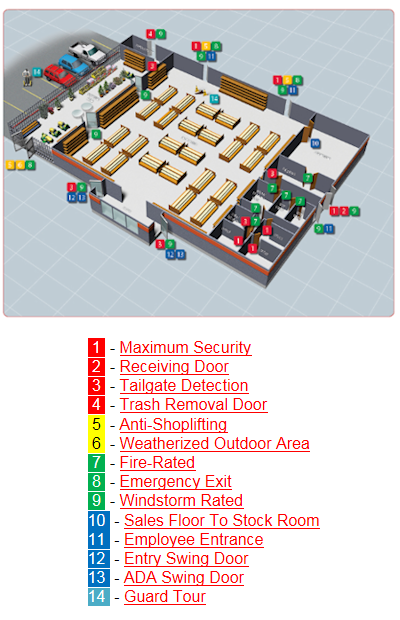 Learn more at www.detex.com


Featured Job Listings
Sponsored by NuTech National
Feature Your Job Here For 30 Days -
70% Aren't On the Boards
Director Global AP
KFC & PH
Plano, TX
YUM! Brands
Business Unit AP Sr. Dir.
Walmart
Atlanta, GA
Wal-Mart
Sr. Director, Field LP
Ross Stores
Dublin, CA
Ross Stores
VP Supply Chain, LP & Safety
Ross Stores
Ft. Mill, SC
Ross Stores
VP of Sales
Checkview
Chanhassen, MN
Checkview
Director LP
Sephora
San Francisco, CA
Sephora
Corporate Mgr LP
Five Below
Philadelphia, PA
LinkedIn
Director LP East
Old Navy
New York, NY
Gap Inc
Director of Divisional LP
Dollar General
Goodlettsville, TN
Dollar General
Director Market LP
Walgreens
Phoenix, AZ
Walgreens
Director Market AP
Walgreens
Glastonbury, CT
Walgreens
Director Market AP
Walgreens
Guaynabo, PR
Walgreens
Director Market AP
Walgreens
Denver, CO
Walgreens
Director Market AP
Walgreens
Southfield, MI
Walgreens
Director Market AP
Walgreens
Roseville, MN
Walgreens
Regional LP Mgr
Dollar General
Multiple locations nationwide
Dollar General
LP Manager
Bowlmor AMF
Chicago, IL
Bowlmor AMF
LP Manager
Bowlmor AMF
Denver, CO
Bowlmor AMF
Regional LP Manager
PetSupermarket
Tampa, FL
Downing & Downing
Regional LP Manager
Tilly's
Orlando, FL
Tilly's
AP Specialist
Wegmans
Syracuse, NY
Wegmans
AP Specialist
Wegmans
Woodbridge, VA
Wegmans
AP Specialist
Wegmans
Woodbridge, NJ
Wegmans
AP Specialist
Wegmans
Hunt Valley, MD
Wegmans
Sales Representative
NuTech National
Maitland, FL
NuTech National
National Account Executive
Checkview
Northeast Region
Checkview
National Account Executive
Checkview
United States
Checkview
Corporate Investigator
Confidential
San Francisco Bay, CA
Confidential
National Account Manager
Vector Security, Inc
TBD
Vector Security, Inc

Limited Time Only - Post Your Multi-Unit LP jobs for FREE - Learn More Here

Daily Job Alerts


Appearing One Day Only
View our Internet Jobs Archives here
AP Manager
Home Depot
Fargo, ND
Home Depot
AP Manager
Home Depot
Bemidji, MN
Home Depot
AP Manager
Home Depot
Waite Park, MN
Home Depot
Safety & Security Mgr
IKEA
Costa Mesa, CA
IKEA
AP Manager in Training
Walmart
Huntsville, AL
Wal-Mart
AP Manager in Training
Walmart
Colville, WA
Wal-Mart
AP Manager in Training
Walmart
Salem, OR
Wal-Mart
AP Manager in Training
Walmart
Mayfield, KY
Wal-Mart
AP Manager in Training
Walmart
Draper, UT
Wal-Mart
AP Manager in Training
Walmart
West Valley City, UT
Wal-Mart
AP Manager in Training
Walmart
Canton, GA
Wal-Mart
AP Manager in Training
Walmart
Sacramento, CA
Wal-Mart
AP Manager in Training
Walmart
Rome, GA
Wal-Mart
AP Manager in Training
Walmart
Glenolden, PA
Wal-Mart
AP Manager in Training
Walmart
Bartow, FL
Wal-Mart
LP Manager Hrly
Sears
Tallahassee, FL
Sears Holdings Corp
DC LP Manager
Kmart
Chambersburg, PA
Sears Holdings Corp
LP Manager Hrly
Kmart
West Chester, PA
Sears Holdings Corp
LP Manager Hrly
Kmart
Newark, DE
Sears Holdings Corp
ETL Assets Protection
Target
Gainesville, FL
Target
LP Supervisor
Burlington Coat Factory
Virginia Beach, VA
Burlington Coat Factory


Home of the Industry's Original
On the Move

Mike Vogel was named Director of National Accounts for Verisk Retail.
Tonia Rees was promoted to Regional Loss Prevention Manager for Family Dollar.
Tyson Robertson was named Regional Loss Prevention Manager - North American Fulfillment Center for Amazon.
Kimberly Miller was named Assets Protection Business Partner for Target.
Post Your New Job or Promotion!
See all the Industry Movement


Your Career
Sponsor this section of the Daily
The 3 Traits of Amazing Team Members
As your organization grows, you will find that some of your new hires were phenomenal and some were not so great. The ones that hit it out of the park are the ones you never want to let go. Through the good and the bad here are the qualities that define a great team member. Whatever it takes

How to Build a Courageous Company Culture Does your company's culture inspire you or is it overpowering? Building a strong company culture is hard work and takes true commitment but it is certainly worth it when your company's brand thrives as a result. Here are some things to consider when building your culture. Dynamic leaders

An Exercise to Get Your Team Thinking Differently About the Future Many of us are glued to the present, and when we do think about what lies ahead for us, we predict the future as a reflection of our past. A way to help your team get over their initial assumptions about the future is to perform this exercise: conceive different futures for different scenarios. Widen your view

7 Sayings That Will Keep Your Team Motivated It's imperative, as a leader, to keep finding new ways to inspire and drive your team to achieve greatness. Whether you choose a team building exercise, or maybe an inspiring clip from a movie, it's critical you keep your team moving forward. Here are some Navy SEAL sayings that can help inspire your team. Get into gear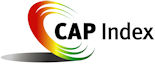 Tip of the Day
Sponsored by Vector Security
Interacting in large networking groups can be very challenging even for the most seasoned of executives. The speed, the number of people, and the amount of information shared can be overwhelming. However, the one basic principal you can rely on is keep it simple, one person at a time and focus on that person both mentally and visually. Slow it down in your head and make sure you communicate clearly and sincerely regardless of the background you have with anyone or any group. Because at the end of the day you're all part of the same industry, the same community, and everyone has the same objective; to help develop and represent the industry as professionals.

Just a Thought,
Gus







Upcoming Events
---
Recruiting?
Get your job e-mailed to everyone... everyday
Post on our Featured Jobs Board!
Reach your target audience in 2015 every day!
Request our 2015 Media Kit
update account / change e-mail
unsubscribe FEEDBACK
www.downing-downing.com

Advertise With The D&D Daily




36615 Vine Street, Suite 103
Willoughby, OH 44094
440.942.0671
copyright 2009-2019
all rights reserved globally