The D&D Daily Mobile Edition
January 30,

2015



The LP Industry's #1 News Source - Informing, Educating and Instilling a sense of community


News Brief
Sponsored by WG Security Products, Inc.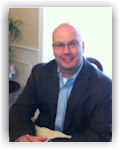 Ken Warfield was promoted to Senior Vice President Premium Division North America & Asset Protection for Regis Corporation. Ken will be covering 800 salons in North America. Ken was previously the Vice President of Asset Protection for Regis. Prior to joining Regis' team he was the Corporate Director of Loss Prevention & Security for Price Chopper Supermarkets. He has also held a variety of leadership positions in the loss prevention industry such as Director of Loss Prevention Area 2 and 3 for CVS Caremark Corporation, Loss Prevention Consultant/Director for Ratner Companies, and District Loss Prevention Manager for The Home Depot. Ken earned his Bachelors of Arts in Criminal Justice from Mount Saint Mary's college and earned his Masters in Counseling from Southeastern. Congratulations Ken!
Regis AP Efforts a Key Driver of 2nd Quarter Results Regis Corporation - a leader in the haircare industry, whose primary business is owning, operating and franchising hair salons - highlighted the importance of its Asset Protection program in a press release reporting the company's second quarter results. "Our Asset Protection organization remained focused on helping our stylists and salons improve their sales performance and salon profitability," the report states. "We continued to implement our stylist asset protection awareness and training program, conducting approximately 900 awareness training sessions with field leaders and stylists during the second quarter. Early results continue to be positive, as sales performance shows improvement post training as we educate our employees and hold them accountable for acceptable asset protection behaviors. Leveraging exception reporting tools and risk ranking reports our team developed has also helped the Asset Protection team prioritize its efforts against our most compelling opportunities to grow revenue." Editor's Note: This announcement - coupled with the promotion of Ken Warfield from VP of AP to Senior VP of Regis' Premium Division - is an absolutely great development for our industry. Ken and the Regis team have a stellar LP program that clearly goes above and beyond in adding value to the business. digitaljournal.com

Ex-TigerDirect electronics retailer CEO pleads for 'mercy' in his $10M kickback scheme conviction A former top executive at electronics retailer TigerDirect Inc. who took in $10 million in a kickback scheme with overseas suppliers asked a Florida district court on Wednesday to consider that the possible 20-year sentence he faces would essentially mean life in prison. The defendant, 58-year-old former TigerDirect President Carl Fiorentino, argued in a sentencing memorandum that a prison term of more than 10 years for would essentially lock him up for the rest of his life and might disqualify him from a low-security federal prison. law360.com

Pilot Flying J investigation continues after 2 years A federal probe of Pilot Flying J over alleged diesel fuel rebate fraud remains ongoing nearly two years after federal officials raided the company's Knoxville headquarters, reported the Knoxville News Sentinel. In the motion, filed Tuesday, Lewen and Hamilton requested that Thapar set a June 24 deadline for the next status update. Anonymous sources told News Net 5 that this could mean prosecutors need more time to review evidence that could lead to more indictments. Prosecutors have sent "target letters" to former Pilot Flying J President Mark Hazelwood, former Vice President of Sales John Freeman and Senior Accounts Manager Karen Crutchman alerting them that they are under investigation. csnews.com

Retailers Urge Congress to Address Long-Term Transportation Needs to Continue Job Growth ​​​In testimony submitted to the Senate Commerce, Science and Transportation Committee, Subcommittee on Surface Transportation and Merchant Marine Infrastructure, Safety and Security, the Retail Industry Leaders Association (RILA) outlined the importance of an efficient and reliable transportation network to the nation's economy. In her testimony, Kelly Kolb, Vice President of Government Affairs, urged lawmakers to address potential disruptions to the national supply chain that could impact the retail sector and impede the nation's continued economic recovery, including the current disruptions and port congestion on the entire western seaboard. "Access to efficient and reliable transportation systems is a vital component to the success of America's retailers," said Kolb. "Our freight arrives by using a combination of planes, trains, ships, and trucks. When a disturbance occurs in the system, it has a ripple effect on retailer's supply chain operations." rila.org

Industry groups urge retailers to get ready for retirement of coupon barcodes The Joint Industry Coupon Committee on Thursday urged retailers to prepare for the retirement of UPC Prefix 5 barcodes from manufacturer coupons. These symbols will no longer be used after June 30, 2015, as manufacturers shift to exclusive use of the GS1 DataBar format for coupons. The GS1 DataBar format will reduce incidence of intentional coupon fraud and unintentional coupon mis-redemption, the Committee noted. Other benefits include an automatic coupon expiration date check and a reduction in cashier intervention with complex offers placed within the code. chainstoreage.com

Cyberthreat sharing must include strong privacy protections, advocates say U.S. lawmakers should put strict privacy controls into planned legislation to encourage companies to share cyberthreat information with government agencies and each other, some advocates said. Members of the Senate Homeland Security and Governmental Affairs Committee said Wednesday they plan to work on a cyberthreat information-sharing bill in the coming months. But representatives from Microsoft and the Center for Democracy and Technology told lawmakers they can avoid the controversies of other recent bills by requiring companies and government agencies to strip out personally identifiable information before sending cyberthreat information to other organizations. csoonline.com

Update - Jones to close 127 stores, including 36 in Canada & also looking for strategic alternatives

Safeway and Albertsons officially merged

The Pantry Completes Final Prep for Couche-Tard Merger

NRF Survey: 184M Americans to watch Super Bowl, spend over $14.3B

Criminals, Terrorists Find Uses for Drones, Raising Concerns

Amazon Email Looks to Capitalize on Security

Russian Dating site pays Hacker to buy back 20 million email addresses; "an award for finding a vulnerability"

Woman Mistakenly Receives Bag Of Cash At A Burger King Drive-Thru

Quarterly Same Store Sales Results

Tractor Supply Q4 up 5.3% with net sales up 12%
The Pantry Q1 up 3.6% with revenues down 7%
Hhgregg Q3 down 6.3% with net sales down 6%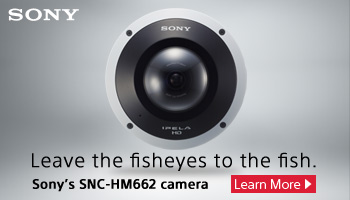 All the news - One place - One Source - One Time
The D&D Daily respects your time
& doesn't filter retail's reality
Report Your News!
(content subject to approval)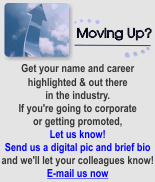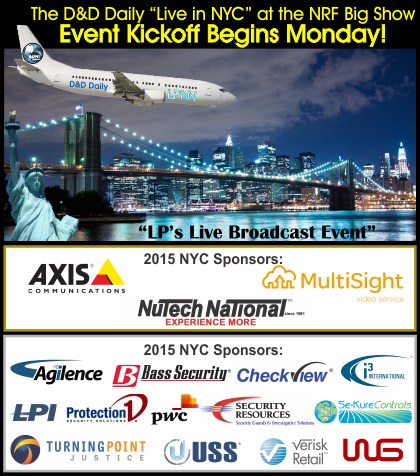 Live from New York,
it's the D&D Daily!

With MCs Joe LaRocca and Amber Virgillo
The Daily's 7-Hour Marathon Broadcast

Filmed 'Live' from downtown NYC on January 12, 2015, during the NRF Big Show. Amber & Joe's quick preview of what's to come in a jam-packed day full of informative & entertaining interviews on Timely & Critical Topics with industry Leaders

Stay tuned to the Daily as we broadcast
"Live in NYC 2015" in its entirety.
20 Powerful Episodes
With our new 'Lets Get LP Social' "U-Tips"
& Group LP Selfies Drawings.
And all the MC fun in between.

See the retail LP industry as only the D&D Daily can bring you... Up close - Unfiltered - LIVE!

The Action Starts Monday!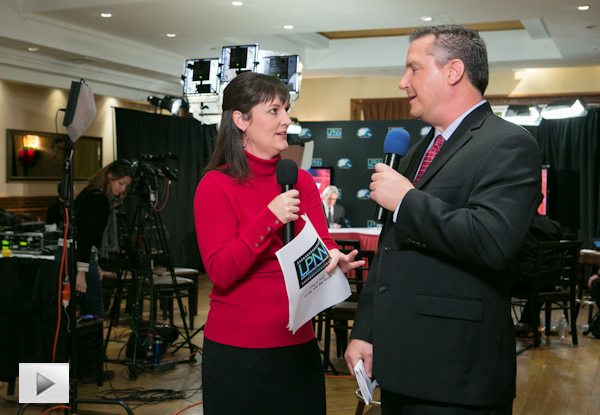 Loss Prevention News Network

Kenya's West Gate Mall Massacre - Could it happen here?
In September 2013, armed gunmen attacked the Westgate shopping mall in Nairobi, Kenya, resulting in 61 civilian deaths, six dead security officers and over 175 injured. Special Agent In-Charge Richard Frankel of the FBI deployed to Kenya with a Rapid Deployment Team and assisted the Kenyans in the forensic and intelligence investigation related to the terrorist attack. In this LPNN interview, Mr. Frankel talks about this high-profile investigation, the odds of a similar attack occurring in the U.S., and the importance of active-shooter programs for retailers. With the ultimate responsibility of protecting your employees and customers, learn what LP executives can do to prepare for and prevent such a catastrophic event.



Joan Manson

Sponsored By:


Bass Security





Sponsored By:



Keith White & Michael Nelson

Sponsored By:


Dan Faketty and Professor Bob Hanson

Sponsored By:


The NRF's LP Legislative Committee, a National Update





Jeff Fulmer & Jon Gold


Sponsored By:


Preparing - Training - Responding to the Active Shooter





Rich Mellor


Sponsored By:

Cyber Security's Increasing Impact on Retail & the Role of Loss Prevention

Tom Litchford
Sponsored By:

Stan Welch, VP of LP, JCPenney



Sponsored By:



In case you missed it ...
Click here to view all the episodes from
"Live in Ft. Lauderdale at the NRF LP Show."

Solution Providers, have a video or commercial you want to publish? Contact us.


Stay Tuned for our New 2015 Get LP Social Column!

---

2014 LP Team Group Selfie Review

Showcasing each team in order!
Be on the lookout for our new Get LP Social 2015.

Your Team - Your Pride

Macy's Loss Prevention Leadership at Corporate and VP Level
"The Magic of Macy's LP"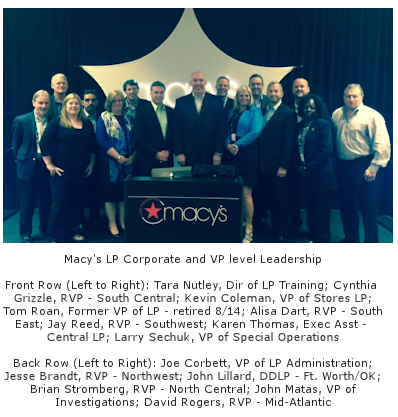 *Originally published on August 29, 2014
View all the selfies here!
Sponsored by:




Canadian Push
Sponsored by Vector Security
Holt Renfrew closes three locations as it embarks on $300M expansion - getting ready for Sakes Fifth Avenue's 'Canadian Push' Over the weekend, Holt Renfrew closed three of its smaller locations. Holt Renfrew will now focus on operating larger stores in a handful of Canadian cities, as it embarks on a $300 million expansion which will see its square footage increased by approximately 40%. Holt Renfrew is left with eight stores in five Canadian cities. Analysts say that Holt's focus on its larger and more productive locations is partly a response to Saks Fifth Avenue's intention to open as many as seven Canadian stores over the next several years, as well Nordstrom's intention to open up to 10 Canadian locations. Upscale menswear retailer Harry Rosen also continues to substantially upgrade its fleet of stores, including several replacement locations. retail-insider.com

The Run On Target Stores Locations Begins - LOWE'S CANADA is the most likely candidate to snap up some of Target's Winnipeg locations (Lowe's) are really the ones who are best positioned to take the biggest chunk (of Target stores)," Doucette said. A Lowe's Canada spokeswoman confirmed in an interview the 37-store chain plans to open 25 new stores over the next three years. But she wouldn't say if any of them are likely to be in Manitoba. Rona has said it wants to open some more stores this year in Canada as well. A Rona spokesman was also being coy Monday about whether the company is interested in any Target sites here. winnipegfreepress.com

Tim Hortons says layoffs affected 15% of employees - 350 employees at its headquarters and regional offices The company has a total of 2,300 employees at its headquarters, regional offices and distribution centers across the country. financialpost.com

The Lessens from Target Canada's Demise: (It'll be studied for decades) An overly aggressive approach - There was no testing and no learning-just the presumption that Target would get it right the first time. Adjusting to Canadian tastes - Canadian consumers are different than U.S. consumers. Supply chain and systems - poor supply chain planning and systems that did not fully integrate with U.S. operations. Competitive conditions - Target's main competitors in Canada, Loblaw and Wal-Mart, were aggressive in upgrading their operations, store bases and competitive positioning in advance of Target's entry. After studying successes and failures across the world, we were able to create an approach dealing with four key aspects of expansion success: Have a clear reason for being there. Really listen to the customer and have leadership flexibility. Partner (acquire/joint venture) with local leadership and talent; respect local culture. Execute on great retail: have a well-defined real estate strategy, marketing, systems and infrastructure. nreionline.com

Target Canada severance package is only severance for some Thousands of Target Canada employees will get paid for the next 16 weeks as the Minneapolis-based retailer pulls out of the country. Some of them will work for their wages, while others won't. Target Corp. announced earlier this month it would set up a $70 million trust to pay at least 16 weeks of wages and benefits for its 17,600 employees in Canada. At the time, it sounded like a severance package for people about to lose their jobs, though Target never explicitly called it that. But for some workers, the money will simply be used to keep them on the payroll as they help Target liquidate merchandise and close up shop in Canada, according to a report by Huffington Post Canada. Target hasn't said how many of the 17,600 employees will keep working during the wind-down of operations. "If your last day is this Friday and you work through this Friday, you will continue to be compensated up through that 16 week period. If you are needed for the full 16 weeks, then we'll provide the compensation for the full 16 weeks as well," Target spokeswoman Molly Snyder told HuffPo. Target still hasn't released details on the related Twin Cities and U.S. job cuts that are coming, but workers in Canada may find jobs with Sears (while fitness chains are considering taking over the abandoned stores). bizjournals.com

ORC on the rise in Calgary - New 'Retail C.O.P.' initiative helps retailers, law enforcement share information Organized retail crime has become a multi-million dollar industry in Calgary with a huge impact on consumers and local business owners. "Calgary, just by our economic strengths, that is a draw for the criminal element itself . . . Retail in Calgary because we have lots of high-end stores, we're very busy, we've got a lot of retailers that employ part-time and unseasoned staff just because of the fact it's hard to find employment, we are a soft target. And it becomes known," said Const. Lara Sampson, of the Calgary Police Service's Crime Prevention Unit and part of the Retail Industry Crime Initiative. "In Calgary, we have seen a significant increase even over the last year in terms of large volumes of theft and the price dollar going up incrementally each year on loss." Sampson said police are trying to target these criminals by having continual charges laid on them by coordinating intelligence to keep track of a criminal's activity in this area. The police also have an initiative called Retail C.O.P., a 24/7 website platform, where law enforcement, loss prevention, security, and retailers can upload information to Sampson and Critchley where intelligence is shared in order to target retail criminals. calgaryherald.com

Future Shop closing three stores in Canada - Regina, Gloucester, Kingston

Chapters closing it's Vancouver flagship store

Japanese clothing retailer Uniqlo to open 2 flagship shops in Toronto

Sears Canada makes acting CEO permanent

Walmart Canada aggressively expanding Supercentres - Opening 11 by end of this month alone

Crime in Canada falls to lowest point since the '60s

B.C. shoplifter faces gun charges after weapons discovered in bag

Halifax illegal tobacco seizure leads to 11 stores / 12 people charged

Langley RCMP investigating a thief who used debit card to steal $10,000

Three arrested for $57,000 in multiple Tire Thefts in Winnipeg and Manitoba

Retail Fast Facts: January 2015

Highlights:
● Total monthly retail sales changed by 2.4 per cent over the comparable month last year.
● Total sales excluding food, automotive and gasoline changed by 3.4 per cent over the comparable month last year. retailcouncil.org

e-commerce

Sponsored by The Zellman Group
Amazon.com Announces Fourth Quarter Sales up 15% to $29.33 Billion Net sales increased 20% to $88.99 billion, compared with $74.45 billion in 2013. Excluding the $636 million unfavorable impact from year-over-year changes in foreign exchange rates throughout the year, net sales increased 20% compared with 2013. businesswire.com

Manhattan District Attorney: Today's cybercriminal is yesterday's chain-snatching street hustler In a recent New York Times Magazine profile, Vance said that Manhattan sees between 200 and 300 cybercrime complaints per month and that when Vance replaced Robert Morgenthau as DA five years ago, he made identity theft a priority because it was one of the few kinds of crime that was actually on the rise. So who is committing all these cybercrimes? On Charlie Rose, Vance argued that it was the same people who, in a previous era, would have been "selling drugs or snatching chains on 42nd Street." "They've gone off the street and into identity theft because it's safer, cheaper, and more remunerative," he said. (Vance added that these thieves then sell their goods to "a very intelligent group of criminal players" based mainly in Eastern Europe.) Examples of cybercriminals who have been convicted in recent years include a pair of employees from Pret A Manger who stole credit card numbers from customers; a professional identity thief who collected credit card information by recruiting servers at popular Manhattan steakhouses; and a group of thieves who stole personal information by simply pickpocketing people. That American cybercriminals are converted street hustlers who have learned how to use computers and hooked up with Eastern European hackers is not a trivial or self-evident point-and suggests that the traditional dichotomy of "white collar" vs. "blue collar" crime is not particularly useful when talking about identity theft and online fraud. slate.com

Biometric Authentication App Use Anticipated To Surge by 2019 According to Juniper Research, there will be nearly 770 million biometric authentication apps downloaded per year by 2019, which is more than a 100-fold increase from the 6 million per year currently. Juniper credits the expected surge in these downloads to the current proliferation of Touch ID hardware in Apple and Samsung smartphones, as well as the linking of the hardware to tokenization of NFC payments in mobile commerce. The gradual switch to fingerprint authentication has given customers and businesses greater confidence in the security of mobile commerce, and will be the medium-term expectation for biometric apps until hardware-less identification comes into play. Fingerprint technology will also have a role in reducing rejection rates of authentication systems, which will make mobile payments a lot easier to use in addition to security. pymnts.com

"Fraud is not a person - it is a dynamic grouping of statistics that deviate from the norm."
Stuart B. Levine, CFI, CFCI
CEO, The Zellman Group & Zelligent

Vendor Spotlight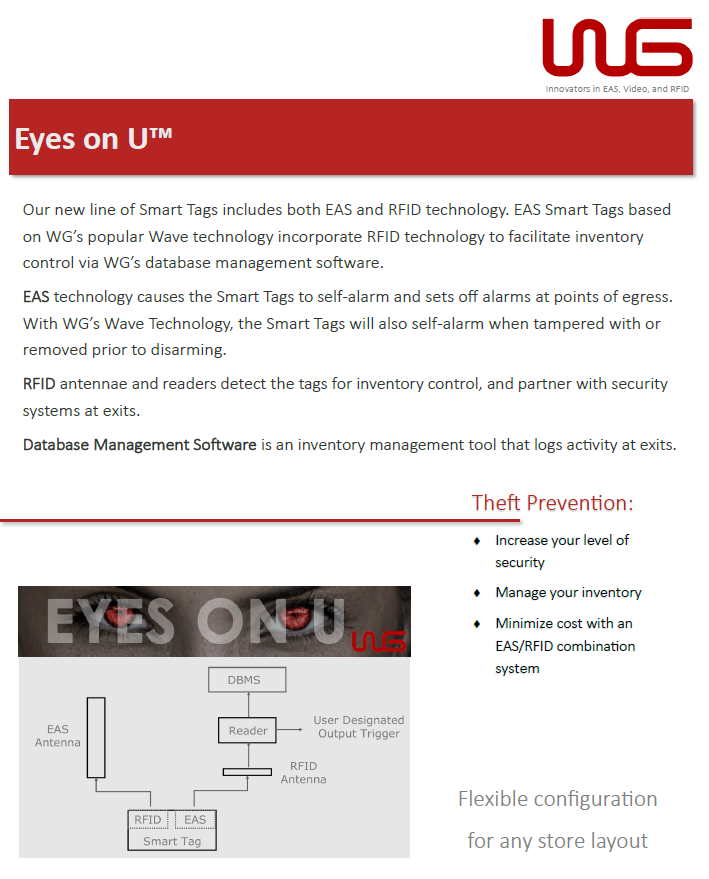 For more information, please visit our website at www.wgspi.com.

ORC News
Sponsored by Security Resources
San Antonio man caught selling $30,000 of stolen items on eBay A theft suspect identified as Rule Castillo-Chavez, 21, has been arrested after San Antonio police said they found out he was selling sports equipment stolen from a North Side business on eBay. According to an arrest affidavit, the manager of Team Express contacted police on Jan. 21, saying that more than $30,000 worth of merchandise had disappeared from the store within about a month, beginning in December. He also told police that a vendor had contacted him after seeing what he believed was the stolen merchandise being sold on eBay. The affidavit stated that detectives discovered the eBay account belongs to Castillo-Chavez. They said photos posted to that account show the stolen property, and in the background, they could see boxes that bear the name of the store, the affidavit stated. Castillo-Chavez was arrested Wednesday on a theft charge. There's no mention of how he got his hands on all of the property. ksat.com
Concord, NH Police Break Up Organized Retail Criminal Enterprise In the last six months, Concord Police detectives have been attempting to round up individuals who are allegedly responsible for stealing more than $1,000 worth of items at Walmart. The alleged ringleader of the thefts was Desiree M. Charter, She was arrested at 2:15 p.m. on Dec. 19, 2014, and charged with four felony counts of organized retail crime enterprise, three felony counts of theft by deception, and a single felony count of theft by unauthorized taking or transfer. Also arrested recently were Kaitlyn Rollins, 21, who was arrested at 8:38 a.m. on Jan. 21, 2015, and charged with organized retail crime enterprise, a felony; Christina McIntyre, 25, who was arrested at 9:10 p.m. on Jan. 5, 2015, and charged with organized retail crime enterprise, a felony, as well as two counts of simple assault and two counts of domestic violence. patch.com
4 Waterford, MI residents arrested for ORC and Retail fraud Four Waterford residents are behind bars in Livingston County after allegedly stealing upward of $1,000 in merchandise from two local retail stores Tuesday. The suspects have been arraigned on charges of organized retail crime and second-degree retail fraud. Each remained jailed on a $5,000 bond as of Thursday. Sheriff Bob Bezotte said the investigation began around 8:20 p.m. Monday when a loss-prevention officer at the Wal-Mart reported seeing the four suspects with an "unusual amount" of DVDs and video games in a cart. Bezotte said the Wal-Mart officer called police when the suspects walked out of the store with "duffel bags full of merchandise." livingstondaily.com

3 in Westmoreland, PA charged in $360,000 painkiller ring Joann Gruber, 53, of North Huntingdon, PA, a pharmacy technician, charged with stealing at least 12,000 prescription narcotic pills with a street value estimated at $360,000 while working at Norwin Pharmacy and selling them to a Hempfield woman. In turn, that woman allegedly sold them to a Hempfield man and others, according to charges filed Thursday. triblive.com

Utah Organized Retail Crime Association Inc (UTORCA) Save the Date: April 29, 2015 join Utah Organized Retail Crime Association Inc at the Utah Cultural Celebration Center in West Valley City for a comprehensive day of training, networking and opportunities to win excellent raffle prizes. More information and speaker list coming soon!

Serial shoplifter in Australia jailed after stealing CANDY worth more than $10,000
Do you have an ORC case to share?
Share your ORC news and help the industry grow

Retail Crime News

Sponsored by NuTech National
Federal agencies seize more than $19.5 million in fake NFL merchandise during 'Operation Team Player' Federal officials teamed with the National Football League (NFL) Thursday to announce the results of a nationwide law enforcement effort aimed at combatting counterfeit sports merchandise. Speaking at a NFL news conference, U.S. Immigration and Customs Enforcement (ICE) Director Sarah R. Saldaña, U.S. Customs and Border Protection (CBP) Director of Field Operations William K. Brooks, and NFL Counsel Dolores F. DiBella discussed the results of the initiative, dubbed "Operation Team Player." This year's operation began immediately following the conclusion of Super Bowl XLVIII and targeted international shipments of counterfeit merchandise as it entered the United States. Authorities identified warehouses, stores, flea markets, online vendors and street vendors selling counterfeit game-related sportswear and tickets throughout the country. ice.gov
Sioux Falls, SD Police report shooting near Empire Mall Sioux Falls Police are investigating a Thursday night shooting that occurred near the Empire Mall. According to police, just before 11 p.m. At the scene, officers found a male victim who had been shot. After an initial investigation, police reported the shooting occurred on Louise Avenue and not in the parking lot. The victim suffered life-threatening injuries. A perimeter was set up around the mall's parking lot. Two suspects are still at large. keloland.com

Dayton, OH Judge believes teen should be charged in mall shooting A juvenile court judge believes the 16-year-old involved in the robbery that lead to a fatal shooting at the Dayton Mall in December should be charged. Juvenile Court Judge Nick Kuntz found probable cause the Middletown teen participated in the attempted robbery. The incident occurred on December 20th when three Middletown teens were at the Dayton Mall. Police say 16-year-old Jawaad Jabbar, pulled out a fully operable and loaded gun attempting to rob an adult of a pair of limited released athletic shoes. That adult had a valid CCW permit and pulled out his own gun and used it. He fired once and killed Jabbar. wdtn.com

Suspects Steal Credit Cards Numbers in Richmond, TX & Buy Items At Target & Home Depot On Jan. 9, 2015, Fort Bend County Sheriff's Office detectives were alerted to a couple of cases in which suspects used a resident's credit card numbers to make transactions at a Home Depot and Target in the Sugar Land area. coveringkaty.com
Bennettsville, SC man cuts hole in roof of MedCare Pharmacy, stealing $25,000 in drugs A judge set bond for a Bennettsville man accused of cutting a hole into the roof of a pharmacy and stealing $25,000 worth of drugs. Bond was set at $170,000 for Fletcher Lee in a Marlboro County courtroom Thursday, said Lt. Larry Turner. Lee was arrested early Wednesday morning by the Bennettsville Police Department. wmbfnews.com

Hard-core bank robbers/car thieves now focus on profitable cargo theft Cargo theft takes up a lot of attention at the National Insurance Crime Bureau (NICB), according to NICB Chief Communications Roger Morris. "Why steal from a bank and risk 30 years in prison for $10,000, when you can steal a load of cargo for a million dollars and very little chance of being caught?" Many hard-core thieves have moved from car theft to cargo theft. The NICB works with transporters and member insurance companies to promote timely reporting, training, ensuring the loads are secure and tracked. Timely reporting can assist in tracking down stolen merchandise before it disappears on the black market. wrin.tv


Fort Wayne Police seek suspects in $200,000 Jared robbery Police were dispatched to the store shortly before 8 p.m. Monday. Employees there said three men entered the store and approached display cases that held loose diamonds. Two of them pulled out hammers they had concealed and smashed glass in the display cases. All three of them began pulling jewels from the case and then quickly left. news-sentinel.com

Man killed in Costco parking lot shooting in Anchorage, Alaska

16 year old Arrested for Arson of a Beijing, China Department Store; No casualties, 230 firefighters fought the blaze

Two charged with $1,900 cigarette thefts at Sheboygan Wal-Mart

Kay Jewelers in the Rolling Oaks Mall, San Antonio Texas reported a Grab and Run, merchandise valued at $24,449

Cleveland, OH men indicted in 2 month retail robbery spree


Robberies and Burglaries
● Bonfare Market - San Pablo, CA - Armed Robbery
● CVS - Mira Mesa, CA - Armed Robbery
● Dunkin Donuts - Philadelphia, PA - Armed Robbery
● Family Dollar - Gary, IN - Armed Robbery
● Kwik Shop - Omaha, NE - Armed Robbery
● Metro PCS - Lehigh Acres, FL - Armed Robbery
● Metro PCS - Bristol, PA - Armed Robbery
● Metro PCS - Houston, TX - Armed Robbery / Assault
● Verizon - Clackamas, OK - Burglary
● Walgreens - Winston-Salem, NC - Armed Robbery
● Walgreens - Worchester, MA - Armed Robbery
● Subway - Baltimore, MD - Armed Robbery
● 7-11 - Baltimore, MD - Armed Robbery



Featured Job Listings
Sponsored by NuTech National
Feature Your Job Here For 30 Days -
70% Aren't On the Boards
Director Global AP
KFC & PH
Plano, TX
YUM! Brands
Business Unit AP Sr. Dir.
Walmart
Atlanta, GA
Wal-Mart
Sr. Director, Field LP
Ross Stores
Dublin, CA
Ross Stores
VP Supply Chain, LP & Safety
Ross Stores
Ft. Mill, SC
Ross Stores
VP of Sales
Checkview
Chanhassen, MN
Checkview
Director LP
Sephora
San Francisco, CA
Sephora
Corporate Mgr LP
Five Below
Philadelphia, PA
LinkedIn
Director LP East
Old Navy
New York, NY
Gap Inc
Director of Divisional LP
Dollar General
Goodlettsville, TN
Dollar General
Director Market LP
Walgreens
Phoenix, AZ
Walgreens
Director Market AP
Walgreens
Glastonbury, CT
Walgreens
Director Market AP
Walgreens
Guaynabo, PR
Walgreens
Director Market AP
Walgreens
Denver, CO
Walgreens
Director Market AP
Walgreens
Southfield, MI
Walgreens
Director Market AP
Walgreens
Roseville, MN
Walgreens
Regional LP Mgr
Dollar General
Multiple locations nationwide
Dollar General
LP Manager
Bowlmor AMF
Chicago, IL
Bowlmor AMF
LP Manager
Bowlmor AMF
Denver, CO
Bowlmor AMF
Regional LP Manager
PetSupermarket
Tampa, FL
Downing & Downing
Regional LP Manager
Tilly's
Orlando, FL
Tilly's
AP Specialist
Wegmans
Syracuse, NY
Wegmans
AP Specialist
Wegmans
Woodbridge, VA
Wegmans
AP Specialist
Wegmans
Woodbridge, NJ
Wegmans
AP Specialist
Wegmans
Hunt Valley, MD
Wegmans
Sales Representative
NuTech National
Maitland, FL
NuTech National
National Account Executive
Checkview
Northeast Region
Checkview
National Account Executive
Checkview
United States
Checkview
Corporate Investigator
Confidential
San Francisco Bay, CA
Confidential
National Account Manager
Vector Security, Inc
TBD
Vector Security, Inc

Limited Time Only - Post Your Multi-Unit LP jobs for FREE - Learn More Here

Daily Job Alerts


Appearing One Day Only
View our Internet Jobs Archives here
AP Manager
BJ's Wholesale Club
Old Bridge, NJ
BJ's Wholesale Club
AP Manager
BJ's Wholesale Club
Linden, NJ
BJ's Wholesale Club
AP Manager
Lord & Taylor
Wayne, NJ
Lord & Taylor
LP Specialist
Food 4 Less
San Bernardino, CA
Kroger
LP Specialist
Food 4 Less
Burbank, IL
Kroger
Dept Mgr LP & Safety
Lowe's
London, KY
Lowe's
Store AP Manager
Home Depot
Lake Worth, FL
Home Depot
LP Manager Hrly
Sears
Sierra Vista, AZ
Sears Holdings Corp
ETL Assets Protection
Target
White Plains, NY
Target
ETL Assets Protection
Target
Orange, CT
Target
AP Manager in Training
Walmart
Fort Smith, AR
Wal-Mart
AP Manager in Training
Walmart
Fairfield, IA
Wal-Mart
AP Manager in Training
Walmart
Wabash, IN
Wal-Mart
AP Manager in Training
Walmart
South Ogden, UT
Wal-Mart
AP Manager in Training
Walmart
Falcon, CO
Wal-Mart
AP Manager in Training
Walmart
Silvis, IL
Wal-Mart
AP Manager in Training
Walmart
Roanoke, VA
Wal-Mart
Area Mgr AP
All facilities
Atlanta, GA
Wal-Mart
Regional LP Manager
Amazon
Coppell, TX
Amazon


Home of the Industry's Original
On the Move

Ken Warfield was promoted to Senior Vice President Premium Division North America & Asset Protection for Regis Corporation.
Christopher Breton was named Asset and Profit Protection Manager for Sears, Roebuck and Co.
Post Your New Job or Promotion!
See all the Industry Movement


Your Career
Sponsor this section of the Daily
Being Experienced Doesn't Automatically Make You a Great Mentor Coaching and mentoring employees is more popular now and in more than just workplace settings. However, just because you may have a lot of experience doesn't mean you will be an awesome mentor. You also have to be aware of what it takes to gain that experience for your trainee. Find emotion

What Everyone Should Know About Managing Up The relationship between employee and manager should be a positive one. Having a good relationship with higher ups makes the workplace life so much easier, and your career that much better. Here are some tips to help navigate this key dynamic. Consider what type of boss you have

The New Meaning of Workplace Mentorship The Millennial definition of a mentor differs greatly from a traditional definition of a mentor. For millennials, they may look to a series of different experts to help guide them and develop their skill sets. For mentors, here are some tips to help expand your thinking so that you can help meet your employees' needs. Ask employees to design their own skill wish list

The Importance of Mentors & Where to Find Them Mentors come in all sorts of shapes and sizes, and have all different workplace lessons to teach those eager to learn. The key to finding a mentor who can teach you more on your specific industry involves working your offline and online business networks. Here are some tips to help you find a mentor! Don't be intimidated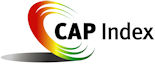 Tip of the Day
Sponsored by Vector Security
A lot of articles talk about "How to impress your boss" and give you tips on how to accomplish this. But at the end of the day, it's all about supporting them, helping them reach their objectives and not trying to merely impress them. Impressing a person is great, but usually short lived. Supporting and helping them reach their goals requires a long-term effort that at times can truly test your resolve and stamina.

The thought has always been if your boss gets promoted, then you might as well -- as long as you are the one helping them get ahead.

Just a Thought,
Gus







Upcoming Events
---
Recruiting?
Get your job e-mailed to everyone... everyday
Post on our Featured Jobs Board!
Reach your target audience in 2015 every day!
Request our 2015 Media Kit
update account / change e-mail
unsubscribe FEEDBACK
www.downing-downing.com

Advertise With The D&D Daily




36615 Vine Street, Suite 103
Willoughby, OH 44094
440.942.0671
copyright 2009-2019
all rights reserved globally