The D&D Daily Mobile Edition
LP, AP & IT Security's #1 News Source



---
Moving Up

In Case You Missed It

January's Moving Ups

18 New Senior LP's - 11 Appointments - 7 Promotions
Apple promoted Jessica Kirschbraun to Director of Investigations
C-3is, Inc. named Sean Walker, CFI Senior Vice President
CVS Health named Raymond Sosa Divisional Asset Protection Director - Washington, DC Metro Area
Facebook named Jason Jones Global Security Manager - Security Operations Center
Facebook named Lee Freedman Director II and Associate General Counsel for Compliance, Security & Investigations
HD Supply Construction & Industrial - White Cap promoted Brian Friedman to Director - Asset Protection & Chief Security Officer
Kate Spade New York named Joey Hunt Director of Loss Prevention
L Brands named Michael Loox, CFI Director, Emergency Operations Center
MadRag/10Spot named Derek McCarthy Director of Loss Prevention
Nike promoted Adam Oberdick to North America Manager, Digital Loss Prevention
Nordstrom promoted Tony Davis to Director, National Loss Prevention, Internal Investigations, Rack Operations
Office Depot promoted Walt Hall to Director of Loss Prevention & Safety
Sally Beauty named Jim Mires Vice President Loss Prevention and Safety
Sekura Global named Donna Gudridge Client Program Manager - NAM
Spark Resultants promoted Johnny Custer, CFI to CIO - Chief Implementation Officer Spark Analytics
The Decurion Corporation named Katie Walker, CFI Director of Asset Protection
The Fresh Market named John Bishop Group Vice President of Operations
The Walking Company promoted Jon Parrett to Head of Loss Prevention
---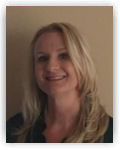 Jennifer Kajzer named Vice President of Loss Prevention for Michaels
Jennifer was previously the Asset Protection Senior Director of Operations for JC Penney since 2016. She's also held a variety of other roles during her fifteen years working in retail, including District Manager for PetSmart, District Vice President and Territory Vice President Loss Prevention for Kohl's Department Stores, and Group Assets Protection Team Leader for Target. Jennifer earned her Bachelor of Science in Criminal Justice from Indiana University South Bend, and then acquired her Masters in Public Affairs from Indiana University - Purdue University at Indianapolis. Congratulations Jennifer!

Jimmy Treuting Named SVP Sales and Marketing for ADT Cybersecurity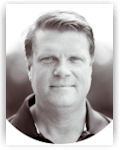 ADT, the leader in security and automation solutions for homes and businesses in North America, today announced that it has hired Jimmy Treuting to lead sales and marketing for ADT Cybersecurity.

Prior to joining ADT Cybersecurity, Treuting served as SVP Sales and Marketing at Netchex Online, a leading provider of cloud-based human resources and payroll solutions.

He has also held CEO positions with Verticalive, a technology startup company focused on developing and supporting a Microsoft Azure-based software accelerator framework; Dukky, LLC, a provider of integrated social media solutions and Strategic Consulting, LLC.

In addition to his previous roles, Treuting spent more than eight years with Verio and Nippon Telephone & Telegraph (NTT) where he was president of three divisions and was responsible for the profit and loss for several areas of the company. He was also Chairman and CEO of Communique, a regional Internet Service Provider that he managed from startup to sale. Congratulations Jimmy! Read full press release here
---

---
News Brief
Sponsored by WG Security Products, Inc.

Registration Now Open for "Swing for Certification" Golf Tournament
Hosted by the LP Foundation at NRF Protect 2018


Registration is now open for "Swing for Certification", the Loss Prevention Foundation (LPF) golf tournament set for Sunday, June 10, at Bear Creek Golf Club in Dallas preceding the NRF Protect conference June 11–13, 2018. The event is open to all retailers and solution providers to benefit the LPF Fund Scholarship Program for LP professionals who want to advance their careers through obtaining their LPQ or LPC certifications. Proceeds will also benefit industry charities including the Loss Prevention Benevolent Fund and the USS Foundation, the legacy event sponsor.

The event will begin with lunch at 11:30 a.m. with a shotgun start at 1:00 p.m. Prizes and awards will be handed out at a cocktail reception following golf. Bear Creek Golf Club is located at 3500 Bear Creek Court in Dallas, adjacent to DFW Airport and just 7 miles from the Gaylord Texan Resort & Convention Center, site of the NRF Protect conference.

Join your colleagues for this opportune networking event by registering today at "Swing for Certification" event website. Read the full press release here.

The Loss Prevention Foundation (LPF) Announces Newest Masters Level Partner
The Loss Prevention Foundation (LPF) announced its newest Masters level scholarship partner, InstaKey Security Systems. The Masters level partnership secures numerous certification course scholarships for distribution to retailers, universities and internal associates. It also enables InstaKey to provide complimentary LPF memberships to loss prevention practitioners.

Headquartered just outside Denver, CO, InstaKey became a market leader in key control by offering clients a sustainable, cost-effective solution for rekeying locations and managing keys using restricted, serialized keys, user-rekeyable locks, cloud-based key management software, and dedicated program administration. prweb.com

Search Ends for Quiksilver CEO Lost at Sea
A search for missing Boardriders CEO Pierre Agnes has ended with no sign of the 54-year-old father of three, who is now presumed dead. Agnes had been fishing off the southwest coast of France early Tuesday when he told port authorities his return would be delayed because of thick fog, per Reuters. His 36-foot boat then returned to land without him, not far from his hometown of Capbreton. More than a day after helicopters and coast guard vessels began searching for Agnes in choppy waters, authorities called off the search at 2:35pm local time Wednesday, "well beyond the theoretical survival time for someone in the water," reports NBC News. newser.com

Mattress Firm-Owner Steinhoff Refers Ex-CEO to Police on Suspicion of Corruption
Global retailer lost 85% of value after finding accounts wrongdoing
Steinhoff International Holdings NV reported former Chief Executive Officer Markus Jooste to South Africa's anti-graft police, pinning the blame for an accounting scandal squarely on the man who built the retailer into a global force.

The owner of Mattress Firm in the U.S. and Conforama in France referred Jooste to the unit known as the Hawks on Tuesday based on its investigation into financial irregularities, acting Chairman Heather Sonn told lawmakers in Cape Town on Wednesday. The company has enough evidence to suggest the former CEO may have committed offenses that breached the country's corruption-fighting act, she said.

"The matter is now in the hands of the Hawks for further investigation and prosecution," Frankfurt-and-Johannesburg-listed Steinhoff said in an accompanying presentation. The retailer still doesn't know how the crisis began and a probe into its accounts led by PwC will be completed as quickly as possible, Sonn said.

The move against Jooste shows Steinhoff is seeking to isolate itself from the company's former leader, who quit when the retailer reported the accounting irregularities on Dec. 5. Ex-chairman and biggest shareholder Christo Wiese was also at the hearing with lawmakers, and said news of the scandal came to him as "a bolt from the blue" and that he had no prior knowledge of any wrongdoing. Wiese, 76, has seen his net worth more than halve to $2.3 billion as Steinhoff's shares plunged by 85 percent. bloomberg.com

NFL warns fans to be wary of counterfeit merchandise and tickets
450K illegal items worth $39M seized last year
Fake Super Bowl merchandise is flooding into the Twin Cities this week, and federal agents who usually fight terrorists are stalking our skyways and scrutinizing shopping tags to figure out if they can seize racks full of suspect sweatshirts and sham hats. It's a big problem, according to the National Football League.

Before last year's Super Bowl in Houston, agents with the Department of Homeland Security — working with local law enforcement — confiscated more than 260,000 counterfeit items worth more than $20 million, court records show. A total of 56 people were arrested for selling illegal merchandise, including fake tickets to the big game. And that wasn't the biggest haul. That happened in 2016, when 450,000 illegal items worth $39 million were seized.

On Monday, a Hennepin County judge granted the league and its agents permission to seize all suspected contraband without the notices typically required in court. The order came in response to an emergency lawsuit the league filed against 100 unspecified counterfeiters on Jan. 24. startribune.com

'Seeing someone cry at work is becoming normal'
Employees say Whole Foods is using 'scorecards' to punish them
Whole Foods has a new inventory-management system aimed at making stores more efficient and cutting down on food waste. And employees say the retailer's method of ensuring compliance is crushing morale.

The new system, called order-to-shelf, or OTS, has a strict set of procedures for purchasing, displaying, and storing products on store shelves and in back rooms. To make sure stores comply, Whole Foods relies on "scorecards" that evaluate everything from the accuracy of signage to the proper recording of theft, or "shrink."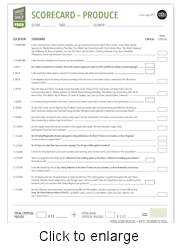 Some employees, who walk through stores with managers to ensure compliance, describe the system as onerous and stress-inducing. Conversations with 27 current and recently departed Whole Foods workers, including cashiers and corporate employees — some of whom have been with the company for nearly two decades — say the system is seen by many as punitive.

They say many employees are terrified of losing their jobs under the new system and that they spend more hours mired in OTS-related paperwork than helping customers. Some are so fed up with the new system that they have quit or are looking for other jobs. In addition to hurting morale, OTS has led to food shortages across Whole Foods stores, they say.

"I wake up in the middle of the night from nightmares about maps and inventory, and when regional leadership is going to come in and see one thing wrong, and fail the team," a supervisor at a West Coast Whole Foods store said. "The stress has created such a tense working environment. Seeing someone cry at work is becoming normal." businessinsider.com

Sears lays off roughly 220 corporate workers 'effective immediately'
Sears, which has been shuttering stores and selling off assets to prop up its finances in the midst of sliding sales, said Wednesday that it is laying off roughly 220 employees at its corporate offices "effective immediately.''

The job cuts are pegged to the one-time retail giant's turnaround plan, which has involved renegotiating debt and slashing costs to eke out a profit at a time when Sears is struggling to compete with Amazon as well as more nimble or cheaper competitors like Walmart.

"Positions in various business units and roles across the organization were impacted,'' the company said in a statement that noted efforts to shed money-losing product categories, shutter weaker stores and winnow operations helped it make "significant progress in our efforts to improve our financial position.'' usatoday.com

Bon-Ton is shuttering 42 stores
Regional department store chain Bon-Ton has announced the 42 locations that it will be closing next, following years of declining sales.

The stores set to close operated under various banners - Carson's, Younkers and Herberger's - and span states such as Idaho, New York and Ohio. Bon-Ton has dual headquarters in Milwaukee, Wisconsin, and York, Pennsylvania. Liquidation sales for the 42 stores are set to begin on Feb. 1 and will last for about 10 to 12 weeks.

Meanwhile, the department store chain has laid out a restructuring plan that includes opening smaller locations, resetting its inventory to move away from seasonal fashion accessories and growing its private-label brands. chainstoreage.com

See full list of Bon-Ton closures here

As Bon-Ton shutters stores, Kohl's could reap the benefits
Kohl's could be the biggest winner in retail as regional department store chain Bon-Ton restructures its store fleet, according to Jefferies. Jefferies' Konik found many of Bon-Ton's stores are in the same neighborhood as Kohl's, positioning Kohl's to pick up lost customers. cnbc.com

Retailers See Tax Reform Boost
But 2018 Could Be Make-or-Break for Brands
Industry disruption, mounting debt, and tax reform's sweeping changes continue to widen the gap between traditional economic predictors and the retail industry's current financial reality. Retailers' expectations for the year ahead remain moderate, with C-suite executives forecasting a 3.2 percent increase in total sales for 2018, according to a mix of 100 retail CEOs, CFOs, and CIOs in the first annual 2018 BDO Retail Compass Survey of CxOs.

At the same time, the industry is generally bullish for tax reform. When considering tax changes, more than one third (34 percent) of retailers agree that a reduction in the U.S. corporate tax rate would have the greatest impact on their business, followed by a reduction in the U.S. individual income tax rate, changes to state and local taxes, and cross-border tariffs. The ways retailers adjust their financial and tax strategies to maximize returns will define how much money they will be able to spend on initiatives that can help them compete. businesswire.com

Lowe's Expands Benefits and Announces $1,000 Cash Bonus

UK supermarket Morrisons to cut 1,500 management jobs

Tourneau Acquired by European Watch Retailer Bucherer

NRF Says Consumers Will Spend Near-Record $19.6 Billion on Valentine's Day

Mt. Juliet, TN: Leaders take aim at gun store security


Quarterly Results
Boot Barn Q3 comp's up 5.2%, net sales up 12.7%
Ralph Lauren Q3 comp's down 10%, revenue down 4%
All the News - One Place - One Source - One Time
The D&D Daily respects your time
and doesn't filter retail's reality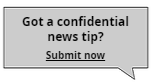 ---
Spotlight on Southern Imperial

White Paper - Specialty Beauty Retailer Offender, Shopper, Employee Feedback Study: LM Tag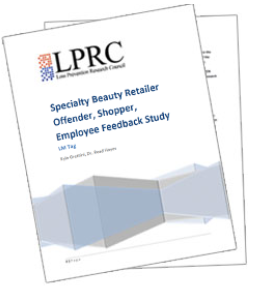 The Loss Prevention Research Council (LPRC) conducted a series of in-person survey interviews in the Gainesville, FL. A specialty beauty retailer's StoreLab in order to understand the impact of the LM Tag on associates, shoppers and shoplifters. This research focused on the LM Tag's impact on protecting high end fragrances, one of the specialty beauty retailer's high loss products.

Shopper Feedback
93% of customers rated the LM Tag's effectiveness above a 5, indicating they think the LM Tag is effective at preventing theft.

Employee Feedback
90% of the associates surveyed agreed that they like the LM Tag and that it is easy to apply.

Offender Feedback
In this study, all 7 shoplifters indicated they would not attempt to steal a product that was protected by the LM Tag.

Click here to download the complete report.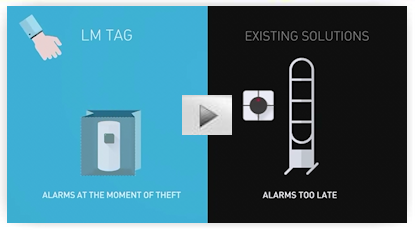 The LM Tag from Intelligent Loss Prevention uses the combination of a light sensor and motion detector to notify when a product is both in motion and concealed. It alarms at the point of theft, making it the only device on the market that has the ability to alert you before product walks out the door.
---

---

Over 300,000 Oracle Point-of-Sale Systems at Security Risk
MICROS POS Breached, Again
A new security flaw has been discovered affecting Oracle MICROS point-of-sale (POS) systems. The vulnerability allows attackers to collect configuration files from the affected POS systems, and use this data to gain full access to the POS system and attached services. This flaw is highly dangerous considering a lot of customer financial or personal data is linked with these systems.

Security researchers at ERPScan wrote that criminals have always tried to leverage vulnerabilities that could be used to target POS systems as they are "a hacker's coveted choice." The exploit in question was discovered by security researcher Dmitry Chastuhin last year affecting Oracle MICROS POS systems. Tracked as CVE-2018-2636, the vulnerability has been given a rating of 8.1 out of 10, meaning it's highly severe.

Using this flaw, attackers can gain unauthenticated read and write access to the POS server's database and read local files to obtain usernames and passwords to gain full access to the database.

Along with stealing data, attackers could also install POS malware to collect customer payment details or other types of malware for future attacks. While Oracle fixed the flaw earlier in January, it is unlikely if all the 330,000 affected POS systems will be updated promptly, as it takes month before businesses update their point-of-sale systems. wccftech.com

96% of Top Merchants Now Accepting Chip-Card Payments
The U.S. Payments Forum recently released its winter 2018 market snapshot, providing updates on the status of the U.S. credit-card chip migration and contactless payments, technologies for securing online transactions, and recently released resources.

At the forum's December 2017 member meeting, several of the global payment networks reported that the number of chip-on-chip transactions for credit cards is more than 50%, and more than 60% of funds transferred during credit-card purchases are from chip-on-chip transactions. This can be attributed to the growth in merchant enablement seen over the past year. Today, 96% of the top 200 merchants are now accepting chip payments, compared to 29% of merchants at the beginning of 2017. cspdailynews.com

'The (in)Convenience of Clerkless C-stores'
Change is coming to the convenience store industry - but it may not be for the best.

Earlier this year, 7-Eleven Inc. announced plans to swap out store associates in Japan with radio-frequency identification (RFID) tagged merchandise. The intention is to place a greater emphasis on payment cards, as well as mobile technology at checkout.

While the setup could alleviate the worker shortage facing Japanese convenience stores, the risks likely outweigh the rewards in the U.S. market. From the ongoing importance of register clerks to a wide range of security concerns, here's why convenience store owners should think twice before going clerkless.

Fewer Protections in Place

Security remains an important concern for convenience store owners. A rise in fraud at the pump coupled with delays in chip-card compliance have turned up the pressure on retailers to guard against cybercriminals. But embracing clerkless stores may be a step in the wrong direction.

Although technology can help speed up the checkout process, some innovations leave much to be desired when it comes to security. RFID tags, for example, could be covered up in aluminum foil, thereby blocking the signal and making it easy for shoplifters to steal valuable products.

By instead opting for a combination of RFID technology and limited human intervention, retailers can reap the rewards of automated scanning while also stopping thieves in their tracks. csnews.com

Scan - Bag - Go
Kroger expands checkout-free technology to more divisions
The nation's largest supermarket retailer is outfitting more stores with technology designed to eliminate checkout lanes. Throughout 2018, Kroger Co. will deploy its Scan, Bag, Go shopping technology in 18 operating divisions, making the service available to customers at 400 stores. The expansion is based on a successful 20-store test.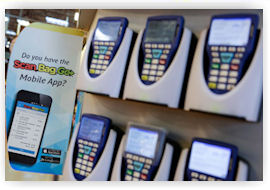 Kroger will roll out the technology at select locations in the following divisions: Atlanta; Central; Cincinnati; Columbus; Dallas; Delta; Dillons; Fred Meyer; Fry's; Houston; King Soopers; Louisville; Michigan; Mid-Atlantic; Nashville; Ralphs; Smith's; and QFC. All chosen locations will launch the technology by the end of the year.

The technology, which was designed by Kroger's in-house research and development team, enables shoppers to use a wireless handheld scanner or download the "Scan, Bag, Go" app onto their personal device. Customers use the technology to scan and bag products as they shop. chainstoreage.com

Woodman's Food Markets pilots 'rapid checkout' technology
Woodman's Food Markets in Janesville, Wis., is testing new technology that offers customers quicker checkout options at its Gammon Road location.

The employee-owned supermarket chain is rolling out a pilot program that includes "rapid checkout" lanes and a hand-held scanning device called the "mobile shopper," similar to other scanners being introduced by Walmart and Kroger this year. supermarketnews.com

Umbo Computer Vision unveils new AI-based camera
Umbo Computer Vision, a provider of autonomous video security technology based in San Francisco, announced the release of Umbo SmartBullet, its new AI-based camera designed for integrators, businesses and governments looking for autonomous video security capabilities and a simple end-to-end user experience.

With real-time video security capabilities and AI-based technology, SmartBullet enables facilities managers at businesses in high crime areas, critical infrastructure installations, school campuses, transportation systems and other public venues, for example, to record, track and receive more accurate notifications when intruders have entered a property, climbed a wall or crossed a border. securitysystemsnews.com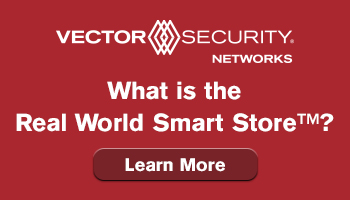 ---

America's Funniest LP 'Quick Takes'
With MCs Joe LaRocca & Amber Bradley

Amber Tries to Make
Scott Sanford Cry
Amber calls him "ORC Zen Master", but you may know him as Scott Sanford, Director of Loss Prevention for Forman Hills. In this LPNN Quick Take, he tells us the one crime-fighting resource that would be hard to live without and why he thinks a national ORC association is needed.
Solution Providers, have a video or commercial you want to publish? Contact us.
---

---
---

---
e-commerce
Sponsored by The Zellman Group

The Darker Side of eCommerce Fraud
Radial Asks Retailers: Are You Prepared to Handle Top Fraud Threats? New Fraud Index Says No
Radial, the leader in omnichannel commerce technology and operations, released its 2017 Fraud Index informing the pervasive and shifting nature of fraud as eCommerce continues to surge. Data scientists from Radial's Fraud Team analyzed data from hundreds of clients and billions of transactions to create the 2017 Fraud Index that identifies the EMV, digital gift card, cross border and shipping and fulfillment trends putting retailers at risk.

Radial's 2017 Fraud Index takes an in-depth look at five trends and the data behind them to help retailers decide if managing fraud on their own is a wise decision.

1. Card-Not-Present fraud continues to rise with some market segments more vulnerable than others, but the blame does not lie solely with EMV. In 2017, fraud attacks in cosmetics soared 400 percent versus 2016. Apparel wasn't far behind, with more than four times the increase in attacks, followed by a two-times increase in the electronics, home and entertainment segments.

2. Data breaches are igniting fraud attacks, with 2017 reporting the highest number of breaches since tracking began. One of 2017's worst data breaches that impacted 145.5 million U.S. consumers, started in mid-May and wasn't discovered until the end of July. Radial's data shows a significant uptick in fraud attacks across four market segments during this same time period, and then a corresponding decrease in attacks and a shift to other market segments when the attack was made public in September.

3. Digital gift cards steadily increase in risk YoY, showing on average a four-times increase in fraud attacks from Thanksgiving to Christmas compared to 2015. Digital gift cards remain a popular target for fraudsters as they take advantage of the surge in order volumes during the holiday season to mask their criminal intent.

4. Shipping and fulfillment methods carry different risk, but all areas saw an increase in attacks in 2017. Fraud attacks were 2.5 times higher for ground shipments for the first three quarters of 2017, compared to 2016. Despite this increase, ground shipments carry the least financial risk when it comes to fraud—for every $211 of good orders shipped via ground there is $1 of fraud attacks. In contrast, same day (e.g., digital gift cards) poses the highest financial risk—with every $10 of good orders comes $1 in fraud attacks. Overnight shipping remains a favorite with fraudsters and the riskiest physical shipping method for retailers as evidenced by $1 of fraud attacks for every $13.

5. Credit card BIN Country and IP Country are red flags for fraud, with certain geographies representing higher risk internationally across market segments. For the countries with the highest attack rates by BIN and IP for all eCommerce volume within each country, nearly 20 percent of eCommerce fraud in Italy's entertainment market segment was attributed to credit cards issued from that country's BIN, while nearly 30 percent in Dominica originated from an IP address in that country. Even more startling is the amount of eCommerce fraud for cosmetics in Venezuela – nearly 75 percent originates from a Venezuelan IP address. prnewswire.com
Robots gain ground in ecommerce warehouses
Debate rages over whether enough new jobs will be created
Ecommerce growth fell 26% in 2017: Forrester Research

Mexico antirust body opens e-commerce probe for potential abuses
"Fraud is not a person - it is a dynamic grouping of statistics that deviate from the norm."
Stuart B. Levine, CFI, CFCI
CEO, The Zellman Group & Zelligent
---

---
ORC News
Sponsored by NEDAP Retail

Annapolis, MD: Five Women Charged With Stealing $100K-Plus from Dick's, Victoria's Secret and Pink in Theft Ring
Five Maryland women have been charged with stealing more than $100,000 of retail merchandise in an alleged theft ring. Tyrayah Shonita Graham, Donna Leurine Moye, Lisa Marie Williams, Lyric Taj McLaughlin and Tiara Kianna Baker were charged with conspiracy to commit a theft scheme with a value of $100,000 or more. Moye and Williams were also charged with possessing and selling counterfeit goods. The women allegedly targeted retail stores such as Dick's Sporting Goods, Victoria's Secret and Pink, prosecutors said. The newspaper quotes prosecutors as saying the women would enter stores together, put display merchandise into large bags and leave without paying. They say the theft ring operated in Baltimore, Harford, Anne Arundel, Charles and Montgomery counties. baltimoresun.com

Memphis, TN: Owner of a Meat Market charged in $1.2 Million Food Stamp Scam
The U.S. attorney's office in Memphis said Tuesday that 59-year-old Guy Randal Stockard has been charged with defrauding the Supplemental Nutrition Assistance Program. A Jan. 11 indictment says Stockard owned Southern Meat Market in Memphis. Prosecutors say he bought customers' food assistance program benefits at a discount in exchange for cash. The indictment says Stockard then redeemed those benefits at full face value. Prosecutors say the value of the fraudulent transactions was at least $1.2 million. Stockard faces up to 20 years in prison if convicted. time.com

Fremont, CA: Police Recover 2,000 Stolen Laptops in International Theft Ring
Northern California police have arrested nine people and recovered $2 million in stolen electronics after they say they broke up a massive auto burglary ring. Fremont Police announced the arrests Wednesday. Several Northern California law enforcement agencies joined forces a few months ago to investigate a surge in auto burglaries. Investigators said the evidence led them to a gang operating on the east side of the San Francisco Bay, which in turn led them to a man they said was buying the stolen equipment.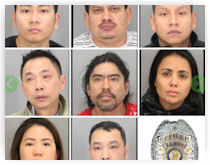 Police last month seized more than 2,000 stolen laptops stored in a rental unit and found in a tractor trailer investigators pulled over near Oakland, California. Investigators believe the vehicle was headed to the Port of Oakland so the laptops could be shipped to Vietnam. nbcbayarea.com

Update: Horry County, SC: Three suspects facing over 100 charges after breaking into 50 Dollar Generals in a multi-state crime spree
The department's Facebook post says 13 break-ins happened within the county. CID Employees of the Month October 2017 are Det. Jonathan Rabon, Det. Matt Treitler, and Det. Ashley Soucy (now SLED agent). During a months long rash of burglaries targeting Dollar General stores, these detectives worked tirelessly to coordinate with over 19 other jurisdictions, in two states, that were observing similar incidents. Of the at least 50 burglaries that occurred, 13 were in Horry County. wpde.com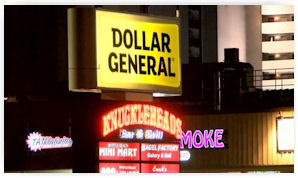 Tucson, AZ: 'Foundrop' assists Ace Hardware recover thousands in stolen merchandise
A new website called Foundrop helped a local business find thousands of dollars worth of merchandise that was stolen from its store two weeks ago. On January 17, Security cameras caught two people smashing a glass doorwith a small hammer at an Ace Hardware near 22nd and Kolb. Surveillance video shows once inside, the thieves spent less than two minutes to steal about $15,000 worth of expensive knives and gun scopes. A couple days later, Tucson Police detective Todd Landau says officers pulled over a driver with a suspended license and impounded the car. kgun9.com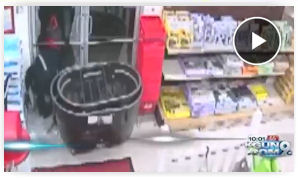 Sonora, CA: Four arrested in another $1,500 baby formula heist
A group of four Modesto residents were arrested Tuesday evening after racking up more than $1,500 in stolen items during a crime spree at two businesses in the Timberhills Shopping Center. At about 3:30 p.m., two men and a woman left Sav-Mart on Mono Way with multiple cans of baby formula and bottles of liquor. uniondemocrat.com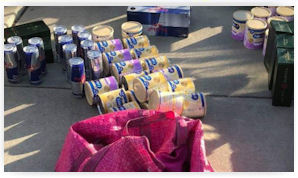 UK: England: House of Fraser worker caught with hand in till used dodgy refunds to bankroll cocaine habit; James McCaughey for almost 20 years, stole thousands to pay off drug dealers

Submit your ORC Association News

Visit the ORC Resource Center

---
Retail Crime News




Shootings, Stabbings & Deaths



Miami Beach, FL: 2 Publix employees stabbed by shoplifter
The incident happened at a Publix on Collins Avenue, at around 6:30 p.m. Police said an investigation into the incident is in its early stages, but they believe the suspect may have been shoplifting when an employee intervened. Police said Miller had pulled out a knife during the confrontation. The conditions of the victims remain unknown, but they are expected to be OK. wsvn.com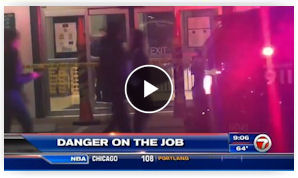 Fort Worth, TX: She helped plan Save a Lot robbery that left a man dead
She's now facing a capital murder charge. A 19-year-old woman who admitted to police that she helped plan a robbery at her former workplace that left a Fort Worth man dead now faces a capital murder charge in the case. Sonja Jones was arrested Monday on a capital murder warrant in connection with the Jan. 11 robbery and fatal shooting of Raymond Huerta, 26, at a Save-A-Lot grocery store in south Fort Worth. Raymond Huerta did not work at the store at 5519 James Ave., but was trying to intervene in the robbery to protect his wife, an employee there, when he was shot multiple times. star-telegram.com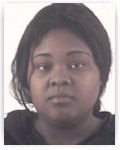 Bal Harbour, FL: Mysterious murder of Prada store manager intensifies
Two questioned, car involved found. Police on Wednesday were trying to tie together two more pieces of the mysterious puzzle surrounding who shot and killed a Bal Harbour retail store manager last week, as they questioned one man at length and found another who had been missing for almost a week. The first man, whose name has not been released, was found at a Miami Metrorail station with the white Honda Accord police believe was used in the crime. He was let go late Tuesday after several hours of interviews. Also Tuesday, police found Orestes Marrero, 54, the man last seen in the Honda by family members who reported him and the vehicle missing last week — the day after the murder of Kamil Patel.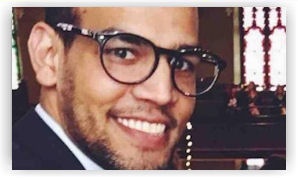 Patel, 29, who moved to Miami Beach from Dallas three weeks ago to manage a Prada store in Bal Harbour was shot and killed just before midnight last Thursday as he and his girlfriend walked through an alley after leaving Mac's Club Deuce and on their way to a karaoke bar. brandenton.com

St James, MN: Armed Car Theft suspect shot and killed by Police inside Casey's General Store
The incident started late Wednesday morning when deputies in Nicollet County spotted a vehicle in LaFayette, Minn., that had been reported stolen. There was a chase, but it was called off for safety reasons. About a half-hour later, the vehicle was spotted in St. James. Officers followed it until the driver drove into a snowbank and then fled on foot. The man ran into Casey's General Store and shots were heard from the store. Investigators found a knife at the scene, the BCA said. One officer suffered a noncritical injury, the agency said. keyc.com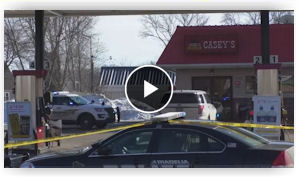 Council Bluffs, IA: Police Shooting outside C-Store leaves suspect in Critical Condition

Tinley Park, IL: Police release new composite image of 2008 Lane Bryant shooting suspect
---
Robberies & Thefts

Wilton, CT: 1 of 4 suspects in $20,000 jewelry store robbery charged
One of four people wanted for stealing more than $20,000 in merchandise from a jewelry store in Wilton has been charged in the crime. Yolanda Santa, 56, was arrested last month at her home in Ridgewood, New York. She returned Wednesday to Connecticut. he crime happened at Campus Jewelers on River Road back in October and was all caught on camera. According to police, Santa and two other women distracted the sales people while a man who came with them stole jewelry from behind the counter. connecticut.news12.com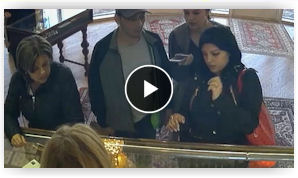 Broward, FL: He asked to see the $60,000 flea market necklace
Two seconds later, both were gone. A young man scampered from a flea market jewelry stand with a stolen $60,000 necklace around his neck in a video released Wednesday by the Broward Sheriff's Office. BSO says that the value was put on the necklace with a large San Lázaro charm by the owner of Rambo Jewelry. Despite the necklace's claimed value — and Rambo's history with theft — the owner let the young man across the jewelry counter put the necklace around his neck just before noon Dec. 17. The owner asked for identification. The owner looked at it for two seconds before flipping it onto the counter and handing over the necklace. brandenton.com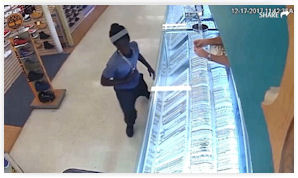 Benton County, WA: Richland Rite Aid manager accused of robbing her own store — then marrying her accomplice
The manager of the Richland Rite Aid allegedly targeted her own store for a robbery so she could give insider intel to her accomplices and open the safe. Tonya M. Wright, her husband and his brother made off with $6,000 total in cash and bank coin rolls in the Dec. 22 holdup, court documents show.
Tonya and Anthony D. Wright got married four days after James E. Wright went into the Lee Blvd. store, pointed a revolver at his future sister-in-law and a male clerk and demanded money. Anthony Wright, 47, is a career criminal with 11 felony convictions including staging the burglary of a Kennewick payday loan store 16 years ago. That 2002 crime was similar to the Rite Aid robbery in that Anthony Wright was romantically involved with the Payday Loans manager. tri-cityherald.com

Little Rock, AR: Teen charged in dozen holdups; robbery streak spanned 8 weeks

Lexington, NC: Man charged in Winston-Salem C-store Armed Robbery suspected in Thomasville, Salisbury and Danville, Va.

Palo Alto, CA: Man booked for groping, spitting and punching at Stanford Shopping Center

Cleburne County, AR: Jail Escapee charged in Theft of Cuffs, Restraints gone when captured
---
Legislative Updates
Janesville, WI: Wisconsin Lawmaker renews call for Bill requiring increased Security at Gun Shops
Following three gun shop burglaries this week, Rep. Lisa Subeck, D-Madison, renewed her call Wednesday for a hearing on a bill that would require guns be secured when gun shops are closed. Subeck's bill would require shop owners to secure their weapons in gun cabinets or safes with rod-and-cable locks when the stores are closed. Federal rules currently only require gun shops owners to lock their store entrance doors securely after-hours. wqow.com

Tallahassee, FL: 3 criminal justice reform bills advance in Florida Legislature; felony threshold from $300 to $1,000
A trio of bills aimed at reducing the penalties for low-level criminal offenses advanced in the Florida Legislature on Tuesday. One proposed change would increase the monetary threshold for felony theft from $300 to $1,000. Another proposal would allow judges to depart from mandatory-minimum sentencing for low-level drug offenses. Yet another proposal would reduce driver's license suspensions for non-driving offenses. Though the bills are still a ways off from becoming law, the advances may be indicative of a bipartisan push to rethink the way we administer justice. pnj.com
---
Sentencings & Arrests
Former Pharmacist has been granted a hearing on his request for a Commutation of Life Sentence; shot a wounded Robber 5 more times
Former pharmacist Jerome Jay Ersland has been granted a rare hearing on his long shot request for a commutation of his life sentence. Ersland, 66, applied for a commutation in November, six years after a jury found him guilty of first-degree murder for shooting an already wounded robber five more times. In his application, Ersland called his conviction an "injustice" and complained he will die in prison unless his sentence is commuted. newsok.com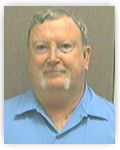 Philadelphia, PA: Man who threatened 'acid' attack robberies at CVS and Lowe's pleads guilty
Carlton Ayers faces a possible maximum sentence of 20 to 40 years in prison on the charges. timesherald.com

Lima, OH: 10-year prison sentence doled out to Walgreens Armed Robber

Sacramento, CA: 3 men face jail time for robbery, looting of CVS pharmacies during Napa Valley fires

Pottsville, PA: Man sentenced to 6 to 23 months for 3 Walmart thefts in a year; $831 in restitution

Robberies and Burglaries
Sponsored by Scarsdale Security Systems
• AT&T – Martin, TN – Burglary
• C-Store – Milroy, MN – Burglary
• C-Store – Beatrice, NE – Burglary
• C-Store – Cairo, GA – Armed Robbery/ clerk shot & wounded
• C-Store – Cambridge, MA – Armed Robbery
• Cricket Wireless – Brooklyn, NY – Robbery / Assault
• Family Dollar – Salisbury, MD - Armed Robbery
• Family Dollar – Gray, LA – Armed Robbery
• Gun Store – Loomis, CA – Burglary
• Jack in the Box – Dallas, TX – Armed Robbery
• Jimmy Johns – Greenville, SC – Burglary
• Liquor Store – Hattiesburg, MS – Burglary
• Postal Store – San Francisco, CA – Burglary
• Restaurant – San Antonio, TX – Robbery
• Restaurant – Waukesha, WI – Burglary
• Verizon - Monrovia, CA – Armed Robbery
• Walgreens – Rock Hill, SC - Armed Robbery
• Whataburger – Dallas, TX – Armed Robbery
• 7-Eleven – Lehigh Acres, FL – Robbery
Daily Totals:
• 11 robberies
• 8 burglaries
• 1 shooting
• 0 killings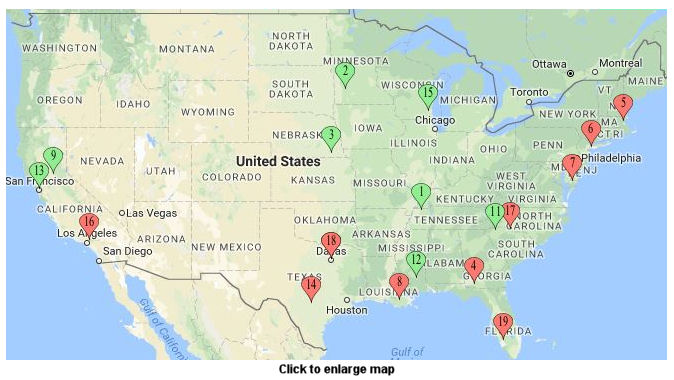 ---

---
Home of the Industry's Original
On the Move

None to report.
Submit Your New Hires/Promotions
or New Position
See all the Industry Movement
---


---
Featured Job Listings
Sponsored by NuTech National
Feature Your Job Here For 30 Days -
70% Aren't On the Boards

Featured Job Spotlights
---


VP of Loss Prevention


Anaheim, CA


The Vice President is responsible for the strategic planning and execution of the company's Loss Prevention program across more than 400 stores nationwide, and ecommerce. Reporting to the CFO, this position has overall leadership responsibility for leading the charge in driving shrink reduction...



Senior Market AP Manager- Southern California
Burbank, CA
This Senior Market Asset Protection Manager contributes to REI's success by supporting improved profitability for the co-op through reduced inventory shrinkage, improved margin, reduced Workers Comp and GL claims and premiums, retail and supply chain management...


Regional Asset Protection Director
Seattle, WA
The Regional Loss Prevention Director will lead Loss Prevention programs for designated Districts and Stores within assigned Region. Reviews Loss Prevention program processes in stores to drive shrink reduction and bottom line profits. Provides leadership to LP teams and stores in the management of critical incidents...


Loss Prevention District Manager
Negotiable in one of the following areas: Eugene, Medford, Eastern Oregon, Central Washington, Boise or a city surrounding these areas
The Loss Prevention District Manager (LPDM) manages all store and district level loss prevention operations for the stores within his/her area to include: internal investigations, safety and Loss Prevention audits, hiring, training, and supervising Loss Prevention Officers (LPO), and maintaining physical security equipment (locks, panic hardware, CCTV, etc.)...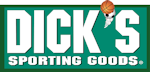 District Loss Prevention Manager
Portland, OR
DICK'S Sporting Goods is seeking an experienced multi-unit Loss Prevention manager for our Portland, OR district. Leaders in our organization are passionate about supporting the True Athlete in everything we do!



Regional Manager Loss Prevention, Audit & Firearms Compliance
Nashville, TN
The Regional Loss Prevention Manager is responsible for the control and reduction of shrinkage at the stores in their Territory. Investigates and resolves all matters that jeopardize or cause a loss to the company's assets...
Regional Loss Prevention Manager - Pacific Northwest
Sacramento, CA
● Conducts internal investigations related to theft, business abuse, and safety violations by conducting interviews, determining course of action, and writing reports.
● Monitors compliance with loss prevention policies and programs including routine audits/checklists for internal/external controls...


Market Asset Protection Manager - Northern WI
St. Charles, IL
The individual selected for this position works collaboratively with Market Directors and Store Directors to support a Culture of Safety and 200% accountability. This position ensures the execution of programs surrounding the safety of people, the security of assets, compliance with internal and regulatory standards and the prevention of shrink within the assigned market, thru root cause analysis, deployment of solutions that protect the assets of the organization and audit to determine the effectiveness of the initiatives as designed...


Retail Asset Protection Team Leader
Cadillac, MI
Collaborates with the Market Asset Protection Team leader and Store Leadership to support a Culture of Safety and 200% accountability. Oversees and ensures the effectiveness of the asset-protection, safety and fire-protection efforts and stock loss reduction...


Regional Manager Loss Prevention - Los Angeles
Los Angeles, CA
The Regional Asset Protection Manager is responsible for the management of the Asset Protection function to a group of the 1,200 campus stores Follett operates. The RAPM guides the implementation and training of Asset Protection programs, enforcement of policies and procedures, auditing, investigations and directing of shrink reduction efforts...

Featured Jobs
---
• Living Spaces - Director of Safety, California
• Fresh Thyme Farmers Market- Asset Protection Director, Downers Grove, IL
• Bath & Body Works - Brand Director Asset Protection, Reynoldsburg, OH
• Dollar General - Director of Loss Prevention - Nashville, Goodlettsville, TN
• Academy Sports & Outdoors - Safety Director, Katy, TX
• Rue 21 - Director of Loss Prevention, Warrendale, PA
• Hannaford - Director of Asset Protection, Scarborough, ME
• Charlotte Russe - Manager Loss Prevention and Safety, San Francisco, CA
• Food Lion - Director of Shrink, Salisbury, NC
• belk - Manager of Corporate Security & RMC, Charlotte, NC
• Apple - Secrecy Program Manager, Santa Clara Valley, CA
• REI - Senior Security Shared Services Manager, Bellevue, WA
• PWC - Cybersecurity & Privacy - Director, Various Locations
• Hallmark - Director of Information Security, Kansas City, MO
• Wireless Vision - Director of Loss Prevention, Greater Detroit Area

---

---
Daily Jobs
Appearing One Day Only
View our Internet Jobs Archives here


Sponsor this section of the Daily
---

---
Your Career

Great Leadership Starts With These Habits, Mindsets



Want to Be a Great Boss? Master the 4 Stages of Leadership


Just as everyone needs to hone their skills to improve their abilities and work performance, so do leaders need to improve their skills so they can ensure their team has reached their full potential and their organization is generating the desired results. Here are four "levels" all leaders must go through to strengthen the chance of success. Develop new leaders

12 Signs You Have the Mindset To Be a Great Leader
Becoming a great leader is a work in progress. There are things you can do to accelerate your leadership success, but holding any leadership role comes with it's own set of challenges too. Good leadership vs. great leadership all comes down to what mindset you hold. Here is how to know you have what it takes to become great. Roll with the punches

5 Things Great Leaders Do
When we think of great leaders, a bunch of different traits, success stories and skills come to mind. Even if you're just starting out as a new leader, there are certain best practices to follow to help guide you to success, ensure your organization and team thrive, and develop a positive and encouraging place to work. Here are five things all great leaders do. Emphasize culture of achievement

This One Quote Describes The Most Important Trait You Can Have as a Leader
Vin Scully, winner of the Presidential Medal of Freedom, and LA Dodgers announces, quotes his success to "a humility to prepare." Any leader should embrace this quote. Great leaders share this trait, and employ these practices. Plan your work, work your plan
---
Submit Your Group LP Selfie Today!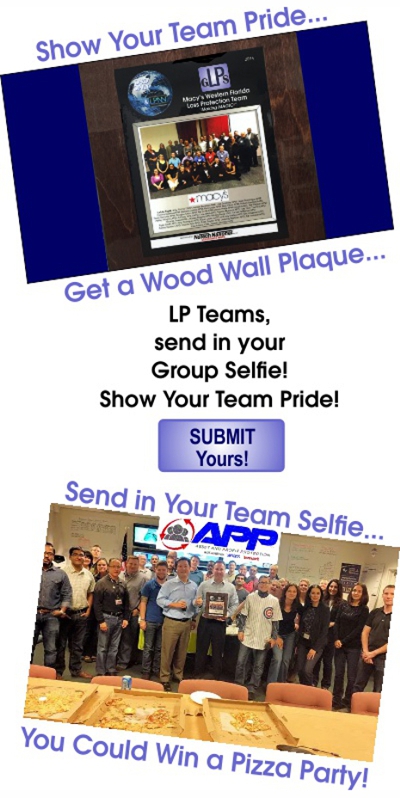 ---
Tip of the Day
Sponsored by Vector Security Networks

Let Mikey do it!

What a profound statement and hopefully you know exactly the commercial I'm referring to. Where two little boys coax Mikey to eat a new cereal they're scared to try and say "Let Mikey do it." Well the metaphor is incredible. As it relates to virtually all of us in so many situations. Especially those at work where we have so much to learn and mountains of new technology burying us in a world changing every day. And while the commercial was just downright funny, it's also a sad commentary when applied to the adult professional world.

For those of us who do play it safe, it may seem like it's the best bet when in reality, it's absolutely the most risky position to put yourself in. Certainly that motto applies in some situations but for the most part the best role in the world is to be that Mikey.

The new age of retail requires that we all learn as much as possible about so many things outside of our comfort zone and outside of our defined job responsibilities. No longer do we have the luxury of looking at a job description and saying that's what we do, instead we must look at them and say "That's where we begin."

Do yourself a favor - next time someone slips a new cereal in front of you - be the Mikey in the commercial and be proud if they look at you and say - That's Our Mikey!

Just a Thought,
Gus



(content subject to approval)
---
---
Upcoming Events
---
Recruiting?
Get your job e-mailed to everyone... everyday
Post on our Featured Jobs Board!
---
Reach your target audience in 2018 every day!
Request our 2018 Media Kit
---
Not getting the Daily?
Is it ending up in your spam folder?
Please make sure to add d-ddaily@downing-downing.com to your contact list, address book, trusted sender list, and/or company whitelist to ensure you receive our newsletter.
Want to know how? Read Here


36615 Vine Street, Suite 103
Willoughby, OH 44094
440.942.0671
copyright 2009-2019
all rights reserved globally