The D&D Daily Mobile Edition
LP, AP & IT Security's #1 News Source



---
News Brief
Sponsored by WG Security Products, Inc.

Florida School Shooter Worked at Local Dollar Tree Store
Co-Workers Described Him as a Good Kid, 'Shocked' By His Actions
The man suspected of opening fire inside a Florida high school on Wednesday, killing at least 17 people, is a former student who had been expelled for disciplinary reasons, the authorities said.

Sheriff Scott Israel of Broward County, Fla., said that the man, Nikolas Cruz, 19, previously attended Marjory Stoneman Douglas High School in Parkland but was expelled after getting into trouble. He was enrolled at another Broward County school, officials said.

After Mr. Cruz left Douglas High School, he took a job at a Dollar Tree store about a mile and a half from the school. A person who answered the phone at the store on Wednesday evening said that Mr. Cruz worked as a cashier and was well liked by his colleagues.

"He was a great guy," the person said.

Other Dollar Tree employees told ABC News they are "shocked" by his actions, and described him as loyal and responsible, saying he "would arrive to work a half hour early."

The Dollar Tree manager said Cruz was transferred from the store near the school to a different Dollar Tree closer to his home, but he did not remember the reason why. He described Cruz as a nice kid who was always in a good mood.

The Dollar Tree retail chain confirms that the Florida high school shooting suspect worked at their store in Parkland.

In a Thursday statement, the Dollar Tree says they'll share any information about 19-year-old Nikolas Cruz with local and federal officials that may help with the investigation. The retailer also expressed sympathy for the Parkland community and those affected by the Wednesday attack that killed 17 people at Marjory Stoneman Douglas High School. nytimes.com abc7chicago.com apnews.com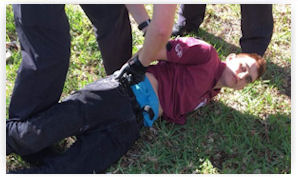 FBI was warned about alleged shooter nearly 5 months ago, tipster says
The FBI was warned in September about a possible school shooting threat from a YouTube user with the same name as the suspect in Wednesday's campus massacre in Parkland, Florida, according to a video blogger.

Ben Bennight, the 36-year-old YouTube video blogger from Mississippi, noticed in September an alarming comment on a video he'd posted. He told CNN he immediately contacted the FBI.

"Im going to be a professional school shooter," read the comment, left by a user with the name Nikolas Cruz, the same name of the suspected shooter who opened fire at Marjory Stoneman Douglas High School on Wednesday, killing at least 17 people. cnn.com

Little Rock, AR: 19-year-old L'Oreal Maybelline factory employee killed in murder-suicide
Police say that an early morning double fatal shooting at a North Little Rock factory has now been deemed a murder-suicide. Officers responded to a shots fired call at the L'Oreal Maybelline Co. plant parking lot at 11500 Maybelline Road shortly after 3 a.m. Upon arrival, they found a man and a woman both dead from apparent gunshots. The victims have been identified as 19-year-old Chasity Denise Cannady and 32-year-old Jim Gilot. Witnesses to the incident said that Gilot shot Cannady before turning the gun on himself. Ms. Cannady was a current employee of the company. Mr. Gilot at one time was an employee; however, his current employment status has not been determined. thv11.com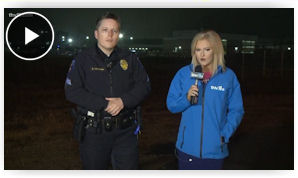 ---
ADT Cybersecurity Joins with Arrow Electronics to Expand its Distribution Channel



Agreement Helps Put ADT Cybersecurity's Award Winning MDR Services in the Hands of Additional Commercial and Enterprise Organizations

ADT Inc. (NYSE:ADT), the leading provider of monitored security and interactive home and business automation solutions in the United States and Canada, today announced it has teamed with Arrow Electronics to further expand its distribution arm for its ADT Cybersecurity solutions.

ADT Cybersecurity was formed in November 2017 with the acquisition of DATASHIELD and is focused on delivering Managed Detection and Response (MDR) services to commercial and enterprise businesses nationwide. Arrow Electronics is a global provider of products, services and solutions to industrial and commercial users of electronic components and enterprise computing solutions. globenewswire.com

Jury in Pilot Flying J fraud trial says panel hopelessly deadlocked on one charge
A jury in the ongoing Pilot Flying J fraud trial on Thursday told a judge they "remain divided" on a single count involving one of the four defendants and believe they have reached an impasse.

"The jury would like to let the court know they have reviewed the evidence multiple times ... and yet we remain divided," the panel wrote in a note to U.S. District Judge Curtis Collier.

The jury on Wednesday said via a note they had reached a unanimous verdict on all but one charge involving one defendant. The jury has not revealed which count or which defendant.

Collier, for now, is refusing to allow the jury to announce its partial verdict and on Thursday gave what is known as a "dynamite" legal instruction designed to prompt jurors to reexamine their individual votes and try one last time for an unanimous decision. knoxnews.com

Nordstrom stopped locking its fitting room doors
A move that encourages theft, but is great for business
Nordstrom has stopped locking its fitting room doors. The move has led to increased rates of theft and miffed some Wall Street analysts, but the retailer is standing by its decision, the Wall Street Journal reports.

"Analysts don't like it," Jamie Nordstrom, president of stores for Nordstrom, told the Journal. "But I'm thinking about the next 50 years, not the next quarter."

Prior to the policy change, shoppers had to seek out a Nordstrom employee to unlock a fitting room if they wanted to try on clothing. Also, since the fitting room doors automatically locked when closed, if customers briefly left the room for any reason - such as to grab another size of an item - they would be locked out. This could be seen as a burden to both customers and Nordstrom employees.

The department store chain axed the locking policy in November, according to the Journal. Now, customers can enter and leave fitting rooms as they please, without the help of an employee. businessinsider.com

A Real Tale of Holiday Returns
Statistics Dive Deep into 2017 Holiday Returns Activity
Appriss Retail, the industry leader in retail performance improvement solutions, today released its 2017 holiday returns statistics. With return authorization solutions deployed in more than 34,000 stores across the country, Appriss Retail annually reports on the state of post-holiday returns in the United States. The company's breadth of retail clients and deep analytical expertise uniquely position it to draw an accurate portrayal of this shopping activity during the seven days after Christmas.

● The highest rate of returns nationwide occurred on Tuesday, Dec. 26, where returns were nearly twice the normal rate seen during the holiday season. And, because of their relation to both Christmas and New Year's Day – Wednesday, Thursday, and Friday of that same week were also big return days with returns nearly 50 percent above the normal holiday season rate.

● The Midwest states again had the highest rate of returns, when comparing total dollars purchased to total dollars returned and exchanged.

● Missouri had the highest rate of returns with 22.3 percent, while Illinois had the second highest at 20.3 percent.

● The state with the least rate of returns was Minnesota with 5.8 percent.

Finally, now that holidays are concluded, retail executives can again focus on a wider set of business metrics, including shrink and margin. Appriss Retail's multi-year analysis indicates that while the convenience of returns is a positive for consumers, poorly managed return processes and outdated policies can contribute significantly to shrink by permitting fraudulent and abusive returns. This can be especially true for Buy-Online-Return-In-Store (BORIS) returns. As companies look to improve their performance and profitability, eliminating friction at the return counter can help attract and retain best customers and increase their long-term value, while still reducing the risk of margin eroding loss. globenewswire.com

L.L. Bean Sued for Ditching Its Beloved Return Policy
L.L. Bean Inc. is facing a breach of warranty lawsuit after changing its decades-old lifetime warranty, in what may be the first of many claims over the now-dead policy. The complaint, filed this week in Chicago federal court, seeks class-action status. The plaintiff, Victor Bondi, is described in the filing as "a loyal customer" of L.L. Bean, having purchased the iconic Bean Boots, among other products.

"The warranty, promising that there are 'no conditions' and there is 'no end date' has been a core component of L.L. Bean's marketing and has been emblazoned prominently on many L.L. Bean catalog covers," the complaint stated. "The warranty was a basis of the bargain with the sale of L.L. Bean products. Because of L.L. Bean's unilateral refusal to honor its warranty, plaintiff and the other class members were harmed, and have been deprived of the benefit of the bargain."

Bondi's frustration isn't unique. The bootmaker's announcement drew mixed reactions from customers, who either blamed those who abused the policy for ruining it for everyone or blamed the company for reneging on its promises. bloomberg.com

Mississippi: Gang bill faces criticism from Black Caucus, other organizations
At least a half dozen experts emphasized Wednesday at a Legislative Black Caucus at the Capitol their opposition to a gang bill working its way through the Mississippi Legislature. Presenters from the American Civil Liberties Union of Mississippi, the Southern Poverty Law Center, Families as Allies, the National Association for Advancement of Colored People, and the office of the State Public Defender took the mic one after the other to discuss what they see as shortfalls in Senate Bill 2868. Among those shortfalls at the top of their list of concerns were fear that gang members could be prosecuted even if they commit no crime besides recruiting new members for their gangs and the potential for racial profiling. Added to that was a potential cost to the state from enhanced sentences of more than $1 billion. The Senate passed the bill 35-14 last week, sending it to the House for further action. claironledger.com

Police say hundreds of illegal marijuana shops operate in Los Angeles
Los Angeles has issued licenses to nearly 100 marijuana retailers but police estimate there are at least two times that number operating illegally in the city and undercutting those who are playing by the rules.

Police have shut down eight illegal marijuana shops since Jan. 1, a pace that is unlikely to intensify as the department is focused on curbing violent crimes. At least 35 people were arrested during the eight raids, including four people who were taken into custody last week, said Capt. Stephen Carmona. Most of the illegal shops were operating in plain sight - out of storefronts in busy neighborhoods, he said. scpr.org

Wells Fargo Slammed Over Error-Riddled Refunds
Wells Fargo again finds itself on the hotseat for mistakes it made trying to repay customers hit by improper loan fees. Sen. Elizabeth Warren, the Massachusetts Democrat who has been highly critical of the bank and its management over numerous issues with customers, fired off a letter to Wells CEO Tim Sloan this week grilling him about botched refunds.

Warren accused Sloan of breaking his promise to customers since he took over as CEO in late 2016 after a fake accounts scandal burst into the headlines. That scandal involved the bank's employees opening accounts without customers' knowledge in a bid to meet aggressive sales goals, an issue affecting millions. cnbc.com

'We can only take so much abuse'
Whole Foods suppliers slam 'hellacious' new policies they say are hurting business
Whole Foods is charging brands more money for prime shelf space and introducing new fees. It has also stopped paying shipping fees for some products and dropped minimum-order requirements. Some small and local vendors say the fees are damaging their business and they're considering cutting ties with Whole Foods as a result.

"For a small vendor to go through this is a hellacious, horrible time and financial burden," the CEO and founder of a snack-bar company said. businessinsider.com

Sam's Club launches free shipping and overhauls membership program
Sam's Club is making changes as it looks to compete head-on with rivals Amazon and Costco. The warehouse club chain is rolling out free shipping on "most of the items" sold online, including nearly every Member's Mark private-label item, with no minimum purchase required, the retailer said in a blog on its website. The news comes one month after the retailer abruptly closed 63 stores, and said some of the shuttered locations would be turned into fulfillment centers. chainstoreage.com

Sears' sales fall, but company expects to post a profit
In an earnings pre-announcement Thursday, Sears Holdings said that same-store sales fell 15.6 percent during the fourth quarter of fiscal 2017, but it also expects new U.S. tax legislation to aid the company in posting a profit.

Same-store sales at Sears locations tumbled 18.1 percent, while those at Kmart stores were down 12.2 percent in the latest period. cnbc.com

JC Penney to close 8 stores in 2018 - Here's where they are

Amazon pledges to create 2,000 new permanent jobs in France this year

Chinese firm buys big stake in GNC

Teens are swarming craft stores like Hobby Lobby for a viral photo challenge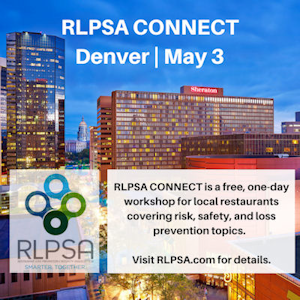 RLPSA Connect Announces
Speaker Line Up
He Said, She Said: How to Investigate Sexual Harassment - Wicklander-Zulawski & Associates

Outsmart Crime: CAP Index – Regional QSR Crime Statistics Update - Brian Pietrawska, CAP Index

DoorDash, GrubHub, UberEats…Oh My!
Are you thinking of the legal ramifications for both internal drivers and third-party delivery companies? - David Donna, Hospitality Lawyer

Other Presentations Include:
"Tackling the Opiate Epidemic: Actionable Strategies for Protecting your Restaurant"

"Brand Protection: Guarding Against the Viral YouTube Moment"

"Restaurant Roundtable: Discussion on Current Industry Challenges & Solutions"
View full agenda here

All attendees must register! Event is free for restaurants!

Register today by emailing your name, title, company and email address to Executive Director, Amber Bradley, at amber.bradley@rlpsa.com.
All the News - One Place - One Source - One Time
The D&D Daily respects your time
and doesn't filter retail's reality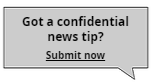 ---

---
Spotlight on
CONTROLTEK
CONTROLTEK's Popular FlatGuard Tag Receives an Upgrade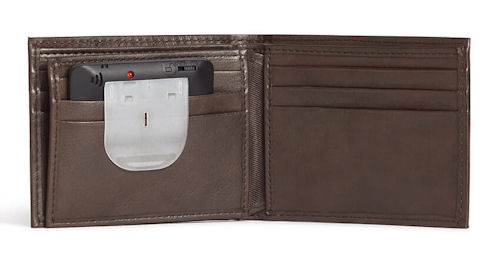 SAN FRANCISCO, Calif., (February 15, 2018) – FlatGuard, the world's first EAS tag for small leather goods, has received an upgrade expanding its range of uses. According to Tom Meehan, CONTROLTEK's Chief Strategy Officer, the new version of the tag will have a stronger outer shell to accommodate placement on jackets, in addition to its current uses in wallets and other small leather goods. The tag now also comes with an RFID option.

"The FlatGuard has been really well received by the LP community," said Meehan. "One comment I often heard was, 'why hadn't anybody came up with a tag like this before?' The second most common comment was the suggestion to change the tag in a way that would allow its use for a wider range of merchandise. The uniqueness of the tag is in its super-slim design. We made it specifically for wallets, but we see an adoption in other merchandise too, such as handbags, suits and now jackets."

According to Meehan, CONTROLTEK is also adding RFID as an option to this tag, which is another response to the feedback from the industry.



About CONTROLTEK
Since 1976 CONTROLTEK has been a global leader in tamper-evident security packaging, helping banks, armored couriers and retailers transport cash safely and securely. The company's expanding line of inventory protection and visibility solutions also helps retailers protect their merchandise better and run their operations more efficiently. As a second-generation family owned business, with a history of stable growth and a reputation for strong customer focus, CONTROLTEK continues to deliver on its mission every single day: to be the provider of solutions that protect and the home of the people who deliver.
---

---

New 'Cyber Thursday' Webinar Series - Retail Cyber Intelligence Sharing Center (R-CISC) and Shape Security Announce Strategic Partnership


The Retail Cyber Intelligence Sharing Center (R-CISC) and Shape Security will kick off a strategic partnership on Thursday, February 15, with a webinar aimed at helping retailers protect themselves from threats associated with seasonal promotions, limited-time offers, and other special events.

12:30 pm-1:30 pm CST: New Attack Trends in Retail

Every day, retailers battle ongoing attacks on their web and mobile applications. Special events, however, attract not only higher volumes of fraud but also new attack techniques. On February 15th, Shape is partnering with the Retail Cyber Intelligence Sharing Center (R-CISC) to facilitate a presentation on new attack trends in retail. Join Mengmeng Chen, retail threat intelligence lead at Shape Security, as she covers:

● Top 3 application attacks observed in the retail industry
● Attack trends during promotional events
● Attack techniques observed during Black Friday/Cyber Monday on Top 10 Retailers Learn more here.

From Russia With Love
Russian Hacker Gets 12 Years in Jail for Largest Data Theft in US History
Retailers Among Corporate Networks Hacked - $300M, 160M Credit Cards Stolen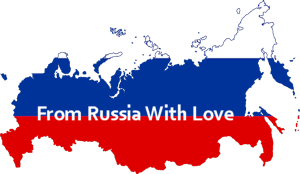 A New Jersey federal judge on Wednesday sentenced two Russian nationals to federal prison terms for their roles in a $300 million worldwide cyberattack that targeted more than a dozen major corporate networks, including those of NASDAQ and Dow Jones & Co., and compromised more than 160 million credit card numbers.

In separate hearings in Camden addressing what officials have called the largest credit-card hacking and data-breach scheme ever charged in the United States, U.S. District Judge Jerome Simandle imposed a 12-year sentence on Vladimir Drinkman, 37, of Syktyvkar, Russia, and Moscow, and a term of 51 months and 21 days on Dmitriy Smilianets, 34, of Moscow.

Drinkman, Smilianets and three co-defendants hacked into the networks of corporate entities, obtained sensitive data and sold it to resellers around the world, federal prosecutors said. In addition to the stock markets, the victims included Heartland Payment Systems Inc., Wet Seal Inc., Global Payment Systems, Euronet Worldwide Inc., Commidea Ltd., Dexia SA, Diners Singapore Ltd., 7-Eleven Inc., Carrefour S.A., J.C. Penny Company Inc., Hannaford Brothers Co., JetBlue Airways Corp. and Ingenicard America Inc. The cybercrimes happened in New Jersey and elsewhere, according to charging documents. law360.com

Fraudsters Employed Bots on Massive Scale in Q4 2017: Report
Fraudsters are increasingly using bot attacks to test stolen identities and payment cards. In the fourth quarter of 2017 alone, antifraud technology provider ThreatMetrix detected around 840 million bot attacks aimed at merchants on its network. That matches the number of bot attacks the company detected during the entire year of 2016. For certain merchants at certain times, the company said, bot attacks can account for 90 percent of a Website's traffic. cardnotpresent.com

Payment Providers Partner To Offer Point-To-Point Encryption
Payment security provider Bluefin Payment Systems has partnered with payment platforms Datacap Systems and Monetary LLC to offer a PCI-validated Point-to-Point Encryption (P2PE) solution to merchants.

Benefits of a PCI-validated P2PE solution include reduced PCI compliance and scope; time and money savings on annual audits; and assurance that the technology has been approved by the PCI Security Standards Council. retailtouchpoints.com

Walmart's weapon of choice in its war with Amazon - The Cloud
One of Walmart Inc's best chances at taking on Amazon.com Inc in e-commerce lies with six giant server farms, each larger than ten football fields.

These facilities, which cost Walmart millions of dollars and took nearly five years to build, are starting to pay off. The retailer's online sales have been on a tear for the last three consecutive quarters, far outpacing wider industry growth levels. Powering that rise are thousands of proprietary servers that enable the company to crunch almost limitless swathes of customer data in-house.

Most retailers rent the computing capacity they need to store and manage such information. But Walmart's decision to build its own internal cloud network shows its determination to grab a bigger slice of online shopping, in part by imitating Amazon's use of cloud-powered big data to drive digital sales. reuters.com

The 5 types of cyber attack you're most likely to face

Business Email Compromise (BEC) Attacks Jumped 17% Last Year

Study: Coupon redemption drops due to overemphasis on digital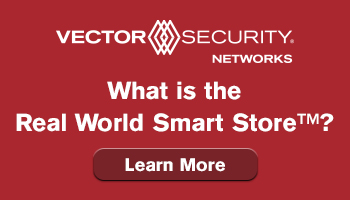 ---


Innovators in
EAS, Video & RFID
WG Security has made its mark in the industry as being the solution provider for chronic shortage problems for many retailers who look to them for answers. Ed Wolfe, Vice President of Business Development for WG, gives us a few examples of the chronic problems they've helped their customers solve, and tells us about the development of the Ninja Tag, their remote monitoring capabilities, and the new 5-alarm tag program WG developed.

---
Tony D'Onofrio of Tyco
Retail Solutions Predicts
the Future of Retail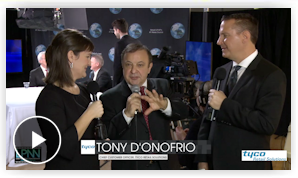 Tony D'Onofrio - Chief Customer Officer for Tyco Retail Solutions, Top 20 Retail Influencer on LinkedIn, and Digital Futurist - talks about where shopping is headed in 2020 and beyond. Learn about the importance of social media platforms, tips on professional branding, and a few travel tips to help you along the way.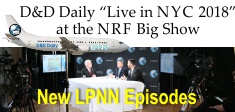 Coming Feb. 16/19: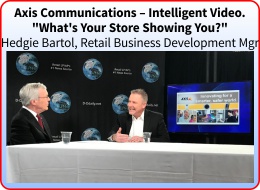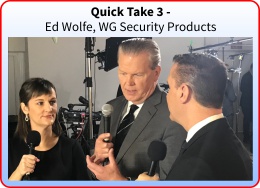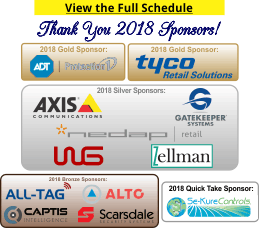 Solution Providers, have a video or commercial you want to publish? Contact us.
---

---

---
e-commerce
Sponsored by The Zellman Group

3 Ways You Might Be Scaring Potential Customers Away From Your E-Store
There is a huge choice of e-stores for every type of product or service, making it vital that you differentiate your site from the others. This can be achieved in part through providing a flawless customer experience, an increasingly important area to invest in as it's become more important than price and product when a consumer is making a purchasing decision.

Here are three ways that you might be scaring potential customers away, and how to mitigate them:

1. Under-personalization
It's possible that customers will be instantly turned off by content such as adverts and promotions that simply aren't relevant to them. Using information measured in real-time, such as location or time, can help your e-store provide recommendations and offers that are appropriate to the individual customer.

2. Using The Wrong eCommerce Platform
When looking for the best ecommerce platform it's important to consider several factors, such as: performance on mobile, SEO capabilities, load time, cost, integration options, and security features.

3. Poor Website Functionality
Your e-store should be as diligently and well-organised as retail is in physical stores; customers need to be able to browse in an orderly and intuitive fashion through categories and sections that make sense to them. Also ensure that your site's tags and filters are done properly and make sure that the product search feature works efficiently. It's also vital to make sure that your website loads quickly. swns.com

Iron Maiden Sues Sites Selling Counterfeit Merchandise
British heavy metal band Iron Maiden is accusing several unidentified websites of selling counterfeit products that infringe its trademarks, according to a suit filed Monday in Illinois federal court.

Iron Maiden Holdings Ltd. said the online counterfeiters are damaging the band's brand by selling inferior products that are passed off as legitimate merchandise, and creating confusion among consumers who may think the allegedly infringing products are the real deal.

The band holds several trademarks for its name in a variety of fonts that can be applied to various products, including posters, clothing, beverages and skin care products. Shoppers browsing the official Iron Maiden merchandise store can also currently purchase Eddie's Evil Brew, described as a "lovely merlot."

Iron Maiden wants the court to issue a temporary restraining order against the sites that would prevent them from continuing to sell the allegedly infringing products. The band wants to stop the defendants from using online marketplaces such as iOffer and Alibaba Group Holding Ltd. along with the registered domain names it has filed under seal. law360.com

Juniper: Global E-commerce sales to rise 10% this year

SpartanNash Adds Digital Coupons to Ecommerce Program

Chinese online retailer JD.com raises $2.5 billion for logistics arm

Online pet retailer Chewy seeks 400 'kind' people for customer service

"Fraud is not a person - it is a dynamic grouping of statistics that deviate from the norm."
Stuart B. Levine, CFI, CFCI
CEO, The Zellman Group & Zelligent
---

---
ORC News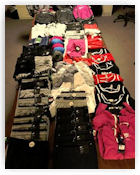 Update: Glastonbury, CT: A Hartford teen charged with two types of larceny and the blanket crime of "organized retail theft"
Leonna Jones, 19, surrendered on a warrant Feb. 8 and was charged with two counts of third-degree larceny a single count of fifth-degree larceny, conspiracy to commit third-degree larceny and organized retail theft. According to Salem police, on Aug. 12th, officers responded to a report of items missing from a Macy's located at a shopping mall. Police quickly caught up to 18-year-old Shatoya Lewis and 18-year-old Leona Jones as they attempted to exit the parking lot. Officers pulled the vehicle over and noticed a number of new clothing items with price tags still on the garments inside the vehicle. patch.com

Charlotte, NC: $24,000 of Hair extensions stolen from Beauty store
The most expensive, the Brazilian extensions, are kept on a wall in the back corner. And days before the break-in, surveillance video shows three women who were very interested in the display. "We believe these women came into the store a couple days prior to the break-in," said CMPD Detective Brandon Miller. "We have on video our suspects who spent a majority of their time in the store, right by the items that were stolen." Days later, at 4 a.m., surveillance video shows two well-disguised figures throwing a brick through the front door to break in. With an alarm sounding, they quickly go to the back of the store and collect the good stuff - the Brazilian hair. They load up their arms and run out to a waiting car where the third member of the crew was waiting. "Manager says approximately 300 packs of one of their most expensive hair." And 300 packs equate to an estimated $24,000 in losses. wbtv.com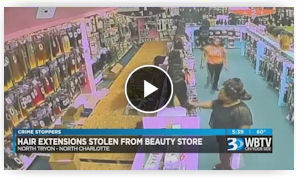 Storm Lake, IA: Bomgaars Supply Store employee pleads guilty to $7,000 theft
Abigail Clark, 19, pleaded guilty Monday to fraudulent practice and identity theft, after prosecutors dropped other charges. Storm Lake police say Clark forged customer names and completed fraudulent returns worth more than $7,000 within the Bomgaars store where she worked, and then kept the money. washingtontimes.com

Update: Muncie, IN: Police seek help identifying suspects in video of brazen theft at Victoria's Secret
A group of thieves were caught on surveillance video walking into a Victoria Secret store at the Muncie mall, swiping nearly everything off a table and quickly putting it into bags. The theft happened last week. Police said the group walked into the store earlier in the day and harassed an employee. The employee called mall security and the group left. In the video, you can see a group of eight suspects use bags to store stolen hoodies, pants and shirts. Police said more than $6,000 of merchandise was stolen. cbs4indy.com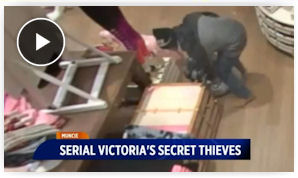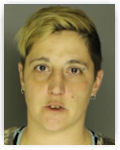 Mechanicsburg, PA: Woman charged with helping in string of ORC thefts
in 2017
Police charged Jennifer Slack, 34, of Mechanicsburg, with three felony counts each of conspiracy of retail theft and conspiracy of receiving stolen property in connection with a theft in the township in June 2017. She is the second person to be charged, with Robert Bruno, 25, of Mechanicsburg, facing charges of retail theft and receiving stolen property from the township. He was arrested in July last year and is currently awaiting a pre-trial conference in Cumberland County Court. Police said Bruno had went to Giant Food Store in Upper Allen on June 10, 2017, and stole about $1,700 worth of Crest White Strips and dental products. A continued investigation showed that Bruno had stolen $4,429.89 worth of items from three jurisdictions. cumberlink.com

La Crosse, WI: Target employee steals $3,200 worth of phones in Gift Card Scam
Jamie Truax, 33, of Ettrick, was charged Tuesday with felony and misdemeanor retail theft and possession of THC. Truax purchased more than $3,200 worth of phones from Target, where she was employed, in order to procure $1,685 worth of promotional gift cards; she then processed fake returns, issuing herself refunds while keeping the phones. Truax had a small amount of marijuana in her bra when booked into jail Monday. lacrossetribune.com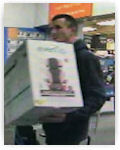 Owensboro, KY: OPD searching for person who stole items worth $3,000
The Owensboro Police Department is investigating a Theft by Deception case involving the theft of merchandise valued at more than $3,000. tristatehomepage.com

Los Angeles, CA: Groups of shoplifters target cosmetics, handbags in Plaza de La Canada stores
Submit your ORC Association News

Visit the ORC Resource Center
---

---
Retail Crime News

Shootings & Deaths
Dallas, TX: Ex-Boyfriend threatens Raising Cane's employee, ends with Officer Involved shooting, suspect killed
The police call details indicated that an employee's ex-boyfriend was at the store and had threatened the employee with a weapon. When officer's arrived they found the man in a vehicle and attempted a traffic stop. Police said the man got out of his vehicle, did not obey officer commands and displayed a gun as he walked toward the officers. The officers, who police said feared for their safety, shot at the man, striking him an unknown number of times. dallasnews.com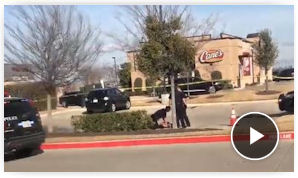 ---
Robberies & Thefts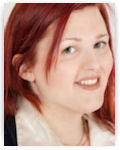 Wisconsin House of Representatives candidate arrested in NYC grand theft case
The La Crosse Sherriff's department says Juliet Germanotta was arrested Monday after they were tipped off by the NYPD that she was wanted for grand theft. The charges stem from a September 2017 incident in which Germanotta purchased a $4,800 ring from a jewelry store. She's then accused of returning to the store and returning a less valuable ring for a refund. The 36-year-old, who announced her candidacy as a Democrat, will be extradited back to New York to face the charges. wrn.com

Columbia, TN: Four break into Columbia firearms store
At approximately 2:15 a.m., four unknown persons broke through the front door of King's Firearms. The group stole several handguns from the longtime Columbia gun dealer. Security footage shared by the department shows one suspect breaking the store's glass front door before all four climbed through the shattered door into the store. Once inside, the four broke two of the store's glass displays and filled bags with handguns. The four then quickly left the store, spending less than a minute inside. columbiadailyherald.com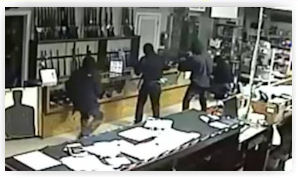 Thousand Oaks, CA: Thousand Oaks Police Department is promoting its Business Watch email notification program
With instances of theft, burglary and fraud on the rise, the Thousand Oaks Police Department is increasing its communication efforts with local businesses by promoting its Business Watch email notification program. The program gives businesses the opportunity to receive alerts about crime trends and patterns as well as provide feedback to the department. toacorn.com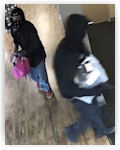 Flagstaff, AZ: Police looking for help in identifying Verizon Armed Robbery suspects
The Flagstaff Police Department is looking for two men who allegedly stole a large amount of cell phones from the Verizon Store on Milton Road on Tuesday morning. According to police, two men in masks and dark hoodies entered the Verizon store around 9 a.m. azdailysun.com

Owasso, OK: Man arrested in Sam's Club shoplifting incident that placed Owasso schools on lockdown
A Broken Arrow man suspected in an alleged shoplifting incident has been arrested after fleeing police and putting Owasso schools on a brief lockdown Tuesday morning. David Eyiyonya Williams, 37, was jailed on counts of public intoxication and possession of a stolen vehicle. Another male suspect believed to be involved in the theft is still at large. T he incident occurred around 9:15 a.m., when officers responded to a reported shoplifting in progress at Sam's Club. It states employees reported that a man entered the store, removed a 55-inch television from a shelf, valued at $428, and ran out of the store without paying for it. tulsaworld.com

Bonita Springs, FL: C-store robbery possibly related to statewide cigarette
theft spree
Crime Stoppers said Thursday that detectives believe the robbery is part of a statewide spree of similar thefts, as the methods and descriptions of the men involved match other robberies elsewhere in the state. naplesherald.com

Milwaukee, WI: Man smashes credit card machine at Pizza Hut after order takes too long

Gwinnett County, GA: Police hunt trio targeting older woman at grocery stores

Boardman, OH: Police investigating Dollar General and Family Dollar Armed Robberies since Monday

Harris County, TX: 13 Arrested in Wheel -Tire theft ring; hundreds of thefts in Harris, Grimes, Waller, Washington, Fort Bend, Montgomery and Brazos counties

Zales in the Towne East Square, Wichita, KS reported a Grab & Run on 2/14, items valued at $4,808
---
Sentencings
Los Angeles, CA: Killer of Mother of 5 sentenced to Life with no parole for South LA discount store murder
"This shooting was, in the court's opinion, a very gratuitous and senseless act," Los Angeles Superior Court Judge Robert J. Perry said in sentencing Eric William Atkinson for the Sept. 17, 2013, killing of Martha Sanchez at the Happy Bargain 99-cent store. The Los Angeles County District Attorney's Office opted before the trial not to seek the death penalty against Atkinson. Sanchez, a married 39-year-old mother whose children ranged in age from 3 to 19 years old at the time of her death, was shot several times, even though she did not resist. mynewsla.com

Colorado Springs, CO: Suspect in liquor store clerk's murder pleads guilty; facing 50-70 years

Cleveland, OH: Armed Robber facing 5 counts in spree of Fast Food Hold-ups

La Plata, MD: Co-Defendant of C- Store Armed Robbery Found Guilty of 13 Counts
---
Credit Card Fraud
Millburn, NJ: Nordstrom at Short Hills busts Credit Card thief with $4,685 worth of merchandise
Millburn Police responded to Nordstrom on a fraud report. Nordstrom personnel report 23 year old employee Lisa Okpala used a fraudulent credit card on January 25, 2018 to purchase $4685.00 worth of merchandise. Ms. Okpala was placed under arrest and charged with credit card fraud and identity theft. tapinto.net

Robberies and Burglaries
Sponsored by Scarsdale Security Systems
● Beauty Supply – Charlotte, NC – Burglary
● C-Store – Eakly, OK – Armed Robbery
● C-Store – Verbena, AL – Armed Robbery
● C-Store – Lynn, MA – Robbery
● Dollar General – Boardman, OH – Armed Robbery
● Dollar General – Albemarle, NC – Armed Robbery
● Dollar General – Riverside, CA – Armed Robbery
● Salvation Army Store – Portsmouth, NH – Armed Robbery
● Sam's Club – Owasso, OK - Robbery
● Spa – Santa Ana, CA – Armed Robbery
● T-Mobile – Chicago, IL – Armed Robbery
● Verizon – Flagstaff, AZ – Armed Robbery
● Walgreens – Topeka, KS – Robbery
Daily Totals:
• 12 robberies
• 1 burglary
• 0 shootings
• 0 killings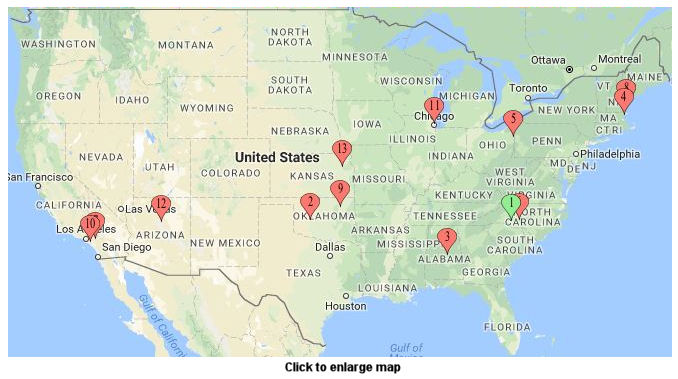 ---

---
Home of the Industry's Original
On the Move




Tyler Rhodes named Area Loss Prevention Manager for Bed Bath & Beyond
Submit Your New Hires/Promotions
or New Position
See all the Industry Movement
---


---
Featured Job Listings
Sponsored by NuTech National
Feature Your Job Here For 30 Days -
70% Aren't On the Boards

Featured Job Spotlights
---


VP of Loss Prevention


Anaheim, CA


The Vice President is responsible for the strategic planning and execution of the company's Loss Prevention program across more than 400 stores nationwide, and ecommerce. Reporting to the CFO, this position has overall leadership responsibility for leading the charge in driving shrink reduction...

Manager, Asset Protection Data and Analytics
Raleigh, NC
Victra is the leading exclusive, premium retailer for Verizon with a mission of connecting technology to life in the most trusting and profitable way. As the Asset Protection Data & Analytics Manager, you will direct teams to identify, develop, implement, and maintain programs, processes, and training related to our AP structure including Field and Store Point-of-sale exception reporting, Inventory Adjustments, Investigations, and Store Assessments...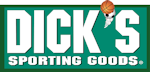 District Loss Prevention Manager
Portland, OR
DICK'S Sporting Goods is seeking an experienced multi-unit Loss Prevention manager for our Portland, OR district. Leaders in our organization are passionate about supporting the True Athlete in everything we do!


Market Asset Protection Manager - Northern WI
St. Charles, IL
The individual selected for this position works collaboratively with Market Directors and Store Directors to support a Culture of Safety and 200% accountability. This position ensures the execution of programs surrounding the safety of people, the security of assets, compliance with internal and regulatory standards and the prevention of shrink within the assigned market, thru root cause analysis, deployment of solutions that protect the assets of the organization and audit to determine the effectiveness of the initiatives as designed...


Retail Asset Protection Team Leader
Cadillac, MI
Collaborates with the Market Asset Protection Team leader and Store Leadership to support a Culture of Safety and 200% accountability. Oversees and ensures the effectiveness of the asset-protection, safety and fire-protection efforts and stock loss reduction...

Featured Jobs
---
• Ross Stores - Manager, Corporate Security and Fire/Life Safety - New York, NY
• Living Spaces - Director of Safety, California
• Dollar General - Director of Loss Prevention - Nashville, Goodlettsville, TN
• Rue 21 - Director of Loss Prevention, Warrendale, PA
• Hannaford - Director of Asset Protection, Scarborough, ME
• Charlotte Russe - Manager Loss Prevention and Safety, San Francisco, CA
• Food Lion - Director of Shrink, Salisbury, NC
• belk - Manager of Corporate Security & RMC, Charlotte, NC
• Apple - Secrecy Program Manager, Santa Clara Valley, CA
• REI - Senior Security Shared Services Manager, Bellevue, WA
• PWC - Cybersecurity & Privacy - Director, Various Locations
• Hallmark - Director of Information Security, Kansas City, MO
• Wireless Vision - Director of Loss Prevention, Greater Detroit Area

---

---
Daily Jobs
Appearing One Day Only
View our Internet Jobs Archives here


Sponsor this section of the Daily
---

---
Your Career

A Productive Day Starts With Your Morning Rituals

6 Morning Rituals That Will Make You Productive All Day
If you're looking to boost your productivity throughout the day, start your morning off on the right foot by practicing these six rituals. Not only will you feel great, but you won't believe what you can accomplish! Power hour

Are Early Risers More Productive?
Not everyone is a morning person, but it's no secret that executives tend to get up before dawn to start their day and have a routine that helps them make sure their day is as efficient as possible. Here's the benefits to getting up early and the routines that help lead to success. Early birds get the worms

Most Productive Morning Ever: How to Set the Stage for a Great Tomorrow
If you've ever wondered how to get a successful start to your day, it begins with how you spend the night before. Evening is the best time to prepare for a great day tomorrow, and here are some tips to make sure it's productive and happy. Psych yourself up

Why Monday Is Your Most Productive Day of the Week
You may be working for the weekend, but when it comes to actually getting work accomplished, Monday is the most productive day, according to Redbooth. What's the key to starting your workweek off in high gear? Preparation and focus. No morning meetings
---

---
Tip of the Day
Sponsored by Vector Security Networks

The drive home can be the longest drive of the day when looking into the rear-view mirror and seeing nothing but the day's events. It is a great time for reflection and evaluation of all that transpired over the last 12 hours, often times allowing you to realize that the briefest interaction with someone may have been the most important event of the day. Those one line snip-its often times are where the true feelings and intentions are expressed. Piecing them together can mean the difference between success and failure of a project, a program, and even an executive. It is only in reflection that we see the truth and give ourselves the ability to react to it the right way the next day. Take the time and look in the rear-view mirror. You may see something you had not seen.

Just a Thought,
Gus



(content subject to approval)
---
---
Upcoming Events
---
Recruiting?
Get your job e-mailed to everyone... everyday
Post on our Featured Jobs Board!
---
Reach your target audience in 2018 every day!
Request our 2018 Media Kit
---
Not getting the Daily?
Is it ending up in your spam folder?
Please make sure to add d-ddaily@downing-downing.com to your contact list, address book, trusted sender list, and/or company whitelist to ensure you receive our newsletter.
Want to know how? Read Here


36615 Vine Street, Suite 103
Willoughby, OH 44094
440.942.0671
copyright 2009-2019
all rights reserved globally