The D&D Daily Mobile Edition
March 9,

2015



The LP Industry's #1 News Source - Informing, Educating and Instilling a sense of community


Moving Up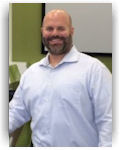 Joseph Biffar, CFI was promoted to Senior Manager, Corporate Loss Prevention & Security for Chico's FAS, Inc. Joseph was previously the Corporate Loss Prevention & Security Manager for the retailer and has been with Chico's FAS since 2008. He started as the Loss Prevention Analyst and moved his way up, becoming a Corporate Loss Prevention Manager a year later. Joseph has also worked at Target as an Executive Team Leader - Assets Protection. Congratulations Joseph!

News Brief
Sponsored by WG Security Products, Inc.
Checkpoint Systems Introduces New Solutions for Food Retailers to Reduce Shrink, Enhance Merchandise Availability Checkpoint Systems, Inc., a leading global supplier of merchandise availability solutions for the retail industry, today announced here at the FMI Asset Protection Conference two solutions for food retailers that are specifically designed to reduce shrink and boost merchandise availability for hard-to-protect items. Checkpoint's iS AutoPeg Tag offers food retailers secure protection for high-risk peg hook merchandise such as batteries, razor blades and ink cartridges with a one-step, pinless tag. A senior LP executive from a large mass merchant said, "We tested this product for a large number of SKUs as part of a major pilot study and were impressed with how easy it was to apply and remove at POS; most importantly, with AutoPeg we increased sales by 30 percent compared to the EAS on-shelf protection method we use for personal care products. In addition, we are able to more efficiently manage shelf and warehouse space." businesswire.com

Calibration Partners with Cybersecurity Expert Fortalice Solutions, LLC to Help Retailers Tackle Cybersecurity Awareness Calibration, LLC and Fortalice Solutions, LLC form a partnership to help retailers tackle cybersecurity awareness for their front-line employees. The costs for security events, like data breaches, are reduced by 76 percent when employees are effectively trained. This partnership combines Fortalice Solutions' un-matched cybersecurity expertise with Calibration's proven formula of inspiring action within corporate cultures to create a valuable awareness solution for retailers. "We are extremely proud to partner with Fortalice Solutions and Theresa Payton, former White House Chief Information Officer (CIO)," said Amber Bradley Virgillo, owner of Calibration, LLC. "Combining Theresa's and her team's expertise with our messaging and communications capabilities is the perfect marriage to make an impact for retailers." d-ddaily.com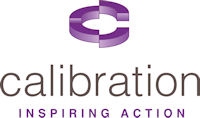 Business-Friendly Cyber Info-Sharing Bill Circulating Congress The Senate Select Committee on Intelligence could consider in the coming days new cyberthreat information sharing legislation that's seen as more to the liking of the business community than the measure proposed by President Obama. A discussion draft of the Cybersecurity Information Sharing Act of 2015, or CISA, being circulated by the leaders of the Senate Select Committee on Intelligence - Chairman Richard Burr, R-N.C., and Vice Chairwoman Dianne Feinstein, D-Calif. - provides broader liability protections to businesses that voluntarily share cyberthreat information with the government and less stringent privacy protections than legislation offered by Obama and introduced last month by Sen. Tom Carper, D-Del. govinfosecurity.com

Feds Indict Three in "One of the Largest Reported Data Breaches in U.S. history" U.S. federal prosecutors in Atlanta today unsealed indictments against two Vietnamese men and a Canadian citizen in connection with what's being called "one of the largest reported data breaches in U.S. history." The government isn't naming the victims in this case, but all signs point to the 2011 hack of Texas-based email marketing giant Epsilon. The government alleges the defendants made more than $2 million blasting out spam to more than one billion email addresses stolen from several email service providers (ESPs), companies that manage customer email marketing on behalf of major corporate brands. Epsilon didn't name which ESPs were impacted, but the voluminous complaints from consumers about spam indicated that those ESPs served a broad range of major companies, including JP Morgan Chase, U.S. Bank, Barclays, Kroger, McDonalds, Walgreens, and Honda, to name but a few. krebsonsecurity.com

UK - 57 Alleged Hackers Arrested in Cybercrime-Targeting "Strike Week" - including suspect in U.S. Defense Dept. hack British police announced that over the course of this week, they launched more than a dozen cybercrime raids, which included the arrest of a man who's been accused of launching a June 15, 2014, hack attack that penetrated a U.S. Department of Defense network. The man, age 23 - who has not been named by police - was arrested in Sutton Coldfield, England, on March 4 by officers from Britain's National Cyber Crime Unit. The arrest was made as part of a cybercrime-targeting "strike week" launched by NCA officers - together with police from England, Scotland and Wales, as well as London's Metropolitan Police Service. The effort comprised 25 raids and resulted in 57 arrests. The raids were launched in coordination with the U.S. Federal Bureau of Investigation as well as the U.S. Defense Department's Defense Criminal Investigation Service. govinfosecurity.com

Point-of-Sale Vendor NEXTEP Probes Breach - Pattern of fraud found on credit cards used Zoup eatery chain NEXTEP Systems, a Troy, Mich.-based vendor of point-of-sale solutions for restaurants, corporate cafeterias, casinos, airports and other food service venues, was recently notified by law enforcement that some of its customer locations have been compromised in a potentially wide-ranging credit card breach, KrebsOnSecurity has learned. The acknowledgement came in response to reports by sources in the financial industry who spotted a pattern of fraud on credit cards all recently used at one of NEXTEP'S biggest customers: Zoup, a chain of some 75 soup eateries spread across the northern half of the United States and Canada. Last week, KrebsOnSecurity reached out to Zoup after hearing from financial industry sources about fraud patterns indicating some sort of card compromise at many Zoup locations. krebsonsecurity.com

Biometric security on the rise
Biometric security is on a sharp growth curve, according to a number of recent research reports. The technology is on the rise in large part due to the fact that many mobile users have become comfortable using tools such as fingerprint identification for access. Juniper Research, in a recent report, says more than 770 million biometric authentication applications will be downloaded each year by 2019. That's up from just 6 million this year. The report cites Apple's combination of its Touch ID authentication to tokenization in NFC payments as an example of high profile adoptions of biometrics. Another report, by Acuity Market Intelligence, forecasts that rising demand for smartphones, tablets and wearable mobile devices that incorporate biometrics will drive a global market of 2.5 billion users with nearly 4.8 billion biometric devices by 2020. Within three years, biometrics will become a standard feature on smartphones as well as other mobile devices, Acuity says. csoonline.com

Lumber Liquidators Scandal A Short-Selling Wake-Up Call For Retailers Last week, a scandal struck flooring retailer Lumber Liquidators that is pushing the discussion of how much retailers need to know about their products to the front of the headlines. An episode of "60 Minutes" featured an exposé on the company, which has been accused of selling Chinese-made laminate flooring that contains levels of potentially carcinogenic formaldehyde exceeding the legal limit in California. Lumber Liquidators CEO Tom Sullivan claims that the negative attention was the work of short-sellers and lawyers looking to sue the company. Short-sellers were in fact the people to first bring attention to the issue. According to a Bloomberg article, hedge fund manager Whitney Tilson, who was shorting the stock, pitched the story to "60 Minutes". forbes.com

PetSmart to go private
PetSmart's investors have officially approved a buyout of the company by a private equity firm, setting up a payout to stockholders of $83 per share. In December, PetSmart announced it accepted a bid on the company for $8.7 billion. The company expects the transaction to close on March 11. The buyout means PetSmart will become a private company. PetSmart is the largest specialty pet retailer in the United States, with 1,404 pet stores in the United States, Canada and Puerto Rico. retailingtoday.com

Cache will cease operations
A little more than a month after filing for Chapter 11 bankruptcy protection, specialty women's apparel retailer Cache is throwing in the towel. Advisory and valuation services provider Great American Group (GA), which won a bid for Cache's assets at a March 3 bankruptcy auction, has begun "going-out-of-business" sales for all Cache's retail locations in the U.S., the Virgin Islands, and Puerto Rico. chainstoreage.com

NRF: Retailers added 24,000 jobs in February
Despite harsh winter weather throughout the country, retail industry employment in February increased by 24,000 jobs and has increased 218,000 on a year-over-year basis as retailers and merchants again added strength in numbers to the overall economy, according to the National Retail Federation. chainstoreage.com

Largest mall in the nation proposed for Miami area - $4B cost - 25K jobs The company that owns and runs the largest mall in America wants to build an even bigger one in northwestern Miami-Dade, a roughly 200-acre entertainment complex with submarines, a Legoland, sea lions and an artificial ski slope. Backed by the owner of Minnesota's Mall of America, American Dream Miami is proposed for land at the intersection of Florida's Turnpike and Interstate 75 near Miami Lakes. It's projected to cost as much as $4 billion to build and employ 25,000 people once opened, more than enough to give it Miami-Dade's largest private-sector payroll. It also would bring the largest mall in the United States to what's now pastureland in Miami's congested suburbs, using vacant real estate flanked by two of the region's busiest highways. miamiherald.com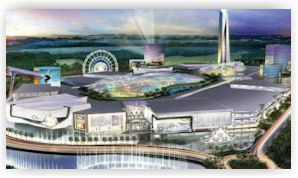 Loblaw to open 50 stores, renovate 100 units

Gander Mountain expanding in Southwest - up to 156 stores nationwide

Dollar General opens two stores each in Maine, Oregon and Rhode Island

Report: PayPal buys Israeli cybersecurity company for $60M


Last week's most popular news article --

Shoplifters Given a Choice - Pay $320 or Deal With the Police Having worked in retail, I can tell you that shoplifters are a worker's worst nightmare. Catching someone in the act can be difficult especially when most stores have policies that prohibit employees from approaching and accusing a suspected thief, out of concern for their employees' safety. That can lead to lost merchandise and repeat offenders. But, now, a Utah based company has an alternative. It gives shoplifters a choice: sign an admission of guilt and pay $320 for an online theft education course or the store will call the cops. Corrective Education Company (CEC) is a private loss prevention company that was started in 2010 by two Harvard business graduates looking to give shoplifters a second chance instead of a rap sheet. It's starting to gain popularity with retailers because it doesn't charge for the service, but instead operates solely on the funds generated from offenders. Retailers can collect a small cut of CEC's $320 fee for every offender to whom they present the option to sign up for the program. According to CEC's VP for account management, some big name retailers already using its services including Bloomingdale's, Burlington Coat Factory, DSW, Whole Foods, and H&M. lawstreetmedia.com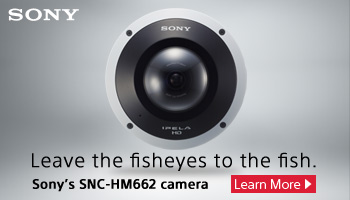 All the news - One place - One Source - One Time
The D&D Daily respects your time
& doesn't filter retail's reality
Report Your News!
(content subject to approval)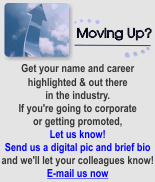 Vendor Spotlight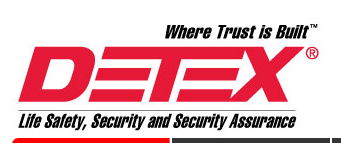 Detex offers the broadest line of life safety and security door hardware designed to meet the durability and performance requirements of the retail industry - without compromise. We offer solutions for every life safety and security door, with more options for specific applications. Whether your business is a group of big box stores or a single fashion outlet, life safety and security door hardware is a necessity. Not just for back doors, Detex door hardware is engineered precisely for certain retail situations, but also provides choices for a wide range of functions and costs. Our retail customers are often surprised to learn that we can supply most of their hardware needs.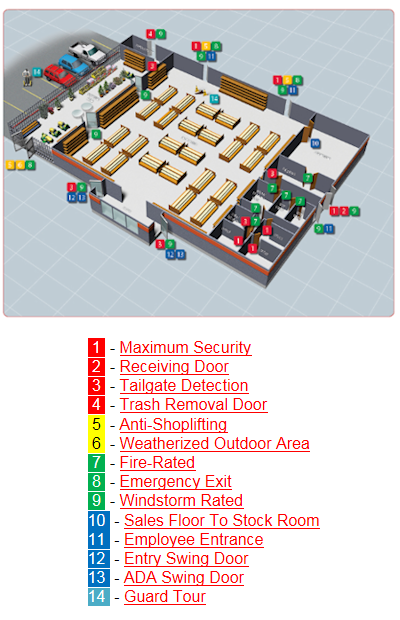 Learn more at www.detex.com

eBay News

eBay's Global Asset Protection team helps Law Enforcement get IT Whizz 12 months in jail
A computer expert cost Sky TV almost 30,000 pounds ($45,307) after he exploited his IT knowledge to sell pirated pay-per-view packages on eBay. University graduate Aron Lees, 29, made 3,000 pounds ($4,530) a month after he tampered with Sky decoder boxes so one legitimate account would work again and again in a process known as 'card sharing'. He used his younger brother Sean's eBay account to sell the "hacked" boxes - complete with one year subscriptions to Sky Premium TV - for just 110 pounds ($166) a time. BSkyB investigators busted the bedroom business empire after they posed as a customer to purchase a box from the brothers and traced it to Aron's IP address following a tip-off from eBay moderators. Sky calculated that they would have charged around 700 pounds for each box with subscription for a year - meaning they lost around 590 pounds ($891) on each eBay sale. Over 338 transactions between March and December 2013, a total of 28,176 pounds ($42,552) was deposited into qualified mechanic Sean's bank account. He was given 12 months jail suspended for 18 months and ordered to carry out 100 hours of unpaid work. A separate hearing will take place to determine how much money he must pay back.

Read more here.

For further information on PROACT, email inquiries to PROACT@eBay.com.
eBay Direct - Click Here
(notify - info - questions)


Loss Prevention News Network

Joining us from Protection 1, Rex Gillette, Vice President Retail Sales, and Jim Shepherd, National Account Manager, LPQ, talk about the company's latest accomplishments and the exciting things to come in the future. As a solution provider that invests significantly in people and technology, Protection 1 takes customer service seriously. Rex and Jim tell us about Protection 1's new Tech Tracker notification service, the recently announced Field Services Organization, and other initiatives aimed at strengthening their unwavering commitment to their customers, the industry and the communities they serve.

---
Hedgie Bartol, Retail Business Development Manager - North America, Axis Communications, chats with Amber and Joe in this LPNN Quick Take. Hedgie talks about Axis' entry into the access-control market and the benefits for retailers that pair IP video with network-controlled intelligent devices.

Solution Providers, have a video or commercial you want to publish? Contact us.


2015's Let's Get LP Social
We still want your Group LP Selfies - So keep them coming retail LP teams!

Submit a group selfie of you and your LP team and you could get a plaque. Please submit a high resolution photo (300 dpi) and logo at 5" wide for your printed plaque, and if you have a tagline or slogan either from your team or from the company, please send it to us as well for inclusion on the plaques and here on the Daily. Click here for more details.



The Reitmans (Canada) Ltd. Loss Prevention Team

"It Begins With You!"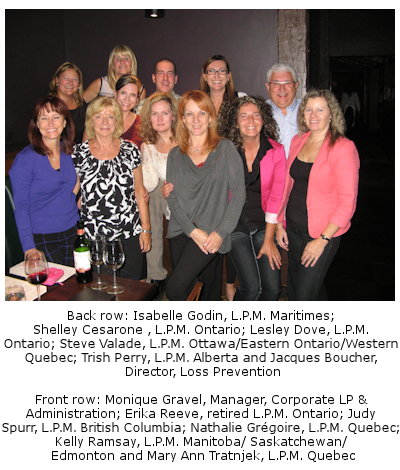 Originally published on September 19, 2014
View all the selfies here!
Sponsored by:



e-commerce

Sponsored by The Zellman Group
Banks Changing Apple Pay Procedures After Fraud, Consultants Say Some banks have begun to make changes in how they activate customers' credit-card accounts to use Apple Inc.'s new mobile-payment system after reports of fraudulent transactions, according to industry consultants. The effort is an attempt to thwart criminals who have been typing stolen credit-card numbers into Apple Pay and trying to make purchases with their iPhones. Some banks are now requiring users to call them to activate Apple Pay, to ensure that their identities haven't been stolen. bloomberg.com

US consumers consider Bitcoin more secure than mobile wallets, survey finds In a survey of 1,400 online consumers across the US, a study found that respondents consider mobile wallets and applications the least secure form of payment, ranking behind digital currencies such as Bitcoin. Asked which forms of payment they feel is most secure, the majority of respondents picked cash (56 percent), followed by credit card (22 percent), debit card (16 percent), cryptocurrency (3 percent), check (2 percent), and mobile wallet or app (1 percent). Despite little confidence in mobile wallet security, the study observed a significant jump in the use of mobile payments. Forty percent of respondents said they have used a mobile payment application in the past year, up from 8 percent in 2013. Among those who have used mobile payments in the past year, 45 percent have used Google Wallet, 41 percent have used a banking payment app, and one-third have used a retailer payment app. coinreport.net

Wal-Mart Open To Accepting Apple Pay

"Fraud is not a person - it is a dynamic grouping of statistics that deviate from the norm."
Stuart B. Levine, CFI, CFCI
CEO, The Zellman Group & Zelligent


ORC News
Sponsored by Security Resources
Former Amazon employee stole over $18K from 315 customer gift cards, thought thefts were untraceable Police said an employee transferred more than $18,000 from Amazon.com customers' gift cards into her accounts, thinking the thefts could not be traced. Amanda Budurka, who worked at I-Gourmet on Delaware Avenue where Amazon rents space, provided a signed statement and admitted stealing from the gift cards for more than a year, police said. Martin Rakaczewski, loss prevention manager for Amazon.com in Breinigsville, said Budurka has been stealing gift cards from the company's fulfillment office in I-Gourmet. Budurka began working as temporary employee in April 2011 and was promoted to an Amazon associate in August of that year. Rackaczewski said Amazon investigator Sheila Hamm contacted him on Feb. 23 after receiving calls from customers whose gift cards were either not working or had no funds applied to them. The cards were tracked and Budurka was identified as the person who shipped them. Between September 2013 and Feb. 25 a total of $18,259 from 315 cards were transferred to two Amazon accounts Budurka had opened. When questioned by Rackaczewski on Feb. 24, Budurka admitted stealing the funds. In a signed statement she said, "I have been taking gift cards since around Christmas time two years ago when it was brought to my attention that they were untraceable by another associate." timesleader.com

Chicago thieves swipe $67K worth of goods during 'major burglary' The incident happened about 6 a.m. Sunday at a strip mall at 800 N. Kedzie Ave., according to the alert, issued by Area North detectives. Police said the thieves used a heavy-duty power tool to break into the back door of at least one of three establishments -- J Bees, Ashley Stewart and Shoe Trends, taking multiple pairs of Robin's blue jeans that police said were being sold for hundreds of dollars, Polo garments, and Nike and UGG footwear -- merchandise that totaled more than $67,000. chicagotribune.com

Pair pilfer $9,000 worth of women's undergarments from J.C. Penney in Wyoming Police say a man and woman have stolen more than $9,000 worth of women's undergarments from a department store in Wyoming's capital. Officer Dan Long, a Cheyenne police spokesman, says the shoplifters made off with just over 1,000 pairs of panties from the J.C. Penney store in a local mall Wednesday afternoon. Police estimate roughly 800 pairs of Ambrielle brand underwear and 200 pairs of Flirtitude brand garments were taken. usnews.com

Amityville, NY woman and nephew charged in 'fraudulent return' scheme A 55-year-old Amityville woman and her 37-year-old nephew have been charged in a scheme to fraudulently return merchandise at the Riverhead Lowe's Home Improvement Center, according to Riverhead Police. Barbara A. Brennan and William E. Brennan, of Bay Shore, were charged with petit larceny after an investigation by the Riverhead detective division, according to a Riverhead Police press release issued last night. They were identified as making separate fraudulent returns at the Riverhead store on Jan. 25, police said. Suffolk and Nassau police are investigating additional fraudulent returns made throughout both counties, according to police. Riverhead police said they were contacted by Lowe's loss prevention manager on Feb. 23. riverheadlocal.com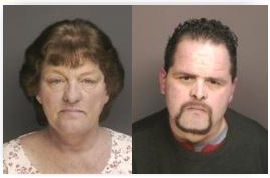 Baby formula thief arrested after fleeing Walmart in Stafford Twp., NJ Anthony P. Browne was confronted by Walmart loss prevention officers in the store but left the merchandise and fled the area in a silver Kia Optima, according to Patrolman Chris Fritz, a police department spokesman. Stafford Police later located the vehicle and conducted a motor vehicle stop with the suspects' car. Both the driver, Matthew J. Jurich, 33, of Egg Harbor Township, and Browne, 35, of Little Egg Harbor, were both arrested at the scene and transported back to headquarters, Fritz said. The investigation later revealed Browne was responsible for two separate incidents regarding the theft of baby formula from the Walmart. Browne was charged with two counts of Theft. app.com

Three Chicago women caught with over 100 counterfeit credit cards, making fraudulent purchases at area stores

Thailand - Police arrest three in Russian ATM skimming gang, still hunting for leader
Do you have an ORC case to share?
Share your ORC news and help the industry grow

Retail Crime News

Sponsored by NuTech National
Police ID man fatally shot inside downtown Atlanta store At least one person is dead after a shooting in southwest Atlanta. The shooting happened inside a store called the West End Food Mart and Grocery near the corner of Lee Street and Ralph David Abernathy Boulevard. Police said a man in his mid-20s was shot in the face. Sunday, police identified the victim as Martrell Gay, 25, of Atlanta. Investigators believe Gay was a customer at the store. "We're looking through surveillance footage trying to see what it captured, but it appears there were multiple people inside the store at the time," said Lt. Charles Hampton, with the Atlanta Police Department. Gay died at Grady Memorial Hospital shortly after he was transported there. Even though police may have some surveillance to help identify the shooter, they're asking for the public's help. wsbtv.com
Former Jet Chris Johnson wounded in drive-by shooting near Florida Mall that left another man dead Former Olympia High School player and New York Jets running back Chris Johnson was shot in the shoulder in a drive-by shooting Sunday morning that left another man dead and another injured, according to reports. The shooting took place at about 4:09 a.m. at the intersection of Southland Boulevard and Orange Blossom Trail, several blocks north of the Florida Mall, the Orange County Sheriff's Office said in a statement. Deputies responded to a shooting call and arrived to find a Jeep the driver dead inside and two other men with gunshot wounds on the sidewalk. The victims, Reggie Johnson and Chris Johnson, both 29, said that an unknown vehicle pulled up beside them at the red light and opened fire into the Jeep, deputies said. The deceased driver was identified as Dreekius Oricko Johnson. orlandosentinel.com
3 arrested in West Towne shooting, 1 also suspected in attempted homicide Three people have been arrested in the investigation of a shooting at West Towne Mall and an attempted homicide on Saturday. Jeffrey Mitchell, 23, was arrested and charged with recklessly endangering safety with a dangerous weapon, attempted first-degree intentional homicide, receiving a stolen firearm, obstructing an officer and three counts of possession of a firearm by a felon. Mitchell was arrested in connection with both the West Towne Mall and Russett Road shootings. Jamal Greer, 21, was charged with first-degree recklessly endangering safety with a dangerous weapon, possession of firearm as a felon and bail jumping. Jacob Greer, 17, was charged with obstructing an officer. Koval said the Russett Road shooting is most concerning, because an 18-year-old was shot repeatedly. A criminal complaint states that the victim in the Russet Road shooting was shot in the face and arm. He was shot again in the back when he tried to run away. channel3000.com

Suspicions surround last week's $5M Gold Heist - Truckers questioned in what may have been an 'inside job' Detectives suspect the $4.8 million gold heist Sunday on Interstate 95 may be an "inside job," they said in a search warrant application. Sheriff Calvin Woodard was reluctant to label the robbery suspicious but admitted that some of the circumstances surrounding the robbery were suspicious. Woodard publicly detailed how a mechanic couldn't find anything wrong with the truck after the victims had reported mechanical issues. They had also reported the smell of gasoline; that couldn't be detected either, Woodard said. It was also revealed in the press conference that the only thing that stood between the three robbers and $4.8 million in gold was a small Master lock that anyone could buy at a Lowe's. That information received a chuckle from the media in attendance. wilsontimes.com

Pleasanton Home Depot LP Officer Struck by Car Following Attempted Theft of Power Tools Police officials are asking for the public's help identifying a woman they say was involved in a robbery that lead to a loss prevention officer being struck by a car driven by a person believed to be her accomplice at the Pleasanton Home Depot on Saturday night. Police released the following details and surveillance photos about the incident: Last night at 10:20 p.m., Pleasanton Police Officers responded to a report of a robbery at Home Depot at 6000 Johnson Drive. A Home Depot Loss Prevention Officer attempted to apprehend a female who had just stolen several power tools. The female was being detained in the parking lot by the loss prevention officer when her accomplice drove up in a vehicle and intentionally ran into the loss prevention officer knocking him to the ground. The female got into the vehicle and the two fled onto Owens Drive toward Johnson Drive. Officers checked the area but were unable to locate the suspects. The loss prevention officer sustained an injury to his knee and several scrapes and bruises but is expected to make a full recovery. patch.com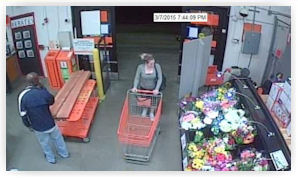 Myrtle Beach man arrested after attempted theft, physical altercation with Walmart LP Myrtle Beach police charged a man with shoplifting after chasing him outside a Wal-Mart store, where officers said he took merchandise, including condoms, fiber snack bars, and a bath sponge among other items, and pushed store employees who tried to stop him. Marlon William Chestnut, 21, was arrested once police caught up with him after a chase around the Wal-Mart store parking lot area, according to a police report. The store employee said she saw Chestnut take golf gloves and golf tees. Chestnut was also seen taking computer cables, headphones, and other items during his time in the store. One of the store employees tried to stop him when he tried to leave Wal-Mart without paying, and Chestnut tried to run from the store through the shopping cart coral but couldn't get out, police said. The store employees tried to block Chestnut in the cart coral area, and he began pushing one of the employees while trying to escape. thestate.com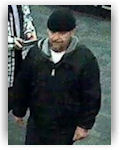 Barrie, Ontario police search for fraudster claiming to be associated with charity group Barrie police are searching for a man who allegedly claimed he was associated with the Nathan Cirillo Foundation, when trying to fraudulently return items at a Best Buy. According to investigators, the man entered the Best Buy located at 80 Concert Way on Tuesday and picked up two iPad cases off the shelf. The man then proceeded to the returned counter and asked to speak with the manager. A duty manager spoke to the man, who allegedly claimed he had permission to return the items from the store manager. Police say the man indicated he attempted to return the merchandise earlier, but was busy working for the Nathan Cirillo Foundation. The manager recognized the man from a loss prevention bulletin and told the suspect to wait a moment. Police say the man then became nervous and fled the store. ctvnews.ca

3 men convicted of takeover robbery at LA Nordstrom Rack Three men have been convicted of a takeover robbery at a Los Angeles clothing store during which an employee was sexually assaulted. City News Service says Raymond Sherman Jr., Troy Hammock and Everett Allen were convicted Friday of dozens of counts of second-degree robbery. Prosecutors say two years ago, the men took over a Nordstrom Rack at a mall near the Los Angeles International Airport. Fourteen workers were inside. Most were forced to strip to their underwear, one woman was stabbed in the neck and another was sexually assaulted during an hours-long ordeal. mynews4.com

Roommates fake Git-N-Go robbery in Pleasant Hill, IA A pair of roommates were charged with third degree theft after staging a robbery at a Pleasant Hill Git-N-Go in February. Kieran Tyrell Davis, 19, and store clerk Eric Bernard Simmons, 19, faked a robbery for a surveillance camera at the Git-N-Go said Officer Adam Choat. Simmons, who worked at the store, wrote a statement for police explaining how Davis forced him onto the floor and demanded money. Additionally, Simmons wrote the direction he saw the suspect's vehicle flee. Upon further investigation however, Pleasant Hill Detective Ron Zimmerman noticed discrepancies between the store's surveillance video and Davis's story. Zimmerman didn't see Davis's lips give commands, and Simmons didn't look out to see which way Davis fled. Additionally, the detective said it appeared Simmons volunteered extra money, and he pointed out money that fell to Davis. desmoinesregister.com

Man used electric cart to steal over $4,000 of goods from Gainesville Target - Reason for stealing? He's "gotta eat" An Alabama man was arrested in Gainesville on Saturday after police say he twice entered a Target retail store and used an electric cart to make off with thousands of dollars in merchandise. Lee Andrew Kennedy, 55, of Phenix City, Alabama, entered the Target store at about 3 p.m. on Saturday, according to a Gainesville Police Department report. Once inside, Kennedy secured an electric cart and grabbed a gray storage bin. He then drove the cart around the store and began filling the bin with more than $2,000 worth of items, the report said. Once he had collected the stolen goods, Kennedy drove the cart past the registers and left the store. Kennedy was not caught in the act of shoplifting the merchandise at that time, but he returned about six hours later and again drove a cart around the store placing items into a bin, this time attempting to make away with almost $2,400 in stolen merchandise. As Kennedy attempted to drive past the registers and exit the store, he was stopped by a Target loss prevention employee and a GPD officer. According to the report, Kennedy told the arresting officer that he stole the merchandise because "I gotta eat." gainesville.com

Virginia couple charged in 'Beats by Dre' headphone shoplifting spree

Two caught shoplifting, using stolen cards at Walmart in Hartselle, AL

Man assaults security guard at Trenton Rite Aid pharmacy

Cleveland woman arrested for stealing $209 in bracelets from Kohl's

UPS Loss Prevention catches internal theft at warehouse in Logan Twp., NJ

Kay Outlet in North Charleston, SC lose $4,499 gold curb link chain to suspects in Grab & Run theft

Mountain lion shot with tranquilizer in California mall parking lot, dies

Two arrested after fighting in CVS, Ocean NJ police say

Store robbery ends in Highway 70 three-car crash in Olivehurst, CA

Craigslist post leads police to 3 suspected in San Antonio aggravated robbery

Katonah man arrested for felony assault, theft at Palisades Mall in NY


Robberies and Burglaries
● BP - Rome, GA - Armed Robbery - Store clerk injured
● Boost Mobile - San Diego, CA - Armed Robbery
● CVS - Tulsa, OK - Robbery
● Dixon Food Center - Dixon, IL - Robbery
● Dollar General - Pulaski, KY - Robbery - 2 women tied up
● Hardee's - Grand Forks, ND - Armed Robbery
● Home Depot - Pleasanton, CA - Robbery - Security officer hit by car
● NAPA Auto Parts - Dayton, OH - Burglary
● Petro Serve USA Convenience Store - Glyndon, MN - Armed Robbery
● Rite Aid - Cleveland, OH - Robbery
● Speed Station - York County, SC - Armed Robbery - Suspect arrested
● Starbucks - Austin, TX - Armed Robberies - Suspect caught
● Subway - Sparks, NV - Robbery
● Turkey Hill - Lancaster, PA - Robbery - Second time in a week
● United Dairy Farmers - Franklinton, OH - Robbery
● Village Pantry - Lafayette, IN - Armed Robbery
● 7-Eleven - Elkridge, MA - Robbery


Featured Job Listings
Sponsored by NuTech National
Feature Your Job Here For 30 Days -
70% Aren't On the Boards
VP of LP
Mattress Firm
Houston, TX
Mattress Firm
Director of Risk Mgmt & AP
Goodwill - Easter Seals, MN
ST Paul, MN
Goodwill - Easter Seals, MN
Director Fraud Analytics & Investigations, Global Investigations
Starbucks
Seattle, WA
Starbucks
Director AP
Big Lots
Columbus, OH
Big Lots
Director of LP
Haagen Grocery Stores
Seattle, WA
Supervalu
Director of LP
PacSun
Anaheim, CA
PacSun
Director Global AP
KFC & PH
Plano, TX
YUM! Brands
VP Supply Chain, LP & Safety
Ross Stores
Ft. Mill, SC
Ross Stores
VP of Sales
Checkview
Chanhassen, MN
Checkview
Corporate Mgr LP
Five Below
Philadelphia, PA
LinkedIn
Regional Dir AP
Rite Aid
Albany, NY
Rite Aid
Regional Dir AP
Rite Aid
Warwick, RI
Rite Aid
Regional Dir AP
Rite Aid
Baltimore, MD
Rite Aid
Dir of AP Dist. Centers
Dollar General
NA
Dollar General
Director of Divisional LP
Dollar General
Goodlettsville, TN
Dollar General
Director Market LP
Walgreens
Phoenix, AZ
Walgreens
Director Market AP
Walgreens
Guaynabo, PR
Walgreens
Director Market AP
Walgreens
Denver, CO
Walgreens
Director Market AP
Walgreens
Southfield, MI
Walgreens
Director Market AP
Walgreens
Roseville, MN
Walgreens
Regional LP Manager
National Stores
Chicago, IL
Downing & Downing
Regional LP Manager
National Stores
Northern Bay Area, CA
Downing & Downing
Regional LP Manager
National Stores
Phoenix, AZ
Downing & Downing
Market Asset & Profit Protection Manager
Sears
Little Rock, AR
Sears Holdings Corp
Zone Asset & Profit Protection Mgr
Sears
Miami, FL
Sears Holdings Corp
Zone Asset & Profit Protection Mgr
Sears
Cincinnati, OH
Sears Holdings Corp
Zone Asset & Profit Protection Mgr
Sears
Cleveland, OH
Sears Holdings Corp
Market Asset & Profit Protection Manager
Sears
Baltimore, MD
Sears Holdings Corp
Market Asset & Profit Protection Mgr
Sears
Los Angeles, CA
Sears Holdings Corp
Zone Asset & Profit Protection Mgr
Sears
Houston, TX
Sears Holdings Corp
Zone Asset & Profit Protection Mgr
Sears
Dallas, TX
Sears Holdings Corp
Regional AP Mgr
SpartanNash
Grand Rapids, MI
LinkedIn
LP Manager
Bowlmor AMF
Long Island, NY
Bowlmor AMF
LP Manager
Bowlmor AMF
Dallas, TX
Bowlmor AMF
Regional LP Manager
Tilly's
Orlando, FL
Tilly's
Market AP Specialist
REI
San Francisco, CA
REI
Market AP Specialist
REI
Chicago, IL
REI
Sr Retail AP Specialist
REI
Denver, CO
REI
Sr Retail AP Specialist
REI
Bloomington, MN
REI
Market AP Specialist
REI
Los Angeles, CA
REI
Store AP Officer
Wegmans
Buffalo, NY
Wegmans
AP Officer
Wegmans
Rochester, NY
Wegmans
Sales Representative
NuTech National
Maitland, FL
NuTech National
National Account Executive
Checkview
Northeast Region
Checkview
National Account Executive
Checkview
United States
Checkview
Corporate Investigator
Confidential
San Francisco Bay, CA
Confidential
National Account Manager
Vector Security, Inc
TBD
Vector Security, Inc

Limited Time Only - Post Your Multi-Unit LP jobs for FREE - Learn More Here


Daily Job Alerts


Appearing One Day Only
View our Internet Jobs Archives here
District LP Manager
Dick's Sporting Goods
Minneapolis, MN
Dick's Sporting Goods
AP Manager in Training
Walmart
Monona, WI
Wal-Mart
AP Manager in Training
Walmart
Owensboro, KY
Wal-Mart
AP Manager in Training
Walmart
Paintsville, KY
Wal-Mart
AP Manager in Training
Walmart
Glendale, AZ
Wal-Mart
AP Manager in Training
Walmart
Valley Stream, NY
Wal-Mart
AP Manager
Sam's Club
Tucson, AZ
Wal-Mart
AP Manager
Ralph Lauren
New York, NY
Ralph Lauren
LP Manager Hrly
Kmart
Virginia Beach, VA
Sears Holdings Corp
LP Manager Hrly
Sears
Caguas, PR
Sears Holdings Corp
LP Manager Hrly
Kmart
Raleigh, NC
Sears Holdings Corp
LP Manager Hrly
Kmart
Livonia, MI
Sears Holdings Corp
LP Manager
Kmart
Wauwatosa, WI
Sears Holdings Corp
LP Manager
Sears
Rego Park, NY
Sears Holdings Corp
AP Team Leader
Target
Madison, WI
Target
ETL Assets Protection
Target
Columbus, OH
Target
ETL Assets Protection
Target
Centerville, UT
Target
ETL Assets Protection
Target
Houma, LA
Target
ETL Assets Protection
Target
Raleigh, NC
Target
ETL Assets Protection
Target
Lanesborough, MA
Target
LP Manager
Macy's
Short Hills, NJ
Macy's
District AP Manager
Stage Stores
Lubbock, TX
Stage Stores


Home of the Industry's Original
On the Move

Joseph Biffar, CFI was promoted to Senior Manager, Corporate Loss Prevention & Security for Chico's FAS, Inc.
Anthony Gabino, CFI was promoted to Regional Loss Prevention Manager for Chico's FAS, Inc.
Larry Martinez was named DC Loss Prevention Supervisor - West for PETCO Animal Supplies, Inc.

Post Your New Job or Promotion!
See all the Industry Movement


Your Career
Sponsor this section of the Daily
5 Steps to Creating Your Most Efficient Workday Yet We are always on the lookout for ways to improve our professional lives. We spend about 90,000 hours at work so it's important that we find ways to help it go smoothly and as efficiently as possible. Here are some tips you can use to create a productive workday. Imagine your ideal day

9 Morning Hacks to Get Your Day Off to a Great Start Your mornings have a significant impact on the rest of your day. If you start your day with a little bit of planning and mentally prepare yourself for whatever work you have to get done or projects you have lined up, you will enhance your mood and lower your anxiety! Try these tips to make your day better! Hit snooze

Last week's most popular articles--

4 Ways to Be the Boss Employees Want to Work For As a leader, employee job satisfaction can impact your organization, especially if you see a lot of employees leaving. You'll benefit greatly if you can strive to be the best manager you can be, and your employees will feel more happy at work. Here are four tips to help you be the boss everyone respects and admires. Share the power

Six Habits of Confident People
When failure stares you dead in the eyes, it can be easy to lose your confidence. Self-doubt is common and for many that feeling doesn't go away. Instilling confidence in yourself takes practice, calculated risk-taking and changes in how you think. Here are some habits you can form to boost your self-confidence. Get outside of your comfort zone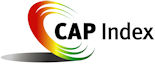 Tip of the Day
Sponsored by Vector Security
Success can not happen without conflict. Because success always challenges the status quo, regardless, and mandates change. And in order for change to be successful you need commitment - you need everyone to buy in totally. It's not good enough for everyone to merely agree and move forward because they'll be those that merely go thru the motions and don't believe. One can disagree and still commit but for those who don't engage - commitment is a mere phrase not reinforced by actions.

Just a Thought,
Gus







Upcoming Events
---
Recruiting?
Get your job e-mailed to everyone... everyday
Post on our Featured Jobs Board!
Reach your target audience in 2015 every day!
Request our 2015 Media Kit
update account / change e-mail
unsubscribe FEEDBACK
www.downing-downing.com

Advertise With The D&D Daily




36615 Vine Street, Suite 103
Willoughby, OH 44094
440.942.0671
copyright 2009-2019
all rights reserved globally