The D&D Daily Mobile Edition
March 11,

2015



The LP Industry's #1 News Source - Informing, Educating and Instilling a sense of community


FMI Asset Protection Conference

FMI Asset Protection Conference:
Valuable Content and Duck Impressions?
By Amber Bradley Virgillo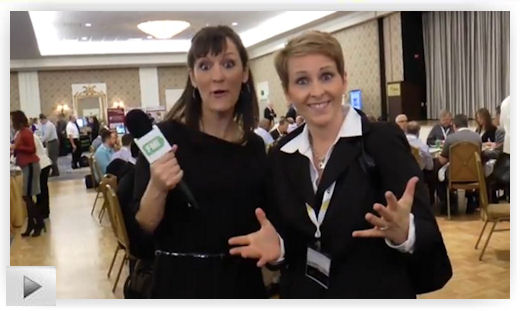 A Hilarious Must-Watch Video!
Amber Virgillo of Calibration, LLC, representing the D&D Daily
at this week's FMI Asset Protection Conference 2015 in Memphis.

Valuable and innovative content was the order of the day for FMI Asset Protection Conference 2015 taking place in Memphis this week.

Attendees started the day laughing with humorist and inspirational keynote speaker Steve Rizzo discussing how attendees can get their "shift" together. Rizzo reminded the audience that attitude is crucial to enjoying the process of our lives. Attendees were inspired to be happy now, right in this moment! A key takeaway for attendees was that a healthy perspective that incorporates humor, gratitude and appreciation for the moment can propel both our personal and professional lives to reach our goals.

Breakout sessions truly offered something for everyone: building an asset protection brand, the next era of payment technology, mitigating diverter risk, an in-house shrink roundtable, a cybersecurity breach/response roundtable, and vendor spotlight presentations during lunch.

One of the most anticipated sessions of the day was, "Social Engineering: The Greatest Threat -- How is my company at risk?" featuring Theresa Payton, CEO and Chief Advisor, Fortalice Solutions, LLC, Vince Crisler, Partner, Fortalice Solutions, LLC, Randy Trzeciak, Senior Member of the technical staff for the Software Engineering Institute's (SEI) CERT Program at Carnegie Mellon University.

Some thought provoking takeaways from this panel discussion included:

| | |
| --- | --- |
| - | People should only have the authorized access to get their jobs' accomplished |
| - | Implement expiring access to critical systems |
| - | Use of code words to validate executive communication |
| - | Segment systems to ensure more layers of security in case of a breach |
For more information on these suggestions visit www.fortalicesolutions.com.


A highlight of the day was when Steve Longo with CAP Index was the honorary Duckmaster and helped escort the world-famous Peabody ducks from their home at the top of the hotel to the lobby fountain. Some attendees were super jealous of Longo and decided to give FMI X-Change their OWN duck impressions....check out the exclusive video coverage and remember to follow @DandDDaily for an inside track to what's happening live at FMI AP.

News Brief
Sponsored by WG Security Products, Inc.
Agilence receives $4.3 Million in New Funding to Support Growth Initiative Agilence, Inc., the leading provider of SaaS-based next-generation exception reporting solutions for retail loss prevention and operations, today announced that it has received $4.3 million in new funding to support the extraordinary growth the company has seen over the last two years. This round of financing was led by existing investor Laurel Capital Partners. New investor Drayton Park Capital and existing investors Granite Ventures, Next Stage Capital and Aster Capital also participated. virtual-strategy.com

Maine's State Legislative Chair of Labor says -"We must stop Organized Retail Crime" - introduces bill One of the concerns of the business community in Maine that has come to my attention through that work is organized retail crime. This crime is hurting businesses – businesses which employ many Mainers – and we must take steps to prevent it. That's why I have introduced LD 310, "An Act to Prevent Organized Retail Crime." Though it is not in front of the LCRED, but in front of the Criminal Justice and Public Safety Committee, this legislation is directly linked to helping Maine's business community. This crime is estimated to cost Maine $150 million each year, and Hannaford, JC Penney, Reny's, Rite Aid, and Cabela's have all expressed support for my legislation. The legislation would make using fake receipts or swapping UPC codes a possible Class C felony. It would also make stealing a possible Class C felony if two or more people are acting in concert to commit the crime. LD 310 would give us the tools to better prevent this organized gang activity, to prosecute these crimes aggressively when justified, and to use this statute as an additional deterrent. themainewire.com

Five Below to open 70 stores this year on top of 62 they opened in 2014 - Still looking for Corp. Mgr. LP in Philadelphia see listing below

Corporate Boards to be held individually liable for cybersecurity - Here it comes and you better be ready U.S. regulators this year are emphasizing the importance for corporate boards to take responsibility for cybersecurity, saying directors and officers who fail to do so could be held individually liable for any lapses that occur, attorneys said Tuesday during a webinar on the subject. This means boards must put in place the proper teams and prepare plans to prevent any breaches and to respond to any that may occur. Particularly in the last three to four months there has been intense focus by regulators on this subject, largely directed to directors and officers, said John Failla, a partner in Proskauer Rose's insurance group.

Regulators are "trying to articulate responsibilities to board to prevent, address, mitigate and transfer risks for this issue," said Mr. Failla. In the webinar, he cited a speech from Securities and Exchange Commission Commissioner Luis Aguilar in June 2014 in which he "made it abundantly clear" the SEC views boards as being a critical part of risk management in this area. Boards also need to make sure they allocate enough time at their regular meetings to discuss cybersecurity prevention and preparedness. Editor's Note: Obviously the great debate about how involved LP gets may be a moot point as the Board will be intensely involved and whether you agree or disagree it won't matter. Because at the end of the day we're viewed as the subject matter experts in the investigative arena and that expertise will be expected. wsj.com

Target's cuts amount to 13% of corporate staff - Saving $500M this year - 550 let go last month & 17,600 in Canada = 20,700 Job Cuts in one month The retailer's top managers had set the company's employees on edge a week before by announcing plans to cut "several thousand" corporate jobs. On Tuesday they lost no time in implementing their plan, with workers cut loose en masse. Target then released a statement announcing the precise number of the layoffs. The company added that 1,400 open jobs would not be filled. The cuts amounted to 13 percent of the 13,000 HQ employees in the metro area. They come on top of the 550 corporate workers in the Twin Cities who were let go last month because of Target's decision to close its Canadian operations. In downtown Minneapolis, where Target is the largest employer with 10,000 people, groups of Target employees huddled in skyways with colleagues who were let go. Some wiped at the corners of their eyes and exchanged hugs. Editor's Note: With the 17,600 Canadian workers, that brings the total Target job loss to 20,700 in one month in North America. It employs about 350,000 worldwide. startribune.com

25 year old sparked the Lumber Liquidators stock plunge - Criminal Charges May be forth coming Lumber Liquidators Holdings Inc.'s stock plunge over the past week, fueled by allegations of excessive formaldehyde in its flooring, can be traced back to a blog post from an obscure 25-year-old short seller. Xuhua Zhou, who had dropped out of UCLA's doctoral program in finance and became an individual investor, took an interest in Lumber Liquidators about two years ago. After seeing a surge in the company's gross profit margin, Zhou learned that it sourced some products from China. That raised his suspicions that safety might have been skirted in pursuit of lower costs, he said in an interview. Zhou, who was born and raised in China, already had experience researching suppliers in the country, so he began investigating. His digging ultimately led to lawsuits, a "60 Minutes" report and accolades from the well-known short seller Whitney Tilson, who also bet against Lumber Liquidators. "It's pretty amazing what he did on his own," said Tilson, head of Kase Capital Management, calling Zhou "the pioneer" of the Lumber Liquidators story. When Zhou began looking into the Toano, Virginia-based company back in 2013, he says he found online complaints about its Chinese-made flooring. So he bought products from Lumber Liquidators and paid to have them analyzed. The results led him to publish a post on investing website Seeking Alpha on June 20, 2013, that advocated shorting the stock because the tests showed levels of formaldehyde above California requirements. The stock fell 4.5 percent to $82.16 that day.

Lumber Liquidators gave an update on the case last week, when it said that the Department of Justice may file criminal charges stemming from an inquiry that began in 2013. The company expects to be charged with a misdemeanor or felony in connection with the case, Daniel Terrell, the chief financial officer, said on a conference call. bloomberg.com

Lumber Liquidators founder and president sued for selling $19M in stock while knowing retailer faced possible criminal charges over importing Chinese wood products

Three trucking companies settle with Pilot Flying J over ongoing rebate fraud case So far, 10 Pilot executives have entered into plea bargain agreements that require them to cooperate with federal investigators. The executives have yet to be sentenced in the ongoing federal investigation into allegations of diesel rebate fraud. In July, Pilot agreed to pay the government $92 million in civil penalties to avoid criminal charges. The agreement, however, does not protect individual company employees from potential future prosecution. ttnews.com

Boston Grocery founder gets no jail time in conspiracy to commit $1.9M wire fraud against Supervalu John David Farmer, the founder of a grocery store chain with a former location in South Boston received no active jail time but will participate in a home incarceration program for two years, with monitoring. The court ordered Farmer to pay $1,886,392.78 restitution to Kellogg Company, jointly and severally with a co-defendant in the case, John Morrell Palmer, and it ordered him be placed on probation for five years and pay a special assessment of $100, due immediately. Last October, Farmer pleaded guilty to the charge of conspiring with John Morrell Palmer III and others to defraud by wire Supervalu, Inc., and the Kellogg Company of $1.9 million. According to court records, the scheme involved Kellogg's selling product to Farmer's Food through Supervalu Inc., a wholesaler with operations in Mechanicsville, and Farmer's Foods also purchasing products from other manufacturers through SuperValu. Kellogg's offered incentive programs to encourage retailers to purchase certain types of Kellogg's products in given amounts during specified time periods. One incentive program in which Farmer's Foods and SuperValu participated involved deductions that were credited against Farmer's Foods running account with SuperValu when Farmer's Foods purchased Kellogg's product from SuperValu under a particular incentive. Upon awarding such a deduction against Farmer's Foods running account, SuperValu would then collect the amount of the deductions from Kellogg's. In his capacity as Team Sales Manager for Kellogg's, Palmer, then a Fredericksburg resident dealt with Farmer's Foods and was responsible for arranging and submitting paperwork for incentive programs. The scheme, according to the indictment, involved Palmer completing and submitting to Kellogg's over the Internet "Promotional Incentive Offers," also commonly known as "deal sheets," that provided for per unit "billback allowances" that reduced the net cost of the product purchased by Farmer's Foods under the deal in question. yourgv.com

Casey's opening 72 to 108 stores annually - Q3 same store sales up 14.1% - Here's one to watch

Game Stop now accepting Apple Pay in stores

Police opening substation at Monroeville Mall after shooting, fights A suburban Pittsburgh police department is opening a substation at a mall where three people were shot last month and hundreds of teens fought in December. The department says the substation will be open Friday and Saturday nights. The department closed its previous mall substation two years ago. After the fights in December, the mall said it would increase security patrols from one hour to four hours on Fridays and Saturdays. In response to the shooting, the mall late last month started banning minors who were not accompanied by adults on weekend evenings. Three people were shot at the mall's Macy's store Feb. 7. Two were critically wounded but expected to survive. wtae.com

Drug crimes the most frequently prosecuted crime in U.S. district courts But the numbers are down 14%. Criminal defendant filings declined by 11% to 81,226, the lowest total since 1999. Civil case filings in the U.S. district courts grew by 4% in the fiscal year that ended September 30, 2014, closing out the period just shy of 300,000. The number of civil and criminal trials completed in district courts dropped 6% to 12,186— a 12% decrease since 2010. wsj.com

Aaron's eliminates LP and moves Investigators over to Audit jobs after eliminating the VP LP position

LL Bean plans to triple stores over next 5 years - Has 26 full-price stores now & handful of outlets

Quarterly Same Store Sales Results
Brown Shoe Q4 Famous Footwear up 4% with net sales up 2.6%
Weis Markets Q4 up 3.5% with net sales up 4%
Express, Inc., Q4 down 2% with net sales up 1%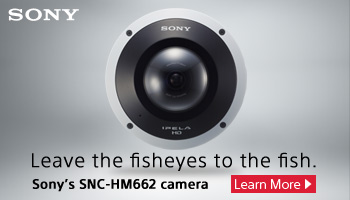 All the news - One place - One Source - One Time
The D&D Daily respects your time
& doesn't filter retail's reality
Report Your News!
(content subject to approval)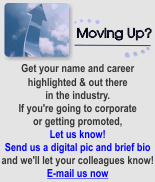 Press Release

Agilence receives $4.3 million in new funding to support growth initiative
Subscriber growth and product development to be supported by new financing
MOUNT LAUREL, NJ, March 11, 2015 - Agilence, Inc., the leading provider of SaaS based next-generation exception reporting solutions for retail loss prevention and operations, today announced that it has received $4.3 million in new funding to support the extraordinary growth the company has seen over the last two years. This round of financing was led by existing investor Laurel Capital Partners. New investor Drayton Park Capital and existing investors Granite Ventures, Next Stage Capital and Aster Capital also participated.

"Over the last two years we have developed, launched, and supported the market's best exception reporting solution in Retail 20/20. We will be continuously adding new features and functionality, as well as adding to our top notch sales, software development and support teams," said Russ Hawkins, CEO, Agilence, Inc. "This new round of financing will go a long way in helping us continue to develop and support Retail 20/20."

Since launching Retail 20/20 in 2013 the application has been adopted by 35 industry leading retailers, with 20 coming on board in 2014. The new funding will allow Agilence to continue building the best-of-breed exception reporting and operational intelligence capabilities of Retail 20/20. The funding will also support continued growth through 2015 and beyond.

"I have had the pleasure of watching Agilence transform and grow into an industry leading provider of SaaS-based reporting tools," said Jay Weber, Founding Partner, Laurel Capital Partners. "When the opportunity arose to lead their most recent round of financing the decision was simple. I am excited to see the evolution of Agilence and Retail 20/20 continue."

About Agilence
Agilence (www.agilenceinc.com) is the industry leader in next-generation exception-based reporting solutions for retail loss prevention and operations. Agilence develops Retail 20/20, a highly flexible and powerful, cloud-based reporting solution that provides visibility into daily store operations to reduce fraud and operational inefficiencies. Retail 20/20 provides users with a complete view of their business, empowering them to make informed decisions faster, to increase efficiency and improve profit margins across the enterprise. Founded in 2006, Agilence, Inc. is headquartered in Mount Laurel, NJ. To learn more about Agilence, please email sales@agilenceinc.com or call 856-366-1200.


2015's Let's Get LP Social
We still want your Group LP Selfies - So keep them coming retail LP teams!

Submit a group selfie of you and your LP team and you could get a plaque. Please submit a high resolution photo (300 dpi) and logo at 5" wide for your printed plaque, and if you have a tagline or slogan either from your team or from the company, please send it to us as well for inclusion on the plaques and here on the Daily. Click here for more details.


New Group LP Selfie


GameStop Field Loss Prevention Team at their 2015 Field Management Conference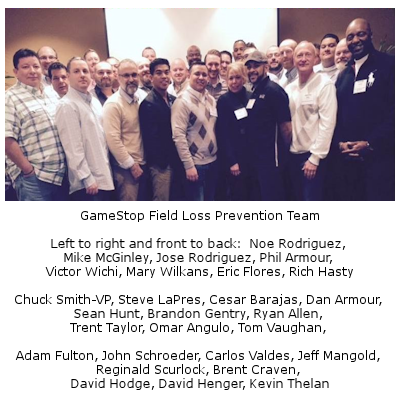 View all the selfies here!
Sponsored by:



Loss Prevention News Network

Incorporated in California in 1998, WG has been turning heads in the EAS and RFID industry with its ingenuity and out-of-the-box thinking since its inception. In this LPNN interview, Graham Handyside, EVP Worldwide Operations, and Ed Wolfe, VP Business Development, WG Security, tells us about the innovative products that have come from addressing their customers' various needs over the years, such as the Seal Tag, the Ninja Tag, and the Skyguard 2A system. In this video, also learn about WG's Eyes on U product - a three-in-one solution that combines the functionality of EAS, RFID and video.

---
In this LPNN Quick Take, Rex Gillette, Vice President Retail Sales, Protection 1, tells Joe and Amber a little bit about the secret sauce behind Protection 1's success since entering the retail LP market - great customer service. Rex also provides some helpful advice to professionals in the industry.

Solution Providers, have a video or commercial you want to publish? Contact us.


e-commerce

Sponsored by The Zellman Group
Mobile Wallets as Credit Card Killers
While brick-and-mortar transactions may have garnered the most attention when it comes to mobile wallet efficiency, the technology really shines in the realm of online shopping, where diverse payment methods provide a boon to convenience. The potential for mobile wallets could have a profound impact on the world of online transactions -- and while the technology is still evolving, mobile wallets are more than just credit card killers. There are three ways that mobile payments won't just help, but will revolutionize e-commerce.

1. Notable Convenience - When it comes down to it, mobile devices are more flexible shopping tools than desktops. Now, as mobile wallets make payments through these devices much simpler, it's likely that mobile payments as a primary means of payment will see major growth in the coming years.

2. Bring Mobile Commerce to Prominence - With the one-two punch of high e-commerce traffic and improved transactional convenience via mobile wallets, the sky is now the limit for mobile commerce. Expect to see people make use of mobile-optimized buy buttons, with transactions just a finger tap away.

3. Give Retailers Choice - As more players begin to enter the fray, anticipate an increase in competition in the space, which is a good step for making this technology less expensive and easier to implement for different retailers. This competition is especially helpful for online retailers, who will be able to choose among platforms like Amazon Payments, Apple Pay and PayPal. ecommercetimes.com

Current account fraud underpins rise in ID theft Experian, the global information services company, reveals that fraud-detection rates have increased during the past year*, with around 50 frauds now being detected per 10,000 cases during Q4 2014 - compared to 40 frauds detected per 10,000 cases in Q4 2013. Experian's annual fraud report also reveals a marked shift in the level of third-party or identity theft - when a victim's identity is stolen - as a proportion of all detected fraud cases. It's a trend that has been developing over the past year and now accounts for more than half (52 per cent) of all detected fraud cases. The switch reflects a return to pre-downturn levels of identity theft when it previously eclipsed first-party fraud (ie fraud carried out by a genuine person). Detected first-party fraud, as a proportion of all frauds, has now decreased from 60 per cent of all fraud cases in Q4 2013, to 48 per cent of fraud cases as at Q4 2014. The number of card applications detected as fraudulent has increased annually, from 39 frauds detected per 10,000 cases in Q4 2013, to 44 cases per 10,000 as at Q4 2014. Cards remain the product most targeted by identity fraudsters, but the number of identity thieves targeting cards has remained static in the last year - 79 per cent of all detected card fraud from Q4 2013 to Q4 2014. finextra.com

"Fraud is not a person - it is a dynamic grouping of statistics that deviate from the norm."
Stuart B. Levine, CFI, CFCI
CEO, The Zellman Group & Zelligent


ORC News
Sponsored by Security Resources
Update on the Awwad Criminal Gang - Toledo's ORC gang selling electronics stolen in Toledo sold in Michigan and the Middle East Twenty-six people, most of them from the Toledo area, were indicted in federal court for their roles in a wide-ranging conspiracy in which stolen computers, smart phones and other electronics were fenced at stores in Toledo and resold in Michigan and the Middle East, law enforcement officials said.

Some members of the conspiracy used firearms, threats and violence as part of their operation. Others illegally cashed millions of dollars' worth of checks at their stores. Others sold counterfeit clothing from their stores. And members of the conspiracy worked together at various Toledo stores to launder money, according to the indictment.

Mamoun Awwad, Adnan Awad, Ihab Awad, Ayman Awwad, Anwar Awad, Kamal Awwad, Fady Awwad and Aref Kahala are family members who own and operate various businesses in Toledo, including clothing stores, electronics stores and grocery/convenience stores. They use these businesses to facilitate various criminal schemes, including the sale of counterfeit goods, trafficking stolen goods and unlawfully cashing checks, according to the indictment.

The Awwad family enterprise bought stolen electronics, such as iPhones, iPads and Samsung cellular phones, from drug addicts and low-income people, then altered the electronics' hardware and software so they could be registered on cellular networks. The Awwad family enterprise then sold the stolen electronics locally, in Michigan and overseas. Mamoun Awwad did this, in part, by meeting with crew members of Royal Jordanian Airlines in Detroit to have them transport electronics and cash, according to the indictment.

The goal of the conspiracy was to generate cash and send it overseas to establish a series of residences in Rammoun, Palestine, for members of the Awwad family enterprise and their families to own and occupy, according to the indictment.

The family unlawfully cashed checks at the Reynolds Quick Stop and other grocery/convenience stores as a way to generate revenue and launder proceeds from the sale of counterfeit and stolen goods. The family cashed more than $11 million in checks at various store locations between 2011 and 2014, according to the indictment.

The family also knowingly sold shoes, sweat suits, t-shirts and other clothing bearing counterfeit logos and trademarks of brands including Nike, Timberland, Coogi, Ralph Lauren, RoccaWear, Ecko, Lacoste, Dolce Gabbana and others, according to the indictment.

The Awwad family enterprise used violence and threats of violence to maintain control of the stolen goods market in Toledo. For example, Mamoun Awwad threatened someone with a 9 mm pistol while an employee held a knife of their throat. In another incident, Mamoun Awwad assaulted someone outside a cellular phone store because that person tried to sell seven stolen iPhones without Mamoun Awwad's permission, according to the indictment.

The conspiracy took place from 2006 through 2015, according to the indictment.

"This is a sophisticated crime and money-laundering racket whose reach stretched from Ann Arbor to Amman," Dettelbach said. "According to the indictment, they bought stolen electronics, often from drug addicts in Toledo, and shipped them out of the state and country for millions of dollars."

"The Awwad criminal enterprise used force and intimidation to control their complex network of illegal schemes all in an effort to line their bank accounts with millions," Anthony said. Editor's Note: According to a 'multiple sources' this case ranges anywhere fro $25M to $35M in stolen goods. justice.gov

11 suspects charged with $742,000 fraud using counterfeit credit cards at Sam's Club in Detroit Eleven people have been charged with running identity theft and credit card fraud schemes in southeastern Michigan. Angela Patton of Belleville is accused of sharing Blue Cross Blue Shield of Michigan subscribers' personal information with people who then used it to apply for credit cards. Investigators say Patton and the 10 others accused in the scheme stole information belonging to more than 5,500 policy holders from the company's information system. Court records state three of the co-conspirators used counterfeit credit cards to purchase more than $742,000 worth of merchandise from Sam's Club. thetimesherald.com


ORC female gang member who had Walmart register keys hitting stores across the country arrested in Palm Beach, FL. The Palm Beach County Sheriff's Office said Amy Gallo, 52, walked into a Walmart in November 2012 with two other people and took $1,800 in cash out of the register using a register key. Security guards at the store, located at 101 N. Congress Avenue in Lake Park, realized that the theft was one of many happening at several stores across the country. Store employees estimated the group Gallo was part of had taken $10,000 from ranging from Ohio to Florida. According to Gallo's arrest report, she and two of her accomplices were caught taking cash out of a register in Port St. Lucie in January 2013. Gallo and two other men, Forest Gilliam and Garland Ware, were arrested after a security guard at that Walmart recognized them and called police, according to the report. Gallo told Palm Beach County Sheriff's deputies in July 2013 that Gilliam was the ringleader of the operation. She said they were all from Ohio and would travel on trips to get cash from Walmarts in a certain area. Each trip would garner upward of $7,000, according to the report. sun-sentinel.com

Central figure in murder-for-hire plot arrested for organized retail crime in Co. The central figure in the Clarence Gomery, murder-for hire, case is now facing his own set of criminal charges. Dale Fisher was charged Wednesday for organized retail fraud, first degree retail fraud, as we as third habitual offender. On March 5, Clarence Gomery was sentenced to six to 20 years in prison for trying to hire Dale Fisher to kill Chris Cooke in 2014. upnorthlive.com

Four ORC males steal over $15K in sunglasses from Sunglass Hut in Pier Park, Panama City - Statewide operation - Similar burglaries seen across Florida Sunglass Hut at Pier Park was broken into in the early morning hours Monday and now police are searching for those responsible. Panama City Beach Police report this was a professional job done by four individuals who knew exactly what they were doing. A picture from surveillance video taken from Monday mornings burglary shows a white car pulled up to the front door of the Sunglass Hut. Police say four individuals wearing masks and hoodies broke the lock on the front door of the business and quickly ripped the security system off the wall so that it would not alarm authorities. "They were in and out in about five minutes," said Captain Robert Clarkson of the Panama City Beach Police Department. "All we know is that this morning a white van pulled in front of the sunglass hut, four males entered with carrying bags, and basically took all the sunglasses that were on display and left -- probably well over $15,000 worth of sunglasses. Police say similar burglaries are going on statewide. A white van has been seen and the same amounts of males go in and they're disguised with hoodies and a mask over their face. dothanfirst.com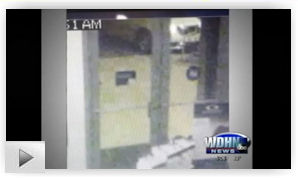 Two women arrested for using counterfeit credit cards at West Palm Beach mall Two women were arrested Monday after using counterfeit credit cards at the Palm Beach Outlets in West Palm Beach. According to the arrest report, Lekaelin Patterson and Malaka Eckles were using the counterfeit cards to make purchases at several stores in the mall. Security at one of the stores became suspicious and called police. The pair were confronted in the parking lot by police. The police report says the two admitted to buying the cards from someone on Craigslist. Patterson and Eckles were arrested and charged with passing counterfeit credit cards. They remain in the Palm Beach County Jail on $10,000 bond each. wpbf.com

Two women who led Denver-area fraud ring targeting banks, businesses indicted
Do you have an ORC case to share?
Share your ORC news and help the industry grow

Retail Crime News

Sponsored by NuTech National
Just Like the Movies - 15 Armed 'Battle-Hardened' men ambush two vans carrying jewels worth $9.5M U.S. on French Highway Wed. Morning - Was it the 'Pink Panthers Gang?" Forcing out the drivers with gas and speeding away, according to police. It was the latest in a string of big jewel heists in France. No one was injured in the attack on the A6 highway connecting Paris and Lyon, and the drivers of the two vans were left at the scene unharmed, a police official said. The perpetrators escaped in four cars and the two vans, which police later found burned and abandoned near the site of the attack, the official said. Forensic investigators in white suits examined the area around the charred vans amid vineyards in the town of Quenne. An official said the two vans were found burned in a forest near the site of the attack.

It wasn't clear where the attackers were heading. After hours of searches failed to locate them, another police official said, authorities were concentrating efforts on the investigation, which was handed to the French police agency overseeing organized crime. There have been a number of recent jewel thefts in France.

No suspects have been named in Wednesday's theft, although the case was reminiscent of heists by the "Pink Panther" gang. The Pink Panther network has been credited with a series of thefts that Interpol says have netted more than €330 million ($353 million) since 1999. dailymail.co.uk wsj.com
East Coast skimmer in $5M multi-state ATM skimming scheme found guilty faces 30 yrs. - 12 of 16 suspects plead guilty in New Jersey Prosecutors say 28-year-old Dinu Horvat installed card-reading devices and hidden cameras on ATMs throughout New Jersey, New York, Connecticut, Florida and other states. Prosecutors say the stolen information was used to create fake ATM accounts that cost banks at least $5 million and affected thousands of bank customers. Twelve out of 16 people accused of participating in the scheme have pleaded guilty. Faces 30 years in prison. pressofatlanticcity.com

Construction worker shot dead outside infamous 'Murder Kroger' in Atlanta - suspects flee Atlanta Police hope someone will recognize a black BMW and the two men who were inside of it, as seen on surveillance video outside the Kroger supermarket at 725 Ponce de Leon Avenue NE, in Atlanta. The video shows the men, at about 2 p.m. Tuesday, breaking into a pickup truck belonging to RGWilliams Construction. The pickup was parked in the customer parking area at the side of the Kroger. Police say one of the men shot and killed the driver, a construction worker in his late 30s, when he approached them to find out what they were doing. They sped away in their BMW. The unspeakable crime Monday afternoon outside that Kroger is reality enough for many who believe the "Murder Kroger," as they've called it for two decades, continues to symbolize the crime in the whole area. On Monday, Kroger did add more security guards, patrolling inside and outside the store, just hours after the man was shot to death. People have been calling this store the "Murder Kroger" since 1991, when a man shot and killed a customer, Cynthia Prioleau, just outside the entrance. Police have never solved her murder. 11alive.com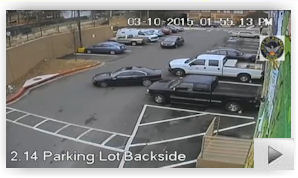 Milwaukee Police shoot suspect during armed robbery at Dollar General Some Milwaukee residents are backing the Milwaukee Police Department following an officer-involved shooting that occurred Monday afternoon, March 9th at a Dollar General store near Locust and Humboldt. Police say the 20-year-old who was shot continues to receive treatment at the hospital for serious injuries. Milwaukee Police Chief Ed Flynn says two officers responded and encountered the armed, masked man in the midst of robbing the store. "He refused demands to drop his weapon and apparently turned toward the officer - one of our officers and seven-year veteran, age 38, fired one shot, striking the suspect. The suspect then shot himself," Chief Flynn said at the scene Monday. This was the third time since December this Dollar General store was robbed. fox6now.com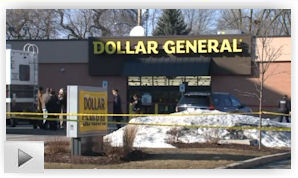 Strip Mall Shooting in Echo Park, Los Angeles Spawns Police Pursuit - 1 injured, 3 in custody A shooting at an Echo Park smoke shop Tuesday evening left one person injured and spawned a half-hour police pursuit that ended with three people in custody and officers searching for a fourth connected with the incident, authorities said. Just before 5:50 p.m., a shooting occurred at smoke shop in a strip mall in the 2600 block of Sunset Boulevard, Los Angeles Police Officer Mike Lopez said. A police helicopter spotted a vehicle quickly fleeing the scene and followed the car to the 110 Freeway onramp near Adams Boulevard and Flower Street. There, three people in the car were taken into custody about 6:30 p.m., LAPD Officer Drake Madison said. The gunshot tore through the leg of the victim in the smoke shop, Lopez said. The victim was taken to a hospital, and the wound was not believed to be life-threatening. latimes.com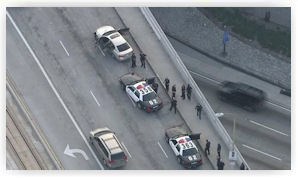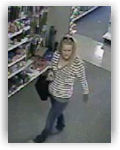 Suspect's image on website leads Port Townsend, WA police to arrest The Port Townsend Police Department (PTPD) has seen quick results from fresh publicity on a website that posts images of subjects wanted for questioning in shoplifting cases. On Feb. 26, the loss prevention manager of the Forks Outfitters store emailed the PTPD after reading about, and then visiting, the website, said PTPD Detective Luke Bogues. The businessman recognized the individual pictured in case no. 14-9778 as Trinston Rigby, 29. The case is about the alleged theft on Dec. 30, 2014 of two flashlights valued at $86 from Henery Do It Best Hardware in Port Townsend, Bogues said. ptleader.com

Habitual offender busted hitting Walmart store in Traverse City, MI for $1,700 in liquor

Habitual offender in Harrisburg busted with multiple boxes of hand soap - becomes felony

Lowe's cashier sentenced to two years conditional discharge for activating $1,020 in gift cards in Urbana

Suspect arrested in $13,398 grab-and-run theft at Kay Jewelers in Steubenville, OH

Wayne, NJ police make shoplifting arrests at local Sears, ShopRite, Old Navy stores

Three people arrested at Glasgow, KY Wal-Mart

North Platte, NE woman with meth pipe arrested for $200 Walmart theft

Philly man arrested after attempting to use counterfeit $100 bills at Wegmans

Father commits return fraud at Morgantown, NC Walmart to provide for child

Man arrested at Myrtle Beach Walmart stealing steak and shrimp


Robberies and Burglaries
● Advanced Auto Parts - Lehigh Acres, FL - Armed Robbery
● Circle K - Indianapolis, IN - Robbery - Also robbed Speedway
● Citgo - Daytona Beach, FL - Robbery
● Family Dollar - Buffalo, NY - Robbery
● Family Dollar - Gulfport, MS - Armed Robbery - Five teens arrested
● Family Dollar - Hampton, VA - Robbery -
● Kangaroo - Moore County, NC - Armed Robbery
● Martha's Village Thrift Store - Riverside, CA - Burglary
● North Central Liquor - Valley Stream, NY - Robbery
● Quick Shop - Lexington Park, MD - Armed Robbery
● Speedway - Indianapolis, IN - Robbery
● Speedway - Vandalia, OH - Armed Robbery
● Sunglass Hut - Panama City Beach - Burglary


Featured Job Listings
Sponsored by NuTech National
Feature Your Job Here For 30 Days -
70% Aren't On the Boards
VP of LP
Mattress Firm
Houston, TX
Mattress Firm
Director of Risk Mgmt & AP
Goodwill - Easter Seals, MN
ST Paul, MN
Goodwill - Easter Seals, MN
Director Fraud Analytics & Investigations, Global Investigations
Starbucks
Seattle, WA
Starbucks
Director AP
Big Lots
Columbus, OH
Big Lots
Director of LP
Haagen Grocery Stores
Seattle, WA
Supervalu
Director of LP
PacSun
Anaheim, CA
PacSun
Director Global AP
KFC & PH
Plano, TX
YUM! Brands
VP Supply Chain, LP & Safety
Ross Stores
Ft. Mill, SC
Ross Stores
VP of Sales
Checkview
Chanhassen, MN
Checkview
Corporate Mgr LP
Five Below
Philadelphia, PA
LinkedIn
Regional Dir AP
Rite Aid
Albany, NY
Rite Aid
Regional Dir AP
Rite Aid
Warwick, RI
Rite Aid
Regional Dir AP
Rite Aid
Baltimore, MD
Rite Aid
Dir of AP Dist. Centers
Dollar General
NA
Dollar General
Director of Divisional LP
Dollar General
Goodlettsville, TN
Dollar General
AP Manager
Ralph Lauren
New York, NY
Ralph Lauren
Regional LP Manager
National Stores
Chicago, IL
Downing & Downing
Regional LP Manager
National Stores
Northern Bay Area, CA
Downing & Downing
Regional LP Manager
National Stores
Phoenix, AZ
Downing & Downing
Market Asset & Profit Protection Manager
Sears
Little Rock, AR
Sears Holdings Corp
Zone Asset & Profit Protection Mgr
Sears
Miami, FL
Sears Holdings Corp
Zone Asset & Profit Protection Mgr
Sears
Cincinnati, OH
Sears Holdings Corp
Zone Asset & Profit Protection Mgr
Sears
Cleveland, OH
Sears Holdings Corp
Market Asset & Profit Protection Manager
Sears
Baltimore, MD
Sears Holdings Corp
Market Asset & Profit Protection Mgr
Sears
Los Angeles, CA
Sears Holdings Corp
Zone Asset & Profit Protection Mgr
Sears
Houston, TX
Sears Holdings Corp
Zone Asset & Profit Protection Mgr
Sears
Dallas, TX
Sears Holdings Corp
Regional AP Mgr
SpartanNash
Grand Rapids, MI
LinkedIn
LP Manager
Bowlmor AMF
Long Island, NY
Bowlmor AMF
LP Manager
Bowlmor AMF
Dallas, TX
Bowlmor AMF
Regional LP Manager
Tilly's
Orlando, FL
Tilly's
Market AP Specialist
REI
San Francisco, CA
REI
Market AP Specialist
REI
Chicago, IL
REI
Sr Retail AP Specialist
REI
Denver, CO
REI
Sr Retail AP Specialist
REI
Bloomington, MN
REI
Market AP Specialist
REI
Los Angeles, CA
REI
Store AP Officer
Wegmans
Buffalo, NY
Wegmans
Sales Representative
NuTech National
Maitland, FL
NuTech National
National Account Executive
Checkview
Northeast Region
Checkview
National Account Executive
Checkview
United States
Checkview
Corporate Investigator
Confidential
San Francisco Bay, CA
Confidential
National Account Manager
Vector Security, Inc
TBD
Vector Security, Inc

Limited Time Only - Post Your Multi-Unit LP jobs for FREE - Learn More Here


Daily Job Alerts


Appearing One Day Only
View our Internet Jobs Archives here
Regional LP Manager
Dollar General
Greensboro, NC
Dollar General
LP Supervisor
JC Penney
Abingdon, MD
JC Penney
AP Manager
Lord and Taylor
Freehold, NJ
Lord and Taylor
AP Manager
Lord and Taylor
Northbrook, IL
Lord and Taylor
Dept Mgr LP & Safety
Lowe's
Kingston, NY
Lowe's
District LP Specialist
Orchard Supply Hardware
Sacramento, CA
Orchard Supply Hardware
LP Manager Hrly
Kmart
Madison, TN
Sears Holdings Corp
LP Manager Hrly
Kmart
Waynesboro, VA
Sears Holdings Corp
LP Manager Hrly
Kmart
Brunswick, OH
Sears Holdings Corp
District AP Manager
Stage Stores
Lafayette, LA
Stage Stores
District AP Manager
Stage Stores
Corpus Christi, TX
Stage Stores
ETL Assets Protection
Target
Livonia, MI
Target
ETL Assets Protection
Target
Salinas, CA
Target
AP Manager
Sam's Club
Dothan, AL
Wal-Mart
AP Manager in Training
Walmart
Lodi, CA
Wal-Mart
AP Manager in Training
Walmart
Jacksonville, AR
Wal-Mart
AP Manager in Training
Walmart
Charlottesville, VA
Wal-Mart
AP Manager in Training
Walmart
Dublin, OH
Wal-Mart
AP Manager in Training
Walmart
Elk Grove, IL
Wal-Mart
AP Manager in Training
Walmart
Commerce, TX
Wal-Mart
AP Manager in Training
Walmart
Wellington, KS
Wal-Mart
AP Manager
Sam's Club
Albany, GA
Wal-Mart
Flagship Mgr LP
Gap Inc
New York, NY
Gap Inc
LP Manager
Associated Grocers
Baton Rouge, LA
Associated Grocers
Regional LP Mgr
Rent-A-Center
New York, NY
Rent-A-Center
Regional AP Mgr
Toys R Us
Joliet, IL
Toys R Us


Home of the Industry's Original
On the Move

Christopher Fulkerson, CFI was named Regional Loss Prevention Manager for CVS Health.

Post Your New Job or Promotion!
See all the Industry Movement


Your Career
Sponsor this section of the Daily
Assessment: How Well Do You Communicate During Conflict? While we may be able to convey our messages clearly and effectively under normal situations, when placed under conflict it can often bring out the worst in our communication skills. Take this test to see how well you communicate under stress and where you can improve. Do you speak first?

The Truth about 'Fake It 'Til You Make It'
It's true that we sometimes exaggerate our knowledge, experience, accomplishments to make us look better or more credible. It's even easier to do so online. Why do we do this? Here are some reasons. Don't fake it

How Anxiety Affects Your Decision-Making Skills If you're prone to anxiety, the choices you make in the future may be skewed by your past situations. Anxious people are more prone to making bad decisions according to UC Berkeley research. There are ways to better manage your decision-making process despite anxiety. Here are a few. Be aware of what's happening

How to Form Habits that You'll Keep for Life Forming new habits can be hard. It takes tons of dedication, self-discipline and motivation. No matter what habit you're trying to form, losing weight or getting out of debt, here are some helpful strategies to use. One small step at a time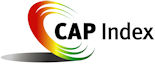 Tip of the Day
Sponsored by Vector Security
Asking for advice is a great thing and we all need it from time to time merely because as the old adage goes we're too close to the trees to see the forest. However, the key is who you ask for it and what are their agendas, because we all have them and even well intentioned advice can be swayed by an individuals need or desire to accomplish their objectives. Advice is the easiest thing to give and the hardest thing to practice. But getting a second opinion is always good. You've just got to realize that we're all just humans and even the best advice givers and mentors are influenced by their own needs.

Just a Thought,
Gus







Upcoming Events
---
Recruiting?
Get your job e-mailed to everyone... everyday
Post on our Featured Jobs Board!
Reach your target audience in 2015 every day!
Request our 2015 Media Kit
update account / change e-mail
unsubscribe FEEDBACK
www.downing-downing.com

Advertise With The D&D Daily




36615 Vine Street, Suite 103
Willoughby, OH 44094
440.942.0671
copyright 2009-2019
all rights reserved globally