The D&D Daily Mobile Edition
March 12,

2015



The LP Industry's #1 News Source - Informing, Educating and Instilling a sense of community


Moving Up

Kelly Schultz was named Manager - Global Logistics & Customs Compliance for AM Retail Group. Kelly was previously the Manager - Global Trade Security Partnerships for Target before taking on this new role. She had been with Target since 1987 and has held such positions as Import Logistics Analyst - International Transportation, Supervisor, Overseas Operations - International Transportation, Assets Protection Team Leader - International Supply Chain Security, and Senior Business Partner - International Assets Protection. Congratulations Kelly!

News Brief
Sponsored by WG Security Products, Inc.
Major specialty retailer LP Director reporting into Chief Information Officer the CIO In what might be a new trend long term the LP function at a major specialty retailer now reports direct line into the CIO's pyramid. Interesting development given what's happened in retail over the last two years. With hackers, rogue employee's, BYOD, remote access to company data, and third party exposures it make sense to have the investigative subject matter experts reporting into the area that in today's connected world represents more of a threat than any ORC gang. The synergies and united effort it creates gives the organization a real-time response model that combines the best of both worlds. And given the SEC's recent announcement that the Board will be individually liable for cybersecurity it makes sense to have both groups connected at the hip. Long term it also feeds the evolution of the LP executive to potentially develop into more of a CSO role because it eliminates the gap and forces educational development. Stay tuned next week as we name the retailer and give the reasons behind the recent shift from the traditional operations or finance reporting structures. Just a thought - Gus Downing

Dollar General accelerating expansion again - The Biggest LP roll-out of 2015! Dollar General chairman and CEO Rick Dreilling said the company will add to its 2014 year end store total of 11,789 units in 2015 by opening 730 new stores and remodeling 875 others. Editor's Note: As previously mentioned in the Daily they're also adding 22 Loss Prevention positions. retailingtoday.com

More than half of North American chief audit executives directed to change or ignore results of their investigations According to the Institute of Internal Auditors Research Foundation. The survey of 500 audit executives found that many of the auditors had been threatened either physically or with being fired, while others suffered cuts in internal audits staff and budgets as part of concerted efforts to neutralize them. The results underscored the extent to which chief audit executives "encountered some form of political pressure, almost on a daily basis. Of those questioned, 55% reported pressure to change their audit reports, while 49% said their managers or executives directed them to avoid high-risk areas of the business. The report also found 32% of the auditors reported that executives used audits to attack others in the company, by asking investigations to focus on low-risk areas to find dirt on specific people. The results will be used to raise awareness of issues auditors face and make recommendations for improvement. wsj.com

Cargo Criminals Eye Backlogged Cargo in West Coast Ports As terminal operators and truckers try to process the weeks or months of backlogged cargo at West Coast ports, thieves are looking to grab low-hanging fruit. The surge in cargo activity resulting from the normalization of West Coast port operations is expected to stress trucking assets and port security. Fictitious pickups in the above-mentioned ports have been 100% higher than the national average over the past two years. The pressure to process cargo speedily could lead to complacency or leniency in port security practices as well as carriers' use of less seasoned drivers. Overriding best practices for transportation security could open doors for opportunistic thieves, including organized cargo theft groups. The Port of Los Angeles estimates it will take three months to get back to normal. Oakland figures on eight weeks. The fourth quarter of 2014 saw a surge in the volume of cargo thefts in the U.S., Security Today reports, citing the Supply Chain Information Sharing and Analysis (SC ISAC) 2014 Q4 report. Reported incidents of cargo theft in the fourth quarter rose 40% from the third quarter. With massive cargo flow and potential lapses in security at the ports and on the road, cargo carriers are urged to double down on their cargo theft prevention. roanoketrade.com

Verizon report: Security testing compliance down - But data breaches push 'restricting access' & 'authentication compliance' up Big Time Compliance rates between audits increased substantially across all PCI DSS requirements except for security testing, according to Verizon PCI Compliance and Security report. The average increase was 18% with 20% validating as compliant in their interim reports, up from just 11% in 2013 and 7.5% in 2012. However, this means that 80% are out of compliance between audits. In particular, the ration of companies complaint on Requirement 11, testing security systems, dropped from 40% to 33%. Companies were most likely to be in compliance with Requirement 7, restricting access, where 89% were compliant between audits, last year, up from 60% in 2013. With the biggest improvement being in Requirement 8, authenticating access, where compliance more than doubled from 33% to 69%. csoonline.com

Lumber Liquidators Says Sales Fall 12.7% After '60 Minutes' Report - Flooring company plans to offer free air-quality testing Lumber Liquidators Holdings Inc. said Thursday that its sales have slid 7.5% since a "60 Minutes" segment earlier this month alleged the company's Chinese-made laminate flooring doesn't meet California's emissions standards for levels of formaldehyde, a known carcinogen. In the nine days after the "60 Minutes" segment ran, Lumber Liquidators said its same-store sales fell 12.7% compared with a year ago. Since the segment ran, Lumber Liquidators said negative sentiment toward the company has doubled, with about 8% of consumers now saying they wouldn't buy from the company. The report has attracted government interest. Last week, Sen. Bill Nelson (D., Fla.) sent a letter to the heads of the Consumer Product Safety Commission, the Centers for Disease Control and Prevention and the Federal Trade Commission, calling for an investigation into Lumber Laminates' laminate flooring. wsj.com

Boise Police work with Retail LP executives to stop Credit Card Fraud - Idaho's ORC Association getting press The loss prevention people's help is just invaluable in these cases," said Detective Wade Spain of the Boise Police Department's Financial Crimes Unit. "Literally, we would not have known about that incident until probably weeks later had they not notified us right away." The Boise Police Department organized a business crime watch program in 1987. Officers taught business owners how to protect their stores from crime and educated them on the law and the prosecution of offenders. Later, they told owners to contact members of the Financial Crimes Unit directly by phone or email to report suspicions of organized retail thefts. In December, the department helped establish the statewide Organized Retail Crime Association of Idaho for law enforcement agencies and retailers to share information about the changing trends and tactics of crime groups. The association also allows incident and suspect information to be uploaded to a restricted-access website and for crime alerts to be sent out in real time. More than 20 retailers and a dozen law enforcement agencies, with 150 individual members, belong to the group. Regular email alerts are sent out, and members meet monthly. "When it comes to any sort of criminal activity, we're always happy to cooperate and work with law enforcement," said Stephen Holmes, a spokesman for Home Depot at the company's Atlanta headquarters. "These retail loss-prevention folks know to call us and that time is of the essence. We have to give them a ton of credit for helping us," Spain said. idahostatesman.com
Retail sales fall 3rd straight month in Feb. - harsh weather kept consumers from auto showrooms & shopping malls - could hurt Q1 Snowy and cold weather and the now-settled labor dispute at the country's West Coast ports, which disrupted the supply chain, hurt economic activity early in the year, but the slowdown in growth is seen temporary against the backdrop of a rapidly firming labor market. The decline in sales last month was fairly broad-based, suggesting that bad weather that blanketed the country in the second half of February could have been a factor. nytimes.com

Food & Electronics Consume US Tweens & Teens $208B Spending Power - Decimating Legacy Mall-Based Fashion Brands - Is Aeropostale Next? Food is now taking a greater percentage of the teenage wallet than fashion for the first time in the survey's history. Teens now choose coffee shops with outlets and wireless connections as their hangout of choice over shopping malls, so they're spending more of their money on Starbucks SBUX -0.82% drinks, not clothes, the survey concluded. And while they're still concerned with keeping up with peers, those peers are increasingly focused on keeping up to date on apps and the latest technological gadgets. This all spells trouble for legacy mall-based brands like Aeropostale. forbes.com

Walgreens Boots CEO "the next big one will probably be in U.S." - Speculation "Rite Aid an attractive acquisition target" Said he could imagine doing more deals in the United States as the healthcare system is shaken up by Obamacare. "The next big one will probably be in the U.S. because it is such a big market. It is a fascinating market," Pessina, acting chief executive of Walgreens Boots, told the Retail Week Live conference. There has been speculation that Walgreens' smaller rival Rite Aid Corp (RAD.N), which is acquiring full service benefit management company Envision Pharmaceutical for $2 billion, could itself be an attractive acquisition target, with Walgreens having expressed interest in buying it in the past. reuters.com

CargoNet reports $89.5M in stolen cargo in '14 - Electronics most costly - with average heist hitting $549,539 & 50% of all thefts - Organized Crime! Cargo theft prevention and recovery service provider CargoNet said there were 844 cargo theft incidents last year, down sharply from 1,098 in 2013. Also, the average value per incident increased to $181,681. For all of 2014, $89.5 million in stolen cargo in the U.S. was reported to CargoNet. Electronics losses were the costliest, with the average value at $549,539, and totaling more than $42 million for the year. Cargo was most often stolen from warehouse locations, due in part to a significant amount of fraudulent pickups in the trucking industry, according to CargoNet. Truck stops were the second most common location, with 130 recorded. In 2014, Georgia recorded the most cargo thefts from truck stops with 26. As for expectations this year CargoNet is forecasting to see more than 200 cargo thefts in first-quarter 2015. So far, more than 120 incidents have been recorded and 9.5% have been high-value thefts in excess of $500,000. bizjournals.com

Mall incident leaves 4 dead, over 30 injured in Kazan, Russia A shopping mall has caught fire and collapsed in the Russian city of Kazan, leaving four people dead and over 30 others injured. "Some 4,000 square meters has been affected by the blaze, the fire doesn't spread any further, and we're putting out separate spot fires. The left part of the building has collapsed, the firefighters units can't enter as there is a danger of further destruction." Over 600 people have also been evacuated from the site over safety precautions.

A 28-year-old woman died in the blaze and three other people died of their injuries in hospital. Local law enforcement personnel said over 30 people have been injured of which 20 have been hospitalized while others sought lesser medical assistance. One person, however, is still missing. The area is being searched by trained dogs to possibly find more people trapped under the ruins.

The cause of the fire is still under investigation; however, a gas leak is suspected to be behind it. The fire started in the mall's cafe located on the ground floor of the shopping center. Kazan is the capital and largest city of the Republic of Tatarstan and is located 810 kilometers (503 miles) east of Moscow. presstv.ir nydailynews.com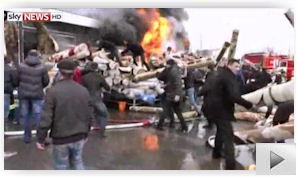 Systemax to close TigerDirect brick-and-mortar stores Systemax, the parent company of Miami-based TigerDirect, said Wednesday it plans to exit its brick-and-mortar electronics business. The company will focus exclusively on selling online and directly to businesses. The move will include closing a distribution center and 31 of its 34 stores and the company will lay off an unspecified number of workers. The announcement accompanied the company's fourth-quarter earnings. miamiherald.com

Bi-Lo Holdings closing 6 stores

Google opens its first-ever branded retail space


Quarterly Same Store Sales Results

Genesco Q4 up 10% with net sales up 12.6% - full year net sales up 8.9%
Kirkland's Q4 up 8.2% with net sales up 14.5% - full year comp's up 6.1% with net sales up 10.2%
Dollar General Q4 up 4.9% with net sales up 9.9% - full year comp's up 2.8% with sales up 8%
Men's Warehouse Q4 - Men's Warehouse up 6.8%, Moores up 8.6%, K&G up 6.8%, Jos. A. Bank down 6.6% - with total net sales up 65.6% due to acquisition
The Bon-Ton Stores Q4 up 4.3% with total sales up 3% - full year comp's up 0.2% with total sales down 0.5%
Krispy Kreme Q4 domestic up 3.6% with revenue up 11.2% - full year comp's domestic up 3.1% with revenues up 6.5%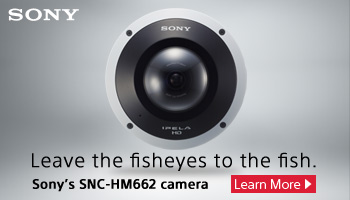 All the news - One place - One Source - One Time
The D&D Daily respects your time
& doesn't filter retail's reality
Report Your News!
(content subject to approval)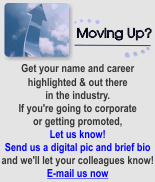 Vendor Spotlight




A Rekeyable Lock Program for the Retail Industry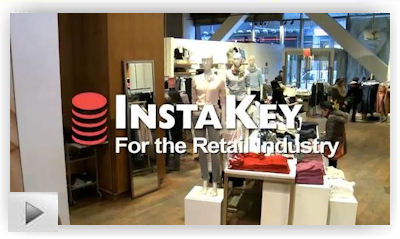 InstaKey Security Systems is the number one KeyControl Program among Retailers! With over 29 years' experience in the industry, InstaKey has been providing Retailers with an effective and affordable key management system that has improved accountability and the overall security of their stores.

The InstaKey KeyControl Program eliminates the need for costly locksmith callouts and inopportune core swaps when it's necessary to rekey. With high employee turnover rates, Retailers face this inevitable challenge quite frequently. Stop spending money that's affecting your bottom line - instead, change your locks with the simple turn of a key! Locks can be reset up to 9 times before the cylinder needs to be replaced, and the do-it-yourself replacement takes just seconds! Keys are restricted, so duplicates cannot be made which means that when a key is returned, there's no need to rekey! Keys are also serialized with a unique identifier that you can track to the location and key holder it's assigned to, using patented SecurityRecords.com software available via the internet 24/7. Through use of this exclusive software, you can view the rekey history for any particular location so you know how many have taken place, as well as a visual dashboard display of your KeyControl Program by way of charts and graphs in "real-time" - right on your homepage!

Hear what InstaKey customers have to say, by viewing our brief YouTube video here.


2015's Let's Get LP Social
We still want your Group LP Selfies - So keep them coming retail LP teams!

Submit a group selfie of you and your LP team and you could get a plaque. Please submit a high resolution photo (300 dpi) and logo at 5" wide for your printed plaque, and if you have a tagline or slogan either from your team or from the company, please send it to us as well for inclusion on the plaques and here on the Daily. Click here for more details.


2014 LP Team Group Selfie Review
Showcasing each team in order!
Your Team - Your Pride

Charming Charlie's Loss Prevention & Safety Team

"Reducing Shrink one
Color at a Time!"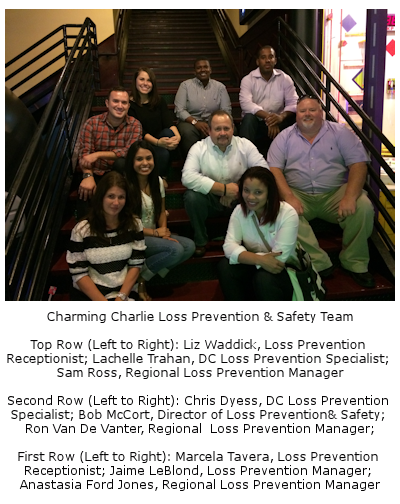 *Originally published on September 22, 2014
View all the selfies here!

Sponsored by:



eBay News

Drug addict jailed for 2 years for theft of cosmetics, with assistance from eBay's GAP Team
Cocaine addict Radoslaw Ozgowicz has been jailed after he stole hundreds of cosmetics from a laboratory and sold them to a couple who made thousands on eBay. Portsmouth Crown Court heard the 36-year-old would take up to 50 items a day while working for Estee Lauder. It comes as couple Dariusz Suski, 32, and Joanna Lazarska, 33, were jailed after their home – dubbed an Aladdin's Cave – was raided and police found thousands of Estee Lauder and Clarins items. Judge Sarah Munro QC jailed Ozgowicz for two years. Sentencing Ozgowicz, of Copnor Road, she said: 'You were stealing products during your breaks and hiding them. 'You, at the time, initially sold some of those items through eBay but very quickly you were selling directly to Suski and Lazarska. 'You estimated that about 70 per cent of the products you sold to them were stolen. 'On the figures, in fact, it must have been a far higher figure.' Judge Munro added he received at least 62,000 pounds from Suski and Lazarska, of St Ronan's Road, Southsea, who had 11,000 items at their home. He stole the items between January 2011 and September 11, 2013. Some of the items he took were from the Estee Lauder shop and others were damaged and not due for sale at their normal retail price.
Read more here
For further information on PROACT, email inquiries to PROACT@eBay.com.
eBay Direct - Click Here
(notify - info - questions)

Loss Prevention News Network

Incorporated in California in 1998, WG has been turning heads in the EAS and RFID industry with its ingenuity and out-of-the-box thinking since its inception. In this LPNN interview, Graham Handyside, EVP Worldwide Operations, and Ed Wolfe, VP Business Development, WG Security, tells us about the innovative products that have come from addressing their customers' various needs over the years, such as the Seal Tag, the Ninja Tag, and the Skyguard 2A system. In this video, also learn about WG's Eyes on U product - a three-in-one solution that combines the functionality of EAS, RFID and video.

---
In this LPNN Quick Take, Rex Gillette, Vice President Retail Sales, Protection 1, tells Joe and Amber a little bit about the secret sauce behind Protection 1's success since entering the retail LP market - great customer service. Rex also provides some helpful advice to professionals in the industry.

Solution Providers, have a video or commercial you want to publish? Contact us.


e-commerce

Sponsored by The Zellman Group
Apple Watch aims to alter payment and shopping experience Apple CEO Tim Cook waited until the end of its "Spring Forward" event to discuss the new device, and even then the company mostly focused on fitness and health features. But Apple did give the gathered audience in San Francisco quick glimpses into how the Apple Watch will work with Apple Pay, airline boarding, and mobile banking. When it's time for a consumer to pay for an item at a retailer, he or she will double tap the side button on the Apple Watch to prepare Apple Pay and the preferred payment card will appear on the screen. A consumer then holds the Apple Watch near an NFC reader to pay. Apple Watch notifies the user the transaction is complete with an audible ping, and then proceeds to show some purchase details on the screen. At first blush, it appears the Apple Watch payments experience reduces the overall time it takes to complete a purchase compared with an iPhone or credit card. But is that enough to increase mobile payments adoption? "Although this may seem like just five seconds of time improvement, that really matters from an adoption standpoint for mobile payments" Mike Wehrs, head of U.S. operations and global chief marketing officer of Appster, said. "We see this as a fundamental accelerator for the adoption of mobile payment technology overall." retailcustomerexperience.com

4 of 5 global merchants fail compliance on card data security According to a new report by Verizon Communications, most of the companies have a tendency to run upgrades of security software and hardware only when they approach an annual compliance check. Findings unveil that only 20% of those tested to be fully compliant less than a year after installing security safeguards. From 2013-2014, overall compliance went up by 18 percentage points for 11 out of the 12 payment data security standards. Out of all the data breaches in the past 10 years that Verizon studied, not a single company was found to be compliant at the time of the breach. Credit and debit cards account for two-thirds of purchases by value in the US. A further USD 2.17 trillion is spent via electronic methods, such as PayPal and mobile payments. thepaypers.com

Under Armour opens digital center in Austin, Texas

Amazon tries for exclusivity with its newest online store

Express Inc.'s web sales grow 4% in Q4

Foot Locker's online sales bound ahead 17.8% in Q4

"Fraud is not a person - it is a dynamic grouping of statistics that deviate from the norm."
Stuart B. Levine, CFI, CFCI
CEO, The Zellman Group & Zelligent


ORC News
Sponsored by Security Resources
Leader of Counterfeit Credit Card Ring of Five - Sentenced To 9 Years In Prison for $126K fraud in MD. Michael Crew, age 54, of Owings Mills, Maryland, sentenced today to nine years in prison followed by three years of supervised release, after Crew pleaded guilty to bank fraud conspiracy and aggravated identity theft, arising from his use of stolen credit and debit cards to manufacture counterfeit credit cards used to buy merchandise and services. Judge Quarles also entered an order that Crew pay restitution of $126,318.99, the amount of the actual loss to victims. Generally the gift cards used to manufacture the counterfeit credit cards were shoplifted from stores. For example, on June 13, 2012, Crew was arrested when he attempted to shoplift gift cards at the Shoppers Food Warehouse in Howard County. Crew received a citation and was released. Crew generally did not use the counterfeit credit cards himself, but either sold them or had others use them. Sometimes he told them what to purchase, such as gift cards, electronics and luxury linens which he resold. Crew and his co-conspirators accessed or attempted to access credit card accounts with credit limits of between $400,000 and $1 million, using the financial account numbers of real people. To date, five other defendants have pleaded guilty to their participation in the scheme and await sentencing. justice.gov

Identity Theft ring - two suspects arrested - 'netted thousands of dollars in stolen merchandise' in New Brunswick, N.J. Two Sayreville residents were arrested and charged Wednesday for their alleged roles in a credit card and identity theft ring, say county officials. Clare Ojeda 37, and Shaun Howard, 38, have both been charged with fraudulent use of a credit card, identity theft, theft by deception and conspiracy to commit identity theft by Middlesex County Prosecutor Andrew Carey. A joint investigation by Cranford township police and prosecutor's office detectives determined that Ojeda and Howard allegedly obtained and used credit cards in the names of at least seven victims between Dec. 19, 2004 and March 9, 2015, county officials say. Investigators say the theft ring potentially netted thousands of dollars in stolen merchandise. According to police, Ojeda and Howard used the identities of the victims to obtain credit cards, which then were used to make various purchases, including clothing, shoes and sunglasses. The total amount of the thefts has yet to be determined, officials say. Police say the investigation into the thefts is ongoing. nj.com

ORC couple - female busted - male escaped after assaulting Home Depot LP in Pleasanton A woman has been arrested for stealing power tools and a man who was with her is being sought for attacking a security worker at the Home Depot in Pleasanton, police said Wednesday. Smith and the alleged getaway driver, Steven Proctor, 21, were identified as suspects after loss prevention officials with Home Depot realized the two matched a description of suspects in a similar crime at a store in Vacaville, police said. After that theft, a loss prevention officer detained Smith in the store parking lot but was then struck by a Lexus driven by Proctor, police said. The security officer was knocked to the ground but is expected to make a full recovery. Proctor, who is a transient, is being sought on a $210,000 warrant for theft. He is known to frequent East Bay hotels, police said. sfgate.com

ORC female & employee of Amy's Country Candles busted selling $5,600 of merchandise online from second job in Kenner, La. Investigators suspect Kimberlee Chapman Romero, 35, of Metairie, stole more than $5,600 worth of merchandise from the company's Esplanade Mall location in Kenner, said Lt. Brian McGregor, spokesman for the Kenner Police Department. Romero was selling the products online and from her cubicle at a Metairie insurance company where she worked a second job, authorities said. She even had a pricing sheet where she was selling them at a significantly lower price," McGregor said. Police booked Romero on Tuesday (March 10) with organized retail theft greater than $500, possession of stolen property valued over $1,500 and theft valued over $1,500. nola.com

ORC Allentown male duo hit Moravian bookstore for 9 calculators for $1,664 to support heroin addiction Pair of Allentown men are accused of stealing $1,664 worth of scientific calculators from a Moravian College bookstore, according to court records. They stole a total of nine calculators from the store at 1125 Monocacy St. in Bethlehem. Police say the pair sold the calculators at an Allentown pawn shop. lehighvalleylive.com

3 Men stole $15,000 of Text Books from Follett Bookstore at Saint Cloud University St. Cloud police are looking for three men they say stole more than $15,000 worth of mostly textbooks from Husky Bookstore during approximately nine separate thefts last month. Authorities say surveillance video shows three men concealing various textbooks, including chemistry, business law, and other science books — in book bags and leaving the store without paying. Police said store employees discovered several previous thefts by the same suspects by looking back at past security footage and inventory logs. The theft was first reported by the privately owned bookstore in Centennial Hall at St. Cloud State University on Feb. 14. Husky Bookstore is operated by Follett Higher Education Group, a campus retailer based in Illinois that operates more than 940 campus stores. sctimes.com

Johnson City, MO Police arrest 2 teens stealing $610 in merchandise from JC Penney Police said two teens each picked up felony shoplifting charges after they were caught trying to steal hundreds of dollars worth of merchandise from a local department store. Police arrived to see store staff had detained Cheek and Zeolia after the alleged shoplifting attempt. Staff told officers, police said, that the two women placed $610 worth of merchandise inside a handbag and hid more merchandise on their persons while they were in a store fitting room. johnsoncitypress.com

Aldi Distribution Center employee in Faribault, MN charged in theft of 94 cases of shrimp valued at $15k A Faribault man is accused of stealing 94 cases of shrimp worth more than $15,000 while working as a custodian at the Aldi distribution warehouse last year. southernminn.com

3 Deliverymen indicted for stealing $8,700 from Navel Exchange The men allegedly loaded the new, unsold merchandise onto an NEX delivery truck and, along with another person, took the merchandise to their homes while conducting pre-scheduled deliveries, documents state. guampdn.com

Man loads 27 cases of beer in shopping cart at Walmart in North Lauderdale busted
Do you have an ORC case to share?
Share your ORC news and help the industry grow

Retail Crime News

Sponsored by NuTech National
'Rental car' traffic stop produces two gift card scam suspects in Garner, N.C. Dominic Speaks and Daron James were arrested in Garner after police found several Visa gift cards inside their rental car during a traffic stop in January. Police were able to use technology provided by the U.S. Secret Service to learn that the cards had been manipulated to hold stolen credit card information. Police said the cards had been mechanically altered to look like real credit cards with real people's names. Police say criminals often obtain stolen credit card information from data breaches and by using skimming software that can be attached to card readers, often at places like self-serve gas stations and car washes where there is no attendant monitoring the activity. wncn.com

Willowbrook Mall in Houston Sends Wrong Emergency Alert To Retailers During Robbery, Prompting Scare Over Active Shooter Police are still searching for whoever robbed a jewelry store at Willowbrook Mall on Monday. But the crime turned into a bigger scare when the mall accidentally sent out the wrong alert, and now it's raising new questions about security there. "We saw the Build-a-Bear manager just throw down the gates," said Corrin Wilcox. The manager rushed Wilcox, her twin sister Christa Wilson, and their young daughters to a storage room in the back of the shop. "They were screaming we have to get in the back, there's a shooter," said Wilson. Willowbrook Mall had sent an automated message to all retailers, but the wrong alert went out, saying there was an active shooter in the mall. In fact there had been a smash and grab robbery in a jewelry store. Tracy Roberson had even less information, walking in the food court with her daughters and mom. "No security guard, there was no announcement from the mall or anything like that," said Roberson. She says none of the food court restaurants pulled them inside, and she only heard of the scare when her friends called from inside the Build-a-Bear store. "But to at least have said, you know what there's something going on," said Roberson. "The text message says there's an active shooter, because that information had been shared with our friends, so we could have gotten out of there." khou.com
Man fights with Wal-Mart security guard over gun in New Hartford, NY A man is accused of reaching for a gun just before getting in a fight with a Wal-Mart loss prevention officer in a parking lot in New Hartford. Police said were called around 8 p.m. Tuesday to the Wal-Mart after two men were confronted by employees for stealing. Tevin V. Joyner, 20, was being detained by loss prevention officers while 26-year-old Willie Alexander fled across the parking lot and toward the store's garden center, police say. Witnesses told police that Alexander was trying to get rid of the gun when a loss prevention officer approached him. The two fought after Alexander allegedly reached for the gun on the ground while the employee was trying to detain him. New Hartford Police Officer Ann Marie Brelinsky took Alexander into custody when she arrived at the parking lot. Joyner and Alexander are charged with misdemeanor petit larceny, while Alexander also faces a felony second-degree criminal possession of a weapon charge. syracuse.com
5 men arrested in Verizon store robbery in Manhattan Beach, CA Five men were in custody Wednesday in connection with a robbery at a Verizon Wireless store in Manhattan Beach, where the manager was held at gunpoint and a safe was emptied. Two suspected robbers were caught immediately, but three others who disappeared were captured later when police used GPS to track cellphones stolen from the business to a parking lot in Culver City, Manhattan Beach police Officer Stephanie Martin said. The robbers struck the store at Aviation and Artesia boulevards just before 9 p.m. Tuesday. Three men entered the business. One pointed a gun at the manager, while the others took store iPhones and iPads from the unlocked safe and display cases. dailybreeze.com

Ace Hardware Manager in CA Gets 3 years in Prison For Theft of $415,000 A former office manager of the Garrett Hardware stores in Windsor and Healdsburg was sentenced this morning to three years and four months in prison for stealing $350,000 from the business over six years. Glynis Susan Lewis, 45, of Santa Rosa, also was ordered to pay $415,819 in restitution to the company. Deputy District Attorney Amy Ariyoshi argued for the maximum sentence of five years in prison. patch.com

Country Superstar, Eric Church sues unknown merchandise counterfeiters; Court gives country star broad power to seize fake goods Country music superstar Eric Church is suing somebody, he's just not sure who yet. A lawsuit filed this week in U.S. District Court charges "various John Does, various Jane Does and various XYZ Corporations" with producing and selling counterfeit merchandise in conjunction with his tour schedule, infringing upon and diluting his trademark and damaging his reputation for selling "high-quality" t-shirts, key chains, koozies and the like. nashvillepost.com

Birks jewelry store at Fairview Mall in Montreal robbed, second time in 4 months For the second time in four months, the Birks jewelry store at the Fairview Pointe Claire shopping centre has been targeted by thieves. Police say two men in their 20s entered the store about 8 p.m. They used pepper spray on employees and broke glass display cases before fleeing with several pieces of jewelry. ctvnews.ca
Two Middlesex Co, NJ Men Arrested in Identity Theft Ring; purchased thousands in merchandise

Exxon Manager shoots two Robbery suspects in Dallas

Zales $1,500 ring Grab and Run in South Burlington, VT

East Coast Jewelry Exchange in Wilmington, DE the victim of a Smash and Grab Armed Robbery

$45,000 in Rolex watches burglarized from J.Yacoubian Jewelers in Franklin, TN

Kay Jewelers in the Steuben Mall, Steubenville, OH the victim of a $13,398 Grab and Run


Robberies and Burglaries
● Big Apple - Arundel, ME - Armed Robbery
● CVS - Westerville, OH - Armed Robbery
● CVS - Dacula, GA - Armed Robbery
● CVS - Rock Hill, SC - Armed Robbery
● CVS - Hamden, CT - Armed Robbery / Assault
● Family Dollar - Omaha, NE - Robbery/ Police Shooting
● Huck's - Mt Vernon, IL - Armed Robbery
● Hurricane Pharmacy - Hurricane, UT - Armed Robbery
● Inland Cellular - Dayton, OH - Burglary
● Kmart Pharmacy - Columbus, GA - Armed Robbery
● Kwik - Columbia, CT - Burglary
● Kwik-Kar - Rosenberg, TX - Burglary
● More Value - Coon Rapids, MN - Armed Robbery
● QuickWay - Dallas, TX - Burglary/ ATM
● Reemas Fashion - Youngstown, OH - Armed Robbery/ Murder
● Rescued Treasures - Casper, WY - Burglary
● Salvation Army - Granite Falls, NC - Burglary
● Shop Rite - Anderson Co, SC - Shooting
● Stride Rite - Toms River, NJ - Armed Robbery
● Subway - Staten Island, NY - Armed Robbery
● T-Mobile - Nassau, Co, NY - Armed Robbery
● T-Mobile - Newnan, GA - Armed Robbery
● Target - Lakewood, CO - Burglary
● Walgreens - Indianapolis, IN - Armed Robbery
● West End Mart - Shippensburg, PA - Robbery


Featured Job Listings
Sponsored by NuTech National
Feature Your Job Here For 30 Days -
70% Aren't On the Boards
VP of LP
Mattress Firm
Houston, TX
Mattress Firm
Director of Risk Mgmt & AP
Goodwill - Easter Seals, MN
ST Paul, MN
Goodwill - Easter Seals, MN
Director Fraud Analytics & Investigations, Global Investigations
Starbucks
Seattle, WA
Starbucks
Director AP
Big Lots
Columbus, OH
Big Lots
Director of LP
Haagen Grocery Stores
Seattle, WA
Supervalu
Director of LP
PacSun
Anaheim, CA
PacSun
Director Global AP
KFC & PH
Plano, TX
YUM! Brands
VP Supply Chain, LP & Safety
Ross Stores
Ft. Mill, SC
Ross Stores
VP of Sales
Checkview
Chanhassen, MN
Checkview
Corporate Mgr LP
Five Below
Philadelphia, PA
LinkedIn
Regional Dir AP
Rite Aid
Albany, NY
Rite Aid
Regional Dir AP
Rite Aid
Warwick, RI
Rite Aid
Regional Dir AP
Rite Aid
Baltimore, MD
Rite Aid
Dir of AP Dist. Centers
Dollar General
NA
Dollar General
Director of Divisional LP
Dollar General
Goodlettsville, TN
Dollar General
AP Manager
Ralph Lauren
New York, NY
Ralph Lauren
Regional LP Manager
National Stores
Chicago, IL
Downing & Downing
Regional LP Manager
National Stores
Northern Bay Area, CA
Downing & Downing
Regional LP Manager
National Stores
Phoenix, AZ
Downing & Downing
Market Asset & Profit Protection Manager
Sears
Little Rock, AR
Sears Holdings Corp
Zone Asset & Profit Protection Mgr
Sears
Miami, FL
Sears Holdings Corp
Zone Asset & Profit Protection Mgr
Sears
Cincinnati, OH
Sears Holdings Corp
Zone Asset & Profit Protection Mgr
Sears
Cleveland, OH
Sears Holdings Corp
Market Asset & Profit Protection Manager
Sears
Baltimore, MD
Sears Holdings Corp
Market Asset & Profit Protection Mgr
Sears
Los Angeles, CA
Sears Holdings Corp
Zone Asset & Profit Protection Mgr
Sears
Houston, TX
Sears Holdings Corp
Zone Asset & Profit Protection Mgr
Sears
Dallas, TX
Sears Holdings Corp
Regional AP Mgr
SpartanNash
Grand Rapids, MI
LinkedIn
LP Manager
Bowlmor AMF
Long Island, NY
Bowlmor AMF
LP Manager
Bowlmor AMF
Dallas, TX
Bowlmor AMF
Regional LP Manager
Tilly's
Orlando, FL
Tilly's
Market AP Specialist
REI
San Francisco, CA
REI
Market AP Specialist
REI
Chicago, IL
REI
Sr Retail AP Specialist
REI
Denver, CO
REI
Sr Retail AP Specialist
REI
Bloomington, MN
REI
Market AP Specialist
REI
Los Angeles, CA
REI
Store AP Officer
Wegmans
Buffalo, NY
Wegmans
Sales Representative
NuTech National
Maitland, FL
NuTech National
National Account Executive
Checkview
Northeast Region
Checkview
National Account Executive
Checkview
United States
Checkview
Corporate Investigator
Confidential
San Francisco Bay, CA
Confidential
National Account Manager
Vector Security, Inc
TBD
Vector Security, Inc

Limited Time Only - Post Your Multi-Unit LP jobs for FREE - Learn More Here


Daily Job Alerts


Appearing One Day Only
View our Internet Jobs Archives here
AP Specialist
Cabela's
Lone Tree, CO
Cabela's
Regional LP Mgr
Dollar General
San Antonio, TX
Dollar General
Regional LP Mgr
Dollar General
Eastern KY
Dollar General
AP Manager in Training
Walmart
Rolling Meadows, IL
Wal-Mart
AP Manager in Training
Walmart
Salem, OR
Wal-Mart
AP Manager in Training
Walmart
Selinsgrove, PA
Wal-Mart
AP Manager in Training
Walmart
State College, PA
Wal-Mart
AP Manager in Training
Walmart
Anchorage, AK
Wal-Mart
AP Manager
Sam's Club
Moorhead, MN
Wal-Mart
LP Manager Hrly
Kmart
Pineville, LA
Sears Holdings Corp
LP Lead
Sears
Plattsburgh, NY
Sears Holdings Corp
LP Manager
Kmart
Modesto, CA
Sears Holdings Corp
AP Team Leader
Target
Loveland, CO
Target
ETL Assets Protection
Target
Hauppauge, NY
Target
LP Manager
Apple
New York, NY
Apple
Area AP Manager
Goodwill Industries of Southeastern Wisconsin, Inc
Joliet, IL
Goodwill Industries of Southeastern Wisconsin, Inc
AP Manager
Saks Fifth Avenue
Boston, MA
Saks Fifth Avenue


Home of the Industry's Original
On the Move

Kelly Schultz was named Manager - Global Logistics & Customs Compliance for AM Retail Group.
Chris Lysy was named Loss Prevention & Safety Manager for PetSmart.

Post Your New Job or Promotion!
See all the Industry Movement


Your Career
Sponsor this section of the Daily
How to Work with Anyone's Productivity Style The reason we find working with other people so challenging is simple: not everyone has the same productivity style. This difference can lead to misunderstandings and even impede in finishing your own work. Here are some tips to help work with each of these four productivity styles. Learn how to communicate

Why You Should Leave Work on Time
If you're a leader, you know the feeling of deciding when to leave work for the day. You weigh the work you still have to do with what you want to do at home. It can be difficult, especially when the work loads tower over you, but working lots of overtime could be hurting you. Take time for yourself

How to Find Your Most Productive Zone - And Honor It The most productive people know when they are at their most inspired and when they do their best thinking. They also know when it's time to recharge and they stick with this workflow because they get the best performance from it. To help you find your zone and work smarter, try these tips. Are you a morning person?

What Mindfulness and Daydreaming Have to Do With Getting Things Done There are tons of articles that guide you with the best productivity strategies, or tips on how to make the most of your time, but it all comes down to the single most popular and successful methods out there. Listen to David Allen and hear his take on how you can apply order to chaos. Get Things Done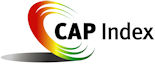 Tip of the Day
Sponsored by Vector Security
Everyday you've got to work and you've got to ask yourself what value are you adding to the company, to the industry and to your career. While this may seem rather ominous at first, try reducing it to your daily tasks and just make sure that with every effort you make there is value you deliver to someone, to some store or to some project. If you can merely focus on the word "value" and ask yourself am I delivering it everyday, you're then one step closer to advancing your career. Because if you can build the field they will come and play.

Just a Thought,
Gus







Upcoming Events
---
Recruiting?
Get your job e-mailed to everyone... everyday
Post on our Featured Jobs Board!
Reach your target audience in 2015 every day!
Request our 2015 Media Kit
update account / change e-mail
unsubscribe FEEDBACK
www.downing-downing.com

Advertise With The D&D Daily




36615 Vine Street, Suite 103
Willoughby, OH 44094
440.942.0671
copyright 2009-2019
all rights reserved globally