The D&D Daily Mobile Edition
March 16,

2015



The LP Industry's #1 News Source - Informing, Educating and Instilling a sense of community


Moving Up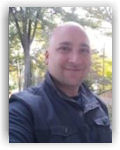 Barry Berkowitz, CFI was promoted to Director of Loss Prevention for Gap Inc/Old Navy. Barry was previously the Senior Regional Loss Prevention Manager for Banana Republic for over five years. Barry started at Old Navy as a District Loss Prevention Manager and then became a Regional Loss Prevention Manager. He earned his Bachelor of Science degree in Criminal Justice from the University of New Haven. Congratulations Barry!

News Brief
Sponsored by WG Security Products, Inc.
Dollar General continues to expand LP team
Dollar General, one of America's fastest-growing retailers with nearly 12,000 locations across the country, announces additional vacancies within its Asset Protection and Loss Prevention department to support the company's strong growth and development. Positions are currently available in several areas including Harrisburg, Pennsylvania; Wilkes-Barre, Pennsylvania; Greensboro, North Carolina; Southern Mississippi; Little Rock, Arkansas; El Paso, Texas and Laredo, Texas. Candidates interested in learning more about the positions and/or apply may visit the DG Careers website at www.dollargeneral.com/careers.

Dollar General to Spend More On Labor This Year - Market for low-wage workers tightening in wake of Wal-Mart's raise announcement Dollar General Corp. plans to spend more on labor this year and is anticipating a tightening of the market for low-wage workers, in the wake of Wal-Mart Stores Inc.'s decision to raise hourly pay for its workers. The retailer plans to increase the hours allocated to employees to help improve the quality of a "large group" of its 11,800 stores. Dollar General, which had more than 105,000 workers as of February, stopped short of committing to raising wages for new workers. wsj.com

Returnaholics, Beware: You Could Get Blacklisted By Your Favorite Stores Many retailers track returns with the help of The Retail Equation, an Irvine, Calif.-based company that offers technology designed to prevent return fraud. Although The Retail Equation would not disclose its client list to MainStreet, it says that 11 of the top 50 retailers in America and six retailers in the Fortune 500 use its technology. The most popular choice among retailers is the Verify Return Authorization system, which uses statistical modeling and analytics to detect fraudulent and abusive behavior when returns are processed at store return counters.

The Retail Equation says that among retailers who use the Verify Return Authorization system, the vast majority of returns-about 99%-are accepted, while only about 1% of consumers are denied returns. Some individuals who are denied returns haven't actually committed any kind of crime, but their return behaviors mimic fraud or abuse or violate the retailer's return policy, such as making returns after the allowed return period or making a greater number of returns than is allowed by the retailer in a given period. mainstreet.com

The Algorithm That Tells the Boss Who Might Quit As turnover becomes a bigger worry-and expense-in a tightening labor market, companies including Wal-Mart Stores Inc.,Credit Suisse Group AG and Box Inc. are analyzing a vast array of data points to determine who is likely to leave a post. Corporate data crunchers play with dozens of factors, which may include job tenure, geography, performance reviews, employee surveys, communication patterns and even personality tests to identify flight risks, a term human-resources departments sometimes use for people likely to leave. The data often reveal a complex picture of what motivates workers to stay-and what causes them to look elsewhere. The big challenge for employers is what, exactly, to do with the information. Some aren't sure how to approach employees at risk of leaving. wsj.com

Chip or dip? Moving to chip-based cards no picnic - One man's attempt to use it now had terrible results - Retailers just aren't ready Most of the staff standing behind the cash registers had absolutely no clue these chips even existed. In taxi cabs, supermarkets, drugstores, hotels, sandwich shops and restaurants, cashiers responded to me in a wide variety of ways. Generally, most of them became very impatient with my attempts to use a chip-based card. Sometimes, because I think they were simply confused, they grabbed the card away from me and swiped it themselves! If you want to see card fraud rates decline, join me in my crusade by trying to pay with Chip-and-PIN! Contact your bank to ask when you will receive your own chip-enabled card, then try to use it. usatoday.com

Ransomware Attacks' New Focus: Businesses
Ransomware attacks are getting more agile, varied and widespread, and are increasingly taking aim at businesses of all sizes in all sectors, rather than consumers. govinfosecurity.com

Cargo Theft down 12% - But average value of stolen shipment up to $233K Cargo theft risk is rising as thieves get savvier, according to a new report on cargo thefts from logistics security firm FreightWatch International. Although the number of thefts is down about 12%, the average value of a stolen shipment has risen to nearly $233,000, as cargo thieves increasingly target high-value merchandise such as electronics, thefts of which have tripled over the prior year. "They are getting more sophisticated with GPS jammers, infiltrating employer organizations, etc." said Sheman Drew, assistant vice president with insurer ACE Group. "It's a lucrative opportunity for them and penalties on the law enforcement side are less than they'd face in some other types of crimes." The good news may be that, for now at least, 90% of cargo thefts in the U.S. happen when a truck is parked and unattended. That's good because it means the thieves don't have to resort to violence. wsj.com

Feds to Crack Down on Seafood Fraud and Illegal Fishing

Seeking Compromise on Data Breach Notice Bill

L.L. Bean to open at least 100 stores by 2020

Hibbett Sports plans 80-85 new stores, 10-15 expansions, 15-20 closures in 2015

Travel Centers of America to open 49 stores in '15

Gap Inc. named one of "World's Most Ethical Companies"

Whole Foods' urban expansion heads to Chicago


Quarterly Same Store Sales Results
Hibbett Sports Q4 up 5.4% with net sales up 10% - full year comp's up 2.9% with net sales up 7%
The Buckle Q4 up 1.1% with sales up 4% - full year comp's flat with net sales up 2%




Jewelers' Security Alliance 2014 Annual Crime Report
Smash-and-Grab Robberies Soar - But Arrests at All-Time High
Jewelers' Security Alliance has released its 16-page 2014 Annual Crime Report covering 1,381 crimes committed against the jewelry industry in the U.S. that JSA has analyzed. This report summarizes the information on when, where and how these crimes occurred. Knowing the information in this report can help you keep your jewelry business safe from crime. JSA urges all jewelry firm owners and their employees to spend time reading and discussing this Report and examining the risks that your jewelry business faces. A copy of the full, 16-page report is available here.

Below are highlights from the JSA report:

1. The total number of crimes against the industry decreased from 1,414 in 2013 to 1,381 in 2014, a decrease of 2.3%. Total dollar losses, however, rose from $66.5 million in 2013 to $77.8 million in 2014, and increase of 17%.

2. The increase resulted from a doubling of smash and grab robberies, and increases in high-dollar burglaries, and from off-premises crimes which rose from historic lows. In contrast, there was a significant decline in lower dollar grab and runs and three minute burglaries.

3. Smash and grab robberies increased from 62 in 2013 to 110 in 2014, a 77.4% increase, resulting in major losses of high-end watches and diamonds.

4. Arrests by law enforcement soared from 422 in 2013 to 694 in 2014, an increase of 64.5%. This was due to intense work and cooperation by the FBI and local police in investigating major gangs operating throughout the U.S., including continuing investigations of crimes committed in prior years.

5. By far the main scene of crimes against the jewelry industry was in malls, with 515 crimes, followed by stand-alone stores with 292, strip centers with 248, downtown shops with 127, and a variety of sites including office buildings, hotels and other locations making up the rest.

6. There were 279 robberies reported to the JSA in 2014, that is, crimes in which force or fear was used. However, because smash and grab robbers used sledgehammers to carry out their crimes, the number of guns displayed in robberies declined from 65% of the time in 2013, to 36.5% of the time in 2014.

7. Grab and run thefts declined from 476 in 2013 to 337 in 2014, and three minute burglaries declined from 233 in 2013 to 157 in 2014.

Smash and grab robberies have been the #1 threat to the jewelry industry for the past 18 months, but the FBI and local law enforcement agencies are aggressively going after the criminal gangs that carry out these crimes, and have already identified, indicted or arrested many suspects. These smash and grab robberies resulted in large losses of high-end watches and diamonds which was a main driver of 2014's statistics. jewelerssecurity.org


LPRC's Annual Board of Advisors Planning Meeting
Hosted by Tractor Supply on April 1-2
The 2015 LPRC Annual Strategic Planning Meeting is being hosted near Nashville by Tractor Supply Company next month to conduct detailed research and working group priorities.

The LPRC Board of Advisors includes:

Chair - John Voytilla, VP of Global LP and Safety, Office Depot
Vice Chair - Chris Gillen, VP of AP and Customer Service, Toys-R-Us
Vice Chair - Mike Lamb, VP of AP and Safety, Walmart
Vice Chair - Brian Bazer, AVP of AP and Risk Management, dressbarn
Vice Chair - Dennis Wamsley, Director of LP and Safety, Publix
Dr. Read Hayes, Director, LPRC
Barry Poole, Director, Broker Sales Division, Mead Johnson
Bobby Bull, President and CEO, Cam Connections
Byron Smith, Corporate AP Manager, 7-Eleven
Chad McIntosh, VP of LP and Risk Management, Bloomingdale's
Claude Verville, VP of LP and Safety, Lowe's
Dan Geiger, Director Field Operations, Target
Erik Buttlar, Sr. Director AP, Best Buy
Jack Trlica, Editor and Publisher, LP Magazine
Kevin Valentine, VP of LP Sterling Jewelers
Linda Reiring, Sr. Retail Supply Process Leader, Proctor & Gamble
Scott Pronger, Director of Shrink Reduction, Meijer
Scott Glenn, CSO, Sears Holdings
Stephen Longo, VP Strategic Initiatives, CAP Index
Stephen Scott, VP of LP, Tractor Supply
Tim Fisher, Director of LP, T-Mobile
William Titus, Managing Director, PricewaterhouseCoopers
Last week's most popular news article --

Target Corp. says 1,700 to be laid off, 1,400 open jobs eliminated in restructuring
The announcement puts a number on last week's announcement that the company would eliminate several thousand jobs as part of a restructuring aimed at saving $2 billion in costs over the next two years. Target spokeswoman Molly Snyder says the cuts will come primarily at headquarters locations in the Minneapolis area. foxbusiness.com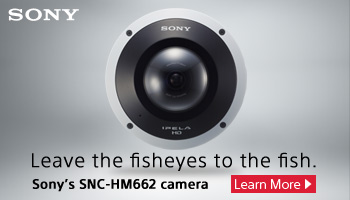 All the news - One place - One Source - One Time
The D&D Daily respects your time
& doesn't filter retail's reality
Report Your News!
(content subject to approval)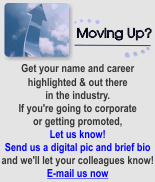 Vendor Spotlight

Tyco Retail Solutions Achieves Record Growth in Global Source Tagging
Major retailers worldwide rely on Sensormatic program to boost profitability and efficiency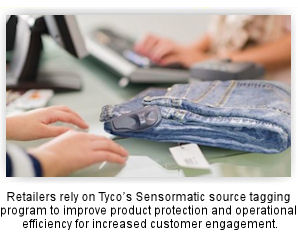 Tyco Retail Solutions (www.tycoretailsolutions.com) recently announced its fourth consecutive year of revenue growth for its genuine Sensormatic source tagging program. For fiscal year 2014, Tyco earned the highest source tagging revenue in the company's history, with growth in both source application of Electronic Article Surveillance (EAS) labels and recirculation of hard tags. Tyco's source tagging program is the largest in the industry, protecting the most popular consumer products and apparel items at the world's top retailers.

Tyco's comprehensive source tagging program encompasses source application of both EAS labels and reusable hard tags. Today, more than half of Tyco's genuine Sensormatic labels are applied by product manufacturers or packaging companies, allowing retailers to quickly deliver items to the selling floor, and reallocate labor to focusing on customers for a more personalized experience. With Tyco's global presence and unmatched source tagging infrastructure, retailers receive cost effective and robust merchandise protection with outstanding results.

Record-setting Tyco milestones for consumer goods source protected to date:
| | |
| --- | --- |
| ● | Over 50 billion total consumer products worldwide |
| ● | Over 4 billion computer accessories and other electronic items |
| ● | Over 2 billion tools, hardware, construction, and home & garden products |
| ● | Over 1 billion health & beauty and over-the-counter products |

An industry pioneer in apparel protection, Tyco introduced apparel and textile source tagging with EAS labels sewn into merchandise at the manufacturing source. Tyco initiated another source tagging first with Visible Source Tags (VST) that are affixed to apparel and then recirculated through the supply chain. With Tyco's newest dual technology Acousto-Magnetic (AM) EAS and RFID hard tags, retailers can now control shoplifting, and also gain vital RFID-enabled item-level visibility for better inventory management and connection to the Internet of Things (IoT). Gaining immense popularity with retailers, Tyco's recirculated RFID hard tags are a cost effective and environment-friendly approach for deploying full scale apparel RFID programs.

Read more here.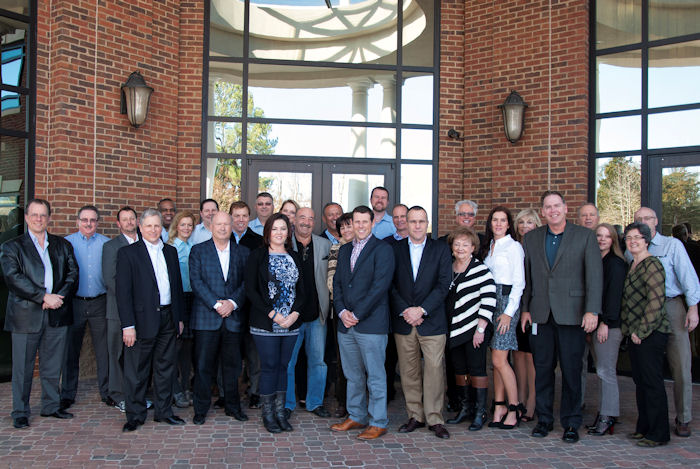 Front row - left to right: Brad Carlson, Raymond Conrad, Alicia Jones, Matt Robbins,
Rod Puterbaugh, Marinell Harper, Jaime Blalock, Patrick Espie, Bethany Hysmith, Lori Webb
Middle row - left to right: Chris Lemens, Shane Solheim, Sabrina Champagne, Nate Gableman,
Joe Kurta, Sharon Mann, Craig Kessler, David Bartley, June Davis, Steve Walter, Neil Schulman
Back row - left to right: Brantley Evans, Morgan Hayes, Jim Dammann, Allison Sestak,
Albert Bueno, John Lawrence

GIS provides LP and hiring solutions, including background screening, drug testing and onboarding, to some of the world's largest retailers. In our drive to be your partner, not just your provider, we use our 49 years of experience to guide you to the solutions that meet your needs. Part of this is our annual Retail Industry Background Screening Benchmarking Report. To ensure that your niche is represented, be entered to win a prize, and receive extra content plus an advanced copy of the report once it's available, take our survey at http://www.geninfo.com/D/benchmarking_report.asp.


Solution Providers, want to publish your team photo on the Daily? Learn more here.


Loss Prevention News Network

Turning Point Justice is a rapidly growing cloud technology company that provides collaborative solutions to retail theft that cultivate positive change through restorative justice. Lohra Miller, CEO, Turning Point Justice, tells us about the Cloud Justice Platform, which provides consistent, quality reporting based on retailers' individual policies and procedures, while Barbara Staib, Director of Communications, National Association for Shoplifting Prevention, tells us how the proactive approach of TPJ's Court Alternative Program is a win-win-win for retailers, their communities, and the offenders who are given the opportunity to change their lives.

---
As the solution provider portion of the Daily's "Live in NYC" 2015 broadcast concludes, Amber provides a rundown of what's to come in a jam-packed LPNN schedule full of leading loss prevention leaders speaking on a variety of high-impact topics. Stay tuned!

Solution Providers, have a video or commercial you want to publish? Contact us.

e-commerce

Sponsored by The Zellman Group
Alibaba's 'Smile To Pay' uses facial recognition tech for online payments E-commerce giant Alibaba Group and affiliated online payment service Alipay are aiming to use facial recognition technology to take the place of passwords. On Sunday, Alibaba chairman Jack Ma showed off the new feature while speaking at the Cebit trade fair in Hanover, Germany. The facial recognition feature, while still in a beta state, is called "Smile to Pay", according to a social media post by Ant Financial Services Group, an Alibaba affiliated company which runs Alipay. The feature was developed in partnership with a Beijing company Megvii, which provides a cloud-based facial recognition service. itnews.com

Big Data Secret: disclosure of personal information has become the main cause of Internet fraud The study found that disclosure of personal information, there are three main paths: one is the human factor, that master of company information, employee organizations illegally selling information, and second, the computer is infected with viruses. Refund fraud in 2014, 'meteoric rise', the main form is: crooks posing as sellers, (telephone-based and has just completed the online shopping users to contact by phone, chat, etc., lied to his just purchased appear abnormal trading and 'guidance' user transaction exception handling, to trick users into the phishing sites and payment operations, the ultimate trick users money. fireinews.com

Crimeware helps fraudsters hide 'digital fingerprints', hitting online retailers undetected As a greater number of banks in the United States shift to issuing more secure credit and debit cards with embedded chip technology, fraudsters are going to direct more of their attacks against online merchants. No surprise, then, that thieves increasingly are turning to an emerging set of software tools to help them evade fraud detection schemes employed by many e-commerce companies. Payment service providers and online stores often use browser fingerprinting to block transactions from browsers that have previously been associated with unauthorized sales (or a high volume of sales for the same or similar product in a short period of time). In January, several media outlets wrote about a crimeware tool called FraudFox, which is marketed as a way to help crooks sidestep browser fingerprinting. However, FraudFox is merely the latest competitor to emerge in a fairly established marketplace of tools aimed at helping thieves cash out stolen cards at online merchants. krebsonsecurity.com

Technology can mitigate mobile banking fraud
Financial services companies should look for solutions that allow them to control the entire mobile transaction lifecycle if they want to beat fraudsters who exploit mobile security gaps to defraud bank account holders. That's the word from Zane Renou, who says that banks should take a proactive approach to securing the vulnerabilities in SIM cards and devices that create opportunities for impostors to defraud customers. Says Renou: "Internet and mobile banking fraud is on the increase as con artists take advantage of a range of systems and communication channels to pilfer account holders' information and to access their bank accounts." it-online.co

Bon-Ton's online sales grow 26% for the year

Over 25 percent US consumers experienced payment card fraud

Smartphone Transactions Make Impact Despite Availability of Mainstream Payment Options

"Fraud is not a person - it is a dynamic grouping of statistics that deviate from the norm."
Stuart B. Levine, CFI, CFCI
CEO, The Zellman Group & Zelligent


ORC News
Sponsored by Security Resources
Fencing Operation: 10 people arrested - Owners, Employees of 3 Pawn Shops Involved in Theft, 'Fencing' Ring - Home Depot & Lowe's Investigations credited by Police in Connecticut At least 10 people suspected of involvement in a theft and stolen goods trafficking operation, including owners, managers and employees at three pawn shops in Bristol, Torrington and Wolcott, have been arrested in a year-long multi-town police investigation. The New Hartford resident state trooper's office launched an investigation a year ago " into an organized ring of thieves and fencing operations" in the Torrington, Bristol and Wolcott areas, state police said. The case was transferred to the Western District Major Crime Squad, who identified the Coliseum Trading Post in Torrington, Coliseum Pawn in Bristol and Gold N Pawn in Wolcott as places where some of the theft and fencing suspects work. 10 people were arrested on multiple charges. Coliseum Trading Post, Gold N Pawn in Wolcott, and Coliseum Pawn were the three pawn shops involved. With Torrington, Winsted and Wolcott police, FBI based in New Haven, the Lowes Corporation Loss Prevention Unit, the Home Depot Corporate Investigation Division, the Chief State's Attorney's Office Statewide Prosecution Unit, the Litchfield State's Attorney's Office, the Connecticut State Police the Special Licensing and Firearms Unit, the Computer Crimes Unit, the Central Criminal Intelligence Unit, the Bureau of Criminal Investigations, the Statewide Narcotics Task Force and state police from Troop B and Troop L barracks assisted with the investigation. nbcconnecticut.com

Fencing Operation: Cell Phone fencing operator busted in Sting Operation in Orlando, FL Since September, Orlando police said it's been dealing with a high volume of cellphone theft at retail stores. In Orlando, there have been nine reported cases of theft and 20 additional thefts in surrounding counties. OPD said in all, over $150,000 in losses and damages were accrued in the process. In January, OPD apprehended Shykeem Smith, who confessed to committing multiple thefts of cellphones in various counties. Still, authorities questioned what happened to the stolen phones. Smith told OPD that he sold them to Duc Nguyen, a cellphone repair store owner in Orlando. As a result, OPD teamed up with the Seminole County Sheriff's department and launched an undercover investigation to find Nguyen. Over the course of six weeks, undercover officers attempted to and successfully sold cellphones to Nguyen on seven different occasions. In the beginning, the sales would occur in the store, but eventually led to sales in back alleys and nearby parking lots. After six weeks of the investigation, OPD had enough evidence to make an arrest on Nguyen Thursday night on seven felony warrants. clickorlando.com

Peabody, MA Police arrest 3 in alleged shoplifting ring; seizing over $100,000 in merchandise Authorities broke up an organized retail shoplifting ring Friday, arresting three people they believe are the ringleaders at a Chelsea apartment and seizing more than $100,000 in stolen merchandise as well as $10,000 in cash. The arrests were the result of several years of investigative work by Peabody officers into an organized ring that was ripping off stores at the Northshore Mall, said Peabody Chief Tom Griffin. According to Peabody police, who executed a search warrant at the apartment, the living room area was "set up to mimic a storefront where prospective shoppers could view the alleged stolen merchandise." "(The operation) is a direct reflection of the competent talent that we have within our department," said Griffin Friday afternoon. "We're still trying to narrow down where all the property came from," he said. Most of it is clothing and perfumes. "We believe a lot of it came from Peabody," he said, but noted a portion of the goods were likely stolen from other shopping malls. Patrol officers John Nelson, Daniel Murphy and Detective Ralph Scopa searched the apartment at 140 Chestnut St. #3 in Chelsea Friday as part of a joint operation with Revere and Chelsea police, Homeland Security, officials from the Northshore Mall and corporate loss prevention agencies from Sephora, Victoria's Secret, the Gap, Abercrombie & Fitch and Hollister. Griffin said the connection from Peabody to Chelsea was developed by working with mall merchants and loss prevention teams over the years. The merchandise in this case was being resold to customers who visited the trio's apartment, marketed online or shipped overseas. Those are all typical practices with organized shoplifting rings. salemnews.com
33 arrested in Marion Co, FL retail theft bust
Marion County Sheriff's Office detectives, along with the Ocala Police Department, arrested and charged 33 people for a total of 17 felonies, 34 misdemeanors, six violations of probations and two warrants during a two-day retail theft sting on Thursday and Friday (3/12/15 and 3/13/15). MCSO and OPD partnered with Walmart, Bealls, Target and Publix during this operation. All the stores provided additional loss prevention personnel who all worked with the same goal in mind to reduce retail theft in Marion County. During the operation, loss prevention officers patrolled the stores and made apprehensions with the assistance of detectives. Detectives then conducted thorough investigations and interviews with the suspects to determine if they were involved in any additional crimes in Marion County. This operation is funded by a grant from the Florida Legislature with no impact on the Sheriff's budget. "This retail theft sting could not have been possible without the cooperation of all the businesses that participated," said Sheriff Chris Blair. "We are extremely grateful to have these community partners. Together, we can continue to reduce crime in Marion County, for our citizens and our businesses alike." During the operation, loss prevention officers patrolled the stores and made apprehensions with the assistance of detectives. Detectives then conducted thorough investigations and interviews with the suspects to determine if they were involved in any additional crimes in Marion County. This operation is funded by a grant from the Florida Legislature with no impact on the Sheriff's budget. "This retail theft sting could not have been possible without the cooperation of all the businesses that participated," said Sheriff Chris Blair. "We are extremely grateful to have these community partners. Together, we can continue to reduce crime in Marion County, for our citizens and our businesses alike." facebook.com

Kentucky couple indicted on Heroin trafficking charges; responsible for up to $7,500 in baby formula theft from Kroger The Brown County Grand Jury met in Georgetown last week and handed down indictments to 11 individuals, including Samantha R. Moermond, 25, and Derek W. Worstell, 24, on allegations they had been trafficking heroin. According to their identical bills of indictment, each sold or offered to sell heroin. The pair also allegedly stole baby formula and other baby-related merchandise from Kroger Co. at a value of $1,000-$7,500 between Nov. 1, 2012 and Dec. 31, 2014. Each also allegedly received stolen baby products from Kroger Co. as well as engaged in a pattern of corrupt activity. newsdemocrat.com

Houston Police seeks men who stole over $5,000 worth of items from Galleria store The Houston Police Department's Theft Division is seeking information about four men who stole more than $5,000 worth of items from a Galleria store. The theft happened Nov. 26 in the 5000 block of Westheimer. Officials said two of the men distracted an employee while two others browsed the sunglasses display. One of the men tried on a pair of sunglasses and put one pair in his jacket pocket. The same man who took the sunglasses also took two jackets from a rack, went to the dressing room and came out with one. Surveillance footage showed the man was wearing the second jacket under the one he originally wore into the store. click2houston.com
Bangor, PA man steals $2,700 from Wal-Mart during four separate thefts A Bangor man's rash of thefts at a Lower Nazareth Township Wal-Mart totaled $2,706 during four trips to the store. When Shawn Hayes, 41, walked into the Wal-Mart store Wednesday, security immediately recognized him as a man wanted in a three previous retail thefts at the location, according to records. Authorities watched Hayes make his way around the store, court papers say. Police say he had $542 worth of merchandise in his cart when he tried to leave. Hayes was detained and interviewed by authorities. He agreed to speak to police and readily admitted to stealing store products and selling them in the street. lehighvalleylive.com

Westlake, OH Police seeking identity of a Baby Formula thief hitting multiple times at CVS Police are hoping someone will recognize the woman seen on surveillance cameras stealing baby formula at a CVS store. The incident happened on Tuesday at about 2:30 p.m. at the store at 30791 Detroit Rd. Investigators said she is also responsible for three similar thefts from the same store over the past month. In each case, she fled in a silver hatchback. wkyc.com
Do you have an ORC case to share?
Share your ORC news and help the industry grow

Retail Crime News

Sponsored by NuTech National
Food Lion manager shot in parking lot in Lenior, NC Police are looking for a man who they said shot a store manager multiple times outside a Food Lion in Lenoir early Sunday morning. Investigators said William "Bill" Mudd Jr., 44, shot Michael Keller, 50, in the parking lot of the store on Wilksboro Boulevard, just before the store opened at 7 a.m. Police said Keller, who is a market manager at the store, was going to work when he was confronted by Mudd. "He arrived at work and was confronted in the parking lot," said Lenoir Police Chief Scott Brown. "After a brief argument, multiple shots were fired - at least two." myfox8.com

5 Walmart thieves use deodorant, gunfire to escape in Collinsville, IL An escaping suspect fired a gun at another vehicle outside Collinsville Crossing early Monday morning following a theft at the shopping center. Collinsville Police reported to the scene just before 12:30 a.m. at Collinsville Crossing Boulevard, where multiple shots were fired from a car at a another vehicle and fled the scene. Police believe the man and other passengers in the Grand Prix were fleeing the Walmart after a theft that had occurred immediately before the shooting. Walmart officials told police that store employees were trying to stop four women and a man from leaving the store because they had not paid for merchandise. Police also said that one of the women involved in the theft sprayed a can of deodorant in the face of a store employee during the theft, and the man threatened another store employee with a gun. The five suspects and a small child were seen escaping from the scene. bnd.com

2 Miami men accused of running counterfeit credit card operation in Beaverton, OR; targeting Home Depot, Office Depot and Staples Two Miami men who together formed a "counterfeit credit card crew" were arrested this week after hitting stores in Beaverton, according to police. Investigators caught wind of the suspects midday Wednesday, said Officer Mike Rowe, a Beaverton Police spokesman. Detectives found the suspects in Portland and identified them as Roberto Moncada, 26, and Georqui Martin, 22, Rowe said. They face charges of aggravated identity theft and first-degree theft and were booked into the Washington County Jail. Beaverton police say the pair is the fourth such crew they've arrested this year. Police seized more than 100 counterfeit credit cards. Investigators also found an additional $10,000 worth of gift cards and prepaid credit cards that were purchased with the counterfeit plastic, Rowe said. Investigators think the men had been operating in Oregon and Washington since late February. They were shipping items that they purchased with the bad cards back to Florida, Rowe said. They mainly targeted The Home Depot, Office Depot and Staples stores. shockingheadlinenews.com

Walmart Associate charged with stealing thousands of rounds of ammunition from store in Milford, DE Police say a Wal-Mart employee has been charged with stealing thousands of rounds of ammunition and survival gear from the store in Milford where he worked. Police announced that 35-year-old Linwood Hallman Jr. of Lincoln was charged with felony theft last week in a series of thefts from the store in Airpark Plaza since January. Detective Dwight Young says the ammunition, a rifle scope, survival bags and kits were found at a home in Lincoln. He says detectives also took custody of multiple firearms and knives found at the home. tribtown.com

Three Accused Of Gun Store Owner's Murder And Robbery Will Face Federal Charges Federal charges have been filed against three men accused of robbing and murdering a Heyden, IN gun shop owner. U.S. attorney for the Southern District of Indiana, announced federal charges resulting from a grand jury investigation into the Sept. 21, 2014, slaying of 60-year-old Scott Douglas Maxie. The robbery and murder took place at Maxie's Muscatatuck Outdoors store in Hayden. Maxie was shot in the head during the robbery. His body was found lying on the floor of his shop. The shop was part of Maxie's home. wbiw.com

Trio indicted in ID theft ring that resold $75,000 of alcohol bought at Food Basics at Jersey City nightclub A Lodi man and a pair of accomplices stole credit card information from gas station customers that was then used to buy alcohol for his Jersey City nightclub, authorities charged. Kenny Frias is accused of heading the crew, which an collected the information through skimming devices attached to credit card swipe machines at has stations in Hasbrouck Heights, Lodi and Jersey City, according to an indictment returned by a grand jury in Hackensack last week says. More than $75,000 worth of alcohol was bought wth the stolen identities at the Food Basics in Glen Rock and then sold at Frias' Phebe Nightclub and Restaurant on Newark Avenue in Jersey City, it says. Investigators who executed search warrants at Frias's home and the club last spring seized a credit card reading and writer device, fraudulent credit cards, false identification and more than $75,000 of what authorities said were ill-gotten gains. cliffviewpilot.com

Fire destroys Buck N Up store in Irvington, NJ
Firefighters in Irvington, New Jersey are trying to extinguish hot spots after a raging fire destroyed a 99-cent store overnight. No one was inside the store at the time the three-alarm fire broke out Sunday night at "Buck N Up" on Nye Avenue. Firefighters from 18 departments responded to the blaze. The doors were locked and security gates were in place, which made initial access difficult. One firefighter suffered minor injuries but was treated and released. The cause of the fire is under investigation. 7online.com
Motorcycle Chase Gets Scary As Fugitive Barely Misses People In Shopping Mall in Vancouver, Canada A man in Canada led police on an incredible motorcycle chase, one that was all caught on camera. According to CBC News, the video was accidentally leaked and then uploaded to YouTube by Live Leak. It reportedly shows cuts between helicopter footage, in-store security cameras, and police dashboard cameras. The video was compiled by the Royal Canadian Mounted Police. The man in the video makes heart-stopping moves, putting numerous pedestrians and shoppers in danger as he goes through overpasses and the inside of a Vancouver-area shopping mall. KTLA reports that the chase took place in Surrey, British Columbia, on February 20. The video was originally intended for investigators to take an in-depth look at the incident, but in the meantime it's also going viral. inquisitr.com

Mobile Meth Lab Found Inside Wal-Mart restroom in Indianapolis Indiana cops are trying to find a man who left his meth lab inside the public restroom of a Walmart store. Muncie police say a man with a backpack was seen wandering the store Thursday night. Officers were called after a shopper reported seeing the man several times at the store, picking up items that can be used to manufacture the addictive and corrosive drug. The man went into the bathroom with his backpack, but emerged without it. Police inspected the bag and found it contained elements used in the "shake and bake" or "one-pot" method of making meth. It is an extremely dangerous process involving caustic and explosive chemicals that can burn or burst into flames. fox59.com
Dillard's Loss Prevention agents threatened with knife during stop in Fayetteville, AR

Jared Vault in the Tanger Outlet in Locust Grove, GA the victim of a Grab and Run, merchandise valued at $3,500

Manahawkin, NJ man met with 22 counts of credit card theft and fraud


Robberies and Burglaries
● Bateman - Chippewa Co, WI - Armed Robbery
● Cenex - Grand Folks, ND - Armed Robbery
● Corner Store - Quincy, MA - Armed Robbery
● Dollar General - Wichita Falls, TX - Armed Robbery
● Dollar General - Huntington, WV - Robbery
● Dollar General - Buffalo, NY - Armed Robbery
● Family Dollar - Wyoming, MI - Armed Robbery
● GameStop - Lunenburg, MA - Armed Robbery
● Jonesboro Supermarket - Jonesboro, AR - Burglary
● Metro PCS - Kearny Mesa, CA - Armed Robbery
● Nampa Mart - Nampa, ID - Armed Robbery
● Quik Trip - Tulsa, OK - Armed Robbery
● Roxbury General - Roxbury, VT - Burglary
● United Check Cashing - Colorado Springs, CO - Armed Robbery
● United Dairy - Oakley, OH - Robbery
● Valero - Tyler, TX - Armed Robbery
● Verizon - Port Charlotte, FL - Burglary
● Walgreens - Houston, TX - Armed Robbery
● 7-Eleven - Perth Amboy, NJ - Armed Robbery


Featured Job Listings
Sponsored by NuTech National
Feature Your Job Here For 30 Days -
70% Aren't On the Boards
VP of LP
Mattress Firm
Houston, TX
Mattress Firm
Director of Risk Mgmt & AP
Goodwill - Easter Seals, MN
ST Paul, MN
Goodwill - Easter Seals, MN
Director Fraud Analytics & Investigations, Global Investigations
Starbucks
Seattle, WA
Starbucks
Director AP
Big Lots
Columbus, OH
Big Lots
Director of LP
Haagen Grocery Stores
Seattle, WA
Supervalu
Director of LP
PacSun
Anaheim, CA
PacSun
Director Global AP
KFC & PH
Plano, TX
YUM! Brands
VP Supply Chain, LP & Safety
Ross Stores
Ft. Mill, SC
Ross Stores
VP of Sales
Checkview
Chanhassen, MN
Checkview
Regional Dir AP
Rite Aid
Albany, NY
Rite Aid
Regional Dir AP
Rite Aid
Warwick, RI
Rite Aid
Regional Dir AP
Rite Aid
Baltimore, MD
Rite Aid
Dir of AP Dist. Centers
Dollar General
NA
Dollar General
Director of Divisional LP
Dollar General
Goodlettsville, TN
Dollar General
AP Manager
Ralph Lauren
New York, NY
Ralph Lauren
Regional LP Manager
National Stores
Chicago, IL
Downing & Downing
Regional LP Manager
National Stores
Northern Bay Area, CA
Downing & Downing
Regional LP Manager
National Stores
Phoenix, AZ
Downing & Downing
Market Asset & Profit Protection Manager
Sears
Little Rock, AR
Sears Holdings Corp
Zone Asset & Profit Protection Mgr
Sears
Miami, FL
Sears Holdings Corp
Zone Asset & Profit Protection Mgr
Sears
Cincinnati, OH
Sears Holdings Corp
Zone Asset & Profit Protection Mgr
Sears
Cleveland, OH
Sears Holdings Corp
Market Asset & Profit Protection Manager
Sears
Baltimore, MD
Sears Holdings Corp
Market Asset & Profit Protection Mgr
Sears
Los Angeles, CA
Sears Holdings Corp
Zone Asset & Profit Protection Mgr
Sears
Houston, TX
Sears Holdings Corp
Zone Asset & Profit Protection Mgr
Sears
Dallas, TX
Sears Holdings Corp
Regional AP Mgr
SpartanNash
Grand Rapids, MI
LinkedIn
LP Manager
Bowlmor AMF
Long Island, NY
Bowlmor AMF
LP Manager
Bowlmor AMF
Dallas, TX
Bowlmor AMF
Regional LP Manager
Tilly's
Orlando, FL
Tilly's
Market AP Specialist
REI
San Francisco, CA
REI
Market AP Specialist
REI
Chicago, IL
REI
Sr Retail AP Specialist
REI
Denver, CO
REI
Sr Retail AP Specialist
REI
Bloomington, MN
REI
Market AP Specialist
REI
Los Angeles, CA
REI
LP Investigator
Bell
Mississauga, ON, Canada
Bell
Store AP Officer
Wegmans
Buffalo, NY
Wegmans
Sales Representative
NuTech National
Maitland, FL
NuTech National
National Account Executive
Checkview
Northeast Region
Checkview
National Account Executive
Checkview
United States
Checkview
Corporate Investigator
Confidential
San Francisco Bay, CA
Confidential
National Account Manager
Vector Security, Inc
TBD
Vector Security, Inc

Limited Time Only - Post Your Multi-Unit LP jobs for FREE - Learn More Here


Daily Job Alerts


Appearing One Day Only
View our Internet Jobs Archives here
AP Specialist
7-Eleven
Lawrence, MA and Wildwood, NJ
7-Eleven
LP Supervisor
Bloomingdale's
San Francisco, CA
Bloomingdale's
AP Area Mgr
Cabela's
Acworth, GA
Cabela's
Regional LP Manager
Family Dollar
Richmond, VA
Family Dollar
LP Supervisor
JC Penney
Brooklyn, NY
JC Penney
Dept Mgr LP & Safety
Lowe's
Puente Hills, CA
Lowe's
LP & Safety Spec
Lowe's
Houston, TX
Lowe's
LP & Safety Spec
Lowe's
Bedford Heights, OH
Lowe's
AP Manager in Training
Walmart
Santa Rosa Beach, FL
Wal-Mart
AP Manager in Training
Walmart
Oak Park Heights, MN
Wal-Mart
AP Manager in Training
Walmart
Cottage Grove, MN
Wal-Mart
AP Manager in Training
Walmart
Lewisville, TX
Wal-Mart
AP Manager in Training
Walmart
Rowlett, TX
Wal-Mart
AP Manager in Training
Walmart
Mesa, AZ
Wal-Mart
AP Manager in Training
Walmart
Tempe, AZ
Wal-Mart
AP Manager in Training
Walmart
Sacramento, CA
Wal-Mart
AP Manager in Training
Walmart
Oklahoma City, OK
Wal-Mart
LP Manager Hrly
Kmart
Feasterville, PA
Sears Holdings Corp
LP Manager Hrly
Kmart
Pierre, SD
Sears Holdings Corp
LP Manager Hrly
Kmart
Newark, DE
Sears Holdings Corp
LP Manager Hrly
Kmart
Devils Lake, ND
Sears Holdings Corp
LP Manager Hrly
Kmart
Jackson, WY
Sears Holdings Corp
LP Manager Hrly
Sears
Farmington, NM
Sears Holdings Corp
LP Manager Hrly
Kmart
Bensalem, PA
Sears Holdings Corp
LP Manager Hrly
Kmart
Longview, TX
Sears Holdings Corp
LP Manager Hrly
Kmart
Sault Sainte Marie, MI
Sears Holdings Corp
AP Team Leader
Target
Keene, NH
Target
LP Manager
Macy's
Champaign, IL
Macy's
LP Manager
Macy's
Springfield, IL
Macy's
Assistant LP Supervisor
Macy's
Brooklyn, NY
Macy's


Home of the Industry's Original
On the Move

Barry Berkowitz, CFI was promoted to Director of Loss Prevention for Gap Inc/Old Navy.
Jeffrey Meyer was named Business Partner - Loss Prevention & Safety for Total Wine & More.
Ignacio Reyes was named Loss Prevention Manager for JC Penney.
Sean Ross was named Regional Loss Prevention Manager for rue21.

Post Your New Job or Promotion!
See all the Industry Movement


Your Career
Sponsor this section of the Daily
5 Steps to Feedback that Really Helps You Get Better Feedback allows you top performers to stay at the top. These people are always looking for ways to improve, and they know that one of the most effective ways to make their best even better is to get feedback. Here are five steps to using the feedback you receive to make a difference. Ask for it

How to Get Your Team to Coach Each Other
Nobody can grow without the support of other people. Peer-to-peer coaching can offer encouragement some people may need in order to start something new. It allows everyone to help develop their abilities through practice. Here are some ways to set up peer-to-peer coaching for your team. Start small

Last week's most popular articles--

5 Tips on How to Talk Like A Boss
Not only are there tips on how to find an effective management style for yourself, but top leaders don't talk like your typical employee either. There is a certain confidence and clarity when leaders speak that can motivate and inspire those present. Here are some speaking tips from the greats. No "um's"

Why You Should Leave Work on Time
If you're a leader, you know the feeling of deciding when to leave work for the day. You weigh the work you still have to do with what you want to do at home. It can be difficult, especially when the work loads tower over you, but working lots of overtime could be hurting you. Take time for yourself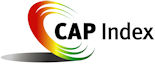 Tip of the Day
Sponsored by Vector Security
Sometimes when you're moving so fast and dealing with the mistakes of the day, the frustration levels peak and one can tend to forget that sometimes you've just got to stop, listen and take a breath and maybe talk to a friend about it all. If it's a good friend, they'll bring you back into focus and make sure you don't react too aggressively and make the mistakes even worst. There aren't many friends like that nor ones that you can absolutely trust. But if you've got a couple, make sure you thank them as well for taking the time.

Just a Thought,
Gus







Upcoming Events
---
Recruiting?
Get your job e-mailed to everyone... everyday
Post on our Featured Jobs Board!
Reach your target audience in 2015 every day!
Request our 2015 Media Kit
update account / change e-mail
unsubscribe FEEDBACK
www.downing-downing.com

Advertise With The D&D Daily




36615 Vine Street, Suite 103
Willoughby, OH 44094
440.942.0671
copyright 2009-2019
all rights reserved globally