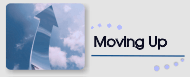 Dennis Gandy was named Director of Loss Prevention for Wolverine World Wide. Prior to joining Wolverine World Wide, Dennis was a Regional Loss Prevention Manager at Collective Brands, Inc. for ten years. Before that he worked as a Field Loss Prevention Mgr for Gap/Old Navy for three years. Dennis holds both a BS Accounting and a BA Human Resource Management from DeSales University. Congratulations Dennis!


Centre for Retail Research's report -
Changing Retail, Changing Loss Prevention
sponsored by Checkpoint Systems
The report, Changing Retail, Changing Loss Prevention, analyzes the evolution of retail crime and loss prevention in light of the Global Retail Theft Barometer (GRTB) publications since 2001. It was conducted by the Centre for Retail Research, and sponsored by Checkpoint Systems. Below are the final five key summary points from the above mentioned report. Download a full version of the 17-page report here.

"Loss prevention partnerships with other retailers and law enforcement are a necessary part of learning more about crime and LP trends in a region, exchanging information and smoothing the process of working together to combat loss," according to the new study Changing Retail, Changing Loss Prevention.

"Refund Fraud is a growing problem of both shoplifting and employee theft, which is normally based on abuse of existing company procedures. Loss prevention needs to give a higher priority to developing better procedures, staff training, and identifying the worst offenders in order to curb the growth of this problem and help the work of the courts," according to the new study Changing Retail, Changing Loss Prevention.

"Cargo theft and distribution fraud is a growing (and costly) problem, often involving ORC, although for most retailers it happens infrequently and this may mean that its importance can be overlooked," according to the new study Changing Retail, Changing Loss Prevention.

"Establishing that new employees are not a new source of loss, by checking new hires," according to the new study Changing Retail, Changing Loss Prevention.

"Loss prevention policy compliance should become a standard element of the business. Regular audits of compliance as well as ongoing training are essential. Many frauds such as refund fraud and employee theft are facilitated by weak and inconsistent procedures. Robust compliance and procedures is a vital part of inhibiting these losses," according to the new study Changing Retail, Changing Loss Prevention.
Download a full version of the 17-page report here.
Walmart adds iPhone scan-and-checkout feature to 12 more markets Shoppers scan barcodes with iPhones, checkout faster * More than half of "Scan & Go" shoppers use it again * Android version in the works. Walmart's "Scan & Go" program will soon be in more than 200 stores, up from about 70. The pilot began near its home office in Bentonville, Arkansas in late 2012, then expanded to Atlanta. (Source reuters.com)

Supervalu completes sale of divisions to AB Acquisition LLC for $3.3B Supervalu has completed the sale of its Albertsons, Acme, Jewel-Osco, Shaw's and Star Market stores to AB Acquisition LLC, an affiliate of a Cerberus Capital Management-led investor consortium for $3.3 billion. Supervalu said it would transfer operations overnight and would "open for business on Friday as a more efficient wholesale and retail company with annual sales of approximately $17 billion." It will continue to operate and license the Save-A-Lot limited assortment banner and five regional supermarket chains: Cub, Farm Fresh, Shoppers, Shop 'n Save and Hornbacher's. (Source supermarketnews.com)

The Flaw in Omnichannel Retailing
Retail execs struggle to "explain what omnichannel merchandising means and how it differs from the now discredited multichannel strategy from which it emerged" and "whether omnichannel strategies are really effective in helping the retail chains compete in the e-commerce space." There is little doubt that a good web site helps bolster a chain's total retail sales, but how much faster would those chains be growing if they tried a dual-path strategy, one that treated their web site as a stand-alone business managed separately from the store by a CEO and management team focused totally on maximizing web sales? The chains would still integrate the web site into the store shopping experience as they do now, but the web store would focus on meeting the needs of the web-centric shopper, using the store's brand for greater exposure. Editors note: Merely an opinion from one expert, but when you consider same day delivery, stores becoming mini-distribution points, same day pick up with Amazon lockers, mobile commerce with the net right beside the shelf with best price promises, and all of the what use to be separate operating functions merging at one point in the customer's hand; Omnichanneling is here whether you like it or not. Because the customer is demanding all the options right now and whoever delivers it will win the game. So, what else do we call it? (Source internetretailer.com)

Three core sources of Big Data are video, social media, and mobile devices all of which are key elements in the transformation of the in-store experience. Many existing retail business-intelligence strategies focus on influencing future shopping trips. From a store-operations perspective, Big Data promises unprecedented sense-and-react capabilities. Wireless sensors and video cameras—from the parking lot to the checkout counter—can compile a much richer set of data and, when combined with external data streams such as social media, weather, or other events, can enable precise, instant predictions. These will anticipate where shoppers are going, what products need to be restocked, and which customers need assistance to convert a sale. Factors such as gender, age, buying history—even the posture, mood, and common behaviors demonstrating the indecision of a consumer—can all be channeled into real-time, predictive actions, while the shopper is in the store. With the advent of the Internet of Everything, sensors will connect nearly every cart, freezer, shelf, screen, product, associate, and customer throughout the retail setting. Just think about the Loss Prevention value. (Source cisco.com)

Feeling the blunt of it - Restaurants are reeling from their worst three months since 2010 - "February was pretty ugly" Tax-hikes, late IRS refund checks, higher gas prices. Sales at casual-dining establishments fell 5.4 percent last month, after declining 0.6 percent in January and 1.6 percent in December, according to the Knapp-Track Index of monthly restaurant sales. This was the first three months of consecutive declines in almost three years, with consumers caught in a "very emotional moment," said Malcolm Knapp, a New York-based consultant who created the index and has monitored the industry since 1970. Casual dining is "definitely being squeezed" because "it's not food on-the-go and it's not high-end food for people trying to treat themselves. (Source bloomberg.com)

Over $86 Million in Fake and Pirated Goods Seized at Miami International Airport in 6 Months The assorted merchandise has been intercepted in 505 different shipments. The agency displayed some of the merchandise at MIA on Wednesday – including fake purses, earphones and a green Victoria's Secret bra. (Source nbcmiami.com)

eBay teams up with Council of Fashion Designers of America for 3rd annual anti-counterfeiting campaign, You Can't Fake Fashion As part of the initiative, the fashion powerhouses have designed some of the chicest tote bags you'll ever lay eyes on, ranging from Posen's lovely tulle-covered creation to von Furstenberg's playful multi-colored lip print design. We know we wouldn't mind reaching for these gorgeous totes to complete a stylish weekend warrior look! More than 90 other top American designers, who teamed up with the Council and are holding an auction on March 25th with You Can't Fake Fashion design collection. (Source eonline.com)

Witness chases after two Jewelry store robbers in Columbia, SC, one suspect wanted for murder in Atlanta. The man who was chased by a witness after he and an accomplice allegedly robbed a jewelry store Tuesday morning is wanted for murder in Atlanta. Armond Gibson, 23, is being held in jail on no bond. Police charged him with two counts of armed robbery, four counts of kidnapping, criminal conspiracy, possession of a weapon during the commission of a violent crime and possession of a stolen motor vehicle. Police say Gibson was armed with a handgun when he entered the store and ordered four people to the ground. The second suspect then smashed a glass counter top and grabbed some jewelry and fled. A witness chased the duo from the store to a nearby subdivision where they crashed. An officer spotted Gibson running near the Interstate and was apprehended. (Source wtoc.com)

Denver Police look for Best Buy pepper spray shoplifting suspect. Police in Denver are asking for the public's help in locating a man who pepper sprayed employees at a Best Buy after taking several items from the store and fleeing. According to the Denver Police Department, the suspect removed electronic items from the store on Saturday. The man sprayed employees before he fled without paying for the items in a white truck. (Source thedenverchannel.com)
Illinois man shot during Kroger's robbery indicted on robbery, assault charges.
A man shot by a security guard during a robbery of Kroger's in Normal was indicted on Wednesday. Jason Reeves, age 35, was indicted for three counts of armed robbery against Kroger and one count of aggravated assault. The armed robbery counts allege that Reeves was connected to all three incidents occurring at the Kroger store in Normal on the dates of January 1, February 16 and March 10. The Normal Police Department says Andrew Smith, an off-duty Chenoa police officer, was working as a security guard at the Kroger store during the incident. Smith confronted Reeves who produced what appeared to be a handgun but was later determined to be an air pistol. Smith engaged Reeves with a handgun and later fired and hit the suspect multiple times. (Source pantagraph.com)

Man is arrested on burglary charge after falling through ceiling in Lexington store. Lexington police routinely arrest burglary suspects who break into businesses through the ceiling. Roses Department store employees heard someone shuffling around above the drop-tile ceiling just after lunchtime Wednesday. After officers searched for about a half-hour, Paul Masters, 47, fell through the ceiling and wrestled with officers waiting in the store below. (Source wkyt.com)
Two suspects arrested after returning for a second time to a Georgia Alltel store. The two men were captured on video back on March 7 stealing a laptop and cell phone accessories. So thinking they got away once, they walked into the same store with the same associate on duty; she called the Police. The two suspects were arrested outside the store. (Source walb.com)
Four businesses in Atlanta have windows smashed out, unknown losses. A Walgreens drive thru window as well as another pharmacy, hair salon and restaurant all were broken into in an Atlanta neighborhood, but Police were unsure if the suspect even entered the businesses. A Police search turned up no suspects. (Source 11alive.com)
Grab and run of a diamond ring from Fox Run Mall in Newington, NH. Police are looking for a man seen running out of a jewelry store at New Hampshire's Fox Run Mall in Newington with a diamond ring in his hand. Police would not describe the ring taken from Hannoush Jewelers at 2:30 p.m. Wednesday. They said it was valued at over $1,000. Police stated that the man was seen getting into a waiting car parked outside the main entrance. The vehicle had Massachusetts license plates. (Source seacoastonline.com)

Police seek info on Montgomery Township, PA Dollar Tree robbery; connected to other area robberies. Police are investigating an armed robbery at the Dollar Tree store Monday night. Police said a man confronted employees at the back door of the store at about 10:22 p.m. Monday and forced his way inside with a dark colored handgun. He demanded money and, after receiving an undetermined amount of cash, fled out the store. Investigators believe he met up with a second man and ran. The robbery is similar to the robbery of the New Britain Township Subway store Feb. 28 and prior robberies in lower Bucks County, according to police. (Source thereporteronline.com)

Weapon used in robbery of Sprint store in Morris, Illinois. Morris police are investigating a Monday evening armed robbery at the Sprint Store By Air 1 Wireless in Morris. According to a police report, three suspects entered the store, displayed a weapon, and left with an undetermined amount of merchandise before officers arrived on the scene at 5:45 p.m. No one was injured. (Source cbslocal.com)
Thief returns $800 with an apology, about a 1980's Michigan burglary. A burglar who stole $800 from a western Michigan store three decades ago has repaid the money, plus interest. The anonymous thief sent a note and $1,200 in $100 bills to the Barry County sheriff's department in Hastings, and the shipment arrived on Monday. The writer admitted breaking into the Middle Mart in Thornapple Township north of Middleville about 30 years ago. In a letter packed with emotion and spelling errors, the writer asks for "help in locating a man" to whom the writer owes the money. (Source huffingtonpost.com)
Shoplifting Mother tells her 7 year old daughter to spray the Family Dollar Associate with pepper spray. The mother, who had been banned from the store for theft, was being asked to leave the store when the suspect turned and sprayed two employees in the face with pepper spray. As the Store Manager wrestled the suspect to the ground, the suspect handed the spray to the daughter and told her to spray. The little girl didn't follow her mother's instructions. The Manager detained the suspect until police arrive. (Source philly.com)

Two senior level Loss Prevention positions will be named shortly

Quarterly Same Store Sales Results

Claire's 4Q up 5.4% with net sales up 13.4%, for the year up 1.8% and 4.1% respectively
Ross Stores 4Q up 5% with sales up 15%
DSW 4Q up 3.6% with sales up 15.7%
Williams-Sonoma 4Q - total revenue up nearly 11%
Pacific Sunwear 4Q up 1% with a reported loss from continuing operations of $22.5M
Tilly's4Q down 0.9% with revenue up 15% with year end up 2.2% and 17% respectively
Guess 4Q North American stores down 6.3% with revenue up 2% - North American wholesale up 26%



Vector Security furthers commitment to intelligent video and network systems with new hire

Steven White joins the National Accounts Division as Senior Director of Technology

PITTSBURGH, PA, March 20, 2013 – Vector Security, recognized as a leading security provider to national brands across North America, announces the addition of Steven White as Senior Director of Technology. Steven, recently with Checkpoint, brings over 22 years of experience to the company and will focus his attention on video and network system solutions for national account retailers.

"Steven's leadership role," says Michael Grady, Executive Vice President of Vector Security, "aligns with our continued plans to expand offerings and increase solutions in the markets of intelligent video and network systems."

Vector Security, under the leadership from Steven, will partner with its customers on a variety of innovative solutions that include an emphasis on video analytics and business intelligence in addition to the traditional video solutions customers have come to expect. He will be directly responsible for managing the Video, Electronic Article Surveillance (EAS) and Managed Network Services segments of the business; and work closely with the Marketing and Information Systems teams based in Pittsburgh, Pennsylvania.

"Steven is an innovative industry leader with broad management and technical security expertise," continues Grady, "His input and technical guidance will be an important part of our growth strategy and reinforces our commitment to provide technology solutions tailored to the specific needs of our customers."

Steven resides in Austin, Texas with his wife and two children.

Contact:
Art Miller
Vice President, Marketing
724-741-2206



Axis Announces Indoor Vandal-Resistant PTZ Domes For Overview Surveillance of Public Areas

Vandal-resistant AXIS M50-V cameras provide an affordable and robust solution ideal for indoor surveillance to efficiently identify potential threats
CHELMSFORD, Mass. – March 20, 2013 – Axis Communications, the market leader in network video, today announces indoor, vandal-resistant, ceiling-mounted pan/tilt/zoom dome cameras. AXIS M50-V PTZ Dome Network Cameras are affordably priced for remote and discreet monitoring of indoor areas, such as schools, train stations, boarding areas and warehouses. The discreet and affordable solution makes it possible to improve security and effectively manage one or more locations with remote monitoring capabilities.

The compact, lightweight and easy-to-install AXIS M50-V features a robust casing that provides protection against vandalism. The IP66- and IK10-rated cameras are resistant to water, dust and vandalism (see video). Additionally, the network cable is protected in the ceiling mount to enhance tamper protection. Both models provide a number of advantages and benefits for monitoring and securing public areas, including automatic alerts for motion detection, camera tampering or when someone enters a restricted area.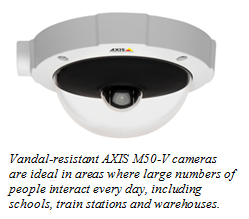 "AXIS M50-V cameras combine affordability and functionality in a discreet, vandal-resistant PTZ," said Fredrik Nilsson, general manager, Axis Communications Inc. "The ability to offer these features in one camera will be instrumental in helping to secure environments, like those in retail and transportation, that may often face changing layouts, vandalism or environmental factors such as dust and water, while still benefiting from flexible, overview surveillance."

AXIS M5013-V and AXIS M5014-V add high-quality and vandal-resistant versions to the compact and affordable AXIS M50 Series. Like the entire AXIS M50 Series, AXIS M50-V features either SVGA or HDTV-standard 720p resolution. The vandal-resistant PTZ domes can also deliver multiple, individually configurable H.264 and Motion JPEG video streams simultaneously.

Further features of the AXIS M50-V include:
| | |
| --- | --- |
| • | AXIS M5013-V provides full frame rate SVGA 800x600 pixel resolution, while AXIS M5014-V delivers 720p HDTV video with 1280x720 pixel resolution, progressive scan, HDTV color fidelity, full frame rate and a 16:9 format. |
| • | The cameras are powered using Power over Ethernet (PoE IEEE 802.3af), which simplifies installation since a standard network cable will carry power, video and PTZ controls. |
| • | Built-in memory card slot for optional local storage. |
| • | The camera can easily be integrated with existing security systems and with other products. |
The camera is supported by the industry's largest base of video management software through Axis' Application Development Partner Program and AXIS Camera Station. The camera also includes support for AXIS Camera Application Platform, AXIS Video Hosting System and ONVIF for easy camera system integration and for application developers to provide the camera with intelligent capabilities. AXIS M50-V also supports AXIS Camera Companion for a small system solution.

AXIS M5013-V and AXIS M5014-V are planned to be available in Q2 2013 for $599 and $699 MSRP respectively through Axis' standard distribution channels. For photos and other resources, please visit: this link.
Contacts:
Matt Flanagan
fama PR, Inc.
617-986-5002
axis@famapr.com

Domenic Locapo
Axis Communications Inc.
978-614-2074
dlocapo@axis.com