The D&D Daily Mobile Edition
March 23,

2015



The LP Industry's #1 News Source - Informing, Educating and Instilling a sense of community


Moving Up
See all Moving Ups here
Dave Alves was named Director of Loss Prevention for Thorntons. Dave was previously the Director of Loss Prevention for Golf Galaxy before taking on this new position. He also held the role of Director of Loss Prevention for over 14 years at Limited Brands before he went to Golf Galaxy. Dave earned his Bachelors of Science degree in LEJA, Criminal Justice/Law Enforcement Administration from Western Illinois University. Congratulations Dave!

News Brief
Sponsored by WG Security Products, Inc.
Civil Demand Under Attack in Maryland Legislature - The Domino Theory? Last week the Maryland House of Representatives passed HB 1239 Civil Penalties for Shoplifting and Employee Theft - Repeal - FOR the purpose of repealing certain provisions establishing liability to a merchant for civil penalties for shoplifting and employee theft; and generally relating to civil penalties for shoplifting and employee theft. Editor's Note: This Bill actually deletes the provisions for retailers to collect civil demand funds regardless of whether it's shoplifting or internal theft. According to our sources, the Bill 1239 now goes to the Maryland Senate floor this week and may pass. Interested parties may wish to contact the Maryland Retailers Association. Maryland Retailer Association - 410-269-1440
Maryland senate Judiciary Contact - Senator Bobby Zirkin - Chair, Senator Lisa Gladden - Vice Chair - 410-841-3623 - 1-800-492-7122 x3623, 2 East Miller Senate Building, Annapolis MD 21401. View the House Bill 1239 here. maryland.gov

New POS malware pops up stronger than the one used at Target - Russian domains The "PoSeidon" malware is built on the shoulders of infamous Zeus money sucking exploit kit and sports improvements to BlackPOS which plundered millions from Target payment terminals in 2013. It scrapes memory from POS terminals, siphoning the captured card data off to Russian domains for likely resale, Cisco says. theregister.co.uk

Tyco unveils new security solution for retailers
Retail solutions provider Tyco has launched a new security camera for retailers. The new product uses electronic pan-tilt-zoom technology, which the company says avoids the need for regular maintenance. According to Tyco, the Illustra 825 Fisheye Camera provides a 180-degree panoramic view when mounted on a wall, or a 360-degree bird's eye view when mounted on a ceiling. essentialretail.com

Total spending for Easter expected to reach $16.4 billion up 'slightly' over LY

Combating Seafood Fraud: Presidential Task Force Releases Final Action Plan

Rite Aid stock shoots up amid Walgreens acquisition rumors Rite Aid finds itself at the center of acquisition rumors after comments last week by Walgreens Boots Alliance Inc. Acting CEO Stefano Pessina. After Pessina said Walgreens is on the hunt for U.S. acquisitions as the health care system is shaken up by Obamacare, speculation by several stock analysts turned to Rite Aid as a fit for the company. Walgreens has expressed an interest in buying Rite Aid in the past, Reuters reported. If Walgreens is in fact considering an acquisition now is the time," wrote Brian Nichols, columnist/analyst for Motley Fool. "Rite Aid would be a terrific acquisition for Walgreens due to the extreme value presented in Rite Aid's stock. In all likelihood, Walgreens could buy Rite Aid for far less than a 100% premium, probably a 40 to 60 percent premium, which only adds to the logic in Walgreens making this move." cpbj.com

Toys R Us continues "Fit for Growth" initiative - $200M to $275M cost cutting Contributing over $100 million in expense control and margin improvement, primarily in our domestic business," Urcelay added. "We have identified additional cost savings opportunities of between $100 million and $175 million, of which approximately two-thirds will be realized in fiscal 2015 and the balance expected to be achieved by fiscal 2016. This brings our cumulative three year total cost savings target to between $200 million and $275 million. chainstoreage.com

How to fight shrink in a complex retail world - A great overview article on the evolution of Loss Prevention As the complexities of global retailing continue to escalate, so do the challenges faced by retailers. Their margins are under pressure as shoplifting losses and internal theft are compounded by online fraud, organized crime and more complex supply chains. The advance of omnichannel retailing has added another dimension to the challenge. Retail loss prevention departments may have reached a tipping point. The tools that worked well for them in the past are no longer adequate. Today, it is imperative for LP teams to shift their focus from traditional strategies such as policing and basic reporting, to IP videos and predictive analytics. They need these solutions to combat theft, fraud and inefficient operations that erode margins. Over the past 50 years, LP evolution has been extraordinary. As the retail landscape has changed, so have pervasive issues of shrink. Rising shrink concerns have placed LP initiatives high on the retail agenda. Companies are keen to invest in effective and proven LP methods, and to collaborate with technology companies and specialists to find loss management solutions that lower shrinkage. Forward-thinking retailers will differentiate themselves by exploring new methods to control shrink. Retailers have focused on known and verifiable past shrink to plan for the future, but during the next decade an era will emerge in which they will analyze real-time data and predict shrink. Imagine waiting only a couple of weeks rather than months to verify that shrink strategies are working. Analytics has the potential to be a game-changer in shrink management. cso.com

Survey: 70% say CEOs ultimately responsible for data breaches Websense, Inc. a global leader in protecting organizations from the latest cyber-attacks and data theft, today announced the results of an international survey of 102 security professionals conducted at this year's e-Crime Congress. Nearly all respondents (98%) believe that the law should address serious data breaches that expose consumers' data loss through punishments such as fines (65%), mandatory disclosure (68%), and compensation for consumers' affected (55%). Sixteen percent even advocate arrest and jail sentence for the CEO or board members. Respondents feel that companies that are not taking action against data loss and theft have it as an agenda item, but it's not yet a high enough priority (45%). Furthermore, 70% say the CEO should hold ultimate responsibility should a breach arise. And the pressure is mounting, as 93% of all respondents believe the advent of the Internet of Things will make companies even more vulnerable to data theft. prnewswire.com

Whistleblower files claim against JC Penney, says customers were overcharged A former part-time employee claims retaliation after reporting that the retailer was overcharging customers. Fortune has learned that a former JC Penney employee, Robert Blatchford, has filed a claim against the company under Florida's Private Whistleblower Act. The case could lead to deposition testimony by former CEO Ron Johnson. Blatchford says he was retaliated against by his manager - and later, by the company - after he complained that his store was charging customers full price for items on sale and collecting sales tax on nontaxable items. Blatchford alerted Penney's corporate hierarchy, including sending emails to both then-CEO Johnson and Dan Walker, then the head of human resources. He decided to go public himself and took his claims to the Today Show in July 2013. JC Penney responded by firing Blatchford and suing him for theft of trade secrets. fortune.com

Radio Shack Auction Today - Sprint wants 1,723 stores to co-brand or do they liquidate?

Starbucks to open 8,000 stores, 3,500 in the US over 5 yrs.

Mattress Firm plans 200-220 new stores in fiscal 2015

Retailers are wary of possible Simon - Macerich merger - too much power for Simon

Quarterly Same Store Sales Results
Gordmans Q4 down 2.7% with net sales up 2% - full year comp's up down 4.8% - net sales up 2%

Last week's most popular news article --

Panera Bread to start recording video of workers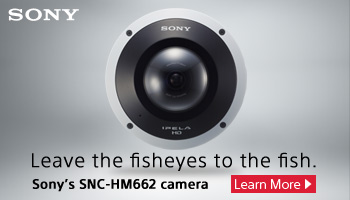 All the news - One place - One Source - One Time
The D&D Daily respects your time
& doesn't filter retail's reality
Report Your News!
(content subject to approval)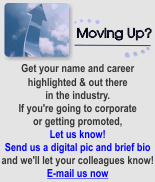 Vendor Spotlight



Vector Security Now Accepting Applications
for 2015 LPF Scholarships - 1 Week Left
Company continues commitment to furthering loss prevention education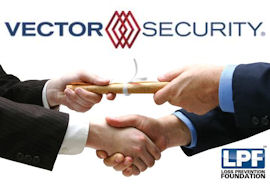 PITTSBURGH - Vector Security, Inc., the provider of intelligent security solutions tailored to the needs of customers, is accepting applications for its 2015 Loss Prevention Foundation (LPF) scholarship program from now through March 31, 2015. Applications can be downloaded via the Vector Security website at www.vectorsecurity.com/lpfscholarship.

The scholarships provide financial support to loss prevention professionals - or those who have an interest in loss prevention - seeking to obtain LPQ and LPC certifications. Vector Security began awarding the scholarships in 2009 in support of career development and continuing education for professionals in this important and rapidly-growing industry.

The scholarships cover all course and examination fees for retail loss prevention professionals who wish to obtain LPF's Loss Prevention Qualified (LPQ) or Loss Prevention Certified (LPC) certifications.

In 2012, the program was expanded into Canada and will continue this year as well. A total of 10 LPQ and 10 LPC scholarships will be awarded to U.S.-based professionals, while another five LPC scholarships will be awarded to Canadian-based professionals.

"We are pleased to collaborate with the Loss Prevention Foundation once again to support loss prevention education and certification," said Michael T. Grady, Executive Vice President, Vector Security. "We value the contributions loss prevention professionals make to this industry and our commitment to this profession remains strong."

He added, "Over the years, LPQ and LPC certifications have become immensely popular and well respected. Through our scholarship program, we're honored to assist worthy individuals who otherwise may be hindered by the costs associated with obtaining this certification."

Anyone currently in the loss prevention industry, or has an interest in the industry, may apply for an LPQ scholarship. Those applying for the LPC scholarship must meet certain eligibility requirements. Detailed information can be found at www.vectorsecurity.com/lpfscholarship.

Vector Security has awarded 134 scholarships totaling almost $123,500 since the program began in 2009.



"U-Tip - The Two Minute Tip"
Featuring Bob Serenson
Director of Loss Prevention, Logistics & Innovation, Bed Bath & Beyond
Bob Serenson, Director of Loss Prevention, Logistics and Innovation, Bed Bath & Beyond, tells us about the origin of the D&D Daily's new "U-Tip" program. Bob's LPNN session at last year's "Live in NYC" event struck a chord with a lot of LP exec's in the industry, which spurred further conversation on the topic of investing in yourself, your career, and your company investing in you. Bob brought the idea to Gus Downing, Publisher and Editor of the Daily, of giving industry leaders the opportunity to share quick tips and advice in the form of two-minute videos, with the ultimate goal of helping others improve both personally and professionally. As Bob tells Joe LaRocca in this very first U-Tip, it's all about giving people the opportunity to hear something that might click with them.
One little piece of advice could make all the difference in someone's career.
Send in Your Own U-Tip - Help the Industry Grow

Everyone's Invited and Everyone Has a Tip!
Help your industry - Share Your Tips & Advice and maybe even some of your mistakes. No invitation needed! Just send in your own video or arrange a time to film one at one of our upcoming LPNN shoots. Who knows who'll be impacted. After all, it's all about helping the LP community grow one executive at a time. Contact us to learn more.

Loss Prevention News Network

State of the Industry
& NRF Protect 2015 Update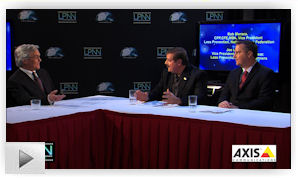 Bob Moraca, VP of Loss Prevention, National Retail Federation, and Joe LaRocca, VP & Senior Advisor, Loss Prevention, RetaiLPartners, sit down with LPNN to discuss the state of the LP industry. From data breaches to increased ORC activity, the e-commerce impact on stores, mobile payments, store closings and protests all around the country, technology is completely transforming the LP industry as we know it. Bob and Joe tell us where loss prevention is headed and how an LP executive can position him or herself for success. Bob also provides a preview of the exciting things to come at this year's re-branded NRF Protect 2015 conference in June.
---
Hedgie Bartol, Retail Business Development Manager - North America, Axis Communications, returns to the mic to co-MC with Amber in this LPNN Quick Take. Hear what Axis is doing to get in on the "selfie" game and learn about the challenges of bringing LP solutions to the franchise world.

Solution Providers, have a video or commercial you want to publish? Contact us.

Press Releases

Cognitec introduces video camera with integrated face detection and tracking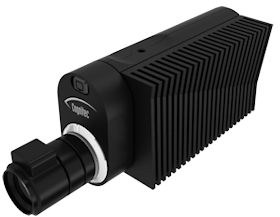 March 19, 2015 - Cognitec now offers a highly specialized IP video camera with built-in face detection and tracking technology as a component of its FaceVACS-VideoScan product. The FaceVACS-VideoScan C5 camera provides optimal image quality for real-time face recognition, even under challenging conditions, while requiring low computing hardware and bandwidth resources.

Currently, users of high-resolution machine vision cameras require constant high bandwidth to receive uncompressed face images for optimal recognition performance. This scenario requires a dedicated network connection between camera and software. Typical surveillance cameras with moderate bandwidth requirements produce compressed images, leading to decreased biometric performance of the face recognition software.

FaceVACS-VideoScan C5 combines advantages of the options above: the high image quality of machine vision cameras and moderate bandwidth requirements of surveillance cameras.

The camera performs real-time, gapless face detection/tracking and generates lossless, cropped video streams for all faces appearing in front of the camera. An integrated camera control provides optimized exposure on the face area. FaceVACS-VideoScan C5 supports RTSP/H.264 video streams for integration with digital video recording systems.

The camera delivers optimal integration with Cognitec's product FaceVACS-VideoScan, enabling the technology to detect and identify persons of interest in real time and with great accuracy. In addition, anonymous facial analysis over time allows the software to compute people count, demographical information, people movement in time and space, and to detect frequent visitors and crowds.

Cognitec is showing the camera in action at booth 11127 at ISC West in Las Vegas, USA, April 15–17, and at the Counter Terror Expo in London, UK, April 21–22, at booth H61.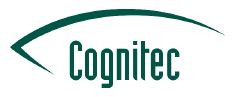 About Cognitec
Cognitec develops market-leading face recognition technologies and applications for enterprise and government customers around the world. Various independent evaluation tests have proven the premier performance of our FaceVACS® software. Cognitec's portfolio includes products for facial database search, video screening and analytics, border control, ICAO compliant photo capturing and facial image quality assessment. Corporate headquarters are located in Dresden, Germany; other offices in Miami, FL; Rockland, MA; and Sydney, Australia.

More Information and Contact
www.cognitec.com
info@cognitec.com

Elke Oberg, Marketing Manager
oberg@cognitec.com
Phone: +49-351-862-9214

Cognitec Systems GmbH
Grossenhainer Str. 101
01127 Dresden, Germany
e-commerce

Sponsored by The Zellman Group
Merchants that don't replace card readers face potential liability Small business owners need to be aware of changes in credit card-processing technology that go into effect Oct. 1, or else potentially be stuck with the bill in the event of fraud. There's no penalty for merchants that don't replace their non-EMV equipment by Oct. 1, and most EMV cards will also feature the old-style magnetic strip. However, beginning Oct. 1 the merchant - not the bank - will be liable for fraud involving a counterfeit card at a non-EMV terminal. If the fraud takes place after the merchant upgrades to EMV-compliant equipment, the bank is liable, according to IBC bank, which is conducting an EMV education campaign for merchants. valleymorningstar.com

Consumers still wary of mobile commerce
Consumers may be somewhat uneasy about making a mobile purchase, according to a recent survey from Baird Equity Research. Though mobile commerce has been gaining more attention, consumers still prefer to use more conventional forms of commerce when making purchases, especially in physical stores. Consumers may still be wary of the security issues that exist in the mobile commerce space, though many people have been growing more comfortable with the concept of making purchases with a mobile device. The majority of consumers are not convinced that mobile payments are better than more conventional forms of commerce. Using a credit or debit card or paying with cash is often considered simpler. Cash is also considered a safer way to pay for products by consumers that are not interested in mobile commerce. Some consumers do not participate in mobile commerce because retailers do not support in-store mobile payments, while others are concerned about their financial information being stolen and exploited by malicious groups. mobilecommercepress.com

Aldi to test ecommerce in Britain, other markets - report

"Fraud is not a person - it is a dynamic grouping of statistics that deviate from the norm."
Stuart B. Levine, CFI, CFCI
CEO, The Zellman Group & Zelligent


ORC News
Sponsored by Security Resources
East Baton Rouge Sheriff's Office arrest Best Buy thief for over $30,000 in merchandise The East Baton Rouge Sheriff's Office has arrested Renata Booker, 33, for Felony Theft. Booker is allegedly responsible for theft of electronic merchandise from several Best Buy stores. The incident which she was arrested for took place Thursday around 1:00 PM at the Best Buy store near the Mall of Louisiana. Booker entered the store and selected 2 Lenovo laptop computers valued at $1399.99 each. She then selected a DVD and took all 3 items to a cashier, who was told by Booker that the laptops were paid for at the back of the store. Booker paid the cashier for the DVD and then attempted to leave the store with the laptops. Loss prevention had already contacted the EBR Sheriff's Office who was waiting outside for Booker when she exited the store. Booker was taken into custody and brought to the loss prevention office. A loss prevention supervisor for Best Buy advised deputies that Booker has hit several Best Buy stores in their region. The thefts amount to more than $30,000 in electronics. redsticknow.com

Women arrested in $13,000 iPad theft scheme hitting Walmarts in Indiana and Ohio Two women suspected in a multi-state crime spree are now in police custody. Officers arrested Stephanie Toles and Jolisha McDonald outside a Greencastle Walmart Saturday morning. Investigators believe the pair is responsible for up to 40 iPad thefts across Indiana and Ohio. A Greencastle Police sergeant spotted the suspects in a red Toyota early Saturday. The Greencastle Police Department made the arrests. Surveillance cameras caught them this week entering a Greenfield Walmart. Police say they broke into the store cabinets and stole thousands of dollars worth of electronics. Both women are now in the Putnam County Jail while the prosecutor decides on possible charges. In their latest shopping spree in Greenfield, police believe the pair are responsible for stealing $13,000 worth of iPads. wthr.com
Women traveled to Gainesville, FL to steal from Wal-Mart Two women were arrested Saturday evening after police say they stole nearly $600 worth of merchandise and were found in possession of prescription drugs and cocaine, according to a Gainesville Police Department report. During that time, police say the two women were observed by a loss prevention employee as they placed at least 36 cosmetic items into a purse, bagged clothing items in a Wal-Mart shopping bag and put several pairs of sandals in a shoebox, according to the report. Eventually, Boatright took the items, left the store and headed for Waddell's car but was stopped by the loss prevention employee, the report said. After police arrived and the women were arrested, Boatwright told police that she and Waddell came to the store with intent to steal and explained that she chose the Gainesville Wal-Mart because she wasn't known in the area, the report said. gainesville.com

$600 in Whitening Stripes stolen from CVS, $300 in Razors from Food Lion in Martinsville, VA Police in Martinsville are trying to find the man who - they say - stole hundreds of dollars in merchandise from two different stores last night. According to a press release, the CVS on East Church Street reported the theft of more than 600 dollars worth of whitening strips. Police say a man taking items from the store was surveillance camera. The Food Lion on Brookdale Road also reported the theft of close to three hundred dollars in razors and pain reliever. wset.com
Do you have an ORC case to share?
Share your ORC news and help the industry grow

Retail Crime News

Sponsored by NuTech National
One dead, two shot in 17-person brawl with police in Walmart parking lot in Cottonwood, AZ - LP officer broken arm One of the nine suspects was killed. Another was shot in the stomach. All eight responding officers were injured, including one 10-year veteran who required surgery. It's the aftermath of an all-out melee in a Walmart parking lot in Cottonwood, Arizona, a town of 11,000 people about an hour's drive south of Flagstaff. Someone at the store called the Cottonwood Police Department a few minutes before midnight Saturday to report that a woman who worked at Walmart "had been assaulted in the store by multiple suspects." The suspects were in the parking lot when police responded, and they immediately attacked the officers, the DPS statement said. Two suspects were shot, one in the abdomen and one fatally, while one of the suspects shot a Cottonwood officer in the leg, according to DPS. "I heard about eight to 10 shots," Louie Solano, an eyewitness, told CNN affiliate KPHO. "It was a lot of noise. It looked like a riot in the middle of the parking lot. I mean it was unbelievable," he said.

Investigators believe the nine suspects were all from the same family. "We believe they are from Idaho because of the license plate on their vehicle," DPS spokesman Bart Graves told CNN.Seven other suspects were taken into custody, the statement said, and "a total of eight officers and another (Walmart) employee were assaulted in the parking lot during the fight. Seven of those officers sustained minor injuries to include lacerations and bruising." The Walmart employee, who was a loss prevention officer, had a broken arm, Graves said. The 31-year-old officer who suffered the gunshot wound was flown to Flagstaff Medical Center, where he underwent surgery. The veteran officer is expected to make a full recovery, according to the statement. The investigation is ongoing. wtkr.com
Suffolk Co, NY Police officer fatally shoots Best Buy larceny suspect during carjack attempt Police on Long Island shot and killed a robbery suspect Sunday night. The incident took place in Islip in Suffolk County. Investigators say it all started at about 7:45 p.m. at a Best Buy on West Sunrise Highway. A witness told police that the suspect was hiding behind another store, between two trailers. When a female officer tried to apprehend the suspect, identified as 21-year old Denzel Brown of Amityville, he ran away. During the foot chase there was a struggle and an officer tased Brown, but he kept running, police say. According to police, Brown then tried to carjack a woman with two young children sitting in the back seat. "The officer is ordering the suspect out of the car, he's refusing, he's in the driver's seat and the car's running," said Det. Lt. Kevin Beyrer of the Suffolk County Police. "The officer fired one shot. The officer is then able to open the driver's side door and then struggles inside the driver's side door with the suspect." After trying to tase Brown again, the officer fired another shot. Brown died later during surgery at the hospital. 7online.com

Racine Co, WI Schools close as manhunt underway for shooting suspect Law enforcement officers searched fields, barns and other locations for a fugitive accused of abducting a woman from a Racine County hospital and fleeing in an exchange of gunfire. Several schools in Racine County canceled classes Monday as authorities searched for Stantavious Armond Sillas, the man they say abducted a female employee at Lakeview Specialty Hospital near Rochester about 3 p.m. Sunday. Sheriff Christopher Schmaling said deputies had a description of the man's vehicle and it was spotted about an hour later at a Piggly Wiggly grocery store in nearby Union Grove. As a squad car approached, the 20-year-old man fired several rounds, even with shoppers in the parking lot, Schmaling said. No one was shot. jsonline.com

'Officer involved' shooting reported near Lougheed Town Centre in Burnaby, BC, Canada Investigators with B.C.'s police watchdog are looking for witnesses to a police shooting that wounded a man. The Independent Investigations Office wants anyone who was near the 9300-block Salish Court near Lougheed Town Centre mall at about 7:30 p.m. Friday to contact them. The agency says RCMP responded to a complaint of a man with a gun, who then drove away. It says when officers caught up to him, he threatened himself and the Mounties. The release says officers fired their weapons, wounding the man, who was taken to hospital. No officers were injured, and police have amateur cellphone video of the shooting. theprovince.com

'Mystery Shopper' scam hitting Franklin, Va. residents Residents receive a letter stating that they have been accepted as a "secret" or "mystery" shopper for a large retail chain. The letters or emails state that the recipient has been chosen for a paid position to evaluate customer service at large retail stores -- all businesses with familiar names. In reality, these stores have no affiliation with the scam artist who is placing the ad or sending the letters. The scammers also place ads for a paid shopper position. After responding to the letter or ad, the consumer receives an "employment packet" containing a training assignment, list of products to purchase at different stores and a realistic-looking cashier's check, often for $2,000 to $4,000. "The 'training assignment' is to deposit the check into the consumer's bank account, pose as a shopper and then use wire transfer to send the balance of the check's proceeds (minus the cost of the purchases and the consumer's 'salary') to an address outside the United States, often in Canada," Young said. The problem is that the check is fake, so when it bounces -- which occurs after the money is wired -- the consumer is accountable (in some cases, criminally) to the bank for the entire amount of the fake check, plus additional penalty fees." thefranklinnewspost.co

Police stage shooter, hostage drill at mall in Spotsylvania Co, VA In Sunday's scenario, three gunmen randomly started shooting at shoppers in the mall, and the response was tracked all the way from the 911 call until all suspects were in custody and hostages were safe-which took about 25 minutes, according to Capt. Jeff Pearce of the Sheriff's Office. Spotsylvania County deputies worked jointly with law enforcement officers and deputies from the Louisa County Sheriff's Office, Fredericksburg Police Department, Germanna Community College and members of the Spotsylvania Fire, Rescue and Emergency Management for this training. fredericksburg.com

5 men accused of selling counterfeit merchandise in Memphis, TN Investigators say five men were selling counterfeit purses and sunglasses at the Lamar Flea Market. In all, investigators seized more than $22,000 worth of merchandise. An undercover agent bought a fake Michael Kors purse for $35 and fake Ray-Ban sunglasses for $5. The agent even saw one of the men attach a Michael Kors logo onto a generic purse before selling it. wmcactionnews5.com

Officer assaulted with hammer apprehending a jewelry store Burglar in Prineville, OR Sgt. Jimmy O'Daniel responded to a dispatch call of an alarm early on Saturday, he found the store's front door smashed in and a suspect still inside. Police say Trevor Hugh Trollope attacked O'Daniel, bit him and struck him in the head with a hammer. A man who was on a citizen ride-along wrestled the hammer away from the attacker and helped take him into custody. O'Daniel was taken to a hospital with numerous head and bite wounds. He is in stable condition. oregonlive.com

Houston Security guard shoots couple after they mistakenly crash into Check Cashing store A security guard shot a couple after they mistakenly crashed their SUV into a check-cashing store, according to police. The incident happened around 3 a.m. According to police, the man driving the SUV was trying to park but mistakenly hit the accelerator instead of the brake, crashing his vehicle through the store glass. Police said the security guard inside the store believed the store was about to be robbed so he pulled out his gun and began shooting at the people in the SUV. The man was struck in the neck and his female passenger was shot in the stomach and arm. The man reversed the car and drove two blocks to his apartment. Police said the man called 911 and both victims were transported to the hospital in serious but stable condition. click2houston.com

11 metro Detroit residents arrested for identity theft; opening fraudulent accounts at Lowes and Cabela's Aramona Coleman, 56, was recently arrested for her involvement in an identity theft crime against 5,514 Blue Cross Blue Shield of Michigan and Blue Care Network patients. U.S. Attorney announced March 10 that 11 people from the metro Detroit area have been charged with running identity theft and credit card fraud schemes. According to court documents, Sam Patton, 47, of Dearborn, recruited six residents, including Coleman, and provided them with counterfeit Michigan licenses in the names of BCBSM subscribers, whose information was printed without authorization by Angela Patton and Sam Patton. The recruits were allegedly provided with counterfeit credit cards and credit reports in patients' names and were instructed to travel to different states to apply for credit lines in the victims' names at stores such as Lowe's and Cabela's. candgnews.com

Baltimore Police arrest the 'Khaki-Pants Bandit' Wanted In 50 Armed Robberies

Glendale, AZ Police seeking pair in assault on 71 year old security guard at Circle K

Man assaulted/robbed in line at Walmart Customer Service in Newark, DE

Walmart Asst Mgr arrested for theft of $15,000 in cash in Bryant, TX

$3,000 in Michael Kors handbags stolen in Smash and Grab in Napa, CA

Mother of CVS robber gets 13 years for hiding evidence in drug robbery in Farmington, NY

Man shot in Burlington, NC DP Mini Mart parking lot

Armed Robber arrested after hitting 5 stores in Fort Worth, TX


Robberies and Burglaries
● CVS - Cherokee Co, GA - Armed Robbery
● CVS - Indianapolis, IN - Armed Robbery
● CVS - Westerville, OH - Armed Robbery
● Exxon - Englewood, NJ - Armed Robbery
● Family Dollar - Indianapolis, IN - Armed Robbery / Police Shooting
● Family Dollar - Dayton, OH - Robbery
● Fas Mart - Pound, VA - Armed Robbery
● Fortune Grocery - Valley Stream, NY - Armed Robbery
● GameStop - Greeley, CO - Armed Robbery
● GNC - Clifton Pk, NY - Armed Robbery
● Honey Plus - New London, CT - Armed Robbery
● Kay Beauty Supply - Detroit, MI - Burglary
● Kroger - Westerville, OH - Armed Robbery
● Michael Kors Outlet - Napa, CA - Burglary
● Mike's Camera - Menlo Pk, CA - Burglary
● Payday Loan - La Crosse, WI - Armed Robbery
● Publix - Boca Raton, FL - Armed Robbery
● Quik Trip - Tulsa, OK - Armed Robbery
● Rite Aid - Toledo, OH - Armed Robbery
● Starbucks - San Bernardino, Co, CA - Armed Robbery
● Turkey Hill - Wilkes-Barre, PA - Robbery
● Union Food - Totowa, NJ - Armed Robbery
● United Dairy Farmer - Troy, OH - Armed Robbery
● Verizon - Lampasas, TX - Armed Robbery
● Verizon - Savannah, GA - Robbery
● Walgreens - Tulsa, OK - Armed Robbery
● 7-Eleven - Santa Clara, CA - Armed Robbery / Police Shooting


Featured Job Listings
Sponsored by NuTech National
Feature Your Job Here For 30 Days -
70% Aren't On the Boards
VP of LP
Mattress Firm
Houston, TX
Mattress Firm
Director AP
Big Lots
Columbus, OH
Big Lots
Director of LP
Haagen Grocery Stores
Seattle, WA
Supervalu
Director of LP
PacSun
Anaheim, CA
PacSun
Director Global AP
KFC & PH
Plano, TX
YUM! Brands
VP Supply Chain, LP & Safety
Ross Stores
Ft. Mill, SC
Ross Stores
VP of Sales
Checkview
Chanhassen, MN
Checkview
Regional Dir AP
Rite Aid
Albany, NY
Rite Aid
Regional Dir AP
Rite Aid
Warwick, RI
Rite Aid
Regional Dir AP
Rite Aid
Baltimore, MD
Rite Aid
Dir of AP Dist. Centers
Dollar General
NA
Dollar General
Director of Divisional LP
Dollar General
Goodlettsville, TN
Dollar General
AP Manager
Ralph Lauren
New York, NY
Ralph Lauren
Regional LP/Safety Mgr
American Signature, Inc
Chicago, IL
American Signature, Inc
Regional LP Mgr
Dunham's Sports
South Central KY, Central TN or NC
Dunham's Sports
Regional LP Manager
National Stores
Chicago, IL
Downing & Downing
Regional LP Manager
National Stores
Northern Bay Area, CA
Downing & Downing
Regional LP Manager
National Stores
Phoenix, AZ
Downing & Downing
Market Asset & Profit Protection Manager
Sears
Little Rock, AR
Sears Holdings Corp
Zone Asset & Profit Protection Mgr
Sears
Cincinnati, OH
Sears Holdings Corp
Zone Asset & Profit Protection Mgr
Sears
Cleveland, OH
Sears Holdings Corp
Market Asset & Profit Protection Mgr
Sears
Los Angeles, CA
Sears Holdings Corp
Zone Asset & Profit Protection Mgr
Sears
Houston, TX
Sears Holdings Corp
Zone Asset & Profit Protection Mgr
Sears
Dallas, TX
Sears Holdings Corp
Regional AP Mgr
SpartanNash
Grand Rapids, MI
LinkedIn
LP Manager
Bowlmor AMF
Long Island, NY
Bowlmor AMF
LP Manager
Bowlmor AMF
Dallas, TX
Bowlmor AMF
Market AP Specialist
REI
San Francisco, CA
REI
Market AP Specialist
REI
Chicago, IL
REI
Sr Retail AP Specialist
REI
Denver, CO
REI
Sr Retail AP Specialist
REI
Bloomington, MN
REI
LP Investigator
Bell
Mississauga, ON, Canada
Bell
Store AP Officer
Wegmans
Buffalo, NY
Wegmans
Sales Representative
NuTech National
Maitland, FL
NuTech National
National Account Executive
Checkview
Northeast Region
Checkview
National Account Executive
Checkview
United States
Checkview
Corporate Investigator
Confidential
San Francisco Bay, CA
Confidential
National Account Manager
Vector Security, Inc
TBD
Vector Security, Inc

Limited Time Only - Post Your Multi-Unit LP jobs for FREE - Learn More Here


Daily Job Alerts


Appearing One Day Only
View our Internet Jobs Archives here
LP Specialist
King Soopers
Colorado Springs, CO
Kroger
Area LP Manager
Lowe's
Colorado Springs, CO
Lowe's
Dept Mgr LP & Safety
Lowe's
Mason, OH
Lowe's
AP Manager
Sam's Club
Humble, TX
Wal-Mart
AP Manager
Sam's Club
Jacksonville, NC
Wal-Mart
AP Manager in Training
Walmart
Vancouver, WA
Wal-Mart
AP Manager in Training
Walmart
Stratford, CT
Wal-Mart
AP Manager in Training
Walmart
Mansfield, LA
Wal-Mart
AP Manager in Training
Walmart
Lewistown, PA
Wal-Mart
AP Manager in Training
Walmart
Mechanicsburg, PA
Wal-Mart
AP Manager in Training
Walmart
Glasgow, KY
Wal-Mart
AP Manager in Training
Walmart
Colorado Springs, CO
Wal-Mart
AP Manager in Training
Walmart
The Woodlands, TX
Wal-Mart
AP Manager in Training
Walmart
Escondido, CA
Wal-Mart
LP Manager Hrly
Sears
Dalton, GA
Sears Holdings Corp
LP Manager
Sears
Portland, OR
Sears Holdings Corp
LP Manager
Sears
Yorktown, NY
Sears Holdings Corp
LP Manager
Sears
Willow Grove, PA
Sears Holdings Corp
LP Manager Hrly
Kmart
New Albany, IN
Sears Holdings Corp
LP Manager
Sears
Maplewood, MN
Sears Holdings Corp
LP Manager Hrly
Kmart
Chester, VA
Sears Holdings Corp
LP Manager
Sears
Mesquite, TX
Sears Holdings Corp
LP Manager Hrly
Sears
New Hartford, NY
Sears Holdings Corp
AP Team Leader
Target
Cicero, NY
Target
ETL Assets Protection
Target
Hanford, CA
Target


Home of the Industry's Original
On the Move

Dave Alves was named Director of Loss Prevention for Thorntons.
Mark Andreotti was named Sr. Group Manager, Assets Protection Field Investigation Centers for Target.
Jeff Meyer was named Regional Loss Prevention Business Partner for Total Wine & More.
Nelson Badillo, CFI was promoted to District Loss Prevention Manager for Bealls Department Stores.
Jason Howard was promoted to Asset Protection Area Manager for Walmart eCommerce.
Matt Connor, CFI was named Regional Loss Prevention Manager for Henri Bendel.
Joshua Salthouse was named Loss Prevention Manager for Price Chopper Supermarkets.
Matt Grant was named Regional Loss Prevention Manager for Harbor Freight Tools.
Mark Fisher was named Regional Loss Prevention Manager for Groupe Dynamite.
Todd Luginbill was named Regional Loss Prevention Manager for Dollar General.
Byron Gibson, CFI was named Regional Loss Prevention Manager for Payless ShoeSource.
James Mullaney, CFI was named Regional Loss Prevention Manager for Dollar General.
Doug George was named Regional Investigator for Nordstrom.

Post Your New Job or Promotion!
See all the Industry Movement


Your Career
Sponsor this section of the Daily
How to Find and Use a Mentor
Mentors can give you tips on how to better your performance or how to handle certain situations, and the relationship you have with them can even swing open doors for you. If you don't have a mentor now, here are some tips on how to locate one and better yourself by having one. Step 1: Areas of improvement

What it Takes to Be a Good Mentee
There's plenty of advice on how to find and use a mentor, but how can you stand out from the crowd and be the one who attracts and keeps a mentor? It takes determination and a willingness to take the lead. Here are some tips on how you can be a great mentee. Seek out multiple mentors

Last week's most popular articles--

5 Signs a Leader is Burned Out
Leaders of all types get burned out, except the signs that indicate they aren't on top of their game can be missed. The problem with leadership burnout is that nobody will let you know when you've reached that point. Here are five signs to watch out for so you can make a change before it's too late. You talk to the same people

The 5 Things that Separate True Leaders from Managers Understanding the difference between management and leadership can help you, your company and your employees. Instead of focusing on how to manage the organization or employees, it's key to develop your leadership strategy. Here are some strategies to help you. You need a high IQ and EQ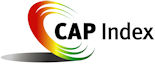 Tip of the Day
Sponsored by Vector Security
Sending and delivering the LP message in stores and at the corporate office is probably one of the most critical things one can do everyday. How you communicate and how you deliver your message will determine how they respond and react. If you expect to improve performance and influence change in the stores, then you've got to communicate in their words and their terms. Each company has a message, a mission and core values and your message should fit all of them and be an extension of them and not an addition to them. This breeds integration and results in inclusion, all of which are important elements of a successful executive.

Just a Thought,
Gus







Upcoming Events
---
Recruiting?
Get your job e-mailed to everyone... everyday
Post on our Featured Jobs Board!
Reach your target audience in 2015 every day!
Request our 2015 Media Kit
update account / change e-mail
unsubscribe FEEDBACK
www.downing-downing.com

Advertise With The D&D Daily




36615 Vine Street, Suite 103
Willoughby, OH 44094
440.942.0671
copyright 2009-2019
all rights reserved globally