The D&D Daily Mobile Edition
March 25,

2015



The LP Industry's #1 News Source - Informing, Educating and Instilling a sense of community


News Brief
Sponsored by WG Security Products, Inc.
A Call to Action: Civil Demand Under Attack in Maryland - Bill 1239 Repealing Civil Demand for shoplifting & employee theft - Legislators to Contact: Maryland's Retailers Association has been very supportive of the effort to prevent this Bill 1239 from passing and has provided a list of Senators that retailers can contact to voice their position. It's now on the Senate floor.
Retail-ISAC Launches Cyber Sharing Portal Supported by FS-ISAC The Retail Cyber Intelligence Sharing Center (R-CISC) announced it has reached another key milestone and expanded the capabilities of its Retail Information Sharing Analysis Center (Retail ISAC) with the establishment of an intelligence sharing portal managed by the FS-ISAC. R-CISC Intelligence Sharing Portal is the next phase in the continued development of the R-CISC that enhances the capabilities retailers currently use to share vital cybersecurity intelligence information within the community, and receive intelligence from key partners, government agencies, and law enforcement. Read the full press release in the Daily's Press Release column below. rila.org

Identity fraud sees massive rise in 2014 - Up 25% - It's become "crime at an industrial scale" Recorded frauds increased by 25% in 2014, according to Cifas, with just over 40% of those due to identity fraud. The average age of a victim is 46, with men almost twice as likely as women to have their identity stolen in the UK. "The frauds we are recording point to increasingly sophisticated, predatory and organized criminals," he said. "We need to redouble our efforts to fight fraud across sectors and to educate consumers and people of all ages." Application fraud as well as "facility takeover fraud", where a fraudster abuses personal data to hijack the running of an existing account or product, also contributed to the total. theguardian.com

Why U.S. EMV roll out doesn't have PIN - But only chip and signature There are two driving factors of that – one is the fact that globally, it's split. Sixty percent have gone PIN, 40 percent signature. Second, the U.S. has the most competitive card environment on the planet – consumers have an average of 3.5 cards in their wallets. Issuers say there is risk associated with having a more difficult consumer experience, said Conroy. The only thing that PIN addresses is lost and stolen fraud, which represents a very small portion of U.S. issuers' fraud problem now. One of the good things about being the last to migrate, however, is that the U.S. has learned a lot of lessons from other countries. Looking at Canada, as Canadian migration progressed, the dark blue line on the graph below represents counterfeit fraud coming down, explained Conroy. "EMV is very effective against counterfeit card fraud, but there is also a dollar for dollar displacement into CNP fraud," said Conroy. "The pressure will be even more intense in the U.S. market with that CNP fraud." pymnts.com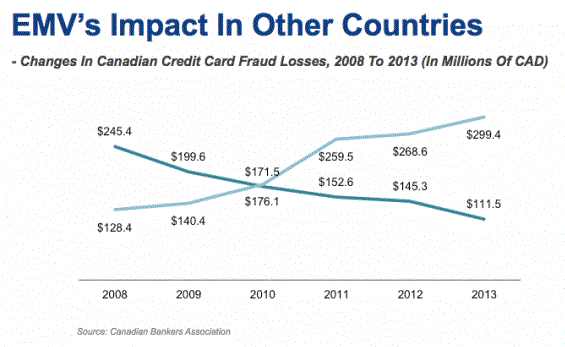 Spike In Fraud Has Experts Doubting Apple Pay
A Washington Post article cites Cherian Abraham, a mobile payments advisor with Experian Global Consulting, who suggested Apple may not be doing enough to prevent consumers from committing fraudulent payments. And according to the article, he believes up to "6 percent of Apple Pay purchases are completed with stolen cards."" Some security analysts say that Apple doesn't have enough security in place to prevent breaches, suggesting that the setup process is too simple. Others have said that Apple didn't do enough to work with banks to ensure the proper steps are taken to prevent fraud from occurring.

Reports about potential Apple Pay fraud show that instead of trying to hack Apple, thieves instead are merely swiping credit card information and fraudulently creating Apple Pay accounts with them. As PYMNTS reported earlier this month, a credit or debit card can only be added to Apple Pay when its issuing bank beams over an encrypted version of the card details to store on the phone – which it should only do when certain the real owner is using it. U.S. banks are using a "green path" for cards approved immediately without concerns and a "yellow path" for cards requiring more checks. It is that "yellow path" verification that is causing a problem, since in some cases banks are not asking enough questions and in other cases they are allowing callers to verify their identity with nothing more than the last four digits of their Social Security number.

Apple Pay's fraud 'problem' stems from account takeovers in which cybercriminals – very smart cybercriminals, I'll add – used stolen card numbers to set up iTunes accounts, and then used those iTunes accounts to provision new Apple Pay accounts. And then shopped up a storm." pymnts.com

Oklahoma HB 1966 ORC Act approved by House - Also creates ORC Advisory Board HB 1966, the Organized Retail Crime Act, proposes to create a felony for persons found guilty of organized retail crime with a penalty of $5,000 or a five-year sentence. The measure also creates a seven-member advisory board with the Oklahoma State Bureau of Investigation. grandlakenews.com

Goorin Bros. rolls out biometric-based solution securing access to POS terminal Crossmatch, a provider of biometric identity management solutions, has announced that its U.are.U 4500 Fingerprint Readers are enabling premium clothing accessory retailer Goorin Bros. to achieve PCI compliance for point-of-sale login. The Crossmatch biometrics-based solution secures access to the POS terminal, protecting the retailer and its customers from the increased risk of data breaches. retailcustomerexperience.com

Survey says nearly half of product manufacturers implementing item-level RFID - Is Omni Channeling the final push for RFID? Of the retailers surveyed, more than half (57 percent) reported that they are currently implementing RFID, and another 19.3 percent planned to implement RFID within the next 12 months. Additionally, 10.5 percent planned to implement RFID in 13-24 months. Respondents reported that on average 47 percent of items received by apparel and general merchandise retailers have RFID tags. retailcustomerexperience.com

Bidding War to Determine RadioShack's Fate
RadioShack's fate is still up in the air after a leading lender joined forces with liquidators to launch a bidding war with Standard General, the hedge fund promising to save nearly half the business. The move by Salus Capital Partners signals the decision on whether RadioShack survives bankruptcy or falls to the liquidators may be made in a Delaware bankruptcy courtroom, rather than at the auction that continues Wednesday in New York. Once RadioShack declares a winner, it must return to court to get approval to go through with a deal. That hearing is scheduled for Thursday, and RadioShack has told auction participants it believes the best offer is the one from Standard General (the group who wants to save 1,734 stores and co-brand with Sprint). wsj.com

House Homeland Security Committee Chair's Cyberthreat Info-Sharing Bill Offers Broader Liability Protections for Businesses Titled the National Cybersecurity Protection Advancement Act, that would provide broad liability protections to businesses that voluntarily share cyberthreat information. He says his bill would furnish privacy and civil liberties protections to citizens whose personal data might be exposed in cyberthreat information shared with the government and other businesses. govinfosecurity.com

Online & Discount giving grocers a run for their money - Discounters now have 40% of the market & online growth may surprise you - It's Time to Reinvent Competition is stiff in the supermarket industry and two niche formats are giving traditional grocers a run for their money in 2015: online and discount. AmazonFresh and Walmart's online grocery services are up, running and ready for rapid expansion, offering delivery services to more cities as the year progresses. Discount grocers now comprise 40 percent of the market. If traditional grocers want to compete, they will have to reinvent themselves to survive and thrive. progressivegrocer.com

Four retailers make Top 10 America's Best Employers - Costco - The Container Store - LL Bean - Wegmans Food Markets

Feds 'Actively Investigating' Lumber Liquidators, Testing Safety of Flooring

Congress Urged to Squash Patent Trolls - Trolls Use Fear and Intimidation to Extort Legitimate Business Owners

Macy's Eyeing China, International Expansion

Toys R Us continuing it's "TRU Transformation" with reporting Q4 $265M net profit

Home Depot to hire 80,000 seasonal employees for spring


Quarterly Same Store Sales Results
Destination XL Group Q4 up 8.9% with sales up 16.4%
Canada's Dollar Rama Q4 up 8.5% with sals up 14.9% - full year comp's up 5.7% with sales up 12.9%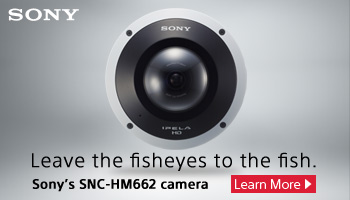 All the news - One place - One Source - One Time
The D&D Daily respects your time
& doesn't filter retail's reality
Report Your News!
(content subject to approval)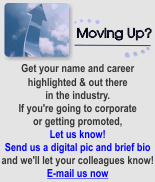 Vendor Spotlight


Sephora Partners with Vector Security for Technology Upgrades, Loss Prevention Strategies
Luxury beauty brand chooses intelligent security provider for its focus
on quality and innovation.
PITTSBURGH, March 24, 2015 - Sephora, the visionary beauty-retail concept with nearly 400 stores in North America, has chosen Vector Security as its partner while it focuses on technology upgrades to enhance loss prevention in its North American locations.

"We selected Vector Security for their focus on quality and innovation," said Josh Dykstra, Sephora's Loss Prevention Operations Manager. "Where others fell short, Vector Security had a clear technology roadmap and eye towards the future, which is critical for us as we look to upgrade technology within our stores."

Those upgrades include migration from analog to IP cameras, as well as conversion to newer alarm panels and electronic article surveillance (EAS) technologies.

Already, alarm monitoring conversions have been completed and conversion to IP cameras with hybrid digital video recorders (DVRs) are currently in process, with approximately 30-50 stores being turned over at a time. Josh would like to eventually see the cameras used not just for video surveillance, but also for analytics that can help manage loss, assist with employee training and drive critical business decisions.

"We could use video analytics to help us identify top-of-mind issues such as large-scale shop lifting, suspicious point-of-sale transactions and returns," Josh explained, adding that he is also excited about the benefits of Vector Security's false alarm reduction and fines management services.

While Sephora offers public wi-fi in all its stores and has a network that supports automated shopping tools and customized beauty services, the company is interested in adding a secondary network; discussions are taking place with Industry Retail Group (IRG), a subsidiary of Vector Security that offers managed network services.

Read more here.


"U-Tip - The Two Minute Tip"
Featuring Bob Serenson
Director of Loss Prevention, Logistics & Innovation, Bed Bath & Beyond
Bob Serenson, Director of Loss Prevention, Logistics and Innovation, Bed Bath & Beyond, tells us about the origin of the D&D Daily's new "U-Tip" program. Bob's LPNN session at last year's "Live in NYC" event struck a chord with a lot of LP exec's in the industry, which spurred further conversation on the topic of investing in yourself, your career, and your company investing in you. Bob brought the idea to Gus Downing, Publisher and Editor of the Daily, of giving industry leaders the opportunity to share quick tips and advice in the form of two-minute videos, with the ultimate goal of helping others improve both personally and professionally. As Bob tells Joe LaRocca in this very first U-Tip, it's all about giving people the opportunity to hear something that might click with them.
One little piece of advice could make all the difference in someone's career.
Send in Your Own U-Tip - Help the Industry Grow

Everyone's Invited and Everyone Has a Tip!
Help your industry - Share Your Tips & Advice and maybe even some of your mistakes. No invitation needed! Just send in your own video or arrange a time to film one at one of our upcoming LPNN shoots. Who knows who'll be impacted. After all, it's all about helping the LP community grow one executive at a time. Contact us to learn more.

Loss Prevention News Network

State of the Industry
& NRF Protect 2015 Update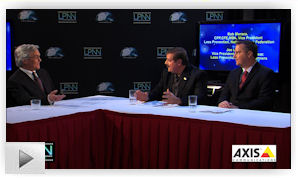 Bob Moraca, VP of Loss Prevention, National Retail Federation, and Joe LaRocca, VP & Senior Advisor, Loss Prevention, RetaiLPartners, sit down with LPNN to discuss the state of the LP industry. From data breaches to increased ORC activity, the e-commerce impact on stores, mobile payments, store closings and protests all around the country, technology is completely transforming the LP industry as we know it. Bob and Joe tell us where loss prevention is headed and how an LP executive can position him or herself for success. Bob also provides a preview of the exciting things to come at this year's re-branded NRF Protect 2015 conference in June.
---
Hedgie Bartol, Retail Business Development Manager - North America, Axis Communications, returns to the mic to co-MC with Amber in this LPNN Quick Take. Hear what Axis is doing to get in on the "selfie" game and learn about the challenges of bringing LP solutions to the franchise world.

Solution Providers, have a video or commercial you want to publish? Contact us.

Press Releases

Retail-ISAC Launches Cyber Sharing Portal Supported by FS-ISAC
Portal the latest milestone for Retail Cyber Intelligence Sharing Center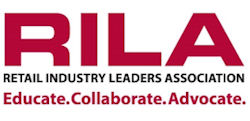 Washington, DC - 3/24/2015 - ​​The Retail Cyber Intelligence Sharing Center (R-CISC) announced it has reached another key milestone and expanded the capabilities of its Retail Information Sharing Analysis Center (Retail ISAC) with the establishment of an intelligence sharing portal managed by the FS-ISAC.

R-CISC Intelligence Sharing Portal is the next phase in the continued development of the R-CISC that enhances the capabilities retailers currently use to share vital cybersecurity intelligence information within the community, and receive intelligence from key partners, government agencies, and law enforcement.

"The formalization of the sharing portal supported by the FS-ISAC is an important step in the evolution of retail cyber threat information sharing," said R-CISC Executive Director Brian Engle. "The R-CISC portal will substantially increase the efficacy of the information sharing already underway by contextualizing, prioritizing and cataloging the information shared between retailers, other industries and law enforcement."

The launch of the Intelligence Sharing Portal is one of several tools that the R-CISC is developing to serve the industry. In addition to enabling valuable cyber threat information sharing, the R-CISC continues to develop robust education and research offerings as well.

"FS-ISAC is proud to support R-CISC as it delivers on its core mission of information sharing and enabling retail organizations around the world improve their cyber security posture and resilience," says Bill Nelson, FS-ISAC President & CEO. "FS-ISAC continually looks to innovate how information is shared, analyzed and disseminated. We believe there is tremendous potential both for intra-sector and cross-sector sharing and we look forward to sharing our expertise to help enable these new ways of collaborating."

The relationship with FS-ISAC also paves the way for continued advancements, including use of Soltra Edge, the automated threat indicator sharing platform and other technologies and services.



Background on R-CISC:

The Retail Cyber Intelligence Sharing Center is the cybersecurity resource for the retail industry. The R-CISC is a non-profit corporation promoting cybersecurity and data privacy through all appropriate means.

Developed with the input of more than 50 retailers, the R-CISC consists of three components:

| | |
| --- | --- |
| 1. | The Center's Retail Information Sharing and Analysis Center (ISAC) has opened a steady flow of information sharing between retailers, law enforcement and other relevant stakeholders. These efforts already have helped retailers establish trusted sharing relationships, have prevented data breaches, protected millions of American customers and saved millions of dollars. |
| 2. | The Education & Training arm works with retailers and partners to develop and provide both education and training to empower information security professionals in retail and related industries. |
| 3. | The Research arm looks to the future, undertaking research and development projects in partnership with academia, thought leaders, and subject matter experts in order to better understand threats on the horizon. |
Visit www.r-cisc.org for additional information

e-commerce

Sponsored by The Zellman Group
Smart wallets puts a spin on mobile payments
With mobile payments becoming more popular, the need for smart wallets is increasing. These mobile applications are designed to function as digital counterparts to physical wallets or pocketbooks. They store personal information, such as the data associated with a debit or credit card. They can also store information provided by retailers, like loyalty cards that offer rewards. Smart wallets are, however, more compact and efficient at keeping track of important information. A biometric technology company, has announced the launch of its new smart wallet, called Wocket. The wallet is somewhat different than conventional mobile wallets in that it is actually a physical product and not an application. Wocket is designed with security in mind, as well, featuring the ability to protect a users identity and replace all payment cards. The wallet will be accepted anywhere that already accepts credit card transactions, making it a potential competitor for other mobile payments platforms. Wocket uses voice recognition technology to secure itself, adding another layer of security to its structure. qrcodepress.com

Study says many mobile apps vulnerable to cyberattack Demand for mobile apps is putting users' private information at risk, according to a new study from Ponemon Institute and IBM. Among more than 400 organizations surveyed, including many Fortune 500 companies, the study says almost 40% don't review code for security vulnerabilities, and one-third (33%) never test their apps. More than 1 billion personal data records were breached in 2014, with annual losses due to mobile fraud costing businesses $240 million annually. While companies have made moves to secure their servers, mobile apps are the new weak link in the security chain. Mobile apps are becoming a valuable way for retailers to reach shoppers in stores with beacons, and during their everyday lives with useful tools like shopping list apps. Retrofitting apps to be more secure is impossible, the study says, so retailers need to start building security into their apps at the outset to avert cybercrime, data breaches, and business disruptions. retaildive.com

E-commerce represents 14% of overall sales for retail chain New York & Co.

"Fraud is not a person - it is a dynamic grouping of statistics that deviate from the norm."
Stuart B. Levine, CFI, CFCI
CEO, The Zellman Group & Zelligent


ORC News
Sponsored by Security Resources
2014 ORC Cases By the Numbers

Reported in the Daily


| | | | | | |
| --- | --- | --- | --- | --- | --- |
| METHOD | TOTAL # OF CASES | TOTAL # OF SUSPECTS | # CASES WITH $ AMOUNT REPORTED | # SUSPECTS WITH $ AMOUNT REPORTED | DOLLAR AMOUNT |
| CC Fraud | 167 | 402 | 78 | 172 | $528,221,068 |
| Counterfeit Fraud | 2 | 5 | 2 | 5 | $300,000,600 |
| Cargo Theft | 14 | 43 | 9 | 23 | $285,925,000 |
| Fencing Op | 38 | 217 | 19 | 85 | $48,670,000 |
| Wire Fraud | 1 | 1 | 1 | 1 | $19,000,000 |
| Shoplifting | 645 | 1551 | 450 | 976 | $16,828,304 |
| Global Hacking | 1 | 2 | 1 | 2 | $15,000,000 |
| Burglary | 56 | 141 | 33 | 73 | $10,516,500 |
| ID Theft | 69 | 221 | 33 | 107 | $9,440,982 |
| Employee Theft | 54 | 125 | 48 | 107 | $7,102,215 |
| Counterfeit Goods | 4 | 9 | 2 | 5 | $2,311,000 |
| Gift Card Fraud | 29 | 73 | 19 | 49 | $1,592,848 |
| Robbery | 45 | 105 | 20 | 44 | $1,497,289 |
| Counterfeit Checks | 1 | 3 | 1 | 3 | $1,000,000 |
| Stolen Big Rig Equip | 1 | 2 | 1 | 2 | $1,000,000 |
| Truck & Trailer Thefts | 1 | 10 | 1 | 10 | $1,000,000 |
| No Method | 4 | 28 | 1 | 4 | $720,000 |
| Return Fraud | 16 | 34 | 11 | 23 | $605,286 |
| Tractor Trailer Thefts | 2 | 3 | 2 | 3 | $596,000 |
| Check Fraud | 4 | 24 | 3 | 23 | $541,200 |
| Skimming | 5 | 10 | 1 | 3 | $500,000 |
| Counterfeit Receipts | 1 | 4 | 1 | 4 | $400,000 |
| Smash and Grab | 6 | 21 | 3 | 13 | $333,000 |
| UPC Switching | 4 | 7 | 4 | 7 | $303,492 |
| Gas Theft | 2 | 5 | 1 | 2 | $100,000 |
| Theft Ring | 3 | 45 | 1 | 1 | $100,000 |
| Hacking | 1 | 2 | 1 | 2 | $40,000 |
| CC Theft | 3 | 4 | 1 | 1 | $31,000 |
| Rec. Stolen Property | 1 | 1 | 1 | 1 | $25,000 |
| CC Skimming | 1 | 1 | 1 | 1 | $15,000 |
| Counterfeit Money | 2 | 5 | 2 | 5 | $6,000 |
| Money Laundering | 2 | 2 | 0 | 0 | $0 |
| Retail Fraud | 1 | 3 | 0 | 0 | $0 |
| Trafficking | 1 | 1 | 0 | 0 | $0 |
| Ticket Switching | 1 | 1 | 0 | 0 | $0 |
| Welfare Fraud | 1 | 3 | 0 | 0 | $0 |
| | | | | | |
| Total | 1189 | 3114 | 752 | 1727 | $1,253,421,784 |

UK Female ORC gang busted with an "Aladdin's Cave" fencing operation all set up - $15k of merchandise recovered POLICE have vowed to continue to crack down retail crime after arresting a gang of women shoplifters from Bradford who were targeting stores across West Yorkshire. Officers discovered an "Aladdin's Cave" of stolen quality clothing, stored and ready to be sold on, after raiding a string of addresses in the city. The haul, worth more than 10,000 pounds, was found when police executed warrants at five homes, in Holme Wood and Fagley, on Monday. Five women - aged 22, 27, 34, 38 and 55 - were arrested on suspicion of theft and handling stolen goods. They have been bailed pending further police inquiries. Two of the women are related. Police recovered more than 100 items from the five properties, mainly children's clothing, but also adult's clothes and other accessories. The gang had targeted around a dozen stores across West Yorkshire, including in Bradford city centre and the Forster Square retail park. Police began their investigation after receiving information about suspected stolen clothing and accessories being sold on online auction sites. thetelegraphandargus.co.uk

Cuban Gang of three arrested using counterfeit credit cards throughout Utah at Walmart stores - Part of larger group - Hitting other States Police officers were able to arrest three men suspected of creating fake credit cards, with stolen valid account numbers, and using those cards in recent weeks to purchase items at Walmart stores throughout Utah. Police also believe the suspects may be wanted in other states. They had used a few of the fraudulent credit cards at the store, and some of the cards contained information stolen from Utah victims. Officers suspect the three arrested individuals may be part of a larger group of suspects who are traveling to various states using stolen credit cards and banking information. The arrested suspects are all originally from Cuba. It appears one of them has gained United States citizenship, but the status of the others involved in the case are unknown. Pilas-Rojas is a fourth suspect officers have identified. Police are attempting to identify at least two additional persons of interest from surveillance camera photographs. Fraudulently purchased gift cards totaling nearly $8,000 were reportedly recovered, as were as an assortment of blank banking cards. At least some of those cards contained stolen information, including possible bank account numbers and other personal data. Federal law enforcement has also been notified of the arrests. heraldextra.com

C Store Fencing Operation: Lake County, OH Sheriff's Office busts 3 C-Stores selling stolen Big Box merchandise; tied to heroin trafficking Authorities seized over $150,000 from Lake County businesses that knowingly bought property stolen by heroin addicts who used the cash in the drug trade, officials said. The Lake County Sheriff's Office, after a yearlong investigation, accused five stores in Wickliffe, Painesville and Willoughby of buying and often reselling stolen gold and merchandise stolen from big box retail stores. The Lake County Heroin Task Force launched the investigation in January 2014, asking businesses to report the attempted sale of suspicious property. The task force also began regular compliance checks. The first wave of search warrants, executed March 5, turned up over $100,000 from three grocery and convenience stores. The owners of Dairy Mart in Painesville and the Wickliffe Food Mart and Spinner's Discount Tobacco and Beverage in Wickliffe repeatedly bought items stolen from big retailers, officials said. Investigators on Friday raided two cash-for-gold stores accused of buying gold coins and other metals stolen from homes or businesses. Employees at Gold-N-Merchant in Willoughby and Ohio Gold and Coins in Painesville regularly failed to confirm sellers' identities. Authorities seized $8,000 from the two gold-buying stores. Lake County Sheriff Dan Dunlap in a phone interview said he was not sure where the remaining $42,000 was found. Some heroin users went to the same stores 20 or 30 times to sell property they admittedly stole, Dunlap said. Officials were tipped off by heroin users who overdosed and later admitted to funding their addiction in this way, the sheriff said. The Lake County Prosecutor's Office is reviewing these cases for possible charges of receiving stolen property, money laundering and engaging in a pattern of corrupt activity. The businesses may also face charges through the Ohio Investigative Unit for licensing violations. "These investigations should serve as a warning to all business owners who buy and re-sell stolen merchandise," said Greg Croft, an agent at the Ohio Investigative Unit. "Through the purchase of these stolen items, business owners are directly contributing to the narcotics problems our communities are facing every day and it cannot be tolerated." newsnet5.com
ORC monthly meeting with Tucson Police pays off with a raid on a shoplifters house Tucson Police Department put a serial shoplifter behind bars. Detectives said the man used his child and his girlfriend to steal merchandise from Target Stores from Tucson to Tempe. Surveillance pictures were passed around at the monthly retail theft meeting held at Tucson Police Department's Operation Division West. "The target store brought this information to us. They had gotten a license plate from the vehicle," Detective Johnny Walker said. A black BMW helped detectives track down 48-year-old Robert Amereno and 52-year-old Tammy Anderson. Both of the suspects were captured on surveillance cameras. Detective Walker described what Amereno did on the surveillance camera. "He's going to quickly take the price tag off and discard the item," he said. Detective Walker said Amereno would then place that price tag on a more expensive item. "He was concealing merchandise in boxes for cheaper merchandise or he was also doing some price switching," he said. The detectives add that Amereno was using his son to conceal expensive items by sitting on top of it in the shopping cart. If the cashier questioned anything, Amereno would distract them. To stop the detector from going off, Amereno also used a magnetic device to manipulate the security devices that are on some of the merchandise. TPD served a search warrant on Amerino's eastside home earlier this month. The found the stolen merchandise, along with a marijuana growing operation with 62 plants. They also found large screen TV's, cash, an extensive collection of DVDs, hundreds of video games and an expensive watch. Detective Walker estimates between $6,000 and $7,000 worth of merchandise was stolen. Amereno was booked on 16 counts of shoplifting. Anderson was charged with felony shoplifting and felony theft. "The main thing is working with Target we were able to take him off the street," Detective Walked said. Detectives from Operation Division West said they have a good working relationship not Target and the rest of the merchants, and its evident by the number of arrests they're making. According to TPD, all this in an effort to keep the public safe. kvoa.com
Oak Lawn, IL Police arrest man in Razor theft
Dustin L Gilbert, age 32 of Palatine, was arrested March 11 from the Mariano's in Oak Lawn for stealing eight Gillette Fusion razor blades and 12 packages of Olio lotion. The loss prevention agent for Mariano's told police he saw Gilbert hide razor blades and lotion packages in his coat, according to an Oak Lawn police report. Gilbert was brought to the Oak Lawn Police Department, where he verbally admitted taking the items and leaving without paying for them, police reported. patch.com

Four arrested for $1,100 Macy's shoplifting at Eastern Hills Mall, Amherst, NY Four people involved in a shoplifting incident at Macy's, in the Eastern Hills Mall, were arrested Tuesday evening, according to the Erie County Sheriff's Office. Tanashia Bradley, 18, Dartwon Brooks, 22, Devonte Whitsett, 22, and a minor, all of Buffalo, were arrested during a traffic stop on Transit Road. Deputies approached the vehicle, after getting a description of the vehicle from a loss prevention officer. Deputies found a passenger trying to conceal items inside the car. Officials said $1,100 worth of merchandise was stolen from the store. wivb.com
Do you have an ORC case to share?
Share your ORC news and help the industry grow

Retail Crime News

Sponsored by NuTech National
Kroger Employee killed outside store in domestic violence shooting in Memphis One person is dead and one person is in the hospital after a shooting outside a Kroger store. The shooting happened at the 1212 Shelby Drive location around 5:40 Wednesday morning. Witnesses said a man was ramming a vehicle belonging to his wife, or ex-wife. The woman, who works at the store, apparently ran out yelling at the man to stop. Witnesses say the woman begged for her life before being shot in the head. The woman died in the parking lot. The shooter is in extremely critical condition at the Regional Medical Center. wreg.com

Police on the lookout for 2 men in connection with Edgewood Towne Center shootout outside Pittsburgh Two arrest warrants have been issued in connection with last week's shootout at the Edgewood Towne Centre, according to police. Allegheny County police said Tuesday that Jerome Jamie Jones and Montell Jerome Mitchell are wanted in connection with the incident that took place at the shopping center on S Braddock Avenue around 3 p.m. last Thursday. One person was shot in the hand during the shooting. According to Allegheny County Police Lt. Tom Ianachione, Jones, 22, and Mitchell, 19, were inside the Villa shoe store when the victim and another man entered the business. At that time, surveillance video from inside the store shows Jones and Mitchell pulling out their guns and opening fire. The victim ran toward the front of the store, while the man he was with ran to the back of the store. Jones and Mitchell followed the victim out the front of the store and continued firing shots until the victim left in a vehicle. Jones and Mitchell drove off in another vehicle. Police said Jones and Mitchell should be considered armed and dangerous. wpxi.com
Authorities seize $1 million in counterfeit items from a North Carolina man Members of the Davidson County Sheriff's Office Vice/Narcotics Unit and agents with the N.C. Secretary of State's Office of Trade Enforcement seized over $1 million in counterfeit items from a business in Wholesale Alley on Berrier Avenue on Monday. Hua Wu, 41, was charged with felony counterfeit trademark items. He was placed in the Davidson County Detention Center under a $150,000 secured bond. Wu is scheduled to appear May 28 in court. The DCSO and N.C. Secretary of State's Office conducted the investigation Monday involving counterfeit trademark purses at an independent business, Color Stone, at Wholesale Alley at 308 Berrier Ave., according to a news release from the sheriff's office. Authorities seized items that had tag labels bearing the trademark names of Michael Kors, Chanel and Gucci, an arrest warrant stated. All of the items have a street value of about $1,042,500. DCSO detectives seized $1,276 in cash. Detectives identified Wu as the Color Stone business owner. He is on probation for felony counterfeit items for an offense in 2013. the-dispatch.com

Pair arrested after 60+ credit cards found in Pender Co, NC Deputies arrest a pair they say after deputies found them with more than 60 credit cards. Deputies say Alicia Brown and Sadonte McNeil are facing numerous counts related to identity theft and were placed in jail under a $50,000 secured bond. Deputies say they were stopped after attempting to commit a fraud at a Lowes Foods in Hampstead; they say the pair committed a fraud at another location earlier in the day and the staff was alerted to keep a watch out for the female suspect. When she was spotted, deputies say a manager called them. Deputies say when they pulled over the pair, fraudulent credit cards were found along with property that was stolen by fraudulent use of a credit card at the Leland Lowes Foods earlier in the day. wwaytv3.com

Dalton, GA Police Seek Suspect In Credit Card Fraud The Dalton Police Department is seeking to indentify two men who used stolen credit card information to purchase gift cards at Bi-Lo in Dalton. Two men entered the store together and bought two Shell gas cards and a Visa gift card. The victim in the case noticed the unauthorized activity on his account a few days later and reported it to police. The victim was still in possession of his credit card and investigators do not know how the suspects got his account information. The victim reported that his card was apparently also tried at Home Depot but it was declined. chattanoogan.com
Man arrested after police chase starts at Walmart in Clarksville, Ind., ends in Louisville, KY A police chase that started in Clarksville, Ind. ended in downtown Louisville. The pursuit began around 11:42 a.m. on Veterans Parkway, started down I-65 and ended on Congress Street in Louisville. The suspect was identified as 34-year-old Michael D. Hill who has multiple felony warrants out of Kentucky, according to Police. Clarkville Police said Hill ran from Walmart security then entered a vehicle where units arrived on the scene and attempted to stop him. Hill refused to stop for police units and fled his vehicle on I-65 south. They said a police unit attempted to stop Hill on the entrance ramp to I-65 south but the cruiser was damaged in the attempt to stop Hill. Hill was finally stopped in Louisville. He was arrested by LMPD. whas11.com

Tulsa, OK man arrested; connected to Armed Robberies at 4 CVS stores Police arrested a man they suspect in several pharmacy robberies in Tulsa in recent weeks. Kyle Jefferson, 28, was booked into the Tulsa County Jail Tuesday evening for attempted robbery and multiple complaints of first-degree robbery. Officers say they spotted a vehicle Tuesday afternoon that matched the description of a vehicle used during a robbery at CVS Pharmacy near 21st and Harvard March 5. Police followed the truck to a driveway near 31st and Memorial where they made contact with Jefferson and his female driver. Both were taken in for questioning and Jefferson ultimately was arrested on suspicion of three CVS robberies and assisting in a fourth. kjrh.com

3 smash-and-grab burglaries on Chicago's North Side this month Police are cautioning North Side business owners after three overnight smash-and-grab burglaries this month. The first burglary happened sometime between 10 p.m. and 6 a.m. from March 11-12 at a business in the 4100 block of North Clarendon, according to a Chicago Police alert. At least one burglar shattered the front glass to steal property. Another was reported between 9:30 p.m. and 9:30 a.m. from March 20-21 in the 4100 block of North Lincoln, police said. The most recent incident happened between 11 p.m. Monday and 9 a.m. Tuesday in the 800 block of West Sheridan, where someone smashed through a wall to get inside, the alert said. Police do not have a description of any suspects. suntimes.com

Suspects sought in string of cellphone store heists in Houston Police are searching for three men suspected in a string of eight robberies--three of them days apart at the same cellular phone store-- in the past several weeks in southwest Houston. Seven of the heists happened at cellphone stores while one was at a fast-food restaurant, according to the Houston Police Department. The latest robbery occurred March 20 while the first happened Feb. 2. chron.com
Buffalo, NY woman gets 90 days for Macy's Walden Galleria $1,800 theft

More than $1,000 worth of nose rings stolen from Orem, UT store

Two California men sentenced to 20 years in Waikiki, HI card-skimming scheme

Attorney withdraws, death penalty argument hearing delayed in Las Vegas Walgreens Pharmacy slaying case


Robberies and Burglaries
● Bauder Pharmacy - Des Moines, IA - Robbery
● CVS - Tulsa, OK - Armed Robbery
● Dollar General - West Shreveport, LA - Armed Robbery
● Luke Drive - San Juan, PR - Armed Robbery
● Metro PCS - Colorado Spring, CO - Armed Robbery
● N-N-Out - Odessa, TX - Armed Robbery
● Pilot - Knoxville, TN - Armed Robbery
● Quik Trip - Tulsa, OK - Armed Robbery
● Rod n Reel - St Mary, MD - Armed Robbery
● RP Mini - Philadelphia, PA - Burglary
● Select Food - Omaha, NE - Armed Robbery
● Shell - Prior Lake, MN - Armed Robbery
● Shooters Guns - New Haven, IN - Armed Robbery
● Turkey Hill - Kingston, PA - Armed Robbery
● United Dairy Farmers - Cincinnati, OH - Armed Robbery
● USA Service Pro - White Plains, NY - Robbery
● Walgreens - Burley, ID - Armed Robbery
● Wireless USA - Farmington, MI - Burglary
● Woodall's - Albany, GA - Armed Robbery
● 7-Eleven - Jacksonville, FL - Armed Robbery


Featured Job Listings
Sponsored by NuTech National
Feature Your Job Here For 30 Days -
70% Aren't On the Boards
VP of LP
Mattress Firm
Houston, TX
Mattress Firm
Director AP
Big Lots
Columbus, OH
Big Lots
Director of LP
Haagen Grocery Stores
Seattle, WA
Supervalu
Director of LP
PacSun
Anaheim, CA
PacSun
Director Global AP
KFC & PH
Plano, TX
YUM! Brands
VP Supply Chain, LP & Safety
Ross Stores
Ft. Mill, SC
Ross Stores
VP of Sales
Checkview
Chanhassen, MN
Checkview
Regional Dir AP
Rite Aid
Albany, NY
Rite Aid
Regional Dir AP
Rite Aid
Warwick, RI
Rite Aid
Regional Dir AP
Rite Aid
Baltimore, MD
Rite Aid
Dir of AP Dist. Centers
Dollar General
NA
Dollar General
Director of Divisional LP
Dollar General
Goodlettsville, TN
Dollar General
AP Manager
Ralph Lauren
New York, NY
Ralph Lauren
Regional LP/Safety Mgr
American Signature, Inc
Chicago, IL
American Signature, Inc
Regional LP Mgr
Dunham's Sports
South Central KY, Central TN or NC
Dunham's Sports
Regional LP Manager
National Stores
Chicago, IL
National Stores
Regional LP Manager
National Stores
Northern Bay Area, CA
National Stores
Regional LP Manager
National Stores
Phoenix, AZ
National Stores
Market Asset & Profit Protection Manager
Sears
Little Rock, AR
Sears Holdings Corp
Zone Asset & Profit Protection Mgr
Sears
Cincinnati, OH
Sears Holdings Corp
Zone Asset & Profit Protection Mgr
Sears
Cleveland, OH
Sears Holdings Corp
Market Asset & Profit Protection Mgr
Sears
Los Angeles, CA
Sears Holdings Corp
Zone Asset & Profit Protection Mgr
Sears
Houston, TX
Sears Holdings Corp
Zone Asset & Profit Protection Mgr
Sears
Dallas, TX
Sears Holdings Corp
Regional AP Mgr
SpartanNash
Grand Rapids, MI
LinkedIn
LP Manager
Bowlmor AMF
Long Island, NY
Bowlmor AMF
LP Manager
Bowlmor AMF
Dallas, TX
Bowlmor AMF
Market AP Specialist
REI
San Francisco, CA
REI
Market AP Specialist
REI
Chicago, IL
REI
Sr Retail AP Specialist
REI
Bloomington, MN
REI
LP Investigator
Bell
Mississauga, ON, Canada
Bell
Store AP Officer
Wegmans
Buffalo, NY
Wegmans
Sales Representative
NuTech National
Maitland, FL
NuTech National
National Account Executive
Checkview
Northeast Region
Checkview
National Account Executive
Checkview
United States
Checkview
Corporate Investigator
Confidential
San Francisco Bay, CA
Confidential
National Account Manager
Vector Security, Inc
TBD
Vector Security, Inc

Limited Time Only - Post Your Multi-Unit LP jobs for FREE - Learn More Here


Daily Job Alerts


Appearing One Day Only
View our Internet Jobs Archives here
LP Program Mgr
Amazon
Robbinsville, NJ
Amazon
Regional LP Manager
Dollar General
Tupelo, MS
Dollar General
Store AP Mgr
Home Depot
Brewster, NY
Home Depot
LP & Safety Spec
Lowe's
Midland, TX
Lowe's
LP & Safety Spec
Lowe's
College Station, TX
Lowe's
Dept Mgr LP & Safety
Lowe's
Crossville, TN
Lowe's
Regional LP Mgr
Little Caesars
Houston, TX
Little Caesars
LP Shrinkage Specialist
Nordstrom
Overland Park, KS
Nordstrom
AP Manager in Training
Walmart
Union, NJ
Wal-Mart
AP Manager in Training
Walmart
Covington, LA
Wal-Mart
AP Manager in Training
Walmart
Ardmore, OK
Wal-Mart
AP Manager in Training
Walmart
Cullman, AL
Wal-Mart
AP Manager in Training
Walmart
Clewiston, FL
Wal-Mart
LP Manager Hrly
Sears
Murfreesboro, TN
Sears Holdings Corp
AP Team Leader
Target
Mentor, OH
Target
LP Manager
Macy's
Lanesborough, MA
Macy's
LP Specialist
Marshalls
Decatur, GA
TJX Companies
LP Manager
Boston Store
Madison, WI
Bon Ton Stores
Area LP Mgr
dd's Discount Stores
Olympia, WA
Ross Stores


Home of the Industry's Original
On the Move

Hutch Hillebert was named Regional Asset Protection Manager for Regis Corporation.
Frank James was named Asset Protection Specialist for Bi-Lo Holdings.

Post Your New Job or Promotion!
See all the Industry Movement


Your Career
Sponsor this section of the Daily
Find a supportive boss - or leave, top female CEO tells young women Executive search firm Egon Zehnder have continued their commitment to the 25 by 25 initiative by hosting a 'Leaders & Daughters' discussion evening. Held at the Welcome Collection in London, business leaders, accompanied by their daughters, listened to a panel of experts discuss and offer advice about becoming future leaders. Garfield, the youngest of only five female CEO's in the FTSE100, urged ambitious young women to seek out companies willing to take risks on talent. She said they should look for supportive managers – or move to another job. A talented younger generation today is looking for an authentic, flexible and more open-minded form of leadership. But it's not going to be easy. Women have to step up, put themselves on the radar screen and be proactive because that's what guys have been doing for ever. Gent believes that capable women should be given the chance ahead of a similarly talented male candidate. He said: "Companies have responded to the fact there is a massive talent pool that's been underdeveloped. Businesses must support women. If there is equal capability between a man and a woman then the bias should be towards the women. "Try appointing a female HR director. They understand." executive-grapevine.com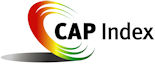 Tip of the Day
Sponsored by Vector Security
Sometimes you've just got to draw the line on what advice to follow and who you ask. Certainly getting advice is important on any issue or decision. But at the end of the day you've got to own your own decision and listen to the bird on your shoulder. We all have one and oftentimes it's muted by our friends and family members. At 5 am staring into that mirror is usually when the bird whispers the clearest. The only problem then is if you don't hear it because you're not listening.

Just a Thought,
Gus







Upcoming Events
---
Recruiting?
Get your job e-mailed to everyone... everyday
Post on our Featured Jobs Board!
Reach your target audience in 2015 every day!
Request our 2015 Media Kit
update account / change e-mail
unsubscribe FEEDBACK
www.downing-downing.com

Advertise With The D&D Daily




36615 Vine Street, Suite 103
Willoughby, OH 44094
440.942.0671
copyright 2009-2019
all rights reserved globally