The D&D Daily Mobile Edition
April 10,

2015



The LP Industry's #1 News Source - Informing, Educating and Instilling a sense of community


News Brief
Sponsored by WG Security Products, Inc.
The Drones Are Coming - Securing 'Drone Zones' Throughout the Entire Supply Chain Since Jeff Bezos unveiled Amazon's flying fantasies on CBS 60 Minutes last year, there are stories almost daily about their commercial use. Bezos is not alone. DHL is already doing drone deliveries in Germany, and FedEx and Google are working on it here in the U.S. In Japan, the Yamaha Motor Company is developing drone technology and the government has formed a panel to encourage private companies to come up with ideas on how and where they can be used in "drone zones." The FAA is also looking at establishing drone zones. In March, Crocs opened a pop up store in Tokyo that used drones to deliver shoes to customers who ordered them at an in-store kiosk. Called the "Flying Norlin" project, customers chose their shoes, hit the "take off" button and magnet-equipped drones were supposed to deliver the shoes to a waiting basket. Some were dropped in mid-flight and a couple of others flew into customers. No one was hurt and it probably created more buzz than harm. McDonald's has also encouraged entrepreneurs to consider door-to-door delivery, making drive-thru's obsolete.

Analysts have pointed out that transportation has been responsible for the evolution of retail - from the airlines, railroads and trucks that bring merchandise to stores - to the cars, buses and subways that bring customers to stores. Is it surprising that commercial drones have fired up people's imaginations and are already considered by some futurists as a pioneering effort in logistics and customer service?

The reality is that with the right regulations, equipment and skilled operators, drones could be used throughout the supply chain. Larger military-style drones could shuttle product from busy ports to nearby distribution centers, bypassing lengthy unloading times and bringing fresh food or other products to market faster. At the DCs, drones could move products from the loading docks to designated slots in the warehouse or to trucks faster and more accurately then human pickers using forklifts and pick-to-voice systems. At retail, UAVs (Unmanned Aerial Vehicles) could be used for site selection or security, monitoring traffic patterns inside and outside the store, and to replenish shelves by synching with the retailer's front-end system. therobinreport.com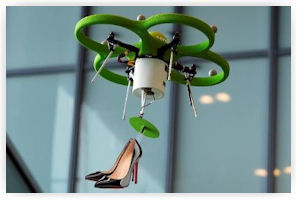 Amazon gets green light from U.S. regulators for new drone tests Amazon.com Inc has won approval from U.S. federal regulators to test a delivery drone outdoors, less than a month after the e-commerce powerhouse blasted regulators for being slow to approve commercial drone testing. Amazon must keep flights at an altitude of no more than 400 feet (120 meters) and no faster than 100 miles per hour (160 km per hour). reuters.com

Protecting plastic: securing POS networks against fraud Some industry observers believe that a more secure credit card system such as EMV (Europay, Visa and MasterCard) in the US will support more secure transactions. However, EMV solutions do not protect online transactions, or cover infected POS terminals, so they are not a silver bullet solution to all security vulnerabilities. To protect against fast-evolving attacks and emerging threats, companies should adopt a range of security practices. In 2014, US-CERT recommended best practices to owners and operators of POS systems to mitigate the risks of future attacks. These were: ● Use strong passwords for POS systems, and always change them from factory defaults ● Update POS software in exactly the same way as other business software patches ● Install a firewall to protect POS systems and isolate them from other networks ● Use antivirus software, and keep it fully updated ● Restrict access to the Internet from POS system computers or terminals to prevent accidental exposure to threats, and disable remote access to POS systems. In addition to these measures, we would make three further recommendations to further reduce the possibility of a successful attack. retailfraud.com

Tokenization would have only prevented 3/5 major retail data breaches Tokenization, where credit card numbers and other sensitive data is replaced by random characters, can be a secure alternative to encryption in many cases - but would not have helped in the majority of retail breaches over the past two years. The Payment Card Industry released guidance last week about how technology vendors and retailers can use tokenization to reduce the amount of card data they store in their systems. But, according to a new report from CBI, if each of the 22 major breached retailers had had a tokenization system in place, 59 percent of the breaches would not have been prevented -- and 97 percent of the stolen records would still have been stolen. That adds up to 154 million records. The reason? Most of the breaches took place at the point of sale terminal, before the data would have been tokenized. "The tokenization takes effect after the credit card has been swiped, and the data is protected at that point forward," said J Wolfgang Goerlich, cybersecurity strategist at Ferndale, MI-based CBI. "But it is still not protected in the memory of the machine." csoonline.com

Insider Threats - New survey shows big disconnect between security capabilities vs. actual detection SANS found that more than twice as many respondents were concerned with negligent employees (52%) as with those who were directly malicious (22%). SANS noted that this was likely due to malicious insiders being easier to detect than those who have poor security awareness or are unknowingly manipulated into causing damage. SearchSecurity contributor and SANS faculty fellow Dr. Eric Cole, who authored the report, noted a number of times that there was an apparent disconnect among respondents regarding security capabilities vs. the ability to detect actual attacks. For example, 68% of respondents rated their organizations as capable of preventing an attack, but 34% also admitted to having suffered and detected an insider attack. Only 9% of respondents rating their prevention measures as both "very effective" and proven against attacks, while another 42% are confident that prevention measures are "effective" although operationally unproven. Of the rest, 36% admitted that prevention measures were not effective and needed to be reevaluated. Cole noted that the disconnect between perceived effectiveness of security and actual threat detection may be due to the processes and technologies employed to prevent and detect insider threats. Other obstacles in preventing insider threats were a lack of training (51%), a lack of budget (43%), and a lack of staff (40%). techtarget.com

Extended Security Perimeter Poses New Challenges for IT - and LP too! The proliferation and sophistication of hackers, combined with increased reliance on interconnected applications, devices and systems has created a security environment that's challenging for even the best prepared organizations, according to a new research study by IT industry association CompTIA. Just over half of those surveyed (52%) say greater interconnectivity has complicated their security efforts. As organizations have embraced cloud computing and mobile technology solutions, they've extended the security perimeter, creating new security considerations, the study notes. Legacy security systems and practices are often not sufficient to protect the expanded perimeter. "It's not that businesses need to be convinced that security is important," Seth Robinson, senior director, technology analysis at CompTIA, said in a statement. "Instead, they need to be convinced of the ways that their current security approach is putting them at risk." information-management.com

EBay, PayPal seek to maintain synergy, independence after split EBay and PayPal are clarifying how they will operate the first five years after their planned split into two public companies in the second half of 2015. PayPal Holdings filed an updated Form 10 with the Securities and Exchange Commission (SEC) laying out an operating agreement that maintains ties between the two companies while also ensuring they remain independent. Key elements of the operating agreement, which will remain in effect for five years and have a one-year transition period, include the right for PayPal to work with all commerce/marketplace companies and eBay to offer its customers alternative payment providers. chainstoreage.com

Haggen Slows Conversion Pace - Director of LP position removed from website Haggen Food & Pharmacy, the largest independent grocery retailer in the Pacific Northwest, is slowing down its schedule of store conversions, the company told SN Thursday. Since mid-February, Haggen said it has converted 48 of the 146 former Safeway and Albertsons stores it has acquired, encompassing 22 in California, 19 in Washington and seven in Oregon. The company originally said it hoped to complete all conversions by mid-June - 83 in California, 26 in Washington, 20 in Oregon, 10 in Arizona and seven in Nevada. Editor's Note: While their LP directorship is still currently listed on LinkedIn, the posting has been removed from their corporate website. supermarketnews.com

14 Shrinking Retailers - Companies in the Russell 3000 Reducing Store Counts the Fastest in Most Recent Fiscal Year (Source: S&P Capital IQ, USA TODAY) usatoday.com

Company
% ch. # of stores
Ch. # of stores
% ch. stock past 12 mo.
Sears Holdings
-29%
-704
20.7%
Land's End
-13.8%
-40
26.4%
Office Depot
-11.3%
-255
118.1%
Roundy's
-9.2%
-15
-16%
Staples
-8.6%
-186
33%
Aeropostale
-8.1%
-97
-30.1%
Christopher & Banks
-8%
-45
-11.8%
Fred's
-6.1%
-43
-8.7%
SpartanNash
-5.8%
-10
40.8%
Rent-A-Center
-4.6%
-152
0%
J.C. Penney
-3.8%
-42
4.3%
Abercrombie & Fitch
-3.7%
-37
-41%
Build-A-Bear Workshop
-3.4%
-14
82.5%
Walgreens Boots Alliance
-3.2%
-273
41.4%
IKEA to shoppers in Beijing: Please stop napping on the furniture Snoozing shoppers have reportedly become such an issue at the store's Beijing location that the Swedish retailer is having to crack down. IKEA spokesman Josefin Thorell told the Wall Street Journal last summer that napping was fairly common in its Chinese store, and it appears that the home goods retailer was originally okay with it. "This is a spontaneous phenomenon. Some customers who enter the Chinese stores sleep in the bed," he said. "But we don't see it as a problem." Apparently that tune has changed, as the Shanghaiist reported earlier this week that the Chinese location is no longer tolerating those who opt for sleeping over shopping since they prevent other customers from testing and buying products. This isn't the only rule IKEA has made lately. It recently put a stop to the 32,000-plus people who wanted to play hide-and-seek in its European stores. today.com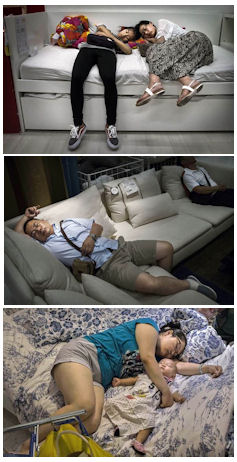 Apple rescinds policy against hiring felons for construction work at new campus in Cupertino, CA Apple has opened the door for construction workers with recent felonies on their records to help build its new campus. The tech giant has lifted a requirement that people who had been convicted of felonies within the past seven years could not work on the massive Cupertino construction project, Apple spokesman Josh Rosenstock told this newspaper Thursday. After the policy came to light this week, Apple came under fire from union leaders and advocates, who say construction jobs are a key source of work for felons trying to transition back into society. mercurynews.com

Apple Watch debut quiet, without crowds in Europe, Asia; Arrive in US stores today

Sprint Doubles Store Footprint with 1,435 Co-branded RadioShack Locations

AT&T $25M data-breach settlement considered 'slap on the wrist'

American Express Testing Facial Recognition Technology

Police face mountains of video data, added costs as body cameras catch on


March Same Store Sales Results
Stein Mart up 11.2%
Gap up 2%, Gap Global down 7%, Banana Republic Global down 3%, Old Navy Global up 14%
Costco down 2%

Quarterly Same Store Sales Results
Stein Mart Q1 up 7.9% with sales up 10.6%



WEBINAR - The New Partnership: Loss Prevention and IT

Presented by ARTS, NRF's retail technology standards division

April 29, 2015, 11:00 am - 12:00 pm
Listen in on a conversation between experts in Loss Prevention and Information Technology about resources and strategies to help the IT and LP verticals work together to meet the challenges of the emerging loss prevention landscape - data security, cybercrime and the use of social media are just the tip of the iceberg. Additionally, you'll learn about resources NRF-ARTS has developed to help retailers research the tools that are right for them and to leverage the experience of others. REGISTER HERE.

Speakers Include:
Bob Moraca
(moderator)

Vice President,
Loss Prevention,
NRF
Randy Christian

Corp. Manager,
Loss Prevention Technology,
The Kroger Co.
Christian Romero

Director, Security Intelligence,
The Neiman Marcus Group
LP Meets IT

Coming Soon on the Daily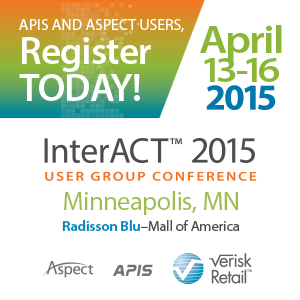 All the news - One place - One Source - One Time
The D&D Daily respects your time
& doesn't filter retail's reality
Report Your News!
(content subject to approval)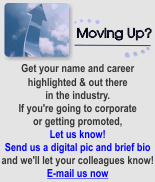 Vendor Spotlight





Using Employee Feedback to help with Loss Prevention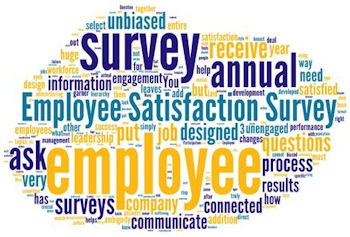 As many retailers know, feedback can be a powerful tool. You could make an argument that feedback should be one of the tools that every retailer should be using. But what makes feedback so special? When done properly it gives you a great idea of how you are doing, how you are perceived, and how things need to change to make your stores a better place to shop and work. That "and" is important here, because obtaining feedback from employees as well as customers can go a long way in improving your bottom line, and can even help prevent fraud and other losses over time.

We live in a world now where most employers are trying to develop a unique culture for their company. One of the easiest ways to start developing your culture is to ask your employees what they want out of their experience, and what they expect from you. Allowing them to have a say in how the culture develops will make them feel closer to the organization, which not only builds employee loyalty but improves attitudes. Having input on culture can also help to improve your hiring process. When you know how your employees feel you have a much better idea of who will fit best in the culture you have created.

This combination of feedback and culture can have a great effect on loss prevention. For one, when employees are happier they tend to stay away from participating in fraudulent activities. It's simple psychology that any organizational behavior scholar will agree with. Also, when employees feel a greater connection to their employer – like when they are part of the culture building process mentioned above - they are more inclined to point out when someone else is committing fraud in order to protect the organization that they are invested in.

Read more here.


Loss Prevention News Network

2014 Group LP Selfie Awards

Pizza Party Drawing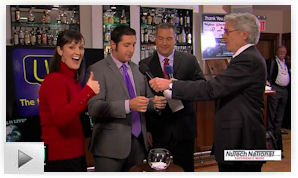 Gus, Amber, Joe, and Tony Mancino of NuTech National announce the three winners of the 2014 Group LP Selfie Awards. The Daily's "Get LP Social" program all started last summer when Chad McIntosh of Bloomingale's sent in a picture of he and his LP team, jokingly calling it a "group selfie." In just a few months, over 60 LP teams from across North America joined in on the fun, showing their pride to the industry with "Group LP Selfies" of their own. Find out which three LP teams won free pizza parties in our LIVE drawing from NYC this past January.
Solution Providers, have a video or commercial you want to publish? Contact us.


The D&D Daily is proud to present:

The 2014 Group LP Selfie Award Winners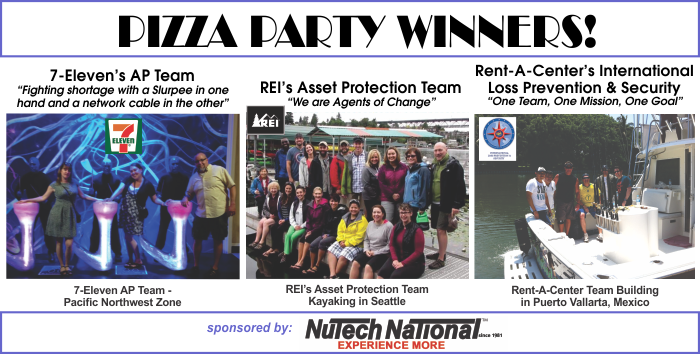 View all the 2014 group selfies here!


Canadian Push
Sponsored by Vector Security
65 Future Shop stores left - re-open under Best Buy name - Investing $200M over next two yrs to improve "customer experience" Some 1,500 employees, including 500 full-time and 1,000 part-time positions were eliminated during the closures of the other 66 stores. That's in addition to the 136 stores that already operated under the Best Buy name, including 18 in the Toronto region. In Ontario, 22 Future Shops were converted to Best Buy stores, while 30 others closed permanently, for a total of 55 Best Buy stores and 29 Best Buy Mobile stores across the province. The company said its Best Buy stores are larger, which will allow it to invest in appliances and in-store experiences. The company said it plans to invest up to $200 million over the next two years to improve the customer experience, both in-store and online. thestar.com

Quebec based David's Tea files for IPO; sees potential for 300 U.S. stores - Could need an LP Director in the future Founded in 2008, Canada's David's Tea has flown largely on the radar, and now operates 134 stores in Canada and 24 in the United States. It sees the potential for up to an additional 100 stores in Canada and an additional 300 locations in the United States. In fiscal 2015, David's Tea expects to open approximately 25-30 stores in Canada and 10-15 stores in the United States. looks to open 30 to 40 annually. Editors note: This company could probably use an LP Director once they hit that 200 store mark. Keep an eye out for them. chainstoreage.com

Canadian Tire - A Brand Canadian's should be proud of & one that helped defeat Big Red (Target) Much can be said about Target's problems and their own self-inflicted wounds but one element seems to have avoided most writers and analysts covering the Canadian Push, and that's that a few of the Canadian born retailers and the already well established U.S. retailers in Canada, specifically Home Depot and Wal-Mart up'ed their game and fought back. One of the leaders being Canadian Tire. Canadian Tire knew it had to up its game again, and that is exactly what it did. Its "Smart Store" concept is a vast improvement over the traditional Canadian Tire stores, and its other banners have gotten a nice facelift too. Canadians have responded well-revenue from the retail segment grew by an impressive 10.4% just last quarter. So, when looking ahead, Canadian Tire is much better off than it would be if Target never arrived. The company famously survived back in the mid-1990s, when both Walmart and Home Depot entered Canada. Editor's Note: It wasn't just the problems Target had internally that led to their demise. It was also the fact that up until Target's announcement of their 130 store Canadian entry the U.S. push had been very controlled and slow, almost going unnoticed, but once Target made their announcement the retailers saw it as a declaration of War and knew that it would be survival of the fittest. So, in one regard the entire Target event benefited the Canadian retailers and the Canadian consumer. Because everyone up'ed their game and whenever that happens most everyone wins. Except for Target that is. But I wouldn't write them off in Canada yet, because they may be back. Just a thought. fool.ca

Canada could see 7 Sakes Fifth Ave. stores & 25 Off Fifth's - That's Lots of LP jobs! Two Saks Fifth Avenue locations are currently under construction, and negotiations continue for other free-standing stores. The chain's Canadian flagship, spanning 150,000 square feet over four floors within Toronto's flagship Hudson's Bay building, is scheduled to open in the spring of 2016. A second 130,000 square foot location, at Toronto's Sherway Gardens, is scheduled to open in the fall of 2016. Both stores will be unique in how they will feature large grocery departments, each approximately 25,000 square feet, unlike in Saks' American locations. retail-insider.com

Nordstrom plans to open between seven and 10 Canadian stores, with locations already open in Calgary and Ottawa Nordstrom will open its first Vancouver location this September and in 2016-2017, it will open three Toronto locations. Two of Toronto's Nordstrom stores will be located in the same malls as Saks. retail-insider.com

Boutique Jacob relaunching operations with five Quebec stores Womenswear retailer Boutique Jacob is resuming operations, although on a much smaller scale. Family owners are developing a plan to relaunch the business with five stores in Quebec along with online operations after exiting seven months of creditor protection under the Bankruptcy and Insolvency Act. Jacob is abandoning any hope of rebuilding a national brand after closing 91 stores last year and shedding some 990 employees. Instead, it will focus on locations in Montreal, Quebec City and Sorel-Tracy where the company started 35 years ago. financialpost.com

Kelowna RCMP looking for Vacuum thief - hit London Drugs store six times

Chaos as Walmart shoppers swarm armed robber in Hamilton Customers swarmed an armed robber at an east Mountain Walmart Tuesday night, in a chaotic scene that saw two cashiers jabbed with a mock gun. Police say the suspect went into Walmart a few minutes after 8 p.m. Pulling a fake handgun out of his sock, he walked up to a cashier, police say. "He pressed the imitation gun to her side, told her to open the cash register," said Staff Sgt. Gary Thompson. According to witnesses, he screamed at her several times to hand over the cash. Police say the shaken employee could not open the register fast enough. The suspect then moved to another employee and began yelling at him to open his register while shoving the gun into his back. The staffer panicked as well and fumbled to open the drawer. Scared customers scrambled in all directions, police said, just as the employee got the register to open. "Then they swarmed him," Thompson said. Police say a customer came from behind and struggled to restrain the gunman. They ripped the gun from his grasp. Lumsden said he passed the weapon to a nearby employee and continued to hold the man down. Police say no one was injured in the incident. thestar.com

Crash in Regina leads to fraudulent credit cards seizure by RCMP A rollover on the Trans-Canada Highway led to the RCMP seizing a number of fraudulent credit cards. On March 21 the Morse RCMP found a 2004 Dodge Durango in the centre ditch near Ernfold. Officers found a firearm at the scene and seven grams of crystal meth. Interested in what else might be inside, they got a search warrant on the Durango and found a number of altered gift cards, computers, two grams of cocaine and drug paraphernalia. Most of the cards were Visa and MasterCard brand, with the real numbers sanded off along the with the amount of the gift card. The suspects appear to have embossed stolen credit card numbers onto the cards as well as expiry dates and customer name. leaderpost.com

Jewelry Store Robbers caught by police a block away in North Vancouver Unfortunately for two males who had just robbed a jewellery store, they were observed by plain clothes police officers who were at the right place and time a block away. handcuffs with blue and red lights. The incident unfolded on April 7 in North Vancouver when at approximately 11 a.m. two males entered a jewellery store in the 1500 block of Lonsdale Avenue. One of the males stood watch while much to the alarm of the store employees the other male suddenly jumped over the counter and grabbed an extensive amount of expensive jewellery from the show cases. Both suspects were last seen fleeing the area on foot. Working nearby were plain clothes police officers who observed the two males acting suspiciously as they ran down the street. The two males were ultimately arrested by the North Vancouver RCMP. thenelsondaily.com

Retail Conditions Report February 2015
Each quarter, Retail Council of Canada surveys members to bring you the latest news on retailer performance across the country. The Retail Conditions Report provides members with valuable, real-time insight into consumer behavior, best practices in retailing, trends and economic conditions. Read more

Retail Fast Facts: March 2015
Highlights:
● Total monthly retail sales changed by 0.5 per cent over the comparable month last year.
● Total sales excluding food, automotive and gasoline changed by 3.7 per cent over the comparable month last year. retailcouncil.org

e-commerce

Sponsored by The Zellman Group
The American Apparel & Footwear Association files two counterfeit complaints against Alibaba
The association has lodged two formal complaints against the Chinese Internet giant with the U.S. Securities & Exchange Commission and the U.S. Trade Representative's office, imploring federal officials to step up scrutiny and oversight of Alibaba's commitments to crack down on counterfeits on its Taobao online marketplace. "Alibaba's Taobao platform is notorious as one of the biggest platforms for counterfeit goods worldwide," Duggan said in her letter to Froman. "Our members encounter innumerable counterfeits on Taobao every day, which result in millions of dollars of lost sales, damage to reputation, legal costs and exhaustion of internal resources." The Chinese e-commerce giant has also come under scrutiny from its own government. Duggan said her members have had "mixed success" in securing "takedowns" of just a small percentage of infringing, counterfeit products being sold on Taobao, she said.
wwd.com
Survey: Three in four shoppers use mobile in-store
Purchases in brick-and-mortar stores still accounted for more than 94% of all retail sales in the U.S. last year, totaling $4.4 trillion. But according to the new "Reality of Retail" report from retail marketing firm InReality, consumers are shifting their in-store shopping habits. For example, 75% of surveyed shoppers use mobile devices in-store, with 25% making mobile in-store purchases. Perhaps reflecting this increased reliance on mobile technology to support store activities, only 12% of shoppers feel the in-store sales associate is an important touch point in a purchase decision.
chainstoreage.com
Annual web sales sail ahead by 190% for Pier 1
UK: Online payment security a major concern, say consumers
Apple Pay Picks Up Ten New Merchants
"Fraud is not a person - it is a dynamic grouping of statistics that deviate from the norm."
Stuart B. Levine, CFI, CFCI
CEO, The Zellman Group & Zelligent


ORC News
Sponsored by Security Resources
One of Three Arrested in Connection to Organized Retail Theft from Ralphs Grocery Stores Due in Court; accused of theft of $1 Million in product One of three men accused of stealing goods from a Ralphs distribution center in Riverside is slated to be arraigned Thursday. Charles Jeffrey Cherry, 48, of Colton was arrested in early February following an investigation that allegedly uncovered evidence that he, 58-year- old Froilan Lopez Garcia of Menifee and 34-year-old Dean Thompson of Temecula had stolen products altogether valued at more than $1 million. Thompson has pleaded not guilty; Garcia is scheduled to be arraigned in May. All three defendants are free on bond. According to Riverside police, the Ralphs grocery chain initiated an internal investigation in June 2014 after documenting instances in which food and other goods had been removed from the company's Riverside distribution center. It's believed the thefts went on for months before they were discovered. Detectives from the Riverside police Organized Retail Crime Division were eventually contacted and picked up the investigation, ultimately identifying Cherry, Garcia and Thompson as the alleged perpetrators. Search warrants served at each man's residence resulted in the seizure of $20,000 in stolen merchandise, police alleged. patch.com


"Billy The Kid" Arrested for running ORC gang in Wichita Falls, TX A man who has been arrested numerous times in Wichita Falls and other places around Texas in shoplifting cases is back in Wichita County jail. 29-year-old Austin Bounds is jailed in connection with four Wichita County cases and one from Williamson County. He was arrested in Wichita Falls last December in what police say appeared to be a "team" shoplifting scheme at Best Buy in which they say a camera was taken. Officers say there appeared to be three people working together bounds cutting the security sensor off the camera, the woman putting her purse down so bounds could put the camera inside, and another man serving as a lookout or diversion. A witness told police the three left in a car and went to Target, where officers tased one suspect and found the other man and the woman hiding in the store. Police say they found other stolen items in the car. Bound was re-arrested for bond violations and a bench warrant for theft, and an evading arrest charge from Williamson County in connection with a rash of thefts in the Round Rock and Austin area. Police there say Bounds is known there as A-town, or Billy the Kid and has arrests dating back to 2002. texomashomepage.com

Thieves in Grandville, MI return $8,000 of stolen items to Cabela's for gift cards A band of young thieves who stole from Cabela's and quickly returned the pilfered items for gift cards were using part of the proceeds to support heroin habits, police said Thursday. The four appeared in Grandville District Court Thursday for a probable cause hearing on charges of conducting and conspiring to conduct a criminal enterprise. Over the course of three weeks, they stole an estimated $8,000 in merchandise, which was then returned to Cabela's for in-store credit, court records show. More than 45 gift cards were then sold to area pawn shops or on the streets, netting the group about $3,900. Gift cards were sold for 50 cents on the dollar, court documents show. An affinity for heroin was a binding factor in the thefts, Grandville Police Chief Daniel Steere said. "Heroin drives a lot of this, it really does,'' Steere said. "The retail fraud, the shoplifting and other larceny-type activities are driven by this. It's not just exclusive to Grandville; not at all.'' wzzm13.com

Man convicted of having addicts shoplift gets 14-month term A western Pennsylvania man was sentenced to 14 months in prison - far less than the four years federal prosecutors originally sought after he was convicted of enlisting crack addicts to shoplift tens of thousands of dollars' worth of items he then resold at an Ohio flea market. Thursday's sentencing of Terry Sempf, 57, of New Brighton was complicated by the fact that the government couldn't precisely calculate how much stolen merchandise he resold from 2007 to 2010. That's important because federal sentencing guidelines - which recommend a penalty based on the seriousness of one's crimes - are driven by dollar amounts in theft cases. The government had argued Sempf re-sold at least $120,000 worth of DVDs, over-the-counter drugs, cosmetics and beauty aids. But U.S. District Judge David Cercone, even before the sentencing, issued a ruling that the amount was more likely about $80,000, dropping the guideline range to 27 to 33 months. heraldonline.com


Woman caught stealing 118 pairs of panties from Victoria's Secret in Rock Hill, SC Rock Hill Police arrested a Georgia woman Thursday afternoon after Victoria's Secret employees accused her of trying to steal 118 pairs of panties from the Rock Hill Galleria store. Employees told officers the merchandise is valued at more than $1,700, according to police records. The woman is accused of putting the underwear in her purse but then dumping the items back on the store table after being confronted, police say. Authorities say she then ran out of the store but was caught by mall security. Rock Hill officers charged Nathalia Martinez, age 31, of Lawrenceville, Georgia, with first offense shoplifting. heraldonline.com
Do you have an ORC case to share?
Share your ORC news and help the industry grow

Retail Crime News

Sponsored by NuTech National
Anne Arundel, MD County Police Officer shot, critically wounded outside 7-Eleven Anne Arundel County Police say an officer has been shot and critically wounded and police are searching for the shooter. Police spokesman Lt. T. J. Smith said the shooting occurred early Friday near a 7-Eleven along College Parkway in the Arnold area. Smith says the officer made contact with a man around 2 .m. after someone reported a suspicious person in the area. He says both ran away from the 7-Eleven and witnesses then heard gunshots. Smith says other responding officers found the officer suffering from a gunshot wound. He says police believe the man fired at the officer and they consider the man armed and dangerous. The officer was taken to Shock Trauma at the University of Maryland Medical Center in Baltimore. myfoxdc.com

Clothing store worker attacked, beaten by 4 robbers at San Jacinto Mall, Baytown, TX Baytown police are trying to identify the four women who attacked a store employee during a robbery at a Houston-area shopping mall on Apr. 4. According to Baytown police, surveillance cameras captured a woman working at Rabu inside the San Jacinto Mall being beaten by four people. The attackers also took items from the store. KPRC 2 talked with the worker, still bloodied and bruised from the incident. "She slapped me and I pushed her and that's when we started fighting," she said. "I was trying to defend myself. When the others saw that all of them came at me at once started hitting me." She said the robbers were not older than 15 or 16 years and that they stole jewelry and a cellphone. The worker has quit her job and other employees at the store said they are afraid the teens may come back. If you have any information on this case, call Baytown police or Baytown Crime Stoppers. click2houston.com
Albuquerque, NM Shoplifter threatened CVS employees with a knife An Albuquerque man stuffed packages of pistachios down his pants at a local CVS pharmacy, then waved a knife at an employee who tried to stop him from leaving, according to the police department. When police tracked down the camouflage-dressed man, they say they found he had an 18- to 20-inch short sword hidden inside his jacket. abqjournal.com

Fired for doing his job? Wal-Mart loss prevention officer in scuffle with shoplifting suspect fired A former Wal-Mart employee whose job it was to stop shoplifters says he was fired for doing his job. Three weeks ago James Young stopped two shoplifters from leaving the garden center at the Wal-Mart in Sahuarita, Arizona. In security video of the incident Young can be seen approaching one young man suspected of shoplifting, and identifying himself. "As a Wal-Mart asset protection manager, I told him, I need the merchandise you got in the sweatshirt back," he said. The suspect denied he had anything. Young asked for the merchandise again. "At that point, he kicks me in groin," said Young. "He starts to run, and I tackled him to the ground." Meanwhile, an off duty federal agent identified himself and stepped in to help. That's when suspect no. 2 sets off the alarm. "The off duty officer is putting suspect no. 2 in an arm lock, so he can't get away," he said. The surveillance video showed suspect no. 2 trying to get away, leading to a scuffle. "At this point, I brought up suspect no. 1 to a standing position," said Young. "I get kicked again and he runs over the plants and goes south to a strip mall." According to Young, that is when he noticed there was blood everywhere. "That's when I realize all the blood was coming from me." According to Young, the suspect punctured a hole in his arm which damaged the vein during the scuffle. One week later, Young, who had been a Wal-Mart employee since 2008, was fired. "I found out after I got terminated that it came down to there's absolutely no hands on," he said. Sahuarita police arrested 19-year-old Brandon Lopez, and a 17-year-old male. Both charged with shoplifting and the 17-year-old with assault. Young's insurance coverage was also terminated. Wal-Mart officials released the following statement regarding the incident. "We take our theft prevention methods very seriously, but we have guidelines in place to ensure the safety of both our associates and customers," said Betsy Harden of Wal-Mart's National Media Relations. wptv.com

2 Would-Be Jewel Robbers Convicted Of Murder After Store Owner Fatally Shoots Their Accomplices Authorities said two would-be jewel robbers were convicted of murder Thursday in the botched heist at a store where the owner fatally shot two of their accomplices in 2011. The two men were held accountable for the deaths. Alan Keith Hunter, 43, of Moreno Valley was found guilty of one felony count of first-degree murder and one felony count of attempted second-degree robbery. Hunter faces a maximum sentence of 60 years to life in state prison at his sentencing May 15. Co-defendant James Stephan Paschall, 44, of Gardena was found guilty of one felony count of first-degree murder and one felony count of attempted second-degree robbery. Paschall faces a maximum sentence of 105 years to life in state prison at his sentencing May 15. cbslocal.com

Two Ghanaian men arrested in alleged identity theft scheme in the Bronx Police arrested two Ghanaian men with addresses in the Bronx, New York, on charges stemming from an alleged identity theft scheme. Opoku-Sika and Osei Kyei are charged with conspiracy and attempting to commit a crime. Police say Opoku-Sika attempted to pick up packages addressed to another person from the FedEx office in West Yarmouth on Friday, presenting a green card with the name of the person, a resident of Cotuit who they say had recently been the victim of credit card fraud. Police say the green card was later found to be forged. They say he and Kyei, who was noticed sitting in a nearby vehicle, were involved in a larger conspiracy aimed at obtaining merchandise by fraud with stolen identity information. wickedlocal.com

N.J. man gets prison time, must help repay $50.8 million in credit card scheme A member of the cybercrime syndicate known as Carder.su was sentenced Thursday to 12½ years in federal prison for selling stolen and counterfeit credit cards over the Internet. Jermaine Smith, 34, of New Jersey, was also ordered to share with other defendants in the restitution of $50.8 million. Smith was among 56 people charged in four separate federal indictments in Las Vegas in the cybercrime investigation, dubbed Operation Open Market. A total of 26 defendants have been convicted and the rest are either fugitives or waiting to stand trial. Smith pleaded guilty in October 2014 to one count of participating in a racketeering organization. Smith admitted in his plea agreement that he became associated with the Carder.su organization - a criminal enterprise that trafficked in compromised credit card data and counterfeit identifications and committed money laundering, narcotics trafficking, and various types of computer crime. reviewjournal.com

Erie, PA Walmart shoplifter crashes vehicle into PA State Police cruiser Robert A. Blue, 36, was arraigned on charges of criminal conspiracy/retail theft, corruption of minors, recklessly endangering another person, fleeing or attempting to elude police and numerous traffic violations. Police said Blue and a juvenile male tried to leave Walmart at about 6:35 p.m. Wednesday with a shopping cart of items valued at $665. After they were confronted by store security personnel, Blue and the juvenile boy fled the store and got into their vehicle, police said. Blue's vehicle crashed head-on into a state police cruiser at the intersection. goerie.com

Ralph Lauren Outlet shoplifters facing felony charges in Mebane, NC Charisse Lynn Odom, 44, and Jordan Demarkus Taylor, 21, both of Dayton, Ohio, were charged by Mebane police April 9 with larceny by defeating an anti-theft device at the Ralph Laruen Factory Store in Tanger Outlets. Odom was also charged with stealing $414 worth of clothing from the story. Taylor was charged with six counts of misdemeanor larceny - shoes and clothing from various stores valued at more than $1,600 - and resisting an officer by giving a fake name and birthdate. thetimesnews.com

Home Depot Cashier in Homer Glen, IL stole over $8,500 in merchandise Hector Ibarra, 40, of Lockport was arrested on 14 counts of retail theft Wednesday for allegedly stealing such things as toilet paper, light fixtures and pressure washers. Deputies were sent to the Homer Glen Home Depot last week to look into the alleged crime. It turned out Ibarra had started filching from his employer in late February and continued until shortly before his arrest, police said. Ibarra had been working for the Home Depot since 2006, police said. patch.com

Off-Duty Orlando Police Officer working at Publix didn't help after Robbery An Orlando woman is claiming an off-duty police officer who was working as security refused to help her after she said a man robbed her at Publix in the College Park area earlier this week. Orlando police on Thursday released surveillance pictures from inside the store. The pictures show the victim, Annie Schweiger, selecting yogurt down the dairy aisle when a man stole the woman's wallet from insider her purse. The woman said she didn't realize she was robbed until she went to pay for her groceries. Schweiger claims she went to ask an off-duty Orlando police officer who was working security for the grocery store for help, but the officer refused to help her report the crime. Although the police officer was technically off-duty, he was wearing his uniform and had his patrol cruiser. mynews13.com
Former Wawa shift manager in Williamsburg, VA found guilty of embezzlement

Police Warn Of Skimming Device Found On Bank Of America ATM In Beverly Hills

Woman accused of stealing over $1M from local Beer Import Company for gambling

Shaw's in the Mall of Prince George's, Hyattsville, MD yesterday evening was the victim of a Grab and Run, merchandise valued at $879


Robberies and Burglaries
● CVS - Santee, CA - Armed Robbery
● CVS - Fairmont, WV - Armed Robbery
● CVS - Midtown, TN - Robbery
● CVS - Albuquerque, NM - Armed Robbery
● Dollar General - Marysville, PA - Robbery
● Family Dollar - Richmond, VA - Robbery
● Gulf Coast Jewelry - Sarasota, FL - Burglary
● High Street - Racine, WI - Armed Robbery
● Hines Pharmacy - Bowling Green, KY - Robbery
● JK Foodmart - Corpus Christi, TX - Robbery/ Shots fired
● Pawtucket Food Mart - Pawtucket, RI - Armed Robbery
● R-N Market - Hanford, CA - Burglary
● 7-Eleven - Portsmouth, VA - Armed Robbery
● 7-Eleven - Daytona Beach, FL - Armed Robbery/ Shots fired


Featured Job Listings
Sponsored by NuTech National
Feature Your Job Here For 30 Days -
70% Aren't On the Boards
VP of LP
Mattress Firm
Houston, TX
Mattress Firm
Director AP
Big Lots
Columbus, OH
Big Lots
Director of LP
PacSun
Anaheim, CA
PacSun
Director Global AP
KFC & PH
Plano, TX
YUM! Brands
Director of AP, Corporate
Dollar General
Nashville, TN
Dollar General
VP Supply Chain, LP & Safety
Ross Stores
Ft. Mill, SC
Ross Stores
VP of Sales
Checkview
Chanhassen, MN
Checkview
Director of Security
Confidential
Chicago, IL
Downing & Downing
Regional Dir AP
Rite Aid
Albany, NY
Rite Aid
Regional Dir AP
Rite Aid
Warwick, RI
Rite Aid
Regional Dir AP
Rite Aid
Baltimore, MD
Rite Aid
LP Corporate Sr Mgr
JC Penney
Dallas, TX
JC Penney
AP Manager
Ralph Lauren
New York, NY
Ralph Lauren
Regional LP/Safety Mgr
American Signature, Inc
Chicago, IL
American Signature, Inc
Regional LP Mgr
Dunham's Sports
South Central KY, Central TN or NC
Dunham's Sports
Regional LP Manager
National Stores
Chicago, IL
National Stores
Regional LP Manager
National Stores
Northern Bay Area, CA
National Stores
Regional LP Manager
National Stores
Phoenix, AZ
National Stores
Market AP Specialist
REI
Chicago, IL
REI
Sr Retail AP Specialist
REI
Bloomington, MN
REI
Market ORC Investigator
Macy's
New York, NY
Macy's
Security Officer
Wegmans
Pottsville, PA
Wegmans
National Account Sales Representative
Instakey
Denver, CO
Instakey
Sales Representative
NuTech National
Maitland, FL
NuTech National
National Account Executive
Checkview
Northeast Region
Checkview
National Account Executive
Checkview
United States
Checkview
National Account Manager
Vector Security, Inc
TBD
Vector Security, Inc

Limited Time Only - Post Your Multi-Unit LP jobs for FREE - Learn More Here

Daily Job Alerts


Appearing One Day Only
View our Internet Jobs Archives here
LP Manager
Amazon
Coppell, TX
Amazon
Manager LP
CVS Health
Arlington, VA
CVS Health
AP Manager
Home Depot
Seabrook, NH
Home Depot
AP Manager
Home Depot
Colorado Springs, CO
Home Depot
District 1 LP Specialist
Kroger
Indianapolis, IN
Kroger
LP & Safety Spec
Lowe's
Glen Carbon, IL
Lowe's
Supervisor - US Safety
McDonald's
Oak Brook, IL
McDonald's
AP Supervisor - Manufacturing
Luxottica
Dallas, TX
Luxottica
AP Manager in Training
Walmart
Lewisville, TX
Wal-Mart
AP Manager in Training
Walmart
Amarillo, TX
Wal-Mart
AP Manager in Training
Walmart
Elko, NV
Wal-Mart
AP Manager in Training
Walmart
Gardnerville, NV
Wal-Mart
AP Manager in Training
Walmart
Fernley, NV
Wal-Mart
AP Manager in Training
Walmart
Lorain, OH
Wal-Mart
AP Manager in Training
Walmart
Southlake, TX
Wal-Mart
AP Manager
Sam's Club
San Antonio, TX
Wal-Mart
LP Manager Hrly
Sears
Santa Cruz, CA
Sears Holdings Corp
LP Manager
Sears
Burlington, MA
Sears Holdings Corp
AP Team Leader
Target
Port Saint Lucie, FL
Target


Home of the Industry's Original
On the Move

Gabriel Levit, CFI was named Regional Asset Protection Manager for Luxottica Group.

Post Your New Job or Promotion!
See all the Industry Movement


Your Career
Sponsor this section of the Daily
4 Career Tips for Women that Should Happen Before Leaning In While the #LeanIn movement is greatly exciting for today's generations, this author doesn't believe it goes deep enough. Career success, she says, starts with evolution of the self. Here are some key tips to help women become mentally stronger and more successful in their careers even before you lean in. Talk to yourself

10 Tips for Women to Improve Their Persuasion Skills While women have made incredible leaps in business leadership, there is still competition. That's why having excellent persuasion skills is so critical. The power of persuasion can help propel a leader forward. Here are some tips to help you fine-tune these skills. Use your strengths

Why Having a Sponsor is Important for Women and How to Get One Having the right sponsor can make a huge impact on your career advancement! Having a sponsor can help promote you and gives you keys to get ahead. Finding the right sponsor takes focus, intention and determination. Here are some excellent tips to guide you in finding the right sponsor to help build your career! Be a Rock Star!

5 Powerful Rules for Women Entrepreneurs to Live By If you want to reach the top of the ladder, the only thing you can do is take the plunge, but what do you do if you're not quite ready? Here are five strategies you can use to help you crush your fears and succeed! Celebrate all wins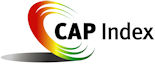 Tip of the Day
Sponsored by Vector Security
Hearing what they don't say is more important than hearing what they do say.

Just a Thought,
Gus







Upcoming Events
---
Recruiting?
Get your job e-mailed to everyone... everyday
Post on our Featured Jobs Board!
Reach your target audience in 2015 every day!
Request our 2015 Media Kit
update account / change e-mail
unsubscribe FEEDBACK
www.downing-downing.com

Advertise With The D&D Daily




36615 Vine Street, Suite 103
Willoughby, OH 44094
440.942.0671
copyright 2009-2019
all rights reserved globally