The D&D Daily Mobile Edition
April 14,

2015



The LP Industry's #1 News Source - Informing, Educating and Instilling a sense of community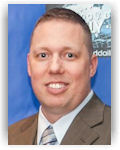 Brad Reeves was named Sr. Manager of Asset Protection for Five Below. Brad was previously the Director of Loss Prevention for The Great Atlantic & Pacific Tea Company and had been a part of their loss prevention team for over four years. He started as their Regional Asset Protection Manager. He has also worked in loss prevention and security for other retailers such as Sears Holdings Management Corporation as their District LP Manager, Target as their Executive Team Lead of Asset Protection, and Bloomingdale's, May Department Stores and Strawbridges as their Security Manager. Brad earned his Bachelors of Arts degree in Law and Justice from Rowan University and went on to earn his MBA in Business with a specialization in management from Eastern University. Congratulations Brad!

News Brief
Sponsored by WG Security Products, Inc.
Under fire from U.S. group, Alibaba says it's fighting counterfeit goods Alibaba Group Holding Ltd said it had a range of measures to fight counterfeits on its websites - remarks that come after a trade group requested the U.S. government help in prodding the Chinese e-commerce giant into action against fake goods. Concerns over fake products on Alibaba's platforms, including online marketplace Taobao, have dogged the world's largest e-commerce firm for years, although the U.S. trade office removed Taobao from its list of "notorious markets" in 2012 in recognition of progress made. In the latest flare up over the issue, the American Apparel & Footwear Association (AAFA) said in an April 8 letter to U.S. Trade Representative Michael Froman it was convinced Alibaba was either incapable or not interested in addressing the problem. The association added that since Taobao had been delisted as a notorious market, the problem had worsened and urged the USTR to send a clear signal that Taobao would be relisted unless more action was taken. In response, Alibaba said on Tuesday that its measures to tackle counterfeits included data mining, working with Chinese authorities and cooperating with over 1,000 brand owners and several industry associations. Alibaba added it had been talking with AAFA since 2012 over how best to tackle counterfeits and was committed to continuing to do so. Prior to the AAFA letter, the USTR said last month it was keeping an eye on Alibaba for sales of counterfeit and pirated goods, but refrained from putting the site back on the piracy blacklist. reuters.com

Seized counterfeits goods in U.S. dip to $1.2 billion in '14 - Down 5% from '13 The latest figures from the US government indicate both the value and number of seized counterfeit goods fell in 2014 compared to the prior year. There were 23,140 seizures last year, down 5% on 2013, with the value of intercepted goods (at manufacturer's suggested retail price [MSRP] - or the value of the goods had they been genuine) falling to $1.2bn from $1.7bn. The latest figures from US Customs and Border Control (CBP) show enforcement actions resulted in 683 arrests and 461 convictions, roughly in line with the previous year. Notable trends last year included a 5% increase in semiconductor seizures and a 64 per cent hike in intercepted counterfeit batteries, thanks to an increased enforcement focus. China remained the source of most counterfeits - 63% of the total by value and down from 68% in 2013 - followed by Hong Kong which once again accounted for 25%. Canada was ranked third despite being the country of origin for just 1%; it did not feature in last year's list of top source countries. securingindustry.com

Top 10 counterfeit commodities seized by MSRP in 2014:
1.
Watches/jewelry
$375 million
2.
Handbags/wallets
$342 million
3.
Consumer electronics/parts
$162 million
4.
Apparel/accessories
$114 million
5.
Pharma/personal care
$73 million
6.
Footwear
$50 million
7.
Computers/accessories
$27 million
8.
Optical media
$19 million
9.
Labels/tags
$18 million
10.
Toys
$8 million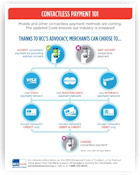 Canada Updates Credit-Card Transaction Rules - Gives Retailers Greater Control, Reflects Growing Use of Mobile Payments Canada on Monday introduced an update to the rules governing credit-card transactions to reflect the growing use of mobile payments and to give the country's merchants additional powers in dealing with the payments industry. The changes would give merchants greater flexibility to opt out of their contracts with payment processors without penalties if fees are raised. Under the changes, merchants can refuse to accept mobile payments if the processing cost exceeds that of other forms of payments. Rules governing credit cards will be extended to apply to the growing mobile-payment field, the Canadian government said. Last November, Visa Inc. and MasterCard Inc. voluntarily agreed to lower the swipe fees they charged Canadian retailers, avoiding the imposition of lower fees by the Canadian government. Those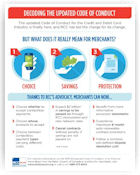 changes, and the ones announced Monday, are meant to appease small-business owners and retailers who say high processing fees hurt their bottom lines. The Retail Council of Canada was a driving force behind the passage of these new transaction rules. wsj.com retailcouncil.org

NCR Corporation updates POS system for more than 3,100 Exchange locations NCR Corp. announced Monday that the Army and Air Force Exchange Service will replace 6,000 point-of-sale terminals with NCR RealPOS 72XRT systems. The new technology will replace non-NCR terminals in both its retail and food services locations, and will be maintained globally by NCR Services. The RealPOS 72XRT is one of NCR's most widely deployed and reliable POS systems, the company reported. Built with Intel processors inside and featuring Intel Active Management Technology, the 72XRT provides more intelligent processing power to drive new applications, remote manageability and enhanced security to deliver value for the Exchange. The Exchange provides goods and services at comparatively low prices to American armed forces families. It operates more than 3,100 facilities worldwide, in more than 30 countries, five U.S. territories and 50 states. drugstorenews.com

3VR launches new video surveillance appliance 3VR, the video intelligence company, announces that the company has enhanced its lineup of video surveillance appliances with a new network video recorder (NVR) for ATMs and has expanded its sales channel through agreements with four manufacturers' representative firms. The new 2100-Series NVR for ATM installations is a powerful video appliance that helps financial institutions investigate and analyze common ATM crimes like burglary or skimming. Its compact design and temperature rating allow it to be used in small kiosks where space is a premium and extreme heat or cold can be issues. securityinfowatch.com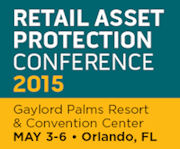 The Latest Developments in Active Shooter Training Force Training Institute's Jeremiah Hart will return to the general session stage after last year's compelling presentation to facilitate a dialogue focused on steps some retailers have taken in the past year to enhance their active shooter training programs. You'll see clips from retailers' training videos, get a glimpse into their corporate and brick-and-more training programs and hear about some of the latest technology designed to save lives in an active shooter situation. rila.org

Study: Data breaches use decades-old techniques, cost millions - 88% of retail attacks fall under 3 categories Cyberattacks are becoming increasingly sophisticated, but that many criminals still rely decades-old techniques such as phishing and hacking. According to the 2015 Verizon Data Breach Investigations Report, the bulk of the cyberattacks (70%) use a combination of these techniques and involve a secondary victim, adding complexity to a breach. Another troubling area singled out in this year's report is that many existing vulnerabilities remain open, primarily because security patches that have long been available were never implemented. In fact, many of the vulnerabilities are traced to 2007, a gap of almost eight years. Verizon predicts that the cost of a breach involving 10 million records will fall between $2.1 million and $5.2 million (95% of the time), and depending on circumstances, could range up to as much as $73.9 million. For breaches with 100 million records, the cost will fall between $5 million and $15.6 million (95% of the time), and could top out at $199 million. In retail, 88% of attacks occur in three major categories: denial of service (44%), crimewave (23%) and point-of-sale intrusion (21%). chainstoreage.com

Employees at fault in 52% of data breaches
A company's own employees are a significant factor in the majority of data breaches, either through malicious activity or avoidable mistakes, say two new studies, but companies aren't doing enough to address this issue. According to a recent survey by CompTIA, human error accounts for 52 percent of root causes of security breaches, while technology errors account for 48 percent. However, human error ranks as a serious concern for less than a third of respondents. csoonline.com

Survey finds younger workers make bad security choices The biggest smartphone security threats to companies caused by workers come from males younger than age 35 who earn more than $60,000 a year. Those are the findings of a new study commissioned by Aruba Networks that questioned 11,500 workers in 23 countries. Some of the findings in the survey should "give IT the cold shivers," Ben Gibson, chief marketing officer for Aruba, said. 56% of the under 35-year-olds said they were willing to disobey their boss to get work done on a device, while 87% said they assumed their IT shops would keep them protected. Meanwhile, 31% also admitted they had lost data because of the misuse of a device. Such attitudes "can be compared to driving at high speed with some very creative twists and turns, but often...doing so without a seatbelt," Aruba said. csoonline.com

Sears selling more real estate than products
Sears Holdings will eventually need to sell more stuff to shoppers to remain viable as a retailer, but in the meantime the company has shown itself to be more adept at generating cash through complex real estate deals that unlock the value of an increasingly less productive store base. The latest example of the company's strategy to unlock the value of its extensive portfolio of real estate holdings involves a deal with Simon Property Group. Sears and Simon created a joint venture that involves Sears contributing to the joint venture 10 properties valued at $228 million that are located at Simon malls. In exchange, Sears received $114 million in cash from Simon and a 50% stake in the joint venture from which it plans to lease back the stores. Sears announced a similar arrangement involving General Growth Properties on April 1, in which Sears contributed 12 stores to the joint venture in exchange for a 50% ownership interest and $165 million contributed by General Growth. Of even greater financial significance to Sears than either the Simon or General growth deals is the company's plan to create a real estate investment trust involving roughly 254 stores that could generate proceeds of more than $2.5 billion. retailingtoday.com

Government agency may sue PayPal for lending practices The Consumer Financial Protection Bureau may sue PayPal for practices of its PayPal Credit same-day loan provider unit. In a filing with the Securities and Exchange Commission (SEC), PayPal said the lawsuit could occur by June 2015. The bureau has been investigating PayPal Credit, formerly known as Bill Me Later, since 2013. The investigation includes practices in areas such as online credit products, advertising, loan origination, customer acquisition, servicing, debt collection and complaints handling practices. chainstoreage.com

Save Mart to pay $277,000 in back pay, damages to distribution center workers in Vacaville, Roseville, CA Employees with Save Mart Supermarkets distribution centers in Vacaville and Roseville are slated to receive a cut of an estimated $277,000 in back wages and damages, the federal Department of Labor announced Monday. Labor officials said that, following a Wage and Hour Division investigation, it was determined that "the Roseville and Vacaville ... locations violated the Fair Labor Standards Act (FLSA) by failing to include bonuses in the employees' rate of pay when computing overtime for employees working in the distribution centers." As such, Save Mart has reportedly agreed to pay $277,319 in back wages and damages to 248 current and former workers and comply with all provisions of the FLSA. thereporter.com

Japan: Behind the Scenes / Sharing facial data of shoplifters worrying Supermarkets and bookstores may be provided with the facial data of shoplifting suspects captured on security cameras. That is the plan being considered by the National Shoplifting Prevention Organization (NSPO), a nonprofit organization comprising major retail businesses around the country. The organization insists that "shoplifting is serious, and defenses are necessary," but many people warn of privacy concerns by having sensitive personal information linked to criminal records. Facial recognition cameras reportedly began being installed in commercial facilities about five years ago. However, those that announced the installation publicly on their websites like the commercial building in Ichikawa are in the minority. Most establishments use the system without notifying customers. the-japan-news.com
2 workers hurt in electrical accident at King of Prussia Mall Two members of a construction team are hospitalized and a third was under observation after an electrical accident at the King of Prussia Mall. It happened at 7:20 a.m. Monday, as crews worked on the mall's expansion project. Police say two men inside a scissor jack lift were cutting electric cables beneath the second story floor of an existing section of the Mall near an newly constructed portion. A 36-year-old worker was shocked and seriously injured when an energized cable carrying 13,000 volts of electricity was cut by one of the men. The other worker, a 27-year-old man, suffered non-life-threatening injuries. Both men, who work for Omni Electric of Collegeville, Pa., were treated at the scene then taken to Paoli Hospital, along with a third man who was taken to the hospital as a precaution. Initial reports indicated that third worker was injured, but he was unharmed. The accident happened in the Court section of the mall near Macy's. According to police, the arcing wire created a small fire, which was extinguished, and a moderate smoke condition, which was quickly remedied. Power restoration to the area was delayed an hour due to the accident. Construction projects around the mall continued Monday morning, and all stores remained open. 6abc.com
Dick's Sporting Goods to open 135 to 150 stores in next three years

99 Cents Only to open nine new stores

JC Penney exec inadvertently discloses Q1 same-store sales (up 6%)

Coburn's purchases four Marketplace Foods stores as part of Wisconsin expansion

EBay Shakes Up Leadership Ahead of Planned PayPal Split

NRF: March retail sales up 0.5% over Feb. - Up 3.5% YoY


Quarterly Same Store Sales Results
Pep Boys Q4 up 1.3% - full year comp's flat with total sales up 0.9%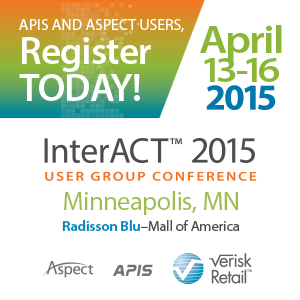 All the news - One place - One Source - One Time
The D&D Daily respects your time
& doesn't filter retail's reality
Report Your News!
(content subject to approval)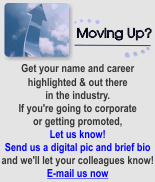 Vendor Spotlight



Total Retail Loss - an opportunity for LP leaders to widen their role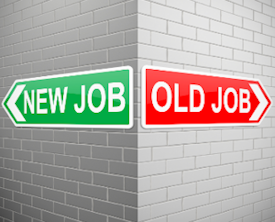 Today's LP manager has a much bigger job to do than studying CCTV footage for shoplifters. Forward-thinking companies are beginning to see how LP executives may have a broader role in retail operations through the concept of 'Total Retail Loss'.

Technology is transforming retailing and the roles within it. The responsibilities of the LP manager are rapidly changing as businesses find that traditional strategies and solutions are no longer fit-for-purpose.

Back in the old days, the LP manager acted like an arm of law enforcement and some could argue that the measures of success were how many light-fingered criminals were put under lock and key by the end of each working day.

But new thinking on what constitutes loss will dictate how the LP role evolves. There is now a proposal for a 'Total Retail Loss' framework that recognizes a much wider range of contributory factors to loss. One of these factors is the rise of digital technology, which, while it offers marvelous new opportunities also presents LP challenges, ranging from online fraud to the logistical pressures of flash sales conceived in short time frames and promoted at scale.

Professor Adrian Beck, academic advisor to the ECR Europe Shrink and on-Shelf Availability Group, and fellow experts came up with a definition of 'Total Retail Loss' that at its simplest embraces all the losses within a retail organization that are not regarded as 'the cost of doing business' (such as the cost of stock or heat and lighting).

The definition for Total Retail Loss is a 'work in progress' and will be finessed with retailer input but for now is broken down into the following areas:

| | |
| --- | --- |
| ● | Corporate Policy Losses - attributable to overall goals important to the business, such as a 'flash sale' to shift out-of-season stock or a price matching guarantee against rivals. |
| ● | Corporate Liabilities - costs associated with issues such as criminal damage, burglary, currency exchange losses, fire and more. |
| ● | Supply Chain Losses - losses taking place within the retail supply chain, including the distribution centre and while in transit, made up of malicious and non-malicious losses. |
| ● | Known Operational Losses - occurring in retail stores as part of everyday activities made up of both malicious and non-malicious losses. |
| ● | Unknown Operational Losses - losses where the cause is unknown and occurring during day-to-day retail activities. |


Loss Prevention News Network

Want to be a Senior Leader?
There's a Price
Bob Oberosler, Group Vice President, Asset Protection, Rite Aid, has traveled several times throughout the U.S. for his career, worked seven days a week building an LP program from scratch and spent more hours than he can count taking on extra projects and responsibilities to help him advance in his career. If there's an executive who's paid the price, Bob is it. In this LPNN interview, Bob shares just what it takes to be a senior leader in the LP industry. From volunteering for extra tasks at work to choosing a house you can resell quickly, learn the things executives don't always think about when moving up in an organization.
---
From the latest retail products and trends on the NRF Big Show floor to a super-dated reference to Walkmans, Jackie Andersen, Director, Retail Strategic Accounts, MultiSight, and Joe LaRocc
a
talk technology in this LPNN Quick Take.

Solution Providers, have a video or commercial you want to publish? Contact us.



Kmart Southeast - Asset Protection & Profit Protection Team
At the 2015 SHMC AP National Conference - (ZMAP) Zone Manager's Asset & Profit Protection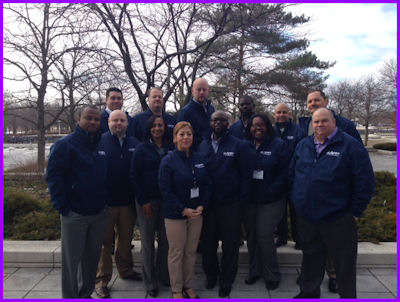 Left to right: Almond Dennis – ZMAP, Orlando, FL, Denver Cullpepper – ZMAP, Huntsville, AL, Ray Hope – ZMAP, Jacksonville, FL, Scott Searcy – ZMAP, New Orleans, LA, Jim Kralik – ZMAP, Charlotte, NC, VK Moore – ZMAP Tampa, FL, Alex Sostre – ZMAP Puerto Rico, Stewart Roberts – ZMAP, Virginia Beach, VA.

Center (Left to Right): Sherri Reid – ZMAP, Marilys Rivera – ZMAP Miami, FL. Marty Maberry – ZMAP, Atlanta, GA, Denissee Alvarez, Puerto Rico, John Raviaoli
View all the selfies here!


e-commerce

Sponsored by The Zellman Group
Chip-and-PIN preferred against POS fraud
EMV technology will greatly aid their efforts in the fight against credit and debit card fraud, say the respondents to a survey by the Association for Financial Professionals. The survey, underwritten by J.P. Morgan, found that 92% of finance professionals firmly believe EMV, or chip-and-PIN, cards will be effective in reducing point-of-sale fraud. In addition, 61% believe that chip-and-PIN will be the most effective authentication method in mitigating credit/debit card payments fraud. Despite companies' fears, the survey found that 70% of companies that were subject to payments fraud in 2014 did not suffer a financial loss from the attack. Although declining, checks are by far the payment method most subjected to actual or attempted fraud, and they accounted for the largest dollar amount of loss.
bankingexchange.com
Global B2B online retail market 'to be worth $6.7tn by 2020'
The business-to-business (B2B) online retail market is expected to reach double the size of the business-to-consumer (B2C) online market by 2020, generating revenues of $6.7 trillion. New analysis suggests that B2B online sales will account for close to 27% of total manufacturing trade, with China and the US set to be leaders in the marketplace. The US is anticipated to double its revenue contribution to $1.2 billion by 2020. Frost & Sullivan said that B2B online retailing has been witnessing strong growth due to the rapid migration of manufacturers and wholesalers from legacy systems to open, online platforms - mirroring trends in the consumer eCommerce market.
essentialretail.com
New security requirements for payment card vendors
The PCI Security Standards Council (PCI SSC) has published version 1.1. of its PCI Card Production Security Requirements. The updated standard helps payment card vendors secure the components and sensitive data involved in the production of payment cards, protecting against fraud via the compromise of card materials. The standard consists of both physical and logical security requirements that address card production activities including card manufacturing, chip embedding, data preparation, pre-personalization, card personalization, chip personalization, fulfillment, packaging, storage, mailing, shipping, PIN printing and mailing (personalized, credit or debit), PIN printing (non-personalized prepaid cards), and electronic PIN distribution.
net-security.org
Amazon Prime edging out Target, Walmart
"Fraud is not a person - it is a dynamic grouping of statistics that deviate from the norm."
Stuart B. Levine, CFI, CFCI
CEO, The Zellman Group & Zelligent


ORC News
Sponsored by Security Resources
Macy's ORC teams with US Postal Inspectors to Apprehend USPS Employee for Theft of Stolen Online Orders As part of an ongoing investigation with the Office of the Inspector General of the Brooklyn Division, the United States Attorney's Office- Eastern Division and the Macy's Asset Protection ORC Unit, an arrest was made on April 8th in the Bronx, NY on a U.S. Postal Supervisor assigned to the Queens Processing Plant located in Flushing, New York. During this investigation dating back to June 2014, it was alleged that the USPS Employee named Helen Davis has been stealing online orders being shipped from Macy's locations and Macys.com facilities via U.S. Mail while at the USPS Processing Plant. Davis would conceal and transport the stolen merchandise to her personal vehicle during her shift. Davis would subsequently return a significant amount of the stolen merchandise to Macy's locations where she would receive credits in the form of Gift Cards valued at $40k. In conjunction with the arrest of Helen Davis, U.S. Postal Agents served warrants on her personal vehicle and her residence and recovered over 200 units of merchandise, 100's of Macy's receipts and media documents that she received from her thefts / fraud returns and seized as evidence for prosecution of the case. During the interview of Davis by U.S. Postal Agents, she admitted to all of her actions of theft over the past 3+ years. Davis was booked into federal holding with the U.S. Marshalls office and charged with 400+ counts of theft of U.S. Mail. Thanks Chris DeSantis for this article submission!

Cargo Theft: Former Inland Empire, CA UPS Driver Sentenced for Stealing Gun Shipments A former UPS driver who stole dozens of rifles and pistols that he was supposed to deliver to Inland Empire retail outlets but instead sold on the black market was sentenced today to 3 1/2 years in federal prison. Curtis Ivory Hays, 37, of Rancho Cucamonga was convicted in January of the 15 felony counts on which he was indicted, including theft of firearms in interstate commerce, conspiracy, possession of stolen firearms and receipt of goods stolen in interstate commerce. Riverside-based U.S. District Judge Virginia Phillips imposed the sentence recommended by the federal Office of Probation, which found that because Hays lacked prior convictions, he was eligible for a low-term sentence. The U.S. Attorney's Office agreed that the 41-month term was acceptable -- despite the fact that the defendant could have faced up to 115 years behind bars. patch.com

Academy Sports Distribution Center violent robbery suspects arrested in Houston; Security Guard kidnapped and 70 guns were stolen Curtis Duncan, 25, and William Eason, 24, are sitting in a Harris County Jail cell without the option to walk out on bond. Both men are convicted felons who have had multiple run-ins with the law. In this latest case, investigators said one of the suspects confessed to the entire crime. The two are accused of committing dangerous crimes -- kidnapping a security guard and then using him to steal guns from the warehouse of a local retail giant. Duncan appeared in court last week to face a judge on the charges. According to court documents, Duncan and Eason committed the crimes just over two weeks ago at an Academy Sports and Outdoors warehouse in Katy. A security guard at one of the gates was reportedly approached by a guy wanting to know how he could apply for a job there. But the security guard said that's when the man pistol-whipped him in the head and forced him into the back seat of a car with two other robbers. The suspects allegedly demanded the security guard hand over the keys to the Academy storage trailers that carry store merchandise, including firearms. The security guard told police the guys said "they would kill him" if he didn't give them his keys, so he agreed. He said they made him "strip down to his underwear" and he was "driven around the area for a while" so the other suspects could cut through the fence at the Academy warehouse and open the trailers. Investigators said they got away with more than 70 guns. Police in La Porte said one of the guns ended up in the hands of a man who lives there. Court documents state that when Harris County investigators saw our story about his arrest on Click2Houston.com, they went to question him and were led to the suspects accused in the kidnapping. The security guard told police the robbers eventually dropped him off about three miles away from the warehouse at I-10 and Grand Parkway, where he said he flagged down a driver who took him to the hospital. click2houston.com
COACH Store in the Johnson Creek Premium Outlets hit by trio Three Milwaukee residents were arrested during a traffic stop on Interstate 94 Friday evening after a theft at a Johnson Creek business. Nicholas Ryan Burks, 28, Courtney Letraile Stewart, 22, and Domonic Dewyane McCovery, 23, all of Milwaukee, were expected to appear before Jefferson County Circuit Court Judge David Wambach on Monday. Recommended charges from the Johnson Creek Police Department are felony theft. Burk is slated to be charged with the theft, while Stewart and McCovery are facing theft as being party to the crime. Johnson Creek Police Chief Gary Bleecker said around 3:55 p.m. Burks entered the Coach store at the Johnson Creek Premium Outlets mall. The chief said the subject grabbed eight purses and walked out with them. "A description of the vehicle was received from the clerks inside and another bystander." Bleecker said On Friday, April 10, at approximately 4:15 p.m., a Wisconsin State Patrol trooper stopped the vehicle on I-94. dailyunion.com


Lenoir, NC woman faces shoplifting charges - again
Hickory, NC Police officials claim a Lenoir woman stole $2,001 worth of merchandise Sunday from Belk. Tracia Nicole Simmons, 44, was charged with one felony count of larceny and one felony count of shoplifting, according to an arrest report. She was given a $10,000 bond. Hickory Police Department spokeswoman Chrystal Dieter said loss prevention officers at Belk at 1980 U.S. Highway 70 SE, Valley Hills Mall, witnessed the suspect place items in her shopping cart and walk out of the store. Items stolen include shirts, shorts, shoes, a coffee maker and a comforter bed set, according to a police bulletin. The suspect was previously convicted of shoplifting May 4, 2009, April 12, 2010, Sept. 20, 2012, and Feb. 11, 2013, Dieter said. hickoryrecord.com

67 pieces of clothing stolen from Forever 21 Riverchase Galleria store leads to 2 arrests Hoover, AL Police were called to Forever 21 about 11 a.m. Thursday. Store employees watched as the pair stuffed a bunch of clothes - 67 items to be exact - into shopping bags and then left the store. Officers went after them, and spotted them as they were getting into a vehicle in the parking lot, said Hoover police Capt. Gregg Rector. The suspects fled the scene at a high rate of speed. Another officer found the fleeing vehicle on Interstate 65 northbound and pulled it over, Rector said. The two women were taken into custody after store workers positively identified them. The 67 items of stolen clothing were found inside the vehicle, still in shopping bags. Rector said the value of the merchandise totaled $1,285.50. al.com
UK: "Professional" shoplifter who used foil-lined bag jailed for 12 months A 'SERIAL and professional shoplifter' who stole items from shops in Poole and Dorchester has been jailed. Helen Cooper, 38, of Bournemouth appeared before Dorchester Crown Court via video link from HMP Eastwood Park. The defendant admitted 11 counts of theft by shoplifting and two counts of going equipped to steal in various offences ranging from July 2014 to February 2015. David Reid, prosecuting, said in four separate incidents from July 5 to November 20 2014 Cooper had stolen DVDs and CDs totaling $2,534 from Tesco in Poole, and electrical items from John Lewis in Poole totaling $1,968 in the run up to Christmas. bournemoutheco.uk
Do you have an ORC case to share?
Share your ORC news and help the industry grow

Retail Crime News

Sponsored by NuTech National
Shreveport, LA Police arrest 3 in connection to 6 Armed Robberies Shreveport Police arrest three individuals in connection to a series of business robberies taking place over the past two months. Police say Joseph Chisolm, 24, Akeem Reed, 24, and Dominique Washington, 24, were arrested and charged with armed robbery for their alleged roles in the armed robbery of three Dollar General stores, one Family Dollar store, a Circle K convenience store and a Burger King restaurant. The robberies occurred between March 24th and April 11th. Over the course of their investigation police say information and evidence collected suggests Chisolm and Reed were the armed participants in the heists, while Washington served primarily as the getaway driver. arklatexhomepage.com
UK: Armed Gunmen take over Aldi store in Kingstanding, England Police said three men, with their faces covered, went into the store around 9pm, one armed with a weapon described as either a rifle or shotgun. They threatened staff and customers and tried to force the store manager to open the safe, but left without stealing any cash. West Midlands Police said the offenders then escaped in a black vehicle, described as a new-style hatchback, possibly a Vauxhall Astra or a Ford Focus, which drove off along College Road, towards Birmingham. Det Insp Tom Hadley, from Sutton Coldfield said: "Police investigations into the attempted robbery are on-going. There were about ten customers in the store when the robbery took place, who were ushered into a corner. The thieves escaped without cash but they did take a mobile phone from a customer. birminghammail.co.uk

2 nabbed after ATM smash-and-grab in Humble, TX, 1 suspect on the loose Humble police are searching for one suspect who got away after a smash-and-grab theft of an ATM at a gas station. Police said the suspects backed a pickup truck into the front of the Exxon store. They loaded the ATM into the vehicle and took off. Police found the truck with the ATM, but all the cash was gone. No one was hurt. The owner says the damages are upwards of tens of thousands of dollars. click2houston.com
Credit card fraud in Michigan leads to two-year prison term According to the criminal complaint: A credit card was reported stolen from a Tri-Star Electrical truck on Oct. 5. It was used to purchase more than $13,000 in goods from area convenience and home improvement stores between Sept. 30 and Oct. 10. Ruth was identified in a number of surveillance videos making purchases with the card. superiortelegram.com

Thieves rip off Rocklin, CA hobby store
A Rocklin business owner is asking for the public's help in finding two young men who stole $1,800 in merchandise from his store as he was closing Friday night. The thieves, who carried out two drones and a radio-controlled 4x4 racer from Hobbytown, are described as being between the ages of 18 and 24. They fled the parking lot in a gold Dodge Durango. Hobbytown owner Perry Lutz captured the brazen theft on surveillance video, which he then posted on Facebook. The video had been shared more than 5,400 times with more than 222,000 video views as of Monday afternoon. news10.net

Toronto's Eaton Centre shooter Christopher Husbands wants simultaneous sentences Christopher Husbands, the man convicted of murdering two men after he opened fire in Toronto's Eaton Centre shopping mall, has launched a constitutional challenge over the Crown's demand that he serve two consecutive life sentences. Husbands's lawyers are arguing that extending his parole ineligibility to beyond 25 years would be cruel and unusual punishment. This is the only the third time in Canada - and the first time in Ontario - that the new law is being considered. cbc.ca

Police calls down 34% after Mesa convenience-store crackdown Three and a half years after Mesa implemented a controversial ordinance designed to crack down on convenience-store crime, related calls to police are down and arrests are up, according to Mesa Police Department data. Calls for service at the city's most troubled convenience stores have decreased by about 34 percent, the data shows, and by 90 percent during the high-crime hours of 2 to 6 a.m. Related arrests have gone up by 33 percent. azcentral.com

Arkansas Woman admits to stealing $385,000 while employed at the Bank

Five Counterfeit $100's passed at Walmart in Cookeville, TN

Two Kentucky men facing charges in tractor trailer theft enter not guilty pleas

Bi-Lo employee in Spartanburg, SC busted for fraudulent returns to cover cost of stolen lottery tickets


Robberies and Burglaries
● Aaron's Rentals - Erie, PA - Burglary
● Advanced Auto - Belleville, IL - Armed Robbery
● AT&T - Portland, OR - Burglary
● Ball Park Market - Reno, NV - Robbery
● Bloomfield Farmers Market - Bloomfield, NM - Shooting
● Broadway Express - Ardmore, OK - Armed Robbery
● Burger King - Shreveport, LA - Armed Robbery
● Circle K - Shreveport, LA - Armed Robbery
● Circle K - Eugene, OR - Armed Robbery
● Cosmic Corner - Racine, WI - Robbery
● Dano's - Watertown, NY - Armed Robbery
● Dollar General - Shreveport, LA - Armed Robbery
● Ella's - Toledo, OH - Armed Robbery
● Family Dollar - Shreveport, LA - Armed Robbery
● Family Dollar - Taylorville, UT - Armed Robbery
● Nile Star - Corpus Christi, TX - Burglary
● Nosso Brazilian - Framingham, MA - Armed Robbery
● Q Express - Hickory, NC - Robbery
● Raspado Xpress - Panorama, CA - Burglary
● Shell - Waco, TX - Robbery
● SVC Vape - Stevenson Ranch, CA - Burglary
● Ulta - Lancaster, OH - Robbery


Featured Job Listings
Sponsored by NuTech National
Feature Your Job Here For 30 Days -
70% Aren't On the Boards
VP of LP
Mattress Firm
Houston, TX
Mattress Firm
Director of LP
Lane Bryant
Columbus, OH
LinkedIn
Director AP
Big Lots
Columbus, OH
Big Lots
Director of LP
PacSun
Anaheim, CA
PacSun
Director Global AP
KFC & PH
Plano, TX
YUM! Brands
Director of AP, Corporate
Dollar General
Nashville, TN
Dollar General
VP Supply Chain, LP & Safety
Ross Stores
Ft. Mill, SC
Ross Stores
VP of Sales
Checkview
Chanhassen, MN
Checkview
Director of Security
Confidential
Chicago, IL
Downing & Downing
Regional Dir AP
Rite Aid
Albany, NY
Rite Aid
Regional Dir AP
Rite Aid
Warwick, RI
Rite Aid
Regional Dir AP
Rite Aid
Baltimore, MD
Rite Aid
LP Corporate Sr Mgr
JC Penney
Dallas, TX
JC Penney
AP Manager
Ralph Lauren
New York, NY
Ralph Lauren
Regional LP/Safety Mgr
American Signature, Inc
Chicago, IL
American Signature, Inc
Regional LP Mgr
Dunham's Sports
South Central KY, Central TN or NC
Dunham's Sports
Regional LP Manager
National Stores
Chicago, IL
National Stores
Regional LP Manager
National Stores
Northern Bay Area, CA
National Stores
Regional LP Manager
National Stores
Phoenix, AZ
National Stores
Market AP Specialist
REI
Chicago, IL
REI
Sr Retail AP Specialist
REI
Bloomington, MN
REI
NEW TODAY LP Operations Coordinator
Restoration Hardware
Corte Madera, CA
Restoration Hardware
NEW TODAY LP Analyst
Restoration Hardware
Corte Madera, CA
Restoration Hardware
Market ORC Investigator
Macy's
New York, NY
Macy's
Security Officer
Wegmans
Pottsville, PA
Wegmans
National Account Sales Representative
Instakey
Denver, CO
Instakey
Sales Representative
NuTech National
Maitland, FL
NuTech National
National Account Executive
Checkview
Northeast Region
Checkview
National Account Executive
Checkview
United States
Checkview
National Account Manager
Vector Security, Inc
TBD
Vector Security, Inc

Limited Time Only - Post Your Multi-Unit LP jobs for FREE - Learn More Here

Daily Job Alerts


Appearing One Day Only
View our Internet Jobs Archives here
LP Manager
Bloomingdale's
Honolulu, HI
Bloomingdale's
AP Manager 2
Cabela's
Reno, NV
Cabela's
AP Spec
Cabela's
Tulalip, WA
Cabela's
AP Manager
Home Depot
Detroit, MI
Home Depot
Area LP Leader
JCPenney
Omaha, NE
JCPenney
LP Specialist
Kroger
Missouri City, TX
Kroger
Dept Mgr LP & Safety
Lowe's
Presque Isle, ME
Lowe's
Dept Mgr LP & Safety
Lowe's
Thomaston, ME
Lowe's
Dept Mgr LP & Safety
Lowe's
Battle Creek, MI
Lowe's
Dept Mgr LP & Safety
Lowe's
Albuquerque, NM
Lowe's
Dept Mgr LP & Safety
Lowe's
Saugus, MA
Lowe's
AP Manager in Training
Walmart
Chanute, KS
Wal-Mart
AP Manager in Training
Walmart
Clinton, NJ
Wal-Mart
AP Manager in Training
Walmart
Woodland Park, CO
Wal-Mart
AP Manager in Training
Walmart
Marysville, KS
Wal-Mart
AP Manager in Training
Walmart
San Bernardino, CA
Wal-Mart
AP Manager in Training
Walmart
Colton, CA
Wal-Mart
AP Manager in Training
Walmart
Hanover, MD
Wal-Mart
LP Manager Hrly
Kmart
Vernal, UT
Sears Holdings Corp
LP Manager
Sears
Santa Rosa, CA
Sears Holdings Corp
LP Manager Hrly
Kmart
Arvada, CO
Sears Holdings Corp
LP Manager Hrly
Kmart
Goodlettsville, TN
Sears Holdings Corp
LP Manager Hrly
Kmart
Williamsburg, VA
Sears Holdings Corp
Multi Unit LP Manager
Kmart
Massillon, OH
Sears Holdings Corp
LP Manager
Kmart
Pleasantville, NJ
Sears Holdings Corp
LP Manager
Bob's Discount Furniture
Shorewood, IL
Bob's Discount Furniture


Home of the Industry's Original
On the Move

Brad Reeves was named Sr. Manager of Asset Protection for Five Below.
Tim Mottershead was named Regional Loss Prevention Manager for Region 12, Southern New Jersey for Burlington Stores.

Post Your New Job or Promotion!
See all the Industry Movement


Your Career
Sponsor this section of the Daily
Doubt Yourself Less, Back Yourself More
We are capable of so much more than we give ourselves credit for. Too many times, though, we shy away from situations that make us feel at risk of failing or making a mistake. Nobody is immune to failure, but we do have the ability to push fear aside and just go for it. Just trust yourself

Simple Ways to Trick Yourself into Being More Patient Impatience, while it starts out with just irritation can quickly turn into annoyance or even rage. Luckily, there are some strategies that can be used to learn how to perfect patience. The first step is to figure out what causes you to feel impatient and then use these 7 steps to calm down. Count to 10

4 Steps to Dispel a Bad Mood
It can be easy to get sucked down into the snares of a bad mood, and it is even easier to let it affect our performance at work, but there are ways you can get yourself out. This specific sequence of practices can help you shift into the productive state of mind. First, deep breaths

Five Ways to Make Failure Your Best Competitive Advantage Failure is a huge part of the future of work because it leads to innovation and new ideas. Embracing failure leads to valuable learning opportunities, improved engagement and can remove inefficiencies. Here are some things companies can do to turn failure into a friend. Give opportunities to fail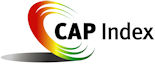 Tip of the Day
Sponsored by Vector Security
Truth is most often masked in humor - The issue is seeing behind it.

Just a Thought,
Gus







Upcoming Events
---
Recruiting?
Get your job e-mailed to everyone... everyday
Post on our Featured Jobs Board!
Reach your target audience in 2015 every day!
Request our 2015 Media Kit
update account / change e-mail
unsubscribe FEEDBACK
www.downing-downing.com

Advertise With The D&D Daily




36615 Vine Street, Suite 103
Willoughby, OH 44094
440.942.0671
copyright 2009-2019
all rights reserved globally