The D&D Daily Mobile Edition
April 15,

2015



The LP Industry's #1 News Source - Informing, Educating and Instilling a sense of community


News Brief
Sponsored by WG Security Products, Inc.
Civil Demand Survives in Maryland - Retail Makes its Voice Heard as HB 1239 is Struck Down in the Maryland Senate This week the Maryland Senate Judicial Proceedings Committee held a crucial hearing on HB 1239 (Civil Penalties for Shoplifting & Employee Theft) - legislation aimed at repealing the statue allowing retailers to collect fees and restitution for shoplifting and employee theft. Led by the efforts of the Maryland Retailers Association and State Senators Bobby Zirkin and Jim Brochin, the bill was amended in committee in a way favorable to retailers. (A reprint of the amended bill has not been made public.) The Maryland House of Representatives refused to concur with the Senate amendments, and the Senate refused to take the bill previously passed by the House - so HB 1239 was, in effect, killed. Sources say the bill's origin stemmed from the actions of an out-of-state collection firm not following Maryland law. While there are indications that more anti-civil demand legislation will likely return in the future, this news is certainly a major victory for retailers. We would like to thank everyone in the retail community who made their voice heard and helped block this potentially damaging legislation from passing in Maryland - as it very well could have triggered a chain reaction across the country legislatively, putting civil demand laws throughout the U.S. in jeopardy.

Fight For $15 protestors across U.S. - stage die-in in front of NYC McDonalds - Black Lives Matter & Brinks Armored Guards join protests In March, Sabaah Jordan, an organizer with Black Lives Matter in New York, explained why the campaign against police killings of African-Americans was intertwined with the Fight for $15: Black Lives Matter must stand in solidarity with the Fight for $15 because the same fast-food workers, the Walmart workers, the airport workers, the home health aides and the child care workers who are fighting for $15 are the same black and brown people who are vulnerable to unchecked violence in the hands of the police. These issues are completely connected. It is a part of the systematic exploitation of black and brown people in this country and it's gone on for too long." The protesters were joined by members of the Retail Action Project, who stopped to protest at a nearby Zara store before making their way to the McDonald's.

A group of them have just staged a die-in in front of McDonald's on Upper West Side in New York. Workers striking in front of a McDonald's in Chicago just made some new friends: Brinks armored car workers who just walked off the job to join the strike. #FightFor15.

In addition to the protests in the US, workers in 123 cities in 35 countries were expected to join the demonstrations in the first worldwide coordinated strike. Workers occupied a McDonald's in Glasgow, stormed a McDonald's restaurant in Sao Paolo and blockaded a McDonald's in Paris, holding a six-meter long sign that read, 'Stop Social Destruction and Tax Avoidance'," organizers said in a statement. N.Y. Attorney General Eric Schneiderman will rally with 5,000 home health care aides Wednesday as part of the Fight for $15 movement on 64th St. and Central Park West ahead of the larger march to Times Square. The group - expected to be 15,000 strong - will march to Times Square. nydailynews.com theguardian.com
Checkpoint Systems' New RFID Labels for Health/Beauty/Cosmetics Categories Based Upon Latest Impinj Chip for Inventory Management Checkpoint Systems, Inc., a leading global supplier of merchandise availability solutions for the retail industry, today announced at RFID Journal Live its new Slim and Whisper RFID labels for Health/Beauty/Cosmetics Categories. These categories have specific inventory management challenges based on their small size, SKU complexity and densely packed merchandising displays. The Slim is offered with a label size of 88x7mm and integrated with the latest Impinj Monza R6 chip. It has been optimized for performance with all of Checkpoint's RAIN (standing for RA-dio frequency I-dentificatio-N) RFID solutions, including its RFID EAS Overhead Solution, the EVOLVE E10 Exclusive pedestal and other Merchandise Visibility solutions. The Slim tags can be applied over the packaging of numerous health/beauty/cosmetics products and are tamper proof. checkpointsystems.com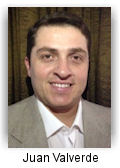 Wicklander-Zulawski Expands to Mexico, Brings Local Expert On Board Wicklander-Zulawski & Associates, Inc. (WZ), the leading consulting and training company for interview and interrogation techniques, is broadening its operations in Mexico and bringing Juan Valverde into its ranks as its on-location instructor for loss prevention. WZ is committed to expanding its global reach as the demand for professional development in loss prevention, effective interviewing, and security training increases worldwide. WZ assists professionals in both public and private sectors to improve their knowledge of security measures, interrogation techniques and loss prevention through seminars, conferences, workshops and certificate programs. Valverde comes to WZ from Rent-A-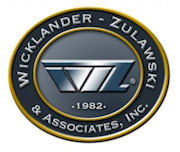 Center de Mexico where he was the Loss Prevention Director Mexico, based in Monterrey. He managed a team of four regionals, a security specialist, and an LP analyst and oversaw 177 stores, three distribution centers, and the corporate offices. d-ddaily.com

Retailer Tommy Bahama Reduces LP Investigation Times by More than 90% with March Networks Searchlight Tommy Bahama, the island-inspired clothing and home furnishing retailer based in Seattle, WA, has selected March Networks' comprehensive retail solution to gain faster, more robust loss prevention (LP) capabilities, improve recovery and apprehension rates with higher-quality video evidence, and better safeguard customers and employees at 130 stores worldwide. Following a six-month evaluation done in cooperation with Tommy Bahama's IT group, the retailer selected the March Networks® solution as its standard for all new locations and retrofits. Sixty-five stores are already equipped with the technology, which includes new Searchlight for Retail software, 8000 Series Hybrid Network Video Recorders and MegaPX WDR MiniDome Z IP cameras, all managed with March Networks Command Enterprise software. An additional nine sites are expected to be up and running before the year's end. virtualpressoffice.com

Target nears $20 million MasterCard data breach settlement Target is nearing a settlement with MasterCard to reimburse financial institutions about $20 million for costs incurred from the retailer's massive data breach in 2013, the Wall Street Journal reported. The $20 million covers costs that banks incurred to reissue credit cards and debit cards as a result of the breach, as well as some of the fraud that resulted from the exposure of customer information, the newspaper said. MasterCard ( MA ) will distribute the reimbursed funds to the financial institutions that issue credit cards and debit cards under its brand, including Citigroup, Capital One Financial and J.P. Morgan Chae & Co, the Journal said. The Target settlement does not include financial institutions that issue under the Visa ( V ) brand. Target is negotiating separately with Visa, the report said. fortune.com

Data Breach Costs Overstated, Verizon Suggests - Breaches up 55% in '14 to 2,122 - 700 million records compromised In its eighth annual Data Breach Investigations Report, Verizon for the first time offers predicted data breach cost ranges, casting doubt on an older formula that derives a cost-per-record by dividing the sum of loss estimates by the total number of records lost. Verizon used cyber-liability insurance claim data from cyber insurance carriers to take a fresh look at data breach cost impact. Through this analysis, it found, among other things, that a small data breach where only 100 records are lost would most likely cost an organization anywhere from $18,120 to $35,730. Meanwhile, a mammoth breach of 100 million records would have an average cost between $5 million and $15.6 million. Bob Rudis, another Verizon data scientist, cautioned that even this approach doesn't tell the whole story. "We're as disappointed as anyone to say that there are a lot of things contributing to the cost of breaches that we can't account for yet," he told TechTarget. cfo.com

House Panel Passes Cyberthreat Info Sharing Bill Democratic Attempts to Limit Liability Safeguards Fail. House leaders indicated that the full House could vote on cyberthreat information sharing legislation as early as next week. In the Senate, a version of its cyberthreat information sharing bill could come up for a vote shortly. The House committee approved one amendment that explicitly states that shared cyberthreat information processed through the National Cybersecurity and Communications Integration Center - known as NCCIC, the Department of Homeland Security portal - could not be used for law enforcement or intelligence purposes. The legislation would require private companies to remove personally identifiable information unrelated to the cybersecurity risk before sharing information with the NCCIC or other private entities. It would also require the NCCIC to conduct a second scrub and destroy any personal information that is unrelated to the cybersecurity risk before further sharing with other government agencies or private organizations. Liability Provisions Remain Intact. govinfosecurity.com

British businesses battling epidemic of CNP fraud UK payment company WorldPay saw over 133,000 fraudulent transactions worth 10 million pounds reported in March, leaving businesses out of pocket as fraudsters purchased goods and services using stolen card details. Over 67% of all fraudulent transactions happened online, while purchases made over the phone or by mail accounted for 19% of the total. "Technology to guard against card counterfeiting and fraud has come a long way, yet the rates of attack are truly alarming. Card details are the weakest links in consumers' and businesses' defences and the one area that fraudsters know to hone in on." finextra.com

Whitepaper: Multi-Layer Approach Recommended as Best Practice for Card-Not-Present Fraud Mitigation The ongoing U.S. migration to EMV chip payments is a move that will benefit the entire payments ecosystem by preventing in-person counterfeit card fraud and securing the card-present payment channel. At the same time, securing the card-not-present (CNP) channel is critical. The EMV Migration Forum today released a white paper (download it here) to provide an educational resource on the best practices for authentication methods and fraud tools to secure the CNP channel as the U.S. migrates to chip technology. "No single security mechanism can protect against all possible fraud scenarios. Instead, the best practice to protect against card-not-present fraud is to use a systematic, multi-layered approach using tools that work together to create a successful fraud reduction program," says Randy Vanderhoof, director of the EMV Migration Forum. globalnewswire.com

EMV shift could also shift NFC payments adoption But despite some hiccups, the EMV transition is well underway, and many payments industry experts believe NFC-enabled mobile payments stand to benefit as new point-of-sale terminals contain the necessary technology for consumers to make contactless payments with their smartphones. "[Apple Pay and other mobile schemes] are going to push merchants large and small to move into EMV faster and request their terminals be contactless enabled." retailcustomerexperience.com

A different kind of data breach at JCPenney - Senior Executive shares Qt same store sales number with analyst with two weeks left in Q - oops! Who hasn't prematurely hit the send button on an email? However, when it happened to a JCPenney executive who disclosed first quarter same store sales to an analyst, it begs the larger question of why the pair were even having a conversation about sales with two weeks left in the quarter. Now it is conceivable that a senior executive with a jam packed inbox hastily composed an email and the "to" line auto-populated with the name of an analyst similar to that of the intended recipient. If that's not the case, and the executive was engaging in an intentional and ongoing dialogue with the analyst, then JCPenney's characterization of the improper disclosure as inadvertent doesn't pass the smell test. JCPenney did not disclose how it became aware of the inadvertent disclosure, the name of the senior executive involved, the analyst or their firm. Providing those pieces of information would speak to the company's commitment to transparency. The company could also have shared in the filing details regarding its policy concerning communications with investors. As it stands now and without further disclosures from the company it is impossible to know whether the analyst who received the information acted on it inappropriately, shared it with others who may have done so or what measures are in place to protect investors from inadvertent email. Let's see how this plays out. retailingtoday.com

Humane Society Blasts Neiman Marcus
Alleging that Neiman Marcus continues to sell real animal fur as "faux," The Humane Society of the United States has filed a 14-page legal petition with the Federal Trade Commission, seeking civil penalties for false advertising. The group claims to "present evidence" that Neiman Marcus has continued to sell real fur as "faux," despite having been ordered by the FTC to stop doing so in July 2013. After a December 2014 Rossen Reports-led investigation aired on the "Today" show, listing Neiman Marcus among the major companies selling real animal fur marketed as faux fur, the Dallas-based retailer continued to sell real fur as faux fur, the Humane Society alleges. "Our investigators still found the problem occurring on neimanmarcus.com in March of this year," a Humane Society spokeswoman said. She also claimed that one of the items referenced in the group's legal petition was still being falsely advertised for sale as recently as Tuesday. wwd.com

Hackers shift from major retailers' POS systems to countless smaller companies with less infrastructure "PoSeidon," a new strain of malicious software designed to steal credit and debit card data from hacked point-of-sale (POS) devices, has been implicated in a number of recent breaches involving companies that provide POS services primarily to restaurants, bars and hotels. The shift by the card thieves away from targeting major retailers like Target and Home Depot to attacking countless, smaller users of POS systems is giving financial institutions a run for their money as they struggle to figure out which merchants are responsible for card fraud. Security vendors have long recommended "end-to-end" or "point-to-point" encryption products and services to sidestep threats like PoSeidon. The problem is that many retailers - particularly smaller ones - don't seem particularly interested in or incentivized to invest in these technologies, which tend to require more up-front costs and on-going maintenance fees to security vendors. krebsonsecurity.com



America's Fastest-Growing Security Integrators Announced in SD&I's Annual 'Fast50' List For the past four years, Security Dealer & Integrator (SD&I) magazine has ranked the 50 fastest-growing security integrators and dealers in North America, while sharing insights on those companies' best practices for better business and future growth. This year's Fast50 features similar lists and best practices from the owners of those companies; however, the 2015 version of the program also includes a vastly expanded look at the impacts of technology, market expansion and much more among all of the companies that entered the rankings. To view the full rankings for this year's Fast50, click here. securityinfowatch.com

Weird Walmart plumbing problem shutting down stores across America Walmart customers can't understand what's plaguing the "plumbing problems" of Walmart stores from Brandon to California. "Must be a major plumbing problem is all I can say," would-be customer Dale White said as security guards turned him away from the Supercenter on Brandon Boulevard in Brandon. The retail chain announced Monday that five stores are shutting down - one in Brandon, two in Texas, one in Oklahoma and one in California - due to clogging and drainage problems. "Deciding to close a store is not a decision we make lightly," Walmart Spokesperson Amanda Henneberg said in a statement. Henneberg attributed the 13-year-old Brandon, FL store's shutdown to chronic troubles during the past two years. She insisted repairs will start immediately. The shutdown blindsided about 400 Brandon Walmart workers who must now find another store to transfer to or receive 60-days pay for the loss of their jobs. wfla.com

Giant and Martins Food Stores to pay non-union workers $9 min.

Domino's CEO Patrick Doyle - company has to follow suit & raise employees' pay

Target's revving up their grocery business

Pet Supplies Plus plans 200 stores in five years

Target Canada Workers' 'Closing Time' Farewell Goes Viral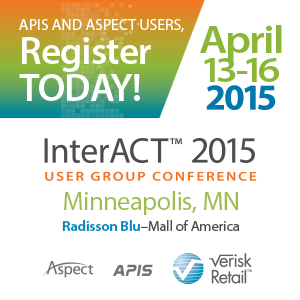 All the news - One place - One Source - One Time
The D&D Daily respects your time
& doesn't filter retail's reality
Report Your News!
(content subject to approval)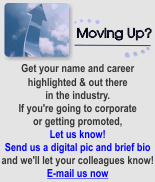 Vendor Spotlight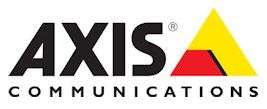 Axis introduces wireless installation tool for easy and quick setup of network cameras from mobile devices
AXIS T8415 Wireless Installation Tool is a battery-powered handheld device able to directly power up network cameras during installation. It includes a free-of-charge app for Android and iOS-based mobile devices allowing for live video feeds to be displayed via a direct Wi-Fi connection. From the live video, easy access to basic key features to set the cameras optimal viewing angle, focus and IP settings.
Axis Communications, the market leader in network video, announces AXIS T8415 Wireless Installation Tool, simplifying on-site installation of network cameras. Together with a streamlined and easy-to-use mobile app, the new Axis tool takes advantage of the convenience and connectivity of today's mobile devices to reduce installation time.

"By using their smartphones or tablets at the installation site, installers can wirelessly connect via an intuitive mobile app to the camera and manage key functions such as angle and focus. In addition to improved efficiency, AXIS T8415 provides installers with a powerful battery that last the whole day", says Erik Frännlid, Axis' Director of Product Management. "AXIS T8415 focuses on solving two specific problems: the speed and ease of installation of an IP camera."

AXIS T8415 is a battery-powered handheld device that connects directly to a camera and displays live video at the installation site. This makes setting the camera's viewing angle and focus easier than with the use of a laptop or remote computer. With its powerful battery, AXIS T8415 can power up an Axis PoE camera up to 30 W for several hours. The tools built-in Wi-Fi function connects it within seconds to an installer's smartphone or tablet so the camera's live view can be accessed in a convenient manner. While the camera is mounted and connected via one-cable connection to the main unit, the installer can get close to the camera with a smartphone device and adjust basic camera functions, such as focus, IP address and image rotation. The app on the smartphone (iOS or Android) can be downloaded free-of-charge from the App Store or Google Play.

Read more here.


Loss Prevention News Network

Want to be a Senior Leader?
There's a Price
Bob Oberosler, Group Vice President, Asset Protection, Rite Aid, has traveled several times throughout the U.S. for his career, worked seven days a week building an LP program from scratch and spent more hours than he can count taking on extra projects and responsibilities to help him advance in his career. If there's an executive who's paid the price, Bob is it. In this LPNN interview, Bob shares just what it takes to be a senior leader in the LP industry. From volunteering for extra tasks at work to choosing a house you can resell quickly, learn the things executives don't always think about when moving up in an organization.
---
From the latest retail products and trends on the NRF Big Show floor to a super-dated reference to Walkmans, Jackie Andersen, Director, Retail Strategic Accounts, MultiSight, and Joe LaRocc
a
talk technology in this LPNN Quick Take.

Solution Providers, have a video or commercial you want to publish? Contact us.


2014 LP Team Group Selfie Review
Showcasing each team in order!
Your Team - Your Pride



Lane Bryant Loss Prevention Field Team

"P3...People, Process & Profit"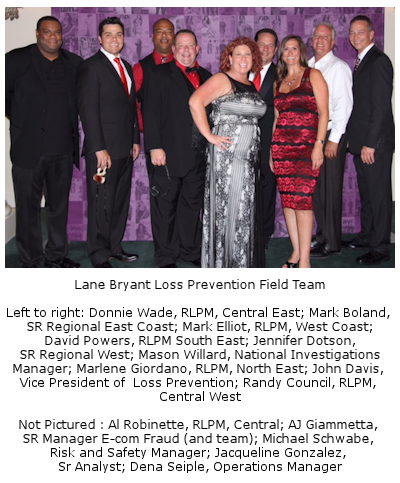 *Originally published on September 26, 2014
View all the selfies here!


e-commerce

Sponsored by The Zellman Group
"Death of a (B2B) Salesman" 1 million to lose their jobs to e-commerce by 2020
The rapid increase in online ordering is displacing many sales reps at manufacturers, wholesalers and distributors. The report, "Death of a (B2B) Salesman," by Forrester e-business analyst Andy Hoar, projects that 1 million sales reps, or 22% of the 4.5 million B2B sales agents now in the United States, will lose their jobs to e-commerce by 2020. "Order takers are the ones in trouble," he says. "It all comes down to value in the ordering process-whether sales reps add value or not."
internetretailer.com
E-commerce sales grow six times faster for U.S. Top 500 merchants than store sales - up 16%, outpacing 2% growth overall
U.S. retailers grew their online sales by 16 percent in 2014, while total domestic store sales grew just 2.4 percent. U.S. online merchants grew their sales to more than $256 billion. Online sales outpaced overall store sales, which reached about $3 trillion, by more than six times, according to Internet Retailer's 2015 Top 500 Guide. Of all retailers ranked in the Top 500, online sales were up 15.7 percent to about $297 billion.
fierceretail.com
internetretailer.com
How Online Fraud is a Growing Trend
As Trulioo recently pointed out, fraud practices follow the money. The always-growing popularity of online shopping has made it a top target for fraudsters across the globe. A recent study found disturbing trends in fraud, including an increase in the susceptibility of mobile devices, which customers are using more than ever to make purchases. This emphasis on mobile and online fraud is even more disturbing as merchants rely on the upcoming switch to EMV to reduce fraud. EMV is primarily designed to protect in-person purchases from fraudulent activity. Online fraud cost companies billions of dollars each year, cutting dramatically into earnings. Both online and off, the true cost of dealing with online fraud is growing, with retailers losing $3.08 for every dollar of fraud they incurred in 2014. This is up from $2.79 in 2013. Mobile fraud is driving these costs upward, since the cost of online fraud is higher on mobile platforms than through other forms of payment. Unfortunately, an estimated 86 percent of chargebacks are fraudulent, which is bad news both for retailers and customers. Whether a chargeback claim is decided in a retailer's favor or not, the retailer is charged a fee and, over time, multiple chargebacks can leave a retailer without a payment processing provider. Chargeback prevention is generally in the hands of the e-tailer, however. For e-commerce businesses, it's vital to have generous return policies and communicate those policies clearly to customers. Instead of pushing your policies on every customer who requests a return, try to work with each customer to find an amicable solution to every issue. Online fraud is an ongoing problem for retailers, but with the right precautions in place, a business can reduce the damage significantly.
forbes.com
Amazon planning new center to employ at least 500 people in southern Dallas
Survey: Retailers investing in omnichannel, but profits elusive
"Fraud is not a person - it is a dynamic grouping of statistics that deviate from the norm."
Stuart B. Levine, CFI, CFCI
CEO, The Zellman Group & Zelligent


ORC News
Sponsored by Security Resources
Peoria man accused of stealing 76 car batteries from Wal-Mart A man caught with 76 car batteries in the bed of his truck admitted he stole them from a Surprise Wal-Mart with help from his 14-year-old nephew. kpho.com

Two Former Advanced Auto Parts Employees plead guilty in $200,000 theft of merchandise Two former employees of a McDuffie County auto parts warehouse pleaded guilty Tuesday to conspiring to steal parts estimated at $120,000 to $200,000. Joseph Battaglia, 38, and Jamaal Bradley, 27, pleaded guilty in U.S. District Court. Sentencing dates will be set once pre-sentencing investigations are completed. Battaglia and Bradley were employed at the Advance Auto warehouse in Thomson where a series of thefts that occurred from May 2012 through January 2014 was uncovered by the company's loss prevention manager, said FBI Special Agent Paul Kubala. An investigation revealed that Bradley and other employees were taking diesel fuel injectors and other small parts and sneaking them out of the warehouse by concealing them in clothing, Kubala said. The items were funneled to Battaglia who filed down the serial numbers on the parts, and put them up on eBay for sale. He handled the packaging, collected the payments and divided the proceeds with the others, Kubala said. The fuel injectors, fairly expensive items, were sold for $480 on eBay, Kubala said. The estimated value of the thefts was determined by the number of items sold and the prices paid by buyers in Texas, Utah and California. augusta.com

Home Depot Employee in Niagara Falls, NY accused of helping a friend to steal over $6000 worth of merchandise A Home Depot employee will face felony charges for allegedly ringing up only part of another employee's purchases over a nine month period. The loss was estimated at $6,000. Akilah Grantsmith, 36, was charged Monday with third-degree grand larceny following an investigation by her employer. The other employee did not show up for work and a warrant was issued for his arrest on similar charges. Store security told police that between July 20 and April 10, on 18 separate occasions, Grantsmith had been seen on security footage ringing up only three or four items when there were 10 to 20 items in the cart. Grantsmith gave a written statement to her employer when she was confronted. buffalonews.com

Sheriff says indictments could come next week in Pappy Van Winkle bourbon theft It's a case that has made international headlines -- and next week, new information in the Pappy Van Winkle bourbon heist is set to be released. Nearly 200 bottles of the rare bourbon was stolen in October 2013, and Franklin County Sheriff Pat Melton recently told WLEX-TV in Lexington that the theft case is bigger than anyone anticipated. Gilbert Curtsinger was arrested last month after five stolen barrels of bourbon from Wild Turkey Distillery, along with steroids and guns, were found at his home. Curtsinger worked at Buffalo Trace Distillery, where Pappy was made, the story said. WLEX-TV says Franklin County deputies have found bottles of Pappy linked to Curtsinger, and that facts point to an organized theft ring between two distilleries' employees. bizjournals.com
Do you have an ORC case to share?
Share your ORC news and help the industry grow

Retail Crime News

Sponsored by NuTech National
Shots fired at outside Saks at The Gardens Mall, Palm Beach Gardens, FL Shots were fired Wednesday morning at The Gardens Mall in Palm Beach Gardens. Shots were fired Wednesday morning at the Gardens Mall in Palm Beach Gardens. Police said the incident began as an attempted robbery in the parking lot. Investigators said a private security not related to the mall fired a shot into the air. It happened near the entrance to Saks Fifth Avenue. Two people are in custody in connection with the case. We are told that no one was injured. wpbf.com
Arrest made after shots fired in Eastwood Mall parking lot in Niles, OH Police arrested a suspect in connection to shots fired at the Eastwood Mall in Niles. Stashan Williams, 29, of Warren, was arrested by Youngstown police following an incident that happened around 6 p.m. Tuesday where shots were fired from a SUV at a group of men in the mall parking lot. Williams was turned over to Niles police and is currently in the Trumbull County Jail. He is charged with improperly handling a firearm in a vehicle. Additional charges could be filed. No one was hurt in the incident. wkbn.com

ShopHQ former employee pleads guilty to $200K in ring thefts in Bowling Green Osborne was accused by police of taking more than $200,000 in rings from the Nashville Road fulfillment center over a three-year period leading up to his arrest on March 11, 2014. A loss prevention employee at ShopHQ reported to the Bowling Green Police Department last year that he had watched Osborne on surveillance footage pull some jewelry out of storage at the facility that was not shipped to a customer or returned to its designated spot, according to police records. The plea agreement recommends a five-year prison sentence for Osborne and $16,505 in restitution. bgdailynews.com

Large smoky fire tears through Puyallup Walmart store leaving workers and shoppers scrambling to get out as smoke filled the building We had multiple reports that came into our dispatch center of a fast moving fire in the garden area. Our first arriving companies found significant amount of smoke coming from the roof line." Thick, grey smoke wafted out of the building as police and firefighters ushered customers and employees to safety. It's unclear how or where the fire started, but Puyallup police said it was centered in the store's Garden Center. Hrivnak said the store's sprinkler system has kept the fire in check, but at 10:30 p.m. it was still burning deep inside the large building. By 11:10, crews had the fire under control and hoped to have it completely knocked down by late Tuesday night. No injuries have been reported. komonews.com

CVS Fire in Discovery Bay, CA deemed Arson
A fire that damaged part of a CVS store Tuesday was deliberately set, a fire battalion chief said. Fire crews were called to the CVS in the Sandy Cove Shopping Center at 4:49 p.m. on Tuesday and saw light smoke coming from the front door. Before crews arrived, store employees extinguished a fire that damaged a display rack with flags and a bag of charcoal, he said. Investigators later determined that the display rack had been set ablaze intentionally. No injuries were reported. contracostatimes.com

Ukrainian National Man in Brooklyn, NY gets 7 years for role in $15 M Identity Theft scheme A Brooklyn man who belonged to an international identity theft ring was sentenced Tuesday to more than 7 and a half years in prison, U.S. Attorney Paul Fishman said. Oleg Pidtergerya, 50, had previously pleaded guilty to charges of wire fraud and identity theft for his role in the scheme, which involved the attempted theft of at least $15 million by obtaining access to accounts with banks and businesses including Aon Hewitt, ADP, JP Morgan Chase, PayPal, Ameritrade, TIAA-CREF, E-Trade and other firms. Pidtergerya helped two other suspected conspirators, Oleksiy Sharapka, 34 and Leonid Yanovitsky, 40, both of Ukraine, by withdrawing funds and making fraudulent purchases from accounts funded with money taken from compromised accounts. Pidtergerya admitted he was aware fraudulent accounts and cards were created without the consent of the individuals in whose names they were opened and coordinating ATM and bank withdrawals of the stolen funds. Sharapka and Yanovitsky remain at large. Pidtergerya must pay restitution of $1,758,127, and entered into a forfeiture judgment of $250,000. nj.com

3 girls charged in attack on San Jacinto Mall employee in Baytown, TX On April 4, a 20-year-old woman reported that she was assaulted by three teen girls at Rabu, the store where she works. The woman told police the attack stemmed from an earlier incident in which the three girls prevented her from entering the mall by holding the doors shut. Police said the woman exchanged words with the teens, then went to work. A short time later, one of the teens approached the woman at the store and assaulted her while the other girls also jumped in. Police said with the assistance of social media, the girls were identified. Shai-Shonnie Thomas, 18, and two juvenile girls were charged with assault. KPRC 2 News spoke with the victim again Tuesday and she said she was grateful the girls have been charged. click2houston.com
Suspect in Philadelphia's Jewelers Row abduction is nabbed by feds in S.C. Federal authorities in South Carolina on Friday arrested a Feltonville man allegedly involved in the April 4 abduction and torture of a Jewelers Row employee. Agents from the Bureau of Alcohol, Tobacco, Firearms and Explosives nabbed Khayree Gay, 31, during his stay at the Security Inn and Suites hotel in Lake City, S.C., according to the ATF. Two other men suspected in the crime were not at the hotel when agents arrived. Gay has been arrested at least six times in Philadelphia on aggravated-assault, drug and firearm charges, but most were withdrawn, according to court records. philly.com

Rite Aid employee cited for stealing credit card information in Roseburg, OR A Rite Aid employee obtained the credit card information of several customers and made fraudulent purchases, Roseburg police said on Tuesday. A woman, identified as Mariah Irene Wade, 19, of Roseburg, used credit cards from several customers to make purchases around Roseburg, according to Roseburg police. An investigation also showed that Wade stole merchandise from the store while working there. She was cited and released on suspicion of two counts of identity theft, second- and third-degree theft, second-degree forgery, five counts of fraudulent use of a credit card and five counts of computer crime. nrtoday.com

Former DEA Employee Pleads Guilty to $113,000 Credit Card Fraud Scheme According to her plea agreement, Keenya Meshell Banks, 42, of Upper Marlboro, Maryland, was employed by the DEA as a Program Manager, and was responsible for the approval and issuance of government credit cards to DEA employees. While serving in that role, Banks admitted that she submitted dozens of fake credit card applications to JPMorgan Chase & Co. for fictitious DEA employees, using names and identifying information of individuals who did not work at the DEA. In at least one instance, however, Banks submitted the identifying information of an actual DEA employee. Through this scheme, Banks obtained at least 32 fraudulent credit cards, which she then used to withdraw more than $113,000 from ATMs in Maryland and Northern Virginia. As part of plea agreement, Banks agreed to forfeit the proceeds she received as a result of the scheme and to pay full restitution. yumanewsnow.com

Chicago man pleads guilty to Federal charges in Northwest Indiana, Chicago area fraud ring An alleged member of a credit card fraud ring operating in Northwest Indiana and the Chicago area reached a plea deal with federal prosecutors Tuesday. Brandon Moore, 26, of Chicago, has agreed to plead guilty to conspiracy and aggravated identity fraud, and faces up to 10 years in prison. He was initially charged with conspiracy to commit a crime using a counterfeit access device, using a counterfeit access device, and aggravated identity theft. On July 4, 2014, Moore allegedly conducted multiple transactions at stores in Schaumburg, Niles and Evanston, Ill., using a stolen credit card number. On Nov. 6 and 8, 2014, he used an ATM machine in Dolton, Ill., to remove cash from a prepaid debit card funded by a stolen credit number. Federal authorities said he made several more fraudulent purchases in the ensuing month at locations in Oak Lawn, Bedford Park, Morgan Park and Chicago. Alleged co-conspirators Tandika Jackson, 43, of East Chicago, and Dolton brothers DeJuan Raine, 27, and Darius Raine, 26, were charged with counterfeiting, credit card fraud and identify theft charges. nwitimes.com


New Lenox, IL Woman Stole 8 Dresses From Orland Park J.C. Penney A New Lenox woman stole eight dresses from the J.C. Penney in the Orland Square Mall, police said. Alyssa Aguilera, 23, somehow managed to fit all eight of the dresses into her purse, police said. A security guard stopped Aguilera after she left the store with the dresses and had her come back inside, police said. "Once in the loss prevention office Alyssa admitted to taking eight dresses and concealing them within her purse," police said. According to a police report, "Alyssa said she knew this was wrong and had no excuse for it." The eight dresses were worth a reported $356. patch.com

Armed Robbery at the GameStop in Newnan, GA; Customers robbed Newnan police are on the lookout for three men who robbed eight employees and customers at the GameStop in Ashley Park late Monday. About 9:15 p.m., Newnan Police responded to the GameStop at 344 Newnan Crossing Bypass to check on an armed robbery. When officers arrived, they saw the main showroom was empty, but then found the victims in the back room of the store with their hands still in the air. Officers cleared the store and then asked the victims, including employees and customers, what had happened. According to Police, the victims said three black males entered the store wearing masks and hooded sweatshirts, and robbed the store and the people inside at gunpoint. The men first robbed the store of an undetermined amount of cash along with some of the merchandise, then they turned to the employees and customers and demanded their cell phones, wallets and car keys. times-herald.com

Calgary, CN Police release CCTV images from Marlborough Mall smash-and-grab City police have released CCTV footage in a weekend smash-and-grab at a northeast mall in hopes members of the public recognize the individuals captured in the images. Officers were called to Marlborough Mall at around 4:15 a.m. Sunday after a truck drove into the front entrance to gain access to the building. Once inside, two offenders stole several items from a jewelry store, then fled in the stolen truck. The total estimated damage is pegged at $80,000. calgaryherald.com
UK: Burglar who stole $300,000 of watches 'crawled like a snake' to avoid shop's laser beam alarm A masked burglar escaped with more than $300,000 worth of antique pocket watches in an audacious "Mission Impossible"-style raid on a luxury Hampstead jewelers. The burglar scaled the two-storey antiques market in Heath Street, broke through a 2 ft square rooftop vent, squeezed down a flue and picked three sets of locks to get into the Vintage Watch Shop's unit. He then crawled on the floor "like a snake" to avoid triggering infra-red security beams before helping himself to 124 rare timepieces on display. The operation at around 9.30pm on Saturday took eight minutes from start-to-finish, before the raider climbed back up the ventilation shaft into a waiting 4x4 jeep. standard.co.uk
Shoplifter Uses Pepper Spray On Walmart Employee in Council Bluffs, IA

Chelmsford, MA Police Investigating ATM Skimming Device Placed at TD Bank

Kay Jewelers in Kings Plaza, Brooklyn, New York the victim of a Grab & Run of two Diamond rings valued at over $12,000

Kay Jewelers in La Palmera, Corpus Christi Texas was the victim of a Grab & Run of a gold chain valued at $2499


Robberies and Burglaries
● Ben & Jerry's - Saratoga Springs, NY - Robbery
● Dollar General - Overton Co, TN - Armed Robbery
● Dollar General - Ocala, FL - Armed Robbery
● Family Dollar - Taylorville, UT - Armed Robbery
● Family Dollar - Greenville, SC - Armed Robbery
● Funky Skunk - Frankenmuth, MI - Robbery
● GameStop - Newnan, GA - Armed Robbery
● Huck's - Bloomington, IL - Robbery
● Magnolia Discount - New Orleans, LA - Robbery
● Raceway - Texarkana, TX - Armed Robbery/ Murder
● Royal Farms - Churchville, MD - Armed Robbery
● S&S - Bluefield, WV - Shooting
● Sapiao's Grocery - Bridgeport, CT - Armed Robbery/ Murder
● Subway - Queens, NY - Armed Robbery
● Tobacco Outlet - W. Jefferson, OH - Burglary
● Walmart - Joplin, MO - Robbery/ Theft
● Westside Grocery - Albany, GA - Armed Robbery
● 7-Eleven - Marana, AZ - Armed Robbery
● 7-Eleven - De Soto, TX - Shooting


Featured Job Listings
Sponsored by NuTech National
Feature Your Job Here For 30 Days -
70% Aren't On the Boards
VP of LP
Mattress Firm
Houston, TX
Mattress Firm
Director of LP
Lane Bryant
Columbus, OH
LinkedIn
Director AP
Big Lots
Columbus, OH
Big Lots
Director of LP
PacSun
Anaheim, CA
PacSun
Director Global AP
KFC & PH
Plano, TX
YUM! Brands
Director of AP, Corporate
Dollar General
Nashville, TN
Dollar General
VP Supply Chain, LP & Safety
Ross Stores
Ft. Mill, SC
Ross Stores
VP of Sales
Checkview
Chanhassen, MN
Checkview
Director of Security
Confidential
Chicago, IL
Downing & Downing
Regional Dir AP
Rite Aid
Albany, NY
Rite Aid
Regional Dir AP
Rite Aid
Warwick, RI
Rite Aid
Regional Dir AP
Rite Aid
Baltimore, MD
Rite Aid
LP Corporate Sr Mgr
JC Penney
Dallas, TX
JC Penney
AP Manager
Ralph Lauren
New York, NY
Ralph Lauren
Regional LP/Safety Mgr
American Signature, Inc
Chicago, IL
American Signature, Inc
Regional LP Mgr
Dunham's Sports
South Central KY, Central TN or NC
Dunham's Sports
Regional LP Manager
National Stores
Chicago, IL
National Stores
Regional LP Manager
National Stores
Northern Bay Area, CA
National Stores
Regional LP Manager
National Stores
Phoenix, AZ
National Stores
NEW TODAY District LP Manager
Safeway
Baton Rouge, LA
Safeway
NEW TODAY LP Specialist
Safeway
Baton Rouge, LA
Safeway
Market AP Specialist
REI
Chicago, IL
REI
Sr Retail AP Specialist
REI
Bloomington, MN
REI
LP Operations Coordinator
Restoration Hardware
Corte Madera, CA
Restoration Hardware
LP Analyst
Restoration Hardware
Corte Madera, CA
Restoration Hardware
Market ORC Investigator
Macy's
New York, NY
Macy's
Security Officer
Wegmans
Pottsville, PA
Wegmans
National Account Sales Representative
Instakey
Denver, CO
Instakey
Sales Representative
NuTech National
Maitland, FL
NuTech National
National Account Executive
Checkview
Northeast Region
Checkview
National Account Executive
Checkview
United States
Checkview
National Account Manager
Vector Security, Inc
TBD
Vector Security, Inc

Limited Time Only - Post Your Multi-Unit LP jobs for FREE - Learn More Here

Daily Job Alerts


Appearing One Day Only
View our Internet Jobs Archives here
LP Supervisor
Bed Bath & Beyond
Pendergrass, GA
Bed Bath & Beyond
Regional LP Manager
Dollar General
Wilkes Barre, PA
Dollar General
Dept Mgr LP & Safety
Lowe's
Crossville, TN
Lowe's
Dept Mgr LP & Safety
Lowe's
Bismarck, ND
Lowe's
Dept Mgr LP & Safety
Lowe's
Matamoras, PA
Lowe's
AP Investigation Supervisor
Price Chopper
Schenectady, NY
Price Chopper
AP Manager in Training
Walmart
Waseca, MN
Wal-Mart
AP Manager in Training
Walmart
Liberty, TX
Wal-Mart
AP Manager in Training
Walmart
Florence, AL
Wal-Mart
AP Manager in Training
Walmart
Omak, WA
Wal-Mart
AP Manager in Training
Walmart
New Port Richey, FL
Wal-Mart
AP Manager in Training
Walmart
Gilroy, CA
Wal-Mart
AP Manager in Training
Walmart
Inverness, FL
Wal-Mart
Mgr AP
Walmart
Johnstown, NY
Wal-Mart
AP Team Leader
Target
Holland, OH
Target
LP Manager Hrly
Sears
Palm Desert, CA
Sears Holdings Corp
LP Manager Hrly
Sears
Lake Wales, FL
Sears Holdings Corp
Fraud - Mgr, Sales & Service
Sears
Tempe, AZ
Sears Holdings Corp
Health & Safety Specialist
Wolverine Worldwide
Rockford, MI
Wolverine Worldwide
District AP Manager
Weis Markets
Sunbury, PA
Weis Markets
District AP Manager
Weis Markets
Scranton, PA
Weis Markets
Regional LP Manager
Microsoft
Boston, MA
Microsoft
Regional LP Manager
Microsoft
Chicago, IL
Microsoft
Regional LP Manager
T-Mobile
Bellevue, WA
T-Mobile


Home of the Industry's Original
On the Move

Julie Saitta was named Regional Loss Prevention Investigator for DSW.
Bill Gibson was named Loss Prevention Investigator (North America) for Amazon.

Post Your New Job or Promotion!
See all the Industry Movement


Your Career
Sponsor this section of the Daily
3 Things to Say to Your Team Instead of "Because I Said So" We all heard those four words from our parents, but you want to avoid using them as a leader. You want to enforce your decisions and address any concerns your employees may have, but at the same time you don't have time to debate. It can be easy to let the words slip. Here are some phrases you can use instead of "because I said so." Address concerns

The Science Behind Using Humor and Gratitude to Motivate Your Team Your team's dynamics, how well they work together and making sure that everyone's skill sets are honed, is critical for success. Here are some lessons every leader should know about the importance of team chemistry. Share a laugh

3 Ways to Motivate Your Team In the Changing World of Work Inspiring and empowering your team members is one of the most important responsibilities in a leadership role. While the world of work is changing rapidly, it's key to also evolve your leadership approach especially to stay connected with your employees and keep them motivated. Here are some strategies you can try. Keep it simple

7 Secrets to Employee Happiness
Success is a result of an effective leadership style, company vision that focuses on positivity and a self-motivated group of employees. As the leader, it's not easy to get all three working well at the same time, so here are some secrets to keep your employees happy and build success. Have passion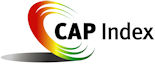 Tip of the Day
Sponsored by Vector Security
It always boils down to the people – the team. No matter how sophisticated we become or how fast and efficient our systems are, it's always the people that make it work or not work for that matter. So many hide so much behind the technology that I wonder if we the people are losing ground at times. It's easy to sit back, get work done, shuffle our emails and feel like we accomplished a lot. But at the end of the day have we really?

Just a Thought,
Gus







Upcoming Events
---
Recruiting?
Get your job e-mailed to everyone... everyday
Post on our Featured Jobs Board!
Reach your target audience in 2015 every day!
Request our 2015 Media Kit
update account / change e-mail
unsubscribe FEEDBACK
www.downing-downing.com

Advertise With The D&D Daily




36615 Vine Street, Suite 103
Willoughby, OH 44094
440.942.0671
copyright 2009-2019
all rights reserved globally