The D&D Daily Mobile Edition
April 16,

2015



The LP Industry's #1 News Source - Informing, Educating and Instilling a sense of community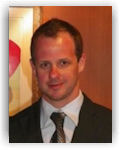 Tom Cairns CFI, was promoted to Senior Regional Loss Prevention Manager for Dunham's Sports. Tom Cairns joined the Dunham's Loss Prevention Department in 2005, as Territory Loss Prevention Manager. In 2009, Tom was promoted to Regional Loss Prevention Manager. In 2007 Tom received his professional designation as a Certified Forensic Interviewer (CFI). In 2013 Tom was inducted into the Class of 20 Under 40 by Security Director News. This award recognizes the leadership qualities and the promise of future success by younger individuals working in the security industry. With his promotion Tom becomes the first loss prevention professional at Dunham's to hold the title of Senior Regional Loss Prevention Manger. Congratulations Tom.

News Brief
Sponsored by WG Security Products, Inc.
Safeway Albertson's Group transitions from Loss Prevention to Asset Protection With the merger of the two retailers this past January, the organization, which reports into the evp legal counsel, transitioned to Asset Protection and picked up compliance auditing throughout the 2,300 store chain. With the auditors reporting into their respective 14 Division AP Directors. The merger of the two AP groups has been extremely successful with everyone working together to reach a common platform that delivers best in class AP services. With everyone reaching out and sharing best practices the team's truly come together and quickly united in trying to indentify the model that works best in each division and at the corporate level. However having such a national scope with numerous banners it's not a one size fits all environment. So they are flexing the model based on various demographics. But at the end of the day, it's truly been a story about how two organizations with numerous banners, who use to be competitors, have come together and formed such a strong team that is dedicated to a common goal - 'delivering best in class AP services to their stores and customers.'

Yesterday's Fightfor $15 protests by tens of thousands "most striking effort to date" of low-wage workers in 2 1/2 yr labor backed fight The protests began with morning rallies that attracted crowds in the hundreds at McDonald's franchises in Atlanta; Brooklyn; Chicago; Kansas City, Mo.; Los Angeles; and Raleigh, N.C., along with other locations. A noon rally in front of a McDonald's restaurant on Manhattan's Upper West Side attracted throngs of protesters, many of them carrying signs that read "Why Poverty?" and "We See Greed." They included fast-food workers, laundry workers, carwash employees and sympathetic bystanders. nytimes.com

Lane Bryant Directorship Opening - formerly, Charming Shoppes, looking for new Dir. of LP because they're relocating their corporate office to Columbus, OH, from Philadelphia Their former senior LP executive made the difficult decision not to relocate from Philadelphia. The program's in good shape and has been very productive over the years. The Lane Bryant segment includes approximately 771 specialty retail and outlet stores, and ecommerce operations and did $1.38B in net sales in 2014. Lane Bryant is a widely recognized brand name in plus-size fashion.

As a division of Ascena Retail Group comprised of Dress Barn, Maurice's, Justice & Brothers, Catherines and Lane Bryant, "all five brands are now operating in the Etna, Ohio facility." Lane Bryant finished the year with a moderate operating loss, but performance was significantly improved compared to Fiscal 2013. For the year, total comp performance was up 3%. Ascena Retail Group which has over 3,896 stores hit $4.7B last year in sales. On June 14, 2012, the Company acquired Charming Shoppes, Inc. ("Charming Shoppes") and its related family of retail brands (the "Charming Shoppes Acquisition"). Charming Shoppes owned and operated multiple retail brands through over 1,800 retail stores and ecommerce operations, including Lane Bryant and Catherines. Charming Shoppes also owned and operated a specialty retail business named Fashion Bug and a food and specialty gift products business named Figi's. The Fashion Bug business ceased operations in February 2013 and the Figi's business was sold during the first quarter of Fiscal 2014. ascenaretail.com

KFC franchisee using Envysion's video intel solution to reward employees, improve customer experience Envysion, a provider of managed video-as-a-service technology to help companies measure on their brand promise with instant, actionable video intelligence, announced this week that D-Carr Investments has increased its bottom line by 2 percent in six months in each of its KFC stores using Envysion Technology. D-Carr is using the Envysion Insights platform to leverage video from cameras at 10 KFC stores in Florida to reward positive employee behavior that furthers the KFC brand, coach and train employees, improve overall customer experience and decrease theft. D-Carr's director of operations, Bernie Quintero, accesses video from cameras placed in kitchens and at the registers of its stores, from Envysion's easy-to-use Web portal via his computer, tablet or smartphone. Quintero, who used to have to frequently take a few weeks to travel to each store, now limits travel time and expense using video to monitor food preparation and cashier interaction with customers, look out for questionable behavior and reward positive employee interactions daily. Envysion's cloud-based video solution allows D-Carr to review video of potential claims and determine if something is true or false. retailcustomerexperience.com

Salt Lake County District Attorney - won't file felony charges against repeat retail-theft offenders of products or services under $50 - "Candy Bar Felons" On April 2, 2015, Salt Lake County District Attorney Sim Gill informed the police chiefs within his jurisdiction that his prosecutors would no longer be pressing felony charges against repeat retail-theft offenders of products or services valued at $50 or less. Gill says once you get beyond "what I call a knee-jerk emotional response, then I think this makes sense." He describes the new policy as part of the broader discussion that has taken place in Utah over criminal justice reform as well as the push to reduce the state's prison population by focusing on probation and treatment rather than sentencing. For some, the decision is good news. Salt Lake Legal Defenders Association's director Patrick Anderson had been hounding Gill for years, he says, to stop hitting shoplifters with felony charges when they were caught within a 10-year period with multiple prior misdemeanor theft convictions. Felony shoplifters, he says, "are a growth population, let me tell you"-particularly among the downtown homeless.

Retailers, however, see theft by members of the homeless population as a more nuanced problem. The Utah Retail Merchants Association represents 400 members, says President David Davis. His members see certain individuals stealing over and over again. If those individuals know that thefts less than a certain dollar amount may not result in a strict enforcement action, he says, "That takes away the deterrent factor."

One reason behind the move is jail overcrowding: Gill says he's simply exercising his right to prosecutorial discretion. But the FOP's Adams says it's not the DA's place to change laws-it's the Legislature's.

Davis believes that those who ultimately will bear the cost of this decision are Salt Lake County retail customers. "This is no good for retailers, but more importantly, it's not good for consumers. The cost of shrinkage or theft is inevitably passed on to them." cityweekly.net

MasterCard Reaches Agreement with Target to Provide Issuers Up to $19 Million for Data Breach Claims Target will make available up to $19 million in alternative recovery offers to eligible banks and credit unions across the globe. These funds will settle their claims for operational costs and fraud-related losses on MasterCard-branded cards believed by MasterCard to have been affected by the data breach. businesswire.com

National Data Breach Notification Bill Advances - Pre-empting State Breach Notification Laws The committee-passed bill would only require a business to report to consumers and law enforcement a breach that would result in financial harm. Many state laws require the reporting of other types of breaches that don't pose financial harm. The bill that passed the Commerce Committee also would prevent states from enforcing more stringent security standards. And would only require businesses to take "reasonable security measures and practices" to secure the personally identifiable information of customers, employees and stakeholders; it doesn't prescribe specific requirements. Over Democratic objections, the committee adopted an amendment to cap at $1,000, down from $11,000, the penalty for each failure of a breached business to send individuals a notification. govinfosecurity.com

National Retail Federation (NRF) is publicly supporting the House Energy and Commerce Committee's consideration of the Data Security and Breach Notification Act "Throughout this process, it has been our goal to work toward legislation that advances and strengthens consumer protections and incentivizes businesses to safeguard sensitive data," said Duncan. "In order to be successful, data breach legislation must secure a single national standard and match any penalties to obligations so as avoid adverse effects on small and medium-sized businesses attempting to deal with the scourge of criminal hacks." chainstoreage.com

KPMG: Investors Turned Off By Poor Cybersecurity Nearly 80% of investors would be put off investing in a business if it has been hacked or has an ineffective cybersecurity strategy, according to new research from KPMG. The research revealed that 79% would be discouraged from investing in a hacked company, while 86% said they wanted to see an increase in focus on cybersecurity from boards. KPMG advised board members to approach cybersecurity as a business risk rather than a solely IT-related problem, and to better understand the legal implications of cyber-risk. infosecurity-magazine.com

US Secret Service investigation finds potentially prolific new piece of advanced POS malware - infecting 75 IP addresses so far - are you infected? Compromised payment card information and over 75 active victim IP addresses were also found, with multiple command and control (C&C) servers connected to the campaign. The so-called 'Punkey' malware also includes a keylogger designed to collect 200 characters at a time before encrypting and sending the data to a C&C server, allowing attackers to capture any usernames, passwords and other important information that might help them. While 75 victim IP addresses were discovered, Trustwave isn't sure how many businesses have been infected so far. infosecurity-magazine.com

Costco Sued Over Innocent Customers' Arrest, Jailing Costco Wholesale Corp. erroneously told law enforcement that an immigrant couple fraudulently exchanged flooring they had purchased, leading to their wrongful arrest and the wife's improper jailing for several days over the 2013 Christmas holiday, according to a recent Virginia federal suit. In September 2012, Eshow purchased more than $1,000 in flooring from a Costco store in Pentagon City, Virginia, for a home improvement project, according to the complaint, which was made available Tuesday. He saw soon after that the flooring was on sale and returned to the same store to get the discounted price, the suit says.
Eshow says that under the direction of Costco employees, he then purchased the same flooring at the sale price and immediately returned the flooring with his original sales receipt. Both his original purchase and the return were posted to his Costco membership card, which he held jointly with his wife, and to his American Express card, the suit says. However, unbeknownst to Eshow and Safar, Costco reported to local law enforcement that they had committed fraud, the lawsuit says. Responding to Costco's call, a local police officer solicited warrants for Eshow's and Safar's arrest.

In June 2013, eight months after Costco reported the alleged fraud, Eshow was arrested on the warrant and handcuffed in front of his family after being pulled over for speeding in Fairfax, Virginia. The case was dropped weeks later after a representative for Costco informed the court that the charge against Eshow was a mistake. Then on Dec. 23 of that year, Safar, an Iraqi immigrant who recently passed her citizenship test, went to the police headquarters in Prince George's County, Maryland, to obtain a clearance letter of locations where she had lived. She was arrested under the second warrant and taken to a local jail, according to the complaint.

Safar, who is Christian, remained in jail until Dec. 26, missing the Christmas holiday. While imprisoned, she was forced to disrobe and undergo a full body search, the lawsuit says. "Humiliating for any person, these protocols caused all the more distress for Ms. Safar by reason of the extreme emphasis that her traditional culture placed on modesty and personal privacy," the lawsuit states. Safar and Eshow have filed a separate suit against the local prosecutor and law enforcement officer who obtained the warrants. According to the complaint, Costco claims that in October 2012 and during Eshow's July 2013 hearing, the retailer had informed law enforcement and the prosecutor that the charges should be dismissed. law360.com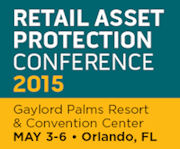 Cybersecurity: What's Asset Protection Got To Do With It? In a recent survey, "Embracing the Paradoxes of Leadership and the Power of Doubt," North American CEOs ranked cybersecurity as the top global trend challenging business in the next three to five years. To stay relevant in today's dynamic retail environment in which new priorities and threats are emerging, AP organizations should think twice before claiming cybersecurity is someone else's problem. In this session, your industry colleagues will discuss the current retail cyber threat landscape, its impact on AP and why AP needs to have a seat at the table and be part of their company's cybersecurity threat mitigation strategy. rila.org
H&M plans to accelerate U.S. growth of it's denim-driven Cheap Monday brand, & Other Stories brand - 36 to 54 stores this year

UK retailer Morrisons new CEO cut 720 head office jobs - we're not alone in this


Quarterly Same Store Sales Results
Sherwin Williams Q1 up 6.4% with net sales up 3%
99 Cents Only Stores Q4 up 2.8% with net sales up 1%
All the news - One place - One Source - One Time
The D&D Daily respects your time
& doesn't filter retail's reality
Report Your News!
(content subject to approval)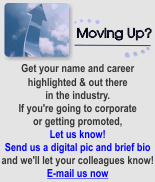 Vendor Spotlight



Vector Security Wins SAMMY Awards for Integrated Installation of the Year and Best Broadcast Advertisement
Awards presented by 'Security Sales & Integration' Magazine
at ISC West Conference in Las Vegas
PITTSBURGH, April 16, 2015 - Vector Security, the leading provider of intelligent security solutions tailored to the needs of its customers, won top honors for Integrated Installation of the Year and Best Broadcast Advertisement when the 20th annual SAMMY awards were presented by Security Sales & Integration (SSI) magazine at ISC West, the largest security industry trade show in the U.S., in Las Vegas on April 14.

Introduced in 1995 by SSI, the SAMMY awards is the security industry's only program of its kind to recognize and honor installing security dealers and integrators for their marketing, sales, business, installation and overall excellence.

Vector Security was recognized for its integrated installation work at Knoebels Amusement Resort in Elysburg, PA. Using their trademark consultative approach, Vector Security experts designed and installed a customized integrated video and access management system that would ensure a safe, fun and quality experience for visitors to America's largest free admission amusement park. Addressing improved efficiencies as they relate to public liability, loss prevention and safety issues drove system design.

Judging in this category was based on innovation, design, integration, seamlessness of installation, uniqueness and end-user satisfaction.

In the category of Best Broadcast Advertisement, Vector Security won for its 30-second television commercial promoting home automation solutions in markets that included Pittsburgh, Tallahassee, FL. and Jacksonville. FL. As part of an integrated marketing campaign that included direct mail, email and pay-per-click advertising, the TV ad utilized the same messaging and visuals across all marketing mediums for a consistent look and feel. Judging in this category included visual appeal, production quality, clarity of message, emotional response and call-to-action effectiveness.

"We are honored to be recognized by SSI magazine in front of our colleagues and other industry leaders for our marketing and business innovation," said Art Miller, Vice President of Marketing for Vector Security. "We approach our business with the objective of being responsive to industry trends and developing thought leadership that positions us as experts in what we do. These awards are a wonderful affirmation that our efforts are taking hold in the industry. We thank SSI for recognizing us."

Read more here.

Loss Prevention News Network

Want to be a Senior Leader?
There's a Price
Bob Oberosler, Group Vice President, Asset Protection, Rite Aid, has traveled several times throughout the U.S. for his career, worked seven days a week building an LP program from scratch and spent more hours than he can count taking on extra projects and responsibilities to help him advance in his career. If there's an executive who's paid the price, Bob is it. In this LPNN interview, Bob shares just what it takes to be a senior leader in the LP industry. From volunteering for extra tasks at work to choosing a house you can resell quickly, learn the things executives don't always think about when moving up in an organization.
---
From the latest retail products and trends on the NRF Big Show floor to a super-dated reference to Walkmans, Jackie Andersen, Director, Retail Strategic Accounts, MultiSight, and Joe LaRocc
a
talk technology in this LPNN Quick Take.

Solution Providers, have a video or commercial you want to publish? Contact us.


2014 LP Team Group Selfie Review
Showcasing each team in order!
Your Team - Your Pride

Columbus Ohio , Macy's
District LP Team

Giving back at the Food Bank
"Making Magic by 'Giving Back'"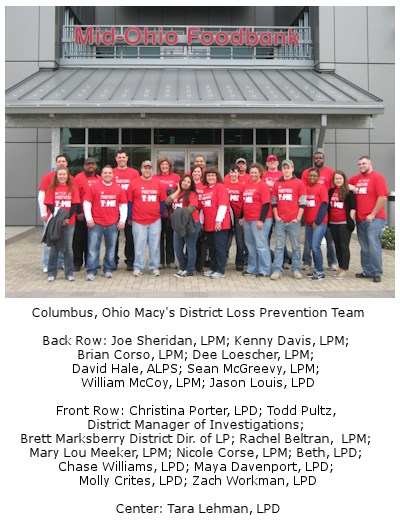 *Originally published on October 2, 2014
View all the selfies here!


Loss Prevention Research Council

LPRC Research in Action Report - March 2015


The Loss Prevention Research Council is aware of how critical research is to help guide you and your team to sell more and lose less. Each month the D&D Daily will be publishing brief summaries of loss prevention research from LPRC and other researchers across the globe. This research covers a wide range of topics and includes basic types of research, such as benchmarking, as well as more applied research. Both types are beneficial: basic research helps us understand complex loss prevention issues and the environmental context in which you work, while applied research builds on this to provide us with more concrete deliverables.

This month's Research In Action report focuses on the decision making of the shoplifter and how retailers can use Crime Prevention Through Environmental Design and Situational Crime Prevention theories to deter shoplifters.

Opportunity Makes the Thief...
In this paper, the author conducts 20 in-depth interviews with known shoplifters to find factors that influence a shoplifter's decision to steal from a retail store. Read the report synopsis here. Read the full report here.

A Comparison of Shoplifting Behavior: Department Store vs. Discount Store
This research examines shoplifting behavior in department stores and compares factors and variables of department store theft to discount store theft. Click here to access the report. (LPRC membership required)

Exploring the Impact of Fear Appeals on the Prevention of Shoplifting
This research examines the comparative effect of social disapproval, probability of getting caught, and size of fines on offender deterrence. Click here to access the report. (LPRC membership required)

e-commerce

Sponsored by The Zellman Group
Merchants Lag behind Mobile Growth, Study Finds As the mobile commerce channel continues to surge, a new study finds that merchants are not keeping pace with growth when it comes to fraud and mobile payment adoption. Conducted for the third consecutive year by Kount, Inc., CardNotPresent.com and The Fraud Practice, LLC, the 2015 Mobile Payments & Fraud Survey analyzes fraud and the mobile channel, uncovering trends in payments, new technology adoption, and fraud prevention strategies. Conducted from November 2014 to January 2015, the Mobile Payments and Fraud Survey had 2,000 survey respondents among different industries that are active in payments, risk management and the mobile channel, including merchants, service providers, card issuers, acquirers, and card associations.

The survey found that merchant awareness is not keeping pace with mobile fraud growth, and the support for the mobile channel is not meeting predictions and expectations as reported by respondents in previous years' surveys. In addition, concerns over the implementation around new payment methods such as Apple Pay have risen. What's more, while new tools are available to merchants to meet increased fraud, there is very little consistency in adoption of these tools across industries.

Survey findings include:
Uncertainties Abound:
● Nearly half of organizations surveyed (40.8%) said they are uncertain if fraud increased following a major data breach and over half (60%) of respondents are uncertain if mobile fraud is growing at a faster, slower or equal pace as their overall mobile transaction volume.
● Less than 40 percent (39.7%) of organizations can detect if a customer is transacting from a mobile device, and only 17 percent can determine the type of mobile device.

○ Mass merchants are most likely to identify mobile devices by type (45.5%), whereas zero percent of insurance companies surveyed could determine if transactions are coming from a mobile device at all.

○ Gaming/social sites are the only merchant category able to identify all transactions that come from mobile devices, but only one-quarter (25%) can determine the device type.
● Less than 40 percent (39.4 %) of merchants surveyed track fraud by channel and differentiate it from standard ecommerce transactions overall.
● Organizations are split on where the fraud originates, as 32 percent indicated mobile fraud was coming from domestic transactions, while 31 percent stated most mobile fraud comes from international sources.
Mobile Fraud Risk Factors Are Misunderstood and Not Prioritized:
● While mobile fraud is on the rise, more organizations consider the mobile channel equally as risky as, or less risky than standard ecommerce -- 41.4 percent and 7.8 percent for both citations in 2013, and 48.4 percent and 10.4 percent in 2015, respectively.
● Meanwhile, the share of merchants that believe mobile commerce is somewhat or far riskier than traditional ecommerce both declined, by about 6 percent and 4 percent, respectively.
● One-quarter (24.2%) of respondents feel mobile requires specialized fraud tools, a decrease from 2013 (32.2%).
● Nearly one-third (28.4%) of merchants plan to add NO additional tools or services to combat mobile channel fraud.
● At the same time, more than 37 percent plan to add mobile POS systems; 27 percent plan to add mobile apps for online shopping; and 18 percent plan to create dedicated mobile sites.
Fraud Protection Strategies Inconsistent:
● Respondents are uncertain if fraud tools can be used across channels, with nearly one half (47.4%) reporting that ecommerce fraud processes and tools can't support mobile fraud risk management completely.
● Merchants are employing more tools and services to combat mobile fraud, as 79 percent overall say they are using one or two tools while only 40 percent of merchants listed just one service; the number rises to three for merchants with greater than $50M in revenue.
● Across all organizations, the top three tools for preventing fraud in the mobile channel are reported to be ID authentication (49%), device ID (48%), and secure mobile payment methods (44%).

○ While it is still the most commonly used tool fraud prevention tool by all merchants in 16 different industries, identity authentication use declined in 2014 (38.2%) from 2013 (41.7%).

○There are nine industries where at least one-third of merchants use Device ID to prevent mobile fraud, including more than one-half of gaming merchants (57.1%).
● The top five most common tools or services used by merchants are ID authentication (38.2%), Device ID (35.7%), secure mobile payment methods (30.5%) rules engine (26.6%), and fraud scoring (24%). ◦ Use of fraud scoring increased year over year by 38 percent, and the use of text messaging for fraud prevention has nearly tripled in use, up from 7 percent in 2012 to 18 percent in 2015.
● Card Associations list fraud scoring in their top three (50%) and acquirers listed NFC as a top three tool (25%). Card issuers were most likely to consider mobile malware detection a top tool (22%).
● Mobile gelocation tools have also grown in use, now used by 9 percent of all merchants, up from only one percent two years ago.
To download a free copy of the 2015 Mobile Payments & Fraud Survey, visit http://info.kount.com/mobile-payments-reports-2015. businesswire.com

U.S. Trade Representative's office has joined the outcry against Alibaba and counterfeits Juanita Duggan, president and chief executive officer of the AAFA, said her members have had "mixed success" in securing "takedowns" of a small percentage of infringing, counterfeit products being sold on Taobao. She also noted that many companies are frustrated at the "slow and cumbersome procedures that prevent swift action." In addition, she said counterfeiting has worsened on Taobao since the USTR removed the site from its "Notorious Markets" list in 2012 and declined to re-list the site in its 2013 and 2014 reports. wwd.com

AmEx Connects with Jawbone for Wearable Payments

Dick's Sporting Goods plans to double e-commerce revenue by 2017

"Fraud is not a person - it is a dynamic grouping of statistics that deviate from the norm."
Stuart B. Levine, CFI, CFCI
CEO, The Zellman Group & Zelligent


ORC News
Sponsored by Security Resources
Manager Of Large-Scale $600,000 Counterfeit Credit Card Scheme Sentenced To 90 Months In Prison Southern District of New York, announced that LUIS GUSTAVO TAVAREZ was sentenced to 90 months in prison for his role in a large-scale counterfeit credit card scheme involving credit card numbers stolen from nearly 200 victims and over $600,000 in losses.

From April 2013 through April 2014, LUIS GUSTAVO TAVAREZ was one of the managers of an extensive counterfeit credit card fraud scheme operating in half a dozen states along the East Coast in 2013 and 2014. As part of the scheme, TAVAREZ purchased stolen credit card information from computer hackers who remotely compromised databases containing credit card numbers, both directly and from "carding" websites where stolen credit card numbers are sold. TAVAREZ then produced counterfeit credit cards that were encoded with the stolen account information. He personally used those counterfeit cards to make unauthorized purchases of store gift cards and retail items, and also provided them to co-conspirators who acted as "shoppers" at his direction. In total, TAVAREZ and his co-conspirators, including Deivi Martinez-Brito, Anthony Reynoso, Plinio Pineda Lopez, Vicente D. Espinal, and Warner Alvarez Almanzar, used counterfeit cards to make hundreds of purchases of store gift cards and merchandise at national retail chains in New York, New Jersey, Pennsylvania, Connecticut, Rhode Island, and Massachusetts. The gift cards and retail items were then sold to others or returned to the stores for cash refunds. justice.gov

Court documents detail what led to Overland Park, KS woman's arrest in the theft of $100K worth of items Court documents show police followed Kelli Bauer, who is charged with selling more than $100,000 worth of stolen merchandise from her home, before she was arrested on April 1. According to court documents, the Overland Park Police Department initiated its investigation after it was sent an image of clothes that Bauer posted on Facebook. One detective reviewed the photos and noticed some items had the original sales tags still on them. Detectives went undercover and reached out to Bauer asking to look at the merchandise, and she let them into her home. According to court documents, Bauer led them upstairs to a bedroom with a clothing rack filled with clothes and stacks of folded clothes on the bed. Many items still had stickers and price tags from the stores. Bauer told police she was a compulsive shopper and had lost weight and that was why she was selling the items. kshb.com
Duo steals $15,000 worth of iPads from Newton County, GA Walmart They walked in the Covington Walmart like anyone else. She pushed a shopping cart into the store and he walked beside her. When the two left the store, the woman was still pushing the cart. Only this time, there were 33 iPads hidden inside a large, plastic tote, according to Covington police. The alleged shoplifters made off with nearly $15,000 worth of iPads shortly after 3 a.m. Monday, Detective Kara Hipps said Thursday. Investigators are hopeful that video from inside the store will help identify the suspects, who could be responsible for similar crimes in other jurisdictions, Hipps said. Inside a gray plastic bin, the duo allegedly concealed 33 iPads and left the store. In the Covington theft, the duo appeared to have a plan when they got to the electronics section in the store. "She pries open the case," Hipps said. "He's a watch out." After placing the iPads inside a large plastic container, the two left the store in a grey vehicle, possibly a Chevrolet Impala, according to police. Investigators believe the same duo may have pulled off similar shoplifting at a Villa Rica Walmart on Tuesday, Hipps said. ajc.com
Snellville, GA Police investigate $2,000 theft from CVS Two men shoplifted around $2,000 worth of merchandise without paying on April 2 at about 7:44 p.m. at the CVS located at Hwy 78 / Rockdale Circle, according to The Snellville Police Department. Possibly driving a white Ford Explorer, police say the duo left the store with their vehicle loaded down with lotion and other personal care products. patch.com

Crime Stoppers tips lead to 4 arrests in J C Penney Grab and Run in Omaha, NE Omaha police credit multiple tips to Crime Stoppers for the arrests of four shoplifting suspects. Two 15-year-olds, a 16-year-old and a 17-year old are in custody. On April 7, police said, six people entered the JC Penney store at Westroads Mall, grabbed armfuls of clothing from displays and ran out. Surveillance video from the store showed the group running from the mall. ketv.com


New Orleans shoplifter hoped Police costume would aid in shoplifting scheme A shoplifting scammer who had encountered resistance while trying to return stolen goods at a local store sought to increase her chances of success by dressing like a police officer, according to the Jefferson Parish Sheriff's Office. Detectives uncovered Mase Nguyen's scheme while investigating a rash of shoplifting at Lakeside Shopping Center. Investigators reviewing security camera footage spotted Nguyen, 31, of Marrero, stealing items by taking them into fitting rooms, hiding them on her person and leaving the store without stopping by the register, Fortunato said. She later came back to try and return the items for a refund, but the clerks were suspicious of her. So, she returned to the store dressed in a T-shirt bearing a star and crescent logo similar to the one used by NOPD. Nguyen also wore a gun and holster on her hip. "But that didn't work, either," Fortunato said. Authorities arrested Nguyen, Friday evening at Lakeside and booked her with two counts of impersonating a peace officer. nola.com

Kohl's Loss Prevention in Johnson City, TN nab shoplifter with $731 of merchandise A man crammed several items in a backpack at a Johnson City department store Tuesday, resulting in a felony shoplifting charge, police said. John D. Humphrey, 30, was arrested after the incident at Kohl's, 190 Marketplace Blvd. Police said Humphrey selected several items and put them in his shopping cart. He then went into the fitting room and concealed the merchandise in a backpack and on himself. A Kohl's loss prevention officer stopped him, finding 21 items worth a total of $731. johnsoncitypress.com

Jewelers in Ireland relieved as Romanian Organized Crime gang suspects arrested Irish jewelers have praised Police (Gardaí) following a major operation targeting Romanian organized crime gangs involved in violent burglaries of jewelry shops across the country. The Drugs and Organized Crime Bureau carried out a series of searches across Dublin early yesterday and arrested five suspects. The Retail Jewelers of Ireland said some of their members, and owners of shops who are not part of the organization, have been subjected to "terrifying" burglaries in recent years. irishexaminer.com
Do you have an ORC case to share?
Share your ORC news and help the industry grow

Retail Crime News

Sponsored by NuTech National
Walmart employee accused of stealing $240K from store by faking returns in Decatur, TX Police arrested Nacina Walker, 50. The alleged thefts happened between January 2013 and October 2014. According to investigators, Walker created fake returns and then pocketed the refunds. Walker told investigators it started with small amounts. When she realized the store hadn't noticed $50 missing here and $100 missing there, the amounts grew. At one point, she stole more than $8,000 a day, police said. g13fox.com
Woman arrested with almost 50 fraudulent credit cards in West Nyack A Brooklyn woman was arrested Thursday after she was found to be in possession of a stack of fraudulent credit cards at the Palisades Center Mall. Suspicions arose when Blackett attempted to use one of the cards to purchase a $300 gift card at the mall's Lord and Taylor. The suspect had allegedly been spotted by a loss prevention employee a day before when she made a similar purchase of $2,500 in gift cards, prompting him to call police. Upon their arrival, Clarkstown Police found Blackett to be in possession of 48 fradulent credit cards. Blackett also allegedly had over $3,000 in gift cards purchased through fraud and $256 worth of clothing. rocklandtimes.com

Home Depot employee arrested on 14 counts of retail theft in Will County, IL Home Depot performed an investigation on Ibarra between Feb. 27 and April 2, finding him executing 14 thefts totaling approximately $8,532 worth of stolen property. homerhorizon.com

Teen in December's Dayton, OH Mall shooting to face Judge A Middletown teen charged in connection with a deadly shooting outside the Dayton mall will face a Judge Thursday morning. 16-year-old Keyan Moore will be arraigned on one count of involuntary manslaughter and one count of robbery. Prosecutors say he was with 16-year-old Jawaad Jabbar in December when Jabbar tried to rob a man at gunpoint. The man, who holds a valid permit o carry a concealed weapon, pulled his own gun and shot Jabbar killing him. Prosecutors say because Moore participated in the robbery, he can legally be held accountable for Jabbar's death. wdtn.com

Man facing 3 counts of attempted murder in Dillon, SC Family Dollar shooting A man has been charged with attempted murder after a shooting at a Family Dollar in Dillon on Sunday afternoon, police say. According to the Dillon Police Department someone was shot at the store on Highway 301 in Dillon around 12:35 Sunday afternoon. Captain David Lane says the person was shot once by someone at the store in their vehicle. On Wednesday afternoon, Dillon Police announced that Jallian Vitally Vanderhall, age 22, was nabbed and charged with 3 counts of attempted murder. On Sunday, police said the victim was in stable condition at an area hospital. The incident remains under investigation. wbtw.com

Milwaukee Police work to combat rise in Pharmacy Robberies across city A pharmacy robbery on Milwaukee's north side is abruptly interrupted when an undercover officer shoots an armed suspect. Criminals targeting city drug stores is on the rise and Milwaukee police say they're well aware. "It has become a fashionable crime to stick up pharmacies to rob them of prescription drugs and sell them," said Chief Ed Flynn. Police chief Ed Flynn said that was the intent of two male suspects who went into a Walgreen's near Hampton and Fond du Lac around 10 a.m. They were armed, wearing masks and hoods. "A third man waited outside in a vehicle that did not have any plates," he continued. But before they could leave the store, Flynn said, "a plain clothes officer aged 57 with 22 years on the job, fired one round striking the suspect." Flynn said officers were in the area on an anti-robbery detail, working to combat a rash of armed pharmacy robberies. There have been 37 since last September. "We've arrested other crews for those robberies," Flynn said. cbs58.com
Florida Armed security guard who used gun raises legal questions New questions are also being raised over private security guards, used at mall stores, that carry dangerous weapons. That's after the sound of bullets fired in the air echoed all around the Palm Beach Garden Mall. Such incident is worrisome for those involved in private security who insist Florida law states that should not have happened. These folks hired by the Mall do not carry guns. "It is unusual, we've never in 26 years had anything like this happen before," said Michele Jacobs, spokesperson for the Gardens Mall, referring to a shooting incident that happened on this parking lot earlier in the day. That's when two suspects stole four handbags from Saks Fifth Avenue. As they were leaving, a loss prevention officer hired by the store, tried to stop one of them and a scuttle ensued. As the other individual tried to flee the scene, an armed security officer contracted to Saks followed. "Ran out after the second suspect and fired shots in the air," said Jacobs. No one was injured. State law only permits security guards to fire their guns to protect themselves or others. In this instance, the suspect being chased didn't put anyone in an immediate threat. But several experts involved in the private security business told CBS 12 that bullets fired in the air are worrisome. The two suspects were eventually arrested by police, and now face several charges. But In light of this situation, having private armed security in place, where shoppers walk around, raises new worries. "I think that would be up to Saks Fifth Avenue and their contracted help," said Jacobs. "Whether they should be carrying a weapon or not that's sort out of our hands." cbs12.com

Man Ripped Off $2,500 Necklace From NYC Diamond District Store Police were searching Wednesday night for a thief who stole a $2,500 necklace from a jewelry store in the Diamond District in Midtown. Around 3:30 p.m. this past Sunday, the suspect entered the Diamonds jewelry store at 13 W. 47th St. and asked an employee to view some jewelry he said he wanted to buy, police said. The employee showed the suspect a necklace worth about $2,500, police said. The suspect grabbed the necklace and ran off. cbslocal.com

Five suspects arrested in connection with Jared jewelry store Robbery in Mishawaka, IN Five suspects are in custody after a "smash and grab" robbery at a Mishawaka jewelry store Wednesday afternoon. It happened at Jared: The Galleria of Jewelry at the University Park Mall. Mishawaka Police said that at least five suspects robbed the jewelry store of at least $20,000 in rings. A sixth person is also being questioned in connection with the incident. An employee of a nearby business witnessed the commotion and followed the suspects as they attempted to exit the UP Mall parking lot. The employee followed the suspects down University Dr. to the parking lot next to Movies 6 where police took the suspects into custody. Police believe all of the stolen jewelry was recovered. Mishawaka Police officers quickly caught the suspects, sending out the following tweet at 6:02 p.m.:"Great work by Mishawaka Police. Apprehended 5 suspects after armed robbery. Proud to work side by side with the Men in Blue!!" wndu.com

Orchard Park Mall, Kelowns, BC, CN evacuated after suspicious package found Last evening the RCMP Explosive Disposal Unit had located a suspicious package. As a precautionary measure, a secondary sweep was being conducted of the entire mall. RCMP are still not saying what the package is or if anyone was ever in danger. The Orchard Park Mall in Kelowna has been evacuated after a suspicious package was left inside a department store. The RCMP Explosive Disposal Unit had been dispatched to the mall. globalnews.ca
Large Amounts of Cash Found at Goodwill Stores; Loss Prevention's role Goodwill has received a lot of unexpected donations this month. Workers found $4,200 in cash at three different locations in Missouri and Illinois. They deal with over a million donations a year and find small amounts all the time. "When you got a husband or a wife telling the other one to drop this stuff off at Goodwill, sometimes they're just not focused on what they're handing over," said Director of Loss Prevention Ron Scanlon. In the past three weeks, MERS/Goodwill workers have found cash at three of their stores. Last week, $1,800 was found in Fenton, Missouri. The first week of April workers in Jeff City discovered $1,900. Processing workers found the money in a purse no identification. Scanlon said the money almost always gets left by accident and happens several times a year in smaller amounts. "Basically, we know who the person is. We know what it was when it came in and we're going backwards and giving it back to them." He said it's a matter of people checking their items, like pockets, boxes and bags before dropping them off. Scanlon said, the stores don't hold onto that kind of cash, they immediately deposit it until someone steps up to claim it. He said they do their best to locate the owners of important papers, ID or cash they get by accident. "If we can find those owners, we'll do whatever we can to give them back but sometimes we have to destroy them properly, shred them, those kind of things." If cash goes unclaimed after 30 days, it typically will go toward the programs they have to assist folks with employment. wsiltv.com
Waco, TX man charged with selling counterfeit goods, $19,000 of merchandise seized

Man arrested for string of Wallingford, CT store robberies

Murray, UT Police make arrest in fatal convenience store shooting

Burlington, CN Police arrest bake shop employee after robbery that never happened


Robberies and Burglaries
● Circle K - Decatur, IL - Armed Robbery
● Everyday - Colorado Springs, CO - Armed Robbery
● Family Dollar - Mt. Oliver, PA - Shooting
● Family Dollar - Fresno, CA - Armed Robbery
● Kwik Shop - Omaha, NE - Armed Robbery
● Pine Tree Market - Northeast Harbor, ME - Burglary
● Pit Stop - Wallingford, CT - Armed Robbery
● Quick Pick - Newport News, VA - Robbery
● Stuff - San Francisco, CA - Burglary
● Subway - Columbus, OH - Shooting
● Trolley Bikes - Wilmington, DE - Burglary
● UT Convenience - Utica, NY - Shooting
● Verizon - Shorewood, WI - Armed Robbery
● Walgreens - Fond du Lac, WI - Armed Robbery


Featured Job Listings
Sponsored by NuTech National
Feature Your Job Here For 30 Days -
70% Aren't On the Boards
VP of LP
Mattress Firm
Houston, TX
Mattress Firm
Director of LP
Lane Bryant
Columbus, OH
LinkedIn
Director AP
Big Lots
Columbus, OH
Big Lots
Director of LP
PacSun
Anaheim, CA
PacSun
Director Global AP
KFC & PH
Plano, TX
YUM! Brands
Director of AP, Corporate
Dollar General
Nashville, TN
Dollar General
VP Supply Chain, LP & Safety
Ross Stores
Ft. Mill, SC
Ross Stores
VP of Sales
Checkview
Chanhassen, MN
Checkview
Director of Security
Confidential
Chicago, IL
Downing & Downing
Regional Dir AP
Rite Aid
Albany, NY
Rite Aid
Regional Dir AP
Rite Aid
Warwick, RI
Rite Aid
Regional Dir AP
Rite Aid
Baltimore, MD
Rite Aid
LP Corporate Sr Mgr
JC Penney
Dallas, TX
JC Penney
AP Manager
Ralph Lauren
New York, NY
Ralph Lauren
Regional LP/Safety Mgr
American Signature, Inc
Chicago, IL
American Signature, Inc
Regional LP Mgr
Dunham's Sports
South Central KY, Central TN or NC
Dunham's Sports
District LP Manager
Safeway
Baton Rouge, LA
Safeway
LP Specialist
Safeway
Baton Rouge, LA
Safeway
Market AP Specialist
REI
Chicago, IL
REI
Sr Retail AP Specialist
REI
Bloomington, MN
REI
NEW TODAY LP Admin. Asst.
National Stores
Gardena, CA
National Stores
LP Operations Coordinator
Restoration Hardware
Corte Madera, CA
Restoration Hardware
LP Analyst
Restoration Hardware
Corte Madera, CA
Restoration Hardware
Market ORC Investigator
Macy's
New York, NY
Macy's
Security Officer
Wegmans
Pottsville, PA
Wegmans
National Account Sales Representative
Instakey
Denver, CO
Instakey
Sales Representative
NuTech National
Maitland, FL
NuTech National
National Account Executive
Checkview
Northeast Region
Checkview
National Account Executive
Checkview
United States
Checkview
National Account Manager
Vector Security, Inc
TBD
Vector Security, Inc

Limited Time Only - Post Your Multi-Unit LP jobs for FREE - Learn More Here

Daily Job Alerts


Appearing One Day Only
View our Internet Jobs Archives here
District LP Manager
Dick's Sporting Goods
Phoenix, AZ
Dick's Sporting Goods
LP Supervisor
Kohl's
San Antonio, TX
Kohl's
LP Specialist
Food 4 Less
Sacramento, CA
Kroger
Dept Mgr LP & Safety
Lowe's
Yuba City, CA
Lowe's
AP Manager in Training
Walmart
Oldsmar, FL
Wal-Mart
AP Manager in Training
Walmart
Owensboro, KY
Wal-Mart
AP Manager in Training
Walmart
Beeville, TX
Wal-Mart
AP Manager in Training
Walmart
Miles City, MT
Wal-Mart
AP Manager
Sam's Club
Slidell, LA
Wal-Mart
AP Team Leader
Target
Kalispell, MT
Target
AP Team Leader
Target
Augusta, GA
Target
AP Manager
Rite Aid
Camp Hill, PA
Rite Aid
LP Manager
NAPA
Westbrook, ME
NAPA


Home of the Industry's Original
On the Move

Tom Cairns CFI, was promoted to Senior Regional Loss Prevention Manager for Dunham's Sports.

Post Your New Job or Promotion!
See all the Industry Movement


Your Career
Sponsor this section of the Daily
What Everyone Needs to Know to Be More Productive With so much to get done in one day, we all could benefit from learning to ramp up our own productivity. To start, you need to figure out your own productivity style. Here is an assessment to help and some other insightful strategies to use to get more done. Encourage yourself

Time Management Secrets Anyone Can Use According to Salary.com, 90% of workers waste a half an hour each work day. That's no surprise as we're constantly distracted by our computers, smartphones, social media and email. The little time we do have is getting filled with numerous tasks, but here are some tips you can use to manage your time wisely. Create a system

Stand Up! It Improves Your Health, Mood, Energy and Productivity Do you spend most of your time sitting at a desk? Maybe in front of a computer? This is horrible for your back. If you just stand up or change positions it can increase your blood flow and your mental functions will speed up because there's more blood flowing to your brain! Just move around

For the Most Productive Workplace, Assign Employees the Work They Do Best A survey found that employees perform better and are more engaged in what they're doing if they are focusing on building their strengths, not improving weaknesses. To help your employees get the most out of their work and stay engaged, let them do what they do best. Provide training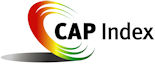 Tip of the Day
Sponsored by Vector Security
When you apply for a job through email with an attached resume, incorporate your cover letter in the body of the email. Add your accomplishments that relate to the job description you're applying for. Also, take this opportunity to sell yourself by briefly explaining the key differentiators that separate you from other candidates. In today's market, employers are receiving hundreds of resumes so you want to make it easy for the reviewer to see why you are a better fit and stand out from the crowd. Do not add your cover letter as an attachment. This approach creates added steps for the employer which increases the chance that they may not take the time to even open it.

Just a Thought,
Gus







Upcoming Events
---
Recruiting?
Get your job e-mailed to everyone... everyday
Post on our Featured Jobs Board!
Reach your target audience in 2015 every day!
Request our 2015 Media Kit
update account / change e-mail
unsubscribe FEEDBACK
www.downing-downing.com

Advertise With The D&D Daily




36615 Vine Street, Suite 103
Willoughby, OH 44094
440.942.0671
copyright 2009-2019
all rights reserved globally