The D&D Daily Mobile Edition
April 17,

2015



The LP Industry's #1 News Source - Informing, Educating and Instilling a sense of community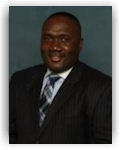 Anthony Williams was promoted to Director of Asset Protection - Northeast Division for Walmart. Anthony was previously the Regional Asset Protection Senior Manager for the retailer and has been a part of the Walmart team for over five years, working as a Regional Asset Protection Manager and Market Asset Protection Manager as well. He has also held other managerial roles for retailers such as Sears Holdings Corporation and Ross Stores as a District Loss Prevention Manager, Goody's Family Clothing as an Area Loss Prevention Manager and Saks Incorporated as a Loss Prevention Manager. Anthony earned his Bachelors of Science degree in Agribusiness Management from Mississippi State University. Congratulations Anthony!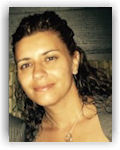 Christine Sampaio was named the Security and Loss Prevention Manager with Acklands-Grainger in Canada. Formerly, Christine was a Regional Asset Protection Business Partner with Target based in the Toronto Market. Christine had served prior as an Area Loss Prevention Manager with Lowes and began her LP career with Future Shops/ Best Buy as a Logistics Coordinator, Inventory Specialist and Loss Prevention Manager.

Acklands-Grainger is Canada's largest distributor of industrial, safety, and fastener products with 175 branches, 6 distribution centers and over 2700 team members coast to coast. Acklands-Grainger is owned by W.W. Grainger, Inc., North America's leading broad line supplier of maintenance, repair and operating products, with operations in Asia, Europe and Latin America. Congratulations Christine!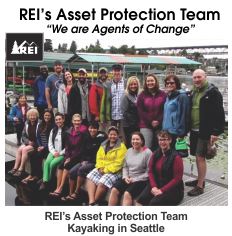 REI's Asset Protection Team Enjoying Some Pizza!


2014 Group LP Selfie Award Winners
REI's Asset Protection Team enjoyed a free pizza party for lunch yesterday at their headquarters in Kent, Washington, as winners in the D&D Daily's 2014 "Get LP Social" Competition. Last summer, Perry Resnick, Director of AP, REI, submitted a photo of he and his team at a kayak outing in Seattle. This January, they were selected as one of three winners in a drawing at our "Live in NYC" event.

A special thank you to NuTech National - sponsors of the GLPS program - for providing the pizzas to our winners! And thank you to all the LP teams who submitted photos over the past year - Keep 'em coming! Let's continue Getting LP Social!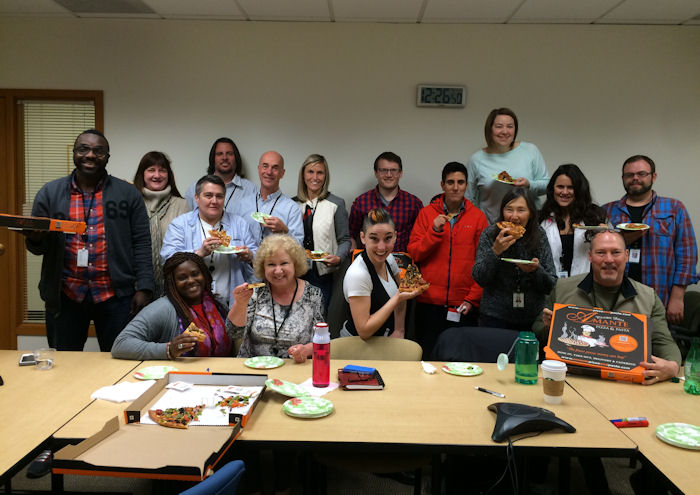 Part of REI's Asset Protection Team enjoying a few slices of pizza at their corporate headquarters.



News Brief
Sponsored by WG Security Products, Inc.
Card-not-present fraud in U.S. predicted to hit $22 billion after EMV switch With counterfeiting credit and debit cards much more difficult, fraudsters are expected to move to online commerce, or downstream to smaller merchants who haven't yet installed EMV terminals. As such, the methods of criminals will shift as they follow the path of least resistance. If history is any judge, the migration to card-not-present (CNP) transactions - mainly in online commerce - will be significant. For instance, when the United Kingdom implemented EMV in a chip-and-PIN format in 2004, fraud amounted to $4.4 billion dollars, estimates BetterBuyDesign, a payments consultancy. A similar projection for the U.S. is around $22 billion. As EMV gains critical mass, merchants without EMV card readers will be a major target. One third of smaller merchants aren't even aware of chip cards, according to a 2014 telephone survey by Aite Group. Only 59 percent of merchant locations will be EMV/NFC-ready by the end of this year, with 73 percent by the end of 2016, and 90 percent by the end of 2017. tsys.com

Aaron's Inc. Loses Appeal on Computer "Detective Mode" Spyware Allegations on Customers A class action lawsuit accusing Aaron's Inc. and a franchisee of secretly collecting thousands of computer webcam photos, screen shots and keystroke logs of customers will go forward because of a federal appellate court's ruling, Herman Gerel LLP and co-counsel said today. "The spyware, as described in the Byrds' complaint, was Orwellian-like in that it guaranteed that '[t]here was of course no way of knowing whether you were being watched at any given moment ... because [the defendants] apparently activated the PC Rental Agent's Detective Mode 'whenever they wanted to.' "With this ruling, we are pleased to refocus our efforts on getting the victims of the spyware back into court."

According to the Byrds' lawsuit and others filed by their legal team in other courts, information collected, transmitted and stored by Aaron's corporate servers - without encryption - allegedly includes financial and other personal information, such as credit and debit card numbers, expiration dates, security codes, pin numbers, passwords, Social Security numbers, birth dates, identity of children and their personal and school records, tax returns, personal health information, employment records, bank account records, email addresses, log-in credentials, answers to security questions, and private communications with health care providers, therapists, attorneys, and others.

In October 2013, Aaron's Inc. agreed to settle Federal Trade Commission charges that the company "surreptitiously tracked consumers' locations, captured images through the computers' webcams - including those of adults engaged in intimate activities." According to the FTC, Aaron's senior corporate management knew the PC Rental Agent software, created and sold by now-defunct DesignerWare, LLC, of North East, Pa., could be highly intrusive and invaded consumers' privacy when in "Detective Mode." prnewswire.com

UK Consumer Rights Bill on track to come into force Oct 1 - has some retailers concerned about returns The aim of the Consumer Rights Bill is to streamline key consumer rights, aligning the inconsistent remedies previously available for consumers under different contract types, and introducing a generic set of consumer law investigatory powers. Any businesses selling goods or services to consumers will be affected by the changes. Though much of the Act is a consolidation of existing legislation, consumers will have some new rights. Under the new changes, consumers will have the right to a reduction in the price or to reject the goods purchased after only one unsuccessful repair or replacement. This is one element that is causing some significant uncertainty. Businesses are already expressing concerns as to how they should approach customer complaints and what remedies can be used and when. When the guidance is produced, it will be important for retailers to review their practices and policies to ensure they don't fall foul of the new rules. They will have to check a wide variety of practices from returns policies to staff training; contracts with subcontractors with regard to issues such as liability for damage caused to a device or other digital content; and the presentation of terms and conditions. theretailbulletin.com

UK supply chain theft rises nearly 100 percent
TAPA in Europe, the Middle East and Africa (EMEA) region recorded 1,102 cargo crimes last year. For the 33 percent of those reporting a value, losses were $80,457,567 U.S. A total of 92.8 percent of crimes took place in 10 countries: Germany, the Netherlands, U.K., France, Italy, Russia, Spain, Austria, Sweden and South Africa. The association says the use of violence by criminal gangs grew 4.5 percent year-on-year, driven largely by 102 violent hijackings of trucks in France, Italy and South Africa. Thefts from vehicles continued to account for the biggest share of the total with over 500 incidents in 2014. Germany recorded the highest number of freight crimes as thefts rose 42.5 percent from 2013 to reach 285. The UK experienced the highest percentage growth of all countries in the region as thefts rose 98.8 percent to 175. Meanwhile the Netherlands saw a drop of 9.7 percent compared to the previous year but still recorded 258 incidents overall.

The top 10 cargo crimes in 2014 involved a combined loss of $34,904,845 U.S. says TAPA EMEA with 15 thefts exceeding $1.075 million as gangs targeted scratchcards, cosmetics, consumer electronics, clothing, footwear, tobacco products, pharmaceuticals, food and beverages, auto parts and cash. freightweek.org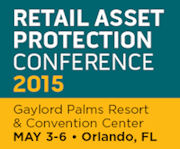 Closing Keynote: Leadership Lessons from the Boston Marathon Bombing On April 15, 2013, the largest domestic terrorist incident since the 9/11 attack hit the city of Boston and the surrounding communities. Two bombs were detonated near the finish line of the Boston Marathon, killing three and injuring more than 260. As the Superintendent-in-Chief of the Boston Police Department, Dan Linskey was thrust into managing one of the largest law enforcement operations in history. In this compelling talk on leadership, Chief Linskey will share how he managed his intense emotional response, the importance of specificity of training, why it's important to maintain a team of "Evil Geniuses," why you should never have a "not my job" mentality, and why too much help can be a bad thing. rila.org

Dollar General looking for candidates in TX
Dollar General, one of America's fastest-growing retailers with nearly 12,000 locations across the country, announces additional vacancies within its Asset Protection and Loss Prevention department to support the company's strong growth and development. Positions are currently available in the Midland/Odessa, TX area. Candidates interested in learning more about the position and/or applying may visit the DG Careers website at www.dollargeneral.com/careers.

Walgreens headquarters to remain in Deerfield
Newly merged drugstore chain Walgreens Boots Alliance has announced that its international headquarters will remain in Deerfield, Indiana. When Walgreens and Europe's Alliance Boots began merger talks last year, there was a possibility of the retailer relocating its headquarters to Switzerland and moving U.S. operations to an office in downtown Chicago. The two companies officially became one on Dec. 31, taking on its new name, Walgreens Boots Alliance. fierceretail.com

Cloud is security's future
Cloud offerings are proliferating in the security industry. In the latest News Poll just over half of respondents-52 percent-said yes. "Cloud is clearly inevitable and the integrators that are experimenting with it now will be the victors," said one respondent. It may be where the industry is headed, but 27 percent of respondents said that the cloud has no place in physical security. Bruce Cree, owner of B.C. Electronics, said, "It will happen, but it's not secure. It's convenient. Forty-eight percent of respondents said that cloud services are being widely offered in security, whereas one-quarter said there are some cloud offerings, but not a large variety. Some believe that cloud's potential lies in monitoring. "Cloud managed monitoring services hold great promise near-term. Cloud video storage as a redundant path is also useful when you have to be sure you don't lose video. Forty-one percent said increased RMR for integrators and cost savings for end users are the cloud's best uses in physical security. Reduced infrastructure, more security and ease of installation are the biggest benefits, 37 percent said. Twenty-two percent said it's just good for marketing purposes. securitysystemnews.com

Cybersecurity firms hire former military, intelligence cyber experts Over the past two years, U.S. cybersecurity firms have brought in several former military and intelligence community computer experts to help combat hackers targeting the U.S. private sector. Hundreds of ex-government cybersecurity workers represent the competitive advantage of a cybersecurity services industry expected to bring in more than $48 billion in revenue next year, up 41 percent from 2012. "The people coming out of the military and the intelligence community are really, really good," says a cyber startup founder. "They know the attackers. They know how they work." homelandsecuritynewswire.com

Is Google Wallet Spying on You And Selling Your Personal Information? A huge fight is brewing that pits Apple Pay against Google Wallet against Samsung Pay and all the players want dominance in what they believe will be the explosion of mobile payments where we buy stuff at retail with a tap or wave of our phone. You the consumer have choices to make. Right now, the choice is straightforward. Own an iPhone, and only Apple Pay works. Ditto for Android and Google Wallet (although soon Samsung phones running Android will come with Samsung Pay built in). So exactly what is Google doing differently? The lawsuit explains. Alice Svenson, et. al. v. Google, is a class action filing where Svenson is the lead plaintiff. Her complaint is that she bought an email app, YCDroid, for $1.77 in Google's Play store and that in turn Google shared with the app developer personal information about Svenson such as her home address and phone number. Such information, the suit alleges, could facilitate identity theft. In an early ruling, the court brushed aside much of Google's motion to dismiss, thus allowing the suit to proceed to trial. Google, for its part, said it had no comment on the ruling. mainstreet.com

Today's Personality Tests Raise the Bar for Job Seekers - As online access helps facilitate usage & customization Pre-hire assessments have been used for years, but never have such tests been deployed so widely at companies across the U.S. The automation of the job application process, combined with powerful data tools and inexpensive online software, have led to falling costs, more accurate results and a surge in use. Eight of the top 10 U.S. private employers now administer pre-hire tests in their job applications for some positions. These tests have, in effect, raised the bar for U.S. job seekers: With more companies holding an alleged formula for workplace success, fewer are willing to take a chance on anyone who doesn't measure up. In 2001, 26% of large U.S. employers used pre-hire assessments. By 2013, the number had climbed to 57%, reflecting a sea change in hiring practices that some economists suspect is making it tougher for people, especially young adults and the long-term unemployed, to get on the payroll.

Steven Davis, a University of Chicago economist who has studied the gap between job openings and hires, found the annual sum of hires and separations-called labor-market churn-has declined by more than 25% since 2000, suggesting, he said, that as employers intensify their front-end screening, among other factors, "a larger fraction of the people they hire are working out." Editor's Note: One of the best articles on pre-employment screening we've seen. wsj.com

Job Cuts are always a part of all mergers - no matter how large or small For the most part mergers are by design meant to increase synergies while driving costs down and efficiencies up. And while the announcements of these mergers are almost always applauded by the financial community and shareholders, there are those workers who ultimately pay the price and lose their jobs. Not much is written about these executives and employees, but they are the ones who feel the blunt end of the merger. Certainly the online world is driving this massive change in the retail landscape and a number of the mergers in fact are meant to save jobs and stores. But at the end of the day corporate America continues to move forward and the thousands of those left displaced must also move forward. Understanding all of that, lets make sure we don't forget those who've been displaced in our own community because quite frankly you never know when you might be there yourself. Just a thought - Gus Downing

Private equity firm closes deal to buy teen retailer Wet Seal Wet Seal will also continue operating 173 stores. The teen retailer filed for Chapter 11 bankruptcy protection in January after it laid off thousands of workers and closed 338 stores, or two-thirds of its locations. latimes.com

Frederick's of Hollywood closes all stores, strips down to Web

Hilco Merchant Resources Acquires Inventory and Intellectual Property Assets of Fixture Finders

Meijer launches online ordering, curbside pickup program

The Evolution Of Money: Every Device Will Become A Vehicle For Commerce
All the news - One place - One Source - One Time
The D&D Daily respects your time
& doesn't filter retail's reality
Report Your News!
(content subject to approval)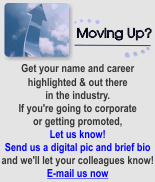 Vendor Spotlight



Loss Prevention News Network

The Insider Threat &
Server Room Mitigation
Charles Delgado, VP Asset Protection, Meijer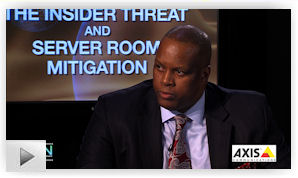 As technology has evolved to the point where everyone is interconnected and has the ability to access virtually any information, there's more exposure than ever before to our data, our assets and our organizations. The Insider Threat is often an overlooked and under-valued subject for retailers, however, Charles Delgado, VP Asset Protection, Meijer, tells us why it isn't just a corporate IT problem but something Loss Prevention members in the field should be cognizant of as well. Learn why EMV technology is shifting the threat from outside hackers to low-level employees coming in just to identify retailers' vulnerabilities.
---
Amber and Joe catch up with Bill Titus, Managing Director, PwC. An agent of change for the LP industry for many years, Bill talks about current opportunities and challenges for LP executives when it comes to omnichannel, big data and cybersecurity.

Solution Providers, have a video or commercial you want to publish? Contact us.

Canadian Push
Sponsored by Vector Security
Quebec Court of Appeals judgement impacts franchise law in Canada - Franchisor must root out free-riders in Dunkan Donuts case In a unanimous decision, the Court of Appeal of Québec confirmed the merits of Justice Tingley's decision and ruled in favour of the former franchisees in Québec who were suing Dunkin' Brands Canada Ltd. for incompetence, negligence, lack of support and flagrant breach of the contract entered into between the franchisor and franchisees as regards the brand's protection and development between 1995 and 2005. This ruling reduced the damages from $16,407,143 to $10,908,523. With legal interest and fees, Dunkin' Brands should be paying plaintiffs a total of $18 million. ... By denying that it has a duty to protect and enhance the brand, the judge rightly saw the Franchisor as going back on its word in each individual contract by denying the existence of the very cause of the arrangement. The Court of Appeal also confirms the franchisees' duties as regards their contractual undertaking. It adds, however, that they cannot be held liable for the shortcomings of less assiduous franchisees. What can a franchisee do about a free-rider who, for example, fails to adhere to the contractual standards of product quality or store cleanliness? Little or nothing. [85] It is up to the Franchisor to police the network by taking reasonable measures to root out the free-riders. ... '

Beyond the obligation to allow individual franchisees to use the Dunkin' Donuts system, the contracts created, through express language and by necessary implication, a duty owed to the franchisees collectively to take reasonable measures to support and enhance the brand. This included the duty to respond with reasonable measures to help the franchisees as a group to meet the market challenges of the moment and to assist the network of franchisees by enforcing the uniform standards of quality and cleanliness it holds out as critical to the success of the franchise. prnewswire.com

Canadian Retailers Applaud New Contraband Tobacco Law The Canadian Convenience Stores Association (CCSA) is commending the federal government for its commitment to fight illegal tobacco trafficking, following the implementation of Bill C-10. The trafficking of illegal tobacco poses a serious threat to community safety in all regions of Canada, through its ties to organized crime, its link to drugs and illegal weapons trafficking, as well as its accessibility to youth. "The announcement that Bill C-10 has now been implemented represents a significant step forward in the ongoing fight against illegal tobacco trafficking in Canada," said Alex Scholten, president of the CCSA, in a press release. The CCSA has been actively working with parliamentarians and police to communicate the need for tougher penalties and additional enforcement to deter illegal tobacco trafficking. The association is hopeful that the enforcement of the new law will create an effective deterent to traffickers and make them think twice before selling illegal product. nacsonline.com

Supreme Court of Canada strikes down mandatory minimum sentences for gun crimes The Supreme Court of Canada dealt the Harper government's tough-on-crime agenda a serious blow Tuesday by striking down a law requiring mandatory minimum sentences for gun crimes. The 6-3 ruling, penned by Chief Justice Beverley McLachlin, said the statute was unconstitutional as it upheld a 2013 Ontario Court of Appeal ruling that labeled the law cruel and unusual. The court said the mandatory minimum sentence could ensnare people with "little or no moral fault" and who pose "little or no danger to the public." It cited as, an example, a person who inherits a firearm and does not immediately get a license for the weapon. thestar.com

Apple Pay Plans to Launch in Canada This Fall
The company is in negotiations with Canada's six biggest banks about a potential November launch of the service which would enable mobile payments for both credit and debit cards using iPhones and the forthcoming Apple Watch, those people said. wsj.com

Ontario Will Loosen Rules to Allow Beer Sales in Largest Supermarkets Ontario, Canada's most populous province, said on Thursday that it would partly open its beer retailing system, which is dominated by three of the world's largest breweries. "The days of the monopoly are done," Kathleen Wynne, premier of the province, said at a news conference. "This is the biggest shake-up to the sale of beer in Ontario since we repealed prohibition. Ontario will allow about a third of its 1,500 largest supermarkets to sell beer by the end of the year. They will, however, not be permitted to offer anything larger than six-packs. nytimes.com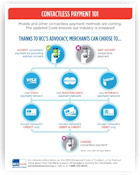 Canada Updates Credit-Card Transaction Rules - Gives Retailers Greater Control, Reflects Growing Use of Mobile Payments Canada on Monday introduced an update to the rules governing credit-card transactions to reflect the growing use of mobile payments and to give the country's merchants additional powers in dealing with the payments industry. The changes would give merchants greater flexibility to opt out of their contracts with payment processors without penalties if fees are raised. Under the changes, merchants can refuse to accept mobile payments if the processing cost exceeds that of other forms of payments. Rules governing credit cards will be extended to apply to the growing mobile-payment field, the Canadian government said. Last November, Visa Inc. and MasterCard Inc. voluntarily agreed to lower the swipe fees they charged Canadian retailers, avoiding the imposition of lower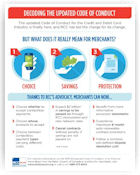 fees by the Canadian government. Those changes, and the ones announced Monday, are meant to appease small-business owners and retailers who say high processing fees hurt their bottom lines. The Retail Council of Canada was a driving force behind the passage of these new transaction rules. wsj.com retailcouncil.org

Retail Fast Facts: March 2015

Highlights:
● Total monthly retail sales changed by 0.5 per cent over the comparable month last year.
● Total sales excluding food, automotive and gasoline changed by 3.7 per cent over the comparable month last year. Read more

Calgary smash-and-grab part of larger trend in Canada A recent smash-and-grab jewelry theft at Calgary's Marlborough Mall could be part of a larger trend that's occurring across Canada. That's according to the John Lamont, the director of loss prevention with Jewellers Vigilance Canada (JVC), which monitors crime in the Canadian jewelry industry. He said while the recent smash-and-grab may appear blunt in nature; it was likely "quite sophisticated" as in his experience, criminals may have a buyer lined-up before the robbery even occurs. It's happened before, it's happened in B.C. and yesterday it happened in Ontario," Lamont said, touching on a similar smash-and-grab robbery in Hamilton Ont. on Tuesday. Lamont said year-over-year from 2013 to 2014, the JVC tracked a 10 per cent increase in theft due "mainly" to break and enters. metronews.ca

Stoney Creek pharmacy robbery makes 13 so far this year Hamilton police are looking for a suspect in the latest in a series of pharmacy robberies. A Friday afternoon robbery made 13 so far in 2015, nearly double the seven pharmacy robberies in all of last year. There have now been more pharmacy robberies in just the four months of 2015 than in any of the previous four years. The robberies aren't isolated to any one part of town. Hamilton Police published this map showing where the 13 robberies have taken place. One location, 712 Mohawk Rd. E., was targeted three times, and last month police were looking for one suspect they believe was behind all three. cbc.ca
Armed robbery at Burlington, ON bakery didn't actually happen Police in Burlington say an armed robbery reported at a city bakery never actually happened. Towards the end of March, police said they were investigating a robbery reported at the Eastway Bake Shoppe in which a man allegedly armed with a handgun entered the business and demanded money from an employee. Police had said the employee reportedly handed over an undisclosed amount of cash before the suspect fled. Police now say their investigation has determined the robbery did not occur. The employee who reported the incident has since been arrested. Jennifer Elliott is charged with public mischief and theft under $5,000. ctvnews.ca

Someone knows this Staples suspect from Maple Ridge A man threatened a store clerk and made off with a computer from the Staples store on the border of Maple Ridge and Pitt Meadows earlier this week. Ridge Meadows Mounties released this picture Tuesday. It's a surveillance image of the man believed responsible for shoplifting and for threatening the staffer just after 5 p.m. on Monday, April 13, explained RCMP Const. Amanda Harnett. "As the suspect was leaving the store, he was challenged by an employee who had witnessed the theft [of a computer]. The male threatened this employee before departing the store with the computer." mrtimes.com
Woman shocked after phone recycled at Rogers store sold on eBay A Calgary woman was shocked to find a cellphone with her personal information for sale on eBay after she left it at a Rogers store under the impression it would be recycled. Rhonda Anderson dropped her iPhone in February, and it broke into pieces. There was still a year on her contract and so she took it to the Rogers store in Beacon Hill. Anderson says the manager sold her a new phone and she left the old one for recycling. He said Rogers has a recycling program and I said, 'Perfect.' So he lifted up a little white bin and I placed my broken phone in there." A month later she got an email from someone who bought a phone on eBay and found her personal information on it. They wanted to know if it was stolen and if she could unlock and delete the iCloud account. "It was advertised as: 'The screen is broken, phone works, it's on the Rogers network, sold as is.' I've got text messages, photos of my family...my life is on that phone," said Anderson. benzinga.com

e-commerce

Sponsored by The Zellman Group
Retail accounts for most identity theft attempts The retail industry last year accounted for 205 million exposures of consumers' identity data, up 30% from 2013, according to a new report from Symantec Corp, a security technology firm. Its latest Internet Security Threat Report, issued annually, is based on the threat activity monitored by the Symantec network in 157 countries. The report also finds 312 total web data breaches in 2014, up 23.3% from 253 in 2013. The top five industries from which those breaches stemmed are health care, 37%; retail, 11%; education, 10%; government, 8%; and financial, 6%. When it comes to exposed identities in 2014, the top five sectors for criminals are: retail, accounting for 59%; financial, 23%; computer software, 10%; healthcare, 2%; and government, 2%.

So what are criminals paying for stolen data and other nefarious goods on the black market? According to the Internet Security Threat Report:

● 50 cents to $1 for 1,000 stolen email addresses.
● $70 to $150 for "1 million verified email spam mail-outs."
● 50 cents to $20 for what the report calls "credit card details."
● $12 to $3,500 for custom malware.
● $2 to $12 for 1,000 social network followers.
● $7 to $8 for stolen web-hosted, or cloud, accounts. internetretailer.com
Measuring The Speed Of Theft
So how fast does stolen data travel? This is not the set-up for a poorly conceived joke - instead it is the subject of a new experiment created by tech security firm Bitglass. Bitglass posted some sensitive material - dummied up consumer information (names, addresses, phone numbers, Social Security numbers and credit card numbers of 1,568 fictitious people) on the dark web to see how long it took criminals to snap up said data. Answer: not very long. Within two weeks, the data had been viewed over 1,000 times and downloaded 47 times in 22 countries on five continents. The information was reportedly particularly popular with Russian and Nigerian criminal gangs. pymnts.com

A New Competitor for Bitcoin Aims to Be Faster and Safer Mazières's new cryptocurrency protocol, called SCP, is being adopted by a nonprofit called Stellar to replace a Bitcoin-inspired system meant to make financial services cheaper and more widely accessible in the developing world. The new SCP system relies on people running software that communicates over the Internet, but trust is not enforced through mining. Instead, each person running the software must identify a few other trusted participants to correctly apply the cryptographic rules used to validate transactions. Each instance of the software will recognize transactions only once a certain majority fraction of its trusted partners have also signed off. And the trust relationships are all public. technologyreview.com

"Fraud is not a person - it is a dynamic grouping of statistics that deviate from the norm."
Stuart B. Levine, CFI, CFCI
CEO, The Zellman Group & Zelligent


ORC News
Sponsored by Security Resources
Update - Fencing Operation - Court papers show extent of Overland Park's largest ORC bust of female - over $100,000 recovered With a fencing operation set up in her home police recovered over $100,000 of merchandise and say that she approached shoplifting like it was her full time job - career. They haven't been able to identify anyone that may have been working with her or anyone who has purchased merchandise from her. But police found racks and piles of clothes with price tickets still attached. Bauer, 45, is accused of shoplifting merchandise from stores like Coach, J. Crew, Banana Republic, Eddie Bauer, Ann Taylor Loft and locally-owned boutiques. Prosecutors said she would sell the items online. Police say the investigation is ongoing and also said this is the largest ORC case they've seen in their city. Investigators said they're still sifting through more than 85 boxes of items found during a search of Bauer's home. kmbc.com
Credit card fraudster who hit Safeway stores up and down North Coast for over $130,000 gets 9 years in prison A Rohnert Park man who racked up $130,000 in damages during a yearlong credit card fraud spree in which he rented an exotic sports car and two high-end vacation homes was sentenced Thursday to more than nine years in jail. Mohannad Halaweh, 20, also used fake credit cards that he manufactured to buy thounds of dollars worth of gift cards from Safeway stores up and down the North Coast, police said. He was arrested in June while driving the $240,000 McLaren sports car that had been reported stolen a day earlier from a South Bay rental agency. Halaweh is expected to be sentenced later this year in a separate Alameda County case. Prosecutors initially charged him with 54 criminal counts but he pleaded no contest earlier this year to 15 crimes including identity theft, commerical burglary and grand theft. pressdemocrat.com

Court backs Felony Lane Gang leader's federal prison term for $1M multi-state crime spree An appeals court panel has upheld the federal prison sentence for the leader of the so-called "Felony Lane Gang" that investigators said stole more than $1 million in a theft spree targeting state park patrons from Florida to Pennsylvania. The ruling the U.S. Court of Appeals for the Third Circuit issued this week turned aside Travis J. Russ' claim that his 188-month jail term is too harsh. U.S. Middle District Senior Judge William W. Caldwell slapped Russ, 33, of Fort Lauderdale, Fla., with that penalty in March 2014. The other nine members of the gang also are serving prison sentences. The conspirators were dubbed the Felony Lane Gang for their practice of passing forged checks stolen from victims at the drive-through lanes of banks. Investigators said that during the crime spree from 2008 to 2012 the gang members broke into cars and stole purses, wallets, check books and identifications. In his plea to the appeals court. Russ argued that Caldwell over-sentenced him because investigators over-estimated the scope of the gang's crimes. pennlive.com

Brooklyn, NY Woman on trial in $3,000 theft from Saratoga Saddlery; tied to $59,000 in other thefts A Brooklyn woman is expected to stand trial this week for charges relating to a theft of nearly $3,000 in merchandize from a Broadway boutique. Tracy Adams, 50, was arrested in December by city police on a warrant out of Saratoga County Court and extradited back to New York from Massachusetts on a third-degree grand larceny charge. The charge stems from an alleged theft of nearly $3,000 in merchandise from the Saratoga Saddlery on Jan. 13, 2014. But the Spa City boutique isn't the only business from which they are accused of making off with pilfered merchandise. They allegedly stole at least $29,000 worth of items from Murray's Furs in Randolph, Mass., just days after the theft in Saratoga Springs. Police said the group was professional in what they do and many businesses could have been unaware of the thefts. They operated under numerous names and identities over the years, police said. A television news report from Rhode Island said they were also caught on security footage at a boutique in East Greenwich and stole over $30,000 in designer handbags. saratogian.com

Two males with booster bags, magnet, and hook for removing sensors, hit King of Prussia Victoria's Secret for $5,885 worth of merchandise An employee of Victoria's Secret observed two males with booster bags and notified Plaza Security. Security followed the two who were seen with booster bags prior to leaving the area in a silver Honda. Police stopped the vehicle and discovered three large duffle bags filled with clothes, a large magnet and hook for removing sensors. Recovered was $5,885 worth or merchandise. mainlinemedianews.com

UPDATE: Sisters Arrested in multi-state Baby Formula Shoplifting Case in Barboursville, W.Va., Walmart - LP Officer taken to emergency room Deputies say surveillance video shows the employee stepping in front of the suspects as they were leaving the store with 22 cans of formula and two tote bags concealed in their purses. Investigators say that's when the loss prevention officer was thrown to the ground, hitting her head on the concrete floor. The employee was taken to the emergency room. Vickey Estepp and her sister Jennifer Estepp were arrested Thursday night in Mingo County. They are facing charges in connection with the shoplifting in Cabell County, as well as charges in several other counties. Investigators say the women were moving back and forth between West Virginia and Kentucky. They've been traveling up Corridor G so this may reach into Kanawha County as well. wsaz.com
Allendale couple charged in 15 shopliftings, mostly booze, worth $3,345 Detectives investigating a six-week, late-night string of thefts that began March 4 conferred with loss prevention officers at the store and identified Michael Basile, 26, and 21-year-old Laura Probst as suspects. Investigators set up surveillance and nabbed the pair in the act overnight today, Scherb said. Scherb's officers charged Basile with 15 shoplifting offenses, along with one count of conspiracy and another of drug paraphernalia possession. cliffviewpilot.com

Two West Virginia women arrested for theft from 4 stores in Huntington Mall A 32-year-old Charleston woman and a 33-year-old Dunbar, West Virginia, woman were arrested April 7 after allegedly stealing $2,093 worth of merchandise from four stores in the Huntington Mall. When police arrived, the Charleston woman attempted to flee, but both were apprehended. Security had witnessed the women placing merchandise in their vehicle. Police found the merchandise, along with $2,440 cash and 2.1 grams of marijuana in the vehicle. Both suspects were arrested and taken to the Western Regional Jail. heralddispatch.com

Four Detroit women busted in $820 theft at Meijer in Allen Park, MI Four women from Detroit were arrested for retail fraud April 11 after attempting to steal more than $800 worth of merchandise from the Meijer store at Fairlane Green. The women, ages 17; 19; 20 and 35, entered the store around 1:14 p.m. and selected several items from the shelves, according to the police report. They split the items between two shopping carts and walked to the self checkout area where they scanned about $178 worth of items and failed to scan an additional $820 worth of merchandise. thenewsherald.com

Charleston, WV man busted stealing $580 worth of Coach handbags from Huntington Mall Macy's - had 12 outstanding shoplifting warrants

Four males hitting Walmart stores for gaming systems in multiple jurisdictions in Hanover County, VA
Do you have an ORC case to share?
Share your ORC news and help the industry grow

Retail Crime News

Sponsored by NuTech National
$5.4 million smash-and-grab jewel heist reported in Paris tunnel The Landy Tunnel is infamous for its insecurity. Long, dimly lit and clogged with traffic trying to get from Charles De Gaulle Airport to downtown Paris, the tunnel's the perfect spot for someone to break a car's window, grab whatever's inside and flee before anyone can stop them. Three thieves may have just committed the tunnel's most expensive bag snatch yet. French police say that a purse containing $5.4 million worth of jewels was snatched from a car in the tunnel Thursday. The bag belonged to a Taiwanese art collector, Agence France Presse reported, who was stuck in traffic on her way to donate its contents to the Paris Museum of Modern Art. One item, a ring, was reportedly worth $1.8 million. Police don't know whether the thieves had targeted the collector or if they'd grabbed her purse by chance. If it's the latter, they may have taken more than they bargained for, an unnamed officer told AFP. The stolen jewels are numbered, meaning they can be traced and will be difficult to sell without a specialized network. "Either it was an order or they are in [trouble]." washingtonpost.com

Thieves hit Paris packaging facility for 500 Hermes bags worth $1.07M U.S. Thieves made away with Hermès bags with a market value of more than 1 million euros, or $1.07 million at current exchange, in the robbery of a packaging and logistics facility northwest of Paris that was subcontracted to package them. A police source confirmed that at 7:30 local time on Thursday, six individuals forced the manager of supplier CAMS in Le Plessis-Bouchard, who was alone at the premises, to load some 500 of the brand's bags into a truck before fleeing in two vehicles. The thieves, who were not visibly armed, were still on the run Friday afternoon, the police source said. wwd.com

Update on Palm Beach Gardens Mall Saks Fifth "robbery" of three purses and guard firing warning shots Keionate Bailey, 31, of Riviera Beach, faces charges of robbery without a weapon and battery. He is being held without bond because he was just released from a five-year stint prison, has two other open arrests and has more than 10 felony convictions including numerous theft charges. Cory Hutchins, 30, of West Palm Beach, faces a charge of robbery, and is being held on $100,000 bond. He has several convictions and served two years and four months in connection to a 2007 case. The incident started Wednesday when Bailey entered the store, grabbed three purses, fought with a loss prevention officer and ran outside, according to an arrest report. Bailey allegedly flipped the officer over and he hit a pole and the ground, sustaining minor injuries. Once outside, an armed security guard fired a warning shot in the air. Bailey got into the car, driven by Hutchins, and the armed guard fired three more shots to try to puncture the tires. The men drove away and were arrested a short time later when their car was pulled over on Federal Highway and PGA Boulevard. Circuit judge Joseph Marx said he decided to hold Bailey without bond because he is a danger to the community. Marx said his job is to protect the public. palmbeachpost.com

No parole for 30 years for man who shot 2 dead in crowded Toronto mall A man who gunned down two people in a crowded downtown food court was sentenced Thursday to at least 30 years behind bars - an unprecedented sentence for second-degree murder. Ontario Superior Court Justice Eugene Ewaschuk, who denounced the crimes as horrific and outrageous, decided Christopher Husbands will be ineligible for parole for 15 years for each killing. Ewaschuk also decided the periods of parole ineligibility should be served consecutively. "It's an unprecedented sentence for second-degree murder in Canada- it's literally never been given," defense lawyer Dirk Derstine said. "He's in shock because of the sentence." energeticcity.ca

Sentencing Set In Fairfield, CT Home Invasion-Jewelry Store Robbery Federal prosecutors are calling for a sentence of no less than 17 years in prison for a man convicted in a 2013 robbery that involved the kidnapping of two Connecticut jewelry store employees. Twenty-seven-year-old William Davis of Allentown, Pennsylvania is to be sentenced Friday in federal court in Hartford. Two of four co-defendants have pleaded guilty but have not been sentenced and two are still awaiting trial. Authorities say armed robbers broke into a Meriden apartment in April 2013 and bound and blindfolded four people. Two of the men then drove two victims to Lenox Jewelers in Fairfield, where the victims worked. Prosecutors said the robbers made away with $4 million in jewelry and watches. cbslocal.com

Man sentenced to 20 years in $1.6M Burglary of Diamonds R Forever in Kennesaw, GA A Florida man was sentenced to seven years in prison Thursday for his role in a $1.6 million jewelry heist in Kennesaw and it turns out that he was caught because he was a shoddy driver, his burglary crew was too picky about its jewels, and they didn't sort their trash. Osniel Labrada-Guillen, 30, burglarized Diamonds R Forever on Wade Green Road in Kennesaw in January 2010, Cobb District Attorney Vic Reynolds said. Labrada-Guillen cut holes in the roof, disabled the phone and alarm systems, then cut a hole in a safe and got away with jewelry, Reynolds said. The crew used a sophisticated technique of disabling the alarm system and retreating to observe if they had alerted authorities. After no police appeared they returned to the roof and entered the business, said Don Geary, chief assistant district attorney who handled the case. ajc.com

Washington D.C. Police arrest 9 after CVS Pharmacy robbery along DC waterfront D.C. police this week arrested nine people in connection with a robbery at a CVS pharmacy near the Waterfront Metro station in Southwest in which authorities said bottles of prescription medicine containing codeine were stripped from the shelves. Three of the suspects, including two who are brothers, were charged with robbery and possession of drugs with intent to distribute. The others were charged with drug possession. Police said they also seized three semi-automatic handguns during a raid on an apartment a few blocks from the store. washingtonpost.com


Suspected serial burglar nabbed at Great Mall, Milpitas, CA; responsible for 12 break-ins Cachius Lamiere Brown, an 18-year-old San Jose resident, was arrested on Tuesday in connection to multiple burglaries at the Great Mall, Milpitas Police Department reported. At about 1:35 p.m. that day, a Milpitas police officer responded to Clark's Bostonian Shoes at 550 Great Mall Drive on a report of employees who chased away a man from the employee area of the store, police said. The suspect allegedly stole credit cards and cash from purses belonging to employees. The suspect, later identified as Brown, was eventually located and arrested while he was still inside the mall, police said. During the course of the investigation, the officer allegedly determined Brown was responsible for 11 additional burglaries at businesses within the Great Mall. The burglaries occurred during business hours between March 4 and April 14, police said. mercurynews.com

Garden City Police arrest two for burglary, clear cases across Nassau County Garden City police arrested two men for a burglary that occurred in Garden City on Saturday, April 11th at 2:43 A.M. as well as for numerous other burglaries that occurred throughout Nassau County. gcnews.com

3 South Florida ID Theft Ring suspects fleeing from Officers ram Police Cruiser Johns Creek, GA Police said three South Florida men who rammed a police car Thursday trying to flee from officers are suspected in a large ID theft ring. Officers responded to a Kroger on Holcomb Bridge Road to reports that three men were using stolen credit card numbers to purchase gift cards. Police said an unmarked detective car stopped in front of the getaway car, and as another officer approached, he said the driver threw the car into reverse and slammed into the squad car. "In the collision, one of our lieutenants wound up hitting the glass with his head when they struck at a very high rate of speed," Captain Chris Byers said. wsbtv.com
Wal-Mart shoplifting suspects lead police on high-speed chase, cause 2 crashes in Cedar City, UT A shoplifting call to police Wednesday led to a high-speed police chase on Interstate 15 in the Cedar City area, two collisions involving a stolen vehicle and the arrest of two Colorado women. At approximately 6 p.m., officers responded to the Cedar City Wal-Mart on a report of shoplifting in progress. While officers were responding, they were advised the two female suspects exited the store and entered a blue car that was later discovered to have been reported stolen out of Colorado. During the six mile pursuit on I-15, speeds reached over 120 mph, according to the statement. At one point, the suspect vehicle collided into a truck. The suspects exited I-15 however, due to excessive speed, the driver lost control, crashing the car. Both suspects were taken into custody. No one was injured during the incident. Both Sales and Perkins were also found to be wanted fugitives from Colorado. stgeorgeutah.com
Bail Set at $750,000 for Woman Accused of Biting Safeway Employee in Chehalis, WA A woman accused of fighting with Chehalis Safeway employees, biting one of them, pleaded not guilty to three charges in Lewis County Superior Court Thursday. Margaret D. Shults, a 27-year-old transient, is charged with second-degree assault, third-degree attempted escape and escape from community custody. She is being held in the Lewis County Jail on bail set at $750,000. Defense attorney Don Blair said he is confident the case will be resolved to everyone's satisfaction. The charges stem from an April 11 incident at the Chehalis Safeway. Shults was allegedly seen shoplifting and left the store. A loss prevention employee contacted her and brought her back into the store and called police, according to court documents. While waiting for police, Shults allegedly pushed the employee and tried to run. Shults then allegedly bit the employee on her right shoulder, causing significant bleeding. chronline.com

Body found in SUV parked at Wal-Mart in Tulsa, OK may have been there for months A decomposed body was found inside a car at a Walmart parking lot Thursday afternoon. Police believe it may have been there for more than a month. Police said they have been to the scene several times to check on the car but didn't know someone was inside. They said they ran the license plate, but nothing was out of the ordinary. Thursday, police said someone walking by the car noticed a foul odor, found the body and called police. Surveillance video goes back to mid-March and shows the car in the parking lot, but police believe it's been there since February. Police said they don't believe foul play is involved, but will keep the case open until the medical examiner inspects the body. newson6.com

Former Power Townsend employee denies embezzling more than $8,000

Man arrested in liquor store armed robbery in Wilkes Barre, PA says he did it 'for my kids'

Man with hypodermic needle allegedly shoplifts $346 in Sears merchandise in Watchung, NJ

Buffalo, NY C-store employee arrested after stealing $6,000 from the register

Burger King manager in Fort Wayne, IN arrested for theft of deposits

Chicago's Gold Coast Moncler boutique hit again by smash-and-grab burglary


Robberies and Burglaries
● Arco AM/PM - San Diego, CA - Shooting/ Murder
● Advance Discount Auto - Lehigh Acres, FL - Armed Robbery
● Bailey Mini - Buffalo, NY - Theft
● Chevron - Mesquite, TX - Armed Robbery/ Shooting
● Circle K - Tampa, FL - Armed Robbery
● Citgo - Winston-Salem, NC - Armed Robbery/ shot fired
● Convenient - Cleveland, OH - Armed Robbery
● CVS - Hendersonville, NC - Armed Robbery
● CVS - Tampa, FL - Armed Robbery
● CVS - Hendersonville, NC - Armed Robbery
● Diamond Pharmacy - Jefferson Co., OH - Armed Robbery
● Dollar General - Goshen, IN - Robbery
● Dollar General - Wellington, AL - Armed Robbery
● Family Dollar - Taylorville, UT - Armed Robbery
● Fastrip - Bakersfield, CA - Robbery
● Moncler - Chicago, IL - Burglary
● Priceless Customs - Greenville, SC - Armed Robbery
● Rite Aid - Corte Madera, CA - Armed Robbery
● Rite Aid - Corte Madera, CA - Armed Robbery
● Star Stop - Houston, TX - Armed Robbery
● Subway - Tampa, FL - Armed Robbery
● 99 cent Only - Fresno, CA - Armed Robbery


Featured Job Listings
Sponsored by NuTech National
Feature Your Job Here For 30 Days -
70% Aren't On the Boards
VP of LP
Mattress Firm
Houston, TX
Mattress Firm
Director of LP
Lane Bryant
Columbus, OH
LinkedIn
Director AP
Big Lots
Columbus, OH
Big Lots
Director of LP
PacSun
Anaheim, CA
PacSun
Director Global AP
KFC & PH
Plano, TX
YUM! Brands
Director of AP, Corporate
Dollar General
Nashville, TN
Dollar General
VP Supply Chain, LP & Safety
Ross Stores
Ft. Mill, SC
Ross Stores
VP of Sales
Checkview
Chanhassen, MN
Checkview
Director of Security
Confidential
Chicago, IL
Downing & Downing
Regional Dir AP
Rite Aid
Albany, NY
Rite Aid
Regional Dir AP
Rite Aid
Warwick, RI
Rite Aid
Regional Dir AP
Rite Aid
Baltimore, MD
Rite Aid
LP Corporate Sr Mgr
JC Penney
Dallas, TX
JC Penney
AP Manager
Ralph Lauren
New York, NY
Ralph Lauren
Regional LP/Safety Mgr
American Signature, Inc
Chicago, IL
American Signature, Inc
Regional LP Mgr
Dunham's Sports
South Central KY, Central TN or NC
Dunham's Sports
NEW TODAY Regional LP Mgr
Dollar General
Midland/Odessa, TX
Dollar General
District LP Manager
Safeway
Baton Rouge, LA
Safeway
LP Specialist
Safeway
Baton Rouge, LA
Safeway
Market AP Specialist
REI
Chicago, IL
REI
Sr Retail AP Specialist
REI
Bloomington, MN
REI
LP Admin. Asst.
National Stores
Gardena, CA
National Stores
LP Operations Coordinator
Restoration Hardware
Corte Madera, CA
Restoration Hardware
LP Analyst
Restoration Hardware
Corte Madera, CA
Restoration Hardware
Market ORC Investigator
Macy's
New York, NY
Macy's
Security Officer
Wegmans
Pottsville, PA
Wegmans
National Account Sales Representative
Instakey
Denver, CO
Instakey
Sales Representative
NuTech National
Maitland, FL
NuTech National
National Account Executive
Checkview
Northeast Region
Checkview
National Account Executive
Checkview
United States
Checkview
National Account Manager
Vector Security, Inc
TBD
Vector Security, Inc

Limited Time Only - Post Your Multi-Unit LP jobs for FREE - Learn More Here

Daily Job Alerts


Appearing One Day Only
View our Internet Jobs Archives here
AP Specialist
Cabela's
Greenville, SC
Cabela's
Regional LP Manager
Victoria's Secret
Las Vegas, NV
L brands
Regional LP Manager
Victoria's Secret
Phoenix, AZ
L brands
Regional LP Manager
Victoria's Secret
Chicago, IL
L brands
Dept Mgr LP & Safety
Lowe's
Southwest Ranches, FL
Lowe's
Dept Mgr LP & Safety
Lowe's
Hazard, KY
Lowe's
Dept Mgr LP & Safety
Lowe's
St Peters, MO
Lowe's
Dept Mgr LP & Safety
Lowe's
Corbin, KY
Lowe's
District LP Manager
Office Depot
Los Angeles, CA
Office Depot
AP Manager in Training
Walmart
Kearny, NJ
Wal-Mart
AP Manager in Training
Walmart
Monticello, MN
Wal-Mart
AP Manager in Training
Walmart
Red Bluff, CA
Wal-Mart
AP Manager in Training
Walmart
Etters, PA
Wal-Mart
AP Manager in Training
Walmart
Woodland, CA
Wal-Mart
AP Manager in Training
Walmart
Philadelphia, PA
Wal-Mart
AP Manager in Training
Walmart
La Junta, CO
Wal-Mart
AP Manager
Sam's Club
Annapolis, MD
Wal-Mart
LP Manager Hrly
Kmart
Sault Sainte Marie, MI
Sears Holdings Corp
LP Manager Hrly
Kmart
Longview, TX
Sears Holdings Corp
Zone AP Mgr
Kmart
Warren, OH
Sears Holdings Corp
LP Manager Hrly
Kmart
Shawnee, OK
Sears Holdings Corp
LP Manager Hrly
Sears
San Diego, CA
Sears Holdings Corp
ETL Assets Protection
Target
Sparks, NV
Target
ETL Assets Protection
Target
Homewood, IL
Target


Home of the Industry's Original
On the Move

Anthony Williams was promoted to Director of Asset Protection - Northeast Division for Walmart.
Christine Sampaio was named the Security and Loss Prevention Manager with Acklands-Grainger in Canada.
Christine Mullins was named Regional Loss Prevention Manager for Tuesday Morning.
Rus Haag was promoted to Regional Loss Prevention Manager for Nike.

Post Your New Job or Promotion!
See all the Industry Movement


Your Career
Sponsor this section of the Daily
Overcoming the Toughest Common Coaching Challenges Great managers really want to do right by their employees. They want to make sure they are motivated and given the needed support to make sure they succeed. Sometimes this is easier said than done, especially in coaching. To get over the challenges here are some strategies you can use. Change is possible

3 Reasons to Be Grateful for Tough Competitors All organizations have their rivalries. As a leader, of course you want to be more creative than your competitors, more innovative, and strive to be the best of the best. While you may loathe your competition, here are some reasons you should really be grateful for them. Can't reach greatness without them

How to Find Your Leadership Sweet Spot
Most sports equipment has that spot, that, when hit will give the athlete optimal results. Leaders also have a sweet spot! When you find your own sweet spot you want to make sure the people and their roles on your team are connected. Here are some questions to ask yourself to help you find your sweet spot. Your passion

Just Promoted to Manager? Here are 5 Strategies for Success The first moment you realize you have gotten the promotion is exciting, and then the panic sets in. You start to second guess yourself, and wonder if you're really ready for the challenge. Stop! There's no reason to worry. Here are five best practices to help you get started in your new role. Develop your persona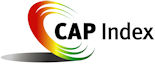 Tip of the Day
Sponsored by Vector Security
Admitting your own mistakes is the first step to understanding those that others make. And without understanding them you'll never be able to lead through them.

Just a Thought,
Gus







Upcoming Events
---
Recruiting?
Get your job e-mailed to everyone... everyday
Post on our Featured Jobs Board!
Reach your target audience in 2015 every day!
Request our 2015 Media Kit
update account / change e-mail
unsubscribe FEEDBACK
www.downing-downing.com

Advertise With The D&D Daily




36615 Vine Street, Suite 103
Willoughby, OH 44094
440.942.0671
copyright 2009-2019
all rights reserved globally