The D&D Daily Mobile Edition
April 20,

2015



The LP Industry's #1 News Source - Informing, Educating and Instilling a sense of community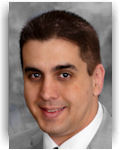 Johnny Custer, CFI was named Director of Analytics for Sears Holdings Corporation's Asset & Profit Protection unit. Johnny is a career Asset Protection / Loss Prevention leader with more than 20 years experience - serving as both a solutions provider, and a practician. He is recognized throughout the industry as a specialist with a "holistic" approach to asset protection and profit management. Johnny has worked heavily with retail data for more than a decade; developing and working with algorithms that touch all areas of the retail business enterprise. He has managed and directed teams using this holistic approach and had tremendous success in the reduction of shrink and margin erosion across multiple retail platforms.

Prior to joining SHC, Johnny served as a consultant to several C-suite executive teams, most recently as Vice President, Solutions Research & Marketing at SysRepublic Inc. He has worked in the field for several major retailers including: CVS/Caremark, K-mart/Super-K, and Value City Department Stores. He is widely published and has appeared in a number of mainstream and industry media outlets, including: Loss Prevention Magazine, Security Director News, Fox News, The New York Daily News, and on NBC's "The Today Show" among others. Johnny proudly carries the Certified Forensic Interviewer (CFI), and Loss Prevention Qualified (LPQ) & Certified (LPC) designations. Congratulations Johnny!

News Brief
Sponsored by WG Security Products, Inc.
Retail Breaches Now Cause 59 Percent Of ID Exposures
The year 2014 saw far-reaching vulnerabilities, faster attacks when those security holes became public, files held for ransom and far more malware than ever before - and retailers were among the hardest hit, according to Symantec's "2015 Internet Security Threat Report." Retailers represented 11 percent of all breaches Symantec recorded in 2014 - only health care was harder hit, with 37 percent. And when it came to the number of identities exposed in those breaches, retail represented a breathtaking 59 percent, with financial at 23 percent, software vendors at 10 percent, and no other category accounting for more than 3 percent. And the percentage of all breaches in which financial information was exposed doubled from 18 percent in 2013 to 36 percent in 2014.
pymnts.com
Forums address alternatives to correctional system for juvenile retail theft in Macon County - Restorative Justice approach in Macon Cty., IL?
"It is clear that the No. 1 reason juveniles are being arrested is for retail theft. Jackie Bullard, a member of the Illinois Juvenile Justice Commission, said
the further juveniles are pushed into the correctional system, the more likely their recidivism.
"I think in some ways, we've lost our way with how we deal with children," she said.
"If you're a hammer, everything looks like a nail."
The purpose of the forum was to study the juvenile data and demographics while generating possible solutions to the problem. The group made a consensus that in order to prevent juveniles from committing retail theft and other offenses,
they need to be engaged with the community. "Once they realize the harm they've done to the community, and once they become connected with the community, they will try to keep it safe," said Jeanelle Norman, president of the Decatur branch of the National Association for the Advancement of Colored People. Possible prevention initiatives discussed included inviting children to community business events hosted by the Greater Decatur Chamber of Commerce and generating funds for an online course educating them on the consequences of shoplifting.
herald-review.com
PwC survey says only 12% are true risk management leaders
A survey of about 1,200 senior executives and board members by PwC about their organization's risk management practices found only 12% have policies that would mark them as true risk management leaders-this despite the fact 73% of respondents said the risks to their companies are increasing. Rather than being a hindrance to the company's success, of those firms cited as risk management leaders, 55% reported increased profit margins and 41% reported an annual profit margin of more than 10%. "Risks are increasing dramatically and executives are constantly faced with making decisions to protect their businesses, while also trying to improve their financial performance," said Dean Simone, leader of PwC's U.S. risk assurance practice. "By integrating risk management into the business life cycle, these two objectives can easily come together to work in unison. Developing an effective strategy requires investment, but the payoff and competitive advantage can be enormous."
wsj.com
Lawsuit Alleges Lumber Liquidators Hired a Mold Lab to Conduct Formaldehyde Testing - Alleges violations of RICO Act
The suit alleges that Lumber Liquidators "has hired a mold lab to conduct formaldehyde gas emissions testing and is trying to lull its customers into a false sense of security with the accreditation and proficiency of its chosen lab." The lawsuit seeks an injunction against the defendants from continuing to misrepresent the accreditation of the lab and that the Bio-Badge home test kit is the same as used by "professionals" to test for formaldehyde in indoor. This lawsuit is the first case filed against Lumber Liquidators alleging violations of the Racketeer Influenced and Corrupt Organizations Act ("RICO"). The suit alleges that Lumber Liquidators and the testing companies it has hired engaged in a pattern of racketeering, through mail and wire fraud, to conceal the true concentrations of formaldehyde gas emissions from Lumber Liquidators' laminate flooring by using a laboratory which is only accredited to analyze microorganisms (such as mold) and is not accredited to conduct analysis on chemicals, such as formaldehyde. Plaintiffs hired outside testing firms which showed excessive levels of formaldehyde gas several times above the minimum risk levels published by the EPA.
businesswire.com
True Religion sub-contractors billed with $78.5M insurance fraud - not reporting 'hundreds of millions' in payroll
California Department of Insurance detectives stated the siblings, whose companies were sub-contractors of Vernon-based True Religion, allegedly conspired using their CPA to cover hundreds of millions in payroll to prevent having to pay workers' compensation insurance rates and underreported $78.5 million in payroll to multiple insurance companies, such as the Condition Compensation Insurance Fund and 2 insurance providers possessed by Berkshire Hathaway. The state's insurance commission, brought by California Insurance Commissioner Dork Johnson, has billed sub-contractors of True Religion Brand Jeans with underreporting greater than $78 million in payroll to insurance companies.
list-online.com
Wal-Mart U.S. adds 'department manager' layer at store level - eliminates zone managers - Shuffle hopes to improve sales
Wal-Mart Stores Inc said on Friday it would eliminate the position of zone manager in its U.S. stores while
adding up to 8,000 new department heads
as part of an overhaul of its store operations. There are about five zone managers in each of Wal-Mart's 3,407 supercenters, and those employees will be reassigned to department manager or assistant manager positions. In addition, Wal-Mart, the world's largest retailer, plans to add 7,000 to 8,000 department manager positions. The moves are part of broader strategy by the retailer to rejuvenate sales in the United States by bolstering customer service and addressing other perceived weaknesses such as poorly stocked shelves. Increasing the number of people overseeing just one department, such as electronics or produce, will allow managers to focus more narrowly on engaging with workers and ensuring their department is meeting customer needs, Lundgren said. Zone managers, had been in charge of a handful of departments.
channelnewsasia.com
American Apparel Workers Take Complaints to National Labor Relations Board
Rumbles that the company's factory workers are close to formally organizing continue with four fresh grievances filed Wednesday with the National Labor Relations Board. The common theme among the complaints allege American Apparel in some way interfered with workers' rights to talk with union organizers. In March, establishing the Coalition of American Apparel Factory Workers United to Save American Apparel
sent American Apparel's board of directors a letter outlining reductions in workers' hours and alleged threats by security guards. A company spokesperson said the claims were "without merit."
"Workers' rights and respect for our employees are core principles of American Apparel," the spokesperson said. "This is clear from our Code of Business Conduct and Ethics, which reflects our efforts to ensure that American Apparel's workplaces are free from harassment, bullying and intimidation, and which promotes fair treatment of employees and compliance with labor and employment laws. We are dedicated to a culture of free speech and social commentary."
wwd.com
Seven Simple Steps to Better Cybersecurity
If companies did seven things they would dramatically cut down on the chances they become victimized, he said. These include being vigilant; making your people the first line of defense; only distributing and keeping information on a "need to know" basis; fixing vulnerabilities promptly; encrypting sensitive data; using two-factor authentication; and paying attention to physical security. "If these were put in place before or during a breach, they might have mitigated the impact of the breach in whole or in part."
wsj.com
IBM unveils cyber threat intelligence sharing platform
The X-Force Exchange builds on IBM's tremendous scale in security intelligence, integrating its portfolio of deep threat research data and technologies like QRadar, thousands of global clients, and acumen of a worldwide network of security analysts and experts from IBM Managed Security Services. Powered by IBM Cloud this collaborative platform provides access to volumes of actionable IBM and third-party threat data from across the globe, including real-time indicators of live attacks, which can be used to defend against cybercrime.
net-security.org
Samsung to launch fingerprint mobile payment service
Samsung SDS, the IT service affiliate of Samsung Group, has announced that it is launching a new fingerprint mobile payment service with local payment gateway firms KG Mobilians and KG Inicis within South Korea, with global expansion planned for later. The South Korean tech giant has also signed a memorandum of understanding (MOU) with Korea Information Certificate Authority (KICA), a government-backed certificate licenser, and will later launch other authentication services based on biometrics, the company said. "Going forward, we plan to not only target hardware manufacturers that make smartphones, but to also provide our biometric solutions to online service and security companies," said a Samsung SDS spokesperson. "We plan to offer clients that need biometrics solution with various business models and offer differentiated authentication services."
zdnet.com
Saudi Arabia on alert over possible oil or Mall attack
Saudi Arabia has put security forces on alert for a possible militant attack on a shopping mall or energy installation, Interior Ministry spokesman Mansour Turki said on Monday. "There was information about a possible act targeting a mall or Aramco installations. We passed this information to the security forces to be on alert," he told Reuters. Turki said he had no further information about the threat. Saudi Arabia, the world's biggest oil exporter and key strategic ally of the United States, has been a target of jihadist militant groups for years, including al Qaeda and Islamic State.
reuters.com
Rite Aid post Director, Pharmacy Loss Prevention on LinkedIn two days ago
Insider Threat - Former IT Mgr faces 7 fed. charges for cyber attacking former employer -intercepting emails - sharing conf. info with 3rd party
Speedway LLC to acquire Hess Corp retail network - will have 2,733 c-stores = #2 largest in U.S.
Office Depot, Walmart named top companies for women
Simply Fashion Files for Bankruptcy to Liquidate 250 Store Chain
Frederick's of Hollywood is preparing to file for bankruptcy
Last week's most popular news article --
JC Penney exec inadvertently discloses Q1 same-store sales (up 6%)

WEBINAR - The New Partnership: Loss Prevention and IT

Presented by ARTS, NRF's retail technology standards division

April 29, 2015, 11:00 am - 12:00 pm
Listen in on a conversation between experts in Loss Prevention and Information Technology about resources and strategies to help the IT and LP verticals work together to meet the challenges of the emerging loss prevention landscape - data security, cybercrime and the use of social media are just the tip of the iceberg. Additionally, you'll learn about resources NRF-ARTS has developed to help retailers research the tools that are right for them and to leverage the experience of others. REGISTER HERE.

Speakers Include:
Bob Moraca
(moderator)

Vice President,
Loss Prevention,
NRF
Randy Christian

Corp. Manager,
Loss Prevention Technology,
The Kroger Co.
Christian Romero

Director, Security Intelligence,
The Neiman Marcus Group
All the news - One place - One Source - One Time
The D&D Daily respects your time
& doesn't filter retail's reality
Report Your News!
(content subject to approval)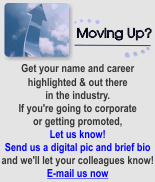 Vendor Spotlight

AXIS A8004-VE Network Video Door Station is an open IP-based door station for two-way communication, high-definition video and remote entry control.

It is an ideal complement to any surveillance installation and offers new levels of security for effective identification and entry control.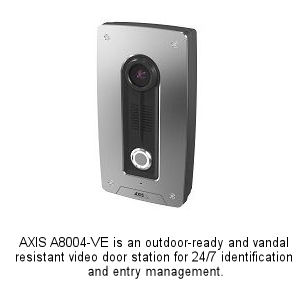 "Axis has a proven track record of bringing product innovation to the security and surveillance market. With AXIS A8004-VE we will provide our customers with an easy to install video door station that extends the capabilities of the security system. AXIS A8004-VE allows our customers to quickly and easily identify and communicate with persons at the door and securely let them in. This is a perfect complement to any surveillance system and as easy to install as any network camera," said Peter Lindström, Director of New Business at Axis Communications.

AXIS A8004-VE is a weather- and vandal-proof video door station suitable for both indoor and outdoor installations. The door station comes with a high-performing intercom function that provides clear and echo-free two-way speech with visitors and an integrated HDTV camera with WDR and excellent low-light performance. The unit offers reliable 24/7 identification of visitors even in the most challenging environments. Power over Ethernet allows for installation with a single network cable and provides sufficient power to support and control most standard door locks directly from the unit.

For small- to mid-sized installations, such as retail stores and offices,
AXIS A8004-VE will help improve security of the premises and simplify everyday operations. The door station makes it possible to communicate and identify visitors and enables remote entry control from an IP-desk phone, a mobile device or directly in a Video Managment System (VMS).

Read more here.

Watch the demo video here.

Loss Prevention News Network

The Insider Threat &
Server Room Mitigation
Charles Delgado, VP Asset Protection, Meijer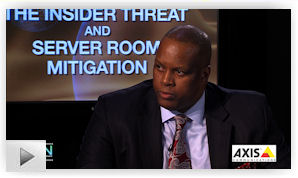 As technology has evolved to the point where everyone is interconnected and has the ability to access virtually any information, there's more exposure than ever before to our data, our assets and our organizations. The Insider Threat is often an overlooked and under-valued subject for retailers, however, Charles Delgado, VP Asset Protection, Meijer, tells us why it isn't just a corporate IT problem but something Loss Prevention members in the field should be cognizant of as well. Learn why EMV technology is shifting the threat from outside hackers to low-level employees coming in just to identify retailers' vulnerabilities.
---
Amber and Joe catch up with Bill Titus, Managing Director, PwC. An agent of change for the LP industry for many years, Bill talks about current opportunities and challenges for LP executives when it comes to omnichannel, big data and cybersecurity.

Solution Providers, have a video or commercial you want to publish? Contact us.


"U-Tip - The Two Minute Tip"
Joe Troy, Sr. LP Manager of Operations, J. Crew

Joe Troy, Sr. Loss Prevention Manager of Operations for J. Crew, offers some advice on social media in this "U-Tip" video. Social media has become an everyday part of our lives, both personally and professionally. Whether you're using it for an investigation or to keep up with friends and colleagues, it can play a critical role in your future movement throughout the industry. Know the laws that govern social media, as they are changing everyday. Know if and to what extent you're allowed to use social media for an investigation. Don't post anything proprietary. Treat your LinkedIn profile like a public resume. Perception is reality.

One little piece of advice could make all the difference in someone's career.

e-commerce

Sponsored by The Zellman Group
New Mexico police department joins nationwide movement, creates 'safe site' for Craigslist transactions A well-lit parking lot with 24-hour surveillance. A never-ending stream of police officers coming and going. There's no better place for a Craigslist transaction than Los Lunas police headquarters. Los Lunas is joining the wave of police departments and sheriff's offices around the country that are establishing safe sites for such transactions. They've popped up everywhere from Connecticut's capital to cities in Florida and counties in Colorado. foxbusiness.com

Alibaba Faces Challenges in Fixing Counterfeit Problem As Alibaba faces continued criticism from regulators in China and the United States over its business practices, analysts say it could be challenging for the e-commerce giant to overcome some problems, particularly what appears to be an endemic presence of counterfeits and gray-market products on its consumer-to-consumer marketplace platform, Taobao.com. It will be "difficult" for Alibaba to eradicate goods on Taobao that are blatant counterfeits or products that brands see as knockoffs, and thus, potentially undermining their legitimate sales channels to mainland shoppers. "If you take 5,000 storefronts down that sell these products, they will just pop up under a different name or company again," he said. "Getting to the actual producers is not easy." wwd.com

Wearable Technology: Retailer's Dream or Security Risk? Considering the prediction of the Wearable Technology Report that the wearable electronics business will grow from $20 billion in 2015 to almost $70 billion by 2025, it appears that the future is now. Consumers regard retail and wearables as a particularly beneficial synergy. In a PricewaterhouseCoopers (PwC) survey, participants stated that an enhanced retail experience was one of the most important deliverables that wearable technology stands to offer. 72% noted that they would like wearable technology to improve customer service; 50% were interested in apps for wearables as a reward for frequent use; 76% of parents expressed their hope that wearables would make the shopping experience more pleasant and efficient. Eighty-six percent of the participants in the PwC survey expressed a fear that wearables would make users vulnerable to security breaches. The use of wearable technology undoubtedly has security implications that must be considered, whether it is used by individuals or businesses. Because wearable endpoints may be able to connect to sensitive company information in databases, these systems must be treated like mobile devices from a security aspect. Data accessed by wearable devices must be protected against unauthorized third parties. SSL certificates can be used for encryption to safeguard materials in transit from being stolen by a third party. Access to sensitive data should be limited to a select group of people or only to parties with authorized devices. It is also vital to gauge the security of back-end systems to which data is being uploaded. multichannelmerchant.com

Retailers need to better meld mobile, web and store shopping The problem, according to new research from Accenture, is that many retailers aren't wedding the three. A survey of 750 U.S. consumers and a separate 150-question survey of 32 U.S. retailers finds that 45% of consumers would like to receive real-time promotions on their smartphone or tablet while shopping in a store. However, only 28% of retailers polled offer that service. Additionally, 32% of consumer respondents said the biggest improvement retailers need to make in terms of shopping is to integrate the physical store, online and mobile. internetretailer.com

"Fraud is not a person - it is a dynamic grouping of statistics that deviate from the norm."
Stuart B. Levine, CFI, CFCI
CEO, The Zellman Group & Zelligent


ORC News
Sponsored by Security Resources
Oneida County, N.Y.'s 2013 leadsonline.com law is helping ID ORC An Oneida County law that went into effect in 2013 requires second-hand dealers and pawn shops to register the transactions carried out in their stores though the website leadsonline.com. Obviously the main goal would be able to lower crime, and I think this shows one thing - that these people who commit multiple larcenies do it as a business. If you can take down one of these people and get them off the street, it drastically reduces the number of crimes being carried out."

In Rome, the law has led to around 40 arrests since its inception for everything from possession of stolen property to burglary to grand larceny, said Rome police Capt. Timothy Bates. "It has certainly helped us solve crimes, not only burglaries, but others as well," Bates said. "Thefts, retail theft and shoplifting as well as organized retail thieves that work in groups. We have been able to certainly help the retail community as well. We can identify property and in many cases find those responsible to those thefts, which occurs pretty much on a daily basis." uticaod.com

Californian pleads guilty to fraudulent purchases of $114,191 in luxury watches in cross-country scam - actually did $1M to $2M A California man has admitted traveling across country buying luxury watches by using fraudulent driver's licenses and credit cards. When Phil Nguyen of Garden Grove was arrested last July in Centre County, the president of the New York-based Jewelers' Security Alliance said: This gang did considerably more than $1 million in fraudulent credit transactions, and probably closer to $2 million, spread over dozens of transactions." The alliance had issued alerts about the scam it said involved a "gang of Asian suspects. Nguyen Friday pleaded guilty in U.S. Middle District Court to a wire fraud charge and agreed to make restitution totaling $114,191. Nguyen and others involved in the scheme searched the Internet to identify jewelry stores that were authorized to sell expensive watches, Rocktashel told Judge Malachey Mannion. Between September 2013 and the date of his arrest, Nguyen admitted using fake documentation to buy and return watches in New Jersey, New York, Nevada, Massachusetts, Florida, Michigan and in the Pittsburgh area. pennlive.com

20 Arrested In $83,818.72 - Lowe's Retail Theft/Return Scheme in Western PA Police have arrested 20 people in connection with an elaborate retail theft and return scheme involving area Lowe's stores. According to police, 21 thefts happened from Feb. 9 through April 15 at several stores in five different counties across Western Pennsylvania. We had a number of individuals that were shoplifting various items from Lowe's stores," said Sgt. Chuck Mascellino, of the Cranberry Police Department. "They would then return them throughout Beaver County and Butler County for the gift cards or cash cards."

In all but one case, two men would enter the store and grab a five-gallon bucket or hand-held shopping basket. The men would walk through the store and load up on tools and other small, valuable items. At that point, they would make their way to the front of the store, where they would wait for employees to be tied up with customers before running outside. The stolen merchandise was then given to other people to return to the store. The value of the returned items were placed onto a Lowe's merchandise credit card, as is store policy for items returned without a receipt. The returns were made only to the Lowe's stores in Center Township, Beaver County, and Cranberry Township, Butler County. It's a larger case because of the dollar amount and the number of people involved," said Sgt. Mascellino. "We have had smaller cases before, but eventually they will be caught." Once the credit cards were obtained, they were sold to several Beaver County pawn shops for a percentage of the value on the card. The total value of the credit cards ended up being $27,780.40. cbslocal.com
Kingsbury, NY man sentenced to 6 years for thefts from Walmart; merchandise seized in a trailer and storage unit A Kingsbury man who was found with a van loaded with tens of thousands of dollars worth of items that had been stolen from area department stores will serve up to 6 years in state prison for the theft spree. Matthew J. Keeley, 34 of Deer Run, was caught in December in a truck loaded with merchandise that had allegedly been stolen from stores around the region, and that seizure led officers to a storage unit loaded with more ill-gotten televisions, electronics, computers and other items, authorities said. He pleaded guilty to felony criminal possession of stolen property for the items, and agreed to serve a prison term of 3 to 6 years in state prison. That term will run concurrently to a thee-year prison term imposed last month in Saratoga County for a grand larceny conviction that originated at the Wal-Mart store in Wilton last year. Keeley had a prior felony conviction that required a prison sentence for the Wilton and Queensbury cases when he was convicted of an additional felony. He is banned from Wal-Marts around the region because of numerous shoplifting arrests. poststar.com

Sixteen packages of Crest White Strips worth $859.85 stolen, individual arrested for organized retail theft in Mansfield, TX
Do you have an ORC case to share?
Share your ORC news and help the industry grow

Retail Crime News

Sponsored by NuTech National
London's $200M+ largest ever jewelry heist Easter weekend - Same Crew hit Berlin Bank Vault in 2013 for $11.9M U.S. The gang of thieves who carried out one of Britain's largest ever heists in London's jewellery quarter may have struck before in Berlin, it has emerged. A burglary of bank vaults in the German capital two years ago bears many of the hallmarks of the Easter raid and the perpetrators have never been found, The Times reported. Scotland Yard described the gang behind the multi-million pound crime as "highly audacious" after they escaped Hatton Garden Safety Deposit Ltd with wheelie bins full of diamonds and jewels. The thieves disabled a lift to get into vaults, where they used a heavy duty drill to bore holes into its reinforced, two-metre-thick wall and access 70 safety deposit boxes, in an operation lasting three nights. In Germany, private security guards were to blame for ignoring an alarm going off in the Volksbank's vaults two days before the crime was discovered. Both burglaries saw the use of heavy duty drills to bore huge holes into the reinforced concrete protecting the safe deposit rooms. independent.co.uk
Spain bust major organized cyber crime gang of 54 - using POS stolen fraudulent credit cards from U.S. & other countries The Spain National Police have arrested 54 people of a cyber crime network dedicated to counterfeiting and fraudulent use of foreign credit cards ,across Spain. According the Police an international cyber criminal organization dedicated to the fraudulent use of foreign cards in Spain, simulating effects sale transactions or provide services in POS terminals companies without business was settled in Spain. The Police found several commercial, fictitious or no real activity, requesting data phones in major banks in Spain. Later they found that from the US, Dominican Republic, Colombia and Venezuela bank cards supplied the leaders of the organization to "pass them" by POS terminals establishments. cyberwarzone.com

London's 'Umbrella Gang" hits 13 shops over two month crime spree for $261,730 U.S. - get 25 years in prison The robbers, who raided 13 shops to the tune of 175,000 pounds during a two-month crime spree, were this week jailed for more than 25 years in total. During their terrifying 53-day rampage, they threatened staff at supermarkets, convenience stores and electrical shops with guns, knives, hammers, screwdrivers and even golf clubs. Then even forced workers into a freezer during one raid in Kidderminster, when they threatened to shoot anyone who did not do as they were told. But they were brought down by police forensics after leaving behind a gun at one raid, and evidence was recovered after their homes were raided. These offences were carefully planned and the group went to great lengths to conceal their involvement - often using umbrellas as cover when walking from the street to the shops, so as not to draw attention to their face coverings. The more offences they committed the more arrogant they became, but their plans were no match for the speed of our officers, who were able to seize key evidence from the first Asda robbery before they had a chance to remove it. standard.co.uk
Shots Fired at Monroeville Mall again Saturday morning - At #AllWhiteAffair2015. (The event's title referred to the party's theme of dressing in all-white attire.) Chief Cole said that at least 500 college-age adults, and possibly more than 1,000, showed up at the restaurant around midnight Friday for a party that was heavily promoted on social media. The chief said students from California, Indiana, Edinboro and Slippery Rock state universities came in buses for the event. The event was advertised through social media as #AllWhiteAffair2015. (The event's title referred to the party's theme of dressing in all-white attire.) "Social media got us again," said Chief Cole, referring to a December incident in which fights broke out at the mall after teens were drawn there by online postings. I saw buses showing up, and around 12:30 a.m. we shut the party down" for fear the crowd was becoming too large. As the restaurant closed, he said, "There were a lot of people outside, so my manager called the police to say, 'Hey come down before it comes to a brawl.' "There was just a lot of people" and one person with a gun who "wanted their two minutes of fame. While there have been security concerns at the mall, Winghart's stands outside Macy's with its own entrance. Chief Cole said last night's incident "could have happened anywhere," and noted the mall itself had closed for the evening. Mall security was "blindsided" by the event, he added, and local police were also unaware of it. While Chief Cole said 20 area police departments responded to word of the shooting, only one person has been charged with disorderly conduct in the incident. post-gazette.com


Circle K clerk Murdered in Armed Robbery in Phoenix, AZ Police are searching for the man who shot and killed a Circle K employee during a robbery, according to Sergeant Jonathan Howard with the Phoenix Police Department. It happened just before 10 p.m. on Saturday in North Phoenix at 19th Avenue and Deer Valley Road. The suspect fled and has not been identified. fox10phoenix.com

Pregnant woman fatally shot near Raleigh, NC mall; baby survives A Raleigh man was charged Sunday in the fatal shooting of his girlfriend, who was six months pregnant. Police said the baby survived. The shooting happened about 9:40 p.m. Saturday in the 3600 block of Sumner Boulevard behind Party City, which is near Triangle Town Center. Raleigh police said Kimberly Dianne Richardson, 25, died early Sunday at WakeMed. Her baby, a girl, survived and was at the hospital. Daniel Joseph Steele, 25, was found at his home on Snowcrest Drive shortly after the shooting and was arrested. He was charged with first-degree murder. A manager at Zales in Triangle Town Center said Richardson worked there. Steele previously worked as a security guard at the mall. He resigned in October. wral.com

2 men hospitalized in Opa-Locka, FL Strip Mall shooting Two men were rushed to the hospital Saturday night after, police said, they were shot in front of a barber shop in Opa-locka. According to investigators, the shooting took place outside of the barber shop on Opa-locka Boulevard near Northwest 19th Avenue. Police said 20-year-old Brandon Navarrete was shot once in the chest, and 23-year-old Harvey Moise sustained two gunshot wounds to the back. The victims were both taken to the hospital in critical condition. local10.com
Former Dollar General Store Manager / Arsonist asked to pay $1M restitution in Kentucky Federal Prosecutors want a woman imprisoned for the fire that destroyed the Horse Cave Dollar General store to pay more than $1 million for damage caused to the building. Debra Fowler Kessinger, 58, of Smiths Grove, is serving a six-year sentence after being found guilty of arson in connection with the 2011 fire at the store she managed. At her sentencing hearing last month in U.S. District Court in Bowling Green, a dispute over how much money Kessinger owed in restitution was not resolved. Assistant U.S. Attorney Jessica Malloy filed a motion Thursday asking a judge to set restitution at $1,085,144.12. The amount Malloy argues that Kessinger should pay is the sum of the inventory lost in the blaze and the money that Owners Insurance Co., which insured the structure, paid to property owner Paul Sanderford. The June 27, 2011, fire occurred shortly before the store was to open for the day. The building was a total loss. Phil Bramlett, Loss Prevention Investigator with Dollar General, testified at last month's sentencing that $519,667 worth of inventory and materials used to display the inventory were inside when the fire occurred. "Bramlett also testified that the store was missing $2,289 in deposits on the day of the fire," Malloy said in her motion. bgdailynews.com

MD Traffic Stop yields multi-state credit card fraud ring Glen Burnie Barrack Commander stopped a 2013 Nissan bearing Florida registration on Interstate 97 at the New Cut Road exit in Anne Arundel County. In the trunk of the vehicle were several fraudulent credit cards and a card skimmer. Through collaborative efforts with Homeland Security Investigations (HSI), Maryland Coordination and Analysis Center (MCAC), United States Secret Service, and private bank fraud investigators, attempts are being made to identify the scope of the apparent identity theft scheme involving Cross and Reid. It appears the theft scheme has crossed several jurisdictions and involves other states. somd.com

SWAT team called in to extract a Kohl's Shoplifter from car in Fond du Lac, WI A 32-year-old Montello woman is in Fond du Lac County Jail following an hour-long police standoff April 18 near the Forest Mall in Fond du Lac. After trying to negotiate with the woman over the phone when she refused to leave her vehicle, police smashed the driver's side window, pulled her out, and placed her in handcuffs. Fond du Lac Police Officers responded shortly before 3 p.m. to the area of Kohl's Department Store on for a report of a shoplifter that had fled the store with a significant amount of merchandise, and who had physically assaulted a Kohl's Loss Prevention Officer in the parking lot. Officers attempted to stop the vehicle but the female driver initially refused. During the traffic stop, the suspect refused all commands to get out of the car and would not cooperate with any instructions from officers at the scene. "Police officers on scene were aware that this uncooperative suspect had just physically assaulted a Loss Prevention Officer and did not know if they were armed or had weapons in the vehicle," said Lt. Jason Laridaen. After determining the suspect was not going to cooperate and voluntarily exit the vehicle, SWAT team officers formed a shield team, approached and extracted the suspect from the vehicle by smashing the window and pulling the suspect out. fdlreporter.com
Thieves drill through concrete ceiling - steal 51 iPads & 38 computers - $100,000 from Simply Computing in Sahali Centre Mall in B.C. Canada Police are searching for clues after an elaborate Kamloops Mac heist straight out of a Hollywood script. Hayes said no alarm was sounded because of how the thieves broke in - through the mall's concrete ceiling. He said the crooks climbed onto the mall's roof sometime overnight, where they were able to get into an empty second-storey office through a window. Once inside, he said, they drilled through the concrete floor and then into the drywall of Simply Computing's ceiling Friday night sometime after closing. "It's Oceans 11 stuff," Hayes said. The RCMP investigation into the burglary is ongoing. kamloopsthisweek.com

Long Island, NY Cell Phone Store Thief Found Using Tracking App Police say they caught an alleged cell phone store thief on Long Island by tracking him with one of the very items he stole. The suspect, 32-year-old Christopher Lide, broke into the store at West Old Country Road in Hicksville by smashing the glass door at about 3 a.m. Saturday, according to authorities. Lide allegedly took cash, and several phones and iPads from the store before fleeing, police said. But the store's owner, Austin Fierstadt, says he was able to locate the alleged thief by reviewing surveillance video and using the "Find My iPhone" app on one of the stolen phones, leading police to engage in a nearly two-hour chase with the suspect. nbcnewyork.com

Men plead guilty in Kidnapping, Jewelry store burglary in Greece, NY Two men have pleaded guilty to kidnapping after holding a western New York couple hostage as part of a plan to rob the jewelry store where the couple worked. Monroe County prosecutors say 29-year-old Thomas Pryor is expected to receive an 18-year prison sentence as part of a plea agreement approved Friday. Earlier this week, 24-year-old co-defendant Alexander Kates pleaded guilty in County Court in exchange for a 16-year sentence. Authorities say the men bound a couple and their adult son with duct tape and held the family hostage for a night in their Greece home outside Rochester last April. The next day, the suspects robbed the jewelry store using the couple's keys and passcode. leaderherald.com

Lancaster, CA Police arrest woman on Identity Theft has over 70 Aliases A 62-year-old woman arrested earlier this week on suspicion of identity theft allegedly had more than 70 aliases and may have several unidentified victims, authorities said Friday. Katherine Gonsalves is seen in a photo provided by the Los Angeles County Sheriff's Department. In some cases, Katherine Gonsalves was accused of pretending to be a representative or owner of a fake company in an attempt to organize fraudulent fundraising events, the Los Angeles County Sheriff's Department stated in a news release. Gonsalves was arrested by detectives on Wednesday on suspicion of multiple identity theft charges that occurred between 2012 and March 2015, the Sheriff's Department described in the news release. Gonsalves used about 74 different aliases when committing the alleged crimes, according to detectives. Investigators claimed Gonsalves would sometimes rent properties and start up utilities in different names. She was being held on Federal Probation violations, according to the news release. ktla.com

Findlay and Hancock County's in Ohio are reporting huge spike in fraudulent credit and debit card out-of-state charges of residents

Fraudster on federal release busted again using fake credit card at Pandora Jewelry in Cool Springs Galleria in FL

Detectives seize counterfeit merchandise from Nashville store

Two Omaha, NE metro Walgreen's robbed in 14 hours

Lynnwood, WA Police seeking known felon for theft of a diamond ring from The Jewelry Source

Helzberg Diamonds in the Woodburn Premium Outlets, Woodburn, OR was the victim of a Grab & Run of 5 pairs of diamond earrings valued at over $12,000

Jared in the Burnsville Center, Burnsville, MN was the victim of a Grab and Run on Sunday afternoon, 1 item valued at $5,999


Robberies and Burglaries
● ABC Liquor - Tampa, FL - Armed Robbery
● AutoZone - Lehigh Acres, FL - Armed Robbery
● Boost Mobile -Portsmouth, VA - Armed Robbery
● Circle K - Phoenix, AZ - Armed Robbery/ Clerk murdered
● Circle K - Spartanburg, SC - Armed Robbery
● CVS - Methuen, MA - Armed Robbery
● CVS - Lincoln, NE - Armed Robbery
● CVS - Lafayette, IN - Armed Robbery
● Discount Smokes Kansas City, MO - Armed Robbery / Shooting
● Dollar General - Calhoun Co, AL - Armed Robbery
● Dollar General - Winston-Salem, NC - Armed Robbery/ Shot fired
● Family Dollar - Methuen, MA - Armed Robbery
● Family Dollar - Valdosta, GA - Armed Robbery
● Git N Go - Des Moines, IA - Armed Robbery
● Jersey Mike's - Hendersonville, TN - Armed Robbery
● Phillips 66 - Richmond, IN - Armed Robbery
● Pit Stop - Wallingford, CT - Armed Robbery
● RB's Deli - Royalton, VT - Armed Robbery
● Sally Beauty - Athens, GA - Armed Robbery
● Speedway - Huber Hts, OH - Armed Robbery
● Subway - Waco, TX - Armed Robbery
● Walgreens - Tulsa, OK - Armed Robbery
● 7-Eleven - Greenville, SC - Armed Robbery


Featured Job Listings
Sponsored by NuTech National
Feature Your Job Here For 30 Days -
70% Aren't On the Boards
VP of LP
Mattress Firm
Houston, TX
Mattress Firm
Director of LP
Lane Bryant
Columbus, OH
LinkedIn
Director AP
Big Lots
Columbus, OH
Big Lots
Director of LP
PacSun
Anaheim, CA
PacSun
Director Global AP
KFC & PH
Plano, TX
YUM! Brands
Director of AP, Corporate
Dollar General
Nashville, TN
Dollar General
VP Supply Chain, LP & Safety
Ross Stores
Ft. Mill, SC
Ross Stores
VP of Sales
Checkview
Chanhassen, MN
Checkview
NEW TODAY Dir, Pharmacy LP
Rite Aid
Camp Hill, PA
Rite Aid
Director of Security
Confidential
Chicago, IL
Downing & Downing
NEW TODAY Dir. Training & Communications - AP
Ralph Lauren
Lyndhurst, NJ
Ralph Lauren
Regional Dir AP
Rite Aid
Albany, NY
Rite Aid
Regional Dir AP
Rite Aid
Warwick, RI
Rite Aid
Regional Dir AP
Rite Aid
Baltimore, MD
Rite Aid
LP Corporate Sr Mgr
JC Penney
Dallas, TX
JC Penney
AP Manager
Ralph Lauren
New York, NY
Ralph Lauren
Regional LP/Safety Mgr
American Signature, Inc
Chicago, IL
American Signature, Inc
Regional LP Mgr
Dunham's Sports
South Central KY, Central TN or NC
Dunham's Sports
Regional LP Mgr
Dollar General
Midland/Odessa, TX
Dollar General
District LP Manager
Safeway
Baton Rouge, LA
Safeway
LP Specialist
Safeway
Baton Rouge, LA
Safeway
Market AP Specialist
REI
Chicago, IL
REI
Sr Retail AP Specialist
REI
Bloomington, MN
REI
NEW TODAY Coordinator, Corporate AP
Bi-Lo Holdings
Jacksonville, FL
Bi-Lo Holdings
LP Admin. Asst.
National Stores
Gardena, CA
National Stores
LP Operations Coordinator
Restoration Hardware
Corte Madera, CA
Restoration Hardware
LP Analyst
Restoration Hardware
Corte Madera, CA
Restoration Hardware
Market ORC Investigator
Macy's
New York, NY
Macy's
Security Officer
Wegmans
Pottsville, PA
Wegmans
National Account Sales Representative
Instakey
Denver, CO
Instakey
Sales Representative
NuTech National
Maitland, FL
NuTech National
National Account Executive
Checkview
Northeast Region
Checkview
National Account Executive
Checkview
United States
Checkview
National Account Manager
Vector Security, Inc
TBD
Vector Security, Inc

Limited Time Only - Post Your Multi-Unit LP jobs for FREE - Learn More Here

Daily Job Alerts


Appearing One Day Only
View our Internet Jobs Archives here
LP Supervisor
JCPenney
North Wales, PA
JCPenney
LP Manager
Fred Meyer
Bend, OR
Kroger
LP Specialist
King Soopers
Loveland, CO
Kroger
LP Specialist
City Market
Avon, CO
Kroger
Dept Mgr LP & Safety
Lowe's
Greenville, SC
Lowe's
LP & Safety Spec
Lowe's
Eatontown, NJ
Lowe's
LP & Safety Spec
Lowe's
El Paso, TX
Lowe's
Market AP Team Leader
Meijer
Louisville, KY
Meijer
AP Manager in Training
Walmart
Flagstaff, AZ
Wal-Mart
AP Manager in Training
Walmart
Amarillo, TX
Wal-Mart
AP Manager in Training
Walmart
Oak Grove, KY
Wal-Mart
AP Manager in Training
Walmart
Baldwin Park, CA
Wal-Mart
AP Manager in Training
Walmart
Richfield, UT
Wal-Mart
AP Manager in Training
Walmart
Pass Christian, MS
Wal-Mart
AP Manager in Training
Walmart
Peoria, IL
Wal-Mart
AP Manager
Sam's Club
Plano, TX
Wal-Mart
AP Manager
Sam's Club
Dublin, OH
Wal-Mart
AP Manager
Sam's Club
Rapid City, SD
Wal-Mart
LP ORC Specialist
Gap Inc
Dallas, TX
Gap Inc
Asst LP Supervisor
Macy's
Aventura, FL
Macy's
LP Manager
Macy's
Burnsville, MN
Macy's
LP Manager
Macy's
Santa Barbara, CA
Macy's
AP District Mgr
Rite Aid
State College, PA
Rite Aid


Home of the Industry's Original
On the Move

Johnny Custer, CFI was named Director of Analytics for Sears Holdings Corporation's Asset & Profit Protection unit.
Carolyn Doran was named Asset Protection Manager - Flagship, Herald Square for Macy's.
Sonya Richey was named Loss Prevention Manager - Distribution Center for Dick's Sporting Goods.
Smail Maouche was promoted to Senior Asset Protection Investigator for Abercrombie & Fitch, Hollister Co.
Martha Zamudio was promoted to Priority Team ORC Investigator for TJX Companies.

Post Your New Job or Promotion!
See all the Industry Movement


Your Career
Sponsor this section of the Daily
How to Handle Employees Who Avoid Criticism When it comes to feedback, sometimes we get a little resistant. In order to bring down the walls, trust needs to be established so that others can see that your feedback as a leader is intended to support their success and allow them to grow. Be empathetic
Stop 'Shirking' When You Give Constructive Criticism To be a great leader, you can't be afraid of being the "bad guy/girl." You will have to give constructive criticism and tough feedback at some point, and when you do you have to own up to it, even if that means being seen as the tough boss. No blame game
Last week's most popular articles--

The Science Behind Using Humor and Gratitude to Motivate Your Team Your team's dynamics, how well they work together and making sure that everyone's skill sets are honed, is critical for success. Here are some lessons every leader should know about the importance of team chemistry. Share a laugh
What to Do When You're Passed Over for a Promotion While your first reaction to getting passed over for a promotion may be to quit, there are other options that may be more helpful. The first step is to give yourself some time to let the anger pass, and then figure out what you can do about the situation. Make some inquiries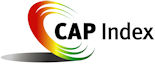 Tip of the Day
Sponsored by Vector Security
To avoid conflict is to avoid growth and without growth conflict becomes unavoidable.

Just a Thought,
Gus







Upcoming Events
---
Recruiting?
Get your job e-mailed to everyone... everyday
Post on our Featured Jobs Board!
Reach your target audience in 2015 every day!
Request our 2015 Media Kit
update account / change e-mail
unsubscribe FEEDBACK
www.downing-downing.com

Advertise With The D&D Daily




36615 Vine Street, Suite 103
Willoughby, OH 44094
440.942.0671
copyright 2009-2019
all rights reserved globally