National Retail Federations Loss Prevention Conference and Expo makes list of "Top 250 Trade Shows" in U.S.
The world's premiere online resource for trade show and event industry news, Trade Show News Network, recently announced Retail's BIG Show 2014 ranked #112 on their coveted Top 250 Trade Show list, up from #132 in 2013. This list represents the top trade events held each year within the United States and is ranked by net square footage. Not only was Retail's BIG Show named to the list, but NRF also had two other events make the cut. The 2014 Shop.org Summit (#234) made the list, along with
NRF's 2014 Loss Prevention Conference and EXPO (#242)
.
nrf.com
Computer Attacks Spur Congress to Act on Cybersecurity Bill Years in the Making
Responding to a series of computer security breaches,
the House is expected on Wednesday to pass a bill
, years in the making, that would push private companies to share access to their computer networks and records with federal investigators. The House
bill would provide legal liability protections for companies that share cyberthreat information
with one other or with the government. But negotiators added what they see as critical privacy protections. If a company shares information with the government, it would receive liability protection only if its
data undergoes two rounds of washing out personal information
- once by the company before it gives the data to the government and another round by the government agency that receives the data. The data would also go first to a civilian agency, not the National Security Agency or the Defense Department, for that scrub. While House passage of the bill is not in question, the timing may be a hurdle in the Senate, where an open amendment process is slowing legislation.
nytimes.com
Total Retail Loss - an opportunity for LP leaders to widen their role
Today's LP manager has a much bigger job to do than studying CCTV footage for shoplifters. Forward-thinking companies are beginning to see how LP executives may have a broader role in retail operations through the concept of 'Total Retail Loss'. Technology is transforming retailing and the roles within it. The responsibilities of the LP manager are rapidly changing as businesses find that traditional strategies and solutions are no longer fit-for-purpose.
But new thinking on what constitutes loss will dictate how the LP role evolves. There is now a proposal for a 'Total Retail Loss' framework that recognises a much wider range of contributory factors to loss. One of these factors is the rise of digital technology, which, while it offers marvellous new opportunities also presents LP challenges, ranging from online fraud to the logistical pressures of flash sales conceived in short time frames and promoted at scale.
Professor Adrian Beck, academic advisor to the ECR Europe Shrink and on-Shelf Availability Group, and fellow experts came up with a definition of 'Total Retail Loss' that at its simplest embraces all the losses within a retail organisation that are not regarded as 'the cost of doing business' (such as the cost of stock or heat and lighting).
retailfraud.com
Taking a cross functional approach to Loss Prevention
Effective loss prevention is no longer just the domain of the Loss Prevention department.
Increasingly, other departments, from Finance to Operations, IT and HR, are gaining significant involvement in the design and implementation of loss prevention decisions. This "cross-functional" approach to loss prevention, as it has been called, is becoming essential in order to fight crime effectively. This is a key topic for this year's Retail Fraud conference, and a trend that has been gaining recognition for some time now, having been raised recurrently during the event series by loss prevention executives from retail companies worldwide.
In the digital era, when we as consumers take for granted that we can be continuously connected and have all the information we need in the palm of our hands, retail companies are having to develop these cross-functional approaches to data analytics competencies and Business Intelligence solutions to drive operational support and control the basics - enough product on shelf and good customer service in store.
Large scale retail operations have traditionally adopted continuous monitoring and forensics analytics to prevent fraud and error.
This is no longer the primary focus of continuous monitoring as algorithms and business models have evolved to drive efficiencies in promotion execution, improving availability in key value items, productivity in store, billing of supplier deals and cost control.
Exception based reporting drives the insight and case management capabilities that enable prompt resolution of issues which often require alignment between central functions and store operations.
retailfraud.com
1990 'Eyes Only' Visa Document Says PIN is Safer Than Signature
In almost every country in the world where they are used, chip cards take the additional step of replacing signatures with a secret personal identification number. Signatures are easy to forge and no more secure than the 1960s magnetic stripe technology being dispensed with, but a PIN is a secret number known only to the legitimate cardholder. While chip cards are difficult to counterfeit, criminals will eventually find a way, and a PIN provides another layer of security that shouldn't be tossed aside.
Surprisingly, the card industry has said the same thing - just not in public. And a once-secret document unearthed during a 1997 NRF lawsuit against Visa and MasterCard has the proof. The document, stamped "highly confidential" and "eyes only" by Visa lawyers, describes a meeting of Visa executives held in Phoenix, Ariz., in 1990 to discuss plans for rolling out then-new debit cards. During one group session at the two-day meeting, executives discussed whether debit cards should require the use of a PIN like ATM cards or be used with a signature like credit cards. Session notes indicate that the conclusion was that PINs were the "safest products for banks, less fraud" and also the "safest product for consumers."
They were also called "consumer friendly" and the document noted their "ease to use." Signatures, however, were praised for "proven profitability," citing "merchant discount income," "interchange fee income" and "cardholder fees. Not surprisingly, profitability came out ahead of fraud protection,
and debit cards were issued without the protection that would have come with a PIN. Why is a 25-year-old meeting important? Because the current debate on data security standards is directly related to these foundational conversations about whether cards should have a PIN, and this meeting shows that banks have known all along that a PIN is safer.
nrf.com
Report: IT managers not best leaders in breach crisis
Technology managers are typically expected to take the point when a company is hit by a major cyber security crisis, but
a more business-oriented leader might be more effective
, says a new report from Booz Allen Hamilton. It's the business leaders who typically make all the big decisions affecting the whole company. "In a crisis, it doesn't work that way," he said. "The roles get flipped."
But a technology manager is going to focus on the technology -- on fixing the things that are broken and getting the adversary out of the systems. But crisis management also involves legal issues, crisis communications, and other strategic decisions, that an IT manager might be unprepared for, or not have time to deal with. In addition, technological solutions may sometimes be in conflict with what's best for a company as a whole. "They may have to shut the systems down, reconfigure things, and do other things that will affect the business," Stewart said. "And they might not be in a situation where they understand the broader business objectives. Having someone who understands the broader business, helps them make better decisions."
However, it may not make good financial sense for a company to have a
full specialized crisis management team standing by at all times
, ready to jump into action.
csoonline.com
The UK's Primark coming to the Northeast, U.S. in a big way - new LP jobs coming & a Directorship? - keep an eye out
George Weston, CEO of Primark's parent company ABF (Associated British Foods), says plans for the clothing retailer's 2015 entry to the US are "well advanced. Preparations include the signing of
eight store leases
in the north-east of the country, including seven from department store group Sears.
Half a dozen store locations have been announced
, including Downtown Crossing in Boston and five in shopping malls across Pennsylvania, New York State, Connecticut and New Jersey. Primark has also
signed a lease for warehouse space located in the Lehigh Valley
area of Pennsylvania.
Editor's note:
They hired a Regional Manager, obviously of operations, this past November out of Macy's
based in Boston
and they just
hired a Sr. Contract Recruiter last month
. So keep your eyes out as they start gearing up.
About Primark- We offer a diverse range of products, stocking everything from baby and kids, to womens, mens, home ware, accessories, beauty products and confectionery. Primark opened its first store in Dublin in 1969 under the name Penneys and today operates in over
270 stores in nine countries
in Europe and growing with the first US store opening in
Boston
in 2015. Adored by fashion fans and value seekers alike Primark is widely established as the destination store for keeping up with the latest looks without breaking the bank. To date the largest store that Primark operate worldwide is Manchester, which occupies a
retail space of 155,000 sq ft
(14,400 m2) spread over three floors.
primark.com
SEC Awards More than $1.4 Million to Whistleblower Compliance Officer The Securities and Exchange Commission said Wednesday it awarded between $1.4 million and $1.6 million to a compliance officer who provided information that helped the SEC in an enforcement action against the tipster's company, marking the second time a compliance professional received an award under the SEC's whistleblower program. The SEC didn't name the whistleblower, citing confidentiality laws. It also didn't name the company involved, saying it can't disclose information that might directly or indirectly reveal the tipster's identity. The compliance officer had a reasonable basis to believe disclosure to the SEC "was necessary to prevent imminent misconduct" from causing "substantial financial harm" to the company or investors, the SEC said. wsj.com

Law enforcement association defines verified alarms - 1st State ever to define "verified alarm" Steve Walker, president of the Partnership for Priority Verified Alarm Response, called the Texas Police Chiefs Association's definition of the term "verified alarm" a big step for future conversations on alarm verification. "It's a huge step forward for us," Walker said. "This is the first state that has taken the step forward to try to get really clear on what a verified alarm is." A verified alarm, by this definition, is one in which a trained central station operator "confirms the presence of humans [at a specific site], and [has] information that shows that there is a probable crime in progress," Chris Vinson, chairman of the Texas Police Chiefs Association's alarm committee, told Security Systems News. It is a "best practice" definition, he said; each law enforcement agency in the state individually decides whether to adopt it. Walker said the term "enhanced call verification" is confusing. ECV was seen as verifying false alarms, whereas verified alarms confirm probable crimes. Verification can occur through various sensors, audio or video. securitysystemsnews.com

Target opens small-format stores in California
TargetExpress, the retailer's newest and smallest format store yet, is now open in San Francisco and Berkeley and designed with local city dwellers in mind. The 12,000-square-foot Berkeley store, a former Walgreens, and the San Francisco location, 18,000 square feet and housed on Bush Street in the financial district, feature a refined and modern concept. The new locations offer grab-and-go sandwiches and salads, fresh produce, toiletries, beauty supplies and more. The express shops also feature access to prescription and over-the-counter medication. retailingtoday.com

UK - Retail Crime Hits Record High
The impact of crime on retailers has reached record levels and businesses are ploughing huge sums into tackling the growing problem. The direct cost of retail crime in the U.K. rocketed to an all-time high of £603m (US $906m) in 2013/14, a rise of 18% on last year's total of £511m (US $768m). Organized gangs and sophisticated thieves targeting high-ticket goods and bulk thefts contributed to the rise as the average value of each in-store theft increased by 36% to £241 per incident. The increase in crime, which was revealed recently in the British Retail Consortium's (BRC) Retail Crime Survey, has prompted firms to shell out an average of 2m pounds (US $3m) per retailer to beef up their security. But despite the impact on retailers of physical thefts taking place in-store - which includes the 8.9 members of staff per 1,000 who steal from their employers - respondents to the survey named their biggest concern over the next two years as fraud, which alone cost stores 223m pounds (US $335m) in 2013/14. The vast majority of those surveyed reported suffering increasing levels of fraud, most of which is now committed online. Retailers issued a stark warning that fraud will pose the "most significant threat" to their businesses in the coming 24 months. The BRC admits there is only so much that retailers can do and says the police have a key role to play. It is putting pressure on forces to take legal action on a greater number of reported fraud cases and hopes that will act as a deterrent to potential cyber-criminals and organized gangs, who are now responsible for 59% of all retail fraud. retail-week.com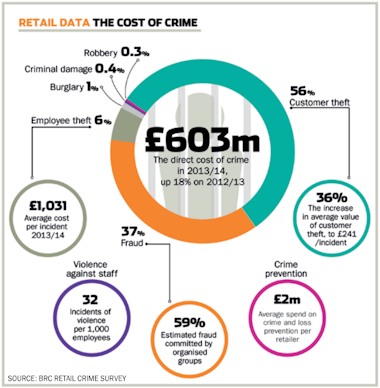 Ten Steps to Optimizing a Retail Distribution Center Most retail executives who work in supply chain know that facility design offers opportunities for significant operational savings. The information they lack, however, is the tactical knowledge of how to analyze, plan and implement an optimization strategy within their facilities. There are 10 critical steps to ensure distribution center (DC) optimization success for retailers, all of which set retailers up to generate significant cost savings over time. edgl.com

Former Emory University employee charged in theft of $317,000 in student fees A former Emory University employee is facing federal fraud charges in connection with about $317,000 in student fees and tuition stolen over a two-year period. Brenda Michael is accused of setting up a PayPal account to divert student funds into her own account, affecting about 185 students taking classes at the Emory University School of Nursing. Michael's attorney, Parag Shah, said she will enter a guilty plea later this month. An Emory University representative released a statement saying the school takes the security of student information very seriously and is fully committed to protecting all of the information and funds that students have entrusted to the university. jacksonville.com

Follow-up to Yesterday's Civil Demand Commentary Article - Links to 8 State Civil Recovery Statutes In yesterday's Daily, we published an opinion article from a Vermont news organization that criticized civil recovery laws used by retailers in Vermont and across the country. The writer of the article called for these statutes to be repealed but said that state legislatures should, at minimum, limit recovery to actual damages. He then cited seven different civil recovery laws that could be used as models. Today, we wanted to include direct links to those state Civil Demand statutes for anyone interested: In Nebraska, civil recovery is limited to actual damages. In Virginia and New Mexico, civil recovery is barred until after a criminal conviction. In West Virginia, subsequent civil recovery is barred if the criminal fine is equal to or greater than the possible civil damages. And in Tennessee, New Hampshire and South Carolina, civil claims can be used in lieu of criminal prosecution altogether.

Credit Card Processing - EMV Checklist for Merchants

American Eagle closing Pittsburgh distribution center - more people shopping online - center couldn't be changed enough to meet demand

Intelligent Supply Chain Fights Theft, Loss - New mobile app 'Savi Now' allows users to track, in real-time, location of assets worldwide

Wet Seal stores now called Seal 123 Inc.

Hyatt resets Gold Passport passwords after security incident

UK's Tesco grocery chain announces $9.5B loss - biggest in its 97-year history

Former Target Canada employees burn their shirts

100-carat diamond sells for $22 million at auction at Sotheby's

Brookfield Merchants unite to share info, prevent crime in Sharon, PA Brookfield Business Watch - Initially proposed by Police Chief Dan Faustino, the idea is to connect township businesses in a way that let them share information instantly, alerting them of potential threats. About a dozen business owners attended a meeting last month. sharonherald.com

South Florida Police Prep with Dolphin Mall Active Shooter Drill this morning Sweetwater Police, along with about a dozen agencies across South Florida, took part in an active shooter exercises at the Dolphin Mall early Wednesday in an effort to prepare the more than 400 officers on how to respond in the event of a real-life crisis situation. The officers met at 4 a.m. sharp and were not permitted to bring any real, loaded firearms in the exercise or within the perimeter of the mall. nbcmiami.com

Quarterly Same Store Sales Results
Tile Shop Q1 up 4.5% with net sales up 13.3%
Canada's Metro grocery stores Q2 sales up 6%
McDonald's Q1 down 2.3% with revenue down 11%
All the news - One place - One Source - One Time
The D&D Daily respects your time
& doesn't filter retail's reality