The D&D Daily Mobile Edition
April 24,

2015



The LP Industry's #1 News Source - Informing, Educating and Instilling a sense of community


News Brief
Sponsored by WG Security Products, Inc.
Retail Fraud Survey launches at record breaking UK Retail Fraud show
Europe's largest Loss Prevention conference, Retail Fraud - London, yesterday saw some interesting figures emerge from this year's Retail Fraud Survey, including a massive leap in credit card fraud recorded by retailers. A highlight of the show was the launch of the 2015 Retail Fraud Survey, sponsored by WIS International, one of the leading global inventory and data collection services companies. The UK Retail Fraud Survey 2015, now in its sixth year, is the most extensive report into the systems, processes and strategies of the UK's top retailers. The most significant development recorded by the survey this year showed that online credit card fraud had increased from 43% in 2014 to 55% in 2015. A massive 28% increase and a great loss to retailers.
Posted below is the press release and survey
retailfraud.com
Interview: 7-Eleven Mexico striving for 'culture of loss prevention'
7-Eleven Mexico's store ops director Hernando Zambrano, who is primarily responsible for loss prevention, security, logistics and quality assurance, says tech can help build a culture of loss prevention within a retail organization. But are the financial consequences of theft now greater than ever? Convenience chain 7-Eleven Mexico is looking to grow its already considerable store estate across the country in the coming years, and is investing in new systems that can aid that expansion. As the business expands, its key goals are to maintain a single view of inventory throughout its store network and to minimize shrinkage, and store operations director Hernando Zambrano told Essential Retail that companies such as WeDo Technologies are helping 7-Eleven Mexico "see problems faster and act upon them faster".
This week sees the retailer deploy WeDo's RAID 7 business control software across its store estate (approximately 1,900 shops in total) allowing the company to monitor inaccuracies in its inventory before they can cause an impact on the bottom line. 7-Eleven has been using the system in a sample selection of its stores since January, but is already confident that it can support the wider in-house loss prevention team in identifying and documenting problems more efficiently.
"One of the reasons we went with WeDo is because our loss prevention is embedded in the operation. We have a very small loss prevention department, but we want to create a culture of loss prevention across the company.
Zambrano says that his company is "in industry parameters" when it comes to shrinkage, but argues that "every retailer wants their shrinkage to go down", especially now that many of them are selling electronic products, which have a much greater impact on margins if they go missing.
Editor's Note:
The article goes on to talk about the direction and development of 7-Eleven throughout Mexico and where the LP program and company is with growing and implementing the controls the brand needs to be successful with their growth.
Great update of their effort in Mexico.
essentialretail.com
EMV Push in U.S. Moving Forward - Visa Exec Says Liability Shift Date Won't Be Delayed - Here's Visa's Position & What they're doing Eduardo Perez, Visa's senior vice president of risk services, says the U.S. push for EMV is moving forward, even though a majority of U.S. merchants will not make the October 2015 liability shift date. In an interview recorded at RSA Conference 2015, Perez discusses what Visa is doing to help merchants with their EMV migration, and he also touches on: ● Visa's take on chip and signature versus chip and PIN; ● How transactional and behavioral analytics will put the U.S. ahead of the fraud-prevention curve; ● How much fraud merchants will be expected to absorb after the liability shift date, if they aren't compliant. Great Update from Visa! inforisktoday.com
The international effort to confront international cybercrime -"There Are No Domestic Cyber Issues: U.S. and UK Leaders on Global Partnership." Cybercriminals obviously do not respect international borders. So it should be equally obvious that the effort to defeat or even slow them down is going to take an international effort, involving both the public and private sector. The U.S. and UK are also seeking to align security frameworks like NIST (National Institute of Standards and Technology) in the U.S. and Cyber Essentials in the UK; and to collaborate with CERT (Computer Emergency Readiness Teams) in both countries. csoonline.com

Update - Ex-American Apparel CFO Accused of Cover-Up & 3 embezzlement rings of "several hundred of thousand dollars of vendor kickbacks" Former American Apparel finance executive alleges in his wrongful termination suit that the former CFO, John Luttrell had orchestrated the termination of controversial CEO Dov Chaney and that he had covered up fraud. It goes on to state that Luttrell mismanaged the execution of a $220 million bond financing and mishandled the opening of a new distribution center, costing at least $30 million in losses. During his employment the former finance executive also says he discovered three embezzlement rings "involving several hundred thousand dollars of vendor kickbacks." cfo.com

Investor Class Slams Lumber Liquidators Over Toxic Floors & illegal wood harvesting A purported class of aggrieved investors ramped up their securities fraud claims against Lumber Liquidators in Virginia federal court Wednesday, claiming the retailer said its record-high margins were based on creative "sourcing initiatives" when in fact they came from illegal wood harvesting and the sale of cheap, toxic floors. law360

Store designer CEO pled guilty to $18M bank fraud saying financial pressure and former Foot Locker Dir. demanding kickbacks pushed him to break law Kaitz faces a maximum sentence of 30 years in prison, with federal guidelines calling for a sentence in the eight-year range, before U.S. District Judge Jed S. Rakoff on Sept. 8. Kaitz also consented to a preliminary money judgment of about $1.4 million. law360

Credit card terminals have used same password since 1990s, claim researchers - Shouldn't this become an audit point Word comes from the RSA Conference in San Francisco that a major vendor of payment terminals has been shipping devices for over two decades with the same default password. The vendor wasn't named by the researchers, David Byrne and Charles Henderson, but they did disclose the password: 166816. A Google search reveals that's the default password for several models of credit card terminal sold by Verifone, a Silicon Valley-based vendor that says it connects 27 million payment devices and has operations in 150 countries. The researchers said that the password remains in use on nine out of 10 terminals they see from the vendor, in part because customers mistakenly assume it is unique to them. In a statement on Thursday, Verifone acknowledged that all its devices in the field came with the same default password, which the company said was Z66831. Over the years, the password has become known and can be found on the Internet along with instructions for programming terminals, Verifone said. The company said it strongly encourages customers to change the password and that new products come with a "pre-expired" password, which requires users to change it during installation and setup. csoonline.com

Virtually everyday law enforcement agencies around America are having 'Active Shooter' Training exercises Whether it's in schools during breaks, or section off areas in small towns, training facilities, shopping centers, and even malls, every day our law enforcement agencies are training for Active Shooters. The Daily focuses and post those that take place in shopping centers, strip malls, and malls themselves as a means of letting you know about which ones have focused on actual retail locations. But the one thing that stands out is our country does take it seriously and the FBI is heavily involved in ensuring that our local law enforcement agencies are in fact prepared. wcti12.com

Blue Bell to Begin "Intensive Cleaning," Training at Production Facilities Blue Bell Ice Cream on Monday will begin an intensive cleaning program at all four production facilities in Alabama, Oklahoma and Texas after a number of listeria illnesses were linked to the ice cream. The company recalled all of its products Monday after two samples of chocolate chip cookie dough ice cream tested positive for listeria in March. The Centers for Disease Control and Prevention announced Tuesday the number of listeria illnesses nationwide linked to Blue Bell products has risen to 10. At the same time they begin the intensive cleaning, the Texas-based ice cream maker will start a new training program for employees at those facilities. "After a thorough review of operations and discussions with an expert microbiologist, it was decided this cleaning and training program will greatly benefit Blue Bell as it moves forward," the company said in a news release Thursday. nbcdfw.com

O'Reilly Automotive to open 205 new stores in 2015

Quarterly Same Store Sales Results
Steve Madden Q1 retail up 11.6% with net sales up 6.3%
O'Reilly Automotive Q1 up 7.2% with revenue up 10%
Gymboree Q4 up 5% with net sales up 7%
Aaron's Q1 down 3.8% with revenue up 40.4%
All the news - One place - One Source - One Time
The D&D Daily respects your time
& doesn't filter retail's reality
Report Your News!
(content subject to approval)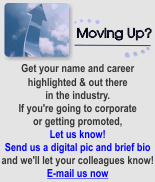 eBay News

PayPal scam $1 million fraud scheme
Hundreds of items are stolen in a $1 million fraud scheme. Thieves have hijacked PayPal accounts along with credit card numbers. As a result they got away with millions of dollars worth of high end items. Piles of hunting gear, closets full of designer handbags, iPhones, laptops and television sets. This is just a sampling of the items postal inspectors discovered after cracking an account takeover scam. eBay had discovered during a 3-month period there were more than 350 fraudulent transactions resulting in a loss of over $1 million. There were multiple levels of victims in this scheme. Suspects would use the hijacked accounts and the stolen account numbers to order numerous high end goods and luxury items which they would have sent through the mail. By adding the secondary address, the suspects were able to make transactions without anyone noticing. All along the primary PayPal account holder had no idea a secondary address had been added to the account. Three Vietnamese nationals were arrested in this case. They received sentences ranging from 4 years probation to 7 years in federal prison. After serving their sentences they could be extradited back to Vietnam.
local12.com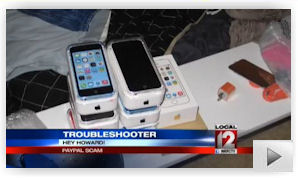 Read more
here
Paramus Man Charged again With Selling Bogus Sports Trading Cards, with eBay's Global Asset Protection team assisting Law Enforcement
The Bergen County Prosecutor announced charges against Andrew D. Mei of Paramus, NJ on one charge of Theft by Deception. The arrest is the result of an investigation conducted by members of the Newark Division of the United States Postal Inspection Services and members of the Bergen County Prosecutor's Office White Collar Crimes Unit. On April 16, 2015, members of the Bergen County Prosecutor's Office White Collar Crimes Unit arrested Mei after a two month investigation into allegations that he sold counterfeit sports trading cards to an unsuspecting customer for $32,000. In April of 2014, Postal Inspection Services received information from PayPal and Ebay alleging that Mr. Mei was utilizing a false identity to facilitate the sale of counterfeit merchandise such as rare sports memorabilia, specifically trading cards, as well as rare, gold coins and bars from as early as 2008 to present. According to Ebay, Mr. Mei purchased authentic trading cards on Ebay, replicated them, and then sold the counterfeit replicas on Ebay. The investigation revealed that Mr. Mei conducted the fraudulent transactions in his own name as well as other variations of his name. By 2012, Ebay had discovered Mr. Mei's fraudulent activities and shut down his accounts.
Read more
here
For further information on PROACT, email inquiries to
PROACT@eBay.com
.
eBay Direct - Click Here
(notify - info - questions)

Vendor Spotlight

White Paper - Specialty Beauty Retailer Offender, Shopper, Employee Feedback Study: LM Tag
The Loss Prevention Research Council (LPRC) conducted a series of in-person survey interviews in the Gainesville, FL. A specialty beauty retailer's StoreLab in order to understand the impact of the LM Tag on associates, shoppers and shoplifters. This research focused on the LM Tag's impact on protecting high end fragrances, one of the specialty beauty retailer's high loss products.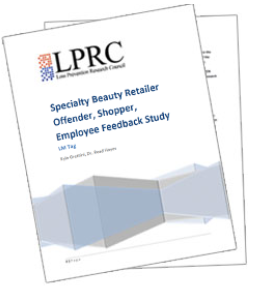 Shopper Feedback

93% of customers rated the LM Tag's effectiveness above a 5, indicating they think the LM Tag is effective at preventing theft.


Employee Feedback

90% of the associates surveyed agreed that they like the LM Tag and that it is easy to apply.


Offender Feedback

In this study, all 7 shoplifters indicated they would not attempt to steal a product that was protected by the LM Tag.


Click here to download the complete report.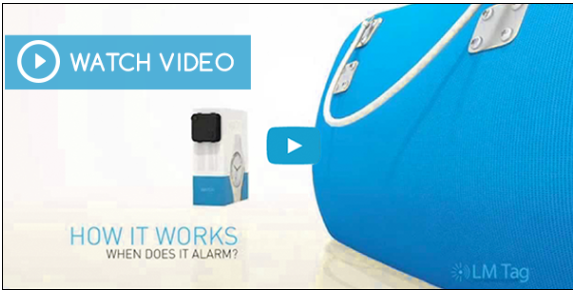 Press Releases

UK Online Credit Card Fraud Soars - latest research reveals
The 6th Annual UK Retail Fraud Survey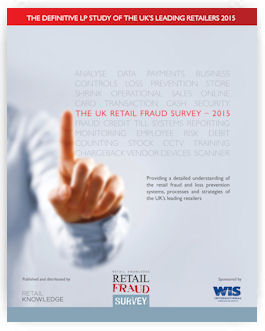 April 24, 2015 - Europe's largest Loss Prevention conference, Retail Fraud - London, yesterday saw some interesting figures emerge from this year's Retail Fraud Survey, including a massive leap in credit card fraud recorded by retailers.

Hundreds of retailers passed through the doors at the Novotel London West yesterday to hear a line-up of speakers talk on the biggest issues confronting retail fraud and loss prevention. A highlight of the show was the launch of the 2015 Retail Fraud Survey, sponsored by WIS International, one of the leading global inventory and data collection services companies.

The UK Retail Fraud Survey 2015, now in its sixth year, is the most extensive report into the systems, processes and strategies of the UK's top retailers. The most significant development recorded by the survey this year showed that online credit card fraud had increased from 43% in 2014 to 55% in 2015. A massive 28% increase and a great loss to retailers. (For more details on the UK Retail Fraud Survey 2015's key findings see the Executive Summary here.)

Paul Bessant of Retail Knowledge comments: "With a record number of retailers visiting the show, Retail Fraud - London has been a real success. There have been some great discussions and debates that have come out of the show, including some major reoccurring themes, such as the importance of a cross-functional, holistic approach to Loss Prevention and the sharing of big data.

"This year's Retail Fraud Survey also reveals that retailers expect the level of online sales set to rise from 20% currently to 52% in three years. So retailers need to introduce a joined up approach to shrink now rather than later; both online and offline channels need to work together in order to fight retail crime effectively."

Further highlights of yesterday's Retail Fraud conference included the launch of the 2015 Retail Fraud Survey; hot topic panel discussions with some of the UK's biggest retailers including John Lewis, WHSmith, Next and Waitrose; and the Big Fight Live, the joint presentation where Tim Edwards, LP Director of JD Sports and Tony Sales, the UK media named Britain's greatest Fraudster, went head to head over Agon Systems Concept Tag.

Loss Prevention News Network

New York Metro ORC Alliance
NYC's New ORC Effort
The Start Up - The Vision - The Team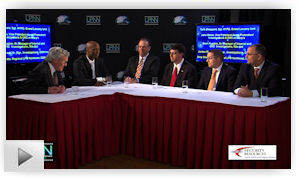 Learn about the New York Metro Organized Retail Crime Alliance from some of the key members who helped launch this key public-private partnership in September 2014 - Tarik Sheppard, Sgt. NYPD, Grand Larceny Unit; John Matas, VP Asset Protection/ Investigations & ORC, Macy's; Sean Huggins, Sr. Manager of Internal and ORC Investigations, Rite Aid; Jordan Rivchun, Sr. Regional LPM, DSW Inc.; and Chip Chiappetta, Regional LPM Northeast, DSW Inc. Hear why the NYPD got involved, what makes ORC in NYC unique, what the most prevalent ORC crimes are, and how the effort to establish a National ORCA is finally coming along.
---
In this LPNN Quick Take, Amber Virgillo chats with Nicholas Khalil, CEO, Checkview. With a customer-first approach built on honesty and integrity, learn why the industry is starting to take notice of Checkview - starting with their satisfied customers.

Solution Providers, have a video or commercial you want to publish? Contact us.

Canadian Push
Sponsored by Vector Security
Moneris introduces 'Verify' to help fight $1.7B in Canadian retail fraud Moneris Solutions Corporation ('Moneris'), one of North America's largest processors of debit and credit payments, announced today that it has expanded its service offerings with the introduction in Canada of Moneris Verify powered by The Retail Equation (TRE), which is intended to help large retailers reduce losses incurred due to return fraud. Moneris Verify return authorization will help retailers target the estimated 4.2 per cent of their merchandise returns that are fraudulent, resulting in approximately $1.7 billion in annual retail losses in Canada.1 Moneris Verify streamlines retailers' return processes by improving the convenience and ease of regular merchandise returns, while identifying and deterring those that are fraudulent or abusive of store return policies. TRE is the industry leader in retail transaction optimization solutions. Moneris will be the exclusive reseller of TRE's Verify service in Canada, a solution used by more than 34,000 stores - including 12 of the top 50 retailers in North America. newswire.ca

Wow - Excitement at Sears Canada - Here's a rarity - Sears Canada picks up two fashion lines Target had exclusive rights to & left behind that they're pumped about & More! Cherokee apparel and shoes and Liz Lange maternity clothing. Both were among troubled Target's stronger brands and are still in its American stores. The retailer also announced on Thursday it will launch a Wayne Gretzky men's apparel collection this fall. Overall Sears expects that Target's departure will leave it in a stronger position, especially in women's and children's wear, home goods and footwear, he said. Sears is dropping its ailing electronics department and is replacing the items with mattresses, a segment in which the retailer is a market leader and makes money. It also is reducing its tool and hardware section by more than 50 per cent, he said. At the same time, it is expanding other categories whose prospects are more promising, including vacuums, fitness equipment and fitness apparel, he said. Sears is making significant investments in its information technology systems, he said. It will spend about $54 million on IT and store upgrades in 2015. In trying to cash in on Target's retreat, Sears has hired "dozens" of former Target employees, including some at its head office in Toronto. Editor's note: There might be life left in this brand and it certainly sounds like they've go the right CEO now. I for one would love to see them pull it out. theglobeandmail.com

Indigo named top Canadian retail employer brand, sixth overall Canada's largest book, gift and specialty toy retailer is delighted to be named the top Canadian retail employer brand, number six overall, according to the annual award given by Randstad Canada, a staffing, recruitment and HR company. The Randstad Award rewards and encourages best practices in building the best employer brands, and is the only employer award where winners are chosen entirely by workers and job seekers in search of employment opportunities within Canada's leading organizations. newswire.ca

Best Buy to invest $200M in their remaining stores & BestBuy.ca While they're closing 66 Future Shops and rebranding 65 others to Best Buy they'll still have 135 large formats, 56 Best Buy Mobile stores and their growing e-commerce business. Currently, 80% of our customers are within a 15 minute drive to a store and this won't change," says Ron Wilson, President and COO of Best Buy Canada. "We will continue to have a strong store presence in all major markets in Canada." The investments will include increasing staff numbers, expanding their online shopping features such as increasing availability of ship-to-store options and improving access to in-store inventory to online customers. retailsolutionsonline.com

Canada - Retail Job Fair for 30 retailers opening stores at the new McArthurGlen Design Outlet in Vancouver attracts massive crowd - with Target & Future Shop closures They had been expecting to see around 800 or 900 applicants, but more than double showed, lining up to meet the human resources teams of some 30 retail brands to vie for their sales and managerial jobs. The exit from Canada of major retail names, including Target and Future Shop, not to mention mutterings of more to come, has left a marketplace "with some very good candidates," said McArthurGlen general manager Robert Thurlow. The two-day job fair at the River Rock Casino in Richmond was a snapshot of the current retail job landscape: many more applicants than positions available.

More Canadians work in retail than any other sector. Long-term there might be reason to be optimistic, but lately the tally has been grim: almost 18,000 lost jobs with the exit from Canada by Target; another 1,500 with Future Shop closing; almost 100 with Sony leaving Canada. vancouversun.com

Michael Kors clamps down on counterfeit goods sold in Quebec - Suing 10 people because it's not a priority for police It has sued 10 Quebecers in relation to the distribution of counterfeit products. Kors, most famous for his handbags, hired a Quebec private investigation team and a law firm to dig up evidence so it could seize more than 4,000 knock-off items, including wallets, bags and watches. The lawyer representing Kors, Mathieu Piché-Messier, says they've opted to sue the perpetrators rather than going through the criminal system. He says civil court is often the best way to approach intellectual property crime cases. Mostly because of a lack of resources, [intellectual property] crime is not a priority for our police. Sometimes it's much faster and efficient to go through civil recourses and remedies," he said. In this case, they were able to gather enough evidence to show that ten defendants were involved in distributing fake Michael Kors items. He has asked the court to order the defendants to stop producing and remit the whereabouts of all the bootlegged items. cbc.ca

Canada's Convenience Stores Applaud new Federal Budget - no new taxes on Tobacco - fighting Canada's underground economy The CCSA, representing 25,000 stores, is applauding the government's decision to not increase the federal excise tax on tobacco or gasoline in this budget. Contraband tobacco is sold without mandated health warnings and without age verification checks, to anyone willing to buy. Tax hikes in previous years have driven the tobacco market underground. benzinga.com

Canadian Security's Focus On Retail Security one-day seminar A valuable opportunity for anyone interested in learning more about the latest techniques to combat retail crime. You can expect to hear more about: ● Organized Retail Crime ● Restorative Justice ● Online Fraud For full agenda and registration details visit: www.focusonseries.ca
Canadian Hacker Gets 18 Months In $100M Microsoft IP Theft - Xbox software theft A Canadian man involved in an international hacking ring was sentenced to 18 months in federal prison on Thursday for stealing more than $100 million in intellectual property and other proprietary business data from Microsoft Corp. and others, according to Delaware federal court records. David Pokora, 22, of Ontario pled guilty in September to a charge of conspiracy to commit computer intrusions and criminal copyright infringement for his alleged role in the cybertheft of software and data related to Microsoft's Xbox One gaming console and Xbox. law360

Apple in talks to launch Apple Pay in Canada in November

Metro and Hudson's Bay Co. interested in some Target Canada stores

Cross-border shopping takes nosedive as Canadian dollar drops

H&M's upscale fashion brand COS will open Canadian locations

DSW Designer Shoe Warehouse has revealed six new locations

Porsche Design has closed its Canadian stores, discontinued plans to open locations across the country

Michael Kors launches ecommerce site in Canada

Calgary man faces 36 charges in multiple credit card fraud cases In November 2014, police investigated a public tip that lead to several instances of credit and debit card fraud that occurred at a number of businesses between March and October 2014. Police believe Wannek entered stolen credit card numbers into PIN pads while making purchases, often against store policy, forcing store clerks to refund the purchases onto stolen debit cards. In other instances, he is believed to have increased the purchase amount on the PIN pad and refunded himself. Wannek is to appear in court April 28, 2015. globalnews.ca

Judge calls bat strike excessive; assault on Loss Prevention agent in Regina When Alan Boyd Pasap swung a bat at a Regina store security officer - "like he was chopping wood," in the words of the victim - and broke one of the man's limbs, it was not an act of self-defence, a judge ruled Thursday. "The force was unequivocally excessive," provincial court Judge Dennis Fenwick said Thursday in finding the 37-year-old guilty of aggravated assault. Crown prosecutor James Fitz-Gerald told court he'll seek a prison term of three to four years, given Pasap's previous record, which includes violence, when sentencing arguments are heard May 29. Defence lawyer Bob Hrycan didn't reveal precisely what term he'll suggest, but did note case law has established the starting point for such offences is around 18 months in jail. thestarphoenix.com

Employee bear sprayed in convenience store robbery in St John's 21-year-old man has been charged with robbery, following an incident Thursday night at a convenience store in the Goulds area of St. John's. The Royal Newfoundland Constabulary and K-9 unit responded to a call that a clerk was bear sprayed by a man who then stole a donation box from the store. thetelegram.com

Retail Fast Facts: April 2015
Highlights:
● Total monthly retail sales changed by 2.0 per cent over the comparable month last year.
● Total sales excluding food, automotive and gasoline changed by 5.7 per cent over the comparable month last year. Read more

e-commerce

Sponsored by The Zellman Group
Canadian government extends code of conduct to mobile payments Joe Oliver, Canada's Finance Minister, announced on April 13 that the Code of Conduct for the Credit and Debit Card Industry in Canada, a set of rules designed to protect merchants and cardholders, has been extended to mobile payments. The move will provide regulatory certainty for Canada's nascent mobile payments market, particularly given the prospect of Apple Pay coming to Canada this year. "There's very little mobile payments adoption in Canada, as NFC-enabled smartphones aren't available in sufficient quantities yet. Also, consumers lack awareness about NFC payments at the point-of-sale and need to learn how to load their card credentials onto smartphones," said Christie Christelis. However, Christelis said Canadian consumers are enthusiastic about using smartphones for purchases. The Code states card networks will not have the right to force merchants to accept contactless payments or to upgrade their POS terminals to accept contactless payments. Under the enhanced Code, mobile payments and contactless card-based payments are priced the same, so merchants cannot choose between different types of contactless payments. mobilepaymentstoday.com

The hidden risk of EMV conversion: E-retail fraud While effective against in-person fraud and terminal breaches, however, EMV cards can't stop fraud completely. Many payments professionals believe that EMV cards will simply force hackers to look to other avenues for fraud. Card-not-present (CNP) payment environments will be especially vulnerable, and may take on the criminal activity prevented by EMV's improved onsite protections. CNP fraud is expected to more than double from a total of $2.9 billion in 2014 to $6.4 billion in 2018. And as an EMV transition proceeds in the United States, fraud will shift from card-present transactions to other types of card payments that so far lack stringent protocols for authentication, says a white paper from the EMV Migration Forum, including e-commerce and other direct sales. Techniques that could help secure CNP transactions include device authentication, one-time passwords, and biometrics; big-data analytics for risk management and card validation; the "3-D Secure" messaging verification protocol; and tokenization, which replaces card data with surrogate values that have no value outside a specific merchant or transaction. But criminals are getting increasingly tech-savvy; some even worked around Apple Pay's tokenization to create new identities. retaildive.com

"Fraud is not a person - it is a dynamic grouping of statistics that deviate from the norm."
Stuart B. Levine, CFI, CFCI
CEO, The Zellman Group & Zelligent


ORC News
Sponsored by Security Resources
Santa Fe ORC gang of 5 busted hitting Target stores The Santa Fe County Sheriff's Office arrested five people this week who are suspected of stealing credit cards from mailboxes and using them to charge electronics that they sold to buy drugs, according to a court document. An employee of Target at 3550 Zafarano Drive alerted deputies that a customer had purchased items using three different credit cards at the store between March 30 and April 20. Deputies interviewed Moreno and Schroeder on Monday, the probable cause statement says, and they both confessed to purchasing merchandise from Target with stolen credit cards. They also said, according to the statement, that they would either sell or exchange the merchandise for drugs. According to the statement, they admitted that they stole the credit cards from Santa Fe County residents' mailboxes late at night or early in the morning. Deputies are still investigating who else might have been involved in the scheme, the statement says. santafenewmexican.com

ORC Waterford, MI., family - father, mother & son - sentenced for ORC for hitting Walmart & Meijer stores Ashlei Dawn Conway and her husband Roger Dale Conway were each sentenced to 23 days in the county jail and given credit for already serving that time for organized retail crime and second-degree retail fraud for stealing DVDs and video games from the store on M-59 in January. Roger Conway's son, Devlynn Neal Portscheller, was sentenced on the same charges to three days in the county jail, time he has already served, and 18 months probation. The deputy, who stopped their vehicle after one incident saw a large amount of sealed merchandise and asked the driver, identified as Roger Conway, where the items came from, and the suspect replied he did not know anything about it. However, while being booked into the jail, Roger Conway allegedly told the deputies, "We (expletive) up." When a deputy asked why, the suspect replied: "We are hungry." Among the stolen loot found in the vehicle, investigators said nearly $740 of it had been stolen from the Genoa Township Meijer earlier the same day. livingstondaily.com

Grab-And-Run Shoplifting Crew Busted in Oakland, CA. Lafayette police say they have located a car used in two downtown "grab and run" theft cases, arrested one of three suspects and are looking for the remaining pair. The trio, so far unidentified, are suspected in two thefts at the same downtown business on Thursday and Friday. In the two thefts they stole $4,000 in merchandise. news24-680.com

Philly man admits hitting PA State Police patrol car while fleeing police from The Home Depot Philadelphia man will serve time in state prison for his role in an organized retail theft ring that preyed on area Home Depot stores and for crashing into an Upper Moreland patrol car as he fled from police following one of those shoplifting incidents. Davin M. Jeter, 29, was sentenced to one to five years in a state prison and to an additional 5-year probation sentence after he completes his parole time following his guilty plea Thursday in Montgomery County Court to charges of theft, aggravated assault on a police officer and unauthorized use of a motor vehicle. theintell.com

Pennsylvania man sentenced to 30 months in for Target Burglary A Pennsylvania man suspected to be involved in as many as 14 retail burglaries around the country was sentenced to 30 months in prison on Thursday for breaking into a local Target department store in February. Elijah Aiken, 32, pleaded guilty to one count of third-degree burglary in Bristol Superior Court. He was arrested Feb. 4 along with two other co-defendants when they allegedly used a torch to cut a hole in the rear door of the Target at 600 Executive Blvd. All three men were arrested. Police said 14 other Target stores have been burglarized in the same manner in other Northeastern states, Florida and Texas. Target has reported $240,000 in losses. centralctcommunications.com

Woman Charged with Stealing $1500+ Worth of Baby Formula in Nashua, NH Nashua police said a Rhode Island woman turned herself on a warrant this week for stealing more than $1,500 worth of baby formula from a local store earlier this year. Nicole Maynard, 36, of 250 Washington St., Providence, was charged with felony theft. Police said on Jan. 22, she went into Nashua's Buy Buy Baby, loaded a shopping cart with formula, then fled the store. A surveillance camera captured the theft, police said. Maynard turned herself in to Nashua police on Monday. patch.com

Nearly $700 worth of hygiene products stolen from Walgreens in Chicago Someone took more than $690 worth of items from Walgreens on Wednesday, police said. The assistant manager at Walgreens, 635 Chicago Ave., told police a man entered the store around 11:45 a.m. on Wednesday and took a variety of hygiene products off the shelves, putting them in his bag, Dugan said. The man then walked out of the store without paying, police said. dailynorthwestern.com

Woman slips more than $1,100 worth of Radio Shack merchandise under dress A woman in a floral dress walked into a Radio Shack in Weston, slipped several computer parts under her dress and walked out with $1,140 worth of merchandise. The Feb. 26 theft was caught on surveillance video. It took a store employee several hours to notice that a large section of shelving was empty. Broward Sheriff's Office spokeswoman Dani Moschella said a man acted as a lookout while the woman placed seven computer components under her dress. It appeared that there was a bag hidden under the fabric of her dress. local10.com
Do you have an ORC case to share?
Share your ORC news and help the industry grow

Retail Crime News

Sponsored by NuTech National
Shots fired in armed robbery attempt at jewelry store in Kent Co, MI The Kent County Sheriff's Department is responding to the scene of an armed robbery at the Juhas and Sullivan Jewelry store, located at 1100 East Paris Avenue. That's located in an upscale shopping plaza with several other stores nearby. Police tell FOX 17 News that several suspects entered the store just before 11:30 a.m. Friday, with the intent of robbing the store. We're told that during the suspects' exit from the store, an employee fired a shot, or shots at the suspects. fox17online.com

Two Apprehensions at a Spokane, WA General Store ending in injury Three employees at the General Store on Division Street were left bruised and bloody after two separate shoplifters fought back after they were caught stealing. In the last four months, General Store manager, Jonathan Evans said they have already caught 78 people shoplifting. "We're dealing with more and more of this all the time," Evans said. "It's getting tough." Not everyone they catch is willing to cooperate, including the incident this week that ended in a fight right near the front door. krem.com

Widow of man shot in Farmington Mall in 2013 files Civil Suit against Mall and Security Provider The widow of a man who was repeatedly shot while in a parked car at a mall with his family in 2013 has filed a civil lawsuit seeking compensation from the men who allegedly pulled the trigger. Rhiannon Vialpando claims in her lawsuit that brothers Alejandro and Luis Ramirez are responsible for causing the wrongful death of her husband, Johnny Vialpando, outside the Animas Valley Mall in Farmington. Alejandro was convicted last week of first degree murder for the shooting. Luis is expected to appear at trial in July. Rhiannon Vialpando also claims the mall's owner, Rouse Properties Inc., and the mall's security provider, Valor Security, are also responsible for Johnny's death. krqe.com

Walgreens Loss Prevention guard chases alleged shoplifter on motorcycle A security guard at a Walgreens in Jersey City apprehended a man now charged with shoplifting $85 worth of products, Jersey City police said. At around 9:58 p.m. on Tuesday, the 29-year-old security guard saw a man later identified as Carnell Campbell, 47, take several items from the Walgreens without paying. The guard, Richland Hill said he tried to stop Campbell at the store, but that Campbell fled on a bicycle. At that point, the 29-year-old gave chase on his personal motorcycle. During the ensuing pursuit, Campbell swung a bike chain at Hill, "nearly striking him," the guard said. The guard apprehended Campbell. Campbell continued to struggle with the guard, "striking him about the body," before police arrived at the scene, Hill told police. Despite that, the guard did not sustain any injuries and declined medical attention. After police officers arrived and arrested Campbell for robbery and possession of a weapon for an unlawful purpose, Campbell blurted out "Yeah, I stole from the store, and I'm sorry, but that man didn't have to beat on me," the report said. Campbell also claimed that Hill held him at knife-point until police arrived, the police report said. The police report stated that "no knife was recovered at the scene," without saying whether the guard used a knife to maintain control of Campbell. nj.com

Charlotte, NC area Store clerk Shoots would-be Chainsaw Thief in the head A clerk reportedly shot a man in the head Thursday after he tried to steal a chainsaw from a Taylorsville store. The incident happened Thursday afternoon at Beasley's Power Equipment on N.C. 16 when a man ran out of the store with an expensive chainsaw. The man reportedly got into a vehicle and started driving away. Police said the clerk ran out of the store after the man and fired two shots at the vehicle. One of those shots hit the driver of the car in the head. The car then pulled over a few hundred yards away and the passenger and driver switched seats before heading down N.C. 16, where they were stopped by police. The man who was shot was taken to Carolinas Medical Center, and is reportedly in serious condition. wsoctv.com
Napa, CA man in coma after savage beating in Jewelry Store Robbery Napa man is fighting for his life after a savage beating during a jewelry store robbery. Fifty-five-year old Robert "Bob" Porter suffered a heart attack during the assault Monday afternoon. "They burst through the counter and started hitting him," store owner Kent Gardella told KTVU, "he was face down on the floor and one was on top of him, hitting him." Napa Valley Jewelers didn't reopen until Thursday, with a steady stream of customers coming by to express concern for Porter. In court Wednesday, Napa's District Attorney indicated that 17-year-old Darren Peters will be tried as an adult for attempted murder, along with other felonies. Peters had an alleged accomplice, also 17, who police say was his lookout, and is also charged as an adult. Both had run away the night before from a halfway house and school for troubled youth in Nevada City. ktvu.com

Suspected serial burglar nabbed at Milpitas mall The suspect allegedly stole credit cards and cash from purses belonging to employees. The suspect, later identified as Brown, was eventually located and arrested while he was still inside the mall, police said. During the course of the investigation, the officer determined Brown was responsible for 11 additional burglaries at businesses within the Great Mall. The burglaries occurred during business hours between March 4 and April 14, police said. mercurynews.com

Arrested Robbery suspect may be linked to Pinellas Park, FL spree A suspected armed robber is behind bars after officials arrested her in St. Pete Thursday night. As of Friday morning, the woman was charged with a count of armed robbery, but the investigation is not over. As FOX 13 previously reported, surveillance cameras captured several images inside a local CVS store last week. The suspect entered the store, approached the counter, brandished a knife and demanded money from the clerk, but ultimately ran away without getting cash. It happened just after 9 p.m. on a Wednesday night, and was one of three similar cases that same day. Now, the sheriff's office is working with Pinellas Park police, who are already investigating the other robberies, to see if the woman arrested is responsible for those too. One robbery went down at the Circle K around 2:45 a.m., and the other at a Subway hours later. myfoxtampabay.com
Two Men wanted for series of Brooklyn pharmacy robberies Police are looking for a group of men wanted for a series of pharmacy robberies in Brooklyn. Around 10 a.m. on Dec. 16, at a drugstore at 72 Manhattan Ave. in Brooklyn, three men entered the store and showed a firearm. They demanded Oxycodone. The three fled with $600 in Oxycodone, Hydromorphone and Promethazine pills, according to the New York City Police Department. Around 7 p.m. April 6, four men entered a drugstore at 5829 Avenue T in Brooklyn. One man displayed a gun, and demanded cash and pills. The suspects fled with $8,300 Oxycodone, Oxycontin and Percocet pills. 7online.com
Cross-Dressing Robber threatened to blow up a Medicine Shoppe Pharmacy with Fake Bomb in Overland, KS Police are calling it one of the most unusual armed robberies they've seen after a cross-dressing suspect who claims to be strapped with a bomb walks into an Overland pharmacy. Overland Police Chief Michael Laws says it happened Saturday around 12 p.m. when a man dressed in a wig, a mask, and neon green gloves walked into the Medicine Shoppe on Woodson Road demanding drugs. Surveillance images captured the armed robbery and an employee tells News 4 the suspect told the seven people in the store, including customers, to put their hands up and get into the bathroom. "He threatened the employees and the customers with an explosive device," said Laws. "They realized he wasn't kidding and they cooperated with him." Police said the thief got away with Vicodin and Hydrocodone. Surveillance cameras captured his escape on a bicycle. kmov.com
Popeyes Manager fired after robbery can return to work A manager of a fast-food restaurant in Texas has been offered her job back after saying she was fired because she wouldn't pay back the nearly $400 she turned over from the store's register during an armed robbery. Popeyes manager Marissa Holcomb, who is pregnant and has three children, also received an apology Wednesday from the restaurant's franchise owner. Holcomb says the armed man demanded money from the safe during the March 31 robbery, but she could only open the registers. Holcomb says that after the robbery, one of her managers told her that she had to pay the stolen money back or lose her job. Holcomb, who was offered $2,000 in back pay, isn't sure if she will return to the store in Channelview, which is about 16 miles east of Houston. nola.com

Walmart worker finds $4,000 in cash in parking lot; Loss Prevention tracks down rightful owner A Walmart worker discovered more than $4,000 in the parking lot that had been there for months, according to the Bangor Police Department. Police said on their Facebook page that earlier this week Brian Cassidy was picking up trash in the parking lot and discovered a piece of paper on the ground. Under that piece of paper was a stack of cash that was wet from being out in the snow all winter. Police said Cassidy turned the money over to Walmart security and an officer was called to the store. A member of the store's security team told the officer that a man had reported losing about $4,000 in the parking lot last winter. The officer was able to track down the owner of the money, Ou Chen, at a nearby restaurant where he worked. wmtw.com

State wide audit found credit card skimmers on 81 gas pumps throughout Florida's 6,000 gas stations


Robberies and Burglaries
● Baskin Robbins - Lynnwood, WA - Armed Robbery
● Bucky's - Omaha, NE - Armed Robbery/ Assault
● Cellular World - Orange Co, FL - Armed Robbery
● Connell Power Equipment - Barboursville, WV - Robbery
● CVS - Sandy Springs, GA - Armed Robbery
● Downtown Grocery - Meadville, PA - Robbery
● General Store - Spokane, WA - Robbery
● McDonalds - Varnell, GA - Shooting
● Medicine Shoppe - Overland, KS - Robbery
● Petland Discount - Medford, NY - Armed Robbery
● Shaefer's Indiana Turf - Fort Wayne, IN - Burglary
● Verizon Wireless - Orange Co, FL - Armed Robbery


Featured Job Listings
Sponsored by NuTech National
Feature Your Job Here For 30 Days -
70% Aren't On the Boards
VP of LP
Mattress Firm
Houston, TX
Mattress Firm
Director of LP
Lane Bryant
Columbus, OH
LinkedIn
Director AP
Big Lots
Columbus, OH
Big Lots
Director of LP
PacSun
Anaheim, CA
PacSun
Director Global AP
KFC & PH
Plano, TX
YUM! Brands
Director of AP, Corporate
Dollar General
Nashville, TN
Dollar General
VP Supply Chain, LP & Safety
Ross Stores
Ft. Mill, SC
Ross Stores
Director of Safety
Academy Sports & Outdoors

Houston, TX

Academy Sports & Outdoors


Dir, Pharmacy LP
Rite Aid
Camp Hill, PA
Rite Aid
Dir. Training & Communications - AP
Ralph Lauren
Lyndhurst, NJ
Ralph Lauren
Regional Dir AP
Rite Aid
Warwick, RI
Rite Aid
Regional Dir AP
Rite Aid
Baltimore, MD
Rite Aid
LP Corporate Sr Mgr
JC Penney
Dallas, TX
JC Penney
AP Manager
Ralph Lauren
New York, NY
Ralph Lauren
Regional LP Mgr
Dunham's Sports
South Central KY, Central TN or NC
Dunham's Sports
Regional LP Mgr
Dollar General
Midland/Odessa, TX
Dollar General
Sr Retail AP Specialist
REI
Bloomington, MN
REI
Coordinator, Corporate AP
Bi-Lo Holdings
Jacksonville, FL
Bi-Lo Holdings
LP Admin. Asst.
National Stores
Gardena, CA
National Stores
LP Operations Coordinator
Restoration Hardware
Corte Madera, CA
Restoration Hardware
LP Analyst
Restoration Hardware
Corte Madera, CA
Restoration Hardware
Market ORC Investigator
Macy's
New York, NY
Macy's
Security Officer
Wegmans
Pottsville, PA
Wegmans
National Account Sales Representative
Instakey
Denver, CO
Instakey
Sales Representative
NuTech National
Maitland, FL
NuTech National
National Account Manager
Vector Security, Inc
TBD
Vector Security, Inc

Limited Time Only - Post Your Multi-Unit LP jobs for FREE - Learn More Here

Daily Job Alerts


Appearing One Day Only
View our Internet Jobs Archives here
Store AP Manager
Home Depot
North Miami Beach, FL
Home Depot
LP Supervisor
JCPenney
Pueblo, CO
JCPenney
Dept Mgr LP & Safety
Lowe's
Salem, OR
Lowe's
Dept Mgr LP & Safety
Lowe's
Oceanside, CA
Lowe's
AP Manager in Training
Walmart
Lehighton, PA
Wal-Mart
AP Manager in Training
Walmart
Henderson, NV
Wal-Mart
AP Manager in Training
Walmart
Barstow, CA
Wal-Mart
AP Manager in Training
Walmart
Apple Valley, CA
Wal-Mart
LP Manager Hrly
Kmart
Salem, VA
Sears Holdings Corp
LP Manager Hrly
Sears
Chattanooga, TN
Sears Holdings Corp
LP Manager Hrly
Sears
Montgomery, AL
Sears Holdings Corp
LP Manager in Training
Sears
Nanuet, NY
Sears Holdings Corp
ETL Assets Protection
Target
Blue Ash, OH
Target
ETL Assets Protection
Target
New Jersey
Target
Mgr of LP Operations
Mattress Firm
Houston, TX
Mattress Firm

Home of the Industry's Original
On the Move

Julio Camacho was promoted to the position of Loss Prevention Manager Puerto Rico for Burlington Stores, Inc.
Juliet DeLuise was promoted to the position of Safety Manager for Burlington Stores, Inc.
Ash Warren was promoted to the position of Safety Manager for Burlington Stores, Inc.
Ken English was named Regional Loss Prevention Manager for Dollar General.
Mike George was named Regional Loss Prevention Investigator for Floor and Decor.

Post Your New Job or Promotion!
See all the Industry Movement


Your Career
Sponsor this section of the Daily
Why the Greatest Leadership Tool You've Overlooked is Gathering Dust on Your Bookshelf When was the last time you opened up a book? Most of us probably don't have a lot of downtime to pick up a piece of fiction, but it turns out that it could be key to unlocking the minds of our peers and helping us adapt to change. Walk in their shoes

How to Give Regular Feedback and Still Get Work Done As a leader, you probably feel overwhelmed with work as it is, so providing feedback can feel like just another item on your list. In order to still be productive with your own work, and let your team know how they can improve, here are some tips. Real time

Four Conditions That Leaders Create for Innovation to Thrive According to a research study, leaders can create innovative environments by making sure they have four specific condition. When these conditions are present, innovation can thrive and you can come up with new and dynamic ideas that you might not have had otherwise. Fuel the energy

5 Ways to Communicate With Your Team That Will Actually Get Results Commanding the respect of an entire team is difficult. In order to be a successful manager, you have to learn to communicate with authority. Here are some simple techniques you can use to get your team to take you seriously. Use statements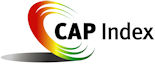 Tip of the Day
Sponsored by Vector Security
Developing your verbal skills and focusing on your specific word usage to convey messages is incredibly important for any successful executive. However, developing your ability to listen and hear what they're saying is just as important and in some cases may be even more so. It's great to be able to articulate in a manner that shows your subject matter expertise, but it's even better if you can mold it and change it on a dime based on what you're hearing and seeing. And if your too busy talking, you may just miss the entire conversation and say something that doesn't even fit. Active listening requires focus and attention and, as Abraham Lincoln said, "Better to remain silent and be thought a fool than to speak out and remove all doubt."

Just a Thought,
Gus







Upcoming Events
---
Recruiting?
Get your job e-mailed to everyone... everyday
Post on our Featured Jobs Board!
Reach your target audience in 2015 every day!
Request our 2015 Media Kit
update account / change e-mail
unsubscribe FEEDBACK
www.downing-downing.com

Advertise With The D&D Daily




36615 Vine Street, Suite 103
Willoughby, OH 44094
440.942.0671
copyright 2009-2019
all rights reserved globally