The D&D Daily Mobile Edition
April 27,

2015



The LP Industry's #1 News Source - Informing, Educating and Instilling a sense of community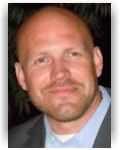 David Wood was promoted to Senior Manager of Loss Prevention / Risk / Sustainability for VF Corporation. David was previously Loss Prevention/Risk Manager, Outdoor & Action Sports for VF Corporation. Prior to joining VF Corp. in 2011, he worked as Loss Prevention Manager, Distribution and Logistics for Orchard Supply Hardware. David holds a Bachelor of Arts degree in Organizational Management from Ashford University. Congratulations, David!

News Brief
Sponsored by WG Security Products, Inc.
Violence breaks out near Camden Yards in Baltimore during Freddie Gray protests - Stores Vandalized, Looted A protest over the death of Freddie Gray, who was critically injured in police custody, started peacefully with thousands marching through downtown streets before the demonstration turned violent and volatile. Just before nightfall, groups of protesters marched from City Hall to the Camden Yards baseball stadium, where the Baltimore Orioles played the Boston Red Sox. Fans were told to briefly stay inside the stadium until the police were able to clear an intersection outside of the venue. Meanwhile, a smaller "splinter group" looted a convenience store and threw tables and chairs through storefront windows, shattering the glass. One group smashed the window of a department store inside a downtown mall and, at one point, a protester tossed a flaming metal garbage can toward a line of police officers in riot gear as they tried to push back the crowd. Earlier, a group of protesters smashed the windows of at least three police cars and got into fights with baseball fans outside a bar. Police Commissioner Anthony Batts said roughly 1,200 officers were deployed downtown and across the city to try and keep the peace. At least five officers were injured and 12 people were arrested. Batts said he believes the "very violent agitators" are not from Baltimore. newsday.com abc.net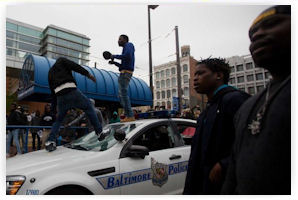 Wal-Mart, J.C. Penney and Children's Place sued by victims of 2013 Bangladesh factory collapse Wal-Mart, J.C.Penney, The Children's Place and the government of Bangladesh have been sued by victims and families of victims of a garment factory collapse that killed more than 1,000 people two years ago. The lawsuit, filed in federal court in Washington, claims the retailers and the government were aware of the unsafe conditions. When the eight-story building collapsed on April 24, 2013, 1,129 people were killed and about 2,515 people were injured. Many of the people were women and children. "Defendants knew, or with the exercise of reasonable diligence, should have known, that the Rana Plaza facility was not safe for human habitation," said the lawsuit filed Thursday in U.S. District Court for the District of Columbia. Retail defendants breached their duty to workers in the building, the lawsuit claims, by failing to implement standards and oversight mechanisms designed to ensure the health and safety of workers who manufactured clothing for their stores. The complaint said that retailers profit from the system of sourcing through subcontractors: "Although retailer defendants, and other Western buyers, contain strong language in their public policies against non-transparent subcontracting, factory owners report that many buyers turn a blind eye to the subcontracting practice." dallasnews.com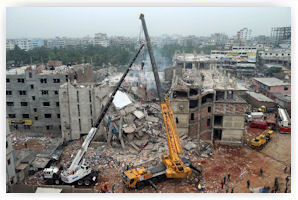 Protests mark Bangladesh garment factory collapse 2 years ago About 2,000 survivors, some on crutches, and relatives of victims gathered Friday at the ruins of a garment factory to commemorate the second anniversary of the Rana Plaza building collapse, which took more than 1,100 lives. According to Human Rights Watch, many retailers paid into the Rana Plaza compensation fund, but only $21 million of the $30 million needed to compensate survivors has been paid or pledged. Fifteen of the retailers whose labels were found in the wreckage have yet to contribute, the rights organization says. latimes.com

Gap, CVS and Target only retailers to make 'Corporate Responsibility List' Corporate Responsibility Magazine is out with the 2015 version of its 100 Best Corporate Citizens and only three, that's right, only three retailers were worthy of inclusion on the list. Gap was ranked 24th, followed by 29th ranked CVS Health and 75th ranked Target which received a yellow warning indicator for its data breach. Ironically, CVS Health was lauded for its efforts to stop selling cigarettes, yet cigarette-maker Philip Morris' parent company Altria, the company whose products CVS Health no longer sells, was higher ranked at 25th and unlike Target received no demerit for the fact that the products it manufactures are directly linked to death and disease. To view the complete list, click here. retailingtoday.com

Washington State Gov. Jay Inslee signs Attorney General Bob Ferguson's request to renew, expand ID Theft Task Forces Gov. Jay Inslee today signed into law Attorney General Bob Ferguson's request to renew and expand the state's only cross-jurisdictional task forces that combat identity theft in Washington. House Bill 1090, sponsored by Rep. Steve Kirby, D - Tukwila, passed both houses unanimously; 48 to 0 in the Senate April 13, and 97 to 0 in the House March 4. Its companion bill, Senate Bill 5058, was sponsored by Sen. Joe Fain, R - Auburn. The law reauthorizes the Financial Fraud and Identity Theft Task Forces established by the Legislature in 2009. In addition to renewing the Spokane County task force, it adds Snohomish County to the task force covering King and Pierce Counties. "These task forces have been one of our state's best tools for combating ID theft," said Ferguson. "Consumers lose billions of dollars every year to ID theft and financial fraud. I'm pleased the Legislature has agreed to continue providing this critical support for law enforcement." maplevalleyreporter.com

Canada: 33 suspects charged in $2-million ID fraud ring 98 charges laid against 33 people in Montreal, Hamilton and Toronto. Police say they have busted a sophisticated, nimble crime ring that used Internet malware, impersonation, a master forger and a legion of drivers and runners to take over the identity of hundreds of victims and steal at least $2 million from them and their banks. And three of four possible key players are from Hamilton. The joint forces probe dubbed Operation Springston resulted this week in raids in Montreal, Hamilton and Toronto, and 98 charges laid against 33 people. Fourteen were arrested and 19 are still being sought. Seven police services played a role in an investigation they described as "complex" and "far reaching." thespec.com

Romanian Police Break Up International Cyber-Gang that Stole Over $15M from Banks Romanian authorities have detained 25 people who are suspected of being members of an international gang of cyberthieves who hacked into banks, cloned payment cards and used them to steal over $15 million. The group is believed to have over 52 members of Romanian and other nationalities, and broke into computer systems belonging to banks from Puerto Rico, a U.S. territory, and Muscat, Oman, according to the Romanian Directorate for Investigating Organized Crime and Terrorism (DIICOT). csoonline.com

3rd-party POS failure at Starbucks leads to global outage for several hours The Seattle-based coffee company says it has resolved a point-of-sale computer outage that struck stores in the U.S. and Canada on Friday afternoon and evening. The outage made big news as baristas around the country, unable to ring up transactions, started giving away coffee at no charge, before the company announced that it would be closing stores early. "The outage was caused by an internal failure during a daily system refresh and was not the result of an external breach. We apologize to our customers for this inconvenience," Starbucks said in a statement Saturday after repairing the issue. The company's point-of-sale system runs on MICROS Simphony. An apparent internal Starbucks incident report - posted on Reddit by a person identified as a "corporate partner" - said "the main POS table was deleted," preventing any stores from logging in and ringing transactions. geekwire.com

Massive confusion at Apple - Less than a quarter of people who bought an Apple Watch have actually received them It's clear by now that the Apple Watch launch did not go as planned, with demand outstripping supply and vast numbers of customers potentially waiting weeks for their new smartwatch to arrive. Market research company Slice Intelligence has now put a number on this - claiming that just 22% of Apple Watch buyers actually received their order by this weekend, the official date when Apple said the watches would actually become available. Meanwhile, amid widespread confusion as to the device's availability, a source at Apple is telling us that the launch is being viewed internally by some employees as a massive screw-up. Apple had decided to ditch its traditional blockbuster launches, with retail chief Angela Ahrendts telling staff in a leaked memo that "the days of waiting in line... are over." Significantly, the Watch isn't even available to buy in store. While customers can (but only with an appointment) try the device on in stores, there aren't any units actually there to purchase, and there will not be for the foreseeable future. This has caused serious confusion among customers, with Ahrendts acknowledging in a video that retail staff have been "bombarded with questions" from customers unable to understand why - despite the apparent "launch" - the Apple Watch isn't actually available to buy. businessinsider.com

Consumers are spending again - but they've gotten smarter about it As retailers continue to see only modest sales growth even as gas prices have fallen, the conventional wisdom has been this: Consumers are still cautious in the wake of a bruising recession, and they're just not ready to open their wallets yet. But what if shoppers' battlescars from the recession aren't quite as bad as they've been made out to be? That's the case that MasterCard executive Sarah Quinlan made in a presentation at the Global Retailing Conference in Tucson on Thursday. Quinlan and her analytics team study billions of purchases made on MasterCard's payment network - as well as with checks and cash - to identify consumer spending patterns. And they've come to a different conclusion: Shoppers aren't really that skittish; they're just spending their money differently than they did before the recession. washingtonpost.com

Abercrombie & Fitch to tone down Ad Images
In an attempt to refresh the brand, Abercrombie is looking to shake off its ab-oriented image. By the end of July, the brand, along with its sister brand Hollister, will no longer use sexualized marketing tactics, including its famed shirtless in-store models. "We have moved away from sexualized marketing," Mackenzie Bruce, spokeswoman for Abercrombie, told Adweek. "Today, our marketing has undergone a significant evolution. We are using mostly color images and are focused on showcasing product and trends." adweek.com

LVMH's Bulgari to Develop Dubai Hotel, Residences With Meraas Bulgari SpA, the Rome-based jeweler and perfume maker, and Dubai developer Meraas Holding LLC plan to build a luxury resort and homes on a manmade island off the Middle Eastern city's shore. The development will include a 101-room hotel, 20 hotel villas, 165 apartments, 8 penthouses, 15 mansions as well as a 50-berth marina and Bulgari yacht club, the companies said at a briefing on Monday. bloomberg.com

NRF Protect Session - 'Unbreakable: How to Secure Your Supply Chain' A lot can happen in the time it takes for a product to get from supplier to customer: everything from simple theft to international piracy. With the typical retail supply chain now stretching around the world and through cyberspace, how can you best ensure loss prevention? LP professionals offer you a primer on the essentials of supply chain security in the 21st century, from the logistics involved in securing the transport of goods to government policies that help protect the retail sector. This session at the upcoming NRF Protect Conference features David Blackorby, VP Global Security Operations, Walmart Stores, Inc. nrf.com

Starbucks plans 1,650 net new stores globally in 2015

Gymboree to close 30-40 stores, open 12

Sears Hometown launches 51-store refresh program

Meijer invests $50M to remodel 4 Ohio supercenter stores

Wal-Mart's sudden closure has crippled a California city

Former Abercrombie CEO Jeffries left company with $27 million

FBI takes over ATM skimming case in Santa Fe, NM


Quarterly Same Store Sales Results
Starbucks Q2 up 7% with net revenues up 18%


Last week's most popular news article --

Rite Aid post Director, Pharmacy Loss Prevention on LinkedIn two days ago
All the news - One place - One Source - One Time
The D&D Daily respects your time
& doesn't filter retail's reality
Report Your News!
(content subject to approval)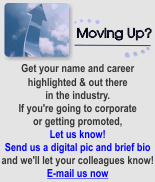 Vendor Spotlight


Your Trusted Partner for Comprehensive Security Solutions

Providing Security Solutions throughout the United States, Canada and Puerto Rico.
SECURITY RESOURCES is a leading national security firm providing security guard and investigative solutions with proven performance and quick response. Our extensive industry experience managing over 900 security officers through our own offices helped us to build a proprietary national security network from the ground up. For your national or local security needs, gain the Security Resources Advantage.

POWER to respond quickly to real-time events

FLEXIBILITY to expand and contract the guard force as realized in response to needs

CONSISTENCY across multiple locations through standardized communication and a proven process



Loss Prevention News Network

New York Metro ORC Alliance
NYC's New ORC Effort
The Start Up - The Vision - The Team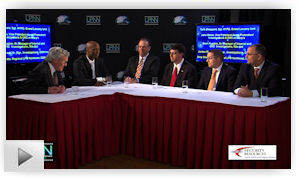 Learn about the New York Metro Organized Retail Crime Alliance from some of the key members who helped launch this key public-private partnership in September 2014 - Tarik Sheppard, Sgt. NYPD, Grand Larceny Unit; John Matas, VP Asset Protection/ Investigations & ORC, Macy's; Sean Huggins, Sr. Manager of Internal and ORC Investigations, Rite Aid; Jordan Rivchun, Sr. Regional LPM, DSW Inc.; and Chip Chiappetta, Regional LPM Northeast, DSW Inc. Hear why the NYPD got involved, what makes ORC in NYC unique, what the most prevalent ORC crimes are, and how the effort to establish a National ORCA is finally coming along.
---
In this LPNN Quick Take, Amber Virgillo chats with Nicholas Khalil, CEO, Checkview. With a customer-first approach built on honesty and integrity, learn why the industry is starting to take notice of Checkview - starting with their satisfied customers.

Solution Providers, have a video or commercial you want to publish? Contact us.


"U-Tip - The Two Minute Tip"
Ed Wolfe, VP of Business Development, WG Security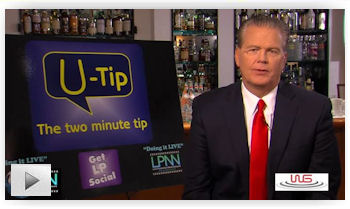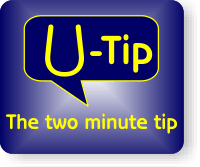 Ed Wolfe, Vice President of Business Development for WG Security, shares a simple piece of advice about budgets in this "U-Tip." In his conversations with customers, Ed always hears the same anguish from LP directors and VP's over their budgetary process. As a 35-year veteran of the LP industry and a former VP of Loss Prevention for various retailers, Ed shares a straightforward way to make budget planning less painful -- Prepare a budget that matches your company's goals.

One little piece of advice could make all the difference in someone's career.
e-commerce

Sponsored by The Zellman Group
Contactless payment systems have weaknesses
Stolen EMV cards can be used to make payments below the amount required for a PIN number, and stolen card details can possibly be registered with electronic wallets, Matthew Ngu, engineering manager with RSA, said Wednesday in a discussion on the security of contactless payment systems - including Apple Pay and Google Wallet. He added that data gleaned from chip cards can be transferred over to magnetic stripe cards, and went on to say that magnetic stripe cards should just be phased out altogether. In the future, malware on an iPhone or Android device could be an issue - "I haven't seen this yet, but it's certainly a possibility," Ngu said, adding that he has already seen instances of man-in-the-middle attacks against readers. Could an attacker simply walk alongside someone and read an EMV card, possibly forcing random charges? Ngu said it is possible, but that an attacker would have to be close. He explained that the EMV standard requires the card to be about an inch from the reader, and that amplifying the power could increase the distance to a "couple" of feet away. scmagazine.com

Amazon.com product sales slow, but not services
Amazon.com's sales growth in the first quarter continued to outpace the overall e-commerce growth rate, especially Web services, but expenses related to interest and currency exchange caused the online leader to report a $57 million net loss. Total sales for the quarter ended March 31 increased 15% to $22.72 billion but a strengthening of the U.S. Dollar caused a $1.3 billion currency exchange headwind. In a statement that accompanied the first quarter results, founder and CEO Jeff Bezos made no mention of the company's financial performance aside from a reference to the Amazon Web Services division known as AWS. "AWS is a good example of how we approach ideas and risk-taking at Amazon," Bezos said. "We strive to focus relentlessly on the customer, innovate rapidly, and drive operational excellence. We manage by two seemingly contradictory traits: impatience to deliver faster and a willingness to think long term. We are so grateful to our AWS customers and remain dedicated to inventing on their behalf." retailingtoday.com

Starbucks' Mobile Transactions Top 8 Million Weekly

Hy-Vee is adding grocery delivery, in-store pick up options

Survey: 95% Of E-Retailers Say They Meet eCommerce Needs

"Fraud is not a person - it is a dynamic grouping of statistics that deviate from the norm."
Stuart B. Levine, CFI, CFCI
CEO, The Zellman Group & Zelligent


ORC News
Sponsored by Security Resources
Clarkesville man charged with stealing nearly $1 million in products from Distribution Center in Jefferson Co, GAer in Jefferson Co, GA The Georgia Bureau of Investigation charged Russell Scott Tittle, 42, of Clarkesville, with four counts of cargo theft, a new law passed last year to combat the growing crime of thefts at distribution centers, rail yards and sea ports, according to John Cannon, GBI agent in charge of a special Major Theft Unit based in Conyers. Tittle, who was employed by a company moving products at the distribution center, remained in the Jackson County Jail on Friday without bond. The GBI began its investigation in late January, soon after Reckitt Benckiser, a 40,000-square-foot distribution center in Jefferson, reported to Jefferson police that two trailers full of products were missing, according to Jefferson Police Investigator Sgt. James McNatt. Among the items missing in large quantities congestion medicine, police said. The investigation led to the recovery of between $750,000 to $800,000 of the $974,000 worth of stolen products, which included over-the-counter medications and food. Investigators were able to find leads in the case in nearby counties, including Franklin and Madison counties. onlineathens.com

Macy's Robbery at Tuttle Mall, Columbus, Ohio caught on tape On March 5, about 8:55 p.m., four unidentified subjects entered the south entrance of Macy's at Tuttle Crossing & Hayden Run. They then went to the Men's Polo department where at least 15-20 items of clothing were selected and taken into dressing rooms. Seven minutes later the group left the store via the south entrance, carrying large, filled shopping bags. Further review of the surveillance footage shows that the three female suspects had previously been in the Men's Polo department at which time they systematically rearranged pieces of clothing on a certain rack and in areas that made it easier to steal when they returned. The suspects are all black, three females and one male, and in their late teens to early 20's. They were all wearing black & dark clothing. abc6onyourside.com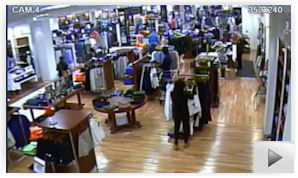 'Tampa Bay's ORC Rings' Keeping Detectives Busy As a Clearwater police officer, Lesa Phillips remembers encountering shoplifters, many of them people down on their luck and stealing food to get by. But in her new role this year as a detective in the department's economic crimes unit, Phillips is investigating retail theft rings. "It's taken to a whole new level," Phillips said, "and it's basically become a career for these people. In Pinellas County, the Sheriff's Office is investigating a ring composed of more than 10 people who are accused of stealing about $25,000 in merchandise from stores in Hillsborough, Pasco and Pinellas, and then returning the items for money, according to an arrest report. At least one arrest has been made. Detectives declined to discuss the case because it is active. Smith, who investigates retail theft in Tampa, said he encounters organized groups regularly: most of the roughly 20 cases in his workload involve rings. Although clothing and perfume are typical targets, sunglasses have also become popular among thieves: So far this year, about $30,000 worth of sunglasses have been reported stolen in Tampa, he said. tampabay.com

Biloxi, MS Man caught concealing over $1000 of merchandise at Belk Police arrested a man Sunday afternoon on a charge of shoplifting more than $1,000 worth of merchandise from Belk department store in Edgewater Mall. Officers responded about 2:12 p.m. to a report from Belk loss prevention employees, who said Bishari Waleed Epting, 37, concealed merchandise inside a black plastic bag and attempted to exit the store, Lt. Christopher De Back said in a release. The employees made contact with Epting as he tried leaving the store. Police arrived and arrested Epting on a charge of felony shoplifting. He is being held in the Harrison County jail in lieu of $25,000 bond. sunherald.com

Kentucky Woman indicted on Criminal Syndicate Charge/Organized Retail Theft A Perry County woman is facing a felony organized crime charge in an indictment handed down this week. According to the indictment, handed down by a Pike Grand Jury Wednesday, Stacey Lynn Combs, 36, of Eagle Branch Road, Hazard, is facing felony charges of theft and engaging in a criminal syndicate in relation to an incident which occurred last November. According to the indictment, on Nov. 12, 2014, Combs stole more than $500 worth of merchandise from Dollar General store. The indictment also said that from July 2014 to November 2014, Combs acted with two more persons in acquiring stolen merchandise for the purpose of reselling it while maintaining a criminal syndicate. news-expressky.com

Philadelphia man pleads guilty to Crashing into a Police Car during ORC theft at Home Depot
Do you have an ORC case to share?
Share your ORC news and help the industry grow

Retail Crime News

Sponsored by NuTech National
Fountain Valley, CA Police fatally shoot Rite Aid Burglar after he allegedly grabbed officer's gun A police officer in Fountain Valley shot and killed a man Sunday morning while responding to a reported burglary at a Rite Aid. About 4 a.m., officers responded to the pharmacy in the Fountain Valley Promenade shopping center on reports of a burglary in progress. When officers arrived, they found the store's front door smashed and found the man inside standing on a ladder. The man fought with officers as they tried to subdue him. He bit one officer's arm and snatched another officer's handgun. Officers made "repeated commands" for the man to drop the handgun, but he did not comply, police said. The officer who had been bitten fired a single shot at the man, who was transported to the hospital and later died, police said. Another officer suffered a minor injury to the hand during the struggle. The police department is investigating the incident along with help from the Orange County district attorney's office. latimes.com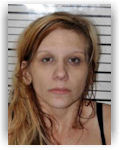 Target Employee Stabbed while trying to Thwart Shoplifter in D'Iberville, MS A woman stabbed a Target employee who tried detaining her on suspicion of shoplifting Sunday afternoon, police said. Officers responded to a report of a shoplifting and assault about 3:34 p.m. at Target on Promenade Parkway. Deputy Chief Clay Jones said Darnise Ladner was stopped by Target's loss prevention team for shoplifting and, upon being escorted to the loss prevention office, pulled out a knife and stabbed one of the store's associates in the abdomen and back. Ladner tried to flee the store with the stolen merchandise, but other store personnel detained her until police arrived, Jones said. The victim transported himself to an area hospital where he was treated for his injuries and released. Officers booked Ladner on charges of armed robbery and aggravated assault. sunherald.com

Police investigate a Double Shooting near Walmart in Chattanooga, TN Collegedale Police investigate a double shooting at the Ooltewah Crossing Shopping Complex on Reagan Lane. That's the strip mall next to Walmart. Authorities say a man came to the shopping center to speak with a woman who works at one of the retail stores. Once she came outside, the two had some sort of exchange, and then he shot the woman with a shotgun, before turning the weapon on himself. Police said, "when the police arrived they had one party that was deceased and another party with multiple gunshot wounds to the lower extremities. The party with the lower extremities has been transported to a local hospital." The woman survived surgery. The name of the man who committed suicide has also not yet been released. timesfreepress.com

Man shot in face during gas station melee in Gainesville, FL Two men were arrested Sunday morning after an altercation between two groups of people at a convenience store resulted in shots being fired, leaving one victim with a gunshot wound to the face that required surgery. Gary E. King was shot during a melee outside of a Kangaroo convenience store at 1255 W. University Ave. and was taken to UF Health Shands Hospital, where he underwent surgery. King was discharged from the hospital later Sunday, according to police. At around 2:30 a.m. Sunday, a GPD sergeant witnessed two groups of people fighting outside the Kangaroo convenience store and heard gunshots being fired. gainesville.com

Burglars try, fail to break into Burberry on Chicago's Magnificent Mile Burglars tried to break into the Burberry store on North Michigan Avenue early Sunday morning but fled before managing to grab any of the high-end plaid merchandise. About 2:50 a.m. Sunday, the would-be thieves forced their way into one of the building's doors in the alley off the 600 block of North Michigan Avenue. When they pried open the door, a burglar alarm was triggered, prompting the burglars to flee. The door led to a stairwell inside the building, and the burglars never made it into the actual store. chicagotribune.com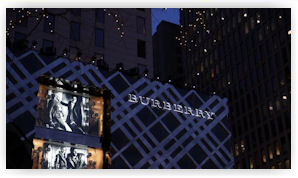 Hiding man robs Harbor Freight in Battle Creek, MI at closing Battle Creek police are searching for a man who hid inside Harbor Freight Tools and then robbed employees of $8,000 in cash as they were closing. Officers were called about 9:30 p.m. Saturday to the store at 30 S. 20th St. Employees said they were closing the business and that the man wearing a ski mask and gloves and carrying a small handgun had been hiding inside and emerged and demanded the deposit money. He took the cash and left through a rear door. Police said he fled on a bicycle. battlecreekenquirer.com

Two Injured When SUV Crashes Into Deals Discount Store In Queens, NY An SUV crashed into a store in Queens on Sunday. It happened around 4:30 in the afternoon, at the intersection of Rockaway Boulevard and 109th Avenue. Two people were injured, but not seriously, police said. The crash came as a shock for shoppers at the South Ozone Park discount store. The SUV finally came to a stop on a bed of broken glass and crushed display shelves in the store's toy aisle. cbslocal.com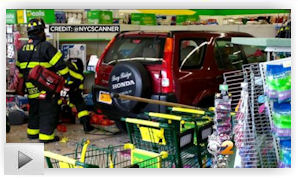 Arrest made in South Carolina's Grand Strand Arson investigations Authorities say a 21-year-old man charged with setting two fires along the Grand Strand is likely responsible for dozens of fires around Murrells Inlet and Garden City Beach the past two years. Horry County Police said Ryan Casiere was arrested Friday afternoon and charged with fires set in the trash bin near a bar and at a home under construction. Arrest warrants also connect Casiere to dozens of other arson cases with fires set in a grocery store bathroom and a mattress store along with several trash bins and in the beds of pickup trucks. The fires started in late 2012. wyff4.com

St John's NF, CN Man Who Sent Sobey's Security Guard to Hospital in Court Today A man accused of sending a supermarket security guard to hospital is appearing in court today. Derek Oliver is alleged to have roughed up the guard, who was treated for his injuries and released. The incident happened at Sobey's on Ropewalk Lane around 9:30 Friday night, and with help from people who were in the store at the time, RNC were able to apprehend Oliver. He has been charged with assault, theft under $5,000. vocm.com

UK: Suspected shoplifter falls from second floor window 20ft onto pavement in front of horrified passersby A passerby captured the dramatic fall on camera as it happened, at a branch of the upmarket cosmetics store Molton Brown in the City of London this morning. mirror.co.uk

North Vernon, IN Police arrest 2 with over $1000 in Counterfeit bills

Robberies and Burglaries
● Advanced Auto - Houma, LA - Robbery
● Camden Seafood - Camden, NU - Burglary
● Check Exchange - Augusta, GA - Burglary
● CVS - Woodstock, GA - Armed Robbery
● CVS - Richmond, IN - Robbery
● CVS - La Vale, MD - Robbery
● CVS - Wilmington, NC - Armed Robbery
● Discount Tobacco - Champaign Co, IL - Armed Robbery
● Dollar Tree - Council Bluffs, IA - Armed Robbery
● Dunkin Donuts - Manchester, CT - Robbery
● Family Dollar - Lehigh Acres, FL - Armed Robbery
● Flowerama - Cedar Rapids, IA - Robbery
● Harbor Freight - Battle Creek, MI - Robbery
● Lee's Food - Knoxville, TN - Armed Robbery
● Speedway - Miami Twp, OH - Armed Robbery
● Subway - Wichita, KS - Robbery
● Sunoco - Orange Co, FL - Shooting
● Texaco - Houston, TX - Burglary
● UPS Store - N. Smithfield, RI - Armed Robbery
● Walgreens - Rockdale Co, GA - Robbery
● Walmart (Money Center) - Lehigh Acres, FL - Armed Robbery
● Western Food - Oklahoma City, OK - Armed Robbery
● 7-Eleven - Sparks, NV - Armed Robbery
● 7-Eleven - Chesterfield, VA - Armed Robbery


Featured Job Listings
Sponsored by NuTech National
Feature Your Job Here For 30 Days -
70% Aren't On the Boards
VP of LP
Mattress Firm
Houston, TX
Mattress Firm
Director of LP
Lane Bryant
Columbus, OH
LinkedIn
Director AP
Big Lots
Columbus, OH
Big Lots
Director of LP
PacSun
Anaheim, CA
PacSun
Director Global AP
KFC & PH
Plano, TX
YUM! Brands
Director of AP, Corporate
Dollar General
Nashville, TN
Dollar General
VP Supply Chain, LP & Safety
Ross Stores
Ft. Mill, SC
Ross Stores
Director of Safety
Academy Sports & Outdoors

Houston, TX

Academy Sports & Outdoors


Dir, Pharmacy LP
Rite Aid
Camp Hill, PA
Rite Aid
Dir. Training & Communications - AP
Ralph Lauren
Lyndhurst, NJ
Ralph Lauren
Regional Dir AP
Rite Aid
Warwick, RI
Rite Aid
Regional Dir AP
Rite Aid
Baltimore, MD
Rite Aid
LP Corporate Sr Mgr
JC Penney
Dallas, TX
JC Penney
AP Manager
Ralph Lauren
New York, NY
Ralph Lauren
Regional LP Mgr
Dunham's Sports
South Central KY, Central TN or NC
Dunham's Sports
Regional LP Mgr
Dollar General
Midland/Odessa, TX
Dollar General
Sr Retail AP Specialist
REI
Bloomington, MN
REI
Coordinator, Corporate AP
Bi-Lo Holdings
Jacksonville, FL
Bi-Lo Holdings
LP Admin. Asst.
National Stores
Gardena, CA
National Stores
LP Operations Coordinator
Restoration Hardware
Corte Madera, CA
Restoration Hardware
LP Analyst
Restoration Hardware
Corte Madera, CA
Restoration Hardware
Market ORC Investigator
Macy's
New York, NY
Macy's
Security Officer
Wegmans
Pottsville, PA
Wegmans
National Account Sales Representative
Instakey
Denver, CO
Instakey
Sales Representative
NuTech National
Maitland, FL
NuTech National
National Account Manager
Vector Security, Inc
TBD
Vector Security, Inc

Limited Time Only - Post Your Multi-Unit LP jobs for FREE - Learn More Here

Daily Job Alerts


Appearing One Day Only
View our Internet Jobs Archives here
Manager of LP Analytics
Dick's Sporting Goods
Pittsburgh, PA
Dick's Sporting Goods
LP Manager
Macy's
Ann Arbor, MI
Macy's
AP Team Leader
Target
San Jose, CA
Target
AP Team Leader
Target
Superior, WI
Target
AP Manager in Training
Walmart
Champaign, IL
Wal-Mart
AP Manager in Training
Walmart
Scottsbluff, NE
Wal-Mart
AP Manager in Training
Walmart
Cockeysville, MD
Wal-Mart
AP Manager in Training
Walmart
New Roads, LA
Wal-Mart
AP Manager in Training
Walmart
Page, AZ
Wal-Mart
Multi Unit LP Manager
Kmart
Traverse City, MI
Sears Holdings Corp
LP Manager
Kmart
Mableton, GA
Sears Holdings Corp
LP Manager
Kmart
Tehachapi, CA
Sears Holdings Corp
LP Manager
Kmart
Yakima, WA
Sears Holdings Corp
LP Manager Hrly
Kmart
Lafayette, IN
Sears Holdings Corp
LP Manager Hrly
Kmart
Stevensville, MD
Sears Holdings Corp
LP Manager Hrly
Kmart
Marshall, MI
Sears Holdings Corp
Territory LP Manager
Sears
Hoffman Estates, IL
Sears Holdings Corp
LP Manager Hrly
Sears
Kaneohe, HI
Sears Holdings Corp
LP Manager Hrly
Sears
Alpharetta, GA
Sears Holdings Corp
LP & Safety Specialist
Lowe's
Norwalk, CT
Lowe's
LP & Safety Specialist
Lowe's
San Jose, CA
Lowe's

Home of the Industry's Original
On the Move

David Wood was promoted to Senior Manager of Loss Prevention/Risk/Sustainability for VF Corporation.

Post Your New Job or Promotion!
See all the Industry Movement


Your Career
Sponsor this section of the Daily
How to Shine and Gain the Promotion You Want Whether you've been at your job for a year or two or for years, when you're looking to move up the ladder there are no hard and fast rules. There are guidelines that can help increase your odds at getting that promotion. Here are some steps you can follow to make sure that you are the one who stands out. Make yourself indispensable

3 Counterintuitive Things You Should Do After You Get a Promotion You have just received the exciting news: you got a promotion! As much as you are pumped up about this change, you're not quite sure you can excel at this next level. To make sure you are successful, here are three counterintuitive truths that need to be faced. Figure out what you won't be doing anymore

Last week's most popular articles--

8 Surefire Ways to End Every Day on a Positive Note When we have a crazy day, the universe is telling us that it's reality and there's nothing we can do to prevent these kinds of days from happening at some point. When the day takes a turn down a stressful road, try these tips to turn it around and end your day on a positive note! Exercise

How to Stand Out as a Leader: 6 Tips
In order to get ahead in business and life, you have to stand out from the crowd, do things a bit differently, make an impact. This means being intentional about how you conduct yourself. Here are some tips on how you can really stand out as a leader. Set your eyes on the prize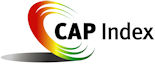 Tip of the Day
Sponsored by Vector Security
Interacting in large networking groups can be very challenging even for the most seasoned of executives. The speed, the number of people, and the amount of information shared can be overwhelming. However, the one basic principal you can rely on is keep it simple, one person at a time and focus on that person both mentally and visually. Slow it down in your head and make sure you communicate clearly and sincerely regardless of the background you have with anyone or any group. Because at the end of the day you're all part of the same industry, the same community, and everyone has the same objective: to help develop and represent the industry as professionals.

Just a Thought,
Gus







Upcoming Events
---
Recruiting?
Get your job e-mailed to everyone... everyday
Post on our Featured Jobs Board!
Reach your target audience in 2015 every day!
Request our 2015 Media Kit
update account / change e-mail
unsubscribe FEEDBACK
www.downing-downing.com

Advertise With The D&D Daily




36615 Vine Street, Suite 103
Willoughby, OH 44094
440.942.0671
copyright 2009-2019
all rights reserved globally