The D&D Daily Mobile Edition
April 30,

2015



The LP Industry's #1 News Source - Informing, Educating and Instilling a sense of community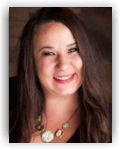 Lauren Danchick has joined The Zellman Group, LLC as the Sr. Manager of Recovery Client Services. Lauren is a respected veteran of the Loss Prevention industry with expertise in Civil Recovery, Restorative Justice and Customer Relations. Lauren's expansive knowledge in Civil Recovery is the result of more than 8 years managing recovery efforts which has given her the strong foundation required to excel in the civil recovery industry. Lauren has spent the last year working in the Restorative Justice field. She used her knowledge of Civil Recovery and retail Loss Prevention to help guide decisions in this growing industry. Her natural ability to build strong relationships with clients is an invaluable asset that has served her well. She has earned the respect of hundreds of LP professionals. Lauren has the ability to anticipate needs and the expertise to answer questions in Civil Recovery and Restorative Justice. Lauren holds a degree from Los Angeles Valley College and she is Wicklander-Zulawski certified. Congratulations Lauren!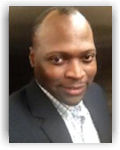 William Wilson, Jr was named Corporate Manager of Loss Prevention and Security for Half Price Books. William was previously the Regional Loss Prevention Director for Compass Group - North America before taking on this new position. William has also held other loss prevention leadership positions for such retailers as Sears Holdings Corporation as the National Crisis Manager - Complexity 1 and as a District Loss Prevention Manager. He worked at Marshalls as a District Loss Prevention Manager, KB Toys as a Regional Loss Prevention Field Manager, Stage Stores as a Regional Loss Prevention Manager and Kmart Super Centers as a Loss Control Manager. William earned his Bachelors of Science in Business Management from Henderson State University. Congratulations William!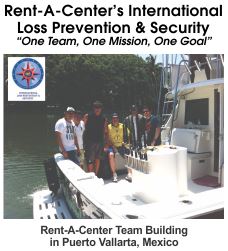 Rent-a-Center's International Loss Prevention & Security Team Enjoy Some Free Pizza!

2014 Group LP Selfie Award Winners
Last Friday, the team from Rent-a-Center's International LP & Security department got together for a free pizza party lunch, as winners in the D&D Daily's 2014 "Get LP Social" Competition. Jim Carr, Sr. Director, Global Loss Prevention for Rent-a-Center, submitted a picture to the Daily last year of he and his team on a recent trip to Puerto Vallarta, Mexico. In addition to receiving a free plaque for their submission, RAC was one of three LP teams to win a pizza party after being selected in our live drawing in NYC in January. According to Jim, the group enjoyed getting together for the casual lunch, as they all reminisced about the Puerto Vallarta trip. "Everyone's ready to go back!" Jim said. (Sounds like another great photo op!)

A special thank you to NuTech National - sponsors of the GLPS program - for providing the pizzas to our winners! And thank you to all the LP teams who submitted photos over the past year - Keep 'em coming! Let's continue Getting LP Social!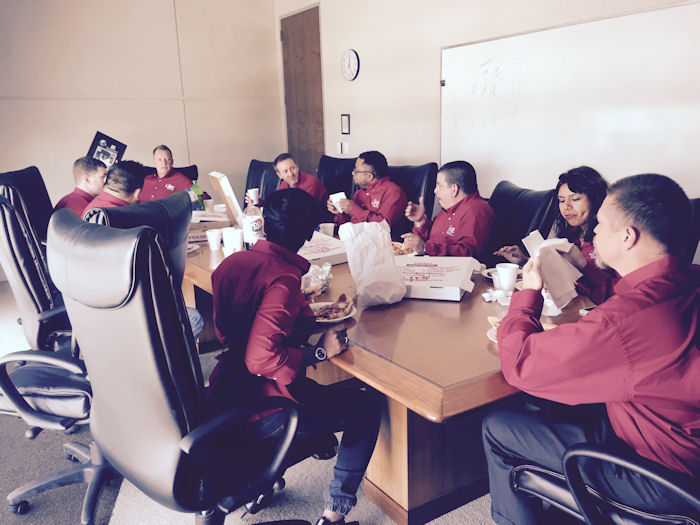 Rent-a-Center's International LP and Security Team digging into some well-deserved pizza.


News Brief
Sponsored by WG Security Products, Inc.
Baltimore police hand report on Gray death to prosecutor - When will they release findings?
Baltimore police have completed their investigation into the death of Freddie Gray and turned over their findings to prosecutors - one day earlier than the department's self-imposed deadline, the commissioner said Thursday morning. Authorities have said the state's attorney's office will review the information, consider charges and decide how to move forward.
Editor's Note: When the results are made public a response will come. Let's keep them all safe out there.
yahoo.com
Hundreds rally last night - 60 arrested - in Manhattan's Union Square protesting death of Freddie Gray
Several hundred protesters began gathering in Manhattan's Union Square Wednesday night, chanting "no justice, no peace" and "hands up, don't shoot" as police officers watched. Later, a group of protesters spilled into the street disrupting traffic. The police moved in and began making arrests. Officers with batons had to push the crowd back onto the sidewalk. Another group of protesters marched north to Times Square where they held a "die in" by lying on the ground.
crainsnewyork.com
Empty Streets New Threat to Businesses in Baltimore - retail is getting killed with 1 week curfew
For many local business owners, the worst hit from this week's unrest is still to come. For restaurants, bars, taxicabs and others that rely on nighttime customers, it is a potential economic disaster. "Thursday, Friday, Saturday; those are the nights when we're usually the busiest." This is hitting during the worst month of the year," he said, citing annual April scourges like taxes, license renewals and city inspections.
nytimes.com
Baltimore Riots and Corporate Risk
Civil unrest in your city absolutely needs to be on your agenda in terms of risks to consider. The possibility that protests might spread contagiously from city to city means that no company can ignore the risk, even if its operations not located in the area most directly affected now. "You can't assume that if you are in a smaller town or less than a larger city you are somehow immune to the potential for this." Businesses need to plan how they will protect their employees and their businesses if they find themselves in the eye of a storm. They should keep in mind that business interruption and loss of sales as customers subsequently avoid areas they may consider unsafe are likelier to have greater impacts than direct physical damage, she said.
Reputation risk also rises when civil unrest strikes
, and companies need to consider afresh how actions taken in the normal course of business might affect all stakeholders, and how they might be perceived.
"It can't be business as usual now,"
she said.
wsj.com
Wal-Mart opens doors to its emergency operation center
The Walmart Emergency Operations Center is located deep inside their home office in Bentonville, Arkansas. The EOC has its origins in the company's response following the terrorist attacks of September 11, 2001. Over the years it has been activated for numerous disasters, some natural and some man-made.
EOC Senior Manager, Lucas McDonald is a trained meteorologist so he is keenly aware of what Mother Nature can dish-out. "We bring together resources here to make sure we have the proper response for our associates, operations and communities," says McDonald.
Walmart was widely praised for their response to Hurricane Katrina in 2005 which included coordinating and distributing 1500 truckloads of free merchandise and food.
Before, during and after an event, the EOC not only coordinates with their local stores. They also monitor social media very closely to see what their customers are talking about the things they may want or need. Based on what they see, they can make quick adjustments to what products they ship into a disaster zone.
fox2now.com
DOJ Releases Cybersecurity Guidance for Breach Victims
The U.S. Department of Justice, as part of a broader roll out of its engagement with the corporate sector on cyber issues, released guidance containing what it sees as best practice for victims - and potential victims - of data breaches. U.S. officials have spent recent days fanning across the country to try and get the private sector to report more about the cyberattacks they face. The 15-page document, which top U.S. Justice Department officials said would be updated as challenges and solutions change over time, has a step-by-step guide for how to prepare for a potential breach, how to respond during a breach and what to do after a breach occurs. The guidance was drafted for smaller organizations that may not have the resources to invest in cybersecurity, but its lessons are also useful for large organizations, the document said. It drew upon departmental experience investigating cybercrime, as well as input from the private sector as it handled cyber incidents, the document said.
wsj.com
C-level technology executives would and should be the ones held responsible for data breaches
The question of corporate liability has been front and center. It turns out that many security-industry folks believe that C-level technology executives would and should be the ones held responsible for compromises, new research has revealed. According to a survey by Tripwire of 250 attendees at RSA Conference USA 2015 and BSidesSF 2015 in San Francisco last week, technology leaders within firms are the ones who should be on the hook for security, in spite of pervasive vulnerabilities being present on many fronts that are leading to devastating cyber-attacks across a broad range of industries.
infosecurity-magazine.com
What Walmart Learned From the Target Data Breach
Walmart CIO Karenann Terrell offers provocative comments about retail security and what the Target data breach taught the industry. "What Target taught the entire industry was that you can't have any single point of failure," Terrell said. The ability to protect against every single potential breach vector is zero; that's why layered security with a hard, crusty exterior protection layer is needed on each individual component, including infrastructure, data and applications, Terrell said. As part of a layered approach to security, analytics and data that tracks what is happening on a network from a threat-vector perspective is needed, she said, adding that it's also important to watch the movement of data across an organization to see what happens. "What we learned is we have to have white-hat testing capability on staff for continual testing," Terrell said.
In the post-Target breach era, Terrell has also focused on
the malicious insider threat, which she sees as a real threat
(though the Target breach was not caused by a malicious insider).
Malicious insiders are extremely difficult to identify today, and that's where data analytics can play a big role,
she said.
eweek.com
U.S. won't adopt chip and PIN until 2020
While most observers agree there will not be widespread adoption of technology to accept payments from EMV-compliant payment cards in the U.S. by the October 2015 fraud liability shift deadline, Forrester Research is less optimistic than most. In a research note, Forrester said retailer concerns about the ROI of spending on chip and PIN technology, as well the development of new secure payment methods, will delay
widespread adoption of hardware and software needed to accept chip and PIN payment in the U.S., until 2020.
chainstoreage.com
Dollar Financial, Money Mart stores, eliminates Vice President LP position after merger with Lone Star Capital
Dollar Financial which operates Money Mart stores in North America was purchased by Lone Star Capital six months ago and they recently eliminated the VP of LP position at Dollar Financial. With over 800 locations Lone Star has a North American LP Director and a U.S. LP Director along with regional LPM's scattered across North America. Editor's Note:
Mergers virtually always means job cuts.
Regretfully our industry loses a vice president level position and the executive who had been with them for 18 years now finds himself looking for his next opportunity in a tight market.
PetSmart Digs Up $3.8M To End Worker OT Collective Action
PetSmart Inc. has agreed to pay $3.8 million to end a collective action alleging the retail chain misclassified operations managers as exempt from the Fair Labor Standards Act's overtime requirements, according to a Wednesday filing in Delaware federal court. The money would be distributed to more than 330 operations managers nationwide who opted in to the suit.
law360.com
Tommy Bahama selected March Networks' retail solution to gain faster, more robust loss prevention capabilities
And to improve recovery and apprehension rates with higher-quality video evidence and better safeguard customers and employees at 130 stores worldwide.
magnetmail.net
Smartvue gets $15m for IoTV play - Internet of Things already impacting cloud video surveillance providers
Cloud video surveillance provider Smartvue announced this week that it secured $15 million in financing from Fortress Investment Group, a $67 billion firm. Fortress likes Smartvue's vision of being "a major cloud platform in the video surveillance services business," Renkis said. "[Fortress] saw what we saw, which is that [the Internet of Things] is going to be gigantic and
someone is going to be the leader driving video surveillance services using the cloud,"
he said. Renkis and others believe that many of the "things" that will be connected to the Internet-cars and televisions for example-will have cameras or will "be video-enabled somehow."
securitysystemsnews.com
Retailers Are Spending Big on New Businesses to Spur Growth - If you want to know where retail is going this is the article - It may not be the answer but it shows that the nation's CEO's are grappling with - Who are we tomorrow?
Mall traffic is down, online sales are taking market share and shoppers are more interested in the latest gadget than the latest look. The result? Retailers are no longer relying just on organic growth. They're getting out their checkbooks and plunking down hundreds of millions of dollars to buy new businesses and quickly learn new skills or gain footholds in new areas. "It's all about supercharging the access to the consumer," Singer said.
"You'll probably see some department stores trying to go own these specialty chains. You could see big acquisitions between the likes of the big specialty stores and the major [department store] retailers
because they can complement each other, not only with their infrastructure and their cross-channel base, but also their customer base. There's a lot of opportunity to this." Editor's Note: This one article, too long to publish here, is well worth the read for the true retailer as it shows how the retailers are looking for non-traditional answers, deals, and other companies to grow their businesses. And it includes all the big names trying to reinvent themselves as quickly as possible.
wwd.com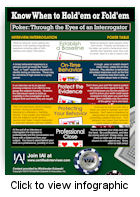 RILA Conference 2015: IAI Teaches Interviewers How to Win at Poker
The International Association of Interviewers (IAI) teaches interviewers how to win at poker with a free infographic at this year's Retail Asset Protection conference, May 3-6, hosted by the Retail Industry Leaders Association (RILA). The infographic, "Know When to Hold'em or Fold'em," shows how interview experts can take their expertise in interviewing and apply it to reading the behavior of opponents sitting around the poker table. IAI has teamed up with valuable partners at the RILA conference in Orlando to help its members achieve professional success. "Dynamic industry leaders form an elite group that currently participate in our sponsorship program," says IAI Executive Director Wayne Hoover, CFI.
Visit IAI sponsor booths for a free infographic
on using interviewing skills in poker as well as the chance to win CFI scholarships, Elite Training Day registrations and IAI memberships
(Checkview, an Iverify company, booth 505 - InstaKey, booth 130 - LP Innovations (LPI), booth 524 - General Dynamics Information Technology (GDIT), booth 317 - Security Resources, booth 527).
d-ddaily.com
Kroger to build 11 new stores, 16 gas stations, training center in Indiana
20% of Millennials prefer not to interact with cashiers during checkout
J.C. Penney expands Sephora - 25 new stores inside Penney - 500 full-service stores now
Big 5 Sporting Goods plans 10 new stores
Rite Aid April same store sales up 3% with total sales up 2.4%
Loblaws, Canada's first major retailer to install automatic external defibrillators in stores -
It's already saved one life! How about your retailer?
Quarterly Same Store Sales Results
West Marine Q1 comp's up 13.3% with net revenues up 12%
Big 5 Q1 up 3.9% with net sales up 5%
Delhaize Group U.S. comp's up 2.5% with revenue up 3.2%
GNC Q1 domestic company-owned stores comp's down 4.1%, domestic franchise down 1.5% with revenue down 0.6%

There's still time to register for the training workshop following the Retail Asset Protection Conference 2015, Wednesday, May 6 from 1-3pm. You'll learn something, you'll earn credits and it won't cost you anything!

Generational Expert Hannah Ubl will lead a two hour interactive workshop, Generational Boot Camp - Leading Across Generations, that will build off her general session earlier in the day. The workshop will include tabletop exercises so you can practice what you've learned and leave Orlando with tools to effectively lead and inspire colleagues across generations.

In addition to CEU credits you'll earn all week, workshop participants will receive two credits towards LPC re-certification and CFI CEUs.

Space is limited so don't wait until you're in Orlando to register. Register now by contacting Kelly Murphy.

We look forward to seeing you in Orlando next week!
All the news - One place - One Source - One Time
The D&D Daily respects your time
& doesn't filter retail's reality
Report Your News!
(content subject to approval)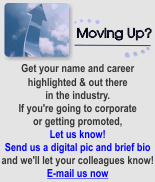 Vendor Spotlight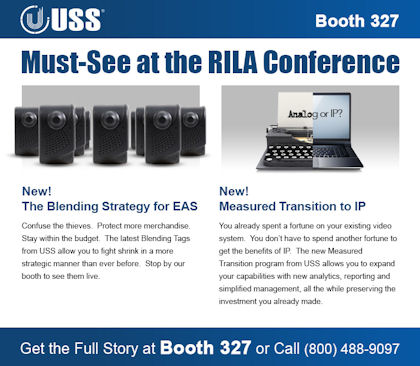 Loss Prevention News Network

Kroger's LP
Adding Value to a Retailer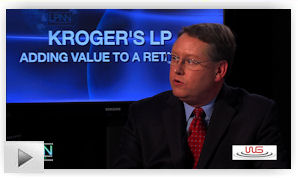 In 2008, Karl Langhorst became the first Director of Loss Prevention for The Kroger Co., a decentralized monolithic retailer that never had a true corporate LP program or function. Thus began a 2-year transformation that involved rolling out the district LPM position, taking the LP Specialist job in-house, managing corporate rollouts, and developing relationships throughout the organization both corporately and in 18 different divisions. Hear how Karl was able to build a successful LP program at Kroger through strong partnerships and realigning the company's thinking on loss prevention.
---
LPNN Quick Take #17


Amber and Joe

talk with Tarik Sheppard, Sgt. NYPD, Grand Larceny Analytical Unit, in this LPNN Quick Take. Sgt. Sheppard was instrumental in helping set up NYC's first public-private ORC partnership last year. Hear how LAAORCA's model on the West Coast helped influence the newly formed NYMORCA.


Solution Providers, have a video or commercial you want to publish? Contact us.

Press Releases

Snaptagg: Game Changing & Innovative technology will release at RILA LP 2015


Snaptagg is the game-changing technology the retail LP industry has been waiting for and we are proud to be introducing our product line to industry leaders at the RILA LP conference 2015 next week!

Snaptagg is a new and extremely innovative multi-functional "wire-free" self-alarming tag (10+ alarms) which solves many of today's retail pain points relating to current solutions such as wraps, acrylic lock boxes, box opening, box concealment, tag cut-out, blister package security (item cut-out), "wrap rage", blister packaging return losses, packaging design, EAS alarm response, merchandising, locked items, cable protection, ORC, online (youtube) "how-to-defeat" schemes, easy-to-obtain detachers, multi-device management, unnecessary labor cost, POS throughput, self-checkout, and much more!!!

Snaptagg's patented twist & lift design creates the right balance between store security, employee handling, and the future of retail with self-pay technology such as iPay!

Our product effectively protects items in blister packages & boxes without wires: featuring Snaptagg Cut-Out Protection, Snaptagg Booster Bag Detection, and Snaptagg Digital Locksmith coded keys.

Why Wrap! Just Snap!

Snaptagg embodies a "grow concept" so it is ready for use today on all merchandise, but also tomorrow when packages are sourced with an integrated Snaptagg base! Come see live proto-types of Snaptagg Ready products at our booth (#500). Snaptagg will endeavor to marry the retail LP industry with the brand owners and the packaging industry to achieve impressive solutions never before seen!

Also, discover our "hybrid one key" POS solution for "wraps and snaps"!

Simple to utilize and effective against ORC!

As if this were not enough, Snaptagg converts into a cable solution. Tiny Cable solutions are high security solutions for hard goods and soft goods (fashion) and showcase protection.

Snaptagg will give LP departments the confidence to securely unlock items which will in turn unlock sales and therefore Increase Profits!

Start "Snap-tagging" today!!!

Visit us at the RILA LP conference: booth #500 right by the entrance! To book an appointment please write to sales@snaptagg.com or call us at 561-981-6278.

http://www.mapyourshow.com/shows/index.cfm?Show_ID=rilaap15&exhid=97261&booth=500&hall=A

Participate in our "SNAP-TAGGING CONTEST" and get a chance to win an iPad.

e-commerce

Sponsored by The Zellman Group
Online retailers are best at satisfying their customers Retailers that sell online and do not operate stores earned top marks in Forrester's customer experience survey of 18 industries released recently. Retailers had held the top spot in the Forrester report since the research firm started ranking brands on customer experience in 2007, but this year Forrester separated online retailers that don't operate stores from traditional retailers that do. The digital retailers took the top spot, while the store-based retailers finished twelfth. internetretailer.com

PayPal's Ready Talks One Touch For Web
PayPal announced Tuesday (April 28) on its blog the rollout of One Touch for Web. Similar to the mobile version of the product that PayPal introduced last year, that works in native mobile apps - One Touch for Web allows consumers to pay without user IDs or passwords (after the first log-in) on websites - be they mobile or desktop. "We have seen such fantastic results in One Touch, that we realized we needed to figure out how we take it to the Web for both the mobile Web and desktop Web so people can have the same great experience of all those places that they are already having a great native mobile experience," PayPal Senior Vice President Bill Ready (and former Braintree CEO) told Webster shortly before the news was announced yesterday. "Honestly, we think rolling out PayPal Web will be the biggest upgrade to eCommerce since PayPal launched 15 years ago." pymnts.com

E-commerce sales drop 7% for Books-A-Million in 2014

"Fraud is not a person - it is a dynamic grouping of statistics that deviate from the norm."
Stuart B. Levine, CFI, CFCI
CEO, The Zellman Group & Zelligent

ORC News
Sponsored by Security Resources
Utah Organized Retail Crime Conference yesterday Businesses and law enforcement are working together to fight retail crime in Utah. The Utah organized retail crime association held its annual conference Wednesday. Comprised of 800 members, the group is comprised of police, security agencies and private businesses. The association has a website where retailers post about crimes at their businesses to help police identify and arrest suspects. kutv.com
Asian Fraud Gang - Casper, WY stores being targeted with fraudulent credit cards buying gift cards - Asian males and Asian male & female In one case, about $20,000 was obtained from Casper Wal-Mart and in another more than $10,000 from Target in about 10 minutes. They are well dressed in what appear to be designer clothing and make no attempt to hide their faces. They swipe fake credit cards with applied stolen data from unsuspecting victims and then place the amounts on in-store debit or gift cards. Recently, the same tactics have been used at Wal-Mart, Target, Macy's, and Game Stop all by Asian suspects. The same suspects will then utilize I-25 and then hit Douglas and Cheyenne within 3-4 hours. Over multiple days, the same suspects are never seen on video, repeating the tactics. Within 24 hours the fraudulent gift cards are used by other Asian suspects (usually females) in California, New York, and Tennessee. One suspect, in Cali. using fraudulently obtained gift cards on her Sam's Club account has billed more than $500,000 this year alone. Obviously this is a professional and well organized group and are seeking the stores assistance in identifying these folks prior to the victim getting their bank statement. These Asian customers will be swiping between five to 20 different credit cards in less than three minutes. In several surveillance videos store employees stand and watch the suspects swipe more than 10 different credit cards and apply $1000 each swipe to a gift card. The suspects have appeared to speak no or little English which may be a gimmick. oilcitywyo.com

Three men ORC ring buying iPads, Xboxes & gift cards with fake cards in Louisiana - Multi-state ring? - Selling them in Florida Three men from Fort Lauderdale, Florida, are accused of using phony credit cards to buy iPads, Xboxes and gift cards in Louisiana with plans to sell them at half-price in Florida, Slidell police said. More arrests are likely and investigators are looking into whether the cards also were used in Mississippi and Alabama, Police Sgt. Daniel Seuzeneau said Wednesday. He said a Wal-Mart worker alerted an off-duty police officer working as a store guard on April 22 because the men were using several credit cards, and some were being rejected. He said Brad Flowers, 24, Tacaveon Carson, 22, and Marquis Lloyd-Dawson, 21, were booked on charges of identity theft, theft by fraud over $1,000, access device fraud, bank fraud, forgery, monetary instrument abuse, computer fraud, and money laundering. ap.org

Female fraudster hits Home Depots across the GTA (Greater Toronto Area) gets busted over $100,000 Halton police was called to the Home Depot in Burlington on Tuesday (April 28) where investigators with the Home Depot told the officers they had been monitoring similar alleged fraudulent activity across the GTA over the past several months. The alleged offences all occurred since last Christmas at numerous Home Depots across the GTA including Oakville, Milton, London, Richmond Hill and Toronto. Once she had a store credit card she would buy items from the store, say police. Underwood said Home Depot's fraud investigators determined there was a pattern to the purchases at their stores. They allege the same person was seen in surveillance video making the credit card purchases in question, but under a different name each time. An internal advisory was sent to Home Depot employees with an image of a suspect. Underwood said a worker at the Burlington store on Tuesday recognized a customer from the internal memo and police were called. Nicole Rouse, 35, of Toronto is charged with 11 counts of fraud over $5,000, 11 counts of personation, one count of possession of a counterfeit mark (driver's licence) and one count of breach of probation. insidehalton.com

Wilkes-Barre, PA., Victoria's Secret getting hit by two females - bra bandits - four times $7,800 This video depicts the most recent of four thefts that occurred in the same store at the Wyoming Valley Mall since early February. In total, the store has lost upwards of 170 bras, worth nearly $7,800. All but one of the thefts occurred during weekdays and in the early afternoon, when the mall is expected to be quieter and there may be fewer employees working in the stores. thetimes-tribune.com

Two men being sought - stealing $1,700 in merchandise & attacking Abercrombie employee who tried to stop them in Pleasanton - Stoneridge Mall A store employee told police that she watched two men take items from the store and that when she confronted them, one pulled out a can of pepper spray to intimidate her, Stocking said. Seconds later, the other man punched the employee in the face, and the two men ran out of the store with more than $1,700 in merchandise, he said. The employee was not seriously injured. mercurynews.com

Six indicted in Albuquerque, NM Pharmacy crime wave; hitting Smith's, CVS and Walgreens It has been open season on Albuquerque-area pharmacies for the past year and a half, with armed robbers in some cases jumping over the counters to get their hands on prescription painkillers - terrorizing staff and endangering customers. In all, authorities say there have been 26 pharmacy robberies since the start of 2014, netting 68,000 pills worth $1.4 million. On Wednesday, federal authorities and local law enforcement officials announced a major break in their efforts to take down what they describe as a criminal network behind the pharmacy crime wave. They said six people suspected of being part of that network have been indicted on charges tied to four of those crimes. U.S. Attorney Damon Martinez said the 26 robberies contrasted with five in 2013, seven in 2012 and just one in 2011. Martinez also said the robberies are becoming more violent. abqjournal.com
Chicago woman arrested, charged with stealing nine iPhones A Chicago woman is facing felony theft charges for stealing nine iPhone 6 cell phones from a local store. Cassandra Hankerson, 26, went to T-Mobile on April 25, where she told employees she had authorization by a construction company to purchase 10 cell phones. The company sold her nine phones, saying they didn't have a 10th in stock, charging the construction company's account with the $5,850 purchase. The store's employees checked with the construction company and found that Hankerson is not authorized to make the purchase. The employee then called Hankerson on Tuesday and told her the 10th cell phone was ready. The employee also called police. Police put the store under surveillance and eventually pulled a car containing Hankerson and a Chicago man over. Inside the car were two additional iPhones, which were traced back to being purchased from a Chicago store and also charged to the construction company's account. Hankerson allegedly told police the nine iPhones she took from the Portage store on April 25 were given to a "friend of a friend's friend" who she didn't know. nwitimes.com


Bristol, CT man charged with stealing from Norwalk Home Depot Police say a Bristol man has been charged with a string of alleged larcenies from Home Depot stores in Norwalk and Bridgeport. Joshua Hogberg, 26, of 210 Falls Brook Road, was charged with two counts of fourth-degree larceny and second-degree failure to appear. According to a police report, a loss prevention employee at Home Depot reported in March that a suspect allegedly stole three power tools from the store valued at more than $1,300. Police say Bridgeport police had contacted them in regards to a similar theft at a Home Depot, which in turn prompted the Norwalk Detective Bureau to take over the case. thehour.com

2 Prescott Valley, AZ men facing charges of Organized Retail Theft and Felony Eluding Two men are facing numerous felony charges after allegedly shoplifting from a Prescott Valley smoke shop and trying to elude police officers. Police were called to the X-Hale smoke shop shortly before 9:30 a.m. Sunday for a report of a theft. While responding, officers were notified that the suspects, described as two males and one female, fled. Police said the suspects refused to comply with officers' attempts to stop the vehicle and were seen throwing items out of the windows. According to police, the items included 14 grams of heroin and miscellaneous pills. azfamily.com

Trio robs Gander Mountain in Fayetteville; Store Manager assaulted Fayetteville police need the public's help identifying three people who robbed the Gander Mountain and attacked the store manager. Officers said it happened on Monday at the store located on Skibo Road. Investigators said two men and a woman stole several items from the store and fled to the parking lot. A manager followed the suspects to the parking lot to confront them. One of the male suspects sprayed the manager in the face with pepper spray. The trio escaped in a gold Chevrolet Suburban. Detectives have released surveillance footage from the crime and need the public's help identifying the suspects. abc11.com

Osage Beach, MO Police seek Serial Shoplifters hitting Walmart and Target Police seek help identifying two women who make a habit of shoplifting at two stores. Police say the women have stolen items multiple times from the Target and Walmart stores since last December. Police say the women enter the stores with empty purses and leave with their purses full of stolen clothing items. myinforms.com
Wilkes-Barre, PA Police seeking Crest White Stripes thief hitting Kmart Police are searching for a man who reportedly stole merchandise worth about $125 from the Kmart in the Blackman Plaza on Friday afternoon. Store security reported to police that a man took two boxes of Crest White Strips and a bottle of cologne, valued at $124.97. The man threw the merchandise at a security officer who approached him and fled into the parking lot, where he was picked up in a gold sedan. citizensvoice.com

Two males charged with organized retail theft hitting X-Hale smoke shop in Prescott Valley, AZ
Do you have an ORC case to share?
Share your ORC news and help the industry grow

Retail Crime News

Sponsored by NuTech National
Opening statements set to begin in CarQuest Auto Parts store Double Murder trial in Baton Rouge, LA Opening statements in the first death penalty trial in Baton Rouge in five years are scheduled to get started Thursday. Lee Turner Jr., 25, of Baton Rouge, is charged with two counts of first-degree murder in the shooting deaths of two men during a robbery at CarQuest Auto Parts on Airline Highway in 2011. District Court Judge Richard Anderson is presiding over the case. Edward Gurtner, 43, and Randy Chaney, 54, were found dead in a back room of the store on March 27, 2011. Turner was arrested the following day. Investigators said Turner not only worked at a different CarQuest Auto Parts store from where the deadly shootings occurred, but that's where authorities picked him up. Sheriff Sid Gautreaux said once Turner was in custody, he confessed to killing the two victims. The sheriff added the suspect essentially broke down. Turner's attorney tried to get the taped confession tossed from the case. Anderson ruled the confession can be used in the trial. He also sided with detectives that they had probable cause to search Turner's home after the shooting. wafb.com

Beaumont, TX Police seek 2 men in killing of store clerk Beaumont police are looking for two gunmen following the fatal shooting of a convenience store clerk during an attempted robbery. Police early Wednesday responded to a store alarm and found the body of the 52-year-old clerk. Police say store surveillance video shows two armed men entering the business and trying to rob the place. Beaumont police say the clerk resisted and pointed a BB gun at the robbers. One of the suspects then shot the clerk. Both gunmen fled. Investigators say one suspect wore a bandanna and gloves. The second robber, whose face was also concealed, carried a light blue backpack. The victim's name was not immediately released. krgv.com

Richmond, CA Police catch Armed Robbery suspect Red-Handed at Target Two robbery suspects were arrested Wednesday after police identified the suspects and the getaway car from a Target surveillance video. Two suspects browsed the electronics section for a television while a third suspect waited in a getaway car near the store entrance, police said. One suspect snatched a large screen TV and ran out of the store. A Target security guard ran after the suspect, who punched the store guard in the face. With a big screen TV in hand, the man yelled for the other suspect to shoot the security guard. The second suspect exited the car with a gun in hand. The security guard retreated to the store and the suspects fled the scene. Several officers scanned the store surveillance tapes and were able to describe the suspects, who were known gang members, and the getaway car. Officers headed to North Richmond, where they believed the car frequently was. Police located the car and detained two suspects after a brief foot pursuit. Witnesses from Target identified the suspects of the TV robbery. mercurynews.com

Man robs five Arizona Target stores in Three Weeks A 21-year-old Surprise man was arrested near 35th Avenue and Buckeye Road on April 17 on suspicion of felony theft, according to a police report. In the three weeks between March 11 and April 2, the man robbed five Target stores in Tempe, Phoenix, Goodyear and Glendale. Police stunned the man and arrested him shortly after he attempted a sixth theft at the Target on 1818 East Baseline Road. A Target security officer, who saw surveillance video of two of the man's previous robberies, recognized the man because they attended high school together, police reported. The man's strategy was to purchase a small, inexpensive item, then jump over the counter when the cash register opened and steal the money, which ranged from $300 to $992. In the man's final attempt, he purchased a blue Gatorade, then took several $20 bills, which, when added with the other robberies, exceeded $3000, police reported. statepress.com

Illinois teen admits to stealing guns to sell in Ferguson, Missouri A southern Illinois teen pleaded guilty on Wednesday to federal firearms charges in a plot to sell guns and loot businesses in Ferguson, Missouri, which had been the site of sometimes violent protests over a fatal police shooting. Dakota Moss, 19, of Centralia, admitted in federal court to burglarizing a farm and home supply store and stealing 39 guns in November of last year. Moss and a juvenile accomplice stole the guns in order to sell them in Ferguson, prosecutors said. The two also had planned to participate in rioting and looting of businesses in the Ferguson area, though they never went through with it, prosecutors said. In the early morning hours of Nov. 29, 2014, Moss and his accomplice used a pickup truck stolen from Centralia High School to ram the locked security gate at the Buchheit store and broke out store windows to get inside, prosecutors said. reuters.com

Two Hudson's Bay Jewelry Counters the victim of Smash and Grabs in British Columbia, CN RCMP are hoping a newly-released surveillance video will help them catch the jewelry thieves who robbed two Hudson's Bay jewelry counters in brazen smash-and-grab thefts. In the video, shot early April 7, thieves are seen ramming the store window of the Hudson's Bay at Willowbrook Mall in Langley, B.C. using a 2-by-8 wooden post on the back of a black Toyota pickup truck. Inside the store, they smashed display cases with a pry bar and stuffed $200,000 worth of jewelry into duffel bags. Two days later, a similar robbery happened at another Hudson's Bay jewelry counter, this time at Coquitlam Centre on Barnet Highway in Coquitlam, B.C. cbc.ca

Des Moines, IA Police suspect 4 in stolen credit card scheme Police are asking for the public's help in identifying four people suspected of using stolen credit cards at West Des Moines retail stores. The West Des Moines Police Department is looking for three women and a man in connection with a stolen credit card investigation. Police said the suspects used stolen credit cards at West Des Moines retail stores on April 17. desmoinesregister.com
Persistent burglars smash their way into Kansas City clothing store, ransack business Brazen burglars smashed a glass window, busted through bars, and took whatever they could carry out of a metro clothing store. The two-minute criminal shopping spree was all caught on surveillance camera at a men's clothing store called Graffeti on Longview Road in South Kansas City. The surveillance video shows four men who covered their faces and heads pull up in a white pick-up truck. One throws a rock at the window to break the glass, while another tries to tie a strap around metal security bars. When that fails, they push their way through the gate. From the stolen merchandise to replacing his window, the owner said total damage is about $16,000. fox4kc.com

Augusta, Maine Police make arrest in connection with suspected burglary ring; connected to 30 break-ins

Three arrested following chase in Bakersfield, CA; Walmart LP agent kicked in the head

Old Navy voyeur spared jail in Winnipeg, CN

No felony charges against Dallas Cowboys' Joseph Randle


Robberies and Burglaries
● Albert Foods - Jacksonville, FL - Shooting
● Apple Market - Hazard, KY - Burglary
● Buccieri's Gems - Jefferson Twp, NJ - Burglary
● Circle K - Kalamazoo, MI - Armed Robbery
● CVS - Wilmette, IL - Armed Robbery
● CVS - Overland Park, KS - Armed Robbery
● CVS - Petaluma, CA - Armed Robbery
● Decker's Floral - Wilkes-Barre, PA - Robbery
● Doctor's Pharmacy - Roseville, MI - Armed Robbery
● Dollar General - New Orleans, LA - Armed Robbery
● Dunkin Donuts - Bloomfield, NJ - Burglary
● Ellisville Farm - Ellisville, MS - Burglary
● Express Mart - Endicott, NY - Armed Robbery
● Family Dollar - Oklahoma City, OK - Burglary
● Gabler's Drug - Carmichaels, PA - Robbery
● Gander Mountain - Fayetteville, AR - Robbery
● Graffeti - Kansas City, MO - Burglary
● Icey Mae's - Shell Knob, MO - Burglary
● King Fuels - Houston, TX - Shooting
● MedPro Pharmacy - New Orleans, LA - Armed Robbery
● Metro PCS - Bucks Co, PA - Armed Robbery
● MJ's Fashion - Jacksonville, FL - Burglary
● Neill's Home Store - Shell Knob, MO - Burglary
● Pioneer Express - Bucks Co, PA - Armed Robbery
● Sudz King - Maplewood, NJ - Burglary
● Sunoco - Wilkes-Barre, PA - Robbery
● Twins Country Store - Augusta, ME - Burglary
● United Dairy Farmers - Springfield, OH - Armed Robbery
● Uptown Pharmacy - New Orleans, LA - Armed Robbery


Featured Job Listings
Sponsored by NuTech National
Feature Your Job Here For 30 Days -
70% Aren't On the Boards
VP of LP
Mattress Firm
Houston, TX
Mattress Firm
Director of LP
Lane Bryant
Columbus, OH
LinkedIn
Director AP
Big Lots
Columbus, OH
Big Lots
Director of LP
PacSun
Anaheim, CA
PacSun
Director Global AP
KFC & PH
Plano, TX
YUM! Brands
Director of AP, Corporate
Dollar General
Nashville, TN
Dollar General
VP Supply Chain, LP & Safety
Ross Stores
Ft. Mill, SC
Ross Stores
Director of Safety
Academy Sports & Outdoors

Houston, TX

Academy Sports & Outdoors


Dir, Pharmacy LP
Rite Aid
Camp Hill, PA
Rite Aid
Dir. Training & Communications - AP
Ralph Lauren
Lyndhurst, NJ
Ralph Lauren
Regional Dir AP
Rite Aid
Baltimore, MD
Rite Aid
Territory Dir., AP
Best Buy
Richfield, MN
Best Buy
Territory Dir., AP
Best Buy
Pleasant Hill, CA
Best Buy
Territory Dir., AP
Best Buy
Westbury, NY
Best Buy
LP Corporate Sr Mgr
JC Penney
Dallas, TX
JC Penney
Safety & Security Mgr
Kirkland's
Brentwood, TN
Kirkland's
AP Manager
Ralph Lauren
New York, NY
Ralph Lauren
Regional LP Mgr
Dunham's Sports
South Central KY, Central TN or NC
Dunham's Sports
Regional LP Mgr
Dollar General
Midland/Odessa, TX
Dollar General
NEW TODAY Group LP Coordinator - Head Office
Cotton On
Los Angeles, CA
Cotton On
Sr Retail AP Specialist
REI
Bloomington, MN
REI
Coordinator, Corporate AP
Bi-Lo Holdings
Jacksonville, FL
Bi-Lo Holdings
LP Admin. Asst.
National Stores
Gardena, CA
National Stores
LP Operations Coordinator
Restoration Hardware
Corte Madera, CA
Restoration Hardware
LP Analyst
Restoration Hardware
Corte Madera, CA
Restoration Hardware
Market ORC Investigator
Macy's
New York, NY
Macy's
Security Officer
Wegmans
Pottsville, PA
Wegmans
Sales Representative
NuTech National
Maitland, FL
NuTech National
National Account Manager
Vector Security, Inc
TBD
Vector Security, Inc

Limited Time Only - Post Your Multi-Unit LP jobs for FREE - Learn More Here

Daily Job Alerts


Appearing One Day Only
View our Internet Jobs Archives here
AP Spec
Cabela's
Fort Oglethorpe, GA
Cabela's
Regional LP Manager
Dollar General
Little Rock, AR
Dollar General
Store LP Manager
Kohl's
El Paso, TX
Kohl's
Dept Mgr LP, Safety & Hazmat
Lowe's
Flemington, NJ
Lowe's
Dept Mgr LP & Safety
Lowe's
Windham, ME
Lowe's
Dept Mgr LP & Safety
Lowe's
Latrobe, PA
Lowe's
AP Manager in Training
Walmart
Homestead, FL
Wal-Mart
AP Manager in Training
Walmart
Putnam, CT
Wal-Mart
AP Manager in Training
Walmart
Locust, NC
Wal-Mart
AP Manager in Training
Walmart
Katy, TX
Wal-Mart
AP Manager in Training
Walmart
Greeley, CO
Wal-Mart
AP Manager
Walmart
Denham Springs, LA
Wal-Mart
Regional LP Manager
Save Mart Supermarkets
Sacramento, CA
Save Mart Supermarkets
LP Manager Hrly
Kmart
Atwater, CA
Sears Holdings Corp
LP Manager Hrly
Sears
Douglasville, GA
Sears Holdings Corp
LP Manager
Kmart
Hyannis, MA
Sears Holdings Corp
LP Manager Hrly
Sears
Clearwater, FL
Sears Holdings Corp
LP & Safety Mgr Distribution
Tractor Supply Co.
Pendleton, IN
Tractor Supply Co.
AP Team Leader
Target
Akron, OH
Target
LP Lead
Old Navy
Seattle, WA
Gap Inc
LP Manager
Macy's
Wenatchee, WA
Macy's
Mgr Safety and AP
Dealer Tire
Cleveland, OH
Dealer Tire

Home of the Industry's Original
On the Move

Lauren Danchick was named Sr. Manager of Recovery Client Services for The Zellman Group, LLC.
William Wilson, Jr was named Corporate Manager of Loss Prevention and Security for Half Price Books.
Justin MacIntyre, CFI was named District Loss Prevention Manager for Beall's Inc.
Jeff Fairchild was named Regional Loss Prevention Manager for CVS Health.
Brent Kleinfelder promoted to Loss Prevention Manager for Lowe's.
Camille Bauer was named Area Loss Prevention Manager for Harbor Freight Tools.

Post Your New Job or Promotion!
See all the Industry Movement


Your Career
Sponsor this section of the Daily
How Emotional Intelligence Became a Key Leadership Skill Emotional intelligence is described as the ability to accurately perceive, manage and understand signals about others' and your own emotions. It has become a central key to leadership success because of the connection it allows you to have with your employees and those around you. Show some empathy

How to Build a Mentally Strong Dream Team When you have mentally strong team members you can accomplish incredible feats. So how do you teach individuals to be mentally strong and form a united front? Here are some tips on how you can influence the way your team works for the greater good. Culture of strength

How Poor Management Creates Zombie Employees (Infographic) Zombies could certainly exist in your workplace if you look hard enough. 76% of employees say they're unhappy at work according to a recent poll. In order to fix the problem, leaders need to make sure the focus stays on the betterment of their people and their organizations. Give them a say

6 Monday Tricks that Will Make You a Better Leader Mondays are a great day to focus on improving your leadership skills. It gives you a fresh start and a blank slate to schedule and organize activities to help boost your leadership stature. Here are some strategies you can use to keep your team rallied behind you. One major goal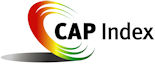 Tip of the Day
Sponsored by Vector Security
One of your primary objectives in any negotiation should be to show a positive, upbeat and an enthusiastic approach to the entire process regardless of the offer. Always wait for the details before accepting any offer because the devil may be in the details. Remember, the hardest thing to negotiate is the benefits because of precedent-setting company standards. If you prepared the employer before the offer with a written (emailed) list of your entire current package in detail, it can make it easier to discuss when it counts the most.

Just a Thought,
Gus







Upcoming Events
---
Recruiting?
Get your job e-mailed to everyone... everyday
Post on our Featured Jobs Board!
Reach your target audience in 2015 every day!
Request our 2015 Media Kit
update account / change e-mail
unsubscribe FEEDBACK
www.downing-downing.com

Advertise With The D&D Daily




36615 Vine Street, Suite 103
Willoughby, OH 44094
440.942.0671
copyright 2009-2019
all rights reserved globally