The D&D Daily Mobile Edition
May 20,

2015



The LP Industry's #1 News Source - Informing, Educating and Instilling a sense of community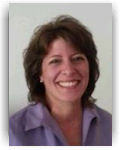 Gina Guardamondo, CFI was promoted to Senior Director of Loss Prevention for Finish Line. Gina has been a part of the loss prevention team for Finish Line since 2005 where she started as a Regional LP Manager and then became the Director of Loss Prevention in 2013. She has also worked at Limited Brands as a Regional LP Manager, Lowe's as an Area LP Manager, Express as a Regional Investigator, Charlotte Russe as a District Investigator and Target as an Assets Protection Team Leader. Gina earned her Bachelor of Arts in Psychology from San Diego State University and went on to acquire her Masters Degree in Business Administration and Management from Kaplan University. Congratulations Gina!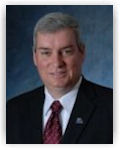 Bobby Templet was named Sr. National Account Manager for Stanley Security Solutions. Bobby was previously the Vice President of Loss Prevention for Rent-A-Center for over eight years before taking this new position. He also held loss prevention leadership positions for Footaction/Footstar as their Director of Loss Prevention, Blockbuster as a Regional LP Manager and Kmart as an LP Manager and District LP Manager. Congratulations Bobby!


News Brief
Sponsored by WG Security Products, Inc.
Lane Bryant re-post Director of LP job on LinkedIn - Based in Columbus, Ohio A division of Ascena Retail Group, comprised of dressbarn, maurices, justice, and Catherines this 3,900 store chain recently moved their Lane Bryant division from Philadelphia to Columbus, Ohio. Which gave way to the opening. In that their long term senior LP executive decided not to relocate. With over 800 full-line and outlet stores in 48 states nationwide, Lane Bryant targets plus-size women ages 30-45, and cater to women's sizes 14-28. Of special note is that Ascena is also looking to purchase Ann Inc. and with that purchase becomes the largest specialty retailer in terms of store numbers in the U.S. linkedin.com

Don Roberto Jewelers post Director of Loss Prevention position in San Clemente, CA Retail Jewelery Chain with over 80 Stores in Southern and Northern California was founded in 1972. It's probably a one-person LP department and may even be the first one of its kind position. Obviously the executive would be working closely with the senior management team and would need strong interpersonal skills. Relocation is probably out of the question for most candidates. And jewelry experience would be extremely beneficial. donrobertojewelers.com

Los Angeles Lifts Minimum Wage to $15 - Could Put Pressure on NYC The nation's second-largest city voted Tuesday to increase its minimum wage from $9 an hour to $15 an hour by 2020, in what is perhaps the most significant victory so far for labor groups and their allies who are engaged in a national push to raise the minimum wage. Several other cities, including San Francisco, Chicago, Seattle and Oakland, Calif., have already approved increases, and dozens more are considering doing the same. In 2014, a number of Republican-leaning states like Alaska and South Dakota also raised their state-level minimum wages by ballot initiative.

Gov. Andrew M. Cuomo of New York announced this month that he was convening a state board to consider a wage increase in the local fast-food industry, which could be enacted without a vote in the State Legislature. Immediately after the Los Angeles vote, pressure began to build on Mr. Cuomo to reject an increase that falls short of $15 an hour. Editors Note; This increase will have an impact on corporate earnings and budgets. As Wal-Mart just this week acknowledged their recent hike to $9 did impact their most recent quarterly results. nytimes.com

McDonald's employees are swarming headquarters to protest low wages during the company's annual meeting Thousands of McDonald's workers seeking a minimum wage of $15 per hour and the right to unionize are expected to swarm the fast-food giant's headquarters for two days of protests that will coincide with the fast-food chain's annual meeting on Thursday. Protests by low-wage fast-food and retail workers have helped fuel a national debate about pay levels. Companies such as McDonald's Corp and Wal-Mart Stores Inc are raising starting pay and cities like Seattle and Chicago are boosting their respective minimum wages over time. Oak Brook, Illinois, police are preparing for thousands of demonstrators on Wednesday at the chain's suburban headquarters west of Chicago, and a smaller crowd in the hundreds on Thursday, said Officer Garrett Church. reuters.com

Paid sick leave is the next battleground for retail workers' rights Paid sick leave is the next frontier in the fight for the country's lowest earners. Some of the same workers' rights groups that grabbed headlines recently by pushing companies for wage hikes are steering the conversation toward paid sick leave. The debate has caught the attention of governments and companies alike. President Barack Obama is calling for federal legislation that would require companies to guarantee workers paid sick days. And since San Francisco started requiring that in 2007, nearly 20 cities and three states - Connecticut, Massachusetts and California - have passed similar measures. New York, Maryland and other states are considering laws too. And McDonald's Corp. and Wal-Mart Stores Inc., which have announced wage hikes recently, are making changes to their paid sick leave policies. Sixty-one percent of U.S. workers get at least one paid sick day, according to the Bureau of Labor Statistics. businessinsider.com

Gap Inc. to focus on growing own talent, promoting from within Gap Inc., a company that has struggled to attract and retain talent, has figured out where it's going to get its future executives - from its own ranks. "We've got to develop talent from within," said Gap Inc. chairman Bob Fisher, at the retailer's annual shareholder meeting Tuesday. "Talent is just not adequate out there in the retail environment." Fisher said that appointing Art Peck, a Gap Inc. insider with experience across divisions, chief executive officer last year "foretells the way this company wants to operate well into the future." He credited Peck with crafting Gap's global blueprint, establishing the franchise business, leading the outlet division, driving positive results for Gap and Banana Republic, overseeing Gap's "product-focused business resurgence, guiding the team that delivered an "industry-leading omnichannel platform and quickly bringing together a strong leadership team." That team was almost completely built by tapping leaders and managers from within the company, noted Fisher. "We didn't have to go outside the company as so often we had to do." wwd.com

Theft of Debit-Card Data From ATMs Soars - Up 174% at banks & 317% at nonbank machines Criminals are stealing card data from U.S. automated teller machines at the highest rate in two decades, preying on ATMs while merchants crack down on fraud at the checkout counter. From January to April 9, 2015, the number of attacks on debit cards used at ATMs reached the highest level for that period in at least 20 years. Debit-card compromises at ATMs located on bank property jumped 174% from Jan. 1 to April 9, while successful attacks at nonbank machines soared by 317%, according to FICO. "These tremendous spikes in fraud are unprecedented," said John Buzzard, who manages FICO's card-alert service. That liability shift won't take place for ATM operators until a year later than the retailers at the earliest. Card issuers currently have the liability for most fraudulent transactions. wsj.com

OSHA cites Dollar General in Bear for safety violations & said "could be a matter of life or death for workers" They also allege the national chain has a longtime pattern of ignoring such violations at its stores. Merchandise and boxes were found blocking emergency exits at the Bear store in violation of federal law. In addition to blocked exits, other cited violations included electrical panel and fire extinguisher hazards. OSHA has proposed $122,100 in penalties for violations found at the store at 1679 Pulaski Highway (U.S. 40) during a November inspection.

"Again and again, our inspectors have found similar hazards at Dollar General stores, yet the company continues to put its employees at risk," said Erin Patterson, director of OSHA's Wilmington Area Office, said in a statement. "In a fire or emergency, every second counts. A blocked exit route can lead to tragedy. The company needs to address these serious issues immediately." The company has been cited more than 40 times since 2009 for safety hazards including blocked emergency exits and electrical panels, and improperly maintained fire extinguishers, OSHA said. oshatoday.com

American Apparel Faces 13 New Complaints After NLRB Axes 6 Just after the National Labor Relations Board tossed six labor complaints against American Apparel Inc., the company was hit Tuesday with another 13 complaints - including four that were re-filings - from workers represented by the same law firm counseling ousted founder Dov Charney in an epic battle against the retailer. One of the dismissed NLRB complaints accused the retailer of implementing new guidelines intended to silence its workers from speaking with the press, while the majority of the other complaints allege American Apparel tried to intimidate employees during union organizing efforts. The newly filed complaints also accuse American Apparel of trying to block union organizing efforts, and don't mention the company's media policy. law360.com


Inside Google's Secret War Against Ad Fraud
Google's secretive antifraud team. The unit, numbering more than 100, is locked in a war room against an unknown quantity of cybercriminals who are actively siphoning billions of dollars out of the digital advertising industry, primarily via the creation of robotic traffic that appears human. Mysterious to many even within Google, the group has never spoken to an outsider about the way it hunts botnets, let alone allowed someone into its offices to observe the process.

The flow of advertising dollars to digital media from TV and print, accompanied by digital's movement toward automation, has turned the space into fertile ground for some of the internet's worst actors. According to a study by the fraud-fighting firm White Ops and the Association of National Advertisers, $6.3 billion will be lost to ad fraud in 2015. And Google, the biggest advertising technology company on the planet, stands to lose the most because of the enormous amount of transactions running through its ad servers, automated-buying platform and ad exchange every day. If advertisers believed the company's operation were fraud-filled, they could take their money elsewhere and the business would falter. adage.com

Dick's Sporting Goods to open 60 new stores

American Eagle expands globally; will open 40 stores in 2015

Quarterly Same Store Sales Results
Ace Hardware Q1 comp's up 9.2% with revenue up 10%
American Eagle Q1 up 7% with net revenue up 8%
Lowe's Q1 up 5.2% with net sales up 5.4%
Walgreens Q1 U.S. stores up 3.5% with total company sales down 0.1%
Target Q1 comp's up 2.3% with sales up 2.8%
Wal-Mart Canada comp's up 1.8% with overall sales up 3.7%
Citi Trends Q1 up 1.8% with sales up 3.7%
Sam's Club Q1 comp's up 0.4%
Staples Q1 North American Stores & Online comp's down 3% with sales down 10%
Sears Canada Q1 down 4.3% with sales down 10%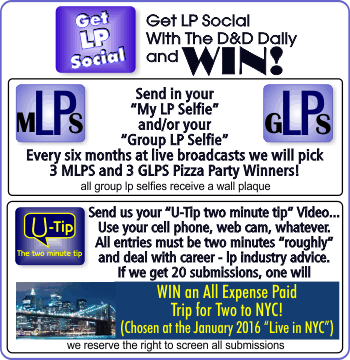 All the news - One place - One Source - One Time
The D&D Daily respects your time
& doesn't filter retail's reality
Report Your News!
(content subject to approval)




Sharing Threat Intelligence Sounds Like a Good Idea, But... IT personnel overwhelmingly (94%) believe that it's highly or somewhat valuable to share threat intelligence. However, only 37% of respondents' organizations regularly share internally driven threat intelligence with other organizations or industry Information Sharing and Analysis Centers (ISACs). "According to our research, automation is needed for organizations to wade through the mass of alerts they receive, and standards are needed for the secure sharing of threat intelligence." "The idea around sharing threat intelligence among organizations is rapidly gaining traction." "To achieve this, organizations need a holistic picture of internal and external threats for the enterprise, and the ability to share threat intelligence among organizations in a manner that is secure, anonymous, non-attributed and standards-based." infosecurity-magazine.com

Target will roll out RFID
Target Corp. plans to roll out RFID-enabled "smart labels" later this year to aid inventory accuracy and improve in-store stock levels. In a corporate blog post, Keri Jones, executive VP, global supply chain and operations of Target, said the retailer is working with "key vendors" on a "fast paced timeline" to deploy RFID. As part of its RFID efforts, Target is sponsoring the RFID Lab at Auburn University, which opens its new facility on May 20, and will support research into additional ways RFID tags can be used in the shopping experience. chainstoreage.com

Target spends $256M on 2013's data breach
Target spent $3M on breach-related expenses in Q1 alone. Since fourth quarter 2013, Target has incurred net expense related to the data breach of $166 million, reflecting $256 million of gross expense, partially offset by the recognition of a $90 million insurance receivable. chainstoreage.com

How to identify your organizations' data security soft spots Next month's NRF PROTECT Loss Prevention Conference and Expo will offer one-on-one data breach assessments with cybersecurity consultants, providing retail attendees with confidential, 30-minute consultations that can help identify potential vulnerabilities and threats to data security. The conference will be held June 23-25 in Long Beach, Calif. Register and reserve your spot. nrf.com

DOJ's Cyber Incident 'Best Practices' Guidance
The Cybersecurity Unit of the U.S. Department of Justice recently released its "Best Practices for Victim Response and Reporting of Cyber Incidents," which it says reflects "lessons learned by federal prosecutors while handling cyber investigations and prosecutions." Much of the guidance is of the common sense variety. However, because it is relatively comprehensive and clearly presented in plain English, it is a useful tool for companies trying to stay on top of mushrooming cybersecurity threats. View the DOJ report here. jdsupra.com

Research: Digital interactions will influence 64 cents of every dollar spent in stores by end of 2015

Charming Charlie supports global growth with Epicor cloud-based POS Specialty accessory retailer Charming Charlie is supporting international growth by moving its POS operations to the cloud. Charming Charlie has moved to a cloud strategy that leverages the POS engine in the cloud, but provides offline capabilities in the event the store loses cloud connectivity. In the event the store loses connectivity, the transaction will continue on during failover. Once the connection returns to the cloud, any transactions completed while offline, will sync to the cloud. Charming Charlie is using the Epicor POS in the Cloud offering, and plans to have its first pilot store location live on the Epicor Retail Store POS in the Cloud solution within 30 days. chainstoreage.com

Nordstrom enables shopping-by-text at all U.S. stores Nordstrom Inc. is launching a text-based shopping service called TextStyle at all 116 U.S. stores. Customers can now make curated purchases from their salesperson or personal stylist using text messaging. In 2014, the retailer launched Next, an opt-in, secure one-to-one service that lets Nordstrom customers communicate with their salesperson using their smartphone. TextStyle leverages the security, privacy and capabilities built into the Nordstrom Next texting service. To use TextStyle, customers use their Next account TextStyle opt-in, and then a customer or salesperson can send a private text message with a description and/or photo of a product. If the customer likes any of the recommended items, they can purchase by replying "buy" plus a unique code. The purchase is completed using the customer's Nordstrom.com account information. Items ship directly to the customer with Nordstrom free standard delivery. chainstoreage.com

The Limited rolls-out 'Reserve Online, Ready In-Store'

Vendor Spotlight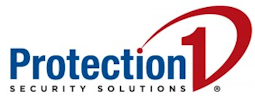 Protection 1 Teams Up with Designing Spaces - Military Makeover to Donate a Home Security and Automation System to a U.S. Marine Veteran and his Family
Company's Mission is to Provide Peace of Mind through Innovations in Home Security and Automation for Today's Homeowners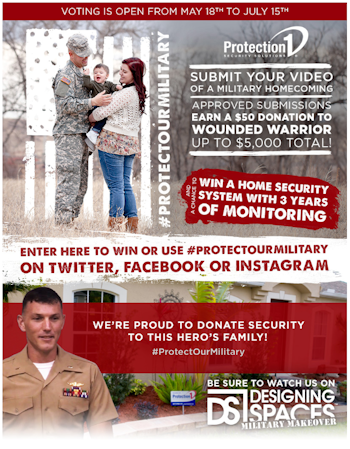 Chicago, IL - May 16, 2015 - Protection 1, the largest full-service business and home security company in the U.S., today announced that it will donate a home security and automation system and monitoring to a selected U. S. Marine Veteran and his family as part of its participation in an upcoming Designing Spaces - Military Makeover episode. Designing Spaces - Military Makeover is part of the awarding winning Designing Spaces airing on Lifetime Television and hosted by R. Lee "The Gunny" Ermey.

Throughout the series, Designing Spaces, along with their partners, work to enhance the home of a military veteran with room by room transformations while inspiring and educating viewers.

"We are honored to be part of this series," said Jamie Haenggi, Chief Marketing and Customer Experience Officer for Protection 1. "As a USAA Strategic Alliance partner, as well as a company that is proud to serve our military members, providing a home security and automation system to this family is a source of pride among our own employees. We hope to provide the entire family with a higher sense of safety and security in their home, something the men and women of the military provide America every day."

Over the course of the week's shoot, Protection 1 conducted a site survey and assessment of the home in order to custom design the home security and automation system to best meet the needs of the family. Protection 1 then assigned two service technicians, themselves military veterans, to install the system. The final step in the process was an in-depth interview with Protection 1's Vice President of Consumer Technology Michael Keen who provided an overview of the technology as well as a demonstration of the key features of the system.

Protection 1 will be featured in episode 3 of the series which is scheduled for May 29th on Lifetime TV.

Read more here.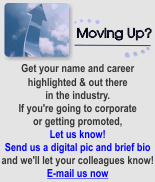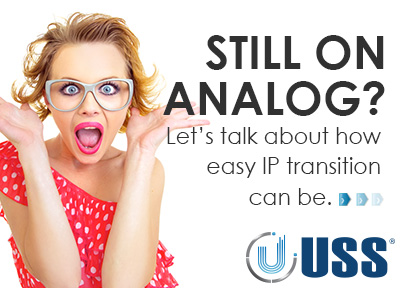 Loss Prevention News Network

Cyber Security & LP's
Role in the Effort
The NRF's Threat Alert System &
RILA's Development of R-CISC
How LP Fits In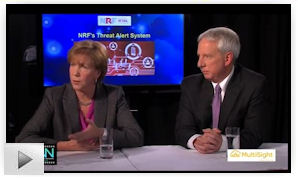 Both NRF and RILA have been tirelessly working together and separately over the past year to establish efforts to help fight the cybercrime crime wave impacting retailers nationwide. Leaders from both industry groups sit down together with LPNN for an in-depth look at the NRF's Threat Alert System and RILA's Retail Cyber Intelligence Sharing Center. Tom Litchford, VP, Retail Technologies for the NRF, and Suzie Squier, Sr. VP, Member Services for RILA, discuss the latest in cybersecurity, what the two leading retail associations are doing about it, and what role LP executives can play in the fight against this unprecedented threat.
---
LPNN Quick Take #20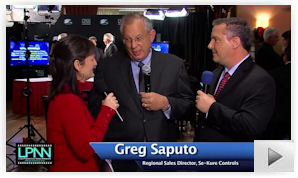 Greg Saputo

, Regional Sales Director, Se-Kure Controls, joins Joe and Amber for an LPNN Quick Take. Learn what Greg's one regret was after he made the switch from retailer to solution provider after 34 years in the LP industry.


Solution Providers, have a video or commercial you want to publish? Contact us.


2014 LP Team Group Selfie Review
Showcasing each team in order!
Your Team - Your Pride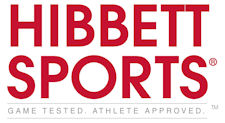 Hibbett Sports Asset Protection Team

"Great Company...Great People...Great Team!"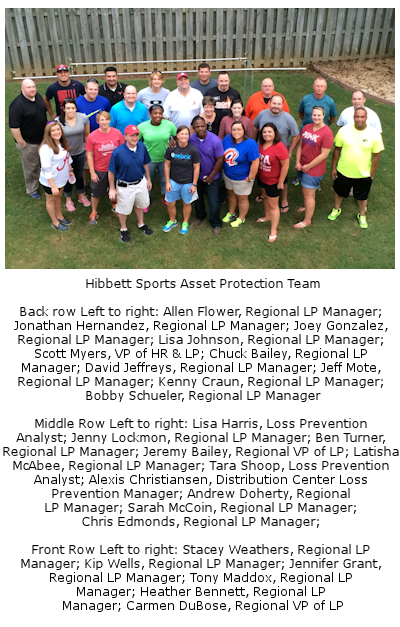 *Published on November 3, 2014
View all the selfies here!
Sponsored by:


---
2015's Let's Get LP Social
We still want your Group LP Selfies - So keep them coming retail LP teams!

Submit a group selfie of you and your LP team and you could get a plaque. Please submit a high resolution photo (300 dpi) and logo at 5" wide for your printed plaque, and if you have a tagline or slogan either from your team or from the company, please send it to us as well for inclusion on the plaques and here on the Daily. Click here for more details.
New to the D&D Daily, "My LP Selfie"!
Got a Smartphone, webcam or camera? Snap a picture of yourself and send it in to the Daily! Let's see what all our LP folks are up to!

e-commerce

Sponsored by The Zellman Group
Best and worst countries at preventing e-commerce fraud Online shopping is borderless, but it matters where your online retailer is based if you want to avoid fraud. Forter, which makes fraud prevention software, found that countries where e-commerce fraud is more likely tend to have poor economies but accessible Internet infrastructure. They are also countries where the chances of being pursued by law enforcement and being extradited are lower, said Noam Inbar, vice of business development at Forter. "Weak economic conditions drive more people to crime and decent Internet infrastructure makes online fraud easier," Inbar said. The company analyzed more than 1 million e-commerce transactions among a variety of online retailers in consumer goods, luxury, travel and financial services. Then it calculated the e-commerce fraud rates for each country based on complaints from merchants and consumers, looking at fraud committed by retailers and by consumers. Forter's analysis also found that fraud rates of transactions using smart phones with Google's Android operating system were twice as high those using Apple's iPhones. The openness of Android systems makes them a bigger target for fraudsters, Inbar said. Here are the five worst-and the five best-countries at preventing e-commerce fraud, according to Forter.

Denmark, best country for e-commerce
New Zealand, 2nd-best country for e-commerce
Finland, 3rd-best country for e-commerce
Norway, 4th-best country for e-commerce
Switzerland, 5th-best country for e-commerce
Romania, 5th-worst country for e-commerce
Brazil, 4th-worst country for e-commerce
South Africa, 3rd-worst country for e-commerce
Venezuela, 2nd-worst country for e-commerce
Indonesia, worst country for e-commerce cnbc.com
Why Nordstrom is the Amazon of department stores The upscale department store's overall revenue rose 9.8% to $3.12 billion for the quarter ending May 2. Comparable sales, which excludes newly opened or closed stores, rose 4.4% from the year-ago period, the strongest among the company's peers. Yet Nordstrom's profit fell to $128 million from $140 million while its return on invested capital fell just over one percentage point to 12.2%. Nordstrom has been pumping hundreds of millions of dollars into building up its digital sales, expanding into Canada and planning a beachhead in Manhattan. It's doubling the size of its Rack outlet chain and acquired e-commerce sites like Trunk Club, as it looks to keep up with shoppers' quickly changing behavior and avoid the doldrums afflicting many brick-and-mortar retailers. It seems to be working with Nordstrom now getting 20% of sales from e-commerce. Two years ago, Nordstrom only got 13% of sales online. fortune.com

How distributors must adapt to the changing online marketplace

Report: Google will take on Amazon, eBay with 'buy' button

Hhgregg e-commerce up 47% in Q4
Target e-commerce up 37.8% in Q1
Dick's Sporting Goods e-commerce up 32% in Q1
Nordstrom e-commerce up 25% in Q1
Wal-Mart's e-commerce up 17% in Q1
Ralph Lauren's e-commerce up 16% in Q4

"Fraud is not a person - it is a dynamic grouping of statistics that deviate from the norm."
Stuart B. Levine, CFI, CFCI
CEO, The Zellman Group & Zelligent

ORC News
Sponsored by Security Resources
List of 34 Organized Retail Crime Associations throughout the U.S.
The number of Organized Retail Crime Associations has grown steadily in recent years, demonstrating an increased effort on the part of retailers and law enforcement to share information at the local and regional levels, as well as an acknowledgement of the scope and severity of organized retail crime. For your investigative purposes, we've compiled a list of current ORCA's throughout the United States should you need assistance in any specific locality or wish to join their group.

If you have another group or groups to add to the list, let us know! Help raise awareness about the resources available to LP practitioners and investigators throughout the country - as we, as an industry, continue to strengthen our collaboration in the fight against this national epidemic.



The Daily - Driving the ORC Effort Nationwide Coming soon: Over the next few months, we'll be publishing articles on individual ORC associations around the country, detailing the history, the growth and the people behind these major efforts nationwide. The Daily will help share their stories, their successes and their models in order to better educate the industry and help build the ORC effort for the future.

Westchester Co, NY $450,000 Identity Thieves Re-Arrested in Orange County on Additional Charges The ringleader of an elaborate identity theft gang, and the former bank teller who stole customer data, were re-arrested on new charges in Orange County, Attorney General Eric Schneiderman announced today. Tyrone "Reece" Lee, the leader, and former bank teller Nadia Figueroa, were charged on a 50-count indictment, accused of running an identity-theft ring that stole over $457,000 from customers of Wachovia Bank (now Wells Fargo). Both pleaded guilty earlier this year to operating a similar identity-theft scheme in Westchester County, for which Figueroa last week was sentenced to two to six years in prison. patch.com

2 arrested on identity theft, credit card fraud warrants out of Stamford, CT A man and woman have been arrested at their Bronx home on outstanding warrants Stamford police issued for identity theft and credit card fraud. Officers say they seized numerous fake Florida licenses, blank credit cards, and forged credit cards from Ferne and Phillip Deans' home. They also say they found commercial equipment used to manufacture credit cards, a card reader/writer, and a laptop with links to a site known for selling stolen card information. The Deans are being held in New York as fugitives from justice and await extradition to Stamford to be formally arrested on their warrants. Both suspects are charged with with multiple counts of felony forgery, criminal possession of a forgery device, and criminal possession of a forged instrument. wtnh.com
Two Phoenix men were arrested May 15 on suspicion of trafficking in stolen property, organized retail theft and shoplifting at a Target, according to a police report The first man was seen on surveillance removing two bottles of cologne from the sales shelf, according to the report. A security officer then saw the man begin to walk down the aisle and place the items in his pants pocket, police said. That man was then seen walking out toward the front entrance without paying for the items, police reported. The officer saw the man hand the bottles to the other man outside the store, according to the report. The other man immediately entered the store and went directly to the customer service counter to conduct a non-receipt return for the two bottles of cologne, according to the report. A gift card worth $119.65 was issued to him, police said. The first man denied stealing any items but the second man admitted to the theft, police said. He said the plan was to split the proceeds of the gift card, according to the report. Both men were transported to Tempe City Jail where they were booked and held to see a judge. statepress.com

Shoplifting team hits Stop & Shop in Norwalk, CT; claiming bad App Three Norwalk women were arrested for larceny after they allegedly coordinated an effort to walk some $700 in goods out the door of the Stop & Shop on Old King's Highway, according to police. It happened Monday night, May 11, a little before 9:30. Store personnel were watching three individuals as they moved around the store, according to the police report, and one of the three shoppers then went out to the parking lot "and appeared to be a lookout." Meanwhile, the other two shoppers wheeled out of the store with the shopping carts they'd been filling, but store personnel stopped them and called the police. The carts contained a total of nearly $730 in stolen items, police reported - although there were no further details on what was taken, only that the carts' contents were photographed. All three of the suspects denied they were doing anything wrong, police said. The trio claimed they'd been trying to use a Stop & Shop application to pay for items, and the app hadn't worked properly, but the employees told police the store doesn't use such an app. darientimes.com
Three wanted in retail theft in Silver Spring Twp, PA Police are looking for three people they say were involved in a retail theft on Monday. Silver Spring Township Police said the incident occurred at Kohl's, 6444 Carlisle Pike, Mechanicsburg, when the three suspects entered the store, stole items and left in a silver vehicle, possibly a Hyundai Tiburon. cumberlink.com
Do you have an ORC case to share?
Share your ORC news and help the industry grow

Retail Crime News

Sponsored by NuTech National
Man cuts woman's throat during robbery at H-E-B store in South Austin, TX Police are looking for a man they say cut a woman's throat while trying to rob her early Wednesday morning outside a South Austin H-E-B store. The woman left the H-E-B store around 1:30 a.m. and was walking to her pickup when the man approached her and cut her throat, police said. Police say the man struggled with the woman to get her purse before leaving the scene on foot. The woman ran back to the store where an H-E-B security guard used his reflective vest to put pressure on the woman's neck until medics arrived, police said. The woman, whose age and identity were not released. Police said they don't believe the two knew each other and that the attack was random. An H-E-B spokeswoman declined to comment on the investigation but said counseling services will be available to the security guard who helped the woman, as well as store employees. statesman.com

C-Store Clerk killed in Armed Robbery in St Augustine, FL A store clerk's shooting death in St. Augustine Tuesday afternoon sparked a high-speed chase that ended in Green Cove Springs, authorities said. The chase -- which authorities say exceeded 100 miles per hour -- ended at the Governor's Creek Bridge in Green Cove Springs before 4 p.m., according to the Florida Highway Patrol. Two suspects, both believed to be 16 years old, found inside a black Jeep Grand Cherokee reported stolen out of another county are confirmed to be suspects in the St. Augustine shooting, according to the Clay County Sheriff's Office. Both were taken into custody without incident. Neither was hurt. Mark Samson, spokesperson for the St. Augustine Police Department, told First Coast News investigators are responding to reports of shots fired at the Tobacco Beverage Express store, about 2 p.m. Tuesday afternoon. The clerk was shot in the head, police said. firstcoastnews.com

Details scarce in Homeland Security shooting at furniture store parking lot in West Palm Beach, FL The investigation of a shooting involving Homeland Security agents near El Dorado furniture along Okeechobee Boulevard in West Palm Beach continues. A spokesman with the U.S. Department of Homeland Security says agents were trying to make an arrest when the suspect accelerated toward agents and they fired their weapons. The suspect is suffering from non-life threatening injuries at an area hospital. wptv.com

Stores around Twin Peaks in Waco, TX remain closed, part of crime scene Sunday's bloody shootout involving rival motorcycle gangs and law enforcement officers has cast a pall over business at Central Texas Marketplace, with a handful of stores still forcibly closed because of their proximity to the Twin Peaks crime scene and managers of other establishments reporting small crowds and nervous shoppers. Still, most store officials said they do not think the marketplace at West Loop 340 and Interstate 35 now bears a stigma that will stifle traffic over the long haul. Cabela's Outpost and the Best Buy electronics store at Central Texas Marketplace and the businesses between them remained closed Tuesday, with police determining they represent part of the crime scene due to their proximity to Twin Peaks. The Don Carlos Mexican restaurant next door to Twin Peaks also had not reopened. Retailers affected include the new Cavender's Boot City superstore, World Market, Bed Bath & Beyond, JoAnn Fabric & Crafts and Five Below. "I think it's safe to say if these retailers remain closed for a week, the cumulative loss will top millions of dollars," said Kelli Hollinger, director and lecturer at the Mays Center for Retailing Studies at Texas A&M University, who said she has seen "unfortunate" photos of the crime scene that included images of the stores. wacotrib.com
True Religion Employees maced during Cincinnati outlet mall robbery Monroe police are investigating a robbery Tuesday morning at Cincinnati Premium Outlets that resulted in some employees being doused with pepper spray. At about 10:40 a.m., two men and a woman entered True Religion store and apparently tried to get away with merchandise, according to Monroe Lt. Brian Curlis. There was a confrontation and some employees were sprayed with pepper spray. Emergency squads assisted the employees at the scene, but no one was transported to a hospital. The suspects fled through the mall and got into a car, described as light blue or silver possibly with Missouri license plates, and were last seen heading toward Interstate 75. journal-news.com

Man who videotaped Brooklyn McDonald's brawl charged with Inciting Riot The man who videotaped a brawl at a McDonalds in Brooklyn last week has been charged with egging on the increasingly violent attackers. 24 year old Amir McCants was arrested after he shot video of last week's assault at the Flatbush Avenue Extension McDonald's. He was charged with inciting a riot. During the assault, police say McCants repeatedly urged the attack by yelling "kill him...kill him right now." The fight started as a brawl between two teens. But when 43-year-old Iver Whittingham tried to pull the two apart, the teen group turned on him, and McCants allegedly continued to egg on that attack. "I think if you heard the audio, it's pretty clear what he was doing. Inciting a riot," said NYPD Chief of Detectives Robert Boyce. "New York state penal law that means you have to have four people to incite a riot. We have three in custody now, we are looking for a fourth one." Whittingham and the teen originally attacked were treated and released from the hospital. yahoo.com
Box-toting masked gunmen rob Gretna, LA pharmacy Masked gunmen carrying boxes on their shoulders held up a Gretna pharmacy, making off with cash and prescription drugs. No one was injured in the robbery, which occurred Friday evening in the 500 block of Lafayette Street, said Gretna Police Deputy Chief Anthony Christiana. Two men walked into the store about 5:34 p.m., approached the employees at the counter and demanded money and drugs. The men specifically asked for the painkillers hydrocodone and oxycodone, Christiana said. The robbers had the employees put the drugs and an undisclosed amount of cash into the boxes. They then forced all of the employees into a bathroom, Christiana said. nola.com

Phony credit cards dupe a dozen Denver businesses A new credit card scam is hitting Colorado and it already has duped dozens of small-business owners. The thieves are buying real credit card numbers from underground websites, and creating their own fake cards. Scott Taylor, owner of Salvagetti Bike shop in Denver is one of several victims. A security camera captured one of the thieves as he was leaving the store. "This is a $2,700 bike that he's walking out with," Taylor said. The thief, later identified as Osmar Reinoso, used a fake card with a real number to steal more than $45,000 worth of high end bikes from Taylor's shop. Taylor is not alone. The FOX31 Problem Solvers have learned Reinoso was working with two other criminals, Raymel Martinez and Dasnel Jiminez. According to court records, the trio traveled to Colorado and went on a shopping spree, using a dozen fake cards to steal hundreds of thousands of dollars of merchandise from Paul's TV stores and bike shops all along the I-25 corridor. kdvr.com


Woman arrested after shoplifting at Kohl's in Columbia, MO, hitting Loss Prevention with car A south Columbia woman is still in jail in Boone County after allegedly shop lifting and hitting an officer with her car. Kohls employees claimed Alaina Nickens Hill walked out of a dressing room Monday carrying some of their items. The witness said she threw her young children in the car without car seats. The store's loss prevention officer was hit while standing behind her vehicle to get her license plate number. Police said Nickens Hill also ran away from officers outside her home. abc17news.com

Easton, PA man charged with stealing $800 of electronics from Lower Nazareth Wal-Mart A 33-year-old Easton man who failed May 9 in an effort to steal electronics from the Wal-Mart at Northampton Crossings in Lower Nazareth Township was arrested Tuesday morning in Easton, court papers say. Justin Drarmoe Edwards, of the 100 block of Jackson Street, along with another man had a camera kit, a camera, four LED light bulbs and a sound bar - total value $799.09. lehighvalleylive.com

Miami-Dade Police Officer arrested in Gas Theft scheme A veteran Miami-Dade Police officer is facing fraud charges after he filled up his personal car with county fuel, authorities said. Sgt. Emil Van Lugo was arrested Friday on one count of organized fraud of $20,000 or less and five counts of petty theft, the Miami-Dade State Attorney's Office said Monday. His bond was set at $10,000 and it was unknown if he has an attorney. Authorities said Van Lugo, a 16-year veteran, was fueling his car at a station rarely used by other officers between January and March. The amount of fuel consumed appeared to exceed the miles driven, authorities said. According to the investigation, Van Lugo was caught pumping gas on 55 different occasions into a red gas can. He would then head home, put a funnel into his wife's BMW and top it off. Records show Van Lugo made $130,000 last year. nbcmiami.com
Jewelry Distraction Theft - TN/KY/NC/SC/AL/MS/GA/AR/MO/IL/IN On 5/16/2015, at approximately 1:00 PM, the subjects, committed a distraction theft at a Zales store in Goodlettsville, TN; And on 5/16/2015, at approximately 2:45 PM, the same subjects visited a Zales store in Franklin, TN. Four bridal sets were taken, valued at $24,939.96.

RCMP in Calgary investigating after $6,500 ring stolen from Red Deer jewelry store Investigators are searching for a male suspect after a diamond ring worth about $6,500 was stolen from a Red Deer jewelry store last week. RCMP officers were called to the Peoples Jewellers in Parkland Mall 2:40 p.m. Friday, after a Vera Wang engagement ring was taken. Police say a man walked into the store and asked to take a closer look at two rings. He gave the rings back and left, only to return about five to 10 minutes later. He once again asked to take a look at the same rings, then took off with one of them, RCMP added. calgaryherald.com
27 skimmers found in Central Florida gas pumps in statewide inspection

Target employee catches woman charging $1,000 to fake credit card in Indian River Co, FL

Thieves steal 30 handguns from Powhatan, VA pawn shop and gun store

Clemson Football Player Ebenezer Ogundeko dismissed following arrest for credit card fraud

Fort Myers, FL Police investigates attempted store robbery with shots fired


Robberies and Burglaries
• Boost Mobile - Aiken, SC - Burglary
• Cash Mart - Winter Haven, FL - Armed Robbery
• Chevron - Jackson Co, FL - Armed Robbery
• CVS - Tucson, AZ - Robbery
• HoneyFarms - Worcester, MA - Robbery
• Jernegan's Health Mart - New London, CT -Robbery
• Kimberly Pharmacy - Twin Falls, ID - Robbery
• Los Lunas Pawn - Albuquerque, NM - Burglary
• Miller Pharmacy - Cadott, WI - Armed Robbery
• Payless Shoe - Ardmore, OK - Armed Robbery
• Rite Aid - Wolfeboro, NH - Armed Robbery
• Rite Aid - Augusta, ME - Robbery
• Tobacco Beverage Express - St Augustine, FL - Armed Robbery/ Clerk killed
• Vapin By the Beach - Lee Co, FL - Burglary
• Walgreens - Detroit, MI - Robbery
• Walgreens - Glean Carbon, IL - Armed Robbery
• West Side Stop - Rockford, IL - Shooting
• Winn Dixie - North Fort Myers, FL - Robbery


Featured Job Listings
Sponsored by NuTech National
Feature Your Job Here For 30 Days -
70% Aren't On the Boards
Director of LP
Lane Bryant
Columbus, OH
LinkedIn
Director of LP
PacSun
Anaheim, CA
PacSun
Director, LP Operations
Dick's Sporting Goods
Pittsburgh, PA
Dick's Sporting Goods
Director Global AP
KFC & PH
Plano, TX
YUM! Brands
Director of AP, Corporate
Dollar General
Nashville, TN
Dollar General
VP Supply Chain, LP & Safety
Ross Stores
Ft. Mill, SC
Ross Stores
Director of Safety
Academy Sports & Outdoors

Houston, TX

Academy Sports & Outdoors


Dir, Pharmacy LP
Rite Aid
Camp Hill, PA
Rite Aid
Regional Dir AP
Rite Aid
Baltimore, MD
Rite Aid
LP Corporate Sr Mgr
JC Penney
Dallas, TX
JC Penney
Safety & Security Mgr
Kirkland's
Brentwood, TN
Kirkland's
AP Manager
Ralph Lauren
New York, NY
Ralph Lauren
LP Manager
Dunkin' Brands
Chicago, IL
Dunkin' Brands
Regional LP Mgr
Dunham's Sports
South Central KY, Central TN or NC
Dunham's Sports
Regional LP Mgr
Dollar General
Midland/Odessa, TX
Dollar General
Group LP Coordinator - Head Office
Cotton On
Los Angeles, CA
Cotton On
Sr Retail AP Specialist
REI
Bloomington, MN
REI
Coordinator, Corporate AP
Bi-Lo Holdings
Jacksonville, FL
Bi-Lo Holdings
Supervisor, LP
Ascena Retail Group, Inc
Pataskala, OH
Ascena Retail Group, Inc
LP Admin. Asst.
National Stores
Gardena, CA
National Stores
LP Operations Coordinator
Restoration Hardware
Corte Madera, CA
Restoration Hardware
LP Analyst
Restoration Hardware
Corte Madera, CA
Restoration Hardware
Implementation Expert/Project Mgr
LP Software
Worth, IL
LP Software
Sales Representative
NuTech National
Maitland, FL
NuTech National

Limited Time Only - Post Your Multi-Unit LP jobs for FREE - Learn More Here

Daily Job Alerts


Appearing One Day Only
View our Internet Jobs Archives here
LP Manager
Herberger's
St. Paul, MN
Bon Ton Stores
Central Investigator LP
Home Depot
Dublin, CA
Home Depot
Area LP Manager
JC Penney
Spokane, WA
JC Penney
District 5 LP Specialist
Kroger
Elkhart, IN
Kroger
Dept Mgr LP & Safety
Lowe's
Columbia, MO
Lowe's
Dept Mgr LP & Safety
Lowe's
Lafayette, IN
Lowe's
AP Manager in Training
Walmart
Yreka, CA
Wal-Mart
AP Manager in Training
Walmart
Laurens, SC
Wal-Mart
AP Manager in Training
Walmart
Upland, CA
Wal-Mart
AP Manager in Training
Walmart
Gainesville, TX
Wal-Mart
LP Manager Hrly
Kmart
Lakeland, FL
Sears Holdings Corp
LP Manager Hrly
Kmart
Racine, WI
Sears Holdings Corp
LP Manager Hrly
Kmart
Corvallis, OR
Sears Holdings Corp
DC LP Manager
Kmart
Manteno, IL
Sears Holdings Corp
AP Team Leader
Target
Shorewood, IL
Target
AP Team Leader
Target
Victoria, TX
Target
Mgr AP
Macy's
Secaucus, NJ
Macy's
AP/LP Mgr
Macy's
Nashville, TN
Macy's



Home of the Industry's Original
On the Move

Gina Guardamondo, CFI was promoted to Senior Director of Loss Prevention for Finish Line.
Bobby Templet was named Sr. National Account Manager for Stanley Security Solutions.
Mike Cross was named Loss Prevention Manager for Sears Canada.

Post Your New Job or Promotion!
See all the Industry Movement

Your Career
Sponsor this section of the Daily
7 Ways to Destroy, Shoot and Blow Up Your Stress You know those days when everything just seems to go wrong? You wish you could just hit something to let all of your frustration out. Well, there are places where you can do just that...and more. Rent an 'Anger Room' in Dallas

Remember, Your Behavior is Contagious
As a leader, your example sets the tone for everyone else around you. How do coaches convince athletes that they have it in themselves to be better and stronger? By playing the role themselves. Everything you portray, positive and negative, is contagious, so Lead by example

5 Tips to Get a Grip on All that Stress
Life is never predictable and extremely overwhelming at times especially when you factor in all the stress we feel. Finding balance in your life is the most important thing you can learn to do to help, and here are some tips to do so. Seek advice

Thinking on Your Feet: 6 Tips to Thrive Under Pressure We feel this immediate sense of stress and anxiety when we are put on the spot. Suddenly, it's up to us to come up with a grand idea, or solution to a vexing problem, but you just can't think. There are ways to improve your quick thinking skills. Here are a few of the top ones you can use. Turn off your devices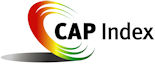 Tip of the Day
Sponsored by Vector Security
Managing your career upwards is a difficult task because it requires absolute commitment in every situation and environment. You have to stay focused on what's in front of you and make sure your attitude matches your actions. And remember always be West Point. There's a reason every single U.S. citizen respects graduates of West Point. It's almost a universal code so to speak. Clean, crisp, sharp, alert, intelligent, and always a gentleman or gentlewoman.
Just a Thought,
Gus





Upcoming Events
---

Recruiting?
Get your job e-mailed to everyone... everyday
Post on our Featured Jobs Board!
Reach your target audience in 2015 every day!
Request our 2015 Media Kit
update account / change e-mail
unsubscribe FEEDBACK
www.downing-downing.com

Advertise With The D&D Daily




36615 Vine Street, Suite 103
Willoughby, OH 44094
440.942.0671
copyright 2009-2019
all rights reserved globally