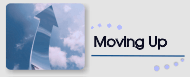 Brad Dykes was promoted to Sr. Director Asset Protection / Safety for Cabela's. Brad has been with Cabela's for over a year, and before the promotion he was the Director of Asset Protection and Safety. Prior to working at Cabela's, he had worked for AutoZone in a variety of Loss Prevention managerial positions such as Director of Loss Prevention, Divisional LP Manager, Divisional Investigator, and Regional LP Manager. He was with AutoZone for over five years. Prior to joining AutoZone, Brad was the Regional Loss Prevention Manager for Tractor Supply Company, and the Investigations Team Leader for Target. Brad earned his Bachelors of Arts degree in Criminal Justice from the University of Southern Mississippi, and a Masters in Business Administration from The University of Memphis. Congratulations Brad!
Rumors of a possible merger between Neiman Marcus and Saks Fifth Avenue. According to a Bloomberg News report, global firm KKR is weighing a potential investment in luxury retailer Saks Fifth Avenue, and would champion a merger with Neiman Marcus. The combined companies would create $7 billion in annual sales and rank second only to Nordstrom. (Source bloomberg.com)
Rue21 will be acquired by Apax Partners for $1.1 Billion. Rue21 shareholder Apax Partners will acquire the teen apparel retailer in a deal valued at about $1.1 billion. The private equity firm, which has a 30% stake in rue21, also owns Cole Haan and Takko Fashion as part of its retail portfolio. Rue21 said it has set up a special committee of independent directors to solicit and evaluate higher bids during a 40-day "go-shop" period. (Source nytimes.com)
Cerberus Capital may be interested in Harris Teeter. Cerberus Capital Management is among the private-equity firms considering a bid for Harris Teeter Supermarkets. Cerberus, which recently acquired the Albertsons, Jewel-Osco, Shaw's/Star Market and Acme banners from Supervalu, is seeking to acquire other chains to add scale and for turnaround opportunities. The article said Cerberus was mostly interested in small, closely held companies, so it was unclear whether or not Harris Teeter a publicly held chain with 200 stores that has been a top industry performer actually fit the bill. Harris Teeter said in February that it had been approached by private-equity firms seeking to acquire it and that it would review the possibility of a sale. It confirmed earlier this month that discussions concerning a sale were ongoing. (Source wsj.com)

Whole Foods eyes Canada as a possible $1 Billion sales growth expansion. Whole Foods is looking at the possibility of opening up to 40 stores in the Canadian market. Whole Foods operates 350 stores in the United Sates and had growth plans to be a 1000 store chain. (Source financialpost.com)

Sales at Target Better than expected in initial quarter The rush in newly opened Canada Target stores exceeded expectations, bringing in $86-million in sales even though they were open for just over half the quarter, which ended May 4. Target plans to open 20 more stores in Canada later this quarter, in addition to the first wave of 24 stores which opened in southern Ontario, and another 24 which opened in Alberta, Manitoba and British Columbia two weeks ago. That would result in 124 total Target stores if all goes to plan. (Source theglobeandmail.com)

eBay Targets $195 Billion by expanding its grip on the Global Market. eBay has already hired 140 additional employees and may add more in an effort to expand profits in Russia, Latin America and China. This time, the company is trying to take a smarter approach. eBay debuted a Russian-language site earlier this year, following the release of a mobile application focused on fashion in the country in 2012. eBay saw users in Russia surge by 75 percent in 2012. To support its efforts in Russia last year, eBay began building a team charged with forging partnerships with local companies, improving shipping times and making payments easier. E-commerce revenue in China, India and Latin America were estimated to exceed $185 billion in 2012, increasing at rates as fast as 44 percent a year, compared with 14 percent growth in the U.S. in the same period. (Source businessoffashion.com)

Adobe software Counterfeiter was making $42,000 a month before postal inspectors caught him. United States Postal Inspectors seized $144,000 in cash, counterfeit boxes of software, and a CD duplicator. The Inspectors began tracking the suspect after getting thousands of complaints from Adobe's anti-piracy group. Inspectors went undercover, setting up internet profiles on eBay to buy the bogus software and test it for authenticity. (Source ksdk.com)

Retail Crime News
---
Miami police looking for Advance Auto Parts burglar, hitting twice in two days. The Miami Police Department is asking for the public's help to find a man who burglarized an Advanced Auto Parts store. According to police, the burglar smashed the front glass door of the store. Police say he targeted the store two days later by kicking in the front door stealing more items. (Source nbcmiami.com)
Two men admit stealing over $ 1 Million worth of jewelry from Rox store in Edinburgh, Scotland. Elliot Jorgensen, 25, and Anthony Boyd, 26, pleaded guilty to the robbery at the High Court in Glasgow today. The two men have admitted taking part in a million dollar armed robbery of the ROX store in Edinburgh in January. Over $1 Million dollars worth of jewelry was stolen from the George Street location before those responsible made off on a motorcycle. Jorgensen later dropped a glove worn during the heist, with forensic specialists able to recover his DNA from it. Jorgensen's DNA was in the database for a 2007 robbery charge. The men were arrested in the Manchester area after a major investigation. They will be sentenced at a later date. A third man was charged in connection with the robbery but pled not guilty and has been released from custody. (Source scotsman.com)
Twin Falls Police looking for a man who hit Walmart register and ran. Police are looking for a man who robbed the Walmart store in Twin Falls, Idaho. The robbery happened about 5:45 a.m. Wednesday. According to officers, a Walmart employee reported that a man approached the only checkout register which was open at the time, purporting to buy an item. When the cashier opened the cash register drawer to complete the transaction, the man grabbed money from the drawer and ran out of the store. No weapon was seen. (Source ktvb.com)
Payless Shoe robbery suspect now in custody in Bridgeport, Connecticut. A Bridgeport man was arrested Monday in connection with three armed robberies in Bridgeport and Stratford. Michael Ramos, 32, was arrested Monday in connection with an armed robbery at a Payless shoe store. Police responded to the store around 5p.m. after receiving a report of a masked man who held up the business at knife-point. Police located the getaway car unoccupied on Willow Street, and observed a man on a payphone nearby who matched the suspect's description. Witnesses from the Payless robbery later identified the suspect. Additionally, Ramos was linked to a robbery last week at the Wireless Wizard in Bridgeport, and another similar incident in Stratford. (Source ctpost.com)

Police in Chesapeake seeking a shoplifter who assaulted a Loss Prevention agent at Lowe's. Surveillance camera images captured the theft on May 11, but the suspect managed to flee with more than $200 worth of merchandise and then assaulted the loss prevention officer who tried to stop him. (Source wvec.com)
Theft of a $37 Walmart Printer turns into High-Speed Chase with drugs flying out the window. A Louisiana couple is in custody following a high speed police chase over a $37 printer stolen from Walmart. When the husband saw the police show up and start to approach their vehicles, he apparently put the pedal to the metal and fled, almost hitting the officer. From there it was a race across the city, say cops, which also served as a way for the couple to start "throwing suspected methamphetamine and marijuana out of the vehicle." The suspect's car was stopped when officer deployed stop sticks on the highway. The couple was arrested, and will face charges of aggravated flight from an officer, resisting by flight, theft of goods under $500, and obstruction of justice, possession of marijuana and aggravated assault on a police officer by use of a vehicle. (Source wwl.com)

Two arrested in connection with a Dollar General robbery in Waco. Two shoplifters were being stopped by a manager at the Dollar General when the female shoplifter turned and punched the male manager. The female suspect then threw the concealed merchandise at the manager and the couple fled. Police caught up to them a short time later. (Source kwtx.com)
Robbery suspect of a Walgreens runs into a Target to shave off his beard. Following what appeared to be an armed robbery of a Walgreens store in Fort Wayne, the suspect was noticed a short time later in a Target store shaving in the Men's room. Joshua Dixon had displayed the handgun at the Walgreen store, got the register cash and fled with over $600. In what could have been an attempt to change his appearance, Dixon entered the Target store and went into the men's room, shaved and changed his clothes. Changing clothes and shaving didn't help Dixon; the Walgreens cashier was focused on the tattoo on his arm, which a picture of his tattoo was already in the criminal database due to his prior arrest bookings. (Source journalgazette.net)

Man arrested in Los Angeles for posing as Disney family member, stealing Disneyland passes. Authorities say a man has been arrested after claiming to be a member of the Walt Disney family and giving away invalid Disneyland passes. Los Angeles County sheriff's officials say the man called himself "Stephen Disney" and had a fake driver's license and tax forms that falsely claimed income from the Walt Disney Corp. The statement says he gave Disneyland passes to a woman for a raffle. When the winner took the passes to Disneyland, she learned they hadn't been activated. Deputies determined the man's name is 51-year-old Stephen David Urquidez and the passes were stolen from a store. He was arrested on suspicion of burglary and having a driver's license with a forged state seal, a felony. (Source latimes.com)

Radio Shack burglar falls out of the ceiling in Richmond, Virginia, flees empty handed. A man broke into a Richmond Southside by dropping through the ceiling, then left without stealing a thing. Now, police are hoping surveillance video will help them identify the burglar. Police say the man broke into the Sheila Lane Radio Shack around 4:30 a.m. Sunday. Video shows him come falling through the ceiling, then dashes out of the store. (Source nbc12.com)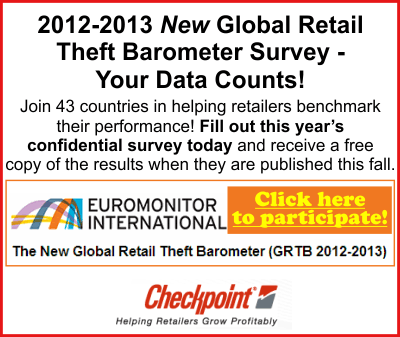 American Dynamics Makes Powerful Video Management Accessible to Small and Medium Sized Businesses

New client options make the VideoEdge portfolio a more intuitive and
cost-effective VMS solution
WESTFORD, MA – American Dynamics, part of the Security Products business unit of Tyco (NYSE: TYC), is introducing new ways to manage and interact with VideoEdge video management systems: VideoEdge Hybrid and Desktop/Mini-Tower NVR with VideoEdge Client and victor Express Client.

Previously considered relevant mostly to large, enterprise customers, the VideoEdge NVR portfolio has undergone a transformation over the past two years, to include smaller, lower-cost recording platforms, with two new intuitive client solutions.

The VideoEdge Hybrid is a powerful, high-performance NVMS that records and manages video from both analog and IP cameras, protecting your video investments. The Desktop/Mini-Tower NVR offers 200Mbps throughput (100Mbps to storage and 100Mbps playback to clients), the highest in the industry. Both recording platforms are ideal choices for small to medium size businesses.

The new VideoEdge Client brings powerful video management directly onto the VideoEdge recorder. This intuitive client allows you to manage and monitor high-performance video streaming, audio, video analytics operations and event management. You can also perform date, time and Smart Searches quickly and easily as well as forensic searches using the onboard investigator mode. Easy to set up and use, the VideoEdge Client is designed specifically for single site, single recorder applications.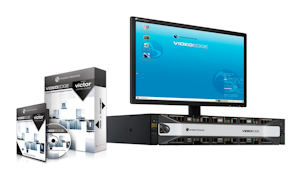 For customers securing single sites with multiple recorders, the new victor Express Client introduces a revolutionary way to enjoy the power of video unification without the high price tag or bigger system overhead. As part of the victor unified client portfolio, victor Express still offers the ability to manage video from multiple Intellex DVRs, and VideoEdge NVR/Hybrids from a single intuitive interface. By removing the victor site manager requirement which provides more enterprise functionality such as command center, access control unification and integrated policy management, victor Express provides single site applications a powerful way to manage multiple recorders. Those enterprise features are available with the victor Professional Client.

"Our VideoEdge portfolio has had tremendous success in places such as university and medical campuses, multi-site corporations, and Fortune 500 businesses; so much so, that we've been asked by customers in smaller applications for a solution more fitting to their needs. The new Hybrid and Desktop/Mini-Tower NVR with the new clients are the direct result of listening to those customers," said Shahar Ze'evi, senior product manager for American Dynamics.

In addition to the new client solutions, customers can also use the new VideoEdge Go mobile application to view and manage video from any of their recorders, providing powerful visibility on the go.

The entire VideoEdge and victor portfolio of video management solutions is available through American Dynamics' worldwide distribution channel.

Contact:

Kim Kuhn
Sr. Marketing Manager
(978) 577-4176
kkuhn@tycoint.com