The D&D Daily Mobile Edition
May 28,

2015



The LP Industry's #1 News Source - Informing, Educating and Instilling a sense of community



NEW Group LP Selfie
Crate and Barrel Loss Prevention Team

Annual LP Summit 2015 at Corporate Headquarters, Northbrook, IL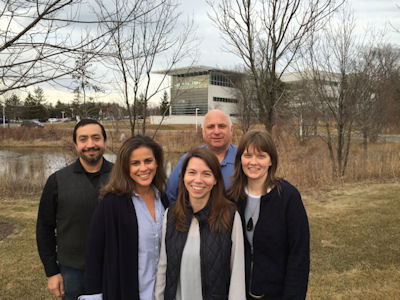 Back row: Ruben Melero, Regional Manager Midwest/South; Tim Marcolini, Senior Director of Loss Prevention/Internal Audit

Front Row: Angel Slappy, Regional Manager West Coast; Heidi Diehl, Regional Manager East Coast; Carrie Koziol, Regional Manager Corporate/Direct Marketing

View all the selfies here!
Sponsored by:


---
2015's Let's Get LP Social
We still want your Group LP Selfies - So keep them coming retail LP teams!

Submit a group selfie of you and your LP team and you could get a plaque. Please submit a high resolution photo (300 dpi) and logo at 5" wide for your printed plaque, and if you have a tagline or slogan either from your team or from the company, please send it to us as well for inclusion on the plaques and here on the Daily. Click here for more details.
New to the D&D Daily, "My LP Selfie"!
Got a Smartphone, webcam or camera? Snap a picture of yourself and send it in to the Daily! Let's see what all our LP folks are up to!


News Brief
Sponsored by WG Security Products, Inc.

The annual National Retail Security Survey to be reported in it's entirety at NRF Protect conference June 25th This year Dr. Richard Hollinger, University of Florida, will be presenting the reports findings in its entirety to the attendees. The University of Florida and the NRF have partnered for over a decade to conduct the National Retail Security Survey study. This industry standard study covers retail loss prevention and security issues across many areas, including inventory shrinkage, employee integrity screening, awareness programs, and external retail crime, among other loss prevention topics. Hear the latest developments in how the research is conducted and get insights from our most recent gathering of critically important data on loss prevention in the retail industry.
You will leave this session with:

1. An awareness of key base metrics in loss prevention and asset protection.
2. Updated knowledge of key ORC, background screening, external crimes, use of technology as a deterrent and other loss prevention metrics and trends
3. Keen understanding of key and emerging trends in loss prevention nrf.com

Repeal of Civil Recovery in Maryland almost certain to reappear next year - A brief history of the events - Vermont's statute may be next Maryland HB 1239, as introduced, sought to repeal Maryland's civil penalties statute (3-1301 through 3-1308 and Subtitle 13) in its entirety, leaving only the criminal statute for theft in the Code. Committee testimony highlighted a demand letter from a Florida law firm demanding $1,000 in penalties while indicating $0 in actual damages. The Maryland Retail Association sited it as "a terrible example of how the law is being used" in their April 15th edition of their email newsletter The Connection. The Florida law firm did give testimony about the civil recovery during House Judiciary proceedings but neither addressed nor answered questions in regard to the specifics of the letter identified as the catalyst for HB 1239. House Judiciary Committee Vice-Chair, Kathleen Dumais, described the letter as appalling during House proceedings. HB 1239 passed the House by 85-52. Not wanting to "throw the baby out with the bath water" the Senate amended the measure to address some "abuses" that were cited during the Judicial Proceedings Committee hearing. The amended version passed the Senate on the last day of session by a vote of 40-5. The House refused to concur with the Senate amendments and the Senate did not appoint members to the conference committee before time ran out. The bill died with adjournment.

RMA President Patrick Donahoe and Vice President Judge Jeffrey Zellman played a critical role in the entire process. They lobbied the Assembly member and testified in front of both the House and Senate. The sponsor, House Delegate Brooke Lierman from Baltimore City is almost certain to re-present the bill next year. The Vice-chair was sent the letter by the recipient and is a champion of the bill. The Chairman, Joseph F.Vallario, Jr. is the delegate from the county where the incident occurred and is also a champion of the bill. David Rangaviz, a Harvard educated Maryland Public Defender wrote the OpEd in the Baltimore Sun that peaked Delegate Lierman's interest. Mr. Rangaviz, a Vermont native, is also leading voice in Vermont to repeal their law. The fight to protect retailers and consumers and retain Civil Penalty statutes is not over.

Maryland House Judiciary Proceedings
http://mgahouse.maryland.gov/house/play/
dc256ee1325b4ae48714433caf06a295/?catalog/03e481c7-8a42-4438-a7da-93ff74bdaa4c&playfrom=8962006

Maryland Senate Judiciary Proceedings
http://mgahouse.maryland.gov/house/play/
0ff9c5abfbb44b35b3d4b48f41ba7c80/?catalog/03e481c7-8a42-4438-a7da-93ff74bdaa4c&playfrom=599499

UK identity fraud spiked 27% in the first quarter of 2015 Fraud body Cifas calls for national system of fraud reporting. ID theft made up 47 percent of all fraud with credit cards exploiting identity accounting for 41 percent, or 14,103, of that total, Cifas said. Eight out of ten identity frauds were attempted or happened online. "What these figures show is that identity fraud continues to be the most serious fraud threat and that the first quarter of the year has been a very profitable one for organized identity criminals," commented Cifas chief executive, Simon Dukes. Cifas argues that the UK now needs a government-agreed national measure of fraud levels, without which the true scale of what is happening will never be apparent, and perhaps a review of sentencing for fraud crimes. computerworlduk.com

Office Depot To Pay $3.4M For Not Reporting Chair Defects The U.S. Consumer Product Safety Commission on Wednesday announced that Office Depot Inc. agreed to pay a $3.4 million civil penalty for failing to report alleged defects and serious injury risks of two of its chair models, over the objection of one of the agency's commissioners. Companies have to report products with potentially hazardous defects to the CPSC within 24 hours of a report, according to the agency. Office Depot received dozens of reports of seatback failures and related injuries involving both the Quantum chairs and the Gibson chairs. Office Depot never reported the Quantum chair hazard to CPSC, and reported the Gibson chair hazard only after receiving a request from staff. By the time the Quantum chair and the Gibson chair were recalled, Office Depot had received 33 and 153 reports, respectively, of seatback detachment from the chairs, and 14 and 25 reports, respectively, of injuries, some requiring medical attention.

In addition to paying the $3.4 million civil penalty, Office Depot has agreed that the company has, and shall maintain, a compliance program designed to ensure compliance with the Consumer Product Safety Act and a related system of internal controls and procedures. The compliance program must include written standards and policies designed to convey information obtained from sources such as complaints, parts requests, and incident reports to personnel responsible for CPSC compliance. ●confidential employee reporting of compliance concerns to a senior manager; ●effective communication of compliance policies and procedures, including training; ●senior management responsibility for, and general board oversight of, compliance; and ●requirements for record retention. prnewswire.com

Millennials Represent a Vast Insider Threat Vector Recent report finds millennial employees, who will become the largest demographic in the workforce with 75M, look for ways around security if they perceive security as a barrier. In fact, a full 56% admit they would be "very" or "moderately" likely to evade restrictive workplace controls. This group (defined as those born after 1980), have the worst password reuse habits of all demographics: A full 85% admit to re-using credentials across sites and services. They are also most likely to find security workarounds, and take an often cavalier attitude towards social media privacy. infosecurity-magazine.com

Tracy Morgan, Walmart Reach Settlement in Car Crash Lawsuit Tracy Morgan has reached a settlement with Walmart in his lawsuit against the retail giant revolving around an accident in New Jersey which left Morgan severely injured and another man dead. Walmart announced the settlement on its website on Wednesday, saying that the conditions of the settlement are confidential. Morgan said that the case was "resolved amicably" in a statement. "Walmart did right by me and my family, and for my associates and their families," Morgan said. "I am grateful that the case was resolved amicably." In his own statement, Walmart U.S. president and CEO Greg Foran said that his company "has been committed to doing what's right" in the process. "Our thoughts continue to go out to everyone that was involved in the accident," Foran said. "While we know there is nothing that can change what happened, Walmart has been committed to doing what's right to help ensure the well-being of all of those who were impacted by the accident. We worked closely with [Morgan's lawyer Benedict P.] Morelli, and we are pleased to have reached an amicable settlement that ends this litigation. We are deeply sorry that one of our trucks was involved." The accident occurred on the New Jersey Turnpike in June 2014, when a Walmart truck driven by Kevin Roper struck a vehicle carrying Morgan and others. The suit, filed in July 2014, alleged that Walmart "knew or should have known" that driver Kevin Roper had been awake "for more than 24 consecutive hours" ahead of the accident, violating Federal Motor Carrier Safety Administration regulations. Morgan's complaint also alleged that the retail company "had a custom and practice of recklessly and intentionally allowing its drivers to drive for prolonged and unreasonable periods of time." Ardley Fuqua and Jeffrey Millea, who were also plaintiffs in the suit, were also included in the settlement, Walmart said. In addition to Morgan's injuries, the crash killed comedian James McNair. Roper, who was charged with death by auto and four counts of assault by auto, had attempted to delay Morgan's lawsuit, arguing that evidence brought to light in Morgan's civil case would be harmful to the driver's criminal case in relation to the crash. However, he was denied. Roper has pleaded not guilty in his case. yahoo.com

American Postal Workers Union urges feds to reject Staples-Office Depot deal

McDonald's to Stop Reporting Monthly Same-Store Sales Data - Following 11 straight months of declining global sales

Quarterly Same Store Sales Results
Express, Inc. Q1 comp's up 7% with sales up 9%
Canada's Indigo Books & Music Q4 comp's up 6.8% at superstores & 0.8% at smaller Coles & Indigospirit with revenue up 1%
Costco Q3 up 6%, excluding negative impacts from gasoline price deflation and foreign exchange, with sales up 1%
Signet Jewelers Q1 up 3.6% with sales up 44.9% (driven by Zale acquisition)
Tilly's Q1 comp's up 2% with net sales up 8.1%
Fred's Q1 up 1.9% with sales up 7%
SpartanNash retail segment Q1 comp's down 1.2% with net sales down 7.6% (due to store closures)
Abercrombie & Fitch Q1 - Abercrombie down 9%, Hollister down 6% with net sales down 13.7%
All the news - One place - One Source - One Time
The D&D Daily respects your time
& doesn't filter retail's reality
Report Your News!
(content subject to approval)



Big Data: From Buzzword to Retailers' Secret Weapon A survey of 1,500 independent retailers about the technologies that made the biggest impact on their businesses over the past year and asked where they plan to invest in the coming year. The results show an enthusiastic adoption of big data analytics. 42 per cent of retailers said they would increase their budgets for in-store technology this year, and 61 per cent said they would increase their online technology budgets. Big data allows them to buy better and personalize virtually every touch point with consumers. retailfraud.com

The Internet of Things will trigger a deluge of data - Retailers will become personal digital assistants to consumers Smart, web-connected products are less likely to be transactional for purchases than advisory, McQuivey says, yielding unprecedented data on consumers' needs, preferences and readiness to purchase. The Internet of Things has the potential to let retailers personalize customer outreach and service with laser-like precision and become more of a personal digital assistant to consumers. "This is not so much about retail but about building a very intelligent relationship with consumers." "People have claimed we entered an information age when the PC was invented. But the real information age starts now, as hyperadoptive consumers put sensors in their homes, cars and on their bodies, sensors that will generate more data than ever before. And the three companies that will probably steer are Amazon, Google and Apple. internetretailer.com

DHS Seeks Input on Public-Private Cyber Sharing Groups The Department of Homeland Security is soliciting comment on ways the public and private sectors can better share information about cyber threats. February executive order mandated that DHS encourage the formation of so-called Information Sharing and Analysis Organizations. Members should be from both the public and private sectors and grouped by industry, region, or other common factors. These groups are meant to be more expansive than the existing Information Sharing and Analysis Centers, mostly private sector groups that share information along sector-lines. DHS now wants comments on the formation of the new organizations, including:

● Capabilities ISAOs should be able to demonstrate, including how information can be received, analyzed, stored and shared;
● Why these organizations could be beneficial; and
● Factors that could constrain their ability to serve member organizations - DHS is seeking comments until early July. nextgov.com

Cybersecurity on agenda for 80% of corporate boards & 66% Not Confident Their Companies Can Defend Against One Survey reveales that more than 80 percent of board members say that cybersecurity is discussed at most or all board meetings. According to the survey, the board members held the CEO primarily responsible for cybersecurity, with the CIO as the second-most responsible executive. One example of this is last year's resignation of Target's CEO and CIO after that company's highly-publicized data breach. This bodes well for corporate security, he said. "That means you're going to see the security get a larger budget," he said. "But also, more importantly, be an issue that the whole company is going to be charged with solving, not just the IT department or CISO." However, 66 percent of board members are not confident of their companies' ability to defend themselves against cyberattacks. Only 4 percent said they were "very" confident. And, despite this lack of confidence, security ranked second to last in priority when it comes to developing new products and services. csoonline.com

FBI Won't Treat Data Breach Victims As Targets But As 'Victims' Themselves - Same As Bank Robbery Victims A top official in the FBI's cybersecurity division said Wednesday that the bureau has begun to treat breached companies like traditional crime victims rather than negligent data custodians, citing the use of trauma specialists and other victim resources deployed in the aftermath of the 2014 North Korean cyber attack on Sony Corp.'s networks. According to division Deputy Assistant Director Donald Good, the FBI is now availing to companies the same treatments provided to victims of bank robberies and gang crimes, such as fully staffed "victim witness teams" to help employees deal with the attack. law360.com

Businesses are battling their own employees' bad behavior when it comes to information security According to new data from a global snapshot survey from SOTI Inc., provider of Enterprise Mobility Management (EMM) and Bring Your Own Device (BYOD) policy management, more than 60 percent of enterprises have experienced a data breach or loss of data. Employees surveyed in the study admit to engaging in mobile device usage behaviors that puts their business' data at risk. More than 73 percent of consumers accessed corporate data from a free or public Wi-Fi connection; nearly 65 percent of consumers forwarded a work document or file to personal email address; and nearly 65 percent used consumer cloud storage such as DropBox, Google Drive or SkyDrive for work files. SOTI announced the results of the global snapshot to showcase the disconnect between a business' best efforts to protect its data and the common mobile workforce behaviours that post a significant risk to the company. ● Almost one-third of IT professionals reported that accidental data exposure is the top security threat compared to only 16 percent for phishing, outside hackers and government spying. ● 60 percent of enterprises have actively prevented a data breach, but less than 50% have a mobility strategy. This highlights a significant blind spot on mobile threat vectors because only 34 percent are using an enterprise mobility management solution. canadiansecuritymag.com

Contactless payment momentum continues in UK up 49% last six months alone

Skipping Out on the EMV Deadline

Vendor Spotlight



Obtain Critical Data and Analytic Intelligence With S3i RTLS Wireless In-Store Network
Increases Retail Sales, Improves On-Shelf Availability,
Reduces Shrink on High-Value Merchandise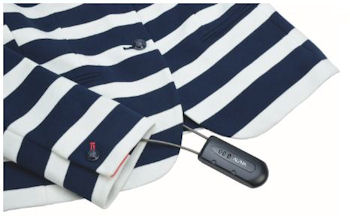 S3i, a scalable RTLS (real time location system) wireless in-store network works with enhanced Alpha High Theft Solutions' alarmed devices to obtain critical data and analytic intelligence, increasing sales, improving on-shelf availability and reducing shrink on high-value merchandise.

S3i's smart devices work in conjunction with smart keys to register all events, such as commissioning, removal of devices and theft. Through better and real-time stock visibility and shrink reduction, store managers are then able to increase sales. Better stock visibility allows retailers to know where the products are in real time, and also have a clear and accurate vision of the quantities, while the use of smart keys reduces both internal and external shrink.

S3i offers retailer's corporate management, store operations and loss prevention critical data on inventory quantity, location and movement of their high-value items within the store. For example, a store manager can have immediate visibility to all of the store's high-value merchandise protected with S3i devices.

When a shopper inquires about a specific item, the store associate can quickly locate it following the user-friendly graphical user interface. Any shoplifting attempt to remove the S3i device creates an immediate alert/alarm that enables store personnel to address according to store policies. In addition, any removal of the S3i device with an authorized key is logged and can help reduce incidents of internal theft.

S3i Devices

Alpha's proven S3 CableLoks, Hard Tags and Spider Wraps have been enhanced by adding S3i technology, making them smart, and giving them the ability to let retailers know exactly where and what is happening with their high-value merchandise. Retailers are enabled to openly display high-risk merchandise such as electronics, designer apparel, luxury handbags and more, improving the shopping experience and increasing likelihood of sale.

Some large retailers are seeing the benefits as they are piloting S3i to create zones around high-risk merchandise and high-risk areas such as backrooms, fitting rooms, rest rooms and exits. With the technology, they are able to detect and deter shoplifting, organized retail crime and employee pilfering. S3i is customized to provide real-time notifications when merchandise enters or exits designated zones or when there is an attempted unauthorized removal of the device. It uses audible and/or visible alerts delivered to associates via smartphones, tablets, radio headsets, or public address systems. This enables retailers to track high-risk merchandise in real-time and respond more quickly to potential theft events.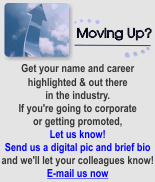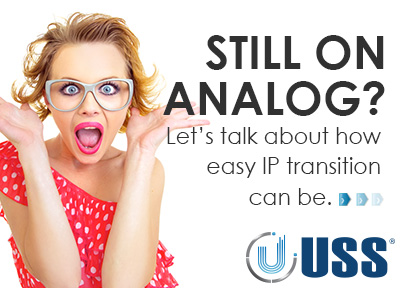 Loss Prevention News Network

Kenya's West Gate Mall Massacre - Could it happen here?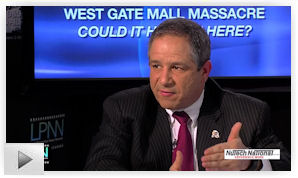 In September 2013, armed gunmen attacked the Westgate shopping mall in Nairobi, Kenya, resulting in 61 civilian deaths, six dead security officers and over 175 injured. Special Agent In-Charge Richard Frankel of the FBI deployed to Kenya with a Rapid Deployment Team and assisted the Kenyans in the forensic and intelligence investigation related to the terrorist attack. In this LPNN interview, Mr. Frankel talks about this high-profile investigation, the odds of a similar attack occurring in the U.S., and the importance of active-shooter programs for retailers. With the ultimate responsibility of protecting your employees and customers, learn what LP executives can do to prepare for and prevent such a catastrophic event.
---
"Live in NYC" Event Closing


LPNN Quick Take #21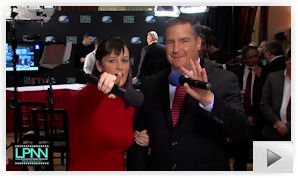 After a jam-packed day full of LP leaders, retailers, solution providers - and all the valuable information and fun in between - MCs Joe LaRocca and Amber Bradley sign off from the D&D Daily's "Live in NYC" at the NRF Big Show 2015. Re-live all the great moments here. Thanks for watching and we'll see you in Long Beach!
Solution Providers, have a video or commercial you want to publish? Contact us.


e-commerce

Sponsored by The Zellman Group
Global Mobile Payment Methods 2014 - Forecasted to reach 50B this year The publication, "Global Mobile Payment Methods 2014" discloses that while competition in the mobile payments field has intensified worldwide, acceptance and usage of in-store mobile payments and the preferences of shoppers towards payment methods in remote M-Commerce differed from country to country. A general trend is the lingering concern of consumers towards security of mobile payment transactions. Mobile payments, comprising remote and in person retail payments made with mobile devices, are forecasted to maintain rapid growth in the next several years. The number of mobile payment transactions is forecasted to near 50 billion in 2015. Contactless mobile payment transactions and mobile wallets are expected to be the leading segments in terms of market growth. Regardless of acceptance levels, security concerns about mobile payments are a general trend. In the USA merchants trading through M-Commerce report the highest rate of revenue losses to fraud compared to other channels. prnewswire.com

Failed Retail Brands Get New Lives on Web
The going-out-of-business sales had already ended at Delia's, a teen-clothing chain. But then, this message popped up on Delia's dormant Instagram page: "The internets have spoken! We are coming BACK!" it said, below tiled images of a model mugging at the camera in Delia's shirts.

Entrepreneurs and investment firms are snapping up the intellectual-property rights to retailers that have fallen on hard times, taking advantage of a built-in audience to launch lower-cost small businesses online without the overhead of maintaining dozens or hundreds of locations.

As liquidators cleared Delia's stores earlier this year, for instance, an investor group led by New York businessman Steve Russo in February bought the brand's intellectual property and customer lists for $2.5 million. Now, he and his partner owners are preparing to relaunch Delia's as an online- and catalog-only store as soon as the end of July.

Other brands making a comeback as smaller businesses include the now-defunct children's clothing purveyor Naartjie Kids, which in November sold its name in bankruptcy to a South African company that has promised to reopen its U.S. online store. And the lingerie chain Frederick's of Hollywood, which recently closed its fewer than 100 remaining stores and filed for bankruptcy, is planning to sell its e-commerce business to a company that revives and licenses brands. wsj.com

Amazon makes same-day delivery free in 14 cities to Prime members

New platform released in hopes of linking in-store, online shopping

Signet Jewelers online sales up 98.7% (Zale acquisition)


"Fraud is not a person - it is a dynamic grouping of statistics that deviate from the norm."
Stuart B. Levine, CFI, CFCI
CEO, The Zellman Group & Zelligent


ORC News
Sponsored by Security Resources
Fencing Operation: Federal agents, state police raid Progress Market in Lexington, KY Authorities stormed into the Progress Market early Thursday morning and say the raid at 600 North Limestone is part of a wider effort to crack down on businesses that are allegedly re-selling stolen items, including energy drinks. Kentucky State Police would not say how many other places were being raided Thursday, but told reporters that similar efforts would continue in Lexington. No arrests have been made at this time. The raid is being led by Kentucky State Police, agents from U.S. Department of Homeland Security Immigration and Customs Enforcement and loss prevention employees from Kroger. ICE is involved for informational purposes. Detective Sgt. Ben Wolcott said investigators have been working with Kroger's loss prevention for more than a month. He said KSP's organized crime unit has been working with store employees on a series of investigations in the Lexington area. Tim McGurk, a spokesman with Kroger, told WKYT that they "appreciate the support of law enforcement to shut down this crime ring." Kroger's Organized Retail Crime team has been working with a multi-agency operation, including the KY State Police, to bring about the search warrants," McGurk said. wkyt.com

Fencing Operation: Torrence PD & Ralphs/Kroger ORC Unit Work Together to arrest Subjects Selling Stolen Property at Illegal Storefronts On 21 May 2015, the Torrance Police Department Detective Division / Crimes Property Section in conjunction with Ralphs / Kroger Organized Retail Crime Unit culminated a month long investigation of stolen property, which mainly included health and beauty supply merchandise. Ralphs / Kroger had an estimated $250,000 loss from five stores located in the City of Torrance over the last 12 months and an estimated 8.1 million dollar loss county wide during the same time period. These losses do not include other retail stores who have also experienced loss of merchandise due to theft.

Detectives identified two suspects who operated multimillion dollar storefronts that sold this stolen merchandise. Multi-location search warrants were conducted and two suspects, Javier Franco 39 years and Celestino Mendez 30 years, both Los Angeles residents, were taken into custody. Detectives recovered approximately $295,000 worth of stolen merchandise from the businesses. The stores operated without valid business permits and failed to pay any taxes on the sales of the stolen property.

In order to combat the effects of Proposition 47, specifically related to retail commercial burglaries and shoplifting, the Torrance Police Department has taken a proactive approach with investigating the people and organizations that are receiving and reselling stolen merchandise, as well as those who are actually committing the thefts from the retail businesses.

This incident is being investigated under the command and direction of Captain Rod Irvine of the Special Operations Bureau. Anyone with additional information related to this case is encouraged to contact the Torrance Police Department Detective Division at (310) 618-5570.
Four arrested in alleged food stamp fraud in Newark, OH; Kroger ORC Team gets the assist Four people were arrested Tuesday after a months-long investigation that revealed fraud involving food stamps and EBT cards. Newark police and agents with the Ohio Investigative Unit and Ohio Department of Taxation served search warrants Tuesday afternoon at the Marathon gas station and at a home on Neal Avenue. In a news release, police said they found "numerous items" which had been reported stolen from area stores and sold for "pennies on the dollar" to employees at the station. Those items were then sold to the general public, according to the release. Stolen EBT cards were also reportedly traded to employees, who would then use the cards at area stores to buy products to sell at the gas station, the release said. The merchandise ranged from candy bars and energy drinks to beer, cigarettes, carpet cleaners and high-end sweepers, Newark Detective Sgt. Scott Snow said. The total cost involved is over $10,000. Snow said the suspects would create a "shopping list" and give it to "boosters" who would steal the products on the list and sell it to the suspects. All four suspects could face additional charges when the case is heard by a grand jury in the coming weeks. Snow would not comment on whether other people could be charged for their role as "boosters." He said he did not believe there were any employees left to run the store while all four suspects are in the Licking County Justice Center. newarkadvocate.com
Von Maur Department Store Employee busted for $6,359 in Fraudulent Refund case in Des Moines, IA Police were called to a Valley West Mall store last week on a report of an ongoing shoplifting case. A police report shows the case involved $6,359.48 in clothes and furs. Store security called police to the store and were holding Julie Nguyen. A store worker told police that Nguyen and two others made fraudulent returns to the store between June 2013 and last Friday. According to the police report, select items from the store were pulled off the hanger and put in a Von Maur bag. They were then returned for store credit as if they were purchased. The customers said they had lost their receipt or did not have one. Police reported that Nguyen was wearing a tracking bracelet around her ankle in connection with a federal probation case. kcci.com

Gift Card fraudster busted with over 300 charges - buying gift cards with fraudulent gift cards in Wallingford, CT Sherlyn J. Oplan, 31, of New York, faces the charges in Wallingford, Ansonia and Orange, police said. The charges including identity theft, forgery and larceny. A loss prevention associated notified police of suspicious activities on March 13 involving Oplan, police said. Detectives found that he was using gift cards to buy other gift cards. According to police, some of this gift cards had their magnetic strips recoded with stolen credit card information. Oplan was taken into custody by New York City police and then was transferred into the custody of Wallingford police on Tuesday. ctnow.com

Three Philadelphia women arrested for $600 theft at Home Goods in Evesham Three Philadelphia women were arrested after police said a shoplifting incident they were involved in turned violent. Police said they believe the women were working together to shoplift more than $600 worth of merchandise at the Home Goods store on Route 73, when employees approached them around 2 p.m., on May 20. Two of the females were observed actively fighting with store loss prevention employees when officers arrived and the third suspect fled the scene on foot, police said. Those fighting with store employees were immediately arrested by police and the third female who fled the store was quickly located and apprehended, police said. southjerseylocalnews.com

Massachusetts man tries to steal tools from Sears and Lowe's in Nashua, NH A Massachusetts man allegedly tried to steal thousands of dollars worth of tools from two Nashua stores. Police said Jonathan Alberto, 26, of Andover, was stopped by loss prevention officers at Sears on April 30 after walking out of the store with more than $1,500 worth of tools, but he managed to get away. Then on May 18, Alberto allegedly stole more than $1,000 worth of tools from the Lowe's up the street. He was arrested on two felony counts of theft by unauthorized taking or transfer. wmur.com
Man steals three Go Pro cameras from Target in one week in Southwest Florida - Police asking for help ID'ing suspect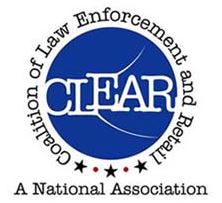 2015 ANNUAL TRAINING CONFERENCE

Baltimore Marriott Inner Harbor Camden Yard

Baltimore, MD

Full Agenda - View online here

The Coalition of Law Enforcement and Retail has updated their full agenda for their 2015 Annual Training Conference. Sessions include "Auto Zone case as well as the statement aspect" with Dave Zulawski from Wicklander-Zulawski & Associates, Inc.; "National Perspective to the ORC Problem and Response as seen from the Daily's Reporting" with Gus Downing, President & Publisher from Downing & Downing; Law Enforcement & Loss Prevention Case Preparation for Successful Prosecution with Jeffrey White, Deputy Ada County Prosecutor; Jewelers Security Alliance with Scott Guginsky, Detective Sergeant (retired) & VP of Jewelers Security Alliance among other exciting and interesting topics that include Mobile Surveillance, Building an ORCA, Civil Unrest Preparation and Rental Car and ORC Partnerships. Register for the conference here.
Do you have an ORC case to share?
Share your ORC news and help the industry grow


Retail Crime News

Sponsored by NuTech National
FBI investigating Philadelphia ATM skimming gang who hit ATM's inside retailers
The Federal Bureau of Investigation (FBI) is seeking the public's help after the discovery of multiple skimming devices that were found in ATM machines in retail locations at Shippensburg and Carlisle. Three unidentified white men are believed to have installed and removed the devices between March 12 and March 22. According to the FBI, they were installed and removed during non-business banking hours but while the retail stores were open. The suspects are then believed to have created compromised credit and ATM cards, which they then used at various convenience, pharmacy and retail locations in the Philadelphia area. your4state.com

Shooting reported at Charleston Town Center Mall Update: The Charleston Police Department provided 13 News with the surveillance video from the garage. In the video two of the suspects can be seen fleeing the scene, according to deputies. ORIGINAL: Police are investigating a shooting at the Charleston Town Center Mall parking garage. The shooting is believed to have happened in the Lee Street garage. At least one person was shot. EMTs have been called to the scene. Police say they are searching for three men. The victim has been identified as Tevon Spencer, of New York. Police say his wounds are not life-threatening. wowktv.com
Calgary, CN: Willow Park shooting leaves one man dead; police still hunting killer Gunshots rang out at a southeast commercial centre Wednesday morning, sending one man to hospital where he later died. Witnesses described hearing two quick shots followed by a third moments later just before 11 a.m. in the lobby of the Willow Park Centre. Police have not yet released a description of the shooter, who is still on the loose, but witnesses said they saw a man in a white t-shirt running away. The victim was rushed to hospital suffering gunshot wounds and later died. calgarysun.com

Jewelry Theft Losses Increased by More than $11M in 2014 Despite a decline in the number of jewelry store robberies and burglaries in 2014, dollar losses increased by more than $11M, according to John Kennedy, president of Jewelers Security Alliance (JSA). Kennedy and Scott Guginsky, Vice President of JSA, discussed jewelry crime loss statistics during a recent webinar presented by Jewelers Mutual Insurance Company. In 2014, there were:

● 279 incidents of robbery costing $34,000,000.

● 244 incidents of burglaries costing $18,700,000. This was a decline from 2013. 157 of them were three minute burglaries where burglars smashed windows and doors and took property left out overnight. The average loss from three minute burglaries declined from $24,000 in 2013 to $17,000 in 2014. Smashed showcases, doors and windows, business interruption and bad publicity were not figured into this number.

● 36 rooftop burglaries in 2014, 13 of them occurred in Florida.

● 21 safes attacked in 2014 versus 19 in 2013.

Losses from all crimes in 2014 totaled $77,800,000, considerably higher than 2013 ($66.5M) and 2012 ($60.2M). Despite this spike, Kennedy pointed out that the long term trend has been declining. There was a dramatic increase (64.5 percent) in arrests by law enforcement in 2014, 694 arrests versus 422 in 2013. A few reasons for this is better sharing of information among law enforcement agencies as well as improved surveillance video footage. claimsjournal.com

Man wanted out of Florida arrested on theft charges, found with Missing Teen in Arkansas Van Buren, Arkansas Police said they received a report that a man had stolen several items valued at over $1000 at Walmart. Investigators were able to obtain enough information that helped identify the suspect vehicle and suspect as 22-year-old Isaih Kingston. Police located the suspect's vehicle at a Van Buren business. Investigators found the suspect and took him into custody. The suspect said he was Bahamas and had no identification. Detectives later determined that the suspect's true name was Okeem Jordell-Denard Mason, age 24. After learning his true identity, it was learned that Mason was wanted out Miami-Dade Florida on a felony warrant. He was also found in Franklin County with a 15-year-old female woman from Miami. According to records, she was reported as a missing juvenile. 4029tv.com

Employee struck during Albemarle, NC Jewelry store Robbery Albemarle Police are investigating a robbery at a jewelry store in which an employee was struck by the robber. Around 10:30 Wednesday morning, Albemarle Police say a man entered the Morgan Jewelers in Albemarle and began looking at jewelry with a store employee. While he was being helped, police say the suspect began grabbing items from the open showcase compartment. That's when, authorities say, the suspect struck the employee with his fist when the employee attempted to thwart the theft. The suspect fled the store with an undisclosed amount of items on foot. wcnc.com

Foot Locker Armed Robbery in Portsmouth, VA is 16th incident in the area since April Police detectives believe the person who robbed a shoe store Wednesday afternoon is the same person responsible for several other robberies in the city since April 10. Around 4 p.m., someone walked into the Foot Locker on Victory Boulevard and pulled a gun on the two employees who were there. He got money from them, then walked out of the store. As of Wednesday afternoon, it was the 16th business robbery in Portsmouth since April 10. 13newsnow.com
Bensalem, PA Police bust suspected International credit card fraud, ID theft ring Four alleged members of an international organized crime group committing identity theft and credit card fraud across the United States are in custody after setting up shop in a Bensalem motel. They were caught after a Michigan man complained that a motel room at the Comfort Inn was rented using his credit card number without his authorization. The man told Michigan authorities that the $1,133.51 charge was for a room reserved online for May 20 to May 29. Police went to the motel room and spoke to two people - Diana Kurlovica, 23, and Artjoms Volincevs, 21, both from Latvia, who claimed that a third man who provided the ID when the room was rented had just left, the affidavit said. Police said neither of the suspects were in the country legally; their visas had expired. Volincevs' passport had no stamp on it, and Kurlovica's passport was only stamped in Canada. What was inside the room led investigator Detective Stephen Clark to believe that the two men were part of an ID theft and credit card cloning ring. Four recently purchased laptop computers, four cellphones, several thumb drives and other electronics, a Barclaycard statement from a Philadelphia resident, a dozen gift cards, Green Dot preloaded credit cards and several boxes of newly purchased, high-end items such as watches and sunglasses were in the room, police said. Also some unopened boxes of pizza were found. buckscountycouriertimes.com

Costco Jewelry Burglars in Juneau, Alaska cop to drug conspiracy The two Juneau men who stole tens of thousands of dollars worth the jewelry from Costco in a smash-and-grab burglary last fall, and then tried to sell the goods for a kilogram of heroin to distribute in Juneau, admitted Wednesday to a federal drug crime. Joseph John Finn, 32, and Stanley Van D. Stauffer, 35, pleaded guilty as charged to one count of drug conspiracy in back-to-back hearings in federal court. They are each facing a minimum of 10 years in prison for the felony offense and are scheduled to be sentenced in August. Both fully admitted their roles in the drug conspiracy, an elaborate scheme that began unraveling when Stauffer inadvertently worked out the stolen-jewelry-for-drugs exchange with a person in Seattle who was working with the authorities as a confidential informant. juneauempire.com

Trio pleads guilty in Armored Car heist in Amarillo, TX Three Amarillo men who pleaded guilty Tuesday in a $700,000 armored car robbery plotted to take bundles of cash from a company vault two days before the robbery, court records show. But other employees showed up at the armored car company that day, foiling plans for a much larger heist, possibly worth millions, according to federal court records and affidavits in the case. amarillo.com

Blain's Farm and Fleet helps fight crime
Blain's Farm and Fleet, Harris Ace Hardware and General Electric donated light bulbs for a crime-prevention program run by Operation Porch Light. The program sends officers of the Janesville Police Department to the 4th Ward neighborhood of Janesville to install a high efficiency light bulb in front of the home of every willing household. Residents are encouraged to keep these lights on at night to illuminate the neighborhood and prevent crime with minimal cost to homeowners. "Blain's Farm and Fleet is happy to assist the police department's efforts to improve the safety and security of the residents we serve in all communities," said Gary Hilt, vice president of loss prevention, risk management and government relations for Blain's Farm and Fleet. "Our customers' safety and well-being are important to us." agriview.com

Cargo Theft: Lithuanian national charged in $320,000 Bremen, IN heist A Lithuanian national suspected of being part of a group that has stolen millions of dollars of cargo in at least four states is in the Marshall County Jail for allegedly stealing two copper wire shipments worth $320,000 from a Bremen business, according to charging documents released by the Marshall County Prosecutor's Office. In January 2015, when two of their drivers were out sick, International Wire in Bremen contracted with two drivers with Night Logistics to send two shipments of copper wire to Hayesville, North Carolina. A man with a driver's license named Alexander Klimov picked up a load of copper wire on January 8 and a similar load on January 9th. When the shipments never arrived in North Carolina, International Wire contacted the Indiana State Police. abc57.com

Cargo Theft: Gang steals 5,000 laptops from warehouse in Dubai; 13 arrested The Dubai Police arrested a gang - comprising 13 Asians - that recently broke into a warehouse in Jebel Ali at 1am and stole 5,000 laptops, worth $2.7 million, in a matter of few hours. The police have recovered the laptops. After a series of thefts were reported from the area, the police set up a team that studied the modus operandi of the gang. It was found that the gang - that specialized in stealing from warehouses - comprised workers employed in the vicinity of the warehouse and, therefore, were well aware of the fact that there were no surveillance cameras in the warehouse. khaleejtimes.com

Woman robbed, pistol-whipped in Cherry Creek Mall parking garage

Socialite arrested for shoplifting more than $4K in goods from Bergdorfs

Jewelry store robbed at gunpoint in central Mississauga, Ont, CN

Charlotte-Mecklenburg, NC Police Department to focus on shoplifting at Northlake Mall

Three-time bank robber left ID behind after earlier shoplifting try at JC Penney in Madison, WI

Man pulls knife on Walmart guard who stopped female shoplifter in Greenville Co, SC

Lancaster, PA man accused of assaulting 3 officers at Lebanon Valley Mall

Police seek suspect in bank robbery at Roseville, CA Safeway store

Wisconsin man convicted in $50,000 Green Bay Packers ticket scam

Santa Clara, CA Police Officer allegedly shoplifts a $250 watch from Target

2 Apple Store shoplifters arrested at Willowbrook Mall, Wayne, NJ

Employees Accused of $89,000 Theft at Babies R Us in Mobile, AL

Men Dressed As Women Steal Handbags From Lincoln Park, (Chicago) Store


Robberies and Burglaries
• AT&T - Lafayette, IN - Armed Robbery
• Computer Savers - Columbus, OH - Burglary
• Dollar General - Berkeley Co, WV - Robbery
• Dollar General - England, AR - Armed Robbery
• Dollar General - Oak Harbor, OH - Robbery
• Family Dollar - Center Point, AL - Armed Robbery
• Family Dollar - Salisbury, DE - Armed Robbery/ Assault
• Foot Locker - Portsmouth, VA - Armed Robbery
• Fulmer's Guns - Bradford Co, PA - Burglary
• Glendale Pawn - Forrest, AL - Burglary
• Mike's Guns - Tullytown, PA - Burglary
• Shell - Nashville, TN - Burglary
• ShopKo - Torrington, WY - Armed Robbery
• Voltage Video Games - Syracuse, NY - Burglary
• 99 Cent Store - Atascadero, CA - Armed Robbery


Featured Job Listings
Sponsored by NuTech National
Feature Your Job Here For 30 Days -
70% Aren't On the Boards
VP of Security
Comcast
Philadelphia, PA
Comcast
Director of LP
A'gaci
San Antonio, TX
A'gaci
Director of LP
Lane Bryant
Columbus, OH
LinkedIn
Director of LP
PacSun
Anaheim, CA
PacSun
LP Director
Don Roberto Jewelers
San Clemente, CA
Don Roberto Jewelers
Director, LP Operations
Dick's Sporting Goods
Pittsburgh, PA
Dick's Sporting Goods
Director of AP, Corporate
Dollar General
Nashville, TN
Dollar General
VP Supply Chain, LP & Safety
Ross Stores
Ft. Mill, SC
Ross Stores
Director of Safety
Academy Sports & Outdoors

Houston, TX

Academy Sports & Outdoors


Dir, Pharmacy LP
Rite Aid
Camp Hill, PA
Rite Aid
LP Corporate Sr Mgr
JC Penney
Dallas, TX
JC Penney
LP Manager
Dunkin' Brands
Chicago, IL
Dunkin' Brands
Sr Retail AP Specialist
REI
Bloomington, MN
REI
Supervisor, LP
Ascena Retail Group, Inc
Pataskala, OH
Ascena Retail Group, Inc
LP Admin. Asst.
National Stores
Gardena, CA
National Stores
LP Operations Coordinator
Restoration Hardware
Corte Madera, CA
Restoration Hardware
LP Analyst
Restoration Hardware
Corte Madera, CA
Restoration Hardware
Implementation Expert/Project Mgr
LP Software
Worth, IL
LP Software
Sales Representative
NuTech National
Maitland, FL
NuTech National

Limited Time Only - Post Your Multi-Unit LP jobs for FREE - Learn More Here

Daily Job Alerts


Appearing One Day Only
View our Internet Jobs Archives here
LP Sr. Mgr
CVS Health
Scottsdale, AZ
CVS Health
Store AP Manager
Home Depot
Las Vegas, NV
Home Depot
LP Supervisor
Kohl's
Holmdel, NJ
Kohl's
LP Supervisor
Kohl's
East Brunswick, NJ
Kohl's
Mgr Global Security Operations Center
L Brands
Columbus, OH
L Brands
LP Specialist
Fred Meyer
Lacey, WA
Kroger
LP Specialist
Fred Meyer
Fairbanks, AK
Kroger
LP Specialist
Fred Meyer
Yakima, WA
Kroger
LP Specialist
Kroger
Missouri City, TX
Kroger
LP Specialist
Kroger
Katy, TX
Kroger
AP Manager in Training
Walmart
Shrewsbury, MO
Wal-Mart
AP Manager in Training
Walmart
Florissant, MO
Wal-Mart
AP Manager in Training
Walmart
Napanoch, NY
Wal-Mart
AP Manager in Training
Walmart
Middletown, NY
Wal-Mart
AP Manager in Training
Walmart
Corpus Christi, TX
Wal-Mart
LP Manager Hrly
Kmart
Decatur, IL
Sears Holdings Corp
LP Lead
Sears
Lawton, OK
Sears Holdings Corp
LP Manager Hrly
Sears
Alpharetta, GA
Sears Holdings Corp
LP Manager
Kmart
Iowa City, IA
Sears Holdings Corp
AP Team Leader
Target
Elmira, NY
Target
AP Team Leader
Target
Bend, OR
Target
Assets Protection Executive
Target
Tallahassee, FL
Target
Regional LP Mgr
The Children's Place
Secaucus, NJ
The Children's Place
AP/LP Mgr
Macy's
Santa Barbara, CA
Macy's
AP/LP Mgr
Macy's
Burlington, VT
Macy's



Home of the Industry's Original
On the Move

Doug Carter was named Loss Prevention Manager for SSP America.

Post Your New Job or Promotion!
See all the Industry Movement

Your Career
Sponsor this section of the Daily
How to Turn Your Employees into Fans
Leaders want the best people to work for them and their organizations. Ideally you want people who not only like what they do but are fans of what your organization stands for. Being a fan of your work becomes a part of who you are, so here are some ways to make everyone a fan. Remove obstacles

6 Myths About Empowering Employees
The solution to getting everyone feeling a sense of empowerment about their work doesn't lie in a "program." The key is to design your organization so that people can exercise their natural humanly power. Here are some myths about empowerment so you truly know what will get your employees fired up. Everyone is already empowered

Build a Stronger Team by Honing Your Common Language Extremely coherent and strong teams speak the same language. Sharing a common language allows for faster communication and ideally, less mistakes but it also builds trust in the workplace and your productivity grows. Here are some of the reasons you should build a common language. Create comraderie

Unlocking the 4 C's to Create a Fiercely Loyal Corporate Culture There is still a challenge across all businesses and organizations: how do you attract top talent, and once you have attracted them, how do you keep the fiercely loyal? Here's where the 4 C's of corporate culture come in. If you have these in your organization, then you're off to a good start. Cooperation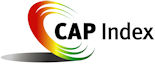 Tip of the Day
Sponsored by Vector Security
At the end of most interviews, candidates are given the opportunity to ask questions. Surprisingly enough, most candidates are unprepared for that question, itself. So take the time in your preparation to develop a few well thought out questions that reflect your knowledge of the company, their future plans and how you fit within them. Certainly your questions should also focus around the variables that increase the success of the specific position you're applying for and not deal with the benefits, salary, or work schedule, travel requirements, or expenses. As these questions will turn off an interviewer and are premature. Your questions should be a reflection of the type of executive you are and will be if they hire you and therefore should be designed to show how you'll be successful and valuable for their organization.
Just a Thought,
Gus





Upcoming Events
---
Recruiting?
Get your job e-mailed to everyone... everyday
Post on our Featured Jobs Board!
Reach your target audience in 2015 every day!
Request our 2015 Media Kit
update account / change e-mail
unsubscribe FEEDBACK
www.downing-downing.com

Advertise With The D&D Daily




36615 Vine Street, Suite 103
Willoughby, OH 44094
440.942.0671
copyright 2009-2019
all rights reserved globally